In January of last year, a freshly built mansion of insane proportions and perks hit the Bel Air property market. The asking price was a staggering $250 million USD— the most expensive to ever be listed in the United States. Today, that very same house remains unsold and untouched, now reduced to a more reasonable $188 million USD. After the $62 million USD price cut, it's no longer the most expensive.
So why hasn't anyone snapped it up? Surely the label of "most expensive" didn't spook all the would-be billionaires away. I mean, when has something so ridiculously priced and insanely decked out ever discouraged anyone who has the necessary stacks? And where/when else will you be able to take advantage of savings in the way of $62 million USD?
Allow us to sell it to you.
The property spans across 38,000 square feet, the exterior decks alone taking up 17,000 square feet. Placed at the top of a hill, those who choose to dwell here will be able to enjoy a 270 degree view of the LA area. Not quite 360, but maybe you have to drop $250 million USD for that.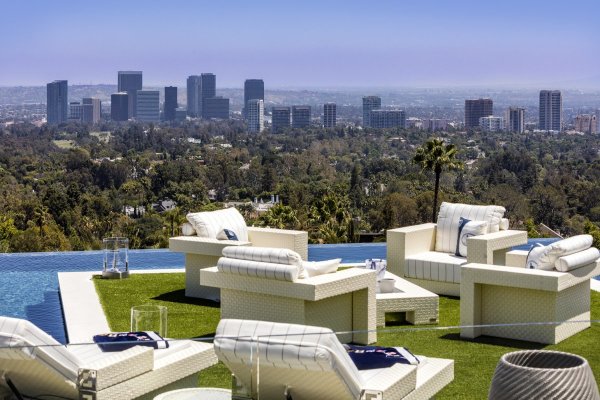 In terms of rooms, there's two master suites, ten VIP guest suites, twenty-one bathrooms, three fully equipped kitchens, and five bars. So you can never complain about having to wait for a drink or a slash. The lounge areas are structured like the VIP areas of clubs, complete with velvet ropes. On the subject of entertaining and entertainment, there's a forty-person capacity screening room as well as a fully-functional four lane bowling alley.
Now here's where things get next-level. Some houses come with furniture. Which, granted, is nice enough on it's own. This particular Bel Air mansion includes a bit more than that. Including (but not limited to):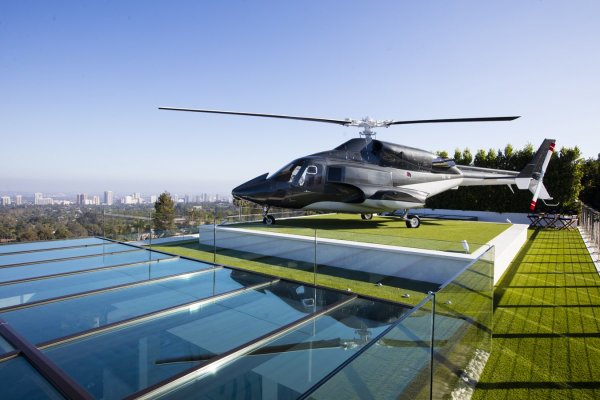 1 x $30 million USD car collection lined up in the downstairs area
1 x 85 foot glass tiled infinity pool
1 x "fully stocked" wine room
1 x spa room
1 x home gym
1 x $1 million USD Leica camera sculpture
100(+) x artworks
1 x decommissioned helicopter from the 1980 series, Airwolf, parked nicely on the helipad (non-functional… obviously…)
1 x Champagne pinball machine
1 x chrome plated gun collection
1 x wall of candy
? x pop-up TV screens in most rooms… everywhere…
? x Hermès pillows in most rooms… everywhere…
Well, how'd we do? Think you'll take it?
Check out the full gallery above.