Australia now has a homegrown response to the popular investing app Robinhood with a strong focus on ASX-listed companies. Backed by Afterpay founder and the country's youngest self-made billionaire – Nick Molnar – as well as Zip co-founder – Larry Diamond – this is Superhero: a brand new low-cost trading platform with a flat brokerage fee of just $5 and minimum investments starting from $100.
Having recently secured a fresh injection of capital amounting to $8 million, the Sydney-based operation behind Superhero has apparently been toiling away for over two years. And the timing could not be more perfect, given the sudden influx of retail and non-institutional investors in the face of COVID-19. One that has made a global-scale impact, for better or for worse.
"We're making investing accessible to the younger generation," Superhero co-founder & CEO John Winters told the AFR.

"There are a lot who feel locked out of the market. So they're going to the high-cost incumbents but they don't really have to anymore."
---
---
RELATED: Why Aussie Blokes Are Ditching 8-Leg Multis For Day Trading.
"Old-school brokers are still using all these manual processes and because that's the way it works, that's the way it is," says Superhero co-founder & Booktopia Deputy CEO Wayne Baskin.

"We're here saying, 'Well, why is it that way?' We're questioning everything and digitising age-old problems and processes."
The Superhero app promises to be more intuitive and user-friendly than its rivals. The objective is to democratise trading by making it easier and more understandable for everyone – not just the experts. Whether you're a seasoned trader or investing for the first time, this is a platform you could conceivably use.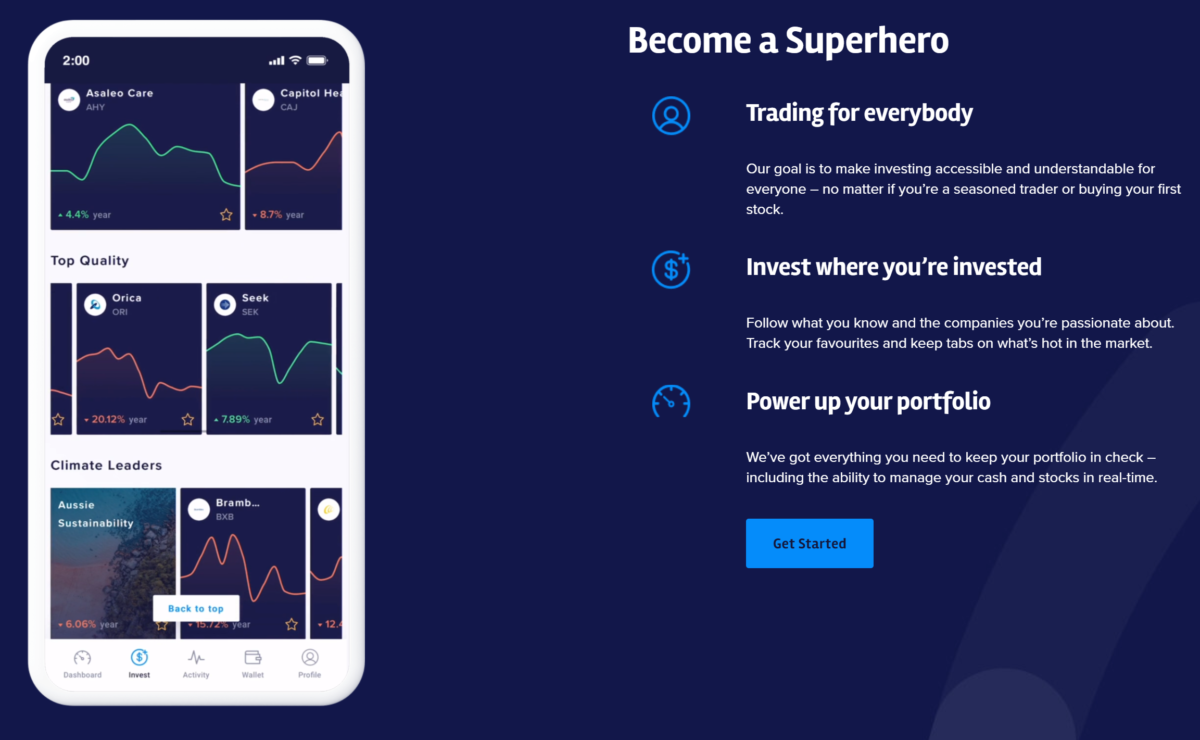 As previously mentioned, minimum investments will start from $100 with a flat transaction fee of $5 per trade – which is actually quite a competitive offering considering it's half the price of the lowest rate from Australia's most popular broker, CommSec. For reference, CommSec currently enforces minimum investments of $500 while charging brokerage costs between $10 and $1,000.
Superhero currently offers two tiers of membership levels:
Basic
Receive access to $5 flat-fee brokerage and no monthly or inactivity fee. This also includes unlimited trades during market hours, pricing news with only a 20 mins delay, and reporting including positions + transaction reports to keep track of your portfolio.


Live
For those of you who fancy yourself a more in-depth trader and would like more information. Live comes with the added options of Market and Limit orders, live market data including real-time pricing, charts and market depths, as well as tabs on all your favourite shares.
"No one has really focused on Australia, on really reinventing the value proposition or the user experience for Australia, for ASX-listed shares," says Winters.
"We see that as a much bigger opportunity for Aussie investors than immediately going offshore."
---
---
Sign up today and receive a free 30-day trial of a Superhero Live account – after the 30-day period, you can choose to continue for a very reasonable $9/month or trade for free in a Basic account.