E-commerce giant, Alibaba, has shattered all previous sales records with their "Singles' Day" promotion. With an entire array of heavily discounted products on offer across Alibaba subsidiaries such as Taobao, Tmall, AliExpress, as well as some offline retailers – you can imagine what sort of draw this would have. The result? In just a matter of 96 seconds, over AU$2 billion worth of goods were sold.
But the jaw-dropping volume of numbers didn't just stop there. In just nine hours, total sales would reach AU$30.65 billion. And by the end of twenty-four hours, total sales would come to a grand total of approximately AU$43.8 billion. For reference, last year's Black Friday five-day sale – the sale event of all sale events in the Western world – only came up to AU$36.5 billion. Cyber Monday pulled even less with a total of under AU$11 billion.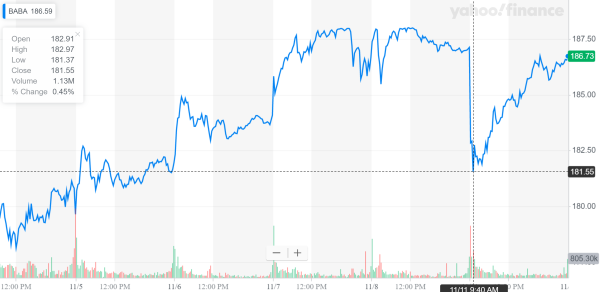 This achievement seems to have somewhat restored the confidence of shareholders. Alibaba Group Holding Ltd (NYSE: BABA) had slid by 2.6% in value from Friday's closing price of US$187.13 to US$182.26 in the opening hours of Monday. By the end of the day, however, it had rallied back to US$187.02.
Well, if there was ever a shred of doubt regarding China's economic power – it's safe to say those final, lingering questions have been answered in full with several tens of billions in cash receipts.
RELATED: "I Was Rejected From Harvard 10 Times", Alibaba CEO Jack Ma On Persistence.