We've known this was coming for close to six months now, but the time has finally come. On this day 27 years ago, Jeff Bezos set the foundation for what can only be described as a modern day empire by incorporating Amazon. Fast forward to the present and that same day will go down in history as the date Jeff Bezos officially retires – at the sprightly age of 57, with his divorce finalised, a new woman in his life, and a healthy nest egg amounting to an almost inconceivable US$197 billion (AU$260 billion). Not a bad innings, considering that's 739,489 times the median net worth of Americans at age 65.
Transitioning into the role of executive chairman, Bezos will be replaced by former 'shadow adviser' and head of Amazon Web Services: Andy Jassy. The two men first encountered one another during a game of "broomball" – a fusion of football and lacrosse invented by another Amazon executive which apparently remains popular amongst the corporate structure today.
Jassy, who had just graduated from Harvard Business School to join the operation, made a strong first impression with Bezos… by (accidentally) clubbing him over the head with a kayak paddle. Of course, as painful as that moment must have been for all parties involved – albeit in two different senses – the incident didn't hurt Jassy's career prospects one bit. Quite the opposite, in fact. Ascending up the ranks in quick fashion, according to The Guardian, Bezos recognised that Jassy was "almost as competitively driven as he was" early on. Clearly.
---
---
RELATED: Jeff Bezos Is Now Worth $200 Billion… Let's Put That Into Perspective
"I want to especially thank Andy Jassy for agreeing to take on the CEO role," Bezos expressed in his final letter to Amazon shareholders back in late April.
"It's a hard job with a lot of responsibility. Andy is brilliant and has the highest of high standards. I guarantee you that Andy won't let the universe make us typical. He will muster the energy needed to keep alive in us what makes us special. That won't be easy, but it is critical."
So that's the new boss. Though the question remains… what of the old one now? In addition to occupying his time between his brand new US$500 million (AU$636.5 million) superyacht, shooting off the space, and of course, serving as an executive chairman to the behemoth he built, Jeff Bezos retires with one hell of a legacy.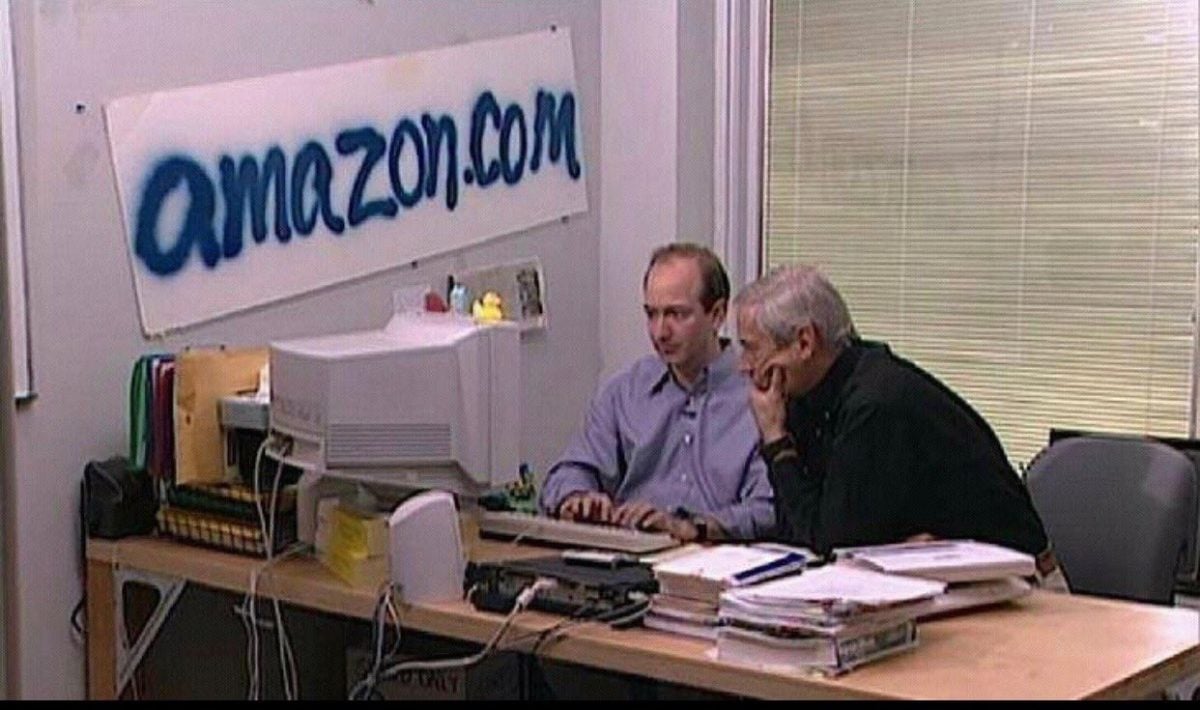 Business Insider took the liberty of crunching the numbers / throwing up some charts – here are the most impressive stats about Bezos' tenure as Amazon CEO in numbers alone:
Amazon generated US$511,000 worth of sales in its first full financial year – that figure multiplied by over 772,000 times from 1995 to 2020 (last year's net sales: US$386 billion)
Of the current net sales, a staggering US$197 billion comes from Amazon's online platform; incidentally, that exact number matches Jeff Bezos' own estimated net worth / retirement fund
In terms of physical presence, a single office in Seattle has since expanded to approximately 475 million square feet of Amazon real estate – "… that's more than 8,246 football fields' worth of office space, fulfilment centers, data centers, physical stores, and more."
1.3 million plus personnel are employed by Amazon, over 95,5000 of which are drivers who deliver the packages; in the US alone, the company delivered approximately 5.1 billion parcels last year (nearly as much as the entire US Postal Service)
And while we're on the subject of deliveries, Amazon has amassed "at least" 30,000 vans, 20,000 trailers, with a pending order for 100,000 electric vans on the horizon, and by year's end, an impressive fleet of 85 aircrafts
Strong effort, I'd say.