A month after coming out of digital hiding to warn the world US stocks are primed for a cliff dive, Scion Asset Management founder and renowned investor of The Big Short fame – Dr Michael Burry – has hedged yet another sizeable bet against a different beloved tech company: Apple (NASDAQ: AAPL).
According to a Securities & Exchange Commission filing revealed earlier this week, the man famously portrayed by Christan Bale in Adam McKay's Academy Award-winning film adaptation has been holding bearish put options against 206,000 Apple shares since March 31st. For reference, while AAPL has almost quadrupled since the top of 2019, it's also slumped by almost 17% this quarter and close to 12% this past month alone.
As outlined by Business Insider, this latest development is something of a plot twist. Back in 1999, Michael Burry championed Apple as a stock the Oracle of Omaha himself, Warren Buffett, should pay some attention to. Of course, the Berkshire Hathaway CEO wouldn't put down a single red dime until 17 years later. Fast forward to present day and AAPL is the conglomerate's largest holding, having amassed close to 5% of the Tim Cook-led operation which is currently valued at US$132.6 billion (911,347,617 shares). Burry, on the other hand, is now praying for its downfall.
RELATED: 'Big Short' Investor Michael Burry Sounds The Alarm On Next Market Crash
With the exception of Bristol-Myers Squibb (NYSE: BMY), Alphabet (NASDAQ: GOOGL), and Meta Platforms (NASDAQ: FB), this seems to align with Burry's earlier assertions that we should all steer clear from going long on US stocks.
"Nigh perched with a multiple problem," Burry captioned a chart illustrating the price-to-sales ratio of the S&P 500 equal-weight index in a since-deleted tweet.
For the majority of the 90s and early 2000s, this ratio operated below 1.0. Across the last decade, it has nearly doubled to above 1.9. Burry (presumably) wanted to highlight how the index is trading at almost twice the revenue of its constituents, indicating the valuation multiples on the US stocks representing the country's largest publicly-listed companies have "stretched to unsustainable heights."
"[Burry] likely used the price-to-sales ratio because it's more speculative than price-to-earnings, or price-to-book value," explains Theron Mohamed of Business Insider.
"It compares a company's market capitalisation to its revenues, instead of its profits or net assets."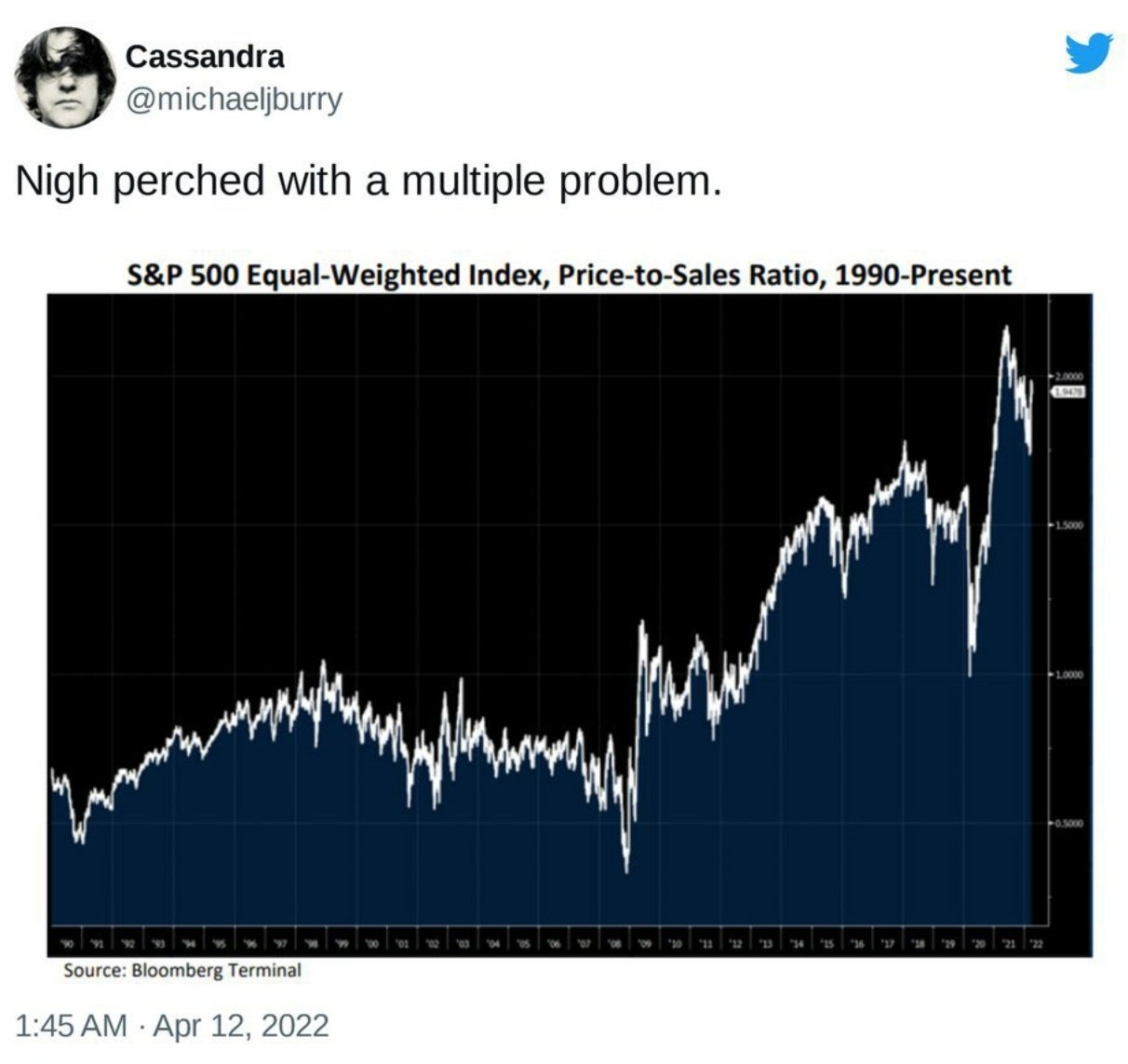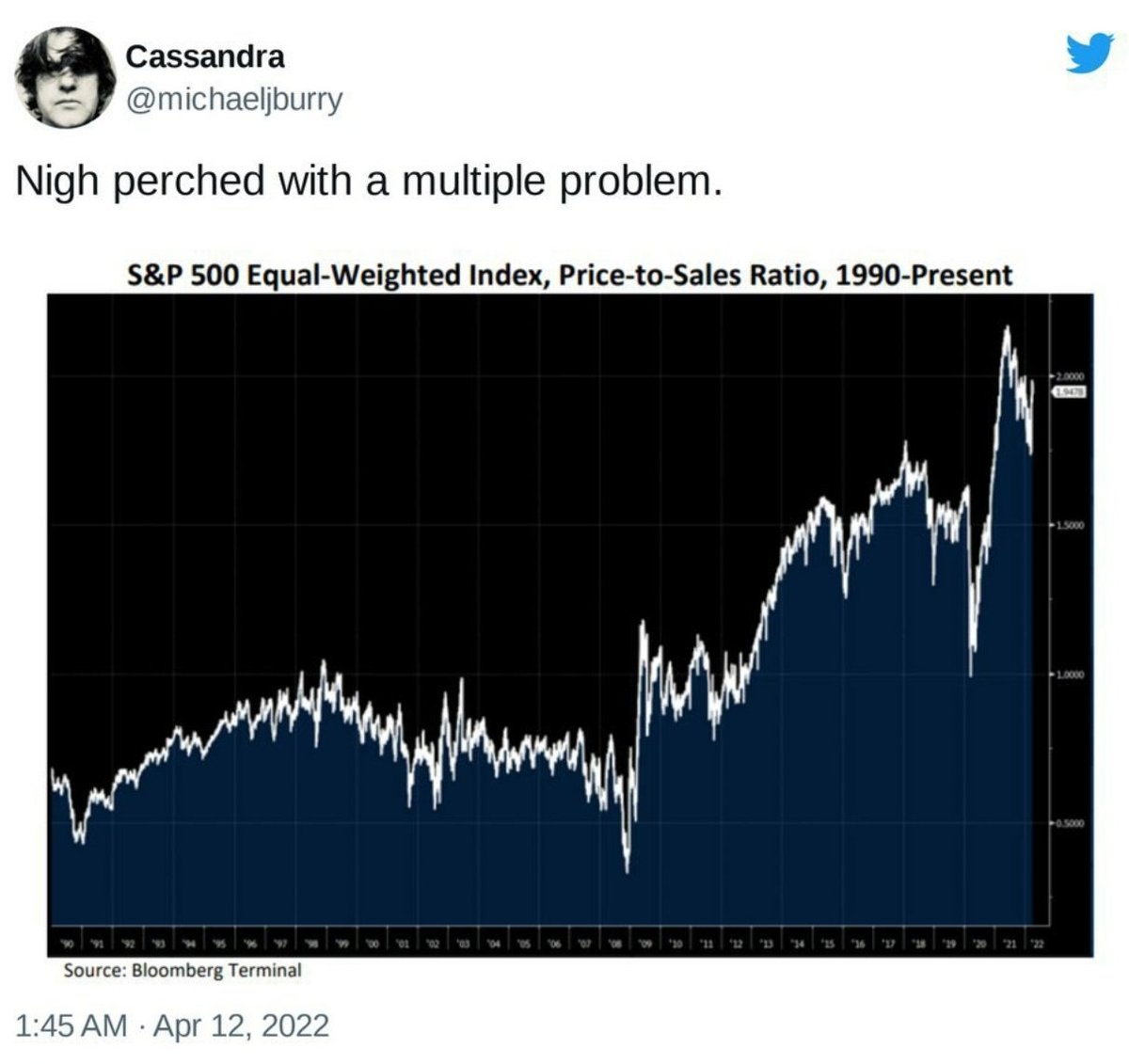 RELATED: Warren Buffett Just Went On A $58 Billion Shopping Spree (His Biggest In Years)
Then there's the matter of his prediction that Tesla (NASDAQ: TSLA) could plummet by 90% back in 2021.
"$TSLA below $100/share by later this year will not crash the system," Dr Michael Burry tweeted under his handle @cassandra; a reference to the priestess in Greek mythology cursed to share true prophecies but never to be believed.
"There is no reflexivity in such a fall. But it would trigger the end of an era for a certain type of investing. My last Big Short got bigger and bigger and BIGGER too. Enjoy it while it lasts."
The extent of his belief was later confirmed by a US Securities & Exchange Commission filing indicating Scion Asset Management held bearish put options on 800,100 Tesla shares valued at approximately US$534 million / AU$680 million (as of March 31st, 2021).
Obviously, said plummet never actually came to fruition. But it is worth noting Tesla is recently experiencing something of correction in the wake of Elon Musk supposedly acquiring Twitter wholesale. Over the past six months, the price of TSLA has nosedived by over US$364, which represents a drop exceeding 33%; with close to 28% of its value wiped from this last month alone.
Life as a perma-bear must be fun.