In addition to ramping up his initial bet against Elon Musk's Tesla (NASDAQ: TSLA), Scion Asset Management founder and renowned investor of The Big Short fame – Dr Michael Burry – is now wagering on the downfall of yet another sizeable target: evangelical stock picker Cathie Wood of ARK Invest and her actively-managed Innovation exchange-traded fund (NYSE: ARKK).
A regulatory filing disclosed earlier this week revealed that Scion Asset Management has been holding bearish put options on 235,500 shares of ARKK since June 30th, reportedly valued at close to US$31 million. Bearish put options on TSLA had also been increased from approximately 800,000 three months prior to nearly 1.1 million, last valued at US$731 million.
ARK Invest gained all kinds of attention last year, taking in billions worth of new assets thanks to some incredible, market-beating performance experienced in several of the company's ETFs; many of which were among the best-in-class for 2020. Cathie Wood's flagship ARK Innovation ETF – which includes positions in headlining stocks such as Zoom, Shopify, Coinbase, and you guessed it, Tesla – has more than doubled in value since the start of 2020. But momentum appears to have slowed in 2021, and there's a crucial detail that can no longer be ignored.

RELATED: 'Big Short' Investor Michael Burry Predicts Tesla Stock Could Plummet By 90% This Year
---
---
"Many of their stock holdings are trading at lofty valuations that are betting on huge expected growth in the future," notes Evie Liu of Barron's.

"As inflation flares up and interest rates rise, however, the current value of the growth companies' future cash flow is being diminished."
In numbers, the ARK Innovation ETF is now 6% down for the year, with US$500 million asset outflows in the past month. Naturally, the good doctor is raising the red flag on the "unsustainable valuations" attached to some of ARKK's key holdings – despite being up by 675% since the beginning of 2020.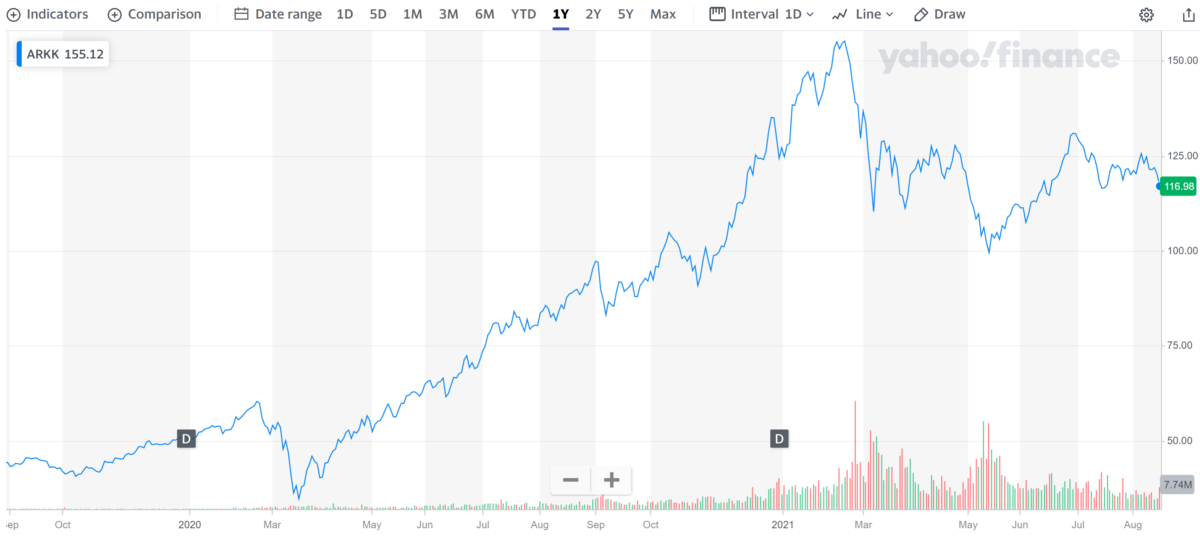 "Shades of Gary Pilgrim and PBHG Growth from the 1990s, or Gerald Tsai and the Manhattan Fund in the 1960s," Burry said of Wood's supposedly empty promises of transformative technologies and disruptive growth in a since-deleted tweet from this past February.
"If you know your history, there is a pattern here that can help you. If you don't, you're doomed to repeat it."
Dr Michael Burry, however, isn't the sole sceptic of Cathie Wood and ARK Innovation ETF. As Business Insider reports, the bets against have been piling up recently. Other investors are outright shorting ARKK, with short interest currently sitting at a record high figure of 11.63% (source: Koyfin). 21.58 million shorts were purchased as of market close last Friday alone. And the total sum bet against ARK Innovation ETF is now sitting at a considerable US$2.6 billion.