Dr Michael Burry has been extremely vocal when it comes to his stance on Elon Musk's Tesla (NASDAQ: TSLA). Back in February, the Scion Asset Management founder and renowned investor of The Big Short fame predicted Tesla stocks could plummet by as much as 90% this year.
Previous to that, Burry announced he was shorting the electric automaker, citing the company's "ridiculous price" while drawing comparisons to the housing bubble before urging the general population to "sell that #teslasouffle". And the extent of his belief has now been revealed, as a US Securities & Exchange Commission filing confirms Scion Asset Management holds bearish put options on 800,100 Tesla shares valued at approximately US$534 million / AU$680 million (as of March 31st).
Tesla shares fell by over 4% at the beginning of this week, bringing its month-to-date losses to almost 20% and total decline from its peak to a nice round 35%. Burry and Scion Asset Management's put options allow them to sell said shares at a specific "strike price" before a predetermined expiration date. If the price falls below the "strike price" before the put options expire, they'll be able to offload them for a profit. At this stage, strike value, expiry date, and potential profit are all unknown.
---
---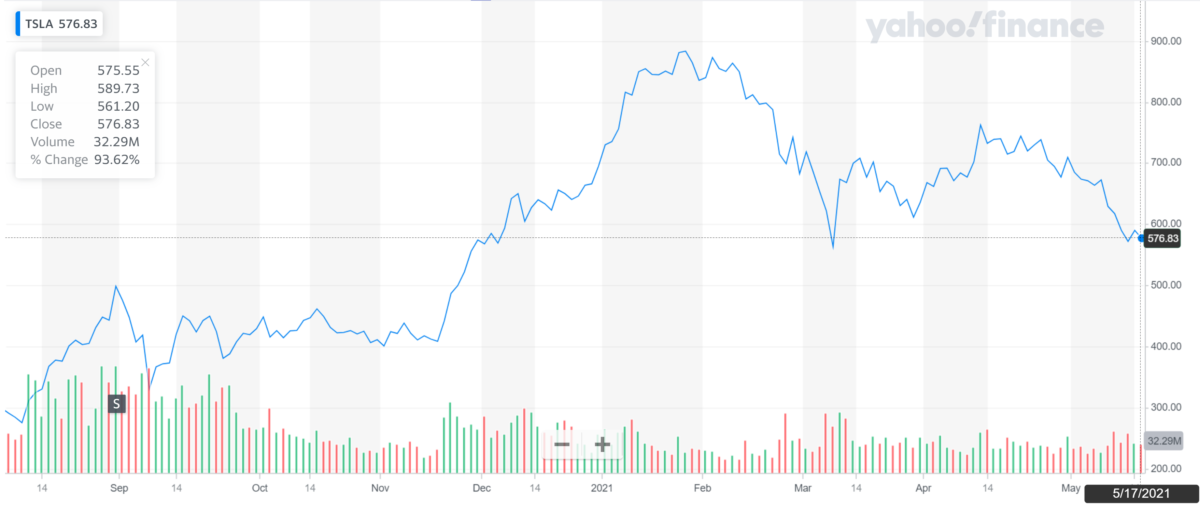 RELATED: Elon Musk Tanks Crypto Prices By Suspending Tesla Bitcoin Purchases
2007/2008 housing market collapse aside, the good doctor has been right on the money lately. As some of you may recall, Burry managed to jump onboard the GameStop (NYSE: GME) short squeeze months before the mainstream hysteria and make it out with a tidy profit pre-crash. To the point of Michael Burry and Tesla itself, consider the following: at the start of last year, TSLA was only trading at around US$95 per share; fast forward to January of this year, after an extraordinary historic climb, TSLA was sitting at over US$880 per share – representing growth in the way of 826% and (briefly) cementing Elon Musk's status as world's richest man. In other words, the electric automaker was worth more than the combined value of Toyota, Volkswagen, General Motors, and plenty others… despite delivering only a fraction of the production output (and even less in actual earnings).
"My last big short got bigger and bigger and BIGGER too," tweeted Burry.
"Enjoy it while it lasts."
"$TSLA below $100/share by later this year will not crash the system. There is no reflexivity in such a fall. But it would trigger the end of an era for a certain type of investing."