UPDATE [12/11/21]: Despite only recently joining the trillion-dollar club, Scion Asset Management founder and renowned investor of The Big Short fame – Dr Michael Burry – has doubled down on his earlier prediction regarding the Tesla stock price (NASDAQ: TSLA). In a since-deleted tweet, Burry drew parallels to Amazon (NASDAQ: AMZN) during the dot-com bubble burst.
"Can $TSLA fall 80-90%? After 2000, many high flyers did. $AMZN fell 95% [two] decades ago, changed its whole [business], and thrived much later."
The man famously portrayed by Christian Bale then pointed out how Elon Musk himself had previously stated Tesla was overvalued back when its stock was trading at less than a sixth of the current price (adjusted for the five-for-one stock split circa August 2020). This comes as the aforementioned stock experiences a 16% slump over the past two trading days, erasing roughly $200 billion from its market cap. The culprit? A certain Twitter poll posted by a certain C-suite memelord.
---
---
Original Article – 'Big Short' Investor Michael Burry Predicts Tesla Stock Could Plummet By 90% This Year

Scion Asset Management founder and renowned investor of The Big Short fame – Dr Michael Burry – has made no secret of his stance on Tesla (NASDAQ: TSLA). Last December, Burry revealed he was shorting the electric automaker, citing the company's "current ridiculous price" with comparisons to the housing bubble, before urging the masses to "sell that #teslasouffle". Now, the good doctor is predicting the Tesla stock could plummet as much as 90% this year without any major repercussions.
"$TSLA below $100/share by later this year will not crash the system," tweets Burry.

"There is no reflexivity in such a fall. But it would trigger the end of an era for a certain type of investing."
Having adopted the online handle of "Cassandra" – a reference to the priestess in Greek mythology cursed to share true prophecies but never to be believed – Burry later elaborated on his sentiments, stating that, "… sometimes bubbles just pop. In fact, throughout history, that is typically what they do. No catalyst necessary. Just preconditions."
RELATED: The Service That'll Notify You Every Time Elon Musk Tweets About A Stock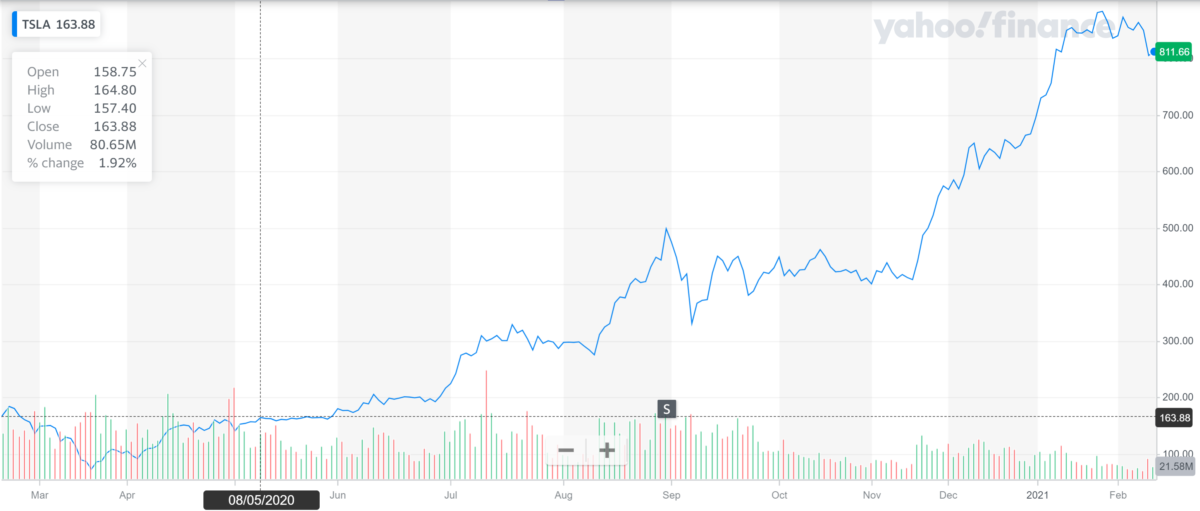 Earlier this month, Michael Burry also criticised Tesla for its decision to acquire US$1.5 billion in Bitcoin. His prognosis? The move was nothing more than a distraction from its troubles in China. Those tweets, however, have since been deleted.
"Chinese regulators summon Tesla on quality issues as consumers complain about quality… but $TSLA bought $BTC. In my mind's eye, so much #digitalconfetti."
There's certainly some credence to Burry's assertions, aside from the fact he managed to jump onboard the GameStop (NYSE: GME) short squeeze months before the mainstream hysteria and make it out with a profit pre-crash. At the start of 2020, TSLA was only trading at around US$95 per share; fast forward to January of this year, after a historic climb, TSLA is valued at over US$880 per share – representing growth in the way of 826% and cementing Elon Musk's status as world's richest man. At the time of this writing, the Tesla market capitalisation is comfortably in the aerospace of US$783 billion.
---
---
"My last Big Short got bigger and bigger and BIGGER too," Burry tweeted in reference to his monumental bet against the US housing market, which netted profits of US$750 million for investors of Scion Asset Management and US$100 million for his personal bank account.
"Enjoy it while it lasts."