In any other period of history, under any other circumstances, let's be honest… we simply wouldn't give someone like self-styled Dogecoin millionaire – Glauber Contessoto – the time of day. This is, however, no ordinary period of history informed by completely unprecedented circumstances. And given how he quite literally made a fortune overnight by investing over US$250,000 of his life savings into DOGE circa February 2021, perhaps it might be worth hearing the elevator pitch for his next big play: Cardano.
The prolific Reddit trader tells CNBC that he's preparing to go "all in" on the Cardano blockchain and its altcoin ADA; named after Italian polymath Gerolamo Cardano and English mathematician Ada Lovelace, respectively. Hitting the scene in 2017, it recently became the third-largest cryptocurrency by market value behind Bitcoin and Ethereum, boasting an impressive market value of US$$76.9 billion / AU$104.3 billion.
For reference, that figure edges out the market caps of companies such as Dell (NYSE: DELL), Westpac (ASX: WBC), General Motors (NYSE: GM), Fortescue Metals (ASX: FMG), FedEx (NYSE: FDX), Coinbase (NASDAQ: COIN), Afterpay (ASX: APT), while dwarfing plenty others.
---
---
RELATED: 'Big Short' Investor Michael Burry Warns Mother Of All Crashes Is Coming For Crypto & Meme Stocks
"I'm going to start buying up as much Cardano as humanly possible with every bit of money I start making from now on," says Glauber Contessoto.
"I'm going to be the biggest Cardano supporter… I'm just waiting on a massive dip before buying into it."
So why has it earned the resounding vote of confidence? Better yet, what about it has instigated the latest climb? Despite the fact it has a long way to go before it can actually claim to have overtaken BTC and ETC – and despite the fact it plunged approximately 12.8% today – there are tangible merits to be considered.
Launched by Ethereum co-founder Charles Hoskinson, Cardano is the first cryptocurrency based on a proof-of-stake (PoS) network, as opposed to proof-of-work (PoW). Essentially, PoW networks like that of Bitcoin make miners responsible for validating transactions on the public blockchain ledger by solving algorithms. Over time, the tasks become increasingly difficult, demanding beefier graphics processing units, which obviously requires more electricity (hence the ongoing debate surrounding crypto's environmental implications).
Statistician Zhiyuan Sun of The Motley Fool explains that back in the day, anyone with multicore central processing units (CPUs) could mine Bitcoin at roughly 50 per block, currently worth close to US$2 million (AU$2.7 million). Nowadays, you'd need a processor that's 2.2 billion times more powerful just to keep up with the mining difficulty. Not-so-fun fact: a single Bitcoin transaction uses as much power as 1.2 million Visa transactions; and by the end of the century, Bitcoin's energy consumption could surpass worldwide power production.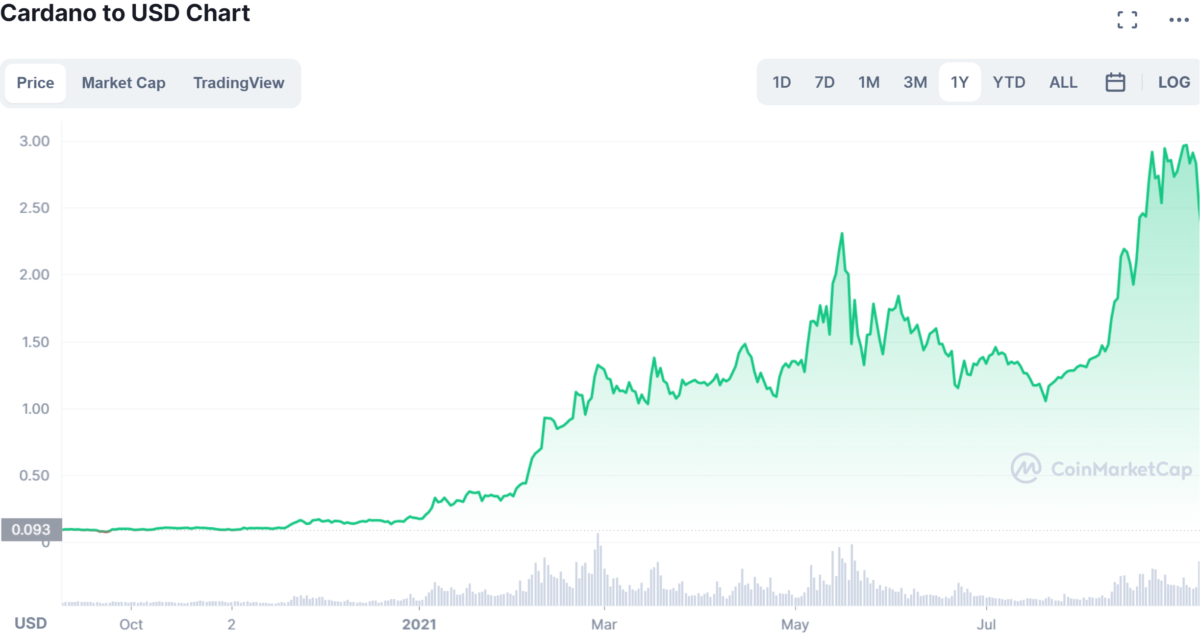 RELATED: Two Brothers Vanish With $4.75 Billion Of Bitcoin In History's Biggest Crypto Heist
---
---
That's precisely what Cardano and its PoS setup aim to solve. The platform shifts the responsibility of validating transactions from miners to those who own the token (known as "stakeholders"), mitigating the power issue. Large stakeholders can apparently earn as much as 6.59% "interest" per anum by running a stake pool. Smaller stakeholders can earn roughly the same gross return by delegating their Cardano tokens to a stake pool (before a commission of 3.91%).
"Investors can both earn passive income from staking and capital gains from price appreciation," writes Sun.
"At the same time, the network probably uses as much power as a town of a few thousand people compared to Bitcoin, which eats up the equivalent of the entire power supply of Chile."
The innovation doesn't exactly stop right there, either. Last year, the Cardano Foundation introduced the concept of sharding for the tokens, which basically means partitioning the network into local nodes or stakeholders. The result is faster processing times of 1,000 transactions per second per node ("… one million transactions per second for the whole network."). Smart contract functionality is also on the immediate horizon, which will reportedly allow Cardano to match Ethereum's utility.
"The biggest problem Cardano faces is a lack of adoption," adds Sun.
"Right now, it's primarily start-ups that use the technology, although it does have a few major partners like PricewaterhouseCoopers (PwC) and Wolfram Alpha – an engine that solves complex math problems, especially popular in college."
It's anyone's game.