There are only so many privately held islands in Australia, very few of which are within our World Heritage Listed Great Barrier Reef Marine Park and even fewer of which have a fully serviced, Qantas-built airstrip ready for action. This is Dunk Island, and due to a complicated ownership background, it's all yours for $20 million.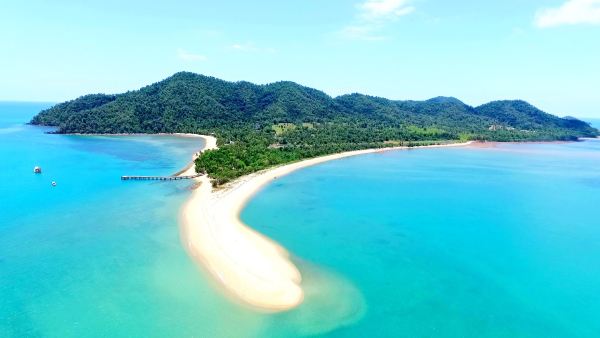 Located only four kilometres west of Mission Beach in sunny Queensland, the island boasts 147 hectares of tropical forest surrounded by pristine waters brimming with marine life. Relinquished by the Royal Australian Air Force after it served its purpose in World War II, Dunk Island became the playground of the rich and famous throughout the 1960's, entertaining the likes of Sean Connery, Henry Ford II and former Australian Prime Ministers Harold Holt and Gough Whitlam.
Qantas Airways became owners in 1992 following their takeover of Trans Australian Airlines, who owned the resort through the 70's, only to let it go to P&O Australian Resorts in 2004, who upgraded and ran the resort successfully. However, the resort was butchered by cyclones Larry and Yasi in 2006 and 2011, respectively, essentially leaving it in ruins.
---
---
In late 2011, former coal tycoon Peter Bond bought the island for roughly $7.5 million with plans to restore it to its former glory. Bond's worth of $450 million in 2013 seemed to justify these ambitions, and he poured $5 million into the reparation of the island's infrastructure. Unfortunately, it was not to be – Bond's company, Linc Energy, was placed into liquidation in 2016 and his deep pockets were diminished, subsequently forcing him to sell the island.
Dunk Island was actually due to be acquired by a cryptocurrency consortium late last year but the sale didn't proceed. Now, JLL's Tom Gibson is handling the sales campaign for the island, and has stated that it would be well-suited to a "Qualia-type" offering. It certainly does represent a special development opportunity and would follow in the footsteps of Daydream Island's recent reopening after a $100 million redevelopment and Hayman Island's new Intercontinental Resort set to open in July following a $120 million upgrade.
Some may consider this sweet deal for $20 million given that South Molle Island was purchased in 2016 for $25 million. Granted, any refurbishment would rack up an eye-watering bill. The new owner ought to give Richard Branson a call for a masterclass in how to restore a cyclone-ravaged luxury island.
RELATED: This Seychelles Resort Is Something Straight Out Of The Thunderbirds