UPDATE [8/01/21]: Elon Musk has officially surpassed Jeff Bezos to become the world's richest person, according to the Bloomberg Billionaire Index. With a net worth of US$188 billion against the Amazon founder's US$187 billion, in classic Musk fashion, here's what the big fella had to say about the matter via Twitter…
2020 proved to be a cracking year for the prolific Elon Musk – no introduction required – whose ventures from SpaceX to Tesla saw massive strides towards the right direction. But given the latter's recent bullish run on the stock market, 2021 may soon kick off in an even greater fashion, as Bloomberg reports the South-African born engineer turned entrepreneur is just US$3 billion away from overtaking Amazon founder Jeff Bezos to claim the title of world's richest person.
Thanks to yet another productive day for the Tesla shares (NASDAQ: TSLA) which resulted in a +2.8% climb, Musk's net worth received a tidy bump, closing out the day with US$181.1 billion. Bezos, who has comfortably sat on the throne since 2017, is currently worth US$184 billion. And while US$3 billion represents a near-impossible sum for ordinary folks like you and I, considering the financial growth that both Musk and Bezos have experienced in a relatively short amount of time, an extra US$3 billion might not take that long to achieve.
The beauty of Musk's wealth is how it's inextricably tied to the Tesla share price. For perspective, across the last 12-month period, TSLA has surged over +743% in total due to consistent profits and, dare I say it, near-unprecedented market hype. Throw in the fact retail trading is at an all-time high, replacing traditional gambling, and you get some proper big boy movements. Effectively, across the very same 12-month period, he has managed to add more than US$150 billion to his name – meaning if the TSLA bull run continues, Elon Musk could become the world's richest person without lifting a finger.

Momentum is certainly on his side.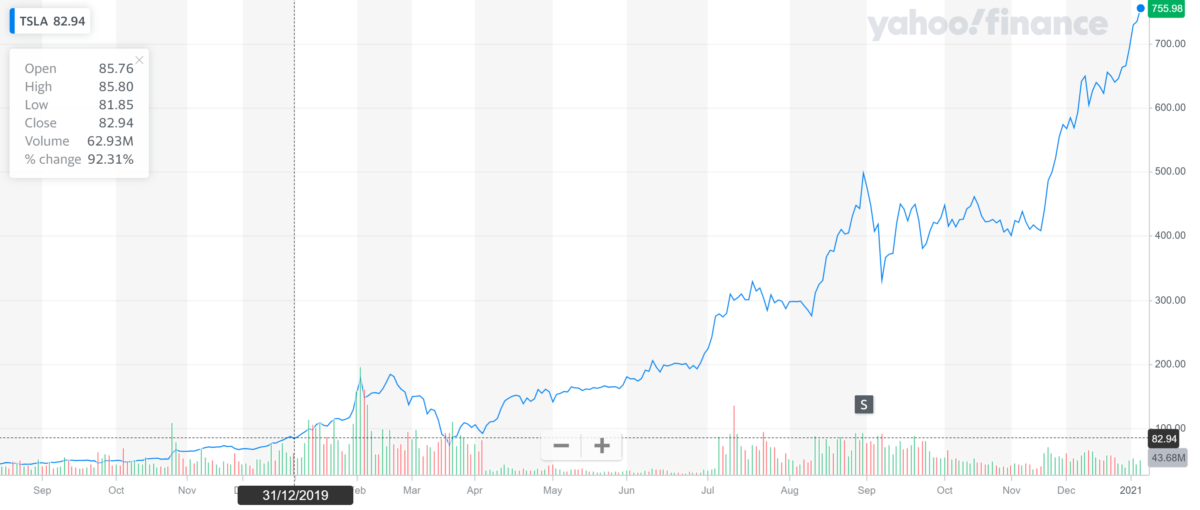 Related: The World's 10 Richest Families