Floyd Mayweather's recording-breaking paycheques are a well-documented phenomenon. But this latest breakdown from a boxing statistician puts everything into an even more impressive metric.
According to Dan Canobbio, based on data from all of Mayweather's fights in the last decade, the undefeated world-class boxer landed a total of 1,833 out of 4,270 attempted punches – an overall 43% connection rate for those playing at home.
Across the bouts he participated in throughout the 2010s, Mayweather reportedly earned approximately US$915 million inside the ring. Essentially, this meant that every time Mayweather made meaningful contact with his gloved fists, he was paid an astonishing sum of almost US$500,000 (rounded up from US$499,181.67 – again – for those keeping score at home). Half a mission per punch!
Floyd Mayweather's Decade:

10 Fights, 10-0, 2 KO's
1,833 Punches Landed
4,270 Punches Thrown
43% Overall Connect Pct.
$499,181.67 per landed punch

— Dan Canobbio (@DanCanobbio) December 31, 2019
Of course, this figure could very well snowball in the years to come. While nothing has been 100% confirmed as of yet, there is much speculation regarding what Mayweather has planned for the new roaring 20s. The majority of this very speculation having been fuelled by the legendary boxer's ties with UFC president, Dana White – as well as an apparent "handshake deal" made during a basketball match, of which the two combat sports moguls have since been pictured together.
"We both started talking," says White to ESPN.
"The easiest way to explain it to you is Floyd and I both feel that we add value to each other, and we're going to figure something out."
Could we be smelling a potential McGregor rematch? Or, God forbid, a rather ill-advised Mayweather MMA debut? At this point, who knows…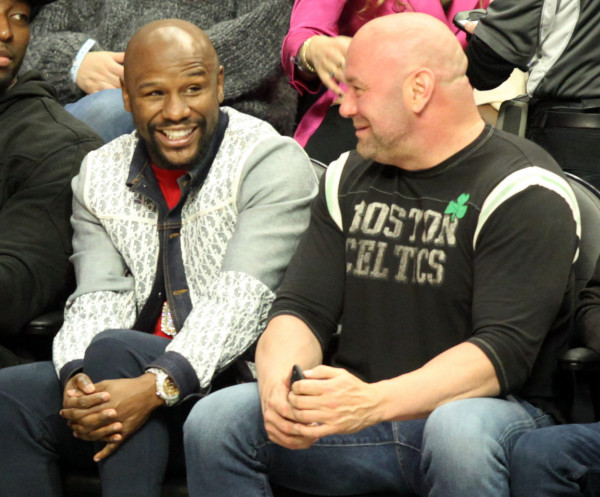 More to come on this. Undoubtedly.
RELATED: Jorge Masvidal Would Be Majorly Outclassed In A Canelo Alvarez Fight – But There's A Silver Lining.