In a world where attention to detail is often in short supply, Max Lytvyn and Alex Shevchenko zeroed in on an opportunity that would make them a fortune. As students studying business administration at Ukraine's International Christian University of Kyiv during the late 90s, they decided to pursue masters degrees in North America. There, the duo had the bright idea to create something to prevent plagiarism. Eventually, the objective evolved. And what had once been artificial intelligence designed to prevent a cheeky copy-paste was soon correcting typos and improving sentences in remarkably efficient fashion. This is the story of Grammarly.
Chances are, you've encountered the almost-inescapable ads on YouTube. Hell, like me, you might even be one of its loyal users (because a digital safety net never hurts). Whatever the case, you probably didn't realise that since its official establishment circa 2009, the operation behind this handy product – which is also available as a free browser extension – has become one of the world's largest unicorns.
In 2019, a funding round valued the company at over US$2 billion / AU$2.78 billion. Then COVID-19 happened. Thankfully, it proved to be quite the unexpected boon. Fast forward to last November, Grammarly raised another US$200 million / AU$278.6 million from investors such as BlackRock Inc and Baillie Gifford, revising the company's valuation to US$13 billion / AU$18.1 billion.
---
---
RELATED: Bored Investment Banker Turns His App Into $45 Billion-Dollar Company
"We saw our business accelerate with the move to remote work," reveals Ben Hoover, former venture capitalist turned CEO of Grammarly Inc.

"In the past, people were left to their own devices to figure out how to communicate well. We're now at a very unique point in time to use software to enable people to communicate."
"We're now at a very unique point in time to use software to enable people to communicate effectively, to augment them."
To date, Grammarly has over 600 employees who engage with half a million-plus applications in order to analyse a staggering 14 trillion words per year for its 30 million international daily active users.
"I was blown away by the product and the team," adds Hoover, who joined Team Grammarly way back when in 2011 from VC firm General Catalyst Partners after searching for a way to help his own writing; long before it was the well-oiled machine we know/love/enjoy today.
"We were founded outside of the US and didn't raise money until we were eight years old as a company. And it's very unique that we're profitable. We have been from the early days."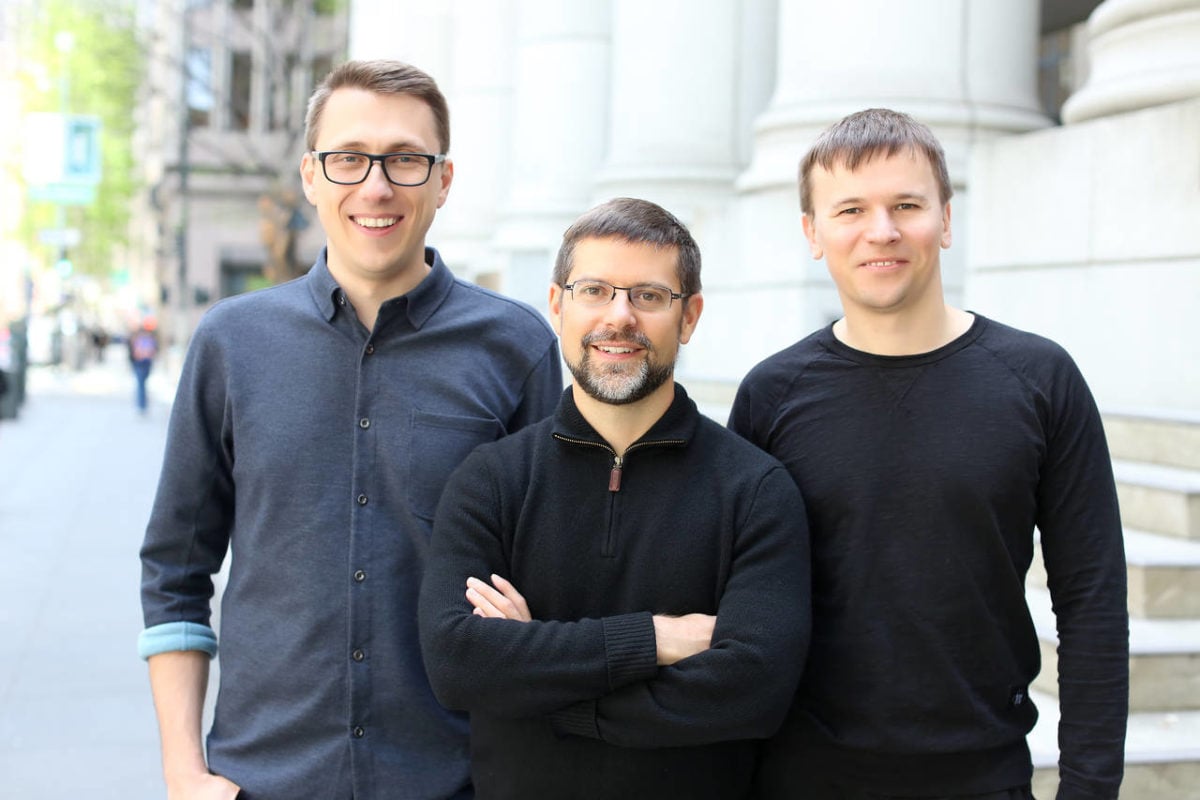 Naturally, success of this magnitude has rewarded its founders beyond their wildest imagination. According to the Bloomberg Billionaires Index, Max Lytvyn and Alex Shevchenko retain a net worth of "at least" US$2.4 billion / AU$3.34 billion each in light of their respective holdings and the company's total valuation.
---
---
The finances of Grammarly's third co-founder Dmytro Lider, however, have yet to be disclosed. But it's safe to assume he's sitting just as pretty thanks to his own position ("As an employee group, we have the majority," offers Hoover).
"We founded Grammarly with the goal of using technology to help people communicate what they mean, a mission born from our own experiences as non-native English speakers," explains Alex Shevchenko.
"Our roots gave us a unique perspective on the complexity and power of language in helping people reach their goals."
"We're proud to represent Ukraine on the world stage."
Though it'd be silly to assume this golden goose will keep laying gilded eggs without any sort of resistance. As outlined by Bloomberg, Grammarly faces a number of new challenges as it approaches the next stage of growth.
RELATED: How A Nuclear Physicist Turned $1,000 Into A Billion-Dollar Sandwich Empire
Researchers have apparently been raising concerns about how software of this kind could "fundamentally alter human expression"; echoing broader sentiments from the tech industry surrounding the increased reliance on artificial intelligence, ranging from Elon Musk's warnings it could be used as "weapons of terror" to former Google executive Kai-Fu Lee's prediction that automation is positioned to replace "40% of human jobs in 15 years."
"Grammarly must withstand a number of new AI-powered writing aids, including Microsoft Editor," writes Blake Schmidt and Alexander Sazonov of Bloomberg.
---
---
"The company is trying to stay ahead of the competition with new products including for desktops, Grammarly for Developers, and a partnership for a Samsung keyboard."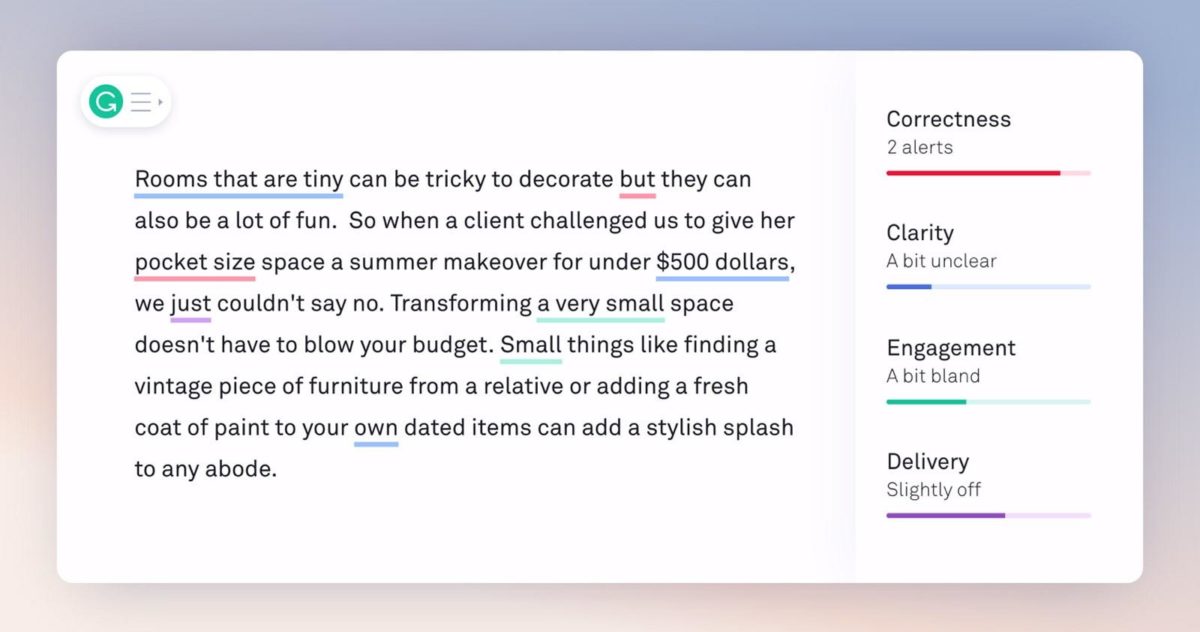 The innovation is also gradually worming its way into mainstream higher learning as well. Iowa State University English professor Jim Ranalli, for one, has recently applied for a grant to purchase 1,500 Grammarly premium licenses, thereby aiding students enrolled in writing-intensive courses. Ranalli notes the product's feedback is particularly useful for fixing subject-verb agreement problems, incorrect prepositions, and missing articles.
"It always finds one or two things I've missed in an email I'm about to send off," says Professor Ranalli.
"To fundamentally enable people to communicate and connect, to unlock problems, reduce disputes, come up with new ideas," says Ben Hoover.
For the time being, there's simply no telling where Grammarly will find itself in a few years' time. All we know for certain is that it's corrected a total of 17 mistakes in this very article – composed by a professional writer, no less. That alone should give you a better idea of why it's valued at 11 figures.