80s film fixture and Parks and Recreation actor, Rob Lowe, is selling his California estate for a staggering $47 million USD. Certainly nothing to blink at. But what exactly does $47 million USD buy you in this case? For one, daytime television legends Ellen DeGeneres and Oprah Winfrey for neighbours, as well as Jeff Bridges just down the road. Beyond that? A whole lot more…
The estate stretches across 3.4 acres of land, with 10,000 square feet of "living space". At your doorstep are views of the ocean, mountains, and clear skies. And if that wasn't enough, it's tucked away nicely amongst a sprawl of oak trees. Nature at all four corners.
The main house has an astounding twenty rooms and six bedrooms. Where you would find five other people you could tolerate enough to live with in seclusion is beyond me, but I digress. If you wander about, you'll encounter a grand total of eight full bathrooms, three half bathrooms, formal dining areas, a wine cellar, a piano bar, and several (several) terraces. As expected from someone such as Rob Lowe, there's also a home theatre and home gym, well equipped for all your entertainment and health maintenance needs.
---
---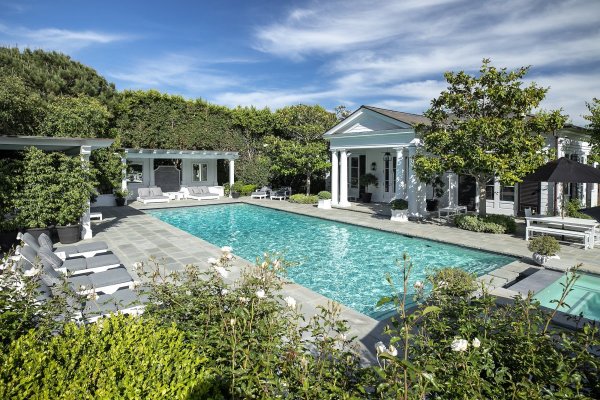 On the grounds, you'll find everything from a tennis court, reflecting pool, gardens and outdoor fireplaces, to observation decks (yes, decks and in plural), and even a koi pond. For those staying the night, there's a two bedroom guest house that isn't too shabby, either. For those staying the night in a working capacity, there's an 800 square foot pool house with staff quarters, a bedroom, and a full kitchen. And just around the corner is a garage bay that "… easily fits…" seven cars.
The house was completed by architect, Don Nulty, interior designer, David Phoenix, landscape architect (apparently there's a difference), Mark Rios, and yes, feng shui specialist, David Cho. So you know every detail and aspect of this dwelling has been thoroughly considered… and invoiced for.
Lowe once told Architectural Digest that he "… always wanted that house where everybody wants to go…". Not a bad effort, Rob. Not bad, indeed.
Check out the full gallery above.