In 1979, 20-year-old Earvin Johnson from Lansing, Michigan had a very important decision to make as Converse, Adidas, and Puma eagerly pursued the young prospect's signature for a shoe deal. In present day, Magic Johnson wishes he gave a second look to the dark horse in the equation: Nike.
It was his rookie year on basketball's marquee team, the Los Angeles Lakers, alongside the best player in the world at the time, Kareem Abdul-Jabbar, and – between the flashy playing style and his big smile – every brand seemingly wanted some of the Magic.
If you have read the exceptional biography Shoe Dog by Nike co-founder Phil Knight, you'd be familiar with its humble beginnings as a fringe competitor in the basketball shoe market shortly before it would change the face of sports. If episode 6 of HBO's Winning Time is anything to go by, the ambitious Knight eagerly pitched a signature shoe to Magic in exchange for stock in the company.
---
---
RELATED: The World Almost Received A Michael Jordan Converse Collaboration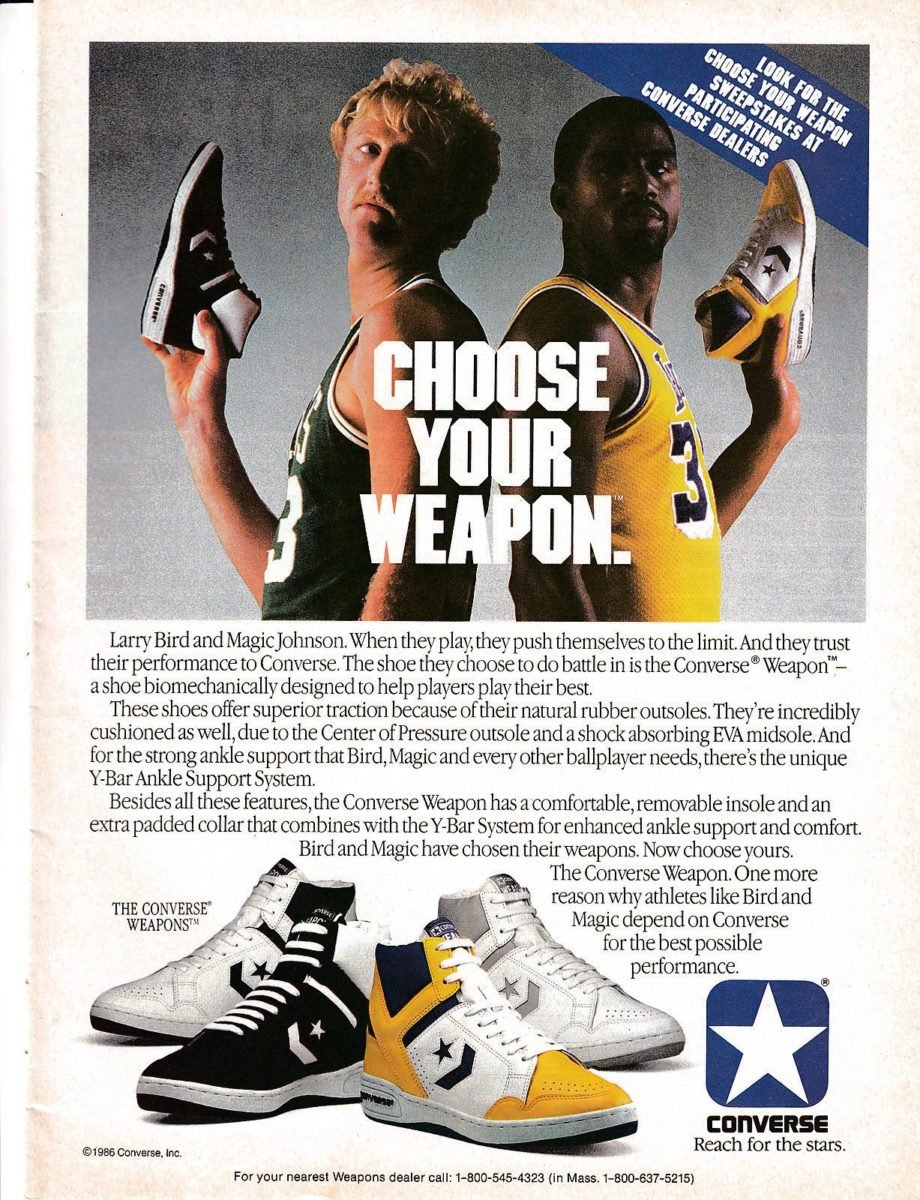 The first Nike IPO sold their shares for around 18 cents each. If you bought just one share in 1980, it would have turned into 128 shares and that one share would be worth nearly US$12,000 (AU$16,200) in the present day. It is estimated that the Magic Johnson Nike deal would have amounted to around US$5.2 billion (AU$7 billion).
Hindsight is 20/20. Magic Johnson proceeded to accept the far safer option of US$100,000 (AU$134,700) from Converse, which was the dominant shoe in the market and was already linked to Magic's basketball idol Julius Irving ("Dr J"). This, for the early 1980s, was a lot of money to be made here.
While the signature shoe part of the deal is likely a bit of embellishment from HBO, the rest of this exchange is almost entirely true. As Magic himself explained:
"When I first came out of college, all the shoe companies came after me — and this guy, Phil Knight, who had just started Nike. All the other companies offered me money, but they couldn't offer me money because they just started.
"So he said, 'Stock. I'm going to give you a lot of stock.' I didn't know anything about stock. I'm from the inner city. We don't know about stocks.
"Boy, did I make a mistake… I'm still kicking myself. Every time I'm in a Nike Store, I get mad. I could have been making money off of everybody buying Nikes right now."

---

---
If we ever get to a season 9 of Winning Time, we will see that Magic's divorce from Converse was a pretty messy one. Around a decade into their partnership, Magic explained to the Baltimore Sun that he planned to leave Converse after participating in the Olympics.
"Converse as a company is stuck in the 60s and 70s. They think the Chuck Taylor [sneaker] days are still here," Johnson said after U.S. Olympics Basketball team practice.
"I've never really been happy with them. Nike and Reebok pour money into advertising; I've been trying to get out for years."
RELATED: Michael Jordan's Nike Contract Sparked The Richest Athlete Endorsement Deal In History
"It's been 12 unhappy years," he continued.
"I'm calling them all the time, telling them how bad the company is."
Nike probably doesn't have any hard feelings about a missed opportunity with Magic Johnson, as they ended up signing some hotshot new college basketball player named Michael that would be wearing Nike's shoes in the NCAA finals and in the NBA just four years later. We all know how that turned out for them.
To add insult to injury: Nike would eventually acquire Converse for around US$309 million (AU$416 million) in 2003.
---
---
It's hard to feel too sorry for Magic, though. He still went on to start Magic Johnson Enterprises which has seen him invest in everything from fast food locations, to professional sports to real estate. MJE has holdings of around US$1 billion (AU$1.3 billion); Johnson himself is worth around US$600 million (AU$807 million) and is considered to be one of the wealthiest athletes in the world.
Still, though. Damn.