UPDATE [18/03/21]: The 15th-century Ming Dynasty Chinese bowl snapped up for just US$35 (AU$45) at a yard sale in New Haven, Connecticut has just been auctioned by Sotheby's for an incredible US$722,000 (AU$924,900).
It's what we all dream about but only a select few ever get to experience. Last year, at what would have otherwise been just another yard sale in New Haven, Connecticut, an unidentified antique enthusiast bought a porcelain Chinese bowl for just US$35 (AU$45). Little did he know, he was now in possession of a rare 15th-century artefact from the Ming Dynasty, with a true value of anywhere between US$300,000 and US$500,000 (AU$386,500 and AU$644,000 respectively).

After our keen-eyed antique enthusiast returned home, he emailed Sotheby's for an evaluation. As it was discovered soon after, this particular bowl dated back to the 1400s and represents just one of seven known to exist in the entire world – most of which reside in national museums from Taiwan to Iran and England. Yet to the everyday punter, it resembled nothing more than your run-of-the-mill cut of white porcelain adorned with cobalt blue floral paintings.
"It was immediately apparent to both of us that we were looking at something really very, very special," says Angela McAteer, Senior Vice-President at Sotheby's.

"The style of painting, the shape of the bowl, even just the colour of the blue is quite characteristic of that early, early 15th-century period of porcelain. All the characteristics and hallmarks are there that identify it as a product of the early Ming period."
According to The Guardian, McAteer and the auction house's other Chinese ceramics + art expert Hang Yin determined the bowl was from the reign of the Yongle emperor – the third ruler of the Ming dynasty – crafted specifically for the Yongle court. The Yongle court was known to have "ushered in a new style to porcelain kilns" in the city of Jingdezhen, and this bowl is a "quintessential Yongle product", notes Sotheby's.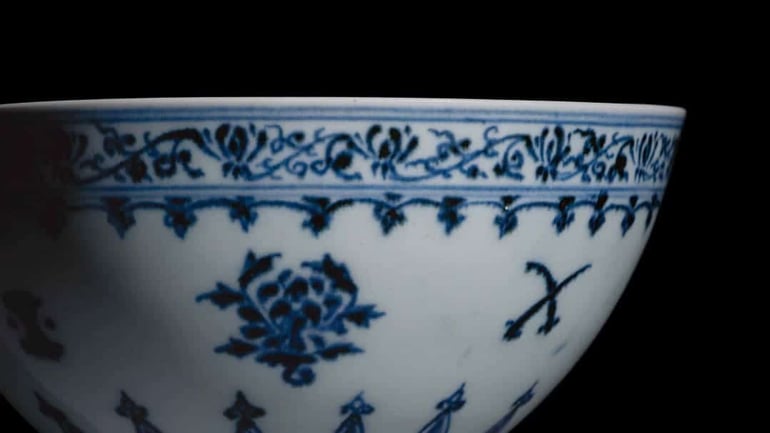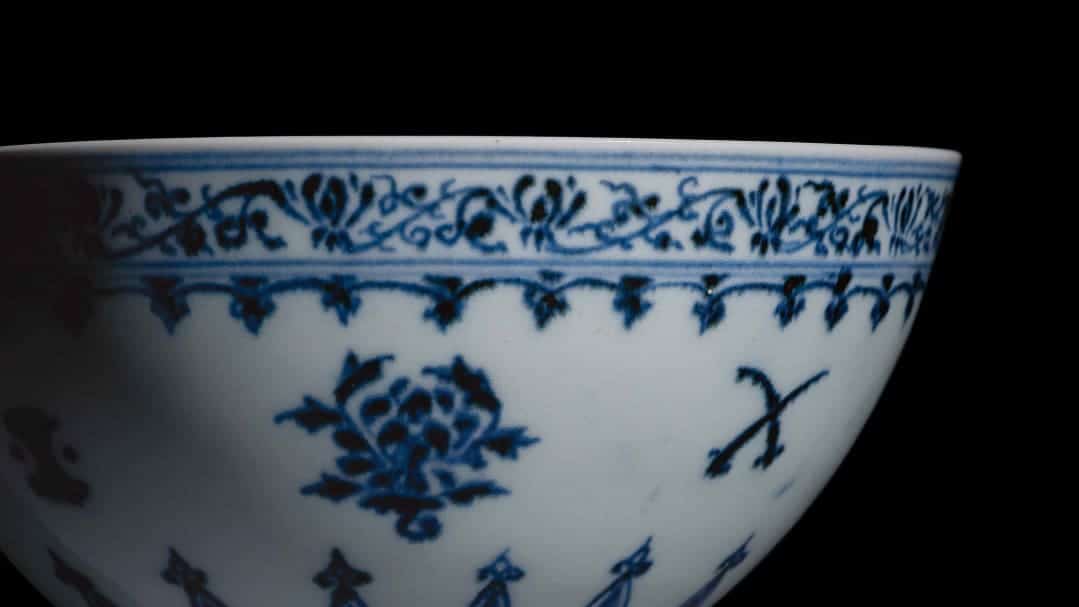 RELATED: Man Buys JLC Watch For $5.99 In Thrift Store, Sells It For $35,000
As per the official listing:
Delicately potted in the shape of a lotus bud (lianzi) or chicken heart (jixin), with deep rounded sides and a pointed base resting on a short, narrow foot, finely painted in rich tones of cobalt blue accented with characteristic 'heaping and piling'.

The interior is decorated with a central medallion enclosing a formalized quatrefoil motif encircled by a narrow band of alternating stylized florets formed of dots and leaves, and further wreathed by elaborate interlocking strapwork forming heart-shaped petals enclosing trefoils, the cavetto with eight dianthus blossoms borne on undulating leafy foliate scrolls, all below a row of pendent trefoils and a band of zigzag lines and clusters of circles around the rim.

The exterior is painted with four blossoms of lotus, peony, chrysanthemum, and pomegranate flower, alternating with four emblems of zabao (miscellaneous treasures) including the ingot, double horns, coral branch, and yin-yang castanets, between interlinked pendent trefoils and upright slender petals surmounted by trefoils, all bordered by a band of lotus scrolls around the rim and classic scrolls encircling the foot.
"It's always quite astounding to think that it kind of still happens, that these treasures can be discovered. It's always really exciting for us as specialists when something we didn't even know existed here appears seemingly out of nowhere."
The rare Ming Dynasty Chinese bowl is scheduled to be auctioned in New York as part of Sotheby's Auction of Important Chinese Art on March 17th.