Last week, Bloomberg revealed Colin Huang, founder and former CEO of Chinese e-commerce platform Pinduoduo Inc., had experienced a greater decline in personal wealth than anyone else in the world. From mid-February of this year to present day, more than US$27 billion / AU$37 billion of the Hangzhou native's fortune has evaporated into thin air. What exactly went wrong?
While many will have immediately leapt to the most fantastical conclusion – e.g. shitty investments, monster crypto heists, cocaine + hooker addiction – the explanation is actually quite dull, though no less concerning. In fact, the explanation is a completely justifiable cause for concern in regards to President Xi Jinping and the Chinese Communist Party's growing belligerence.
You see, Colin Huang – who owns 28% of Pinduoduo Inc. – is just one of several billionaires facing the pointy end of Beijing's market-roiling regulatory crackdown on private sector giants based in China. A crackdown instigated by a "controversial" speech delivered by Alibaba's Jack Ma, who openly criticised the Chinese financial systems, its "pawnshop" mentality, and the government's lack of innovation. As you can imagine, this went down like a bloody lead balloon.
---
---
RELATED: Reddit Is Now Valued At $14 Billion, But Here's Where It's Still Struggling
The most immediate consequences were faced by Jack Ma himself. In addition to his much-publicised disappearance, the CCP shut down the Hong Kong listing of Ma's fintech firm Ant Group. For reference, Ant Group was on the verge of becoming the biggest initial public offering in history, expected to raise a staggering $48 billion. Soon after, China's competition regulator announced it was also gearing up to probe Alibaba for "suspected monopolistic practices", which also resulted in a record $3.8 billion fine.
It didn't take long before the wrath incurred by Jack Ma impacted his peers and their respective businesses' share prices. Clamping down, after all, tends to spook investors. While President Xi Jinping called for "common prosperity" to rein in the titans under the guise of society's overall benefit, operations like Ma's Alibaba, Huang's Pinduoduo Inc., and Hui Ka Yan's embattled real estate company China Evergrande Group bled from their necks like slaughterhouse pigs. Pinduoduo being the most extreme example, hence the media coverage, sustaining a share price loss of 40% in 2021. It's to the point where Ma's $9.5 billion hit, and even Yan's $22 billion hit, appears modest by sheer comparison. In total, trillions have been wiped off the market.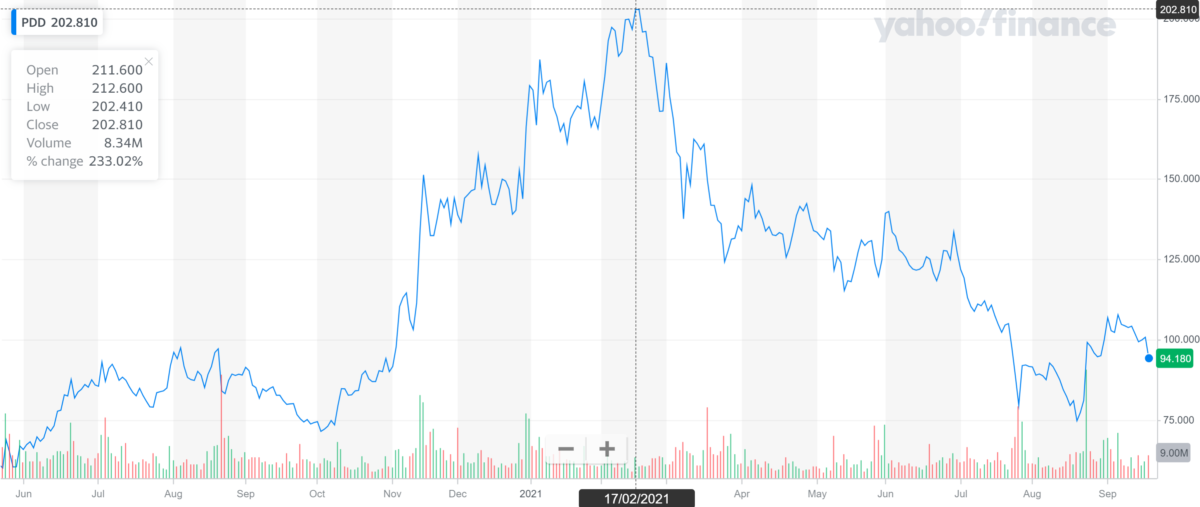 RELATED: How A Secret $20 Billion Fortune Disappeared In Just Two Days
"Without Jack Ma's speech, the regulators first would not be so infuriated, and they would not take this bold step of reporting the whole matter to its top leaders," Angela Zhang, legal expert at Hong Kong University, tells ABC.
"However, these kinds of regulatory tensions have been there for a really long time."
Colin Huang and Pinduoduo Inc. are now among several tech companies in China who have been strongarmed into pledging allegiance to the flag, as well as pledging both current and future corporate profits to so-called philanthropy projects as President Xi Jinping campaigns to close China's wealth gap. Bloomberg reports Pinduoduo allocated US$1.5 billion (AU$2 billion) in earnings for national agricultural development, with another US$2.4 billion (AU$3.3 billion) worth of company shares donated to a charitable trust before that.
---
---
But despite all this, Colin Huang retains a net worth of US$35.5 billion / AU$48.8 billion (for now). Still, it's uncertain how the current situation will shape up in the near future.