The arrival of data-warehousing company – Snowflake – to the New York Stock Exchange had been highly-anticipated. Now, it seems as though it has well and truly lived up to the hype – at least for the time being – with the Snowflake stock price (NYSE: SNOW) more than doubling in value during its very first day of trading.
The Warren Buffett-backed operation IPO'd at US$120 apiece. By market close, the Snowflake stock price had surged by +111.6%, finishing the day at US$253.93 apiece – and effectively bringing Snowflake's market cap to over US$70 billion. Certainly not a bad result after Day 1. And especially not bad for the Oracle of Omaha himself, the talented Mr Buffett.
For reference, Warren Buffett's Berkshire Hathaway bought US$250 million worth of Snowflake stock at the IPO pricing, topped off by an additional 4.04 million shares at the debut price. This brought Berkshire Hathaway's total exposure to around US$730 million.

As verified by CNBC, the movements recorded on the New York Stock Exchange pushes Berkshire Hathaway's stake to a revised value of US$1.55 billion – yielding over US$800 million paper profit in a single day. At Snowflake's session high when it was trading around US$319 a share, paper profits exceeded US$1 billion.
---
---
RELATED: How To Buy US Shares In Australia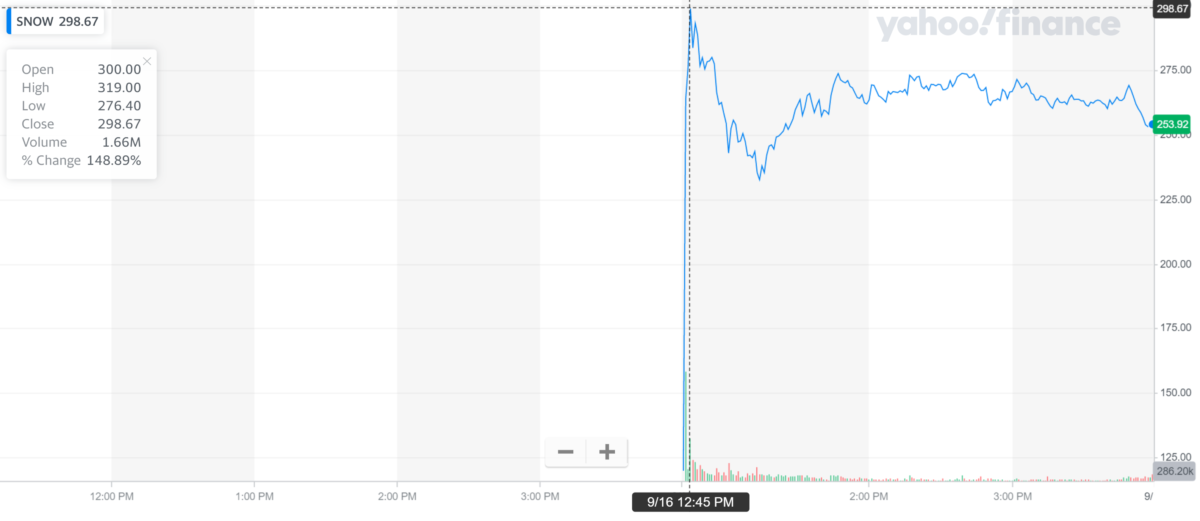 Even more impressive is the result seen by Mike Speiser, who has been the Managing Director of Sutter Hill Ventures since 2008. Between 2012 to 2014, Speiser also served as both CEO & CFO to Snowflake and acquired 20.3% of outstanding shares in exchange for a US$200 million investment. Today, that very same stake is valued at over US$12.6 billion.
"This is just one day," cautions Snowflake CEO Frank Slootman in an effort to manage expectations.
"Things will normalise and shake out and become more settled as time moves on."
In case it wasn't painfully clear already – this is one you should probably add to your watchlist.