UPDATE [2/11/21]: It's like they say. If it sounds too good to be true, it probably is. After surging by as much as 75,000% to above US$2,860 / AU$3,800, the Squid Game cryptocurrency had to rug pulled out from under it – plummeting to just a fraction of a cent when the creators sold their majority holdings.
Now, links to the official website and social media are dead; trading is no longer possible on PancakeSwap; and given how it was pretty much impossibly to pull your money out for anyone who isn't a creator, suffice it to say, plenty of investors are pissed off.
"The scam has completed its cycle and the price has just dropped significantly," CoinGecko Co-Founder Bobby Ong tells Business Insider.

"Website and social media accounts being deleted is a very obvious sign that it is a scam."
---
---
Original Article – Forget Bitcoin, A 'Squid Game' Crypto Is Up 2,170% In The Last 24 Hours
The Squid Game effect is undeniable. Since the culture-defining Korean survival drama premiered on Netflix last month, acting debutante and series star Jung Ho-yeon's Instagram following has skyrocketed from 400,000 to over 22.7 million; South Korean internet provider SK Broadband has sued the streaming service for payment to cover increased network + maintenance costs instigated by a monstrous 24-fold surge in traffic; while sales of white Vans have been bumped up by 7,800%. But the insane numbers behind Netflix's biggest show aren't limited to the examples above. In the world of cryptocurrency, there's a Squid Game token that has exhibited close to 2,170% of growth in the last 24 hours alone.
24 hours ago, SQUID / $SGT was barely trading at US$0.1. Currently, its price is sitting a fraction under US$2.24, bringing the total market capitalisation to US$175.9 million. Like several meme coins before it (and several meme coins to come), the jaw-dropping growth in relatively no time has occurred for no particular reason, aside from apes being strong together.
SQUID / $SGT – which opened its presale on October 20th and reportedly sold out in a single second – was launched on the Binance Smart Chain as the exclusive coin of the Squid Game Project. Essentially, this is a crypto play-to-earn platform that parodies its namesake's tournament online. Offering six rounds of games, unlike the limits imposed in Hwang Dong-hyuk's fictional universe: 1. more than one person can win, 2. the ETH grand prize isn't capped at ₩45.5 billion (AU$52.77 million), and of course, 3. there aren't any "deadly consequences."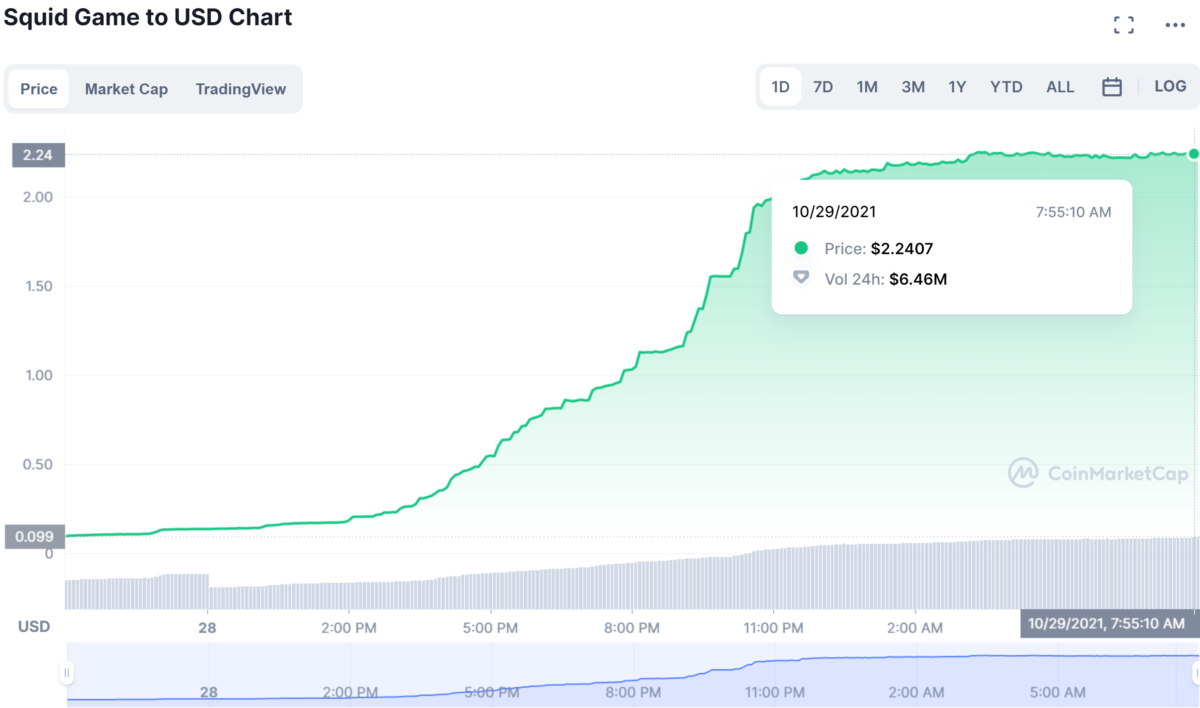 RELATED: 'Squid Game' Season 2 Greenlit Once The Creator Is Ready
To participate in each game, players will be asked to pay a preset price in SQUID tokens, with certain rounds also requiring the purchase of a custom-made NFT; some of which feature show characters including the masked guards. Similar to the source material, however, the real-life Squid Game's final round isn't for the faint of heart. To participate, you're looking at an entry fee of 15,000 tokens – or roughly US$33,300 at the time of this article's publishing – along with copping one of those special NFTs. All funds collected are split between the developers / VIPs (10%) and the reward pool (90%).
Of course, if you can't be bothered to virtually endure Red Light / Green Light, survive the midnight fight, cross the glass bridge, and so forth… there's also a way to earn passive income. As advertised on the site, simply holding SQUID / $SGT allows you to automatically receive free ETH in your wallet. Additionally, you can put up Squid Game cryptocurrency as collateral and stake via the platform's Marbles Pools.
---
---
"Earn with new ads, games, and automatic ETH distribution every day – Hodl SquidGame!" reads the official description.
Before you jump aboard the hype train, it's worth noting CoinMarketCap has recently issued a warning. The platform has apparently received "multiple reports" of users being unable to sell the Squid Game cryptocurrency via popular decentralised exchange Pancakeswap. According to CNBC, whilst it's unclear why some users are unable to liquidate their positions, the white paper describing the coin does outline an anti-dumping technology that prevents people to sell unless specific conditions are met.
Find out more below.