The Taylor Sheridan you know today is many things. Creator of neo-western drama Yellowstone (plus all its spin-offs). Academy Award-nominated screenwriter credited with the likes of Sicario, Hell or High Water, and Wind River (the latter of which he also directed). An exceedingly talented multi-hyphenate with a US$175 million / AU$246 million overall deal courtesy of Paramount and another seven shows currently in development. But this didn't exactly come together overnight.
Let's turn the calendar back to 2010. A time of optimism, long before the onslaught of recent global bullshit. Kesha and 3OH13 were charting. Barack Obama had just taken up residence in the Oval Office. As for the talented Mr Sheridan, the man – who was then a middling actor pushing 40 – landed himself a nice little recurring role as Deputy Chief David Hale in FX's Sons of Anarchy. This was Sherdian's most substantial role to date, having previously "struggled" to support his family by playing dim-witted ne'er-do-well Danny Boyd in Veronic Mars, as well as appearing in the odd CSI episode.
RELATED: Brace Yourselves, There's A Shitload More 'Yellowstone' Coming Our Way
---
---
Initially, it seemed as though his acting career was finally heading in the right direction with Sons of Anarchy. During a salary negotiation, however, Taylor Sheridan would face a harsh reality that would compel him to pursue an entirely different pathway altogether.
"When my attorney said, 'Look… there are kids on the Cartoon Network making more than you're offering this guy,'" recounts Taylor Sheridan.
"This jerk business affairs attorney goes, 'He probably deserves to make more, but we're not going to pay him more — because guess what? He's not worth more.'" There are 50 of him. He is 11 on the call sheet. That's what that guy is and that's all he's ever going to be.'"
"That's really when I quit [because] that's how the business saw me: 'Let's replace him with someone cheaper.'"
"I decided that I didn't want to be 11 on the call sheet for the rest of my life."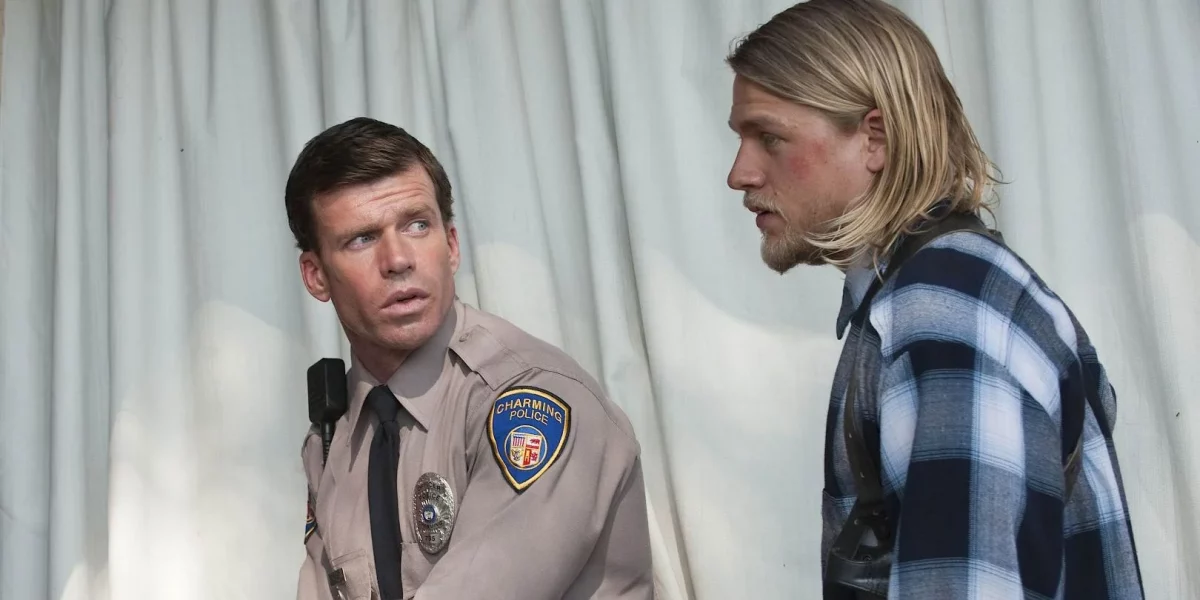 RELATED: Holy Shit… The Other 'Yellowstone' Prequel Just Cast Harrison Ford & Helen Mirren
For anyone else, this would've been the final nail in the coffin. For Taylor Sheridan, this was all the motivation he needed to quite literally begin penning the next chapter of his life. After his character was unceremoniously killed off in Sons of Anarchy and one final appearance on NCIS: Los Angeles as Navy Captain Jennings (Episode: Enemy Within'), he got to writing.
---
---
Less than four years later, his early draft of Sicario would attract the right kinds of attention. In the hands of auteur Denis Villeneuve and legendary cinematographer Roger Deakins, it would become a modern masterpiece rich with tension, rivalling Michael Mann's Heat. It would also establish the foundation of a brand new film franchise.
The following year, Taylor Sheridan would rack up nominations upon nominations for David Mackenzie's critically-acclaimed Hell or High Water starring Chris Pine and Ben Foster, before making his own spectacular directorial debut with Wind River starring Jeremy Renner and Elizabeth Olsen.
RELATED: 'Sicario 3' Has Been Fully Written, Reveals Josh Brolin
RELATED: 'Yellowstone' Creator's New Mafia Series Starring Sylvester Stallone Locks In Official Release Date
Then came Yellowstone. At this stage, the magnitude of its success almost requires zero explanation – a show doesn't magically receive five spin-offs because it's just alright, nor does it earn the title of most successful TV franchise of 2021 based on sales and break several viewership records. Follow the links if you still have any lingering questions/doubts.
"Taylor Sheridan is a cowboy at heart — he rises early, gets on his horse to move cattle, does other ranch stuff, and this is where he works out many of his ideas and solves storytelling problems," writes Mike Fleming Jr of Deadline.
"And while he'll be the first to admit he's overworked, he has waited his whole life for this, and will ride his storytelling horse as far as it will take him."
"He refuses to take for granted his recent prolific run, and when he shows up in his series as an actor, it's usually because he's the only one around with the horsemanship to believably convey what the scenes call for."
---
---
"It took some time, but it turned out to be the best thing that ever happened to Sheridan when he quit acting cold turkey and began typing."
Message received loud and clear. Always know your worth.