Tesla (NASDAQ: TSLA) has become the sixth company in US history to achieve the coveted $1 trillion (USD) market capitalisation, joining the likes of Apple (NASDAQ: AAPL), Microsoft (NASDAQ: MSFT), Amazon (NASDAQ: AMZN), Alphabet (NASDAQ: GOOGL), and Facebook (NASDAQ: FB)… as well as reinforcing the not-so-scholarly sentiment that tech money simply hits different.
This revised valuation is owed to the most recent 12.7% surge in the EV automaker's stock price, closing on Monday at approximately US$1,025, which itself was instigated by car rental giant Hertz after it placed an order for 100,000 vehicles.

Given his 23% stake in the entire operation, billionaire CEO & Founder Elon Musk has managed to casually add another US$36.2 billion / AU$48 billion to his personal fortune in a single day – the largest single-day gain Bloomberg has ever recorded, eclipsing last year's US$32 billion / AU$42.7 billion surge of Nongfu Spring bottle water tycoon, Zhong Shanshan – and effectively rounding out his total net worth to approximately U$288.6 billion / AU$385 billion; as filings showed a "fresh tranche of options in his moonshot pay package vested.
RELATED: LeBron James' Entertainment Company Hits $977 Million Valuation In A Single Year
---
---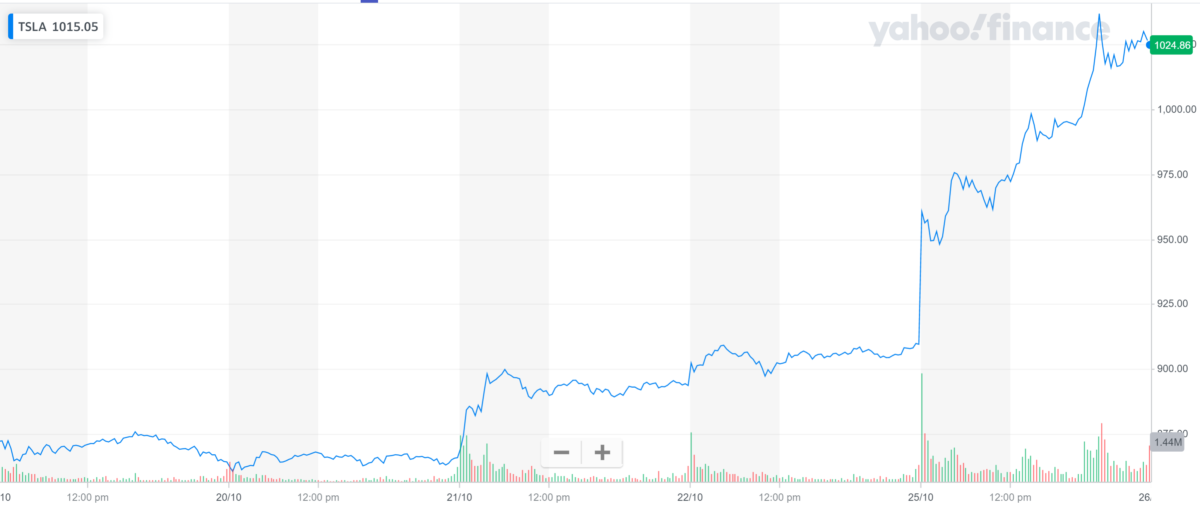 For reference, two-thirds of Musk's entire net worth is directly tied to Tesla's shares and options. While he receives no salary, in addition to the aforementioned 23% stake, his extremely lucrative compensation package offers 12 options tranches that vest depending on milestones involving Tesla's market cap and financial performance. The seventh tier worth over US$8 billion / AU$10.68 billion was unlocked last week after Tesla reported adjusted earnings before interest, taxes, depreciation, and amortisation (EBITDA) of US$3.2 billion / AU$4.27 billion – up 77% from 2020.
Suffice it to say, this past month has been quite the period of growth for old mate Elon. Aside from Tesla joining the $1 trillion (USD) club, the C-Suite meme lord overtook Amazon's Jeff Bezos in wealth a few weeks prior to secure the title of world's richest person. Around the same time, Musk's other tech side hustle SpaceX hit a US$100 billion / AU$133.5 billion valuation after selling its shares on the secondary market. These shares were reportedly offered at US$560 each – 33% above the US$420 price logged in a February funding round that valued the company at US$74 billion / AU$98.8 billion.
Tesla is officially the second fastest company to ever achieve a market cap of $1 trillion (USD), reaching the milestone in just a little over 12 years after its initial public offering circa 2010. The honour of fastest company, of course, belongs to Facebook, which needed just a little over nine years after its IPO; while the honour of slowest company belongs to Apple, which took a considerably longer 37 years after its listing.
Side note: has anyone checked on Dr Michael Burry lately?