In the wake of COVID-19's destruction, legions of desk jockeys migrated from physical conference rooms to online conference rooms; primarily hosted on Zoom which – at this point – is safe to assume requires zero introduction, especially considering its social applications after 5 PM. It's also safe to assume the platform's popularity has become far more tangible given the Zoom stock price's (NASDAQ: ZM) +22% surge immediately after fiscal reports indicated company revenue had almost quadrupled in Q2 – with a year-over-year figure of +355%.
In terms of actual dollars and cents, Zoom's revenue in the same quarter exactly a year ago amounted to US$145.8 million. This year, however, they managed to pull off something extraordinary – with some help from a global pandemic, of course – raking in approximately US$663.5 million. As for Zoom's profit, those very telling numbers hit US$186 million, which is a considerable jump from the US$5.5 million of net income recorded in Q2 of 2019.
Even more impressive than both the Zoom stock price jump and revenue growth is how the videoconferencing platform has steadily become legitimised as a serious business tool, with roughly 370,000 of their current customer base having ten or more employees. In Q2 of 2019, Zoom had less than 1,000 customers which generated just US$100,000 in trailing 12-month revenue. This effectively represents a +458% year-over-year increase of customers.
---
---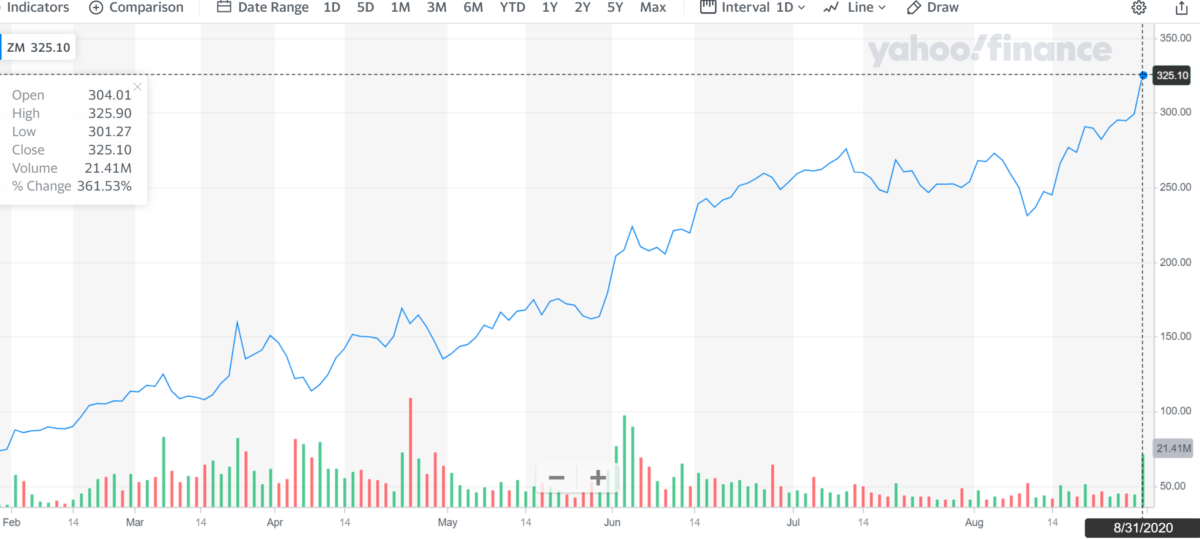 According to CFO Kelly Steckelberg, subscription fees from new customers accounted for 81% of revenue growth in Q2. And if Zoom as an operation can manage to hold steadfast in the coming few quarters, the revenue outlook for fiscal 2021 is projected to arrive at the US$2.39 billion threshold. Growth is certainly the name of the game here.
Read more about Zoom's incredible rise during COVID-19 here.