Enthusiasm for the art of Jean-Michel Basquiat remains at an all-time high, with the announcement that a rare work will form the highlight of Christie's upcoming 21st Century Evening Sale this May in New York City. The Basquiat triptych titled Portrait of the Artist as a Young Derelict has never appeared at auction before, with bidding set to start at US$30 million (AU$41.8 million).
The three-piece artwork was executed on three large conjoined reclaimed wooden panels, connected by a collection of nails and hinges that Basquiat installed himself. Presented as a self-portrait, the work examines Basquiat's concerns with graffiti, and is tied together as an altarpiece celebrating his fascination with the culture of street art.
Originally made in 1982 in the artist's Crosby Street studio, the work was created in the lead-up to Basquiat's seminal show at Fun Gallery that was exhibited in the final months of the same year. Widely remembered as the best exhibition of Basquiat's lifetime, the work has since been seen over the last two decades at the Brooklyn Museum, Fondation Beyeler and Musée d'Art Moderne de la Ville de Paris, and Fondation Louis Vuitton.
---
---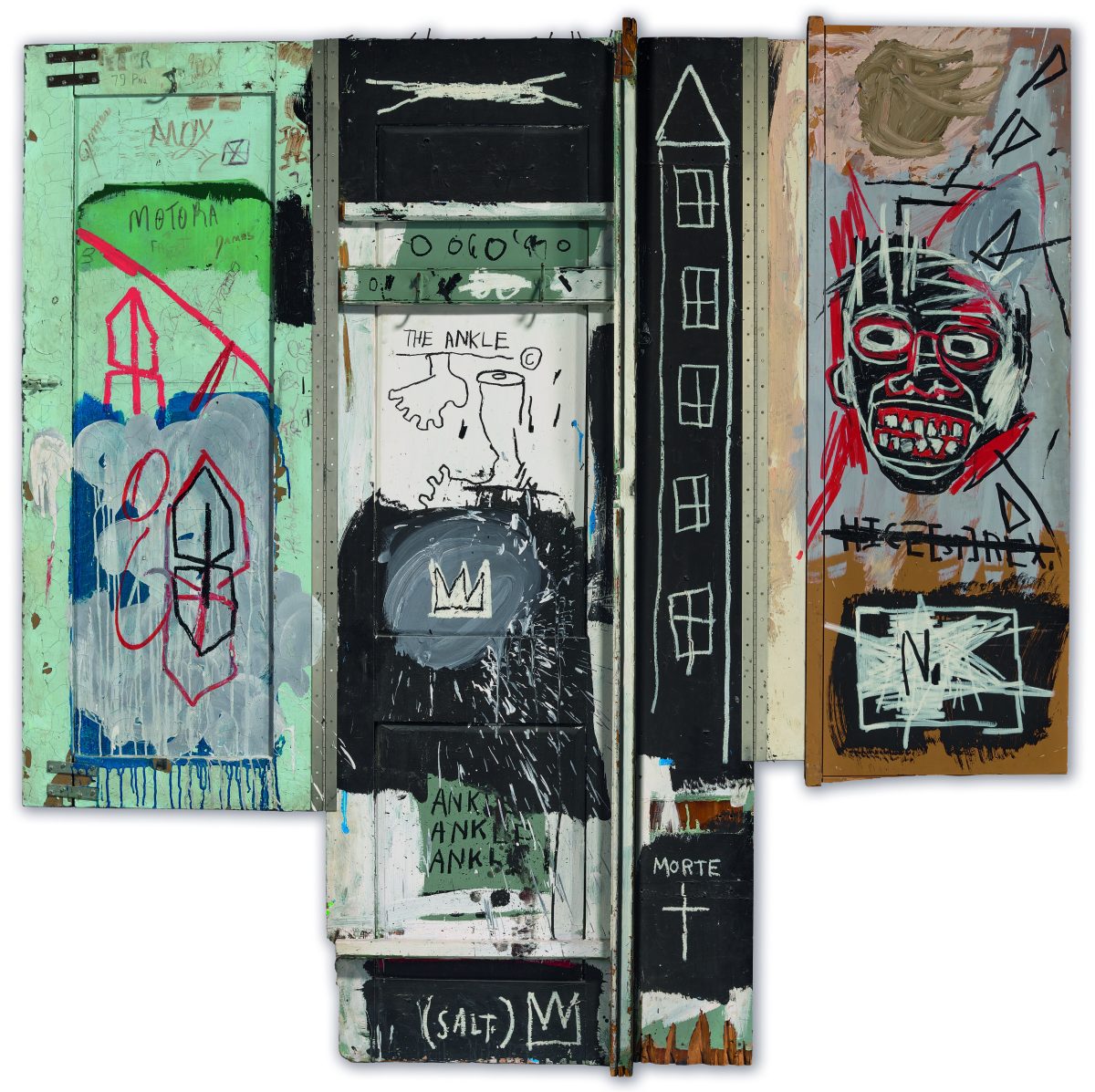 RELATED: The Real Star Of Tiffany's New Campaign Is Jean-Michel Basquiat
The work is quintessential of Basquiat, and represents a high point in the artist's career. Bursting with motifs now recognised as key to his art, Portrait of the Artist as a Young Derelict features the signature three-pointed crown, anatomical studies, as well as a number of evocatively scrawled words. The work has remained in a private collection for the last two decades, appearing on the market for the first time in May.
"We are truly thrilled to offer Portrait of the Artist as a Young Derelict by Basquiat as a leading highlight of our 21st Century Evening Sale during this Spring's Marquee Week," said Ana Maria Celis, Head of Evening Sale at Christie's.
"This is a rare work of self-portraiture, containing a rich multitude of references that touch upon all aspects of Basquiat's life—ranging from his childhood to his meteoric rise to fame to ruminations of his own mortality. Its magnificent structure evokes the grandeur of altarpieces of the Northern Renaissance, with a highly unique picture support that classifies it among the most special within the artist's oeuvre."
The Christie's 21st Century Evening Sale boasts another of Basquiat's works from the same year, in See Plate 3. A rare Basquiat sculpture, See Plate 3 formed a part of Keith Haring's collection until his passing in 1990, and will be offered with an estimate of US$4-6 million (AU$5.5-8.3 million).