Alright, 'fess up. Who had Christopher Walken painting over a Banksy artwork for a six-part BBC comedy-drama series on their 2021 bingo card?
What we've just described occurred during the final episode of BBC's The Outlaws, co-created by Stephen Merchant – notable Ricky Gervais collaborator, The Office (UK) co-creator – and multi-hyphenate talent Elgin James, the man behind Sons of Anarchy spin-off series Mayans MC.
Starring Walken and Merchant, Rhianne Barreto, Gamba Cole, Darren Boyd, Clare Perkins, Eleanor Tomlinson, as well as Jessica Gunning, the story basically follows seven strangers from different walks of life, forced together while completing community service sentences in Bristol. Their luck, however, takes an unexpected turn when they discover a bag full of money – "unaware some dangerous people are looking for it."
---
---
RELATED: Banksy Print Sold For $300 At Sydney Gift Shop To Auction For $150,000
The scene in question unfolds like so…
"Diane, look at this rat I found," says Christopher Walken's Frank after pulling away a piece of wood.

"Any vermin under 10 kilos are yours, bag it and bin it," says Jessica Gunning's uninterested Diana, community service supervisor, without looking away from the Lee Child novel she's reading.

"No, it's a graffiti rat," responds Frank.

"Council said paint over any graffiti so crack on," adds Diana.

"It's awfully good," he counters, hesitant, and in an attempt to persuade her it's worth preserving.

"Less debating, more painting," she shoots back.

Christopher Walken shrugs and the camera tightens on the Bansky graffiti rat as he rollers over the image entirely in just six strokes, closing out the series.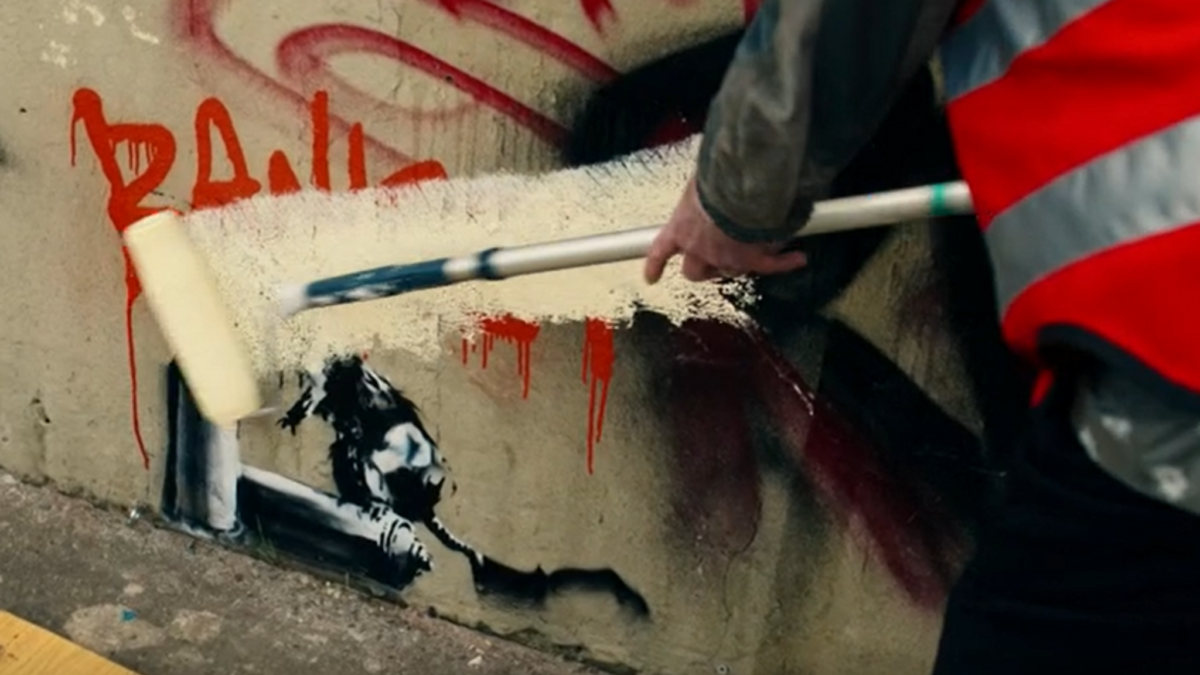 RELATED: Christopher Nolan Crashed A Real Boeing 747 For 'Tenet'
"We can confirm that the artwork at the end of The Outlaws was an original Banksy – and that Christopher Walken painted over that artwork during the filming of this scene, ultimately destroying it," stated a spokesperson for Big Talk Productions, the company behind BBC's The Outlaws.
Of course, this wouldn't be the first time a Bansky was destroyed in public fashion. As many of you may recall, back in 2018, the anonymous artist's iconic image of a girl reaching out for a red, heart-shaped balloon – appropriately dubbed 'Girl With Balloon' – was sold by Sotheby's auction house for £1.1 million.
Almost immediately after the hammer came down, a shredder hidden inside the frame initiated a self-destruct sequence, shredding the canvas to ribbons. Re-dubbed 'Love Is In The Bin', it auctioned for an even heftier price tag of £18.58 million last month. But somehow, I don't think this will be the same case with Walken's handiwork.
---
---
The scene isn't available on YouTube just yet, but those of you in the UK can watch the entire episode via BBC iPlayer (and those of you who don't will need to switch on a VPN).