There's a joke somewhere here about getting your hands on enough supplies for the weekend. Perhaps even a zinger along the lines of, "There's top-shelf whisky, then there's no-shelf whisky." Regardless, the fact of the matter is Edinburgh-based auctioneer Lyon & Turnbull are set to sell the world's largest bottle of whisky: a 32-year-old single malt produced by Macallan appropriately dubbed The Intrepid. Complete with a custom label featuring 11 of history's most "fearless and adventurous" explorers from Sir Ranulph Fiennes, Karen Darke MBE, Olly Hicks, Jamie Ramsay, to Sir Robin Knox-Johnston (hence the name).
Certified by the Guinness World Records, Macallan's The Intrepid has earned its title not just by sheer volume but also by total height. Standing at 5 feet 11 inches (1.8 metres) – yes, we rounded up; don't act like you've never done it on Tinder – this behemoth contains a whopping 311 litres of the 43% ABV good stuff, beating the previous record by a healthy margin of 83 litres. That's the equivalent of 444 regular-sized bottles of whisky.
RELATED: The Macallan Release Whisky That's Been Aging Since WWII For $174,000
---
---
But as my girlfriend always (unconvincingly) reassures me, size isn't everything. So what exactly can you expect from The Inteprid's contents? And is it actually worth drinking?
According to Lyon & Turnbull, what we now refer to as The Intrepid is the product of sister casks #6986 and #6992, left to mature in Macallan's Speyside warehouse for over three decades. Last year, these carefully selected hogsheads were married together by renowned bottlers Duncan Taylor, resulting in a pale gold single malt that has a gentle nose with hints of baked apple, pear, and flaked almonds; delivering a smooth and warm taste that's both sweet and peppery. If that doesn't tickle your fancy, nothing will.
"I'm sure there will be significant global interest in the auction of The Intrepid, a unique collection spearheaded by the record-breaking bottling standing at an incredible 5 feet 11 inches tall," says Colin Fraser of Lyon & Turnbull.
"Bidders will have the chance to buy a piece of Scotch whisky history. They will become the owners of an exclusive 32-year-old single malt Scotch from what is widely regarded as one of the world's best distilleries, The Macallan."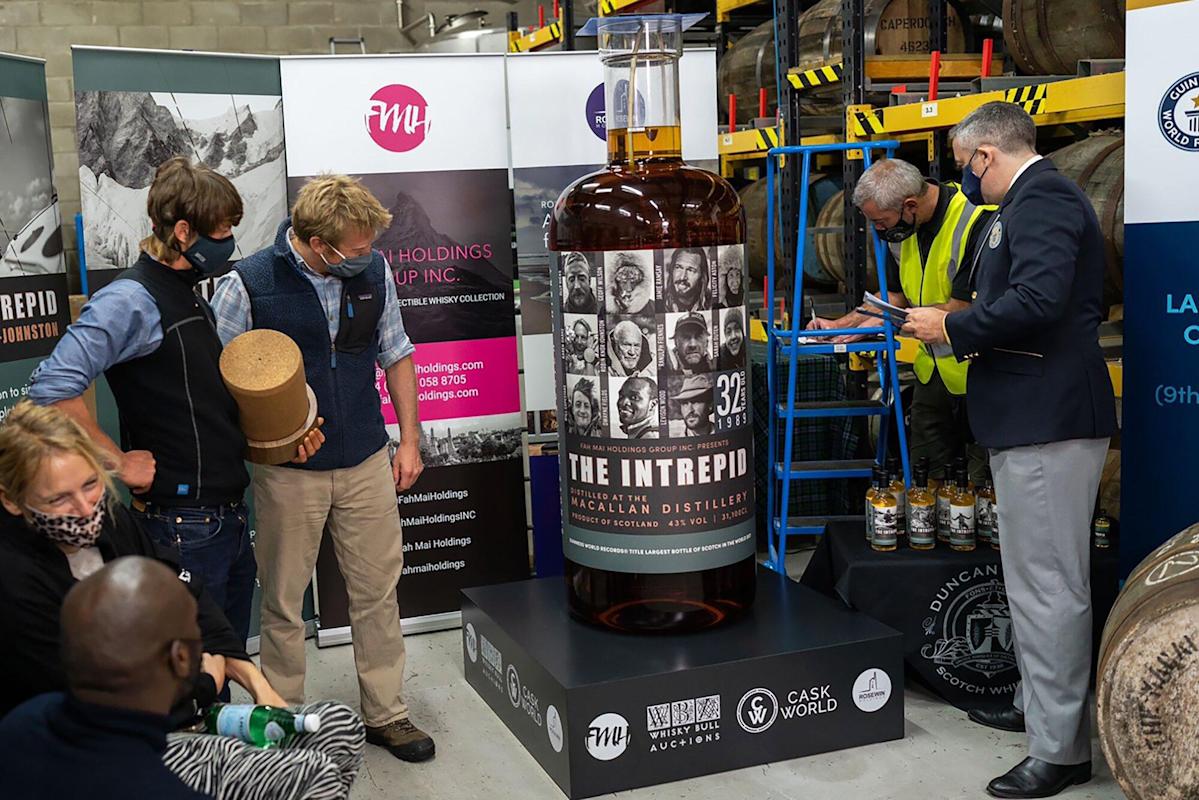 RELATED: Best Australian Whiskies For Your Collection
The Intrepid – AKA the world's largest bottle of whisky – will be up for bidding on May 25th of 2022 (noon). While Lyon & Turnbull has yet to announce a pricing estimate, given how a single dram is supposedly worth £125 / $220, many believe it could also become the world's most expensive bottle of whisky ever sold at auction; a record that currently belongs to another bottle of Macallan which sold for $1.5 million back in 2018. For any amount the eventual sale achieves above £1.3 million / $2.27 million, 25% will be donated to the Marie Curie charity.
Those of you interested in getting ahold of this drop without the seven-figure price tag and huge fuck-off bottle will be glad to know there were some leftovers from casks #6986 and #6992. The rest found its way to a limited number of 12-bottle sets featuring smaller replicas of the big daddy. Four of said 12-bottle sets will also be auctioned by Lyon & Turnbull, while the rest will be available to purchase elsewhere.
---
---
Find out more below.