Picture this: you're cosying up on one of those oversized pillows at Baba Nest, Sri Panwa, scanning the surrounding bay and those dramatic limestone cliffs that frame the Thai island of Phuket while you take a sip of your wine. Or maybe you're soaking up the sun from one of Sydney's best rooftop bars with a local brew in hand. There are few better ways of really grasping the scope of a destination than observing your surroundings from a good, well-positioned rooftop bar.
Whether they're sitting atop luxury hotels or pubs, or they're simply standalone venues, rooftop bars are infinitely better than your usual observation deck. Whenever you find yourself in a new city, it's always worth scoping out the best rooftop bars to really get a sense of place while chewing through what is, hopefully, a good food and drink menu.
New York City has plenty of these awesome rooftop bars. The Concrete Jungle is ironically one of the most beautiful cities in the world, with an iconic skyline peppered with more than a few legendary landmarks like the Chrysler Building, Empire State Building, The Plaza, Rockefeller Centre, Flatiron Building, Brooklyn Bridge and, of course, the Statue of Liberty.
RELATED: 16 Best Restaurants In Hobart For 2023
On a recent two-week trip to the Big Apple, I was lucky enough to take a tour of the best rooftop bars in New York. As such, I'm collating my favourites – there were a few I wasn't a fan of, whether it was the crowd or the archaic exclusivity – in this New York rooftop bars round-up.
---
Best Rooftop Bars In New York – Table Of Contents
---
What Are The Best Rooftop Bars In New York City?
Nubeluz, Midtown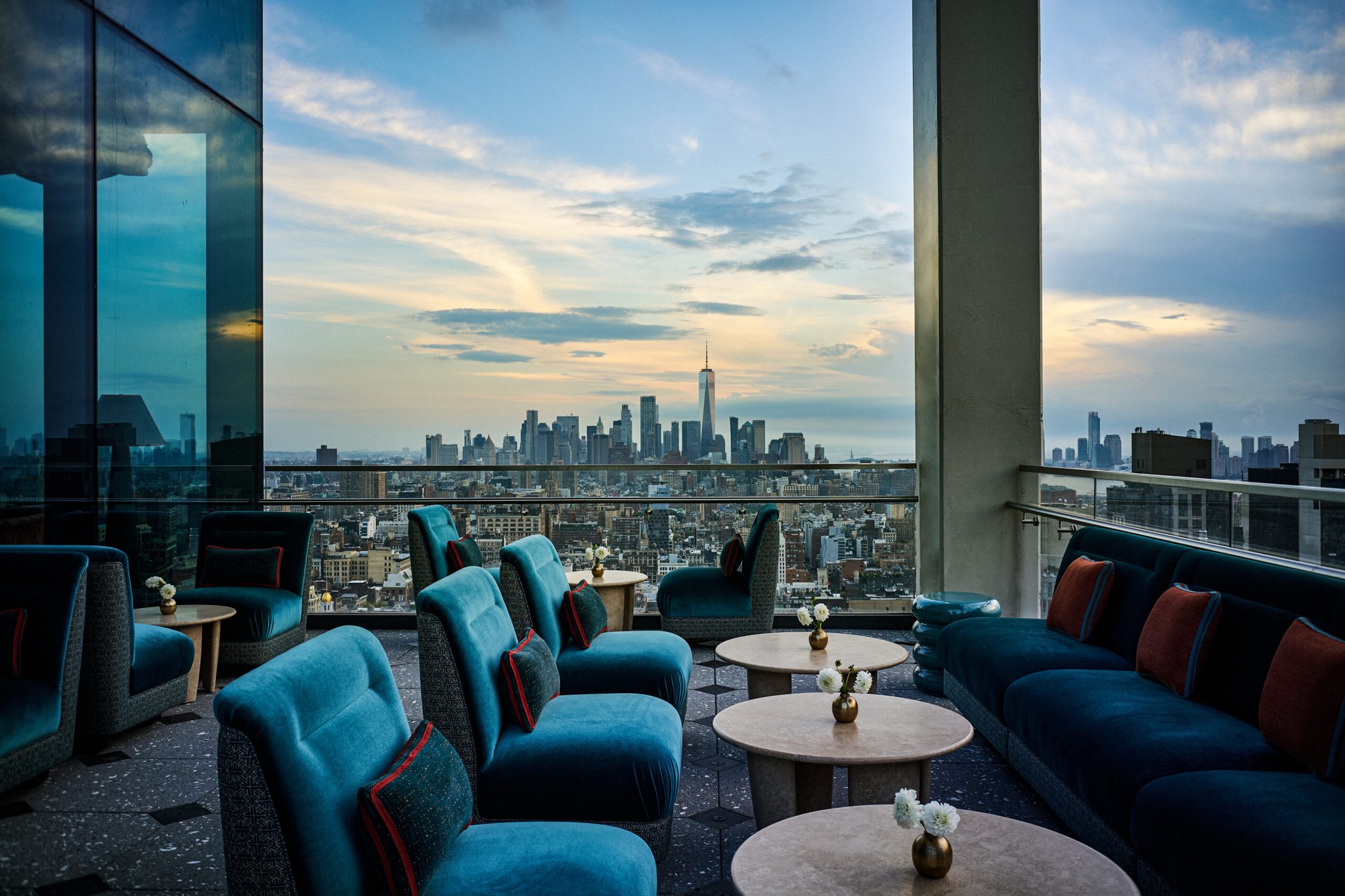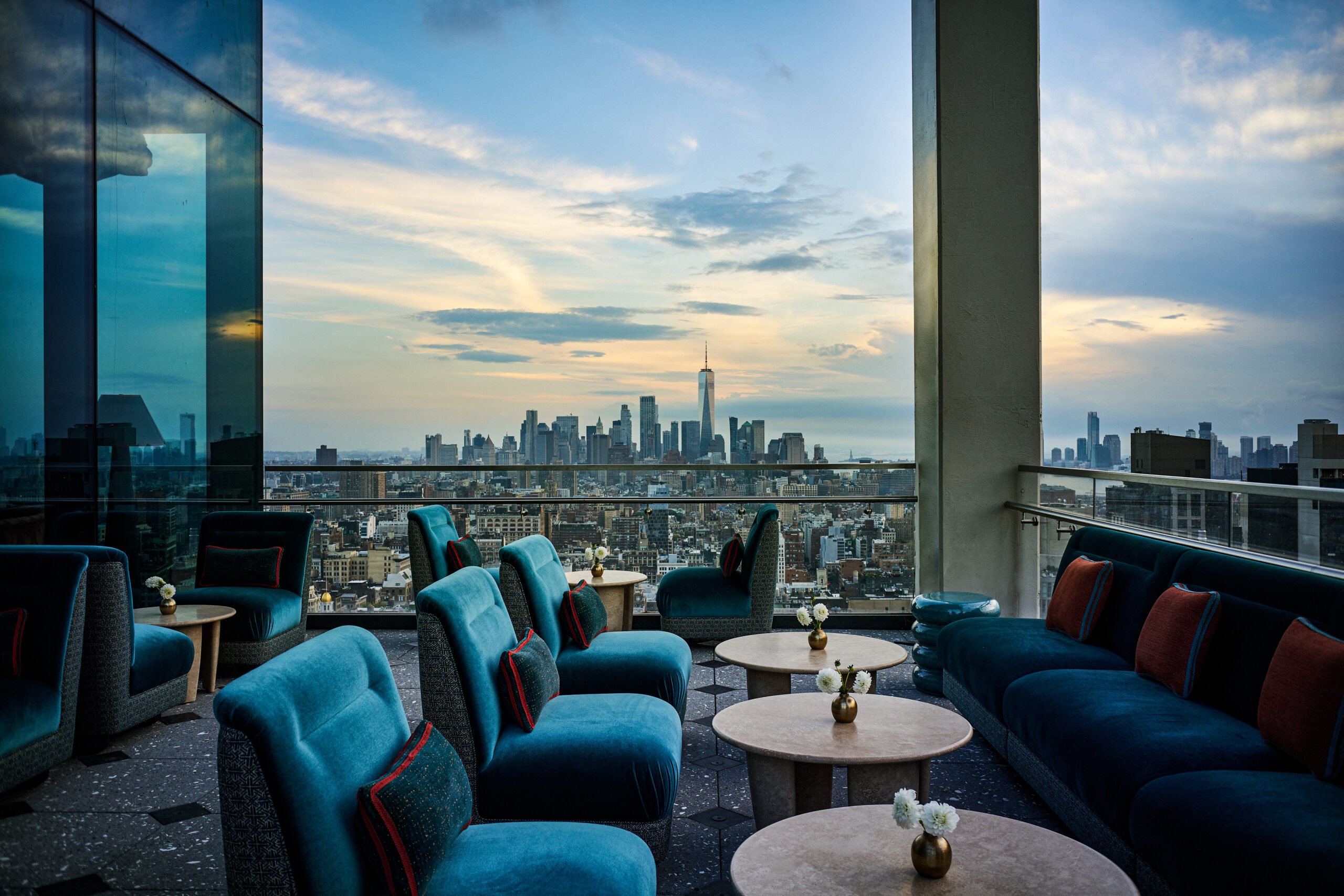 Address: 
25 W 28th St, New York, NY 10001
Contact: 
+1 212-804-9070
Opening Hours: 
Sunday – Wednesday (4 PM – 12 AM); Thursday – Saturday (4 PM – 1 AM)
Crowning the fresh The Ritz-Carlon NoMad on the corner of Broadway and W 28th Street, Nubeluz stakes claim as New York's best new rooftop bar. Inside, a super stylish, highly polished space of mixology with a theatrical bent. And while that does translate, as you'd expect, to pricey and trendy cocktails, the bar still makes a nice, perfectly balanced classic if you ask nicely.
On my recent visit, the signatures were too off-balance but the very busy bar team knocked out a Negroni that rivalled those I've had at some of the world's top bars. Sometimes all you need is patience and access to high-quality spirits. This is why it always surprised me when ritzy hotel bars turn out a poor classic. Nubeluz is, thankfully, one of the good ones.
The trick is to rock up early and try to nab a spot on the terrace. With perfect views directly facing the Empire State Building on one side, and a postcard-worthy vista of downtown Manhattan on the other, you're sandwiched by the quintessential Big Apple panorama.
Famed Spanish-American chef José Andrés takes care of the light nibbles here as well as the more substantial fare at lobby-level restaurant, Zaytinya, going big with earthy Middle Eastern flavours that pair up well with the concoctions on offer.
---
Magic Hour, Times Square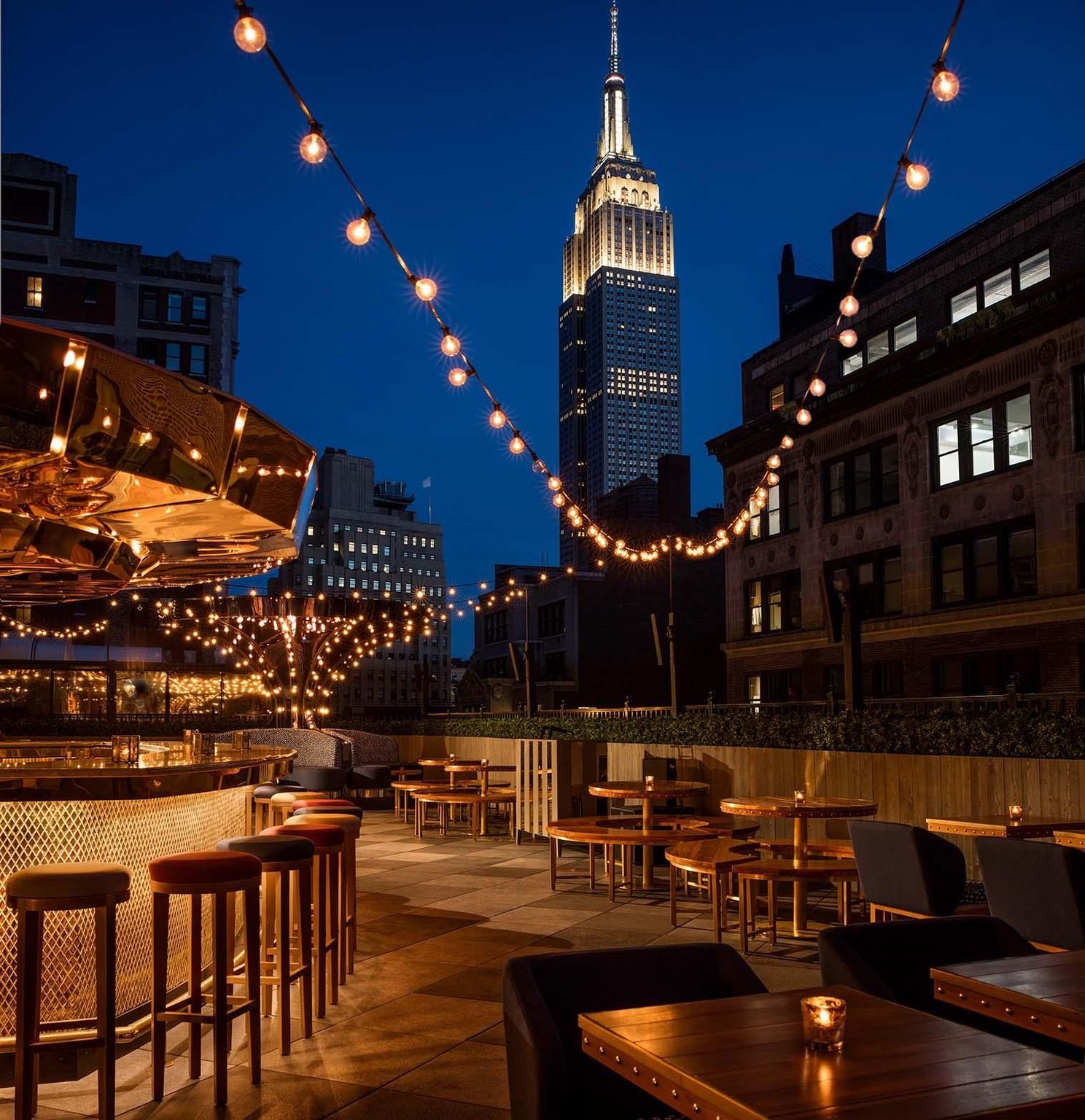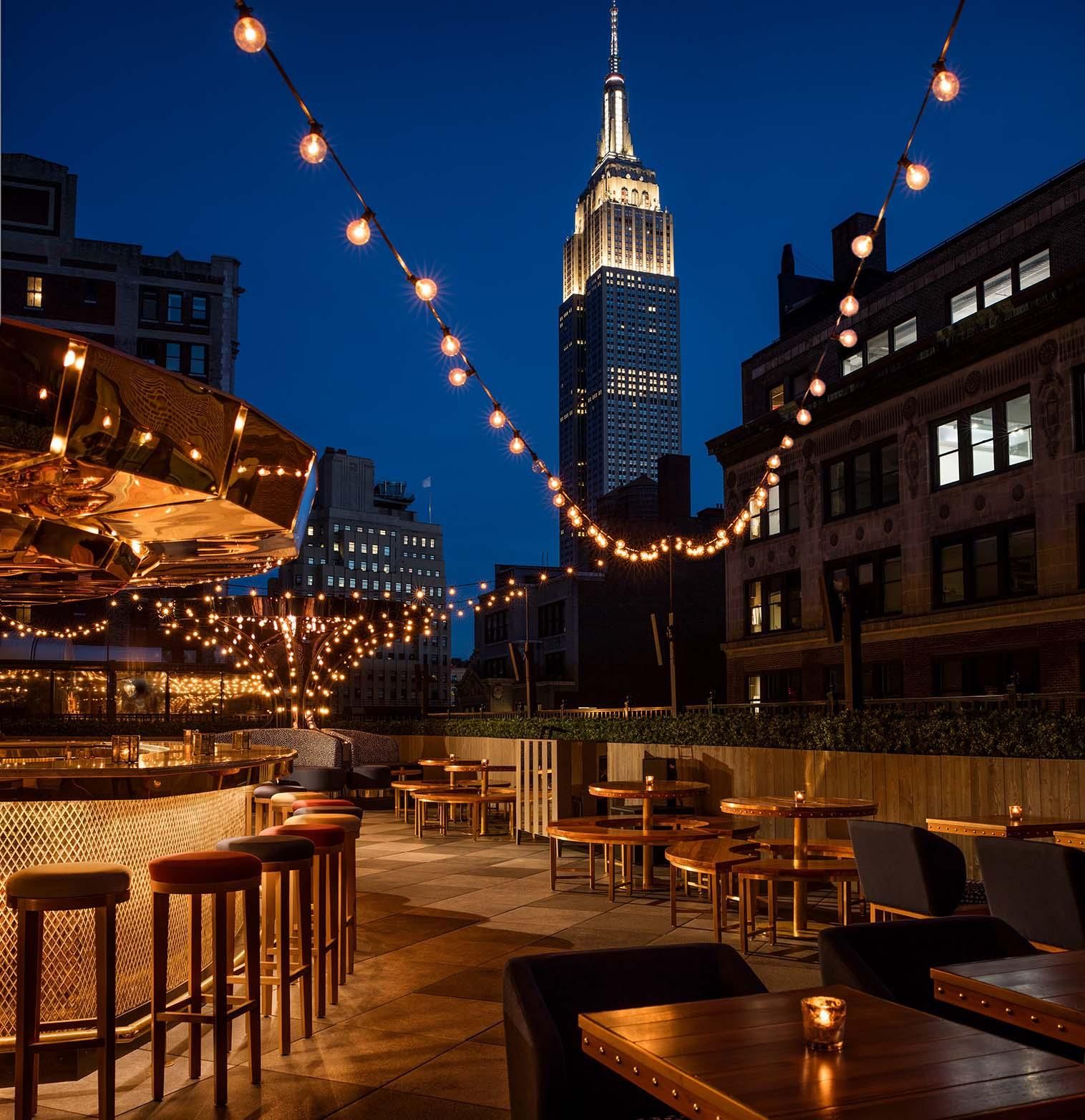 Address:
485 7th Ave 18th floor, New York, NY 10018
Contact:
+1 212-268-0188
Opening Hours:
Monday – Wednesday (3 PM – 12 AM); Thursday (3 PM – 2 AM); Friday (3 PM – 4 AM); Saturday (11:30 AM – 4 AM); Sunday (11:30 AM – 2 AM)
There aren't many rooftops around Times Square that are worth your attention. Yes, it's an iconic site for tourists, but the gaudy collection of kinetic billboards and swathes of unmoving objects taking selfies gets very boring after a few minutes.
Take a different, more likeable perspective upstairs at the whimsical Magic Hour, the 18th-floor rooftop bar that's part of the inventive Moxy Times Square hotel. Marriott's unique mid-tier brand has managed to stick out amongst the soulless rooftop bars that surround it, bringing a great sense of personality to the space and making this easily one of the most playful and vibrant bars in the Midtown West area.
Warning: you'll probably run into a few "influencer" types here hanging out for the photo ops, but the drinks are good enough, the crowd is buzzy and the food is moreish. I'd say that's more than enough to stamp this as one of the best rooftop bars in New York right now.
And one of the best things about Magic Hour is that the spot is open until 4 AM on Fridays and Saturdays so if you're having a big Manhattan blowout and you find yourself stumbling around midtown at 3 AM on a weekend, it's good to know you've got a cosy rooftop spot waiting for you.
---
Salon de Ning, Midtown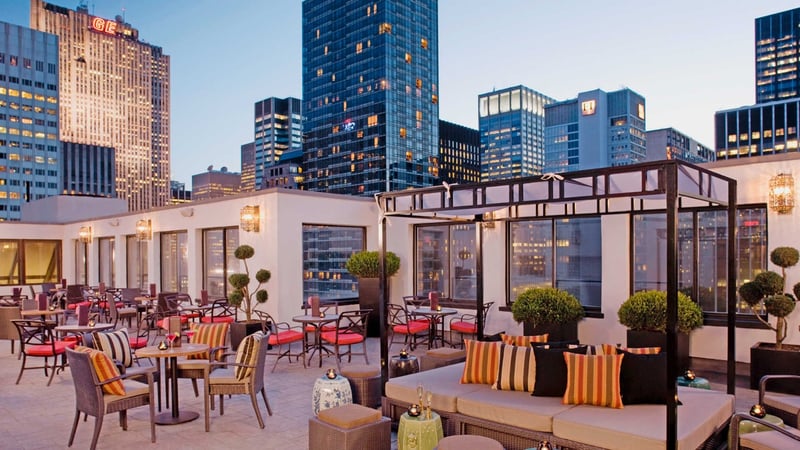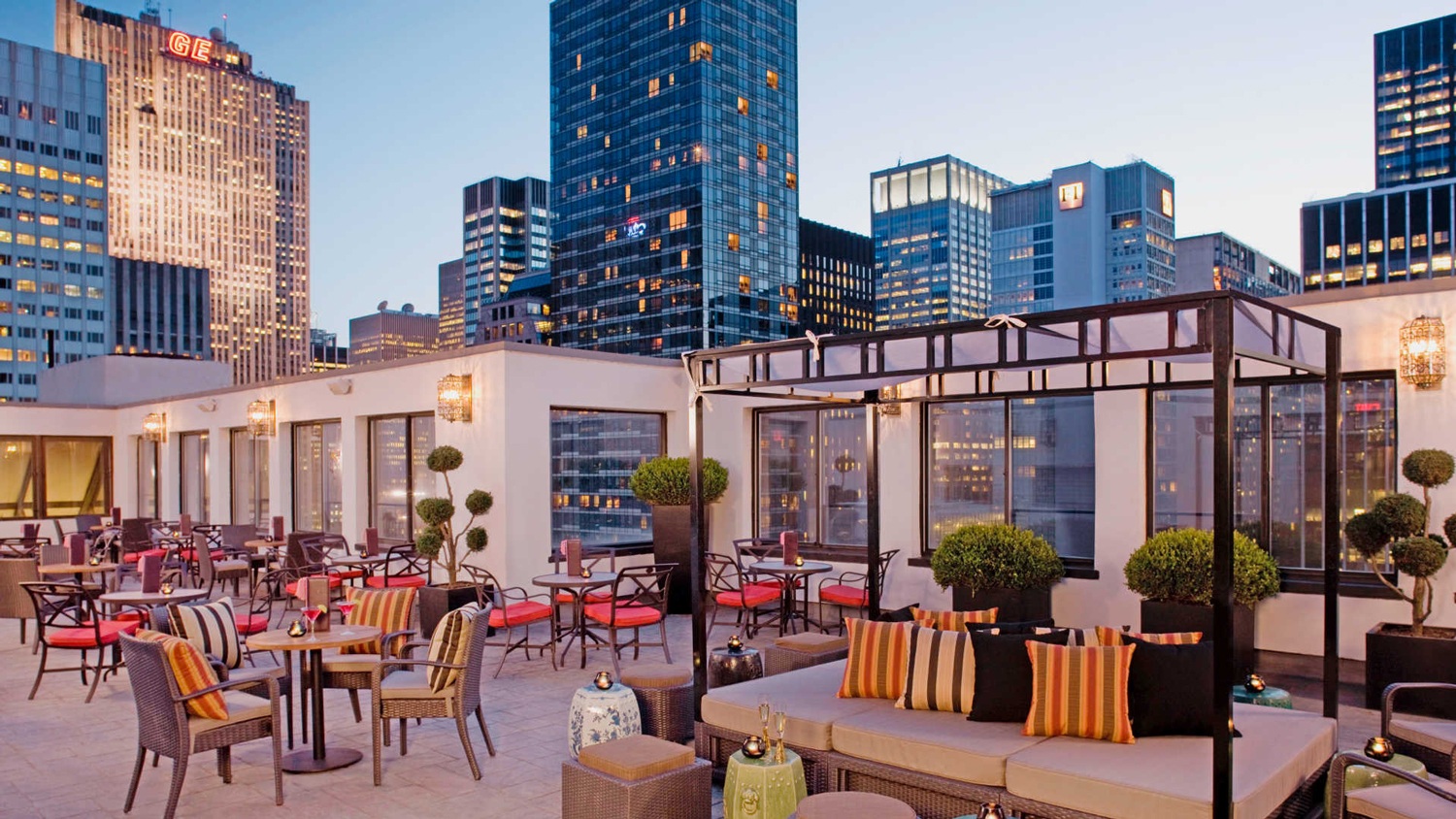 Address:
700 5th Ave Floor 23, New York, NY 10019, United States
Contact:
+1 212-903-3097
Opening Hours:
Tuesday – Saturday (5 PM – 12 AM)
On paper, it would sound like Salon de Ning would be yet another case of American hospitality exaggerating an "exotic" theme based on another country. And yet, Salon de Ning, a tasteful ode to 1930s Shanghai, is perfectly aligned with The Peninsula's reputation for elegance and authenticity.
This rooftop bar and terrace sits above the action of Fifth Avenue, making the most of its 23rd-floor spot atop the neo-classical masterpiece that began life as the Gotham Hotel when it was first built in 1905. While the hotel's guest rooms feel appropriately old-school with charming heritage details, Salon de Ning feels much more contemporary.
The NYC rooftop bar is most valuable in the evening when highbrow Japanese highballs go down smoother set against the Big Apple's iconic contrast where the black night sky makes those heritage buildings pop with detail. It all goes down better with a New England-style lobster roll in one hand, which I can confidently say is one of the better bar bites I've had in New York.
---
JiIMMY, SoHo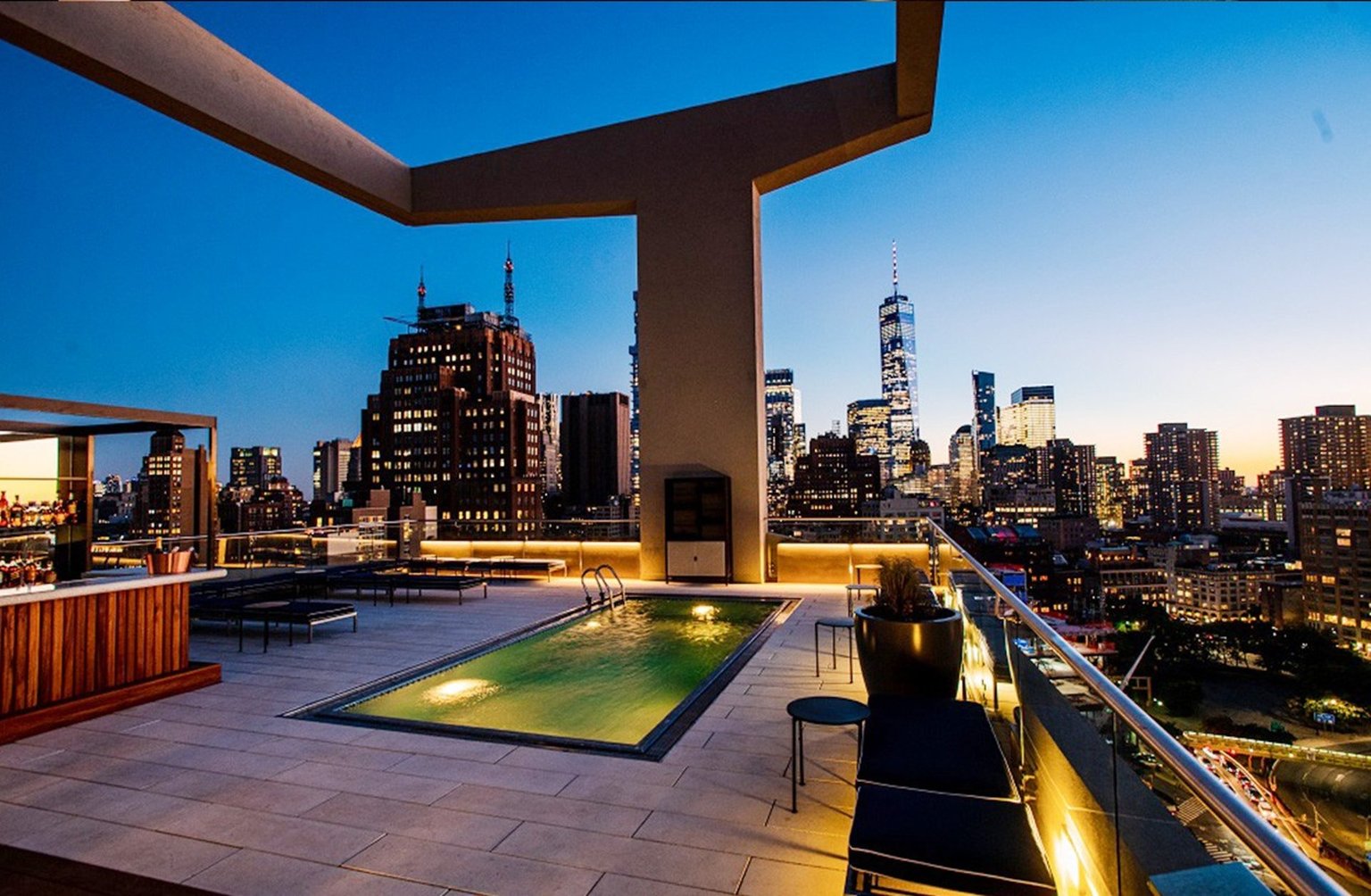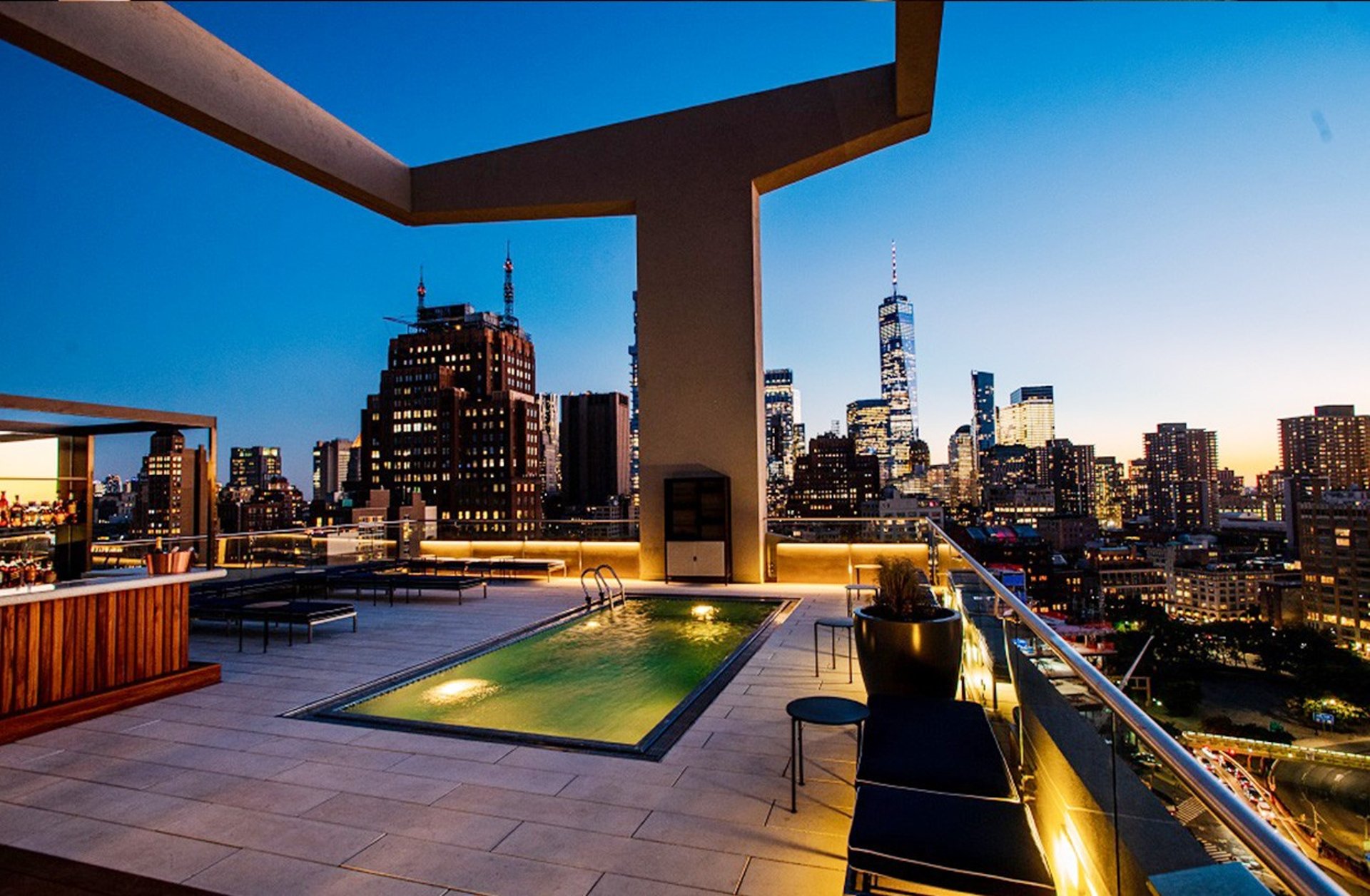 Address: 15 Thompson St, New York, NY 10013
Opening Hours: Monday – Friday (5 PM – 1 AM); Saturday (3 PM – 2 AM); Sunday (3 PM – 1 AM)
JIMMY has that low-key charm going for it, especially when you compare it to the size and dramatic design of New York's other top rooftop bars. Curiously, there's a shallow pool for when the party really gets started, but when I went recently it was calm, sunny and a great place for meeting locals. And aside from the pool, the sizable outdoor area is minimal, framed with plush lounge seating on the sides.
Located above ModernHaus Soho, it's a favourite for in-the-know visitors who want to shy away from the typical beats of the Big Apple and take up something a bit more modest in size. In winter, locals seem to like this spot for the indoor spread of mismatched leather furniture but those summer months really bring JIMMY to life.
The few bites I had – a cheese plate and some fruit – were perfectly fine with some great oaky Chardonnay. Service here is casual and unpretentious, so this would be my top pick for a New York rooftop bar if I didn't necessarily want to don an expensive suit and spend all night feeling judged.
Given the size of the outdoor area – not too big, not too small – I would imagine JIMMY would be very popular for private events as well. I was talking to a mate recently who went over to New York City for fashion week a few years ago and he said most of his time was spent up at JIMMY. I'm not surprised.
---
Westlight, Brooklyn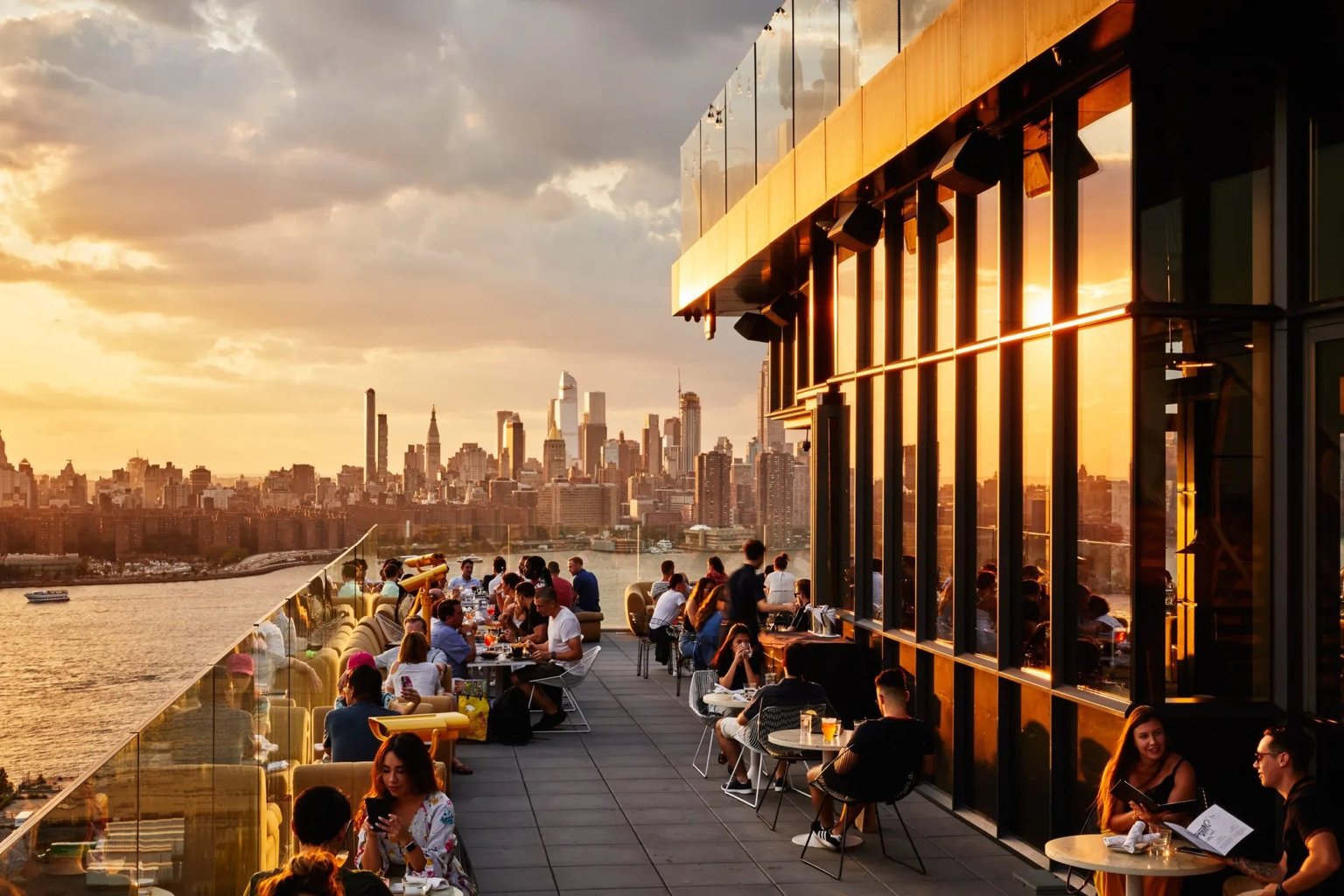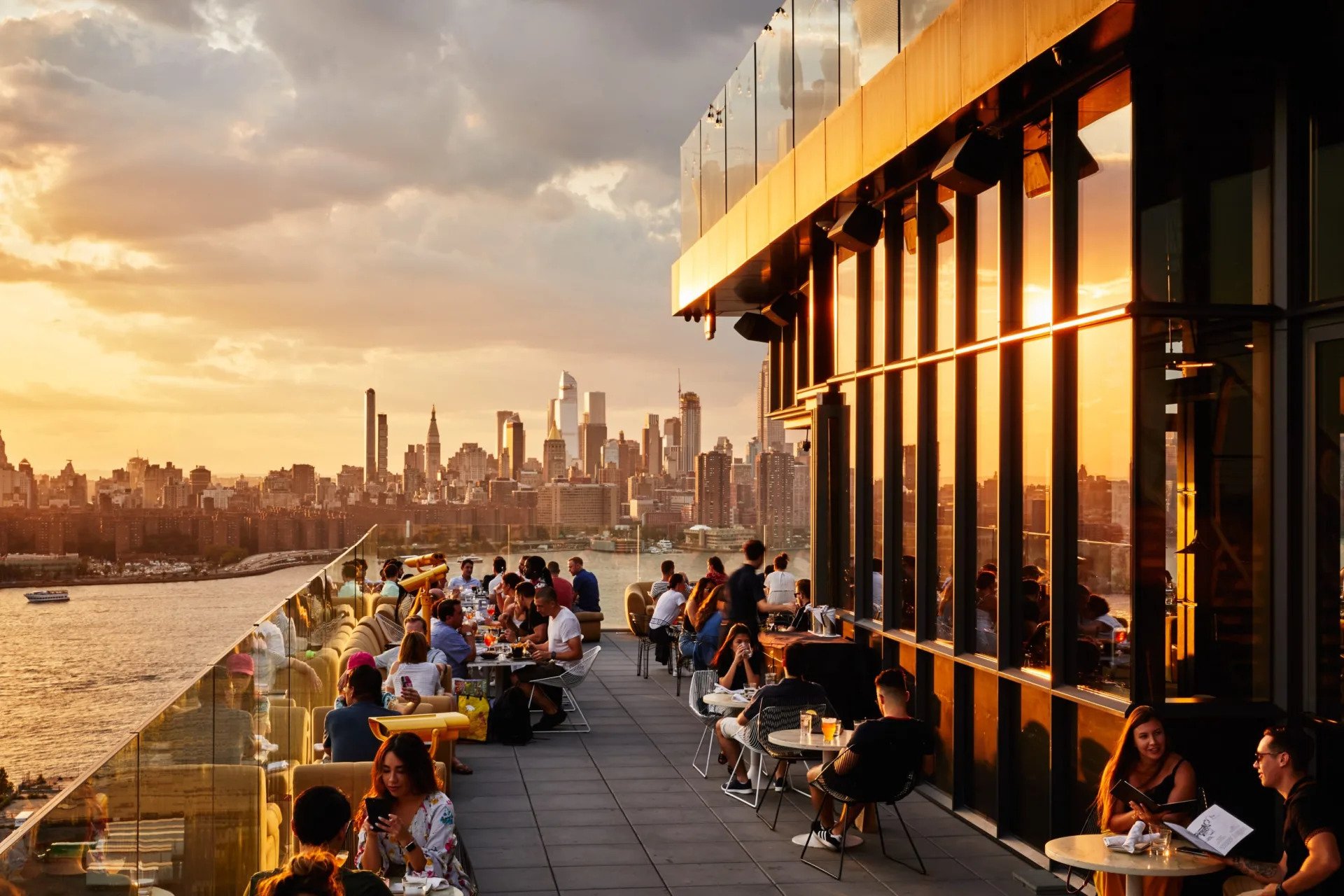 Address:
111 N 12th St, Brooklyn, NY 11249

Contact:
+1 718-307-7100

Opening Hours:
Monday – Thursday (4 PM – 12 AM); Friday (4 PM – 1 AM); Saturday (12 PM – 2 AM); Sunday (12 PM – 12 AM)
To get the best view of Manhattan, you have to actually not be in Manhattan to begin with. Head on over the Brooklyn Bridge and post yourself up at this jaw-dropping Brooklyn hang. You'll find a mixed crowd up on the 22nd floor of the trendy William Vale hotel, all keen on catching the sunset across those stunning 36-degree views of New York City.
On occasion, there's even a pop-up rooftop bar a floor higher than Westlight. And rumour has it that in winter there might be an ice-skating rink up there. At least that's what I was told when I was there recently, rounded up and thrown into the scene by a bunch of friendly Brooklyn locals I had just met an hour prior.
From what I've tried, the drinks aren't the best, and they are pretty much Manhattan prices. But take your glass of rose out onto Westlight's large terrace and there is simply nothing that can compare. It's the best view of the best city. Period.
---
Overstory, Financial District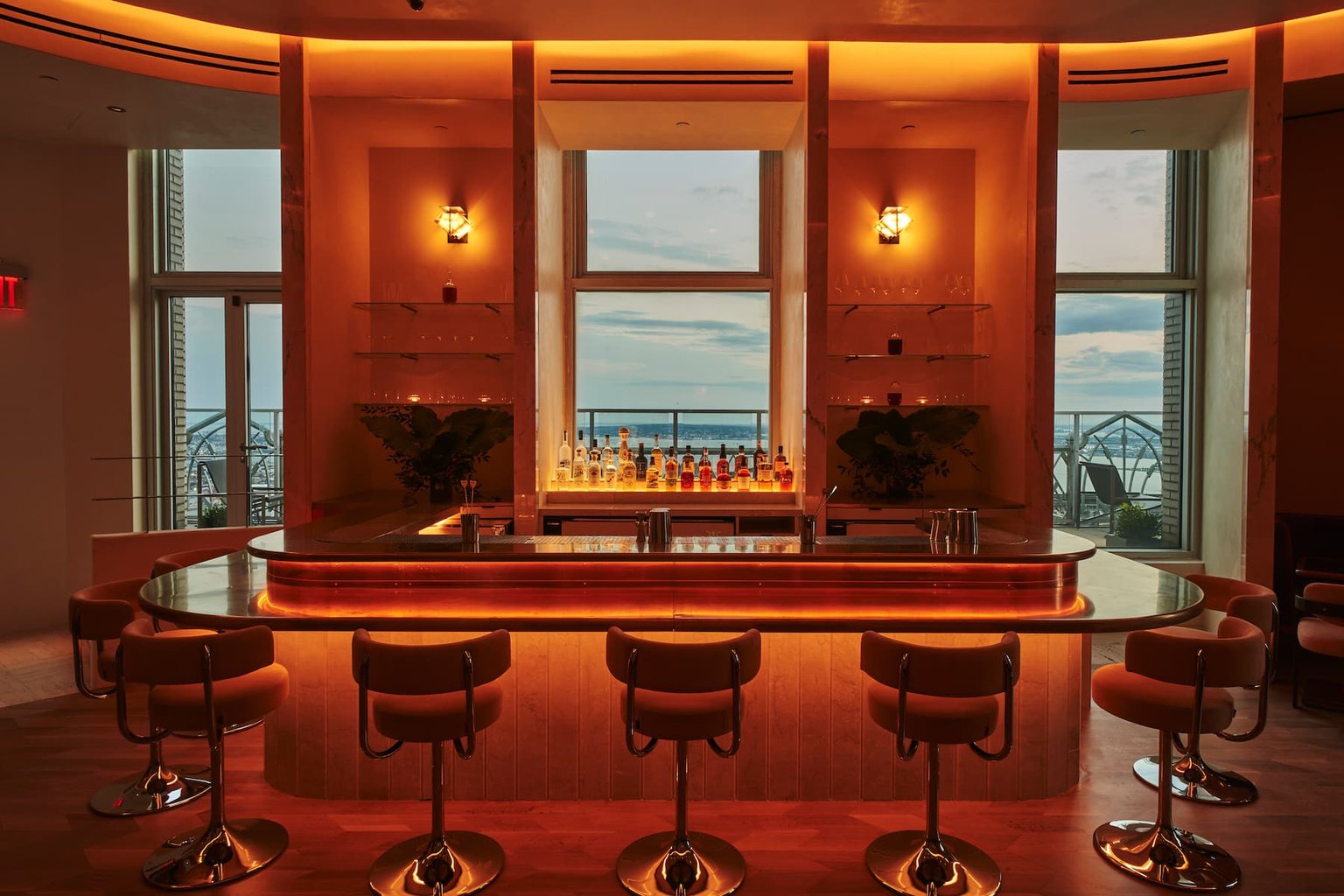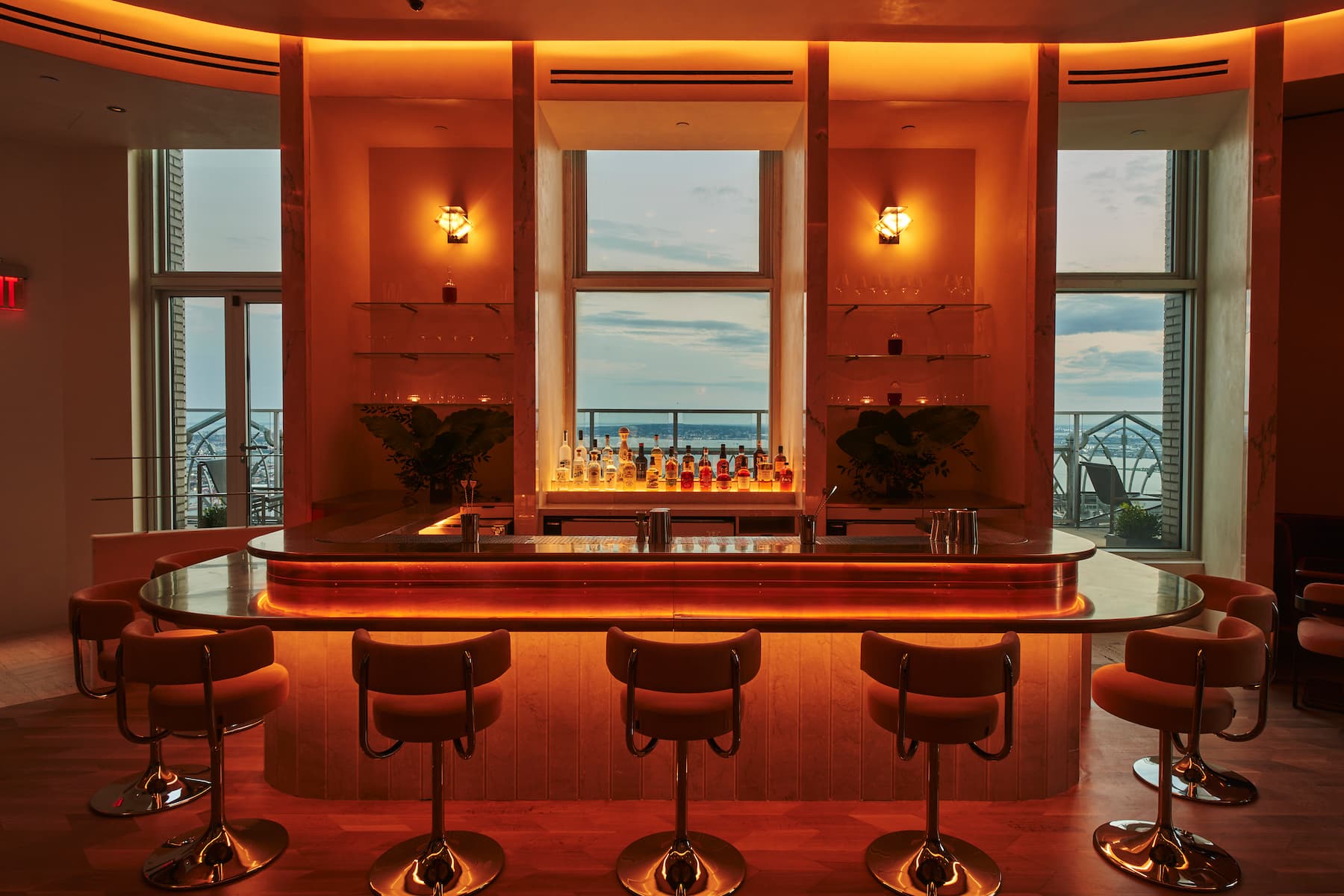 Address:
70 Pine St 64th Floor, New York, NY 10005

Contact:
+1 212-339-3963

Opening Hours:
Monday – Wednesday (5:45 PM – 12 AM); Thursday (8:30 PM – 12 AM); Friday – Sunday (5:45 PM – 12 AM)
Overstory is the first recommendation you'd get from most locals if you're asking after New York's best rooftop bars. Located in the financial district, this classic swankstitution is located 64 floors above 70 Pine Street. Just head to fine-dining staple Saga and use the standalone elevator to reach the bar.
Detail is worshipped to an unhealthy degree with perfect symmetry and a cosy interior worked up for a very exclusive, high-end look. Bar director Harrison Ginsberg has put just as much thought into the tipples as well, best enjoyed out on the breezy wraparound terrace. The wine list is clearly for the rich and famous, and if you want some decent bottles then you're looking at scaling some serious margins. However, the cocktails aren't too bad when it comes to price; punchy but worth every dollar with top ingredients.
It's clear the team behind Overstory really put a lot into making this one of New York's premier rooftop bars and an easy sell for anyone in town looking to schmooze with the city's upper class. You'll most likely spot a few celebrities up here on any given day, rocking up after dropping a regular person's entire mortgage at The Polo Club no doubt.
---
Harriet's Rooftop & Lounge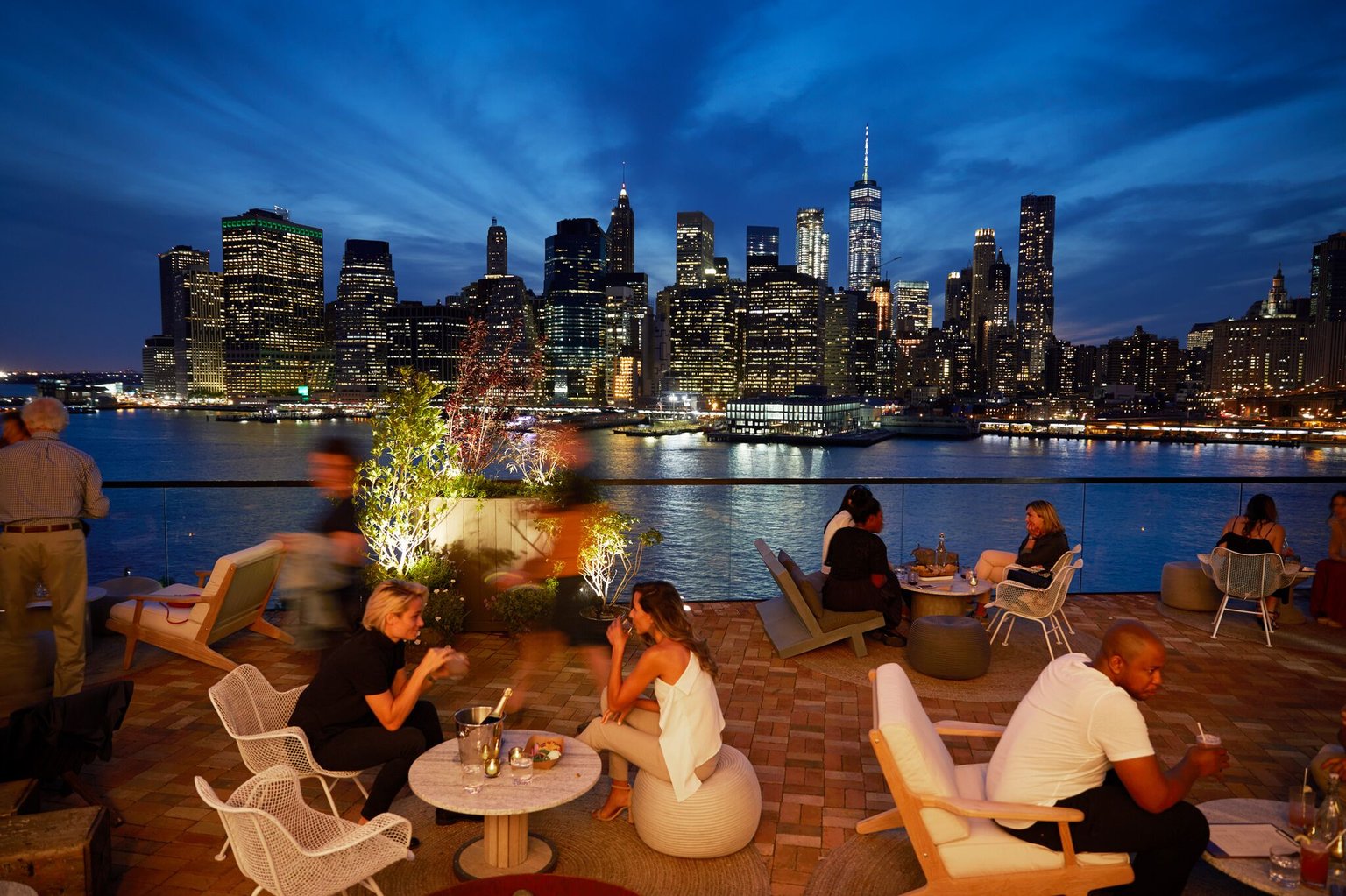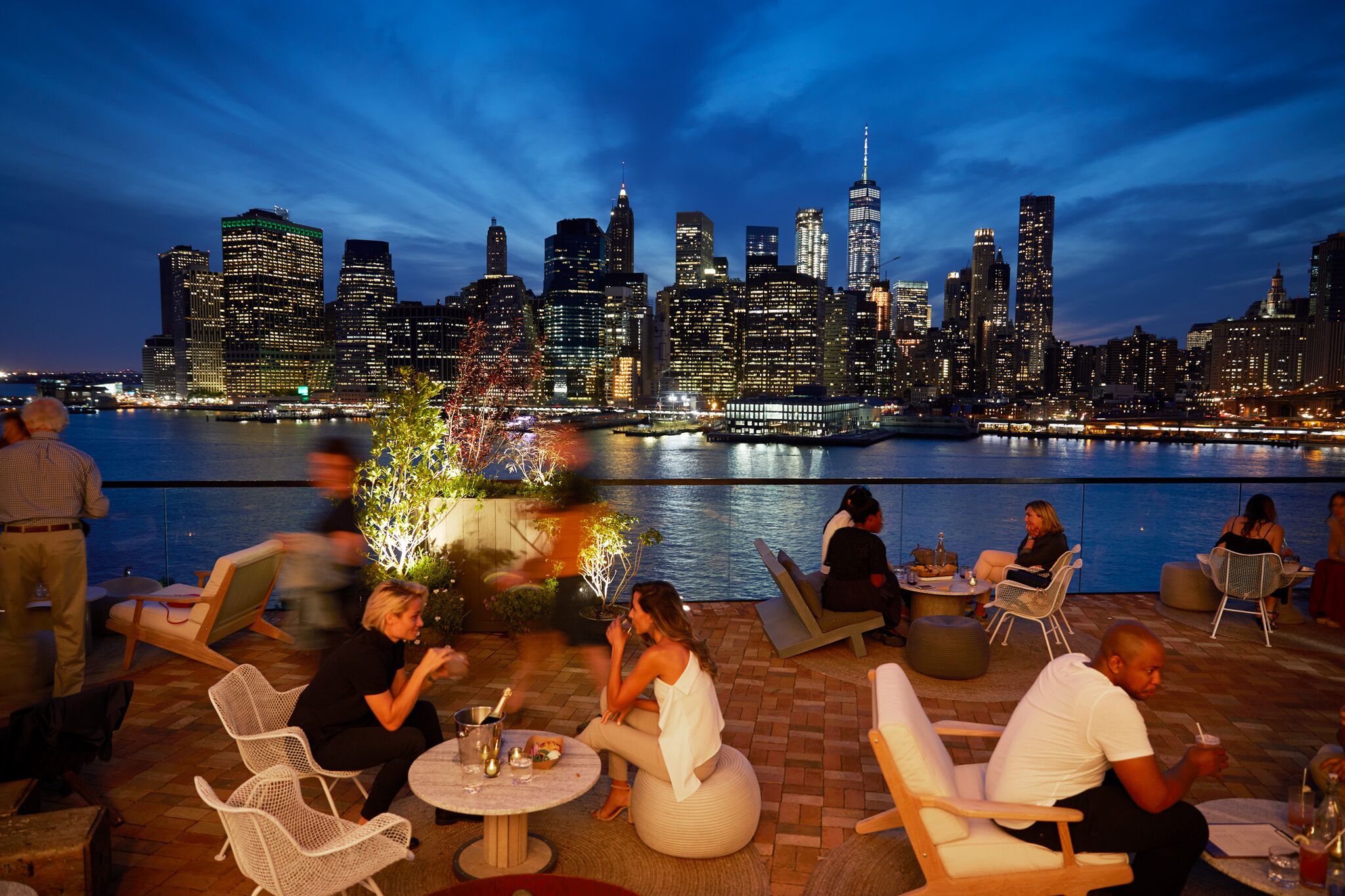 Address: 
60 Furman St, Brooklyn, NY 11201

Contact:
+1 347-696-2554

Opening Hours:
Monday – Sunday (11 AM – 11 PM)
Save some of that budget and fling it straight to the barkeep at Harriet's Rooftop & Lounge. This indoor-outdoor spot sits atop the popular 1 Hotel Brooklyn Bridge and offers an incredible view that alone is worth it.
Fire pits and vertical gardens keep things interesting but what you really want is to pull up poolside and relax with an old-fashioned in hand while you drink in a very charming perspective of Manhattan's unrelenting skyline with the Statue of Liberty in scope.
Just be sure to book ahead. This is one of the most popular rooftop bars in New York City and you'll no doubt be spotting some celebrity with their entourage taking up space on any given day.
I only managed to head up to Harriet's on the tail-end of my time in New York City. Bookings were hard to come by but the concierge at The Pierre helped me get in, placing me amongst the fortunate few who stood out in the incredibly well-dressed and wealthy crowd. The drinks were much too expensive, but they did make a very decent classic Margarita, which I sipped while admiring this unique perspective of Manhattan.
---
How Boss Hunting Chose The Best Rooftop Bars In New York City
Much like our other 'best of' round-ups, this one's purely subjective and the primary metric I'm using is whether or not I'd give my friends the same suggestions. I either popped into or spent a decent amount of time at each of the following New York rooftop bars and, if I left with a good impression, then I've included it on this list.
Things I look out for include value (price point set against quality), service and, most importantly, design. Has the view been maximised to offer the best view? A rooftop bar is, after all, nothing without its location. It doesn't even have to be high; it just has to make sure whatever view is available around the bar.
I also wanted to take a more minimal approach and include only a handful of top picks, as opposed to going all out and including just about every rooftop bar across Manhattan and Brooklyn. Just because it's not on here, doesn't mean it's not worth your time. It just means I haven't had a chance to check it out just yet.
This list will be updated every time one of our team heads on over to New York and has some spare time to head on over and assess the many rooftop bars that can be found around New York City.
---
Enjoyed this best rooftop bars in New York City round-up? Check out some of our other New York content.
---
Frequently Asked Questions
What NYC rooftop bar is open until late?
Magic Hour at Moxy Times Square is one of the only rooftop bars in New York that's open until 4 AM on weekends.
What is the best rooftop bar in Manhattan?
The best rooftop bars in Manhattan are Overstory, Salon de Ning, JIMMY and Nubeluz.
What is the best rooftop bar in Brooklyn?
The best rooftop bar in Brooklyn is Westlight, followed by the trendy Harriet's Rooftop & Lounge.