If you're looking for the best restaurants in Hobart then you've come to exactly the right place. Below you'll find 24 of the top options when it comes to eating and drinking your way around Tasmania's breezy, often moody, and frequently art-obsessed capital city.
From fine diner to casual charmer, work you're way through this list of restaurants, bars, and cafes and we guarantee you'll be singing praises for Hobart's culinary scene – a chorus regularly echoed at the Boss Hunting office.
Best Restaurants Hobart Overview [Not Ranked]
---
The Best Restaurants Hobart Has To Offer Hardcore Foodies
Templo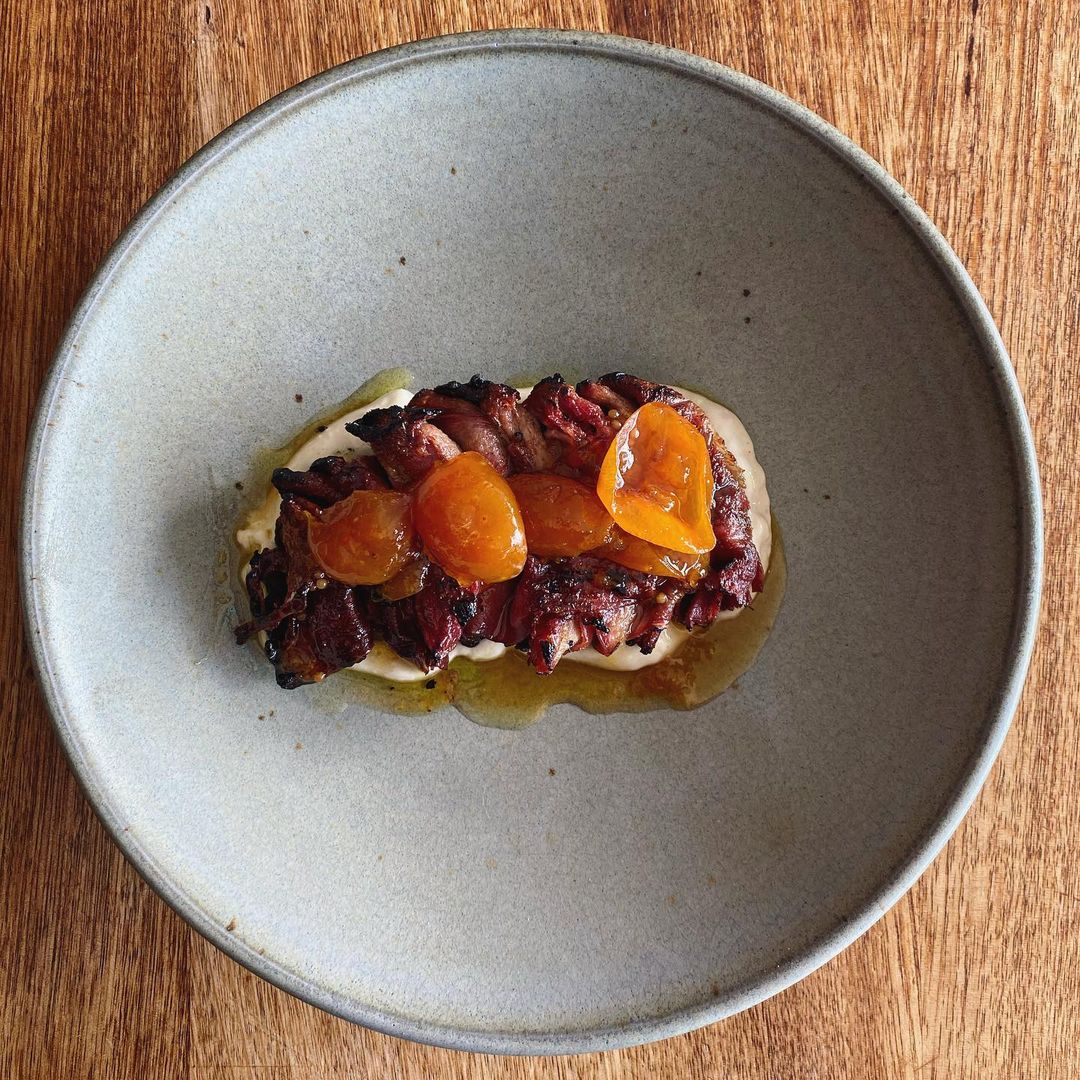 Pony up a bigger part of your eating and drinking budget when you're at Templo. Given this small but mighty eatery is one of the best restaurants in Hobart, the seasonal chef's set menu is absolutely worth your money and your time. Hobart restaurants all stepped up once Templo opened and Hobart's food scene hasn't been the same since.
---
---
Not that it's expensive (a relative steal compared to Sydney or Melbourne); at $85 per person, with wine matching just $65 per person, Templo represents some of the best value you're going to find in Hobart. The 20-seater neighbourhood restaurant constantly and consistently bangs out those impeccable natural flavours, all focused in a 8-10 course set menu that changes daily and highlights produce sourced within a 50 km radius of Templo.
The kitchen maintains an unwavering commitment to local produce – they only source ingredients within roughly 50km of the restaurant – and minimal intervention wines, so prepare for a masterclass on the virtues and value of minimalism in both food and drink.
Address: 98 Patrick St, Hobart TAS 7000
Contact: (03) 6234 7659
Opening Hours: Thursday (6pm – 11pm); Friday – Monday (12pm – 3pm, 6pm – 11pm)
---
Peppina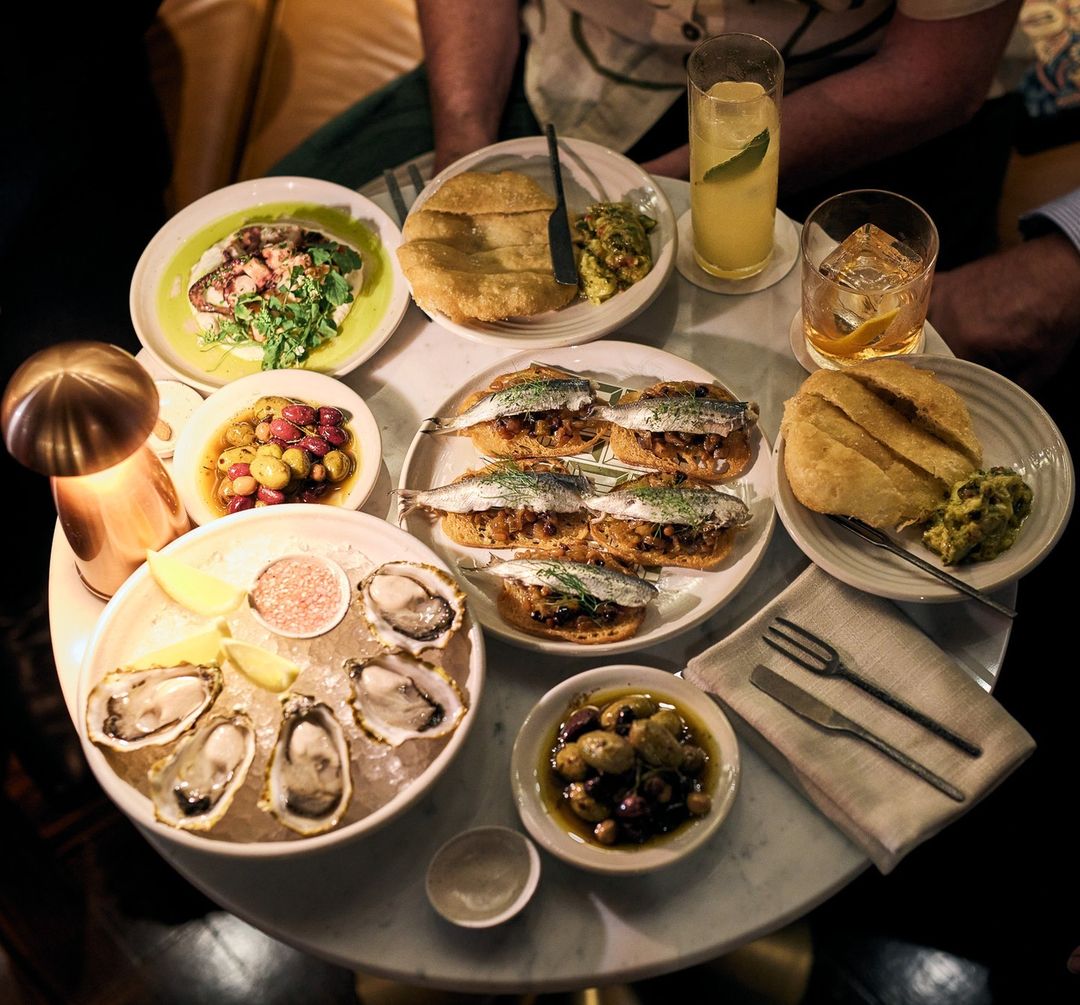 Helmed by renowned chef Massimo Mele, Peppina is a hot new restaurant in Hobart located in fresh five-star hotel The Tasman. Given Hobart's hotel restaurants are typically more reliable than hotel restaurants in Sydney and Melbourne, Peppina opens amidst some fierce competition. Yet Mele has created a gorgeous Italian menu for the 190-seat restaurant, committed to regularly changing to align with Hobart's freshest produce.
The impressive open kitchen roars with a wood-fired oven and an open firepit, giving Peppina plenty of punch as glass clink over seasonal pasta, locally sourced meats and grilled seafood.
Address: 2b Salamanca Pl, Hobart TAS 7000
Contact: (03) 6240 6053
Opening Hours: Monday – Friday (6:30 am – 10:30 am, 5:30 pm – 9:30 pm); Saturday – Sunday (7 am – 11 am, 5:30 pm – 9:30 pm)
---
Frank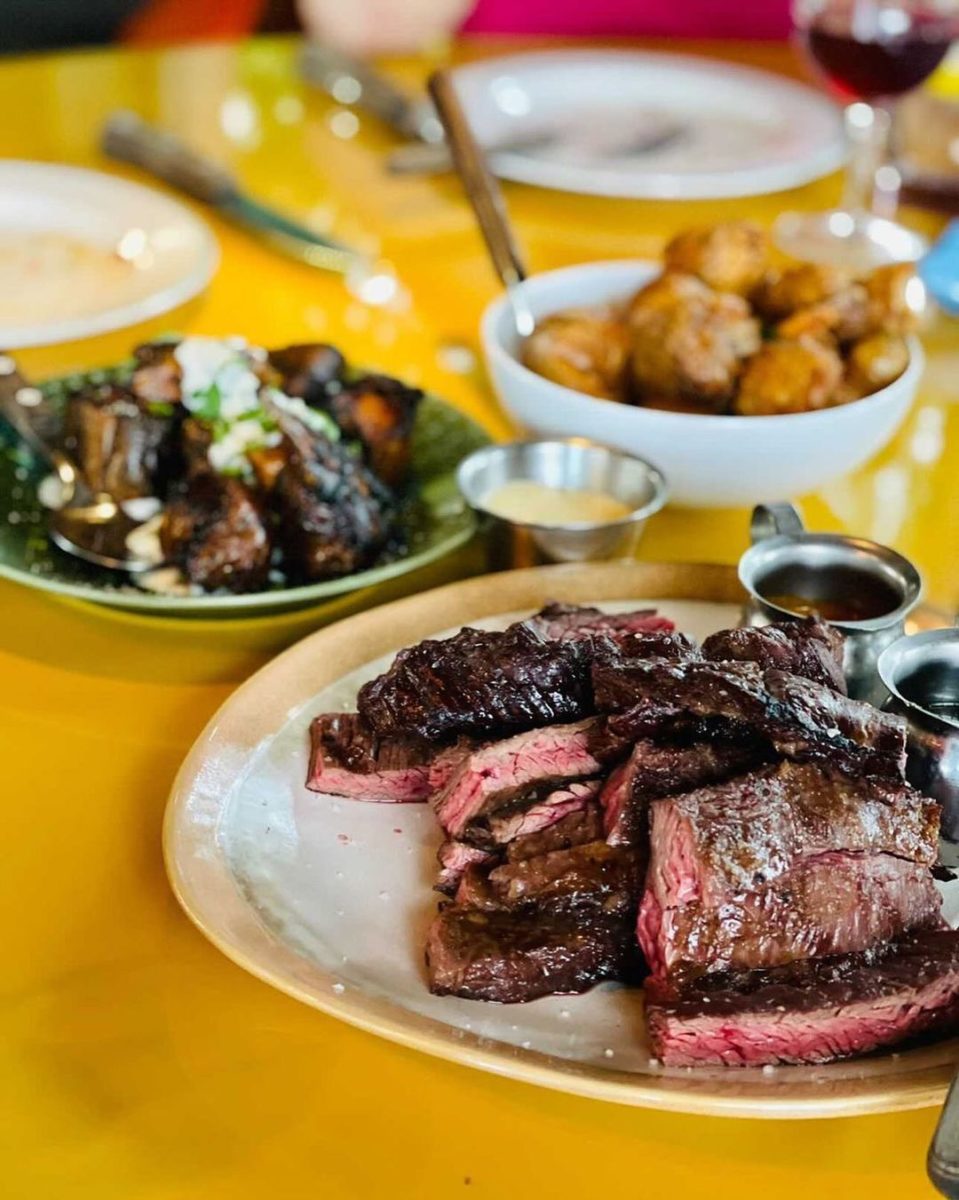 While Sydney has Porteno, and Melbourne has Palermo, the restaurant holding it down for lovers of Argentinian food in Hobart is surely Frank. This tastefully designed wharf restaurant is a palace of Parilla and low-and-slow grilled meats, paired with a seriously stacked wine list and an equally viable cocktail menu.
---
---
Whatever the kitchen has got going on changes regularly, but the safest bet is to always go for the meat. It is Argentinian food after all, with highlights like a hefty 400g scotch fillet and, for those heavier appetites, an 800g thin skirt. Just make sure to save room for that top notch charred banana with salted caramel ice cream before you roll out onto the wharf. It's not only one of the best restaurants in Hobart, it's one of the most unique.
Address: 1 Franklin Wharf, Hobart TAS 7000
Contact: (03) 6231 5005
Opening Hours: Sunday – Thursday (12pm – 9:30pm); Friday – Saturday (12pm – 10:30pm)
---
Van Bone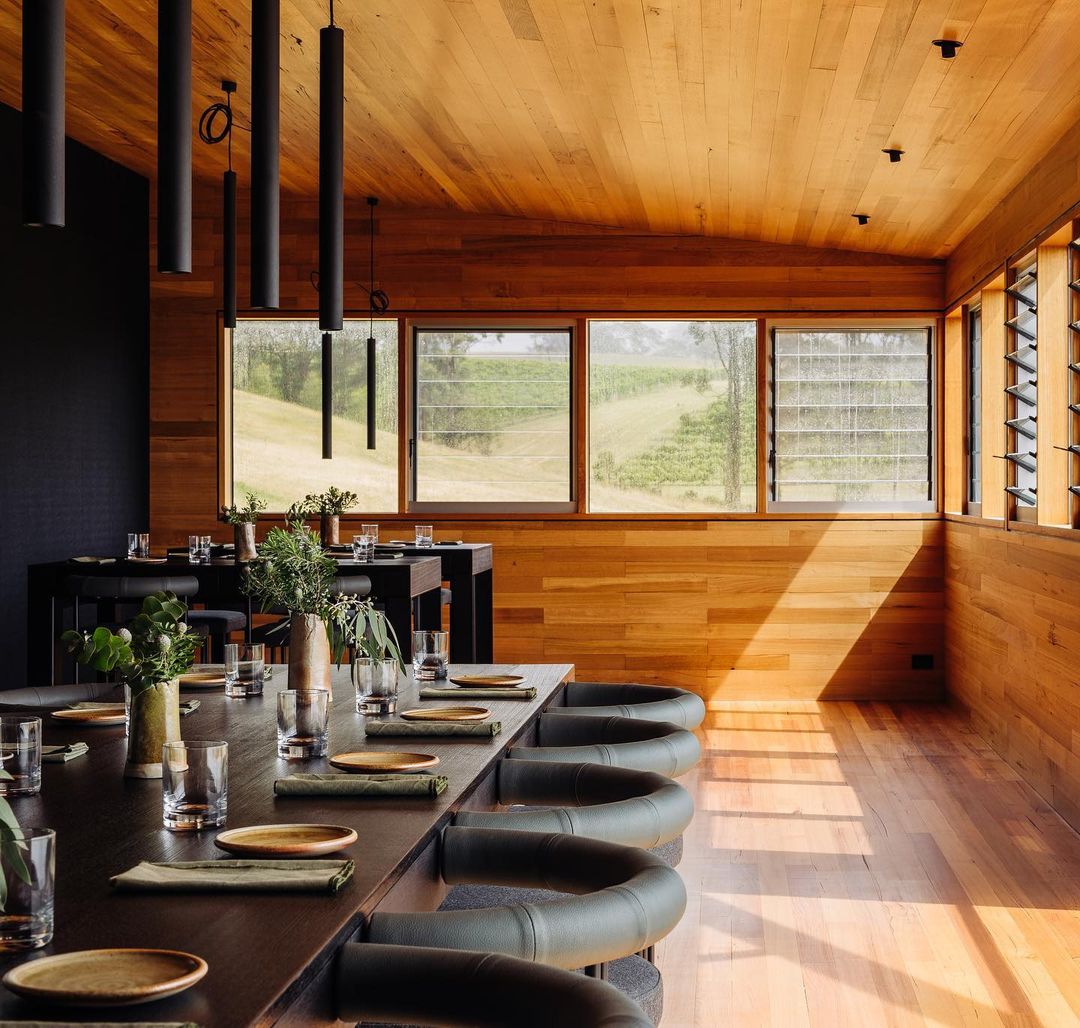 Built on the idea of fire and smoke, Van Bone is an open kitchen set against the massive natural arena of Marion Bay just 50 minutes east of Hobart CBD. Chef Timothy Hardy has such an incredible setting to play around with and it's clear the surroundings have inspired him to elevate Tasmania's dining scene in his own unique way by adding his voice to the ongoing conversation around sustainable dining.
Much like the best regional restaurants in Australia like Igni and Zin House, the menu has the admirable goal of closed-loop sustainability, creating the kitchen's own culinary ecosystem with any excess produce fed back into the cooking process with various techniques like fermenting, preserving and pickling. This has given Hardy complete control over his offering, which extends to everything from finely shredded southern calamari in pork broth and smoked buttermilk ice cream.
Address: 357 Marion Bay Rd, Bream Creek TAS 7175
Opening Hours: Monday (12 pm – 5 pm); Friday (12 pm – 5 pm); Saturday (12 pm – 10 pm); Sunday (12 pm – 5 pm)
---
Fico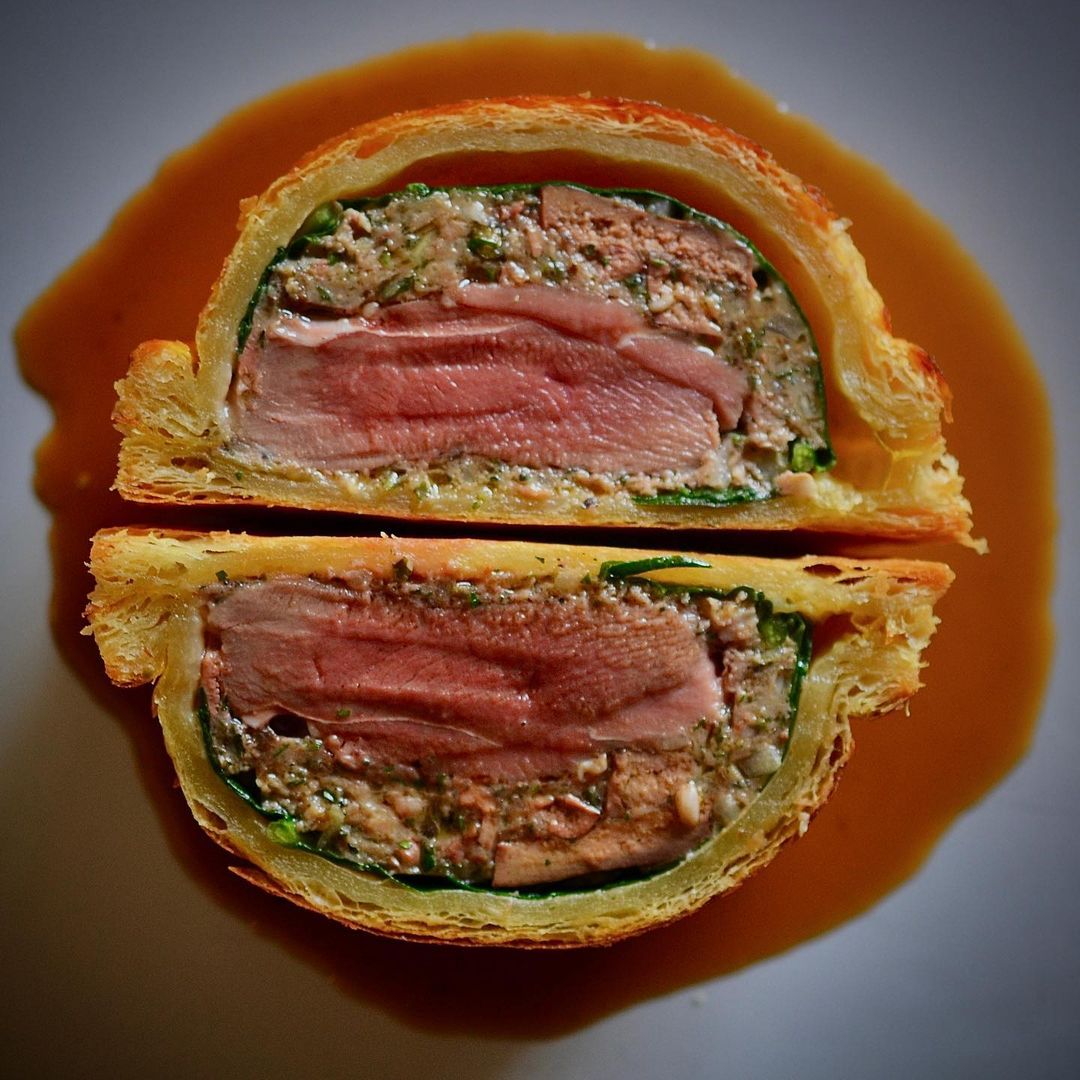 Meaning Fig in Italian, Fico is far from the only Italian restaurant in Hobart, but it's often cited as the best. Of course, there's some serious competition on the cards, but it's tough to beat the work done by owners Naples-born Federica Andrisani and Oskar Rossi. Together, they've built a restaurant entirely worth the praise that often flows its way, with a regularly changing menu best experienced through the 'Let Us Cook For You' set menu, priced at $120 per person ($220 if you're going for matching drinks).
The flavours are abundant, the techniques are simple, and each dish is delivered with pure elegance. There's also a free-wheeling sense of experimentation here, with the kitchen unafraid of abandoning traditional Italian if the fresh produce – typically pulled from Sunday's Farm Gate Market – requires it. Expect pasta dishes like hare bottoni with braised escarole and black olives, or Parmigiano Reggiano with capellini onion and rice wine vinegar, alongside signature pithivers (a type of dense enclosed pie) typically brimming with gamey meats like rabbit or pigeon.
Address: 151A Macquarie Street, Hobart TAS 7000
Contact: (03) 6245 3391
Opening Hours: Friday – Saturday (6pm – 9pm); Sunday (12pm – 8pm)
---
---
---
The Agrarian Kitchen Eatery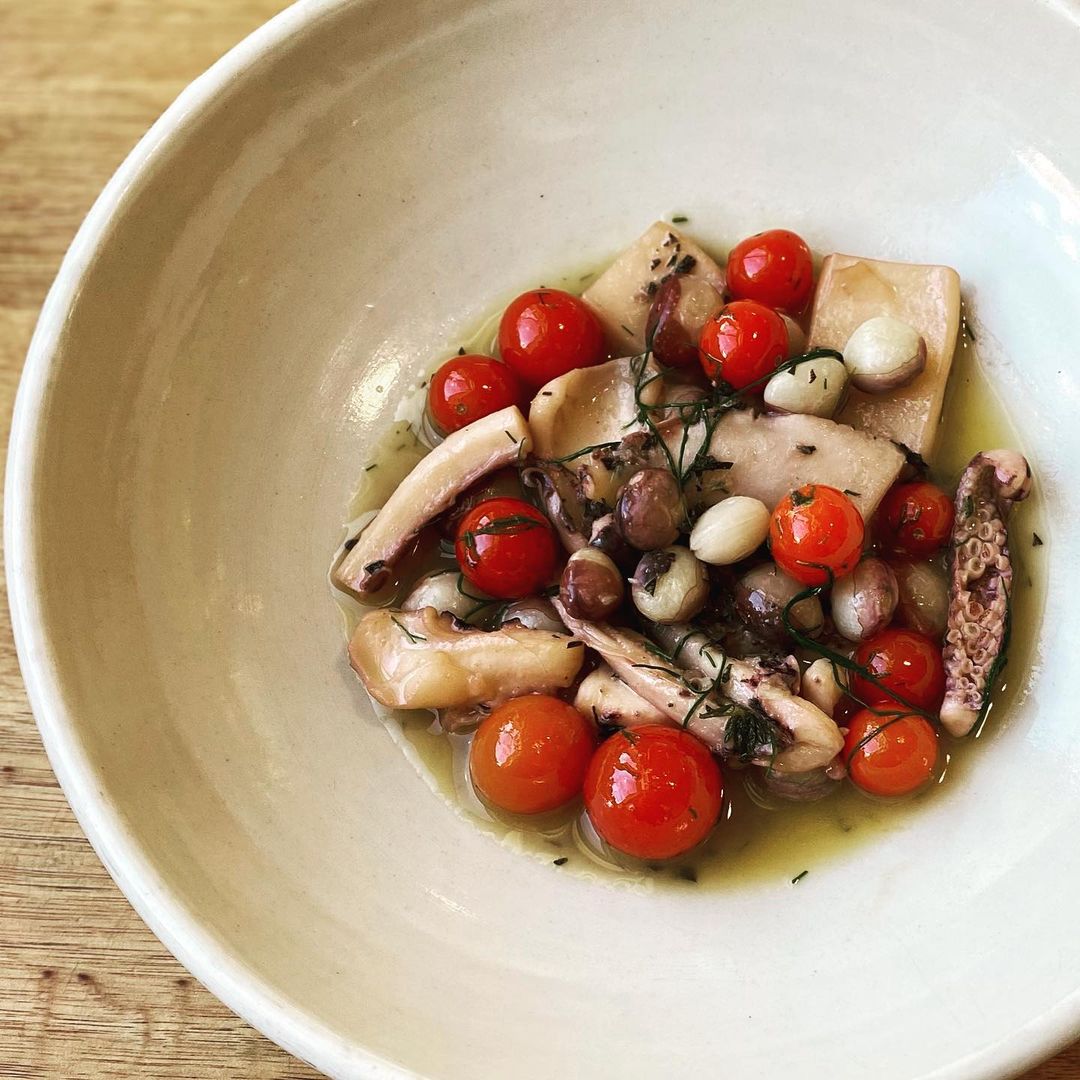 Take the short drive out to New Norfolk and park up at The Agrarian Kitchen. A former psychiatric hospital has been transformed into the eatery for this farm and cooking school, where their lunch menu is the platform for a grand showcase of produce, both from the Agrarian farm and locally sourced.
The share-style set menu is priced reasonably at $120 per person, offering plenty of food in return, ranging from burrata with smoked paprika, to lamb shoulder with garlic, lemon, and fish sauce.
If you've got the time to spare, book into one of their wildly intimate and insightful cooking classes to truly get an appreciation of the area's fabled provenance, which has moved from the Rodney and Severine's home to the Kitchen site at New Norfolk.
Address: 11a The Avenue, New Norfolk TAS 7140
Contact: (03) 6262 0011
Opening Hours: Friday – Sunday (11am – 2pm)
---
ALOFT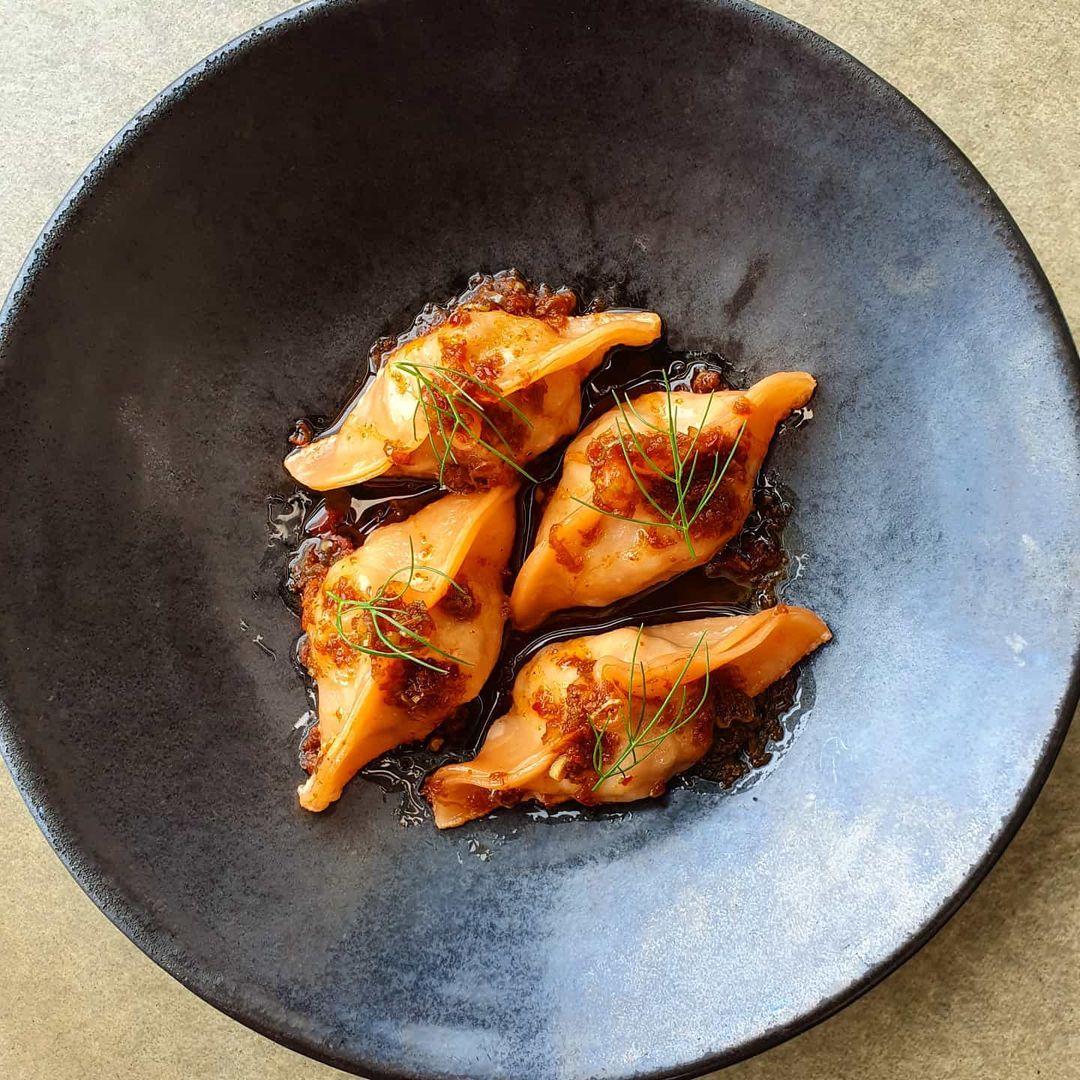 Working tirelessly with small producers ensures that ALOFT isn't just known for its pristine architecture and sparkling water views. Although, it's pretty hard to ignore just how incredibly attractive this loft-like waterfront restaurant is perched at the end of the Brooke Street Pier.
The food is what anchors people amongst the dreamy space, with a constantly changing seasonal menu, locally caught seafood, and fastidiously sourced meat and dairy. As with all of the best restaurants in Hobart, the tasting menu is typically the best choice here, and it's only priced at $90 per person, with a $70 per person add-on if you're like to pair it up with a series of drinks.
Address: Pier one, Brooke St, Hobart TAS 7000
Contact: (03) 6223 1619
Opening Hours: Tuesday – Saturday (5:30pm – 10pm)
---
Peacock & Jones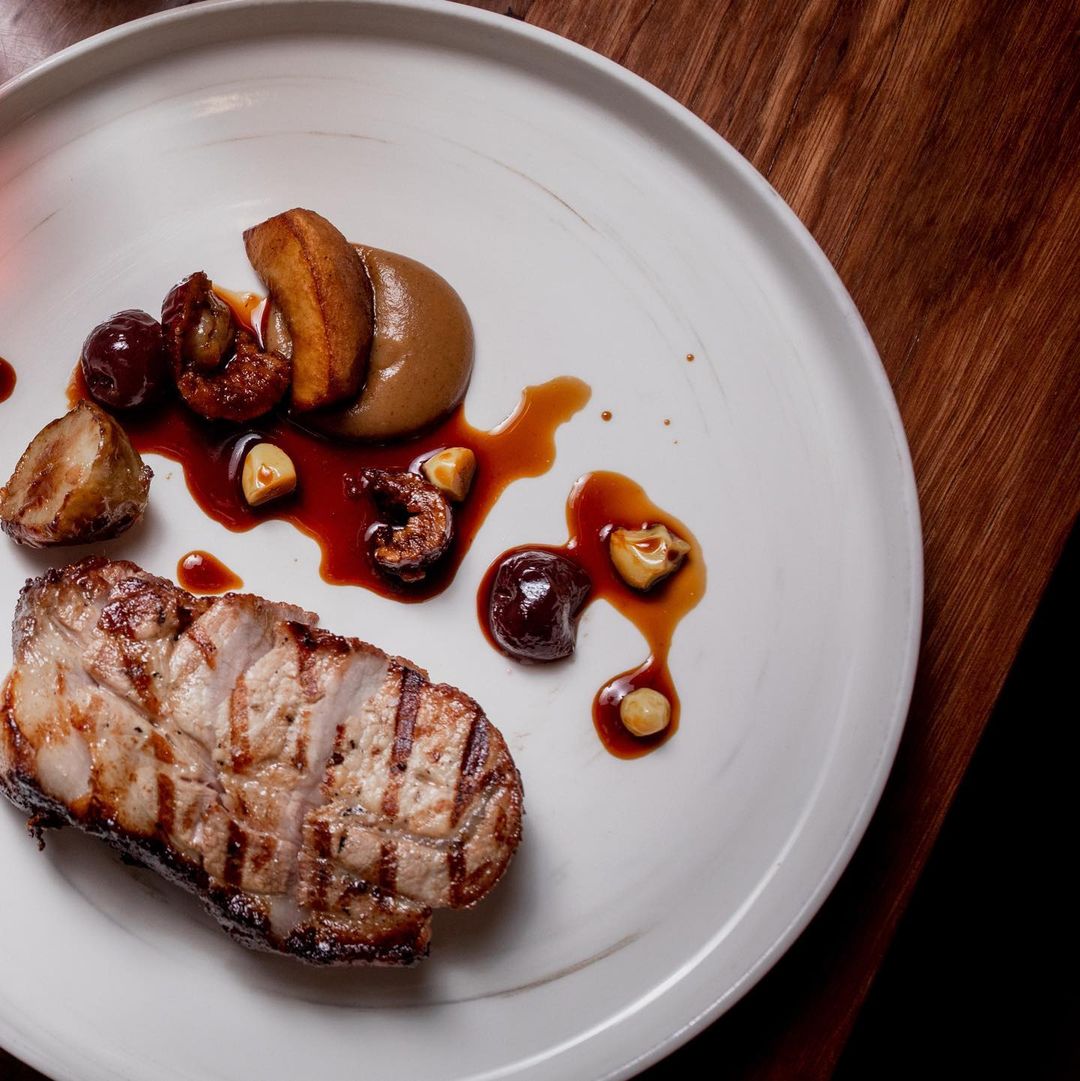 Over 60 bottles of fine wine sit in their cellar at all times, with Peacock & Jones constantly chasing the perfect pairing experience against their fine dining menu. The formidable Hunter St restaurant carves out an old sandstone warehouse on Hobart's waterfront, with an almost strict dedication to locally sourced flavours of Tasmania and not much else.
---
---
Head Chef Julian Volkmer frequently changes the menu on offer here, and he's a clear fan of minimalism with the produce always kept as the focus of the dish, complemented by very few ingredients. Examples include glazed lamb ribs from Lyndall Farm with fermented black barley, spinach and tongola curdy and Cape Grim sirloin with horseradish creme, smoked leek and caramelised shallots . The dishes are driven by what is growing around Tasmania at the time, making this one of the best restaurants you can find in Hobart.

Address: 33 Hunter St, Hobart TAS 7000
Contact: 1800 375 692
Opening Hours: Wednesday – Saturday (6pm – 9:30pm)
---
Landscape Restaurant & Grill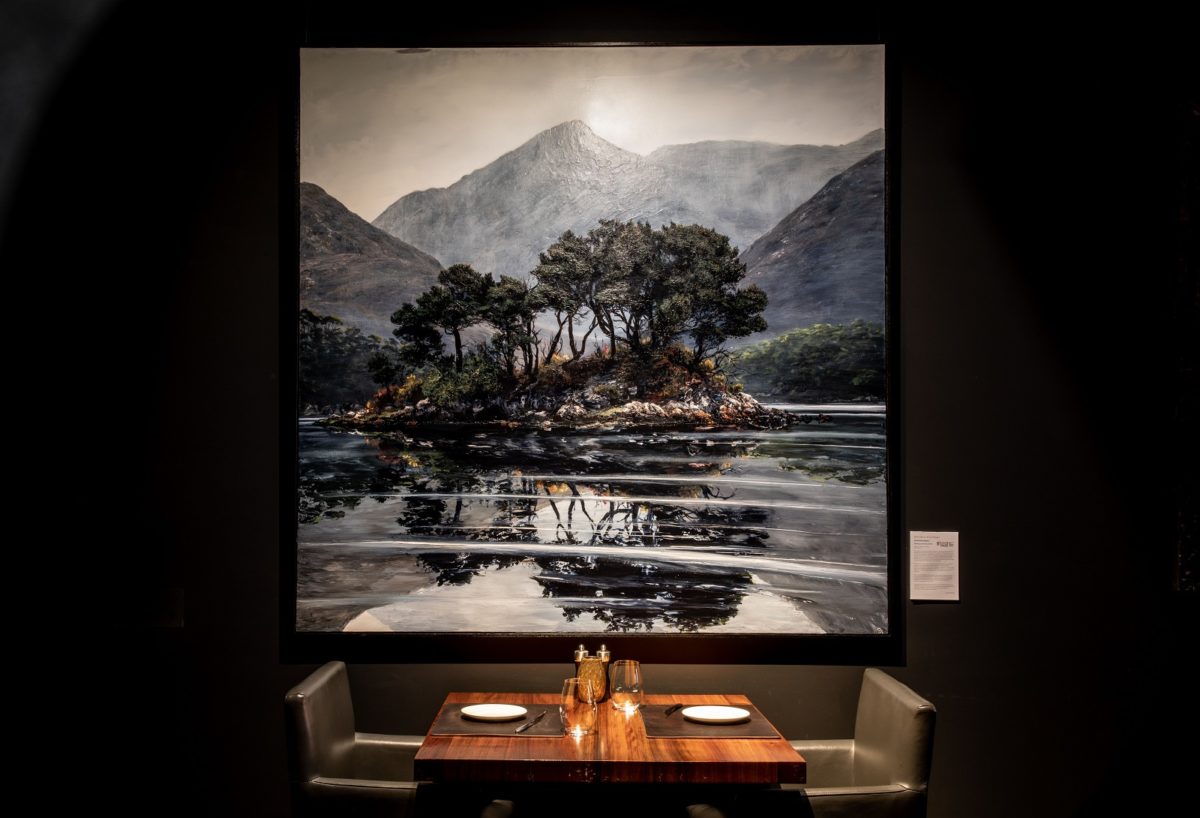 Part of The Henry Jones Art Hotel, Landscape Restaurant & Grill makes brilliant use of its setting – the former IXL Jam Factory, filled a space with reclaimed timber set against the magnificent paintings of John Glover. Few spaces can match up to this when looking for the best restaurants in Hobart, offering an appropriately high-end space.
The Asado grill drives most of the cooking here, pumping out some of the best meat dishes in Hobart with the likes of a Robbins Island wagyu eye fillet mbs 9+, and a 550g grass fed Cape Grim T-bone.
Most recently, the Landscape kitchen has turned to Victoria-based artist Jennifer Riddle and a piece from her that has won the 2022 John Glover Art Prize. The food on offer is inspired by landscape artwork and its photorealistic layers of land, water and colour which now hang permanently in the restaurant's private dining room.
Address: 23 Hunter St, Hobart TAS 7000
Contact: 1800 436 797
Opening Hours: Monday – Sunday (6pm – 9:30pm)
---
Osteria Vista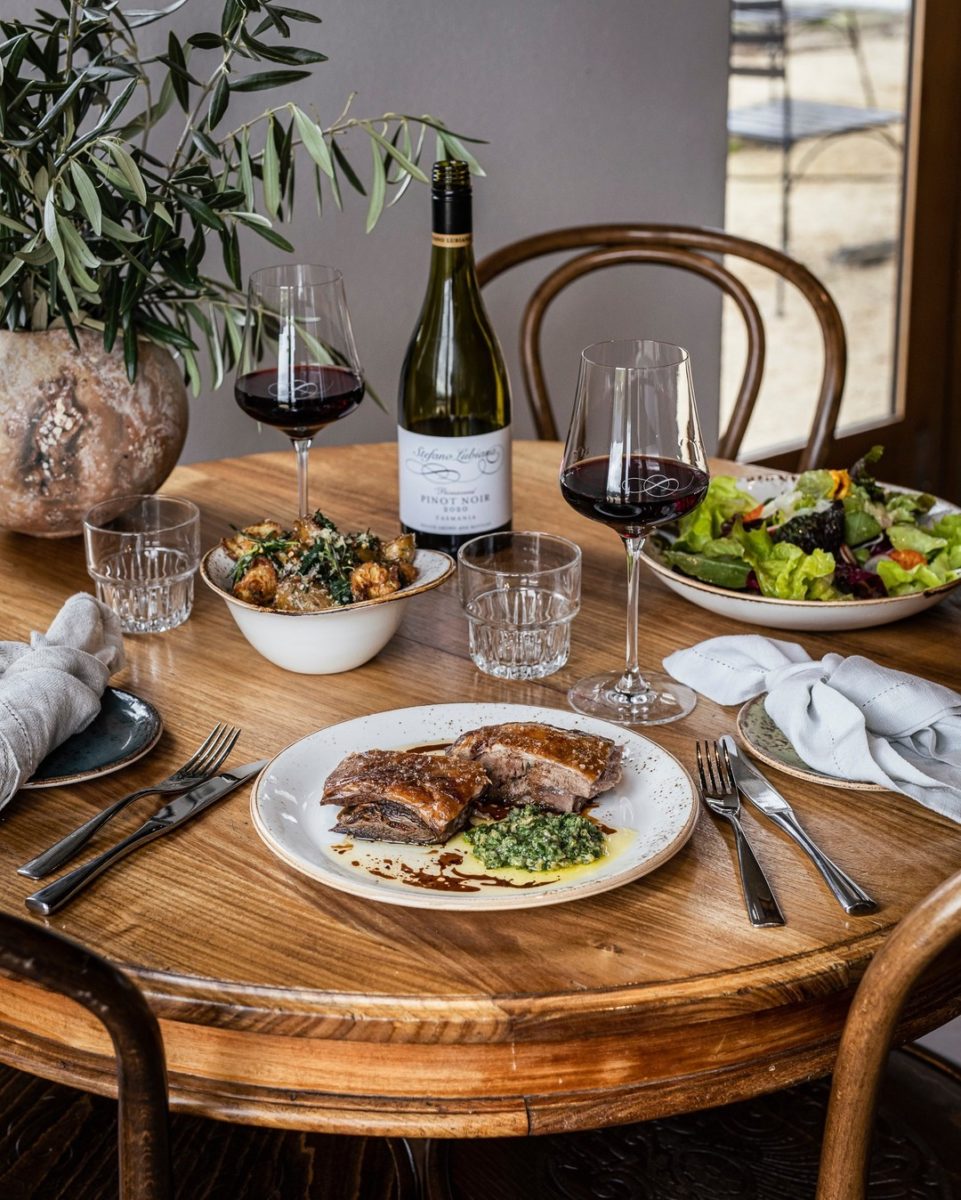 Osteria Vista is the new on-site restaurant at Stefano Lubiana Wines, located just past David Walsh's iconic Museum of Old and New Art (MONA). Cosying up the River Derwent, the kitchen offers great value with a four-course degustation for $65 pp, obviously leaning Italian with a focus on local produce and wine pairings.
So simple is the concept that Osteria Vista has flown a bit under the radar for visitors heading down to Hobart for a bit of a culinary adventure. Make no mistake about it, this breezy kitchen deserves to be on your itinerary just as much as that quintessential booking at Templo, that meat sweat session at Landscape and that boozy lunch at Dier Makr.
Address: 60 Rowbottoms Rd, Granton TAS 7030
Contact: (03) 6263 7457
Opening Hours: Friday – Sunday (12 pm – 3 pm)
---
---
---
Malik Restaurant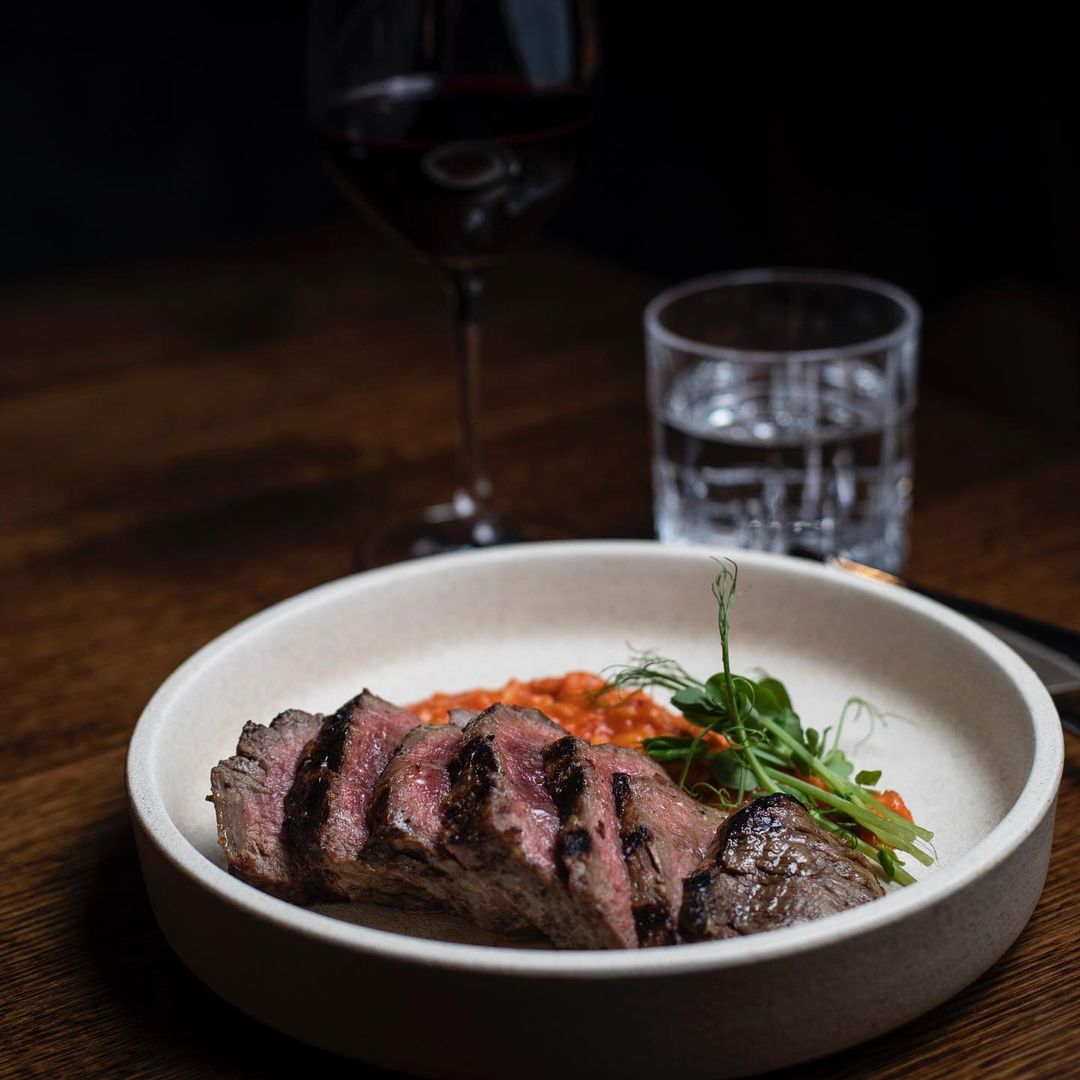 Driving one of the best restaurants in North Hobart, the fiercely Meditteranean kitchen at Malik stands as an elegant answer to Sydney and Melbourne's undying love of the breezy flavours that mainly hop around the Greek islands, Italy, Turkey and Lebanon.
You're in Hobart so fresh seafood is a must. Tamarind glazed baby octopus is served with salsa verde and bandurrah couscous; seafood paella comes with a more-is-more approach featuring a medley of king prawns, mussels, and calamari with Turkish sujuk; char-grilled calamari is mixed up with young tomato and toum butter. It's a wild dip into the ocean here, bringing a nice point of distinction to this elegant restaurant by taking Tasmania's finest and adding calculated pops of Europe's best coast.
Address: 277 Elizabeth St, North Hobart TAS 7000
Contact: (03) 6236 9056
Opening Hours: Wednesday – Thursday (5:30pm – 10:30pm); Friday – Saturday (5:30pm – 11:30pm)
---
The Best Cocktail & Wine Bars For Food In Hobart
---
Dier Makr & Lucinda Wine Room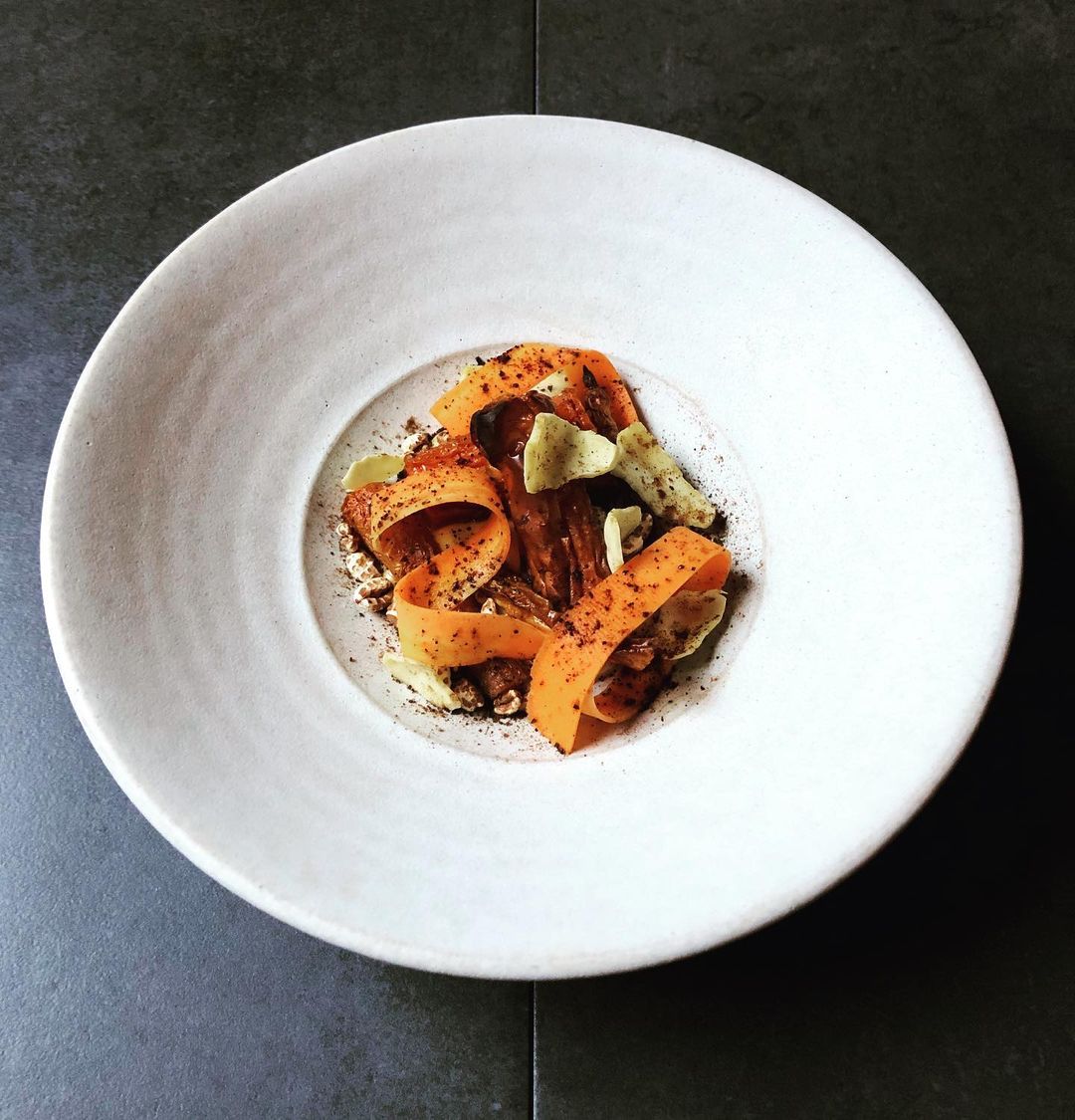 Every Australian city needs to have a fan-favourite hidden wine bar, and for Hobart, that honour falls empathically with Dier Makr – arguably as close to fine dining as the city gets. As hard to find as it is to pronounce, Kobi Ruzicka and Sarah Fitzsimmon's intimate drinking den is an ode to fine wines and elegant bar snacks, the menu for which changes faster than anyone could keep up with.
On entry, the blackboard should list any of these dishes available, while you walk into the wine cellar to pick whatever drops you'd like to try. The curation at Dier Makr is tight, so the best bet is to leave your palate in the highly capable hands of the staff.
And if that isn't enough wine for you, the co-owners also run Lucinda Wine Bar out of the same building, with a sharper focus on minimal-intervention drops alongside produce-driven dishes like squid with potatoes and bay, mozzarella with plum and figs, chicken liver parfait, and whipped anchovy with pickled mussels.
Address: 123 Collins St, Hobart TAS 7000
Contact: (03) 6288 8910
Opening Hours: Thursday (6:45pm – 11pm); Friday – Saturday (6pm – 11pm)
---
The Glass House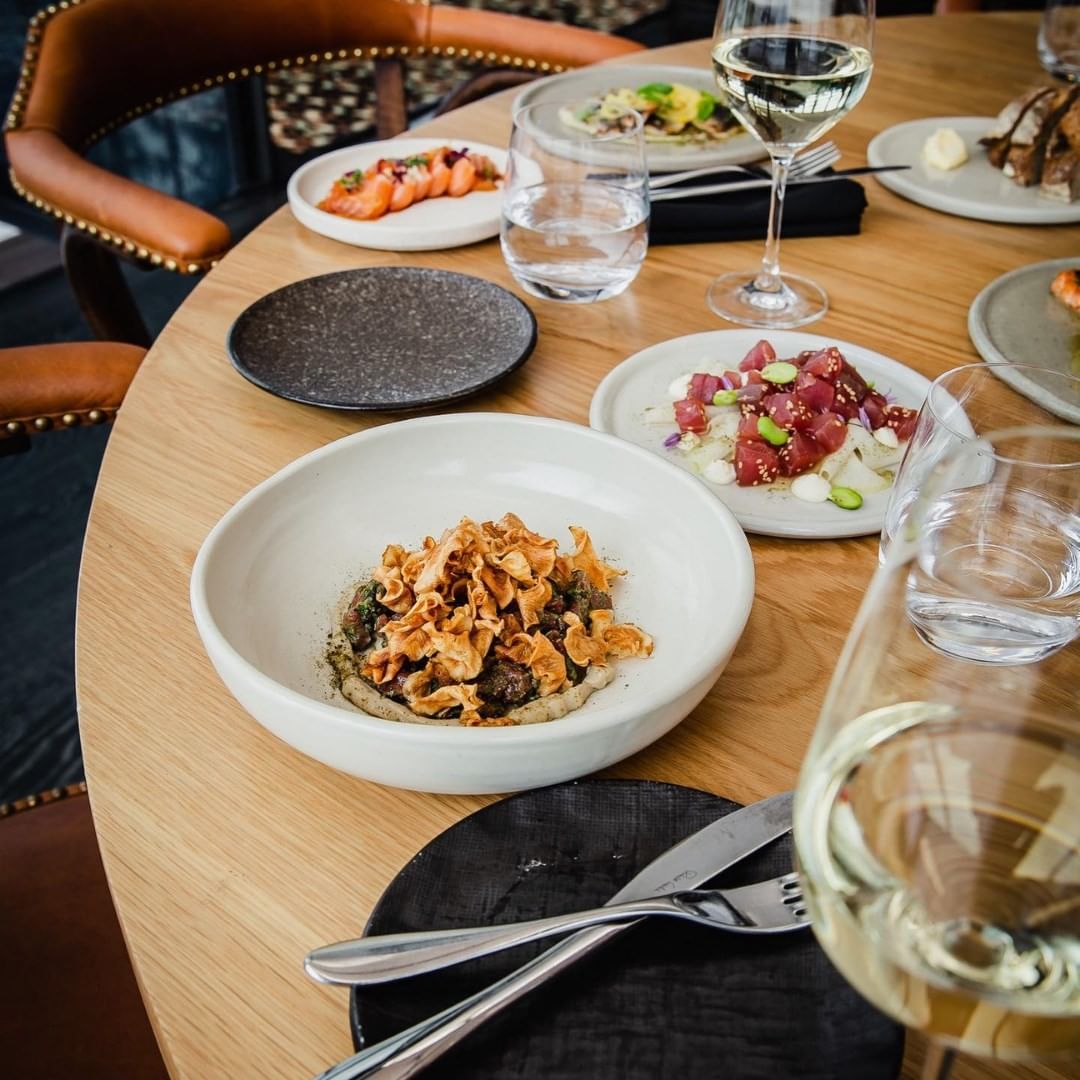 The Glass House stands stately at the very end of Franklin Wharf on Hobart's waterfront, almost worth the views alone with Sullivan's Cove, and the Derwent River with absolutely nothing interrupting the compelling vista.
---
---
Although the views are far from the only reason it's mentioned amongst the best restaurants in Hobart. The food and drink pushes the standards even higher, from line-caught kingfish carpaccio lightly treated with anchovy and dill mustard, to wild clover lamb tartare with lovage, gentleman's relish, and beetroot.
Address: Brooke Street Pier, Franklin Whrf, Hobart TAS 7000
Contact: (03) 6223 1032
Opening Hours: Thursday – Saturday (12pm – 10pm)
---
Bar Wa Izakaya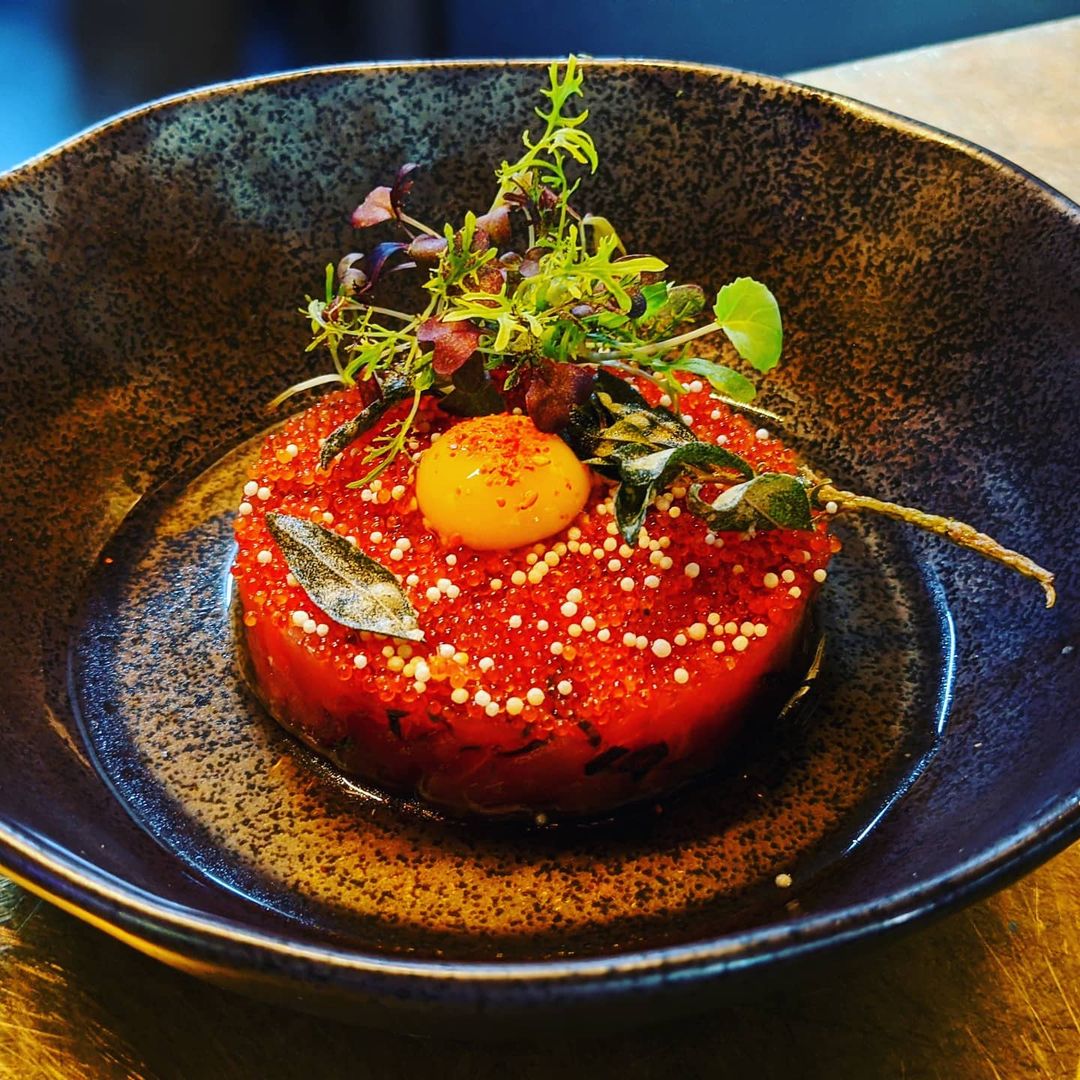 If you're looking for the best Japanese restaurant in Hobart, you'll find it on Elizabeth Street. While the city, and Tasmania in general, boasts nowhere near the amount of top-quality Japanese eateries as say Melbourne or Sydney, this modest izakaya-inspired space more than holds up the flag for fans of sake and sashimi.
If you could pick any time of day to experience Bar Wa Izakaya, make it the early afternoon. From 12pm to 3pm, the venue hosts 'Bar Wamen', serving nothing but piping hot, beautifully tared bowls of warm ramen to help in the eternal battle against Hobart's characteristically chilly climate.
Address: 216-218 Elizabeth St, Hobart TAS 7000
Contact: (03) 6288 7876
Opening Hours: Sunday – Thursday (12pm – 12:30am); Friday – Saturday (12pm – 1am)
---
Evolve Spirits Bar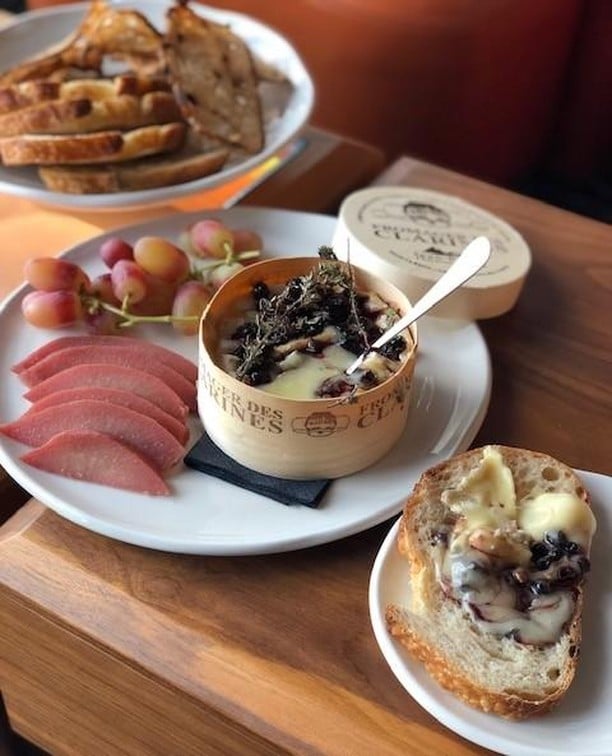 Having been named both Australia's Best Hotel Bar and Tasmania's Best Bar (Australian Bar Awards, 2019), Evolve Spirits Bar is a singular experience for drinkers and diners looking to make the most of their stay at – or visit to – Macq01. The luxury lounge bar is fueled by a desire to showcase Tasmania's distinctive culture of premium distilling, while also pairing that with some of the freshest food you'd find at any hotel bar, along with truly delicious cocktails.
While the food options are nowhere near as extensive as the spirits and cocktail menus, there's a beautiful simplicity here that picks out only the finest in local Tasmanian produce. Think Bruny Island oysters served with Champagne vinegar granita, Tasmanian salmon pancakes with pickled cucumber, creme fraiche, and roe, and Berkshire pork belly bao buns served with a sweet and spicy sauce. For the indecisive, the Tasmanian cheese plate can do no wrong, showcasing a rotating selection of the state's finest.
Address: 18 Hunter St, Hobart TAS 7000
Contact: (03) 6210 7656
Opening Hours: Monday – Sunday (4:30pm – 12am)
---
Preachers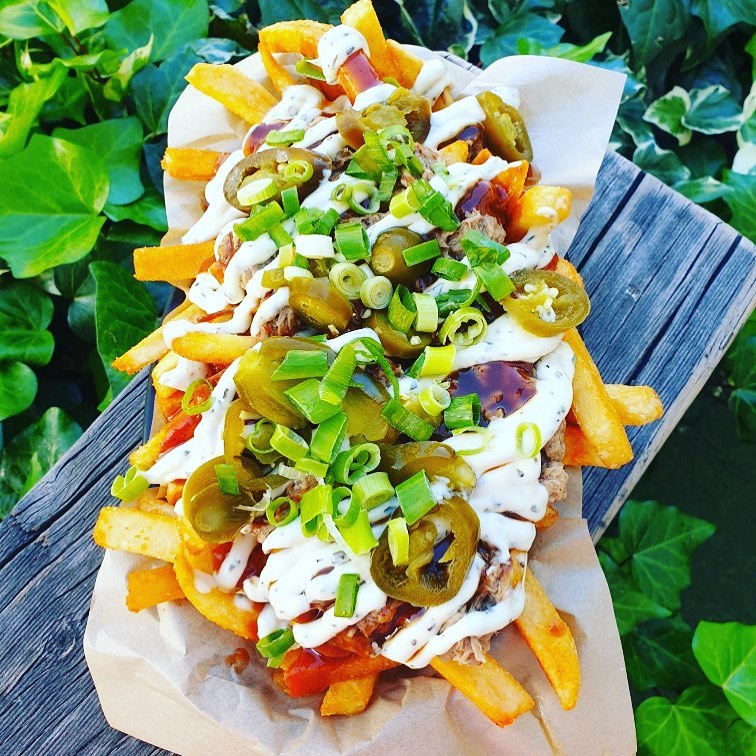 Hearty, greasy pub food is exactly what you want from Preachers, a Knopwood Street staple that's just a short stroll from Hobart's famous Salamanca Market. Lucky, then, that the kitchen is more than up to the task of supplying some of the best burgers, hotdogs, and loaded fries you'd find in the entire state.
Transformed from an historic 1849 sailmaker's cottage, the pub easily sits at the heart of Hobart's cultural scene, complementing all those charming details with one of the city's best craft beer lists.
Address: 5 Knopwood St, Hobart TAS 7000
Contact: (03) 6223 3621
Opening Hours: Sunday – Thursday (12pm – 12am); Friday – Saturday (12pm – 1am)
---
Sonny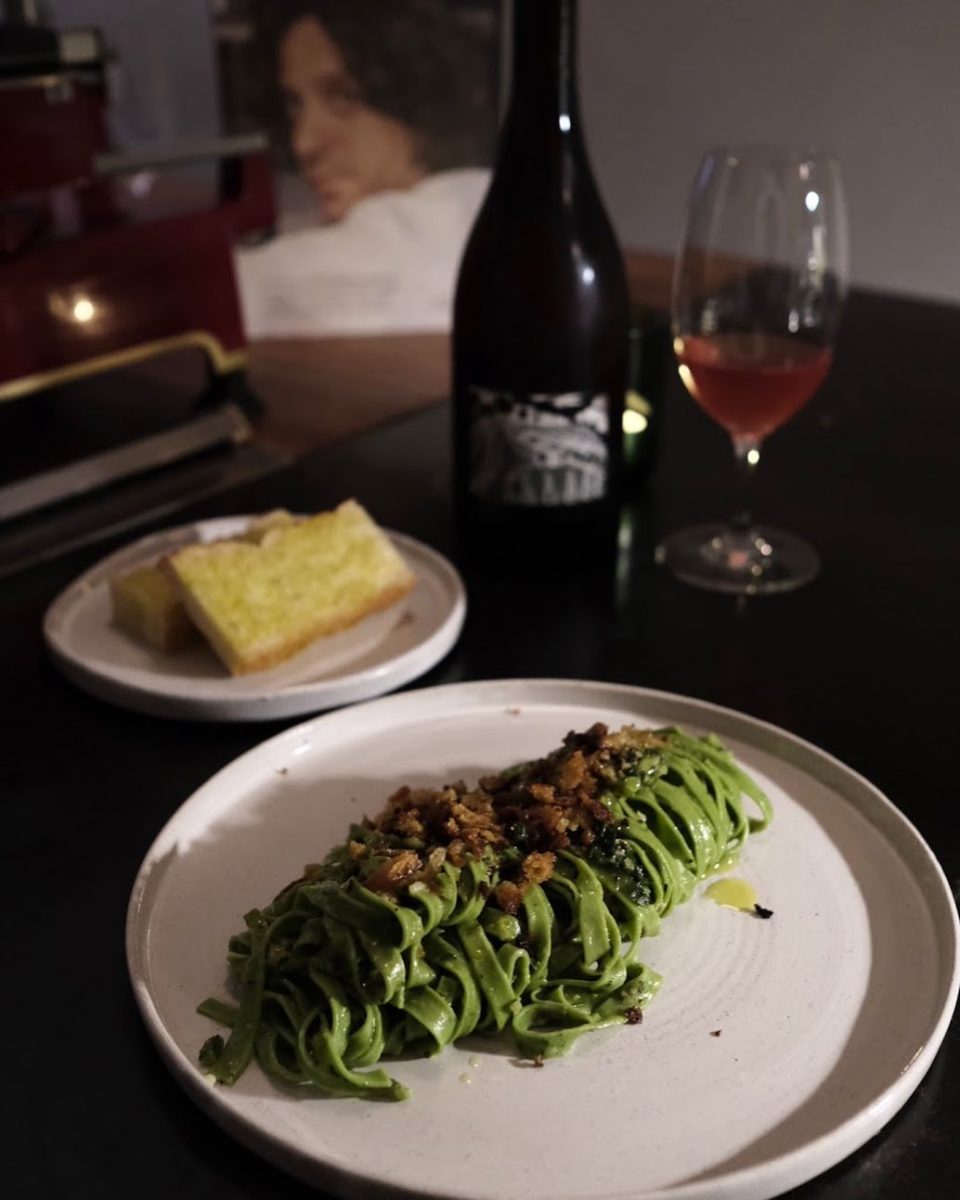 If you're up for some snackier style, top notch food and wine in one of Hobart's classiest establishments, head on over to Sonny wine bar, headed up by former Templo Chef Matt Breen. There's a killer soundtrack too, with the staff holding as much love for dusty old vinyl as they do for curated a primo wine list. Pair that with simple, honest Italian food that sticks to the Hobart ethos of championing local ingredients with fresh, rich flavours and you've got a formidable offering at Sonny wine bar.
Address: 120a Elizabeth St, Hobart TAS 7000
Opening Hours: Thursday – Sunday (4pm – 12am)
---
The Best Cafes & Eateries In Hobart
---
Pigeon Hole Cafe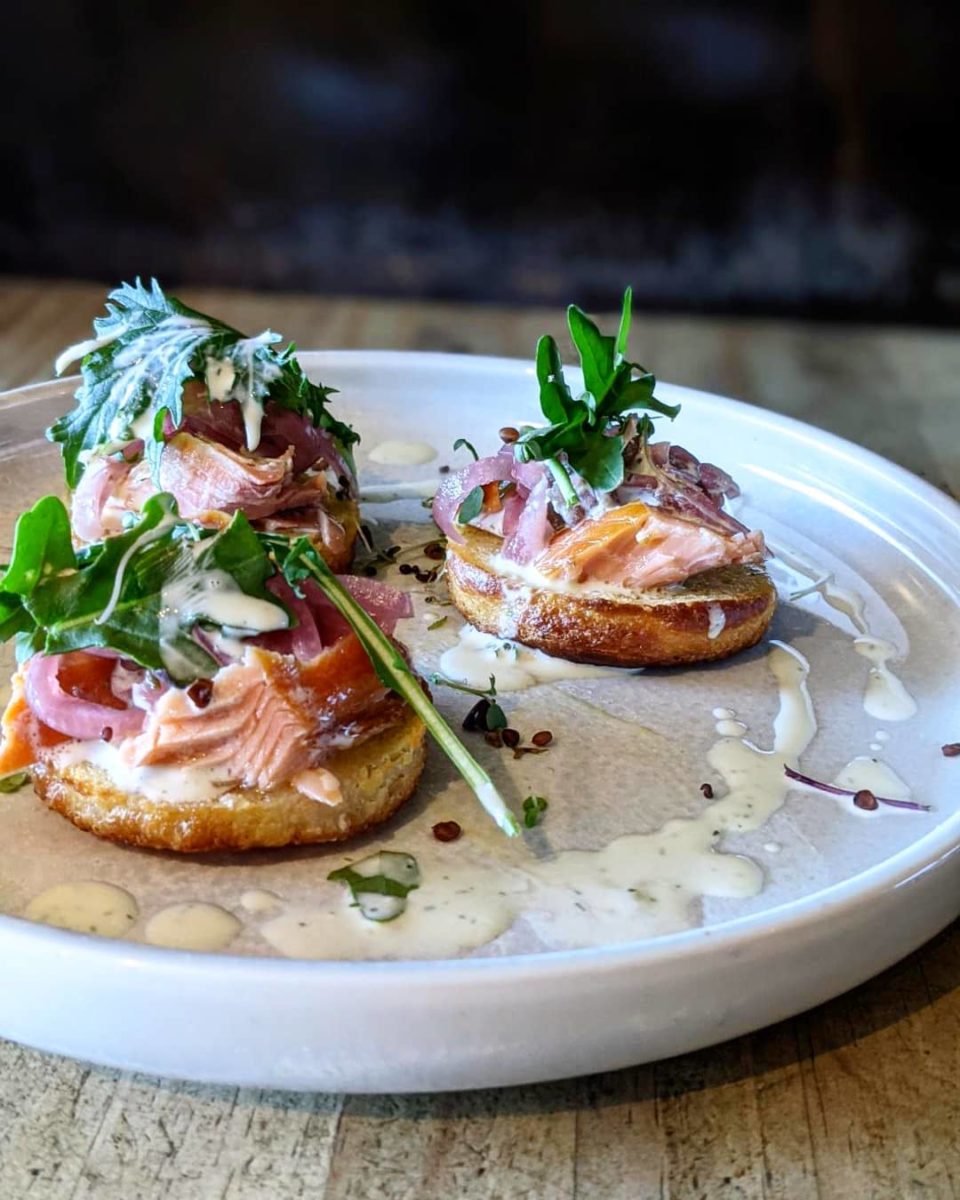 From the Pigeon Whole Bakery team, this farm-to-table cafe stands as one of the best places to eat in Hobart on any day of the year. The food at Pigeon Hole Cafe changes quite frequently, given that its used as a supreme showcase of the seasonal produce grown at Weston Farm – an award-winning family-owned farm in Southern Tasmania.
The menu is guided by organic principles, biodynamic principles, and high quality sustainable farming, best experienced during the early hours of the day. Breakfast is built with dishes like hot smoked fish blini with pickles, preserved lemon, and buttermilk, and soft polenta with creamy mushrooms, goats cheese, and spinach – starting the day off in fine form.
Address: 93 Goulburn St, West Hobart TAS 7000
Contact: (03) 6236 9306
Opening Hours: Monday – Friday (7:30am – 3pm); Saturday – Sunday (8am – 3pm)
---
Born In Brunswick
Though it may be bright and garish to some, this modern cafe in North of the city packs some serious chops, particularly when it comes to their all-day brunch offering.
This is the place you want to be if you've caught some extra hours in bed but don't want to let a morning-appropriate meal get away from you, with essentials including the Tasmanian charcoal-grilled octopus and chorizo scrambled eggs with salsa verde, chorizo crumb, and sourdough, and the Thai fish cakes with king prawns, white fish, nuoc cham, cucumber, and herb salad. Everything here is unique and so fresh I wouldn't be surprised if it was based on family recipes passed down between generations.
Address: 410 Elizabeth St, North Hobart TAS 7000
Contact: 0438 250 515
Opening Hours: Monday – Sunday (8am – 2pm)
---
Room For A Pony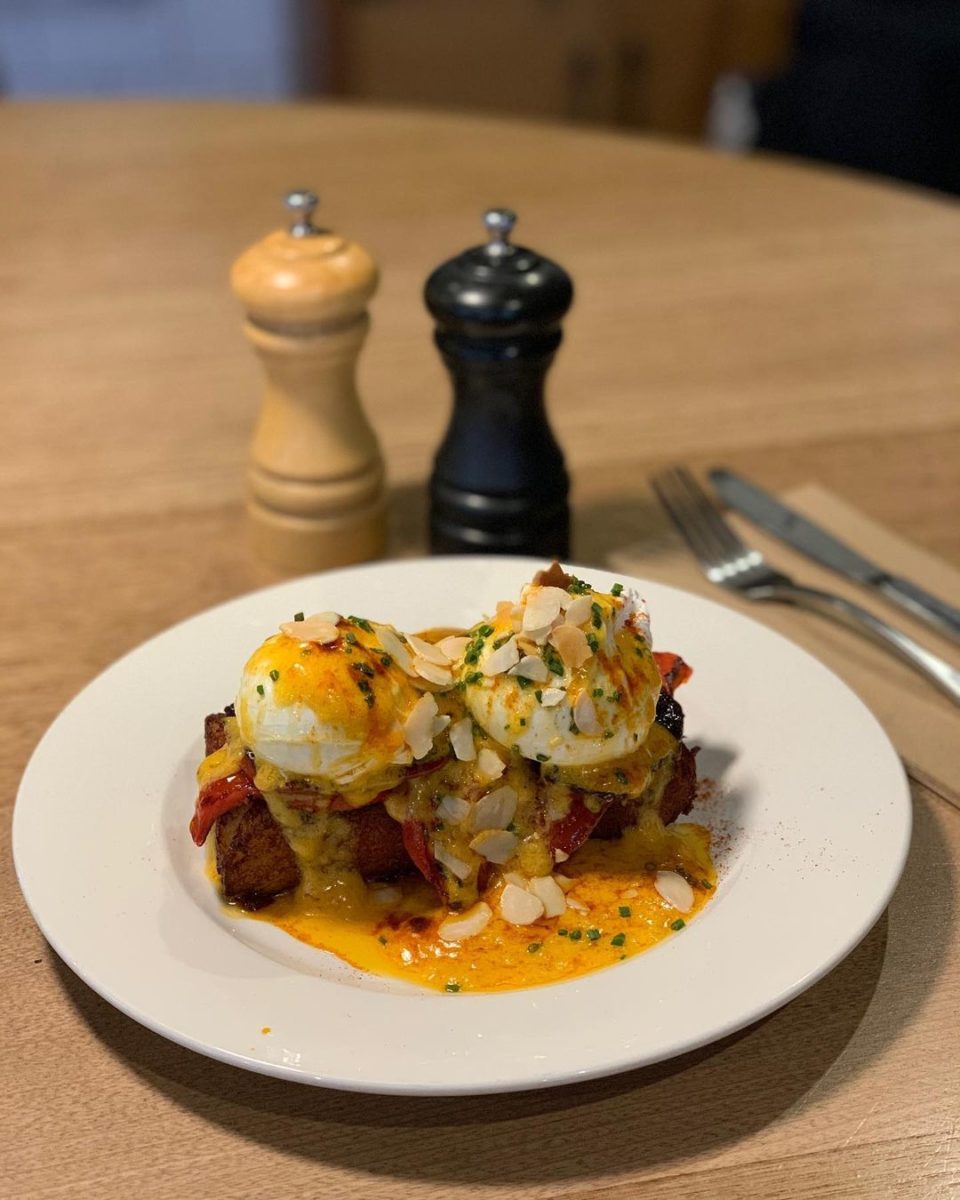 You wouldn't expect a café called Room For A Pony to serve some of the best woodfired pizza in Tasmania, but such is the strength on offer in this atmospheric space. Take your pick on the time of day you head on out to this highly energetic, social café, it's a winner whether you're rocking up for a day-starter like the mind-blowing Chinese fried chilli omelette, or lunch like spiced lamb shank with hot & sour coconut sauce.
As popular as it is for breakfast, acclaim is continually flowing through to the list of woodfired pizza, mostly with playful toppings like the 'fun guy' with Huon Valley honey brown & enoki mushrooms flanked by truffle oil, mozzarella, spring onions, and parmesan.
Address: 338 Elizabeth St, North Hobart TAS 7000
Contact: (03) 6231 0508
Opening Hours: Monday – Thursday (7am – 9pm); Friday (7am – 12am); Saturday (8am – 12am); Sunday (8am – 9pm)
---
Jackman & McRoss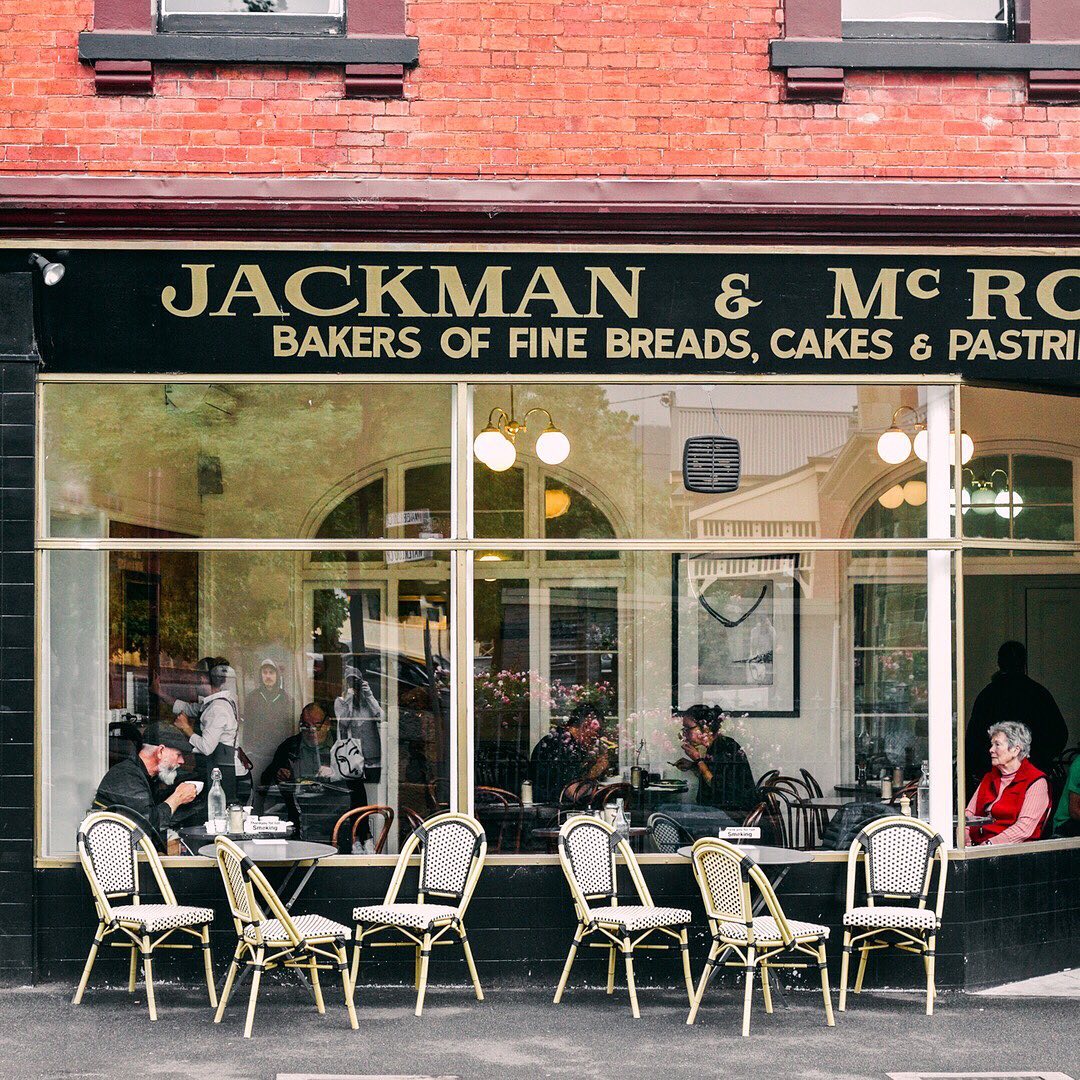 Jackman & McRoss is the prime stop along the historic Battery Point walk, positioned as the city's most historic bakery serving up some of Hobart's best pies and sausage rolls. The chatty weekday lunch crowds are usually found queuing up for a table here, most of them making the climb from Salamanca Place for a well-earned duck, cranberry, and walnut sausage roll.
Do note that this Battery Point shop is no longer the only Jackman & McRoss in the city, with much of Hobart's culinary identity tied to the bakery. But it's still the best one purely because of the historic setting, and the viewpoints dotted along the point.
Address: 57 Hampden Rd, Battery Point TAS 7004
Contact: (03) 6223 3186
Opening Hours: Monday – Sunday (7am – 4pm)
---
The Standard Burgers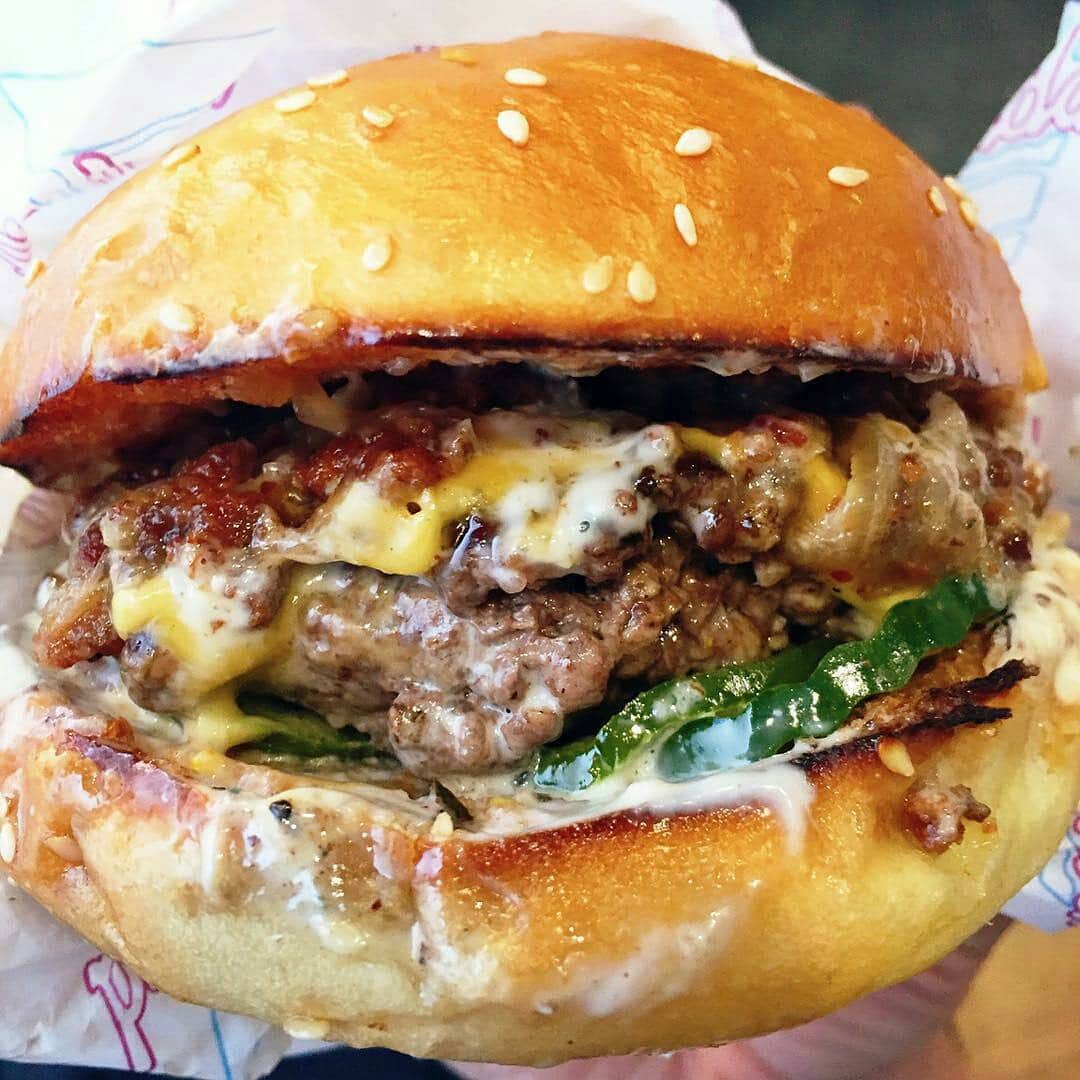 Every Australian capital city has to have at least one rustic burger shop flipping up the finest patties available. For Hobart, that is unquestionably The Standard, hidden off Liverpool Street down Hudsons Lane.
It's as unfussed about aesthetics as the burgers are, with seating options either on a small rooftop or simply just the pavement outside. There are very few options as well, but nothing should go past the signature namesake burger which has a double beef patty stacked with American cheese, lettuce, tomato, pickles, onion, and mayo.
Address: 177 Liverpool St, Hobart TAS 7000
Contact: (03) 6251 3911
Opening Hours: Wednesday – Thursday (11am – 8:30pm); Friday – Saturday (11am – 9pm); Sunday – Tuesday (11am – 8pm)
---
Local Pizza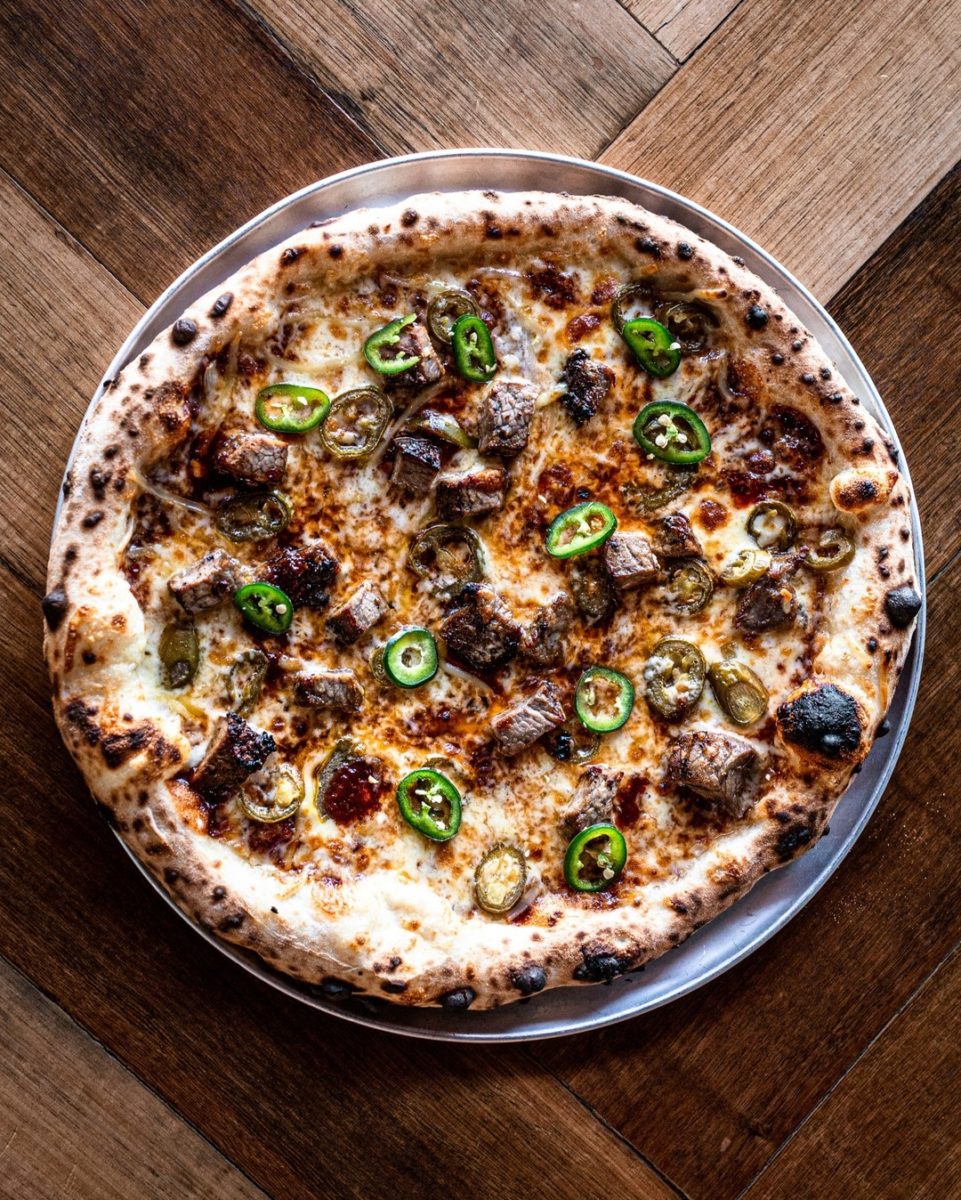 A short drive from Hobart's city centre, out near Claremont, you'll find Local Pizza – absolutely the best spot in Hobart for top notch, traditional, piping hot, and chewy pizza. Edging the northern fringe of Hobart, this restaurant is owned by Bella Lubiana, the daughter of renowned winemaker Stefano Lubiana, who is clearly faithful to local produce – all pizzas use 100% GMO-free Tasmanian flour.
The specific consistency of the flour gives each pizza that impossibly chewy, firm texture, which is perfect for toppings like standout 'King Kofta' with red pesto, lamb kofta, mozzarella, roast capsicum, herb yoghurt, zaatar, and chopped herbs.

Address: 52 Maroni Road Berriedale, Tasmania 7011
Contact: (03) 6249 3573
Opening Hours: Wednesday – Thursday (5pm – 8pm); Friday – Saturday (5pm – 8:30pm); Sunday (5pm – 8pm)
---
And A Must Visit For Hobart Foodies…
Farm Gate Market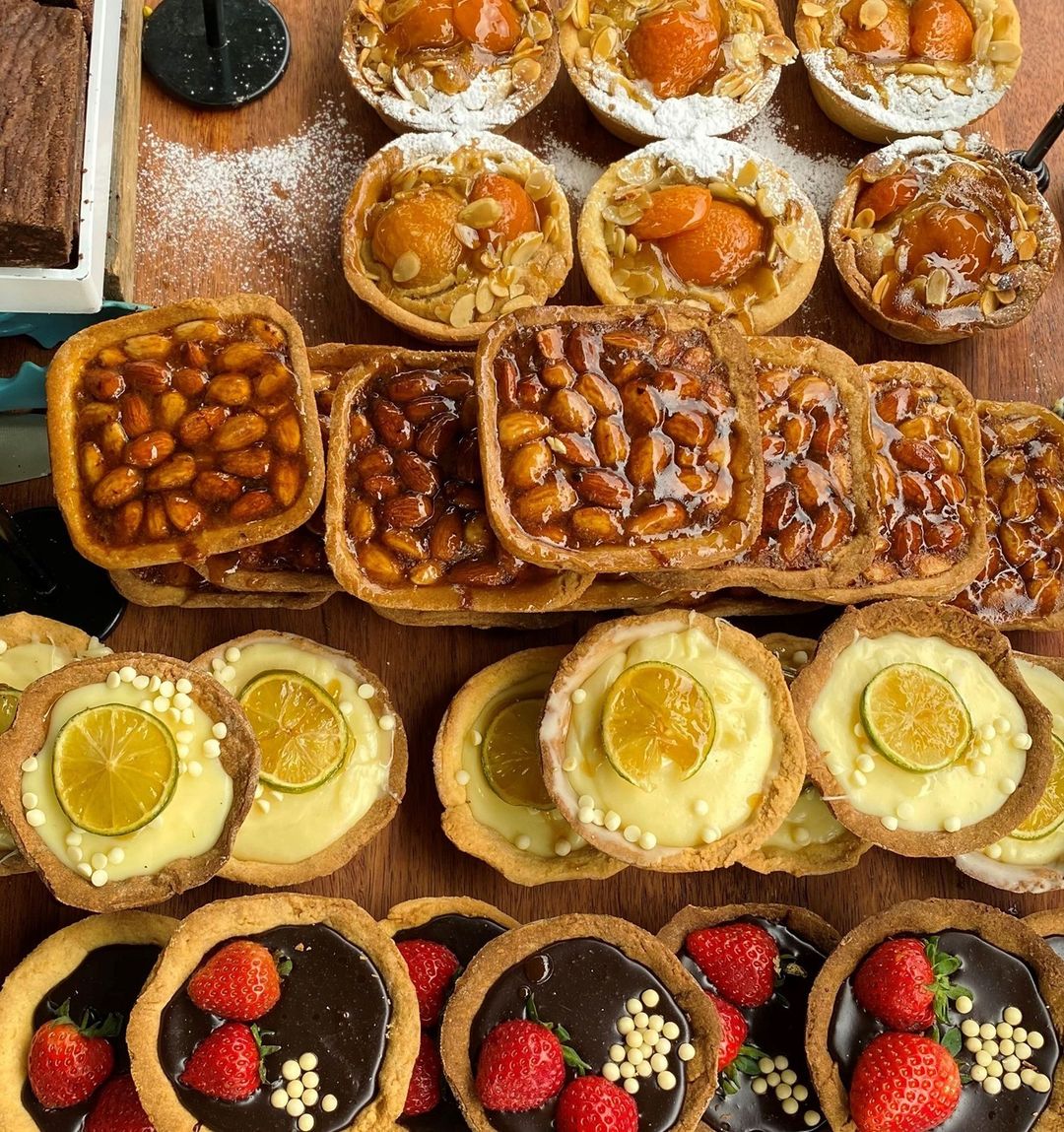 As reliably Tasmanian as a visit to Mona or hike up Cradle Mountain, Farm Gates Market is one of the focal points of Hobart's entire culinary culture. Although the vibrant Salamanca Market may be better known, with their scallop pies and leather goods, it's Farm Gates Market that cuts through with a strict dedication to local produce and supporting the growers behind them.
The street food markets are on every Sunday from 8:30 am until the early afternoon, touting everything from freshly shucked Bruny Island oysters at Hobart Oyster House, to wallaby breakfast burritos at Pacha Mama Mexican.
You can also head here to book the new Sirocco South dining experience, where produce virtuoso Mic Giuliani takes guests on a foraging tour and then sits them down for a six-course luxury lunch overlooking Frederick Henry Bay, bolstered by wines from Bream Creek Vineyard.
Address: 104 Bathurst St, Hobart TAS 7000
Contact: (03) 6234 5625
Opening Hours: Sunday (8:30 am – 1 pm)
---
Sticking to the mainland for now? Instead of reading about the best restaurant in Hobart, check out the best new restaurants in Sydney, Melbourne, and Brisbane.
And if you're looking for somewhere to stay off the mainland, check out the best hotels in Tasmania.
---
Best Restaurants Hobart
What is the best restaurant in Hobart?
If you're looking for the best restaurants in Hobart you'll want to go straight to Templo, FICO, Aloft, and Frank.
What are the best things to eat in Hobart?
Hobart is rich with some of Australia's best produce, but fresh seafood is always going to be the smartest order at any Hobart restaurant.
What are the best restaurants in Hobart that deliver?
A lot of the best restaurants in Hobart don't do delivery, but a few exceptions are Room for a Pony, Standard Burger, and Local Pizza.
What are the best new restaurants in Hobart?
The best new restaurants in Hobart include Peppina in The Tasman Hotel and Osteria Vista.