Few activities scream quintessential Sydney louder than lounging in a rooftop oasis and sinking a few cold ones in the afternoon sun. Indoors is overrated, so making the slow climb to those daylight drinks is really the only way to go when those temperatures push higher and the "day for it" proclamations come flying in from every direction.
The shimmering harbour city has plenty of perfect spots for this, but to make sure you're not wasting your time you should at least be aware of the best rooftop bars that Sydney has to offer.
From squeaky two-storey cocktail dens hidden in Sydney CBD heritage buildings to classic harbour-view watering holes where rooftop bookings are hard to come, as long as you're dragging your mates around to these rooftop bars you'll be doing your Sydney summer absolute justice.
---
---
Where To Find Sydney's Best Rooftop Bars
1. Aster Bar At The InterContinental Sydney, Circular Quay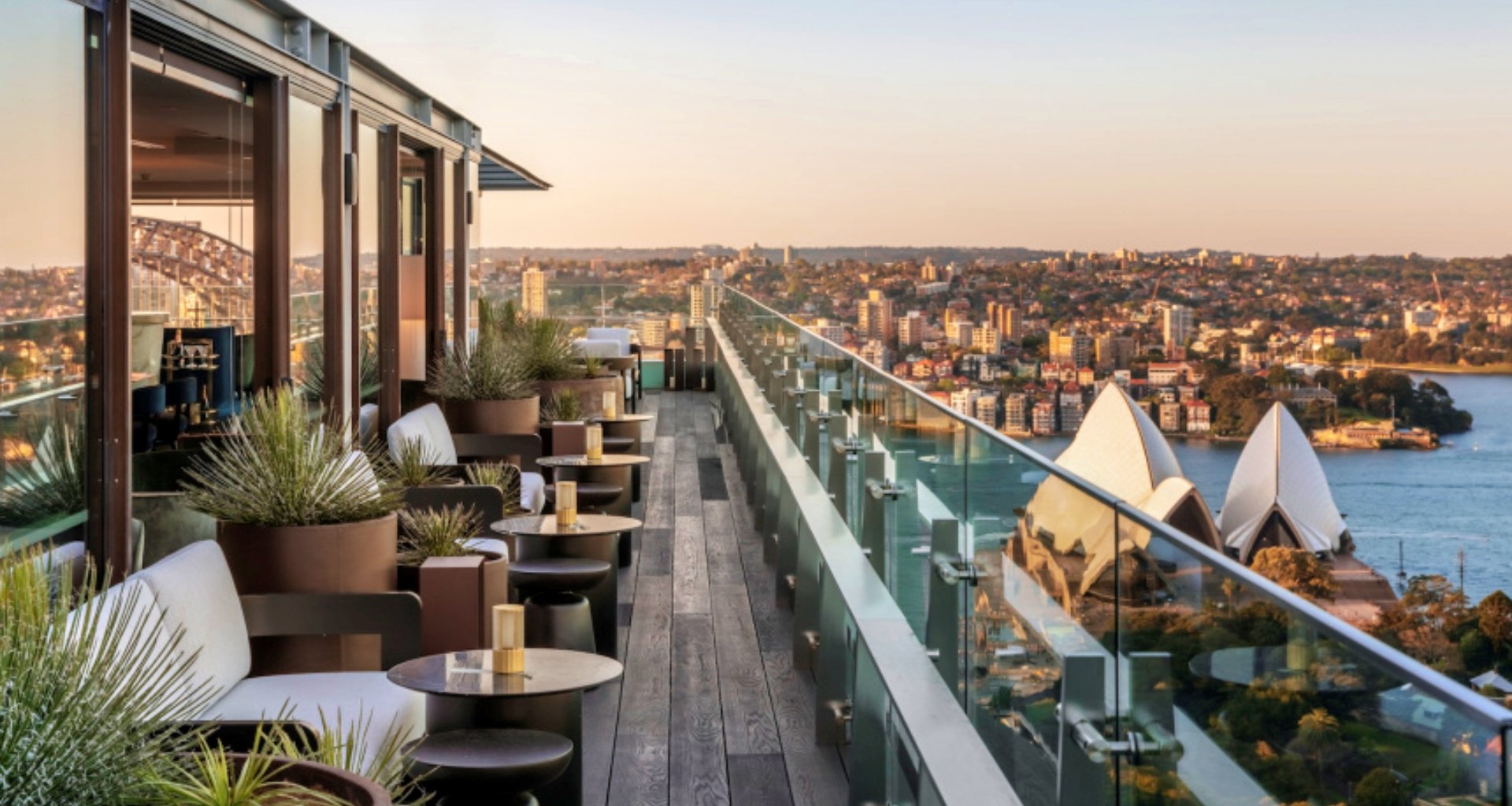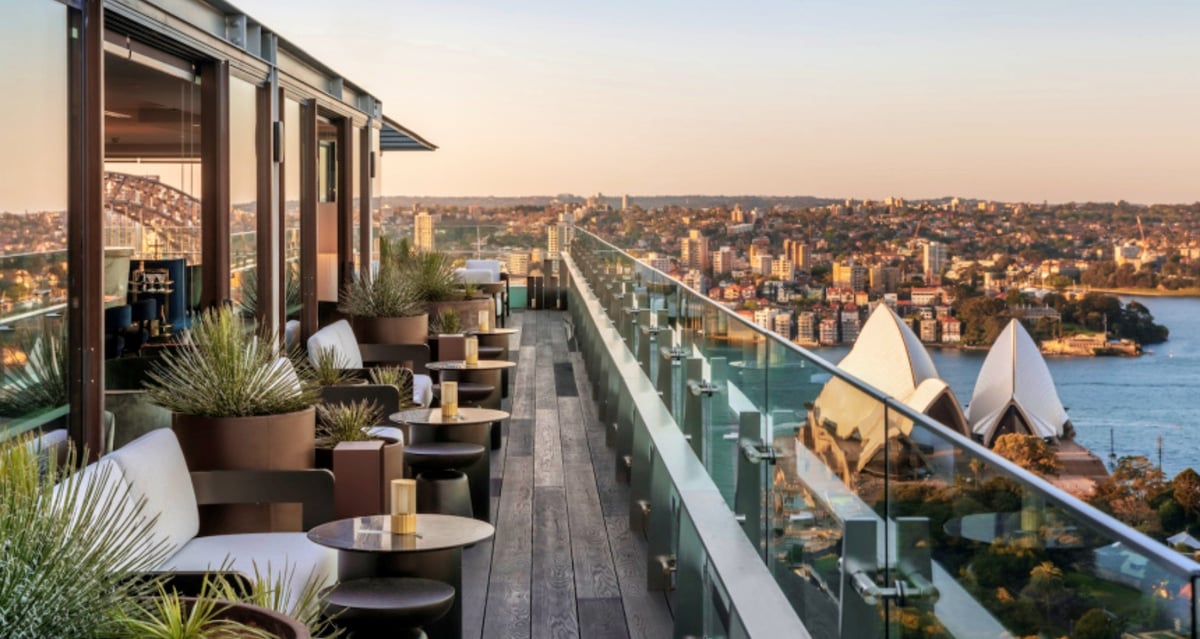 It's been a while since Sydney has enjoyed a fancy hotel bar on par with some of the world's greatest open-air sessions in cities like Los Angeles and Bangkok. Thanks to a 2022 refurbishment, InterContinental Sydney stepped up to the plate with Aster Bar, a 32nd-floor rooftop lounge that is now open to the public as part of a $110 million property-wide makeover.
The reliable team at Woods Bagot have worked to maximise the all-encompassing view of Sydney's harbour with an appropriately lush interior built from plush lounges in blue and green scattered around a beautiful marble centre bar.
---
2. Old Mate's Place, CBD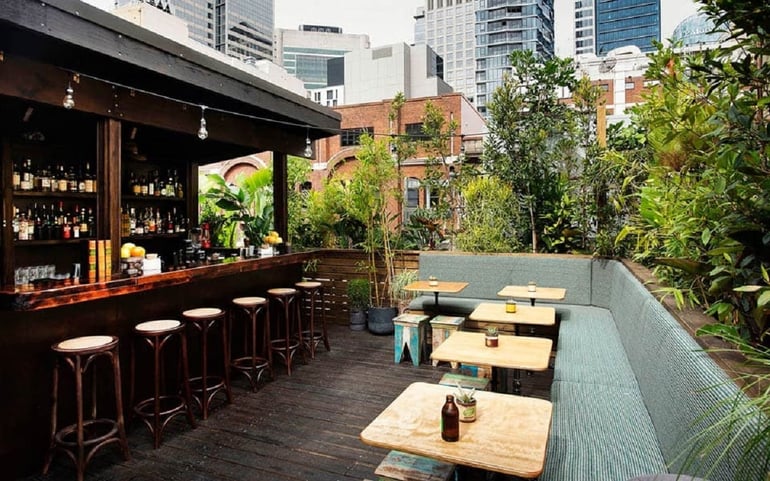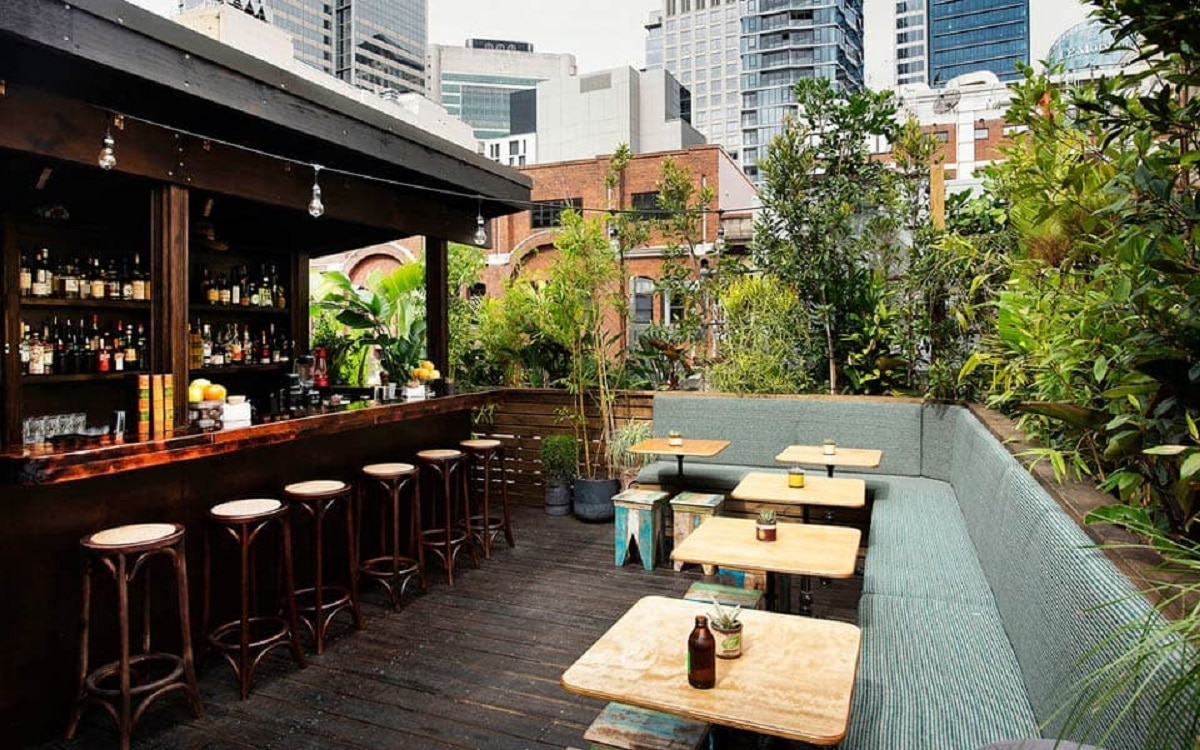 Taking up the top two floors of a heritage-listed five-storey building on Clarence Street, Old Mate's Place is steered by some of the industry's finest. You can expect a decent cocktail list as well as a solid selection of tinnies and wines to either enjoy in those nutty brown leather booths on the first floor or the neatly trimmed rooftop space above.
Be warned, there isn't much space on this rusty rooftop, so it's worth rocking up early and staking your claim before working your way through that cocktail menu.
---
3. Marrickville Springs, Marrickville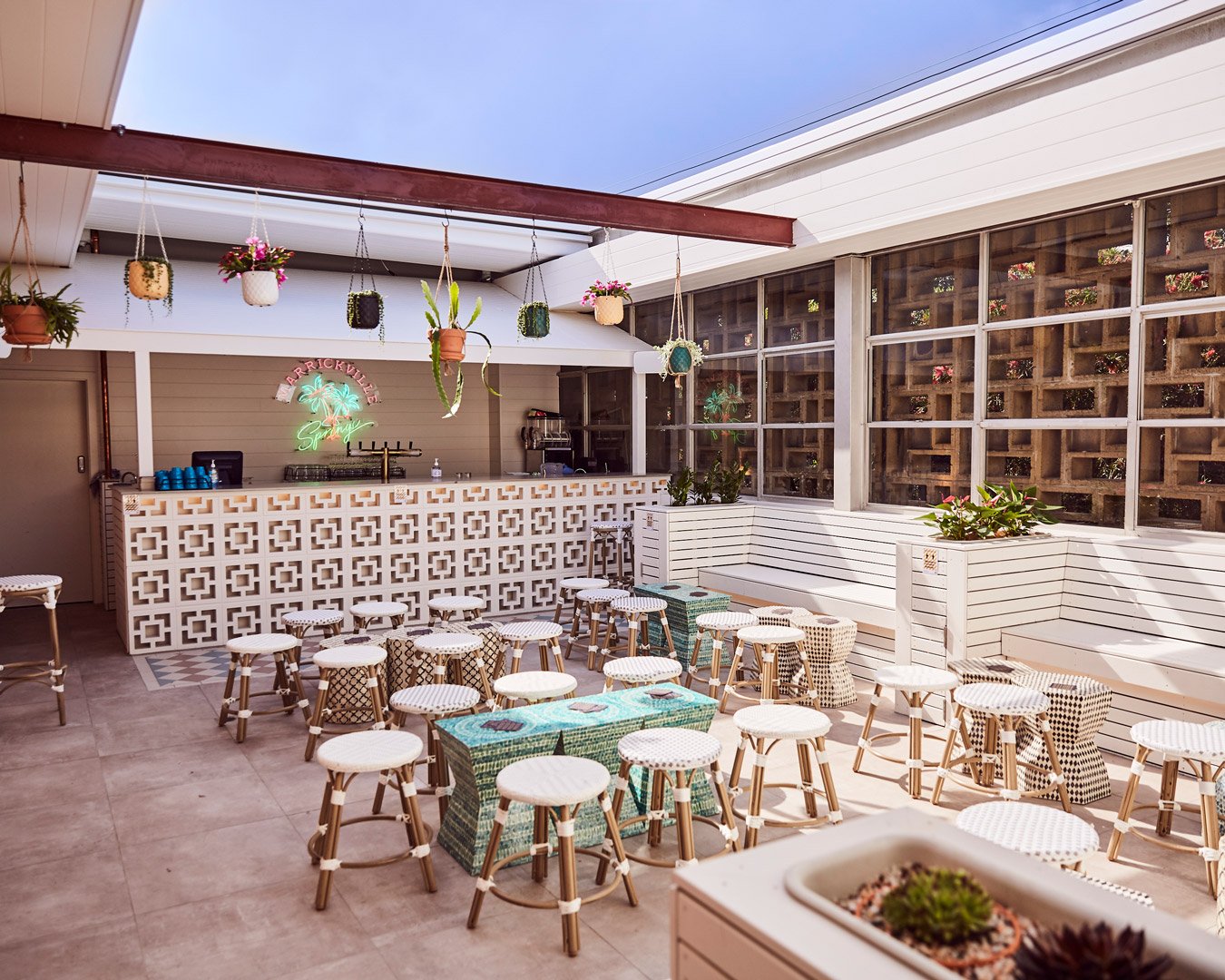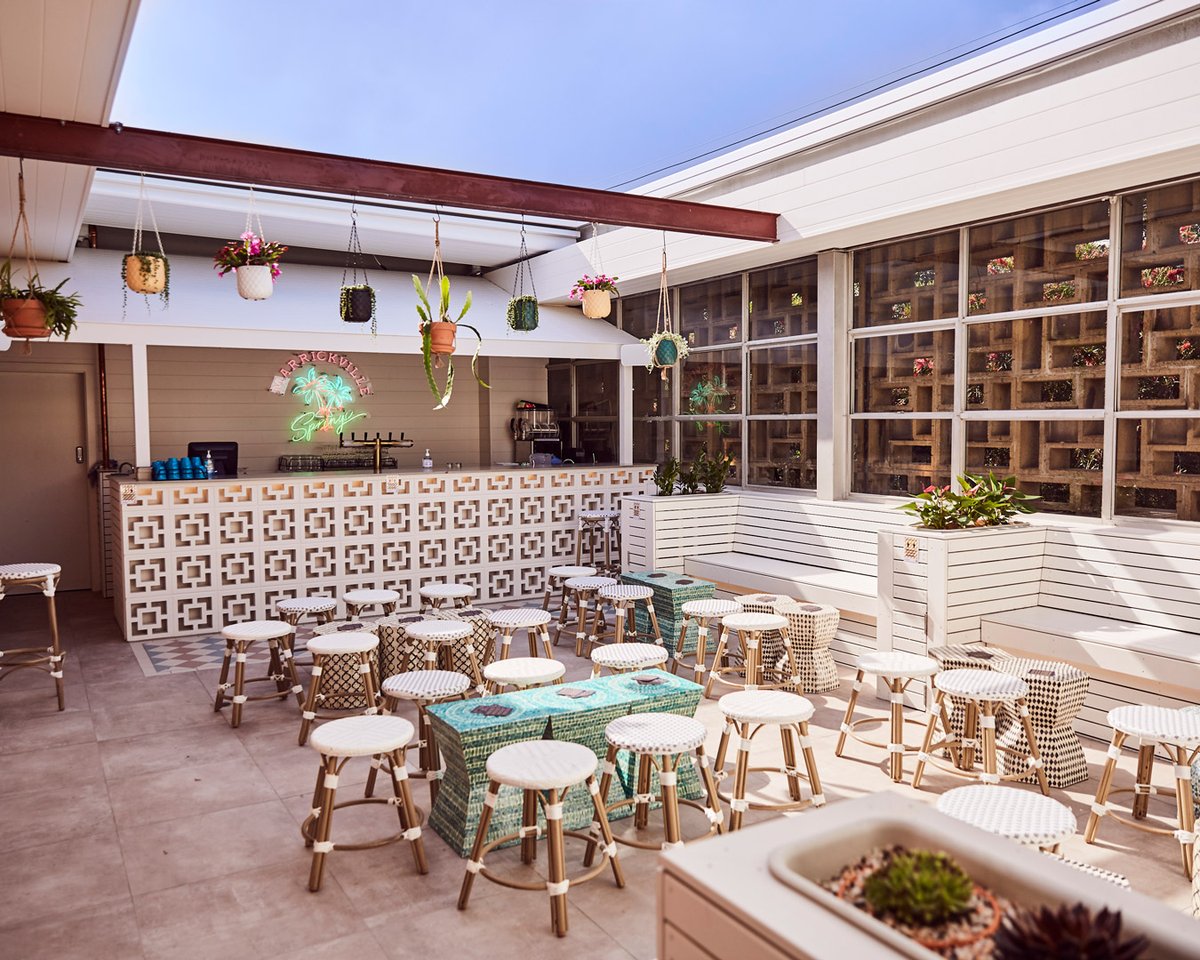 One of the more recent entries on this list of the best rooftop bars is Marrickville Springs, located above local favourite Philter Brewing with a cosy vibe borrowing heavily from Palm Springs circa 1980. It feels like you've been ripped away from Marrickville's usual grit while keeping the suburb's definitive hipster aesthetic going.
The team at nearby Enmore tiki bar Jacoby's has been tapped to handle the cocktails here, which are just as worthy as the beers and pair up fine with some upscale cheese platters. Much like The Rook, which is also on this list, Marrickville Springs has a retractable roof so shelter is there if La Nina rears her ugly head ever again.
---
4. Sky Bar at Shell House, CBD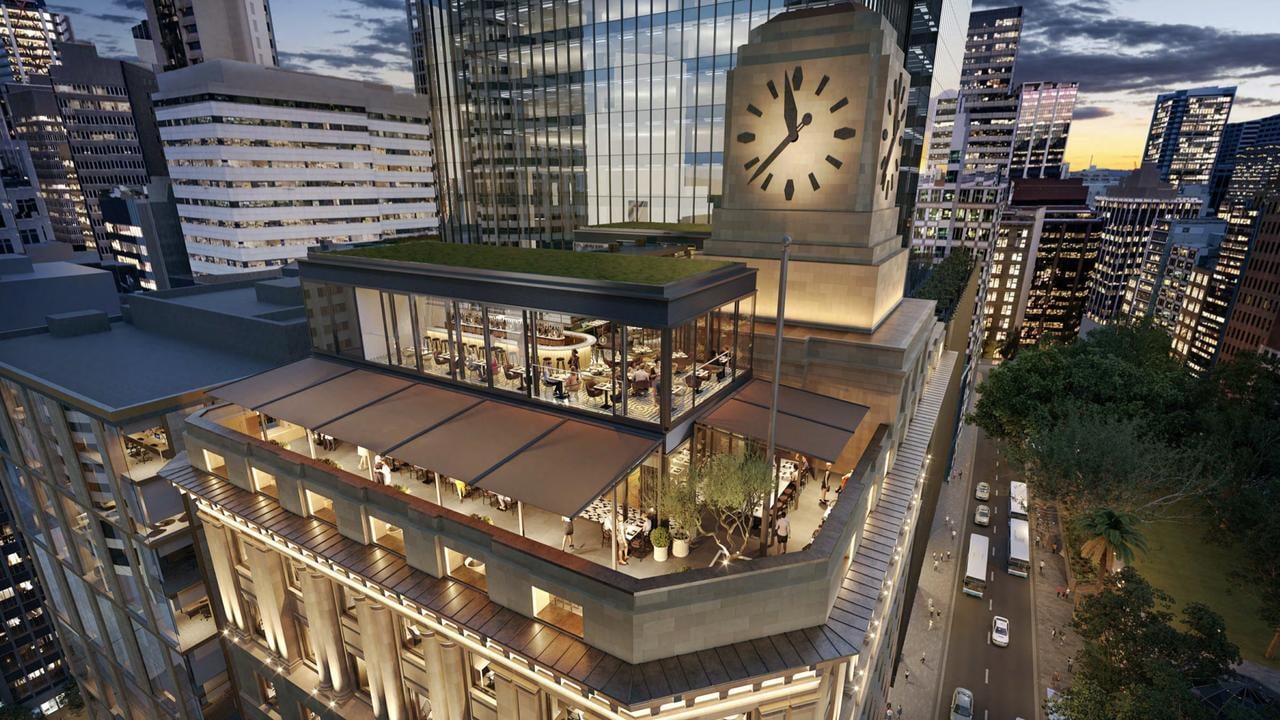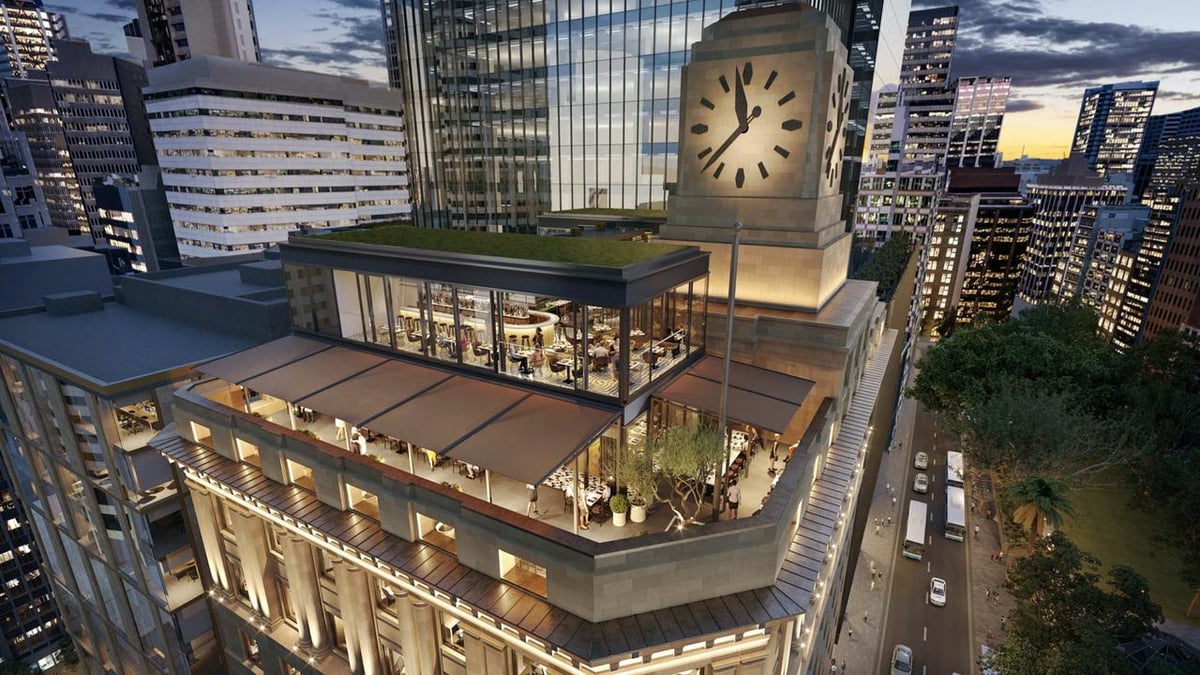 The Sydney mega-venue is really four sophisticated venues in one, all distinct from one another and representing the peak of the city's swanky hospitality scene right now.
From the Mad Men-esque Clocktower Bar, built under the guts of the building's restored clockface, to the frenetic Dining Room & Terrace, there's plenty to love at Shell House. Although it's the glass-encased Sky Bar that'll have rooftop bar aficionados all weak at the knees.
Put down the Carlton, you're drinking Perrier-Jouët and upscale signature cocktails at Sky Bar. It's an expensive night out, but if ruthlessly wealthy bars are your thing, there is no better. Good luck getting a booking.
---
5. The Strand Hotel Rooftop, Darlinghurst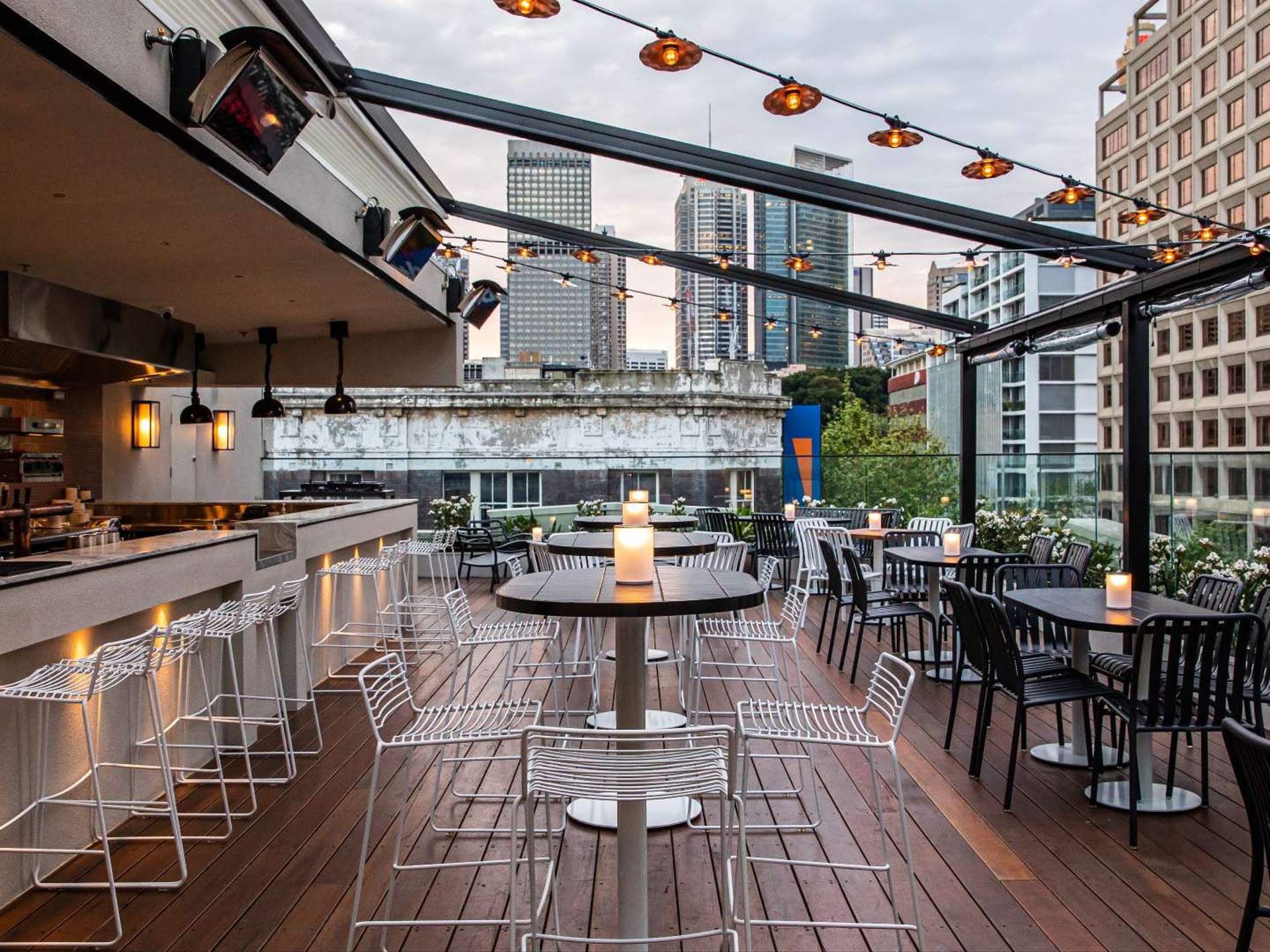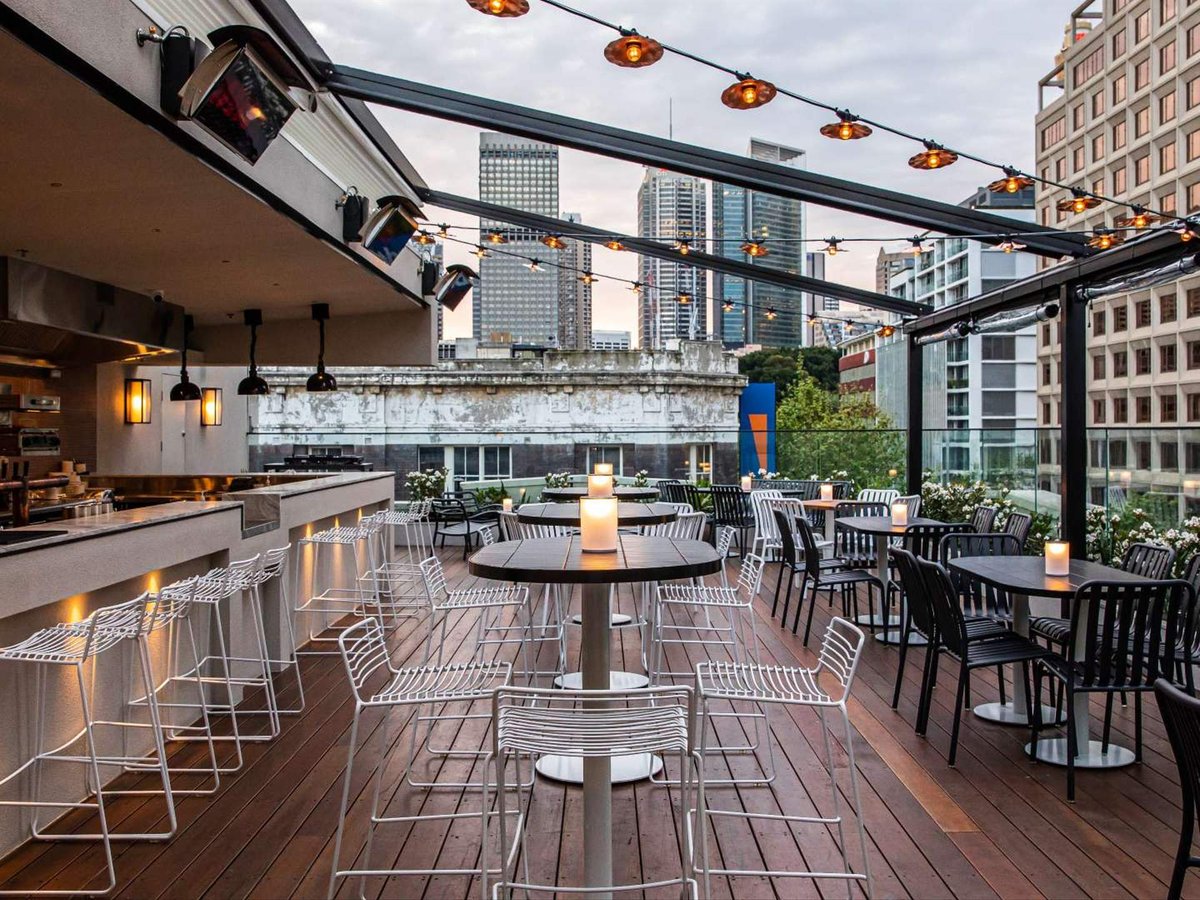 The 99-year-old Strand Hotel went through a significant refresh in 2022, with the final step of its massive refurbishment being this glistening rooftop bar. While you've got a reliable French bistro on the ground floor, upstairs is where you'd want to be for cocktails at sunset.
With East Village and Slims Rooftop Bar close by, The Strand Hotel steps up with a bit of a party-minded atmosphere as well. As such, you'll find some live entertainment and rotating DJs up on the rooftop on weekends.
---
6. Keg & Brew, Surry Hills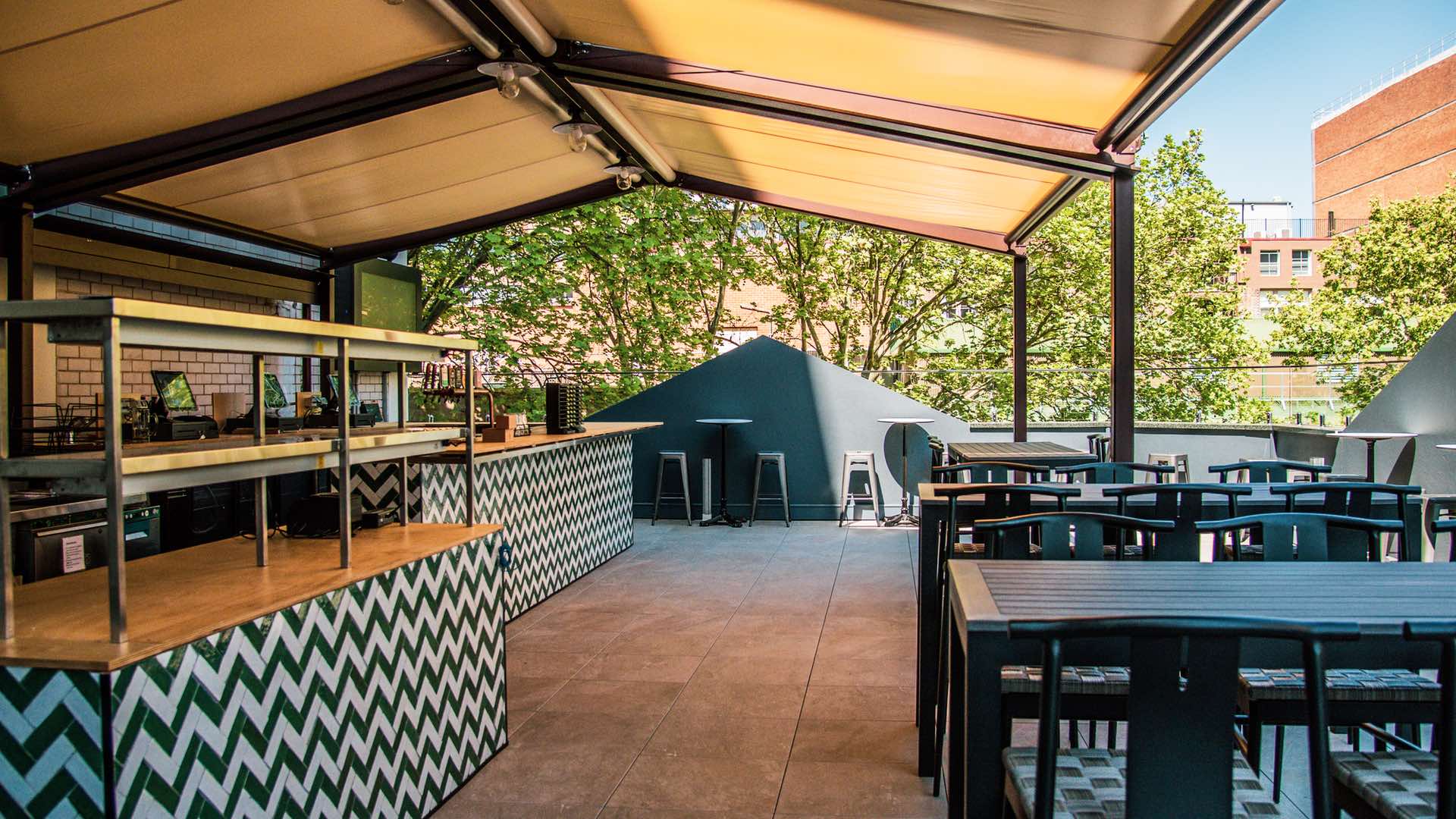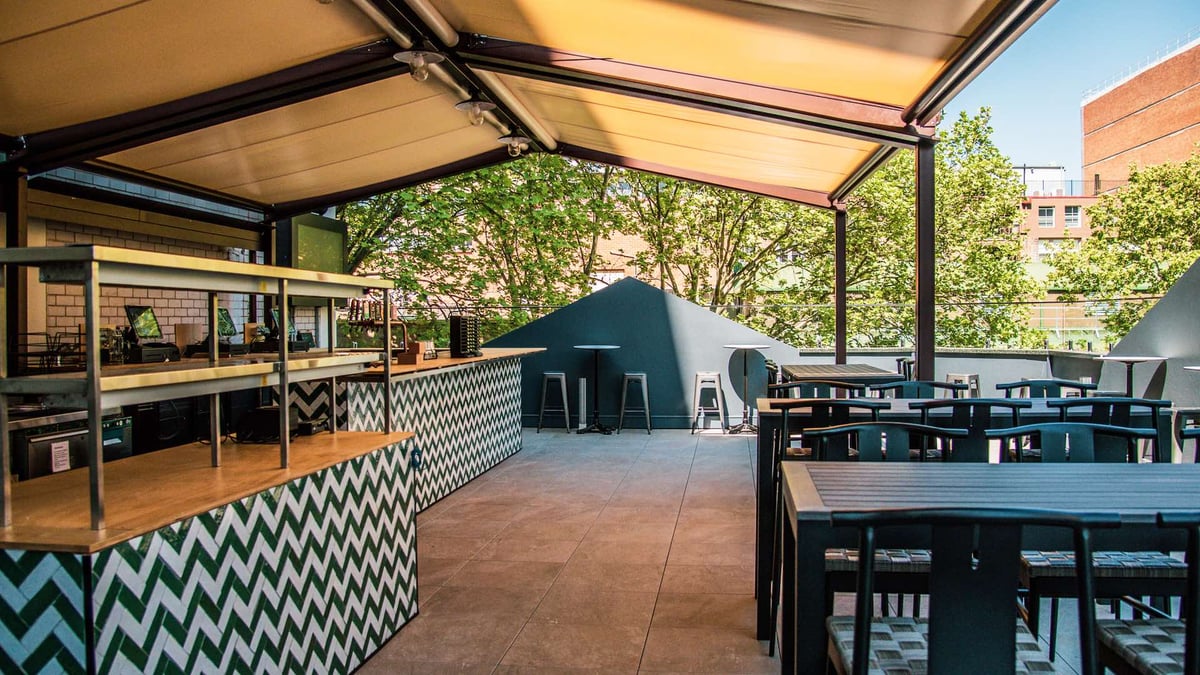 Head along to Surry Hills' favourite Keg & Brew and go straight up to the fourth floor. The legendary heritage hotel has undergone an incredibly comprehensive refurb to include a new restaurant, a function room and an open-plan rooftop bar.
The latter is the best choice for a post-up with your mates, especially since the K&B team has had the good sense to fire up a pizza oven in one corner of the space, as well as wall-fix a large TV for game nights. Fight night up at this sunny rooftop bar is a no-brainer.
---
7. Darlo Bar, Darlinghurst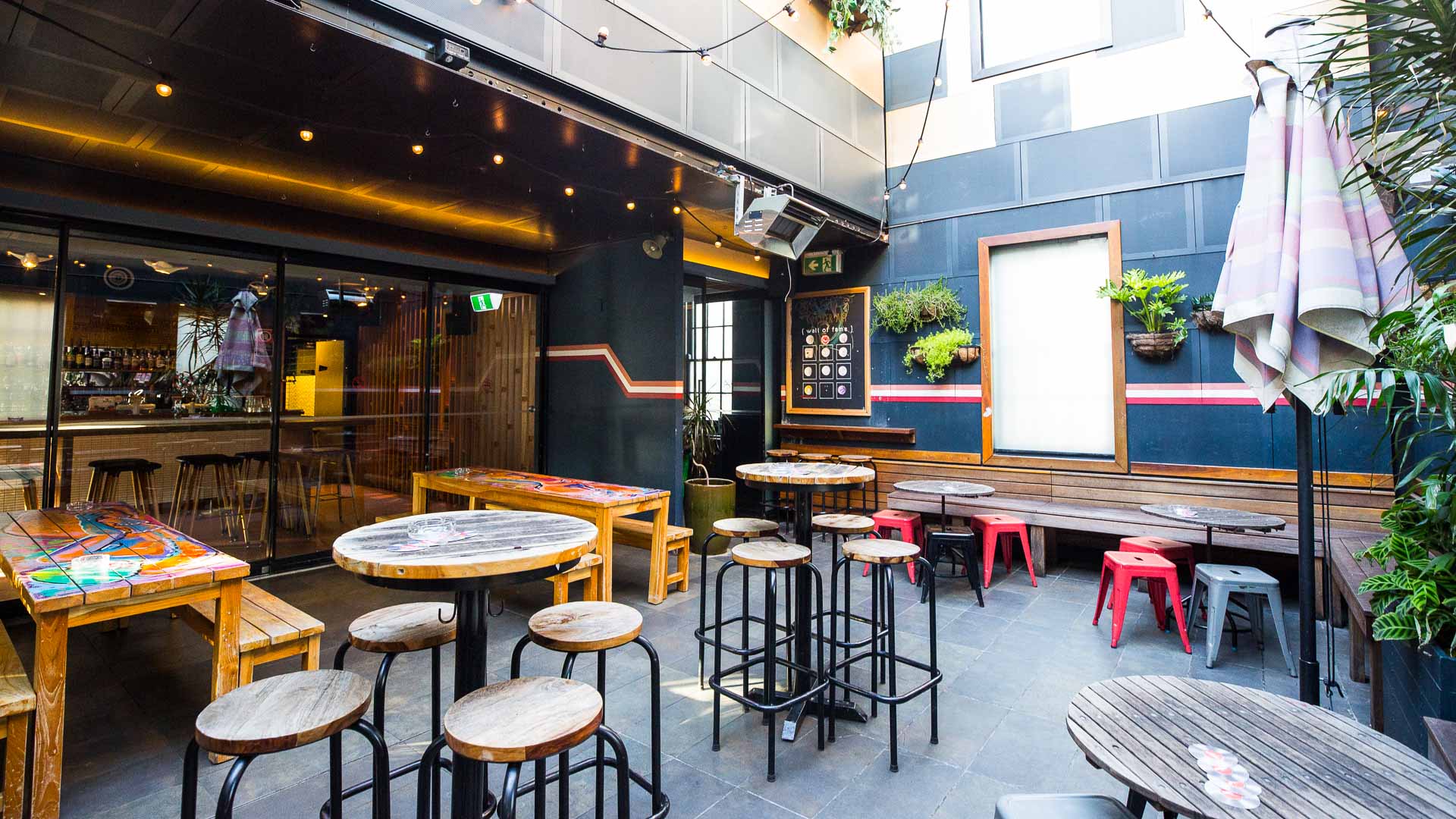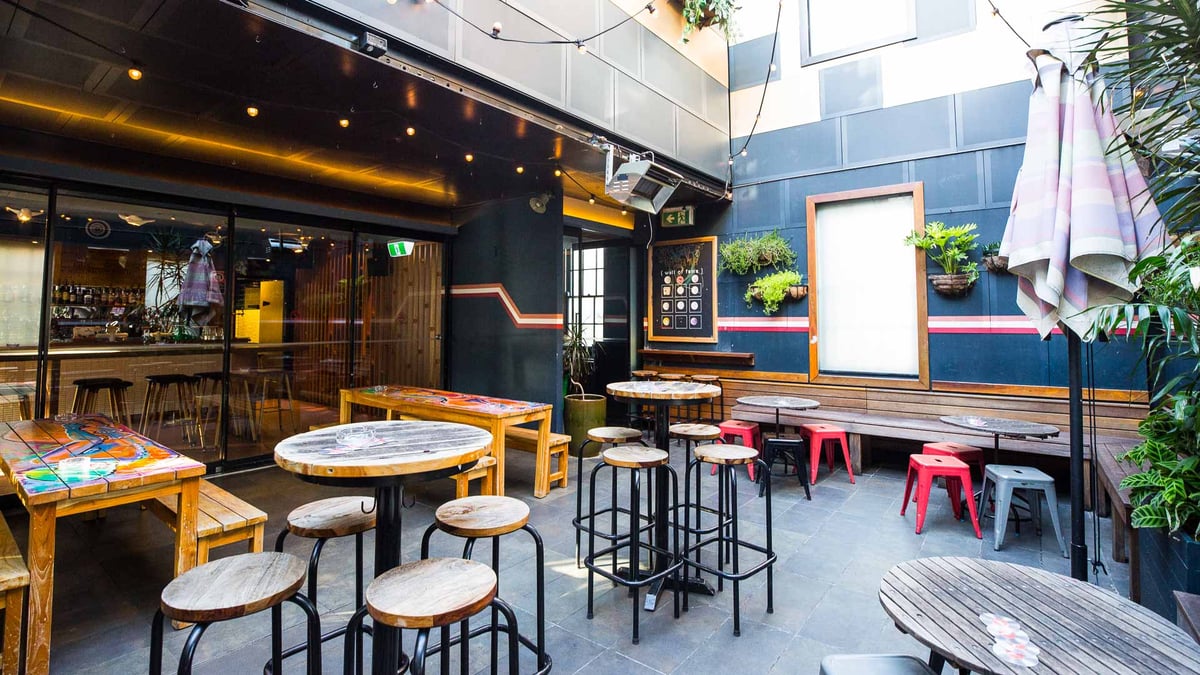 There are plenty of historic pubs in Darlinghurst, but few can match the reliable atmosphere of Darlo Bar. The place has become a meeting spot for the inner-city's creative scene thanks to the petite semi-open rooftop bar. Owing to the attached bottle shop, the wine list ain't too bad either, and you'll be surprised you can even get some decent pet nat up here if the funkier styles of wine speak to you far better than a jug of Carlton could.
The only downside? The food is on the lighter side, and you're looking at packets of chips and average cheese boards at times. Although the bar does partner up with some local restaurants and can serve you pizza and Thai whenever their mates are open. It's so laid back here that the bar staff also don't really care if you order in some Uber Eats. Consider it a second home if you're a local.
---
8. Kiln, Surry Hills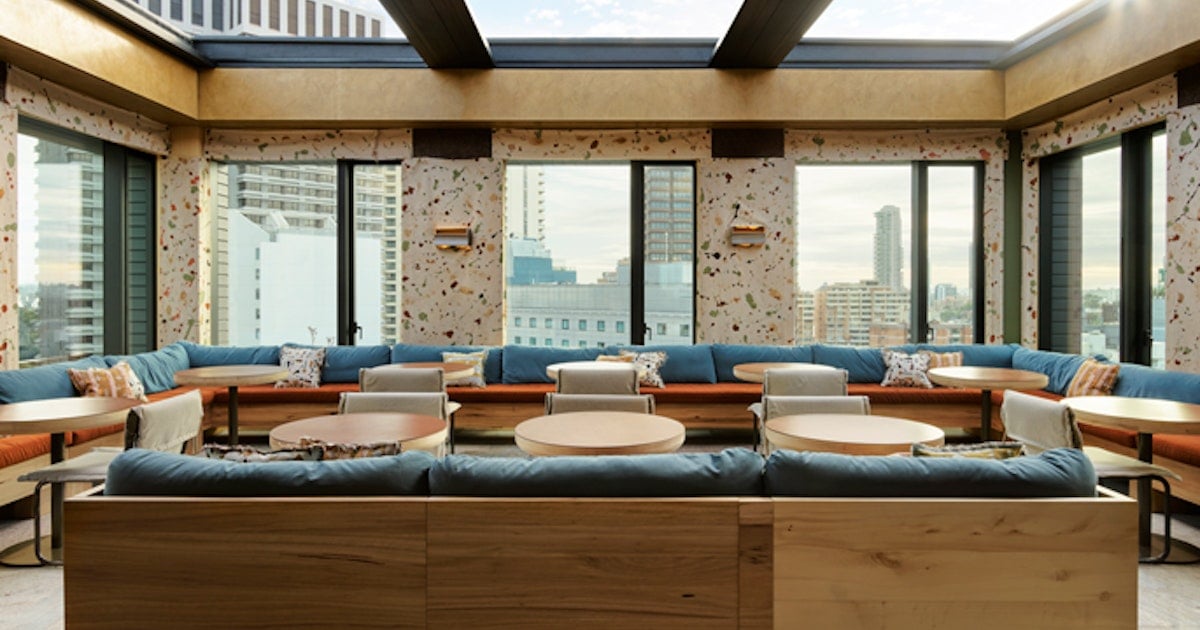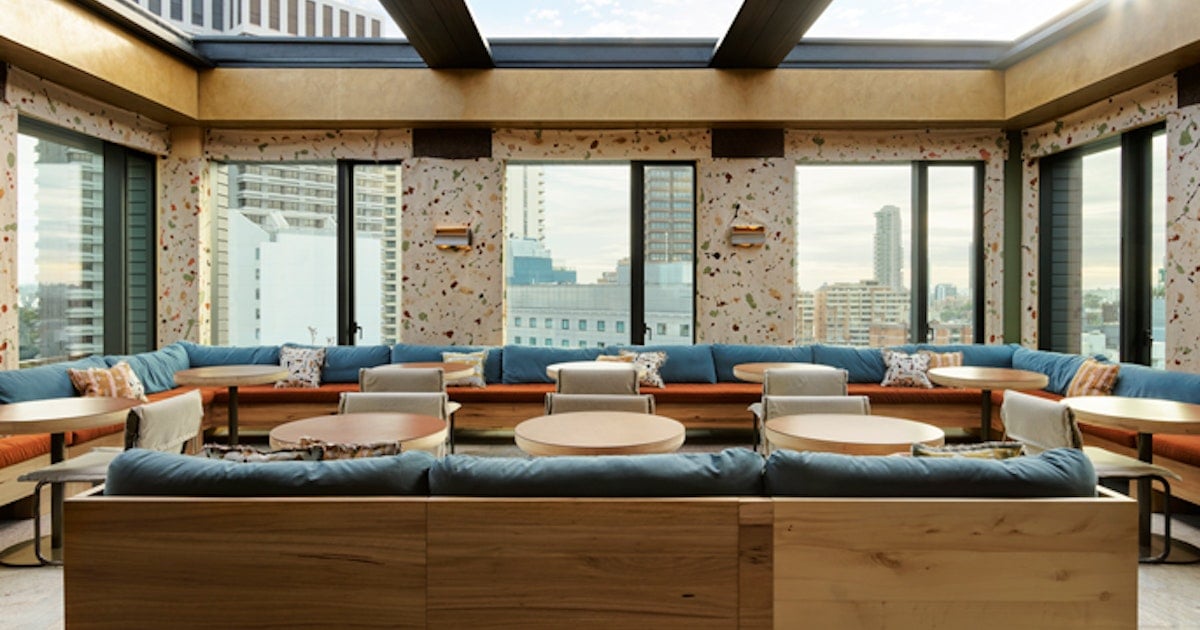 With Ace Hotel now firmly established as one of the hottest hotels in Sydney, you can bet their crowning jewel, the Mitch Orr-helmed Kiln, makes this list.
Grab some jatz and anchovies or go for something a bit more substantial and soak up the vibes of this charming rooftop bar, which gives off the feel of eating and drinking at someone's lush New York apartment on the 18th floor of this heritage building in Surry Hills.
---
9. Hotel Sweeney's, CBD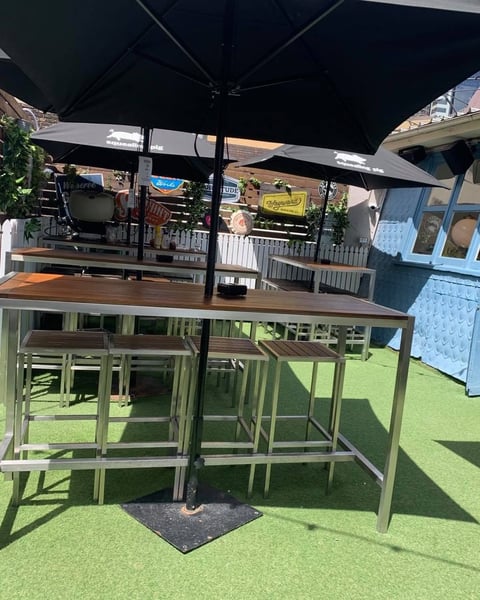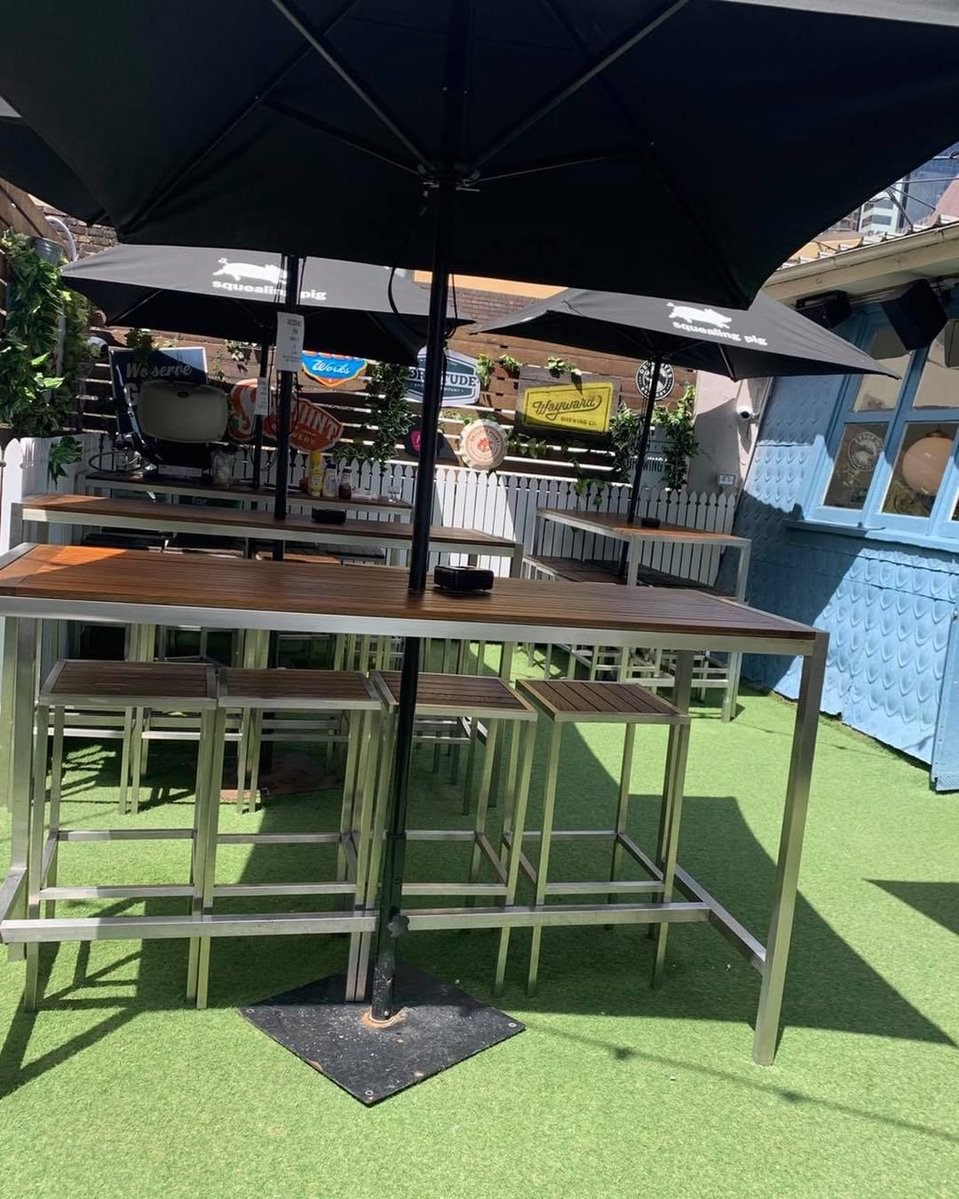 Possibly the most iconic rooftop bar in Sydney is Hotel Sweeney's, enviably located just a stone's throw from Town Hall. The long-standing pub recently got back into the swing of things post-COVID, turning on the taps again and reopening its glorious, generously sized rooftop.
Head on up to the third floor and grab an arvo ale when the sun's at its peak, and you might just stumble upon a sausage sizzle and a cheeky tap takeover while you're at it. Although there's always that reliable Thai kitchen in the pub, with the best orders being a full-flavoured chicken katsu green curry and the superlative black pepper beef.
---
10. The Glenmore Hotel, The Rocks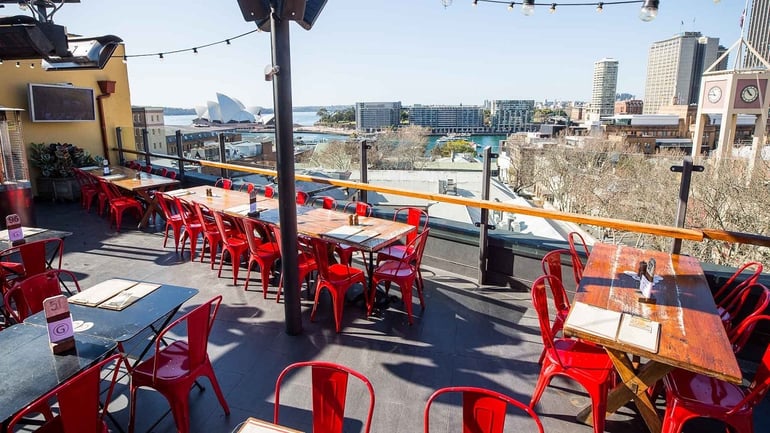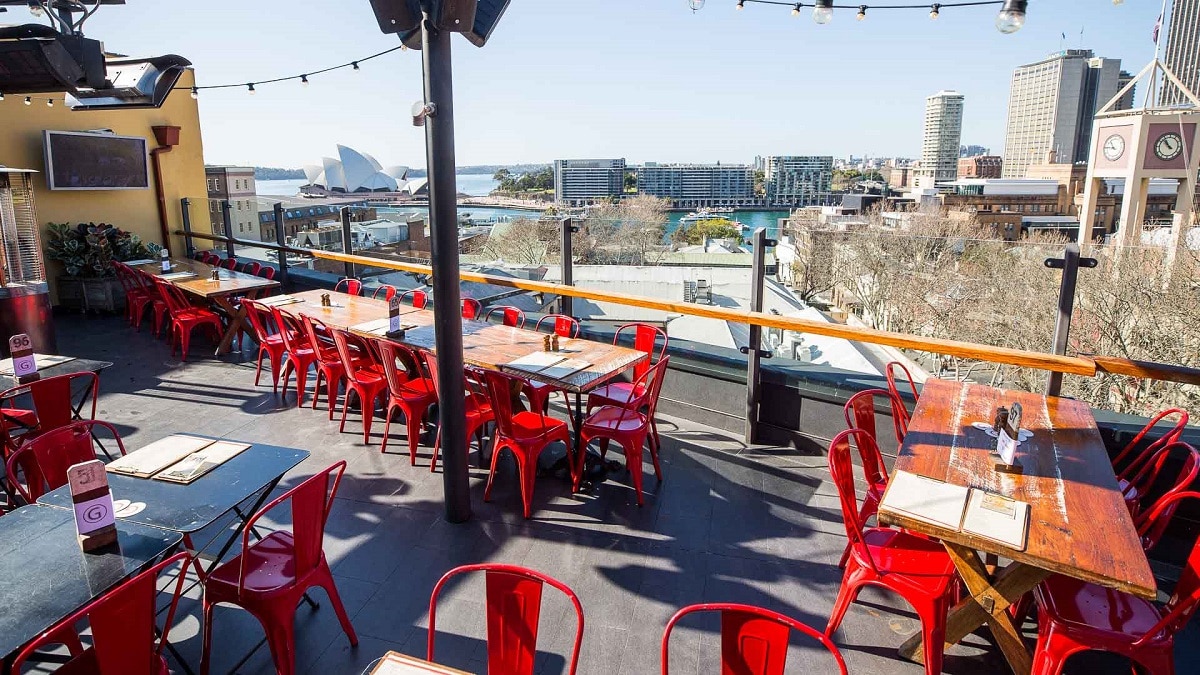 A clear view of the Sydney Opera House and Circular Quay power the vibe at The Glenmore Hotel, long considered one of the best rooftop bars in Sydney.
The demand has never waned throughout the years, so you're best placed to plan ahead with a few mates before stomping up those stairs and bathing in the absolute spectacle that is a simple, unpretentious and unparalleled (angled) rooftop. That goes double if you're rocking up on the first Sunday of each month, which is when the rooftop stages a delicious bottomless lunch for $85pp, with hearty lamb shoulder and roast chicken.
---
11. Smoke Bar, Barangaroo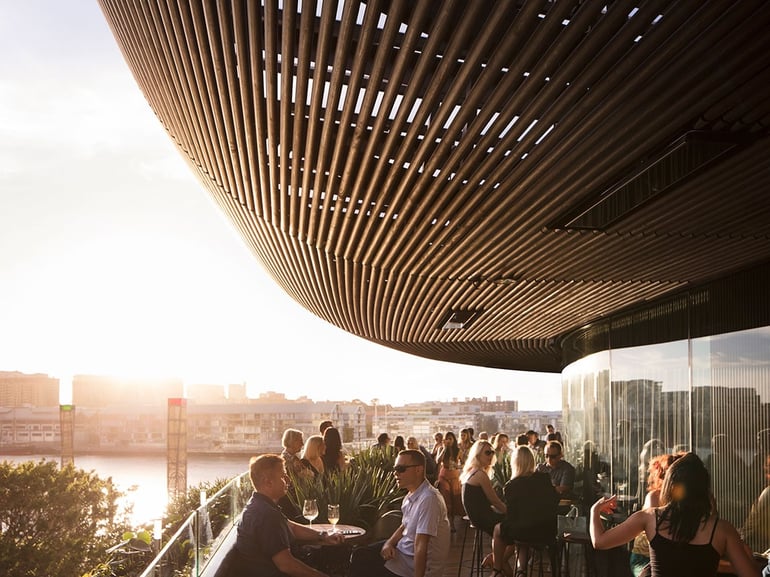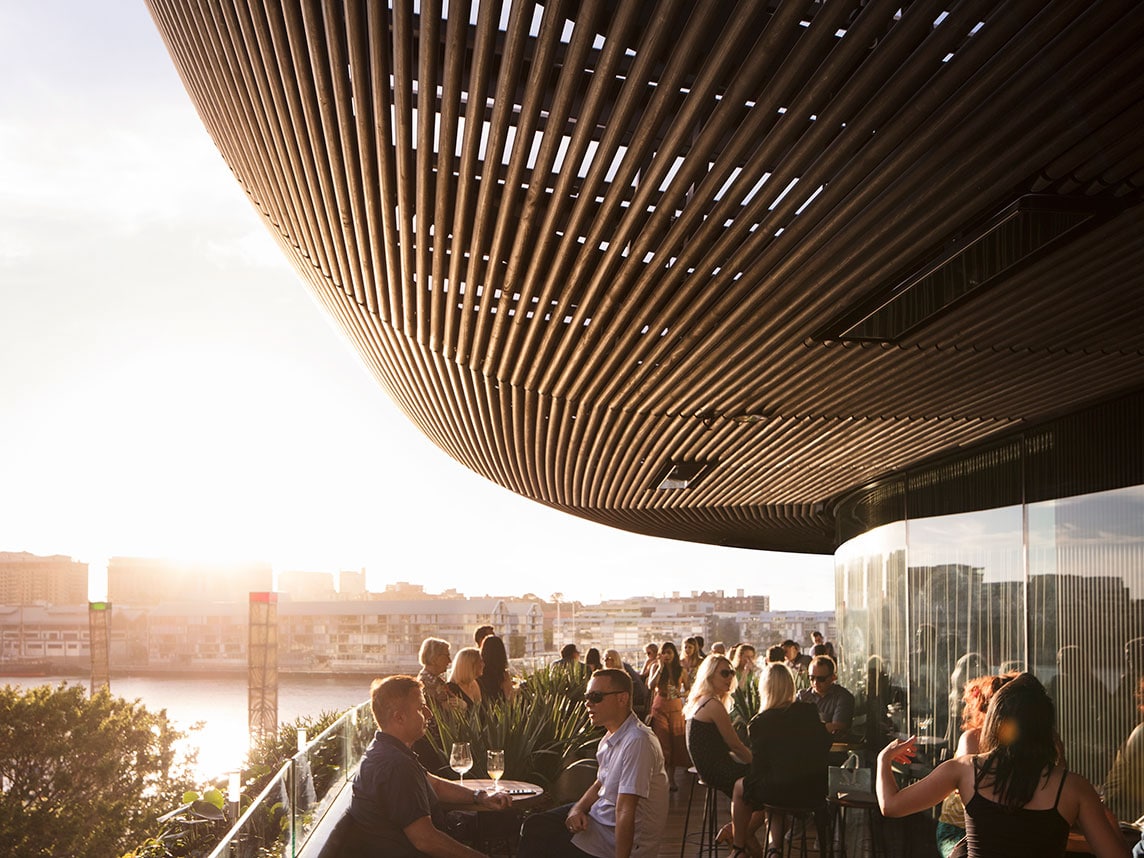 Smoke Bar at Barangaroo House might demand something a bit more premium than your go-to jug of Coopers, but the pricey day out is well worth your time.
This is one of the best and most beautifully appointed rooftop bars in Barangaroo, and while a booking here is probably timed a sesh on this rooftop terrace is never going to feel like a waste.
---
12. Henry Deane, Millers Point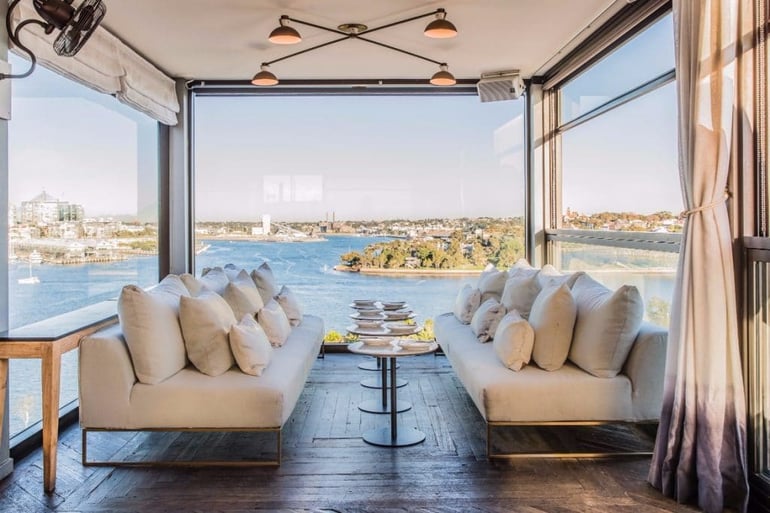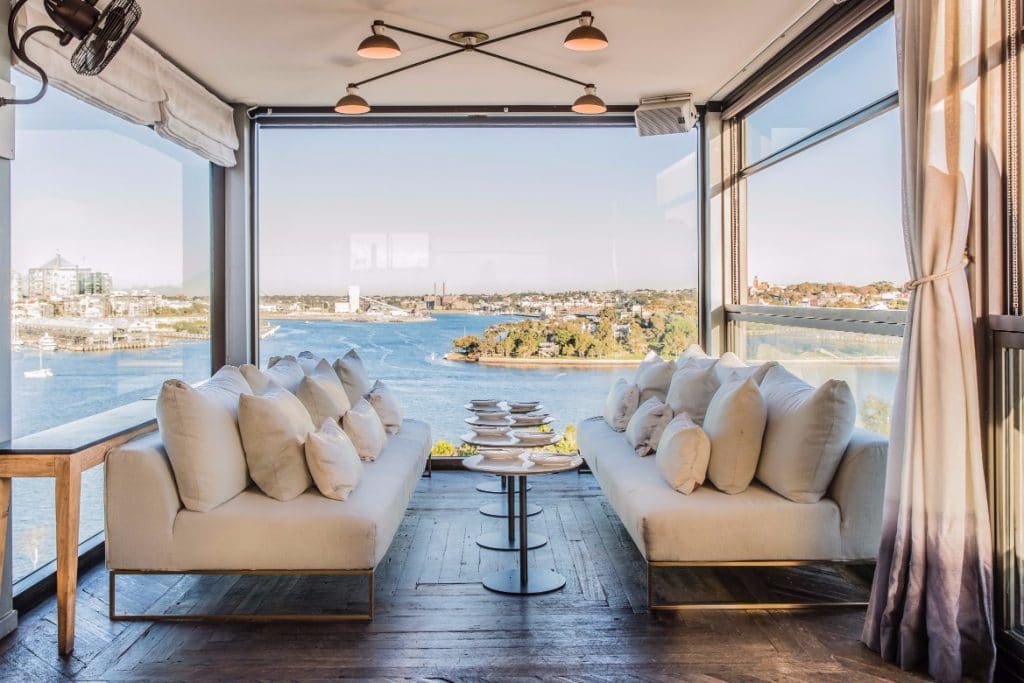 Sleek, sophisticated, and splashed with salmon pink lounges, Henry Dean's is a dreamboat as far as rooftop bars in the city go.
Walled by massive, constantly polished glass windows, the top floor of Hotel Palisade aggressively pulls in the best views of Sydney and complements them with fresh seafood platters, session-able cocktails, and a respectable list of craft beers, spirits and wines.
---
13. The Light Brigade, Woollahra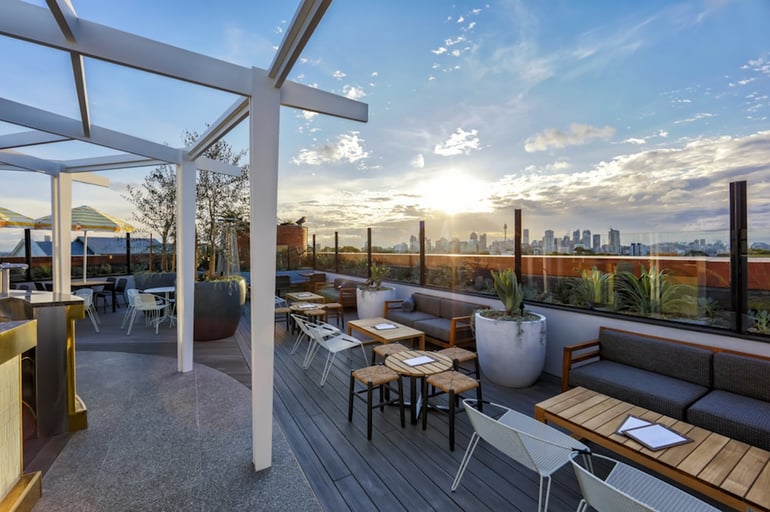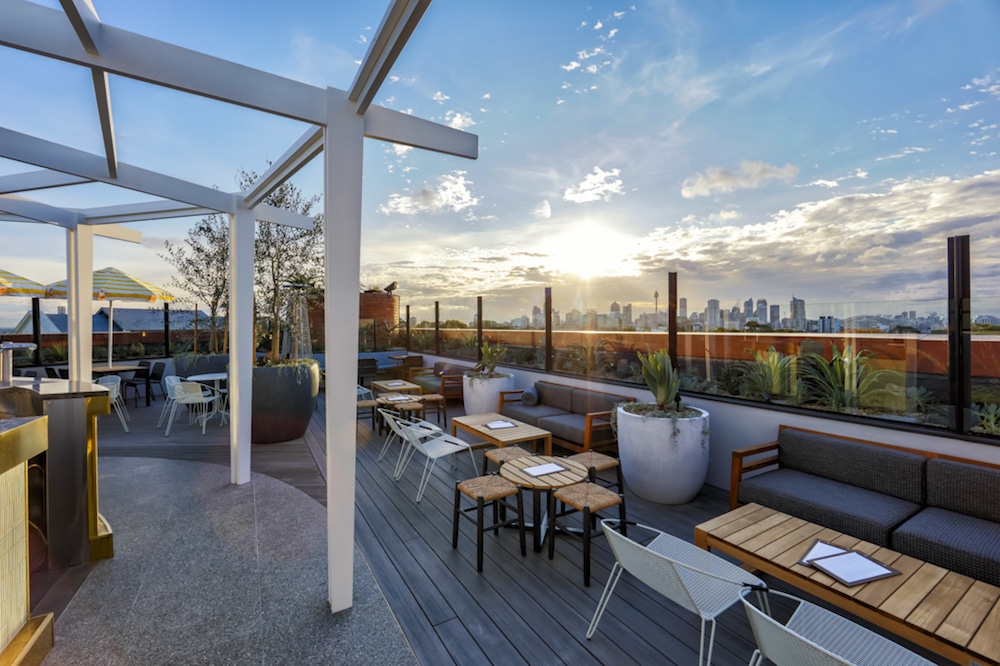 As good as the rest of The Light Brigade Hotel is, the Woollahra pub simply wouldn't be as much of a powerhouse without its massive rooftop bar.
The top floor was the best decision the Bayfield family made when they took the reigns of the legendary venue circa 2015, making full use of the location with an incredible view boosted by a supreme list of Aussie crafts and premium wines.
---
14. The Butler, Potts Point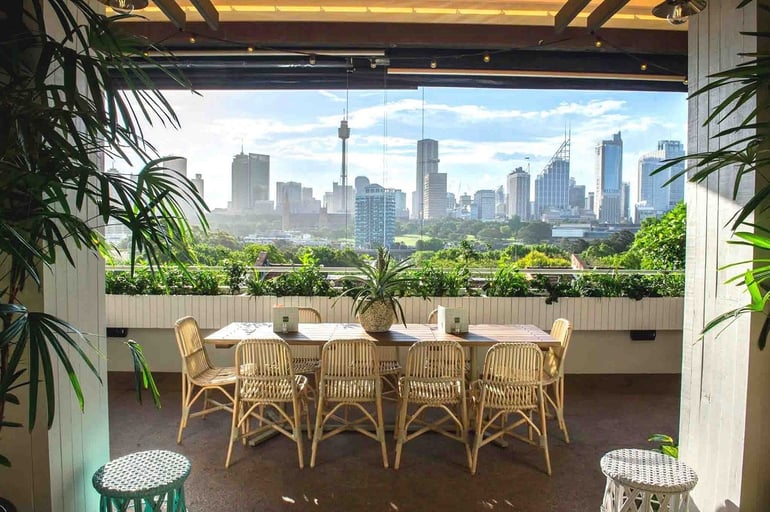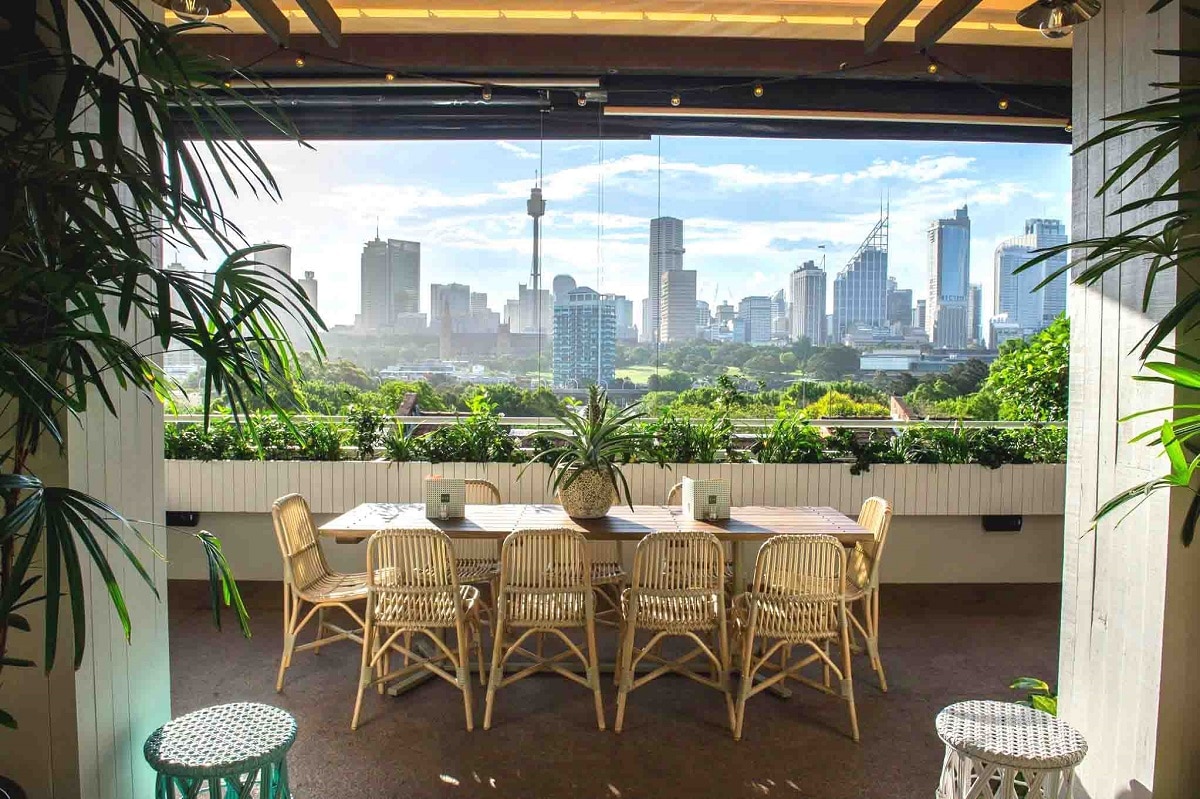 If you're heading through this Potts Point hotspot, then be sure to bypass the inside dining spread for a hard-earned spot on the outside garden terrace. The Butler may not be defined as a rooftop bar, but this small part of the venue is pure open-air bliss on a summer day.
---
15. Coogee Pavilion, Coogee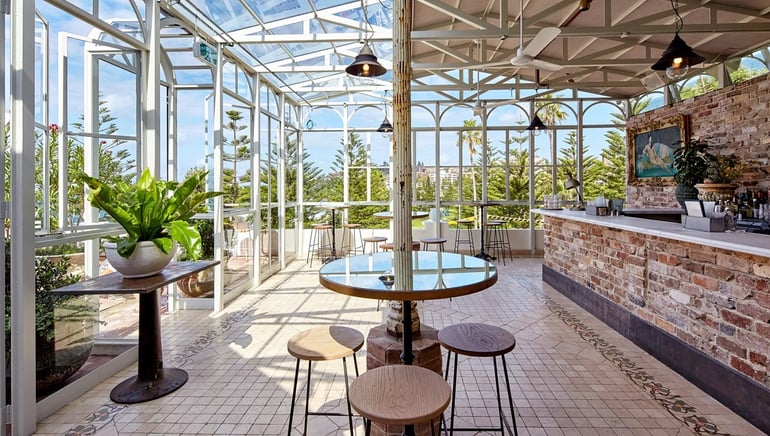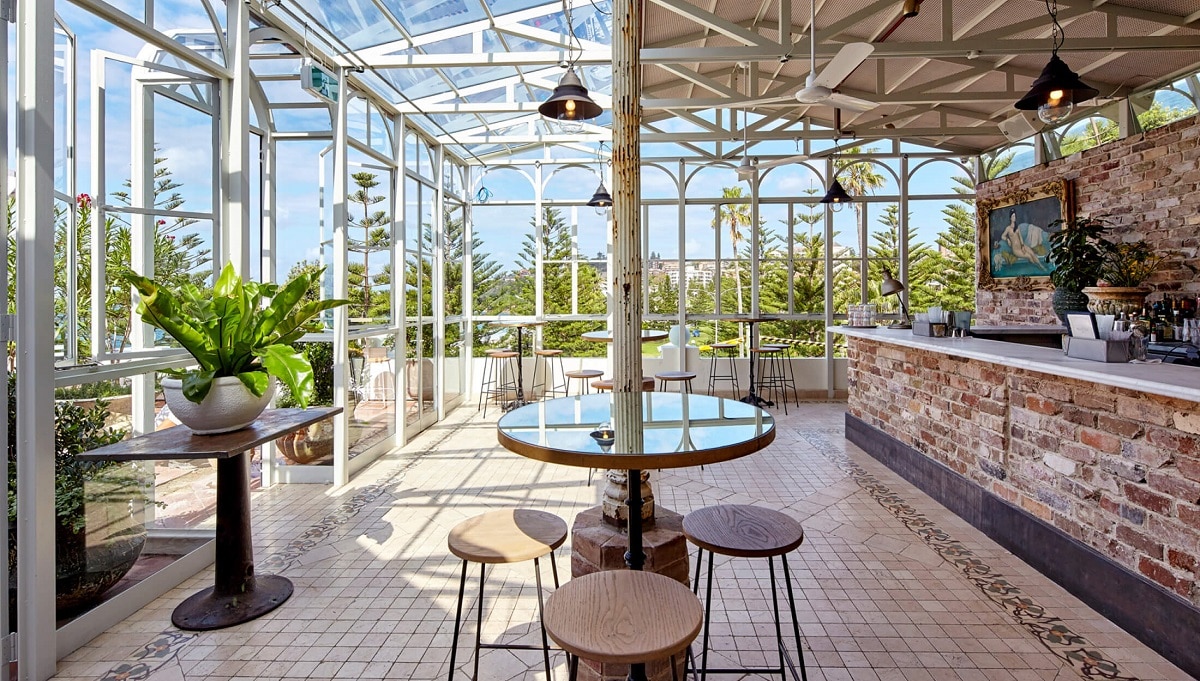 Merivale's beachside mega venue has never been more popular from the downstairs pub to Mimi's. Although, the rooftop is still the place you want to be if some post-swim summer drinking is on the day's agenda.
Not only are you getting that lovely beachside breeze, but the rooftop is also big enough that it almost never feels overcrowded. Despite being the most popular address in the area. It's also one of the few Sydney bars with so many dining options just a few inches away.
---
16. ivy Pool Club, CBD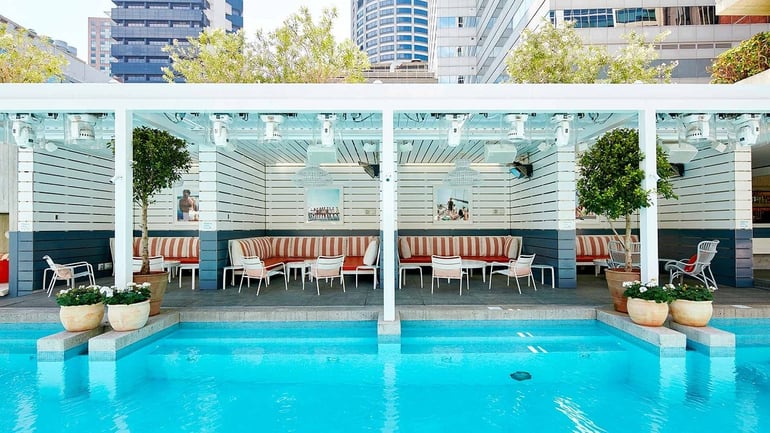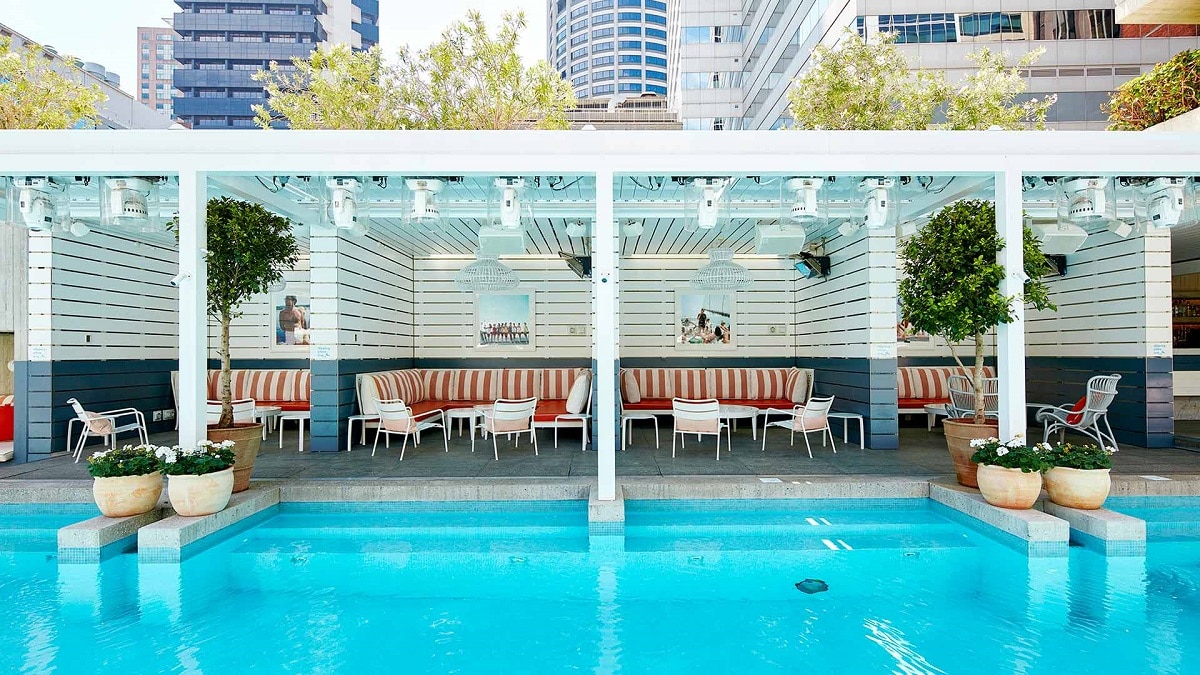 The more party-minded, influencer-swamped vibe up at the iconic ivy Pool Club may not be for everyone, but it's hard to deny the impact this rooftop bar has had on the city's social scene.
Regular parties, a reliable Italian restaurant (Uccello), and a discerning drinks list make this one of the best rooftop bars in Sydney. It's also the only Sydney rooftop cocktail bar in the CBD where you can get your kit off and go for a dip in between drinks.
---
17. Slim's Rooftop, Darlinghurst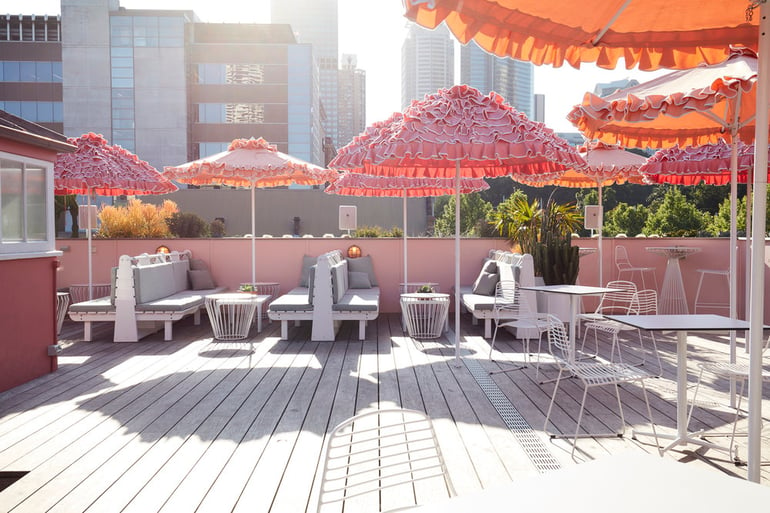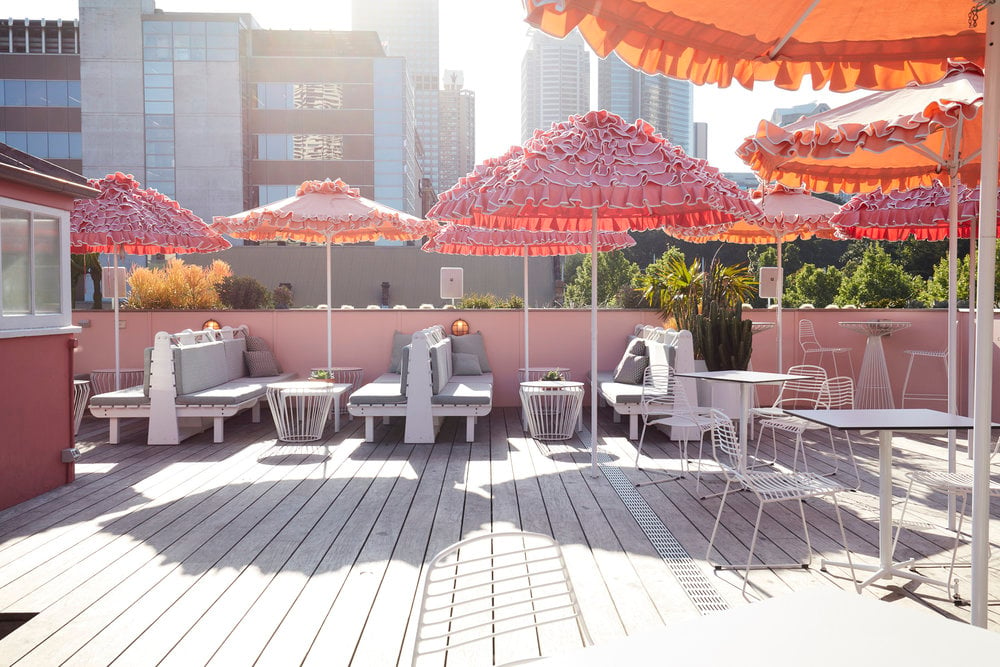 Climb the stairs at Hyde Park House and you'll be rewarded with the most vibrant and colourful rooftop bar in Sydney. The Palm Springs vibes are strong here, although that's far from the only reason for this rooftop bar's undying popularity.
The kitchen pumps out some of the best snacks this side of Sydney, from fresh raw tuna tacos to perfectly textured pan-fried dumplings.
---
18. Zephyr, CBD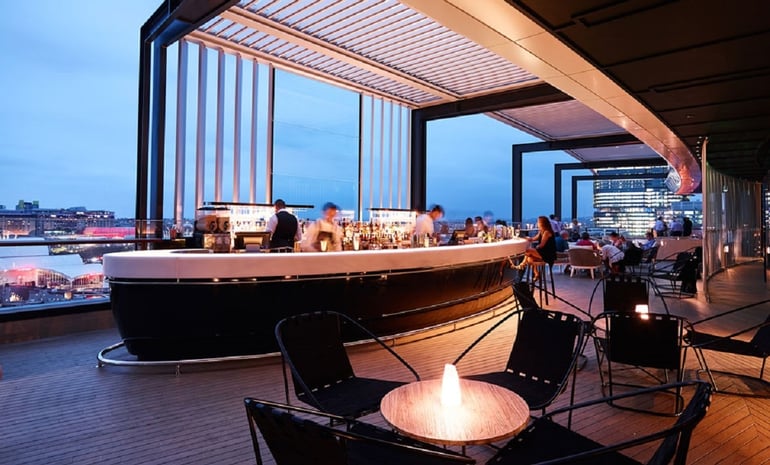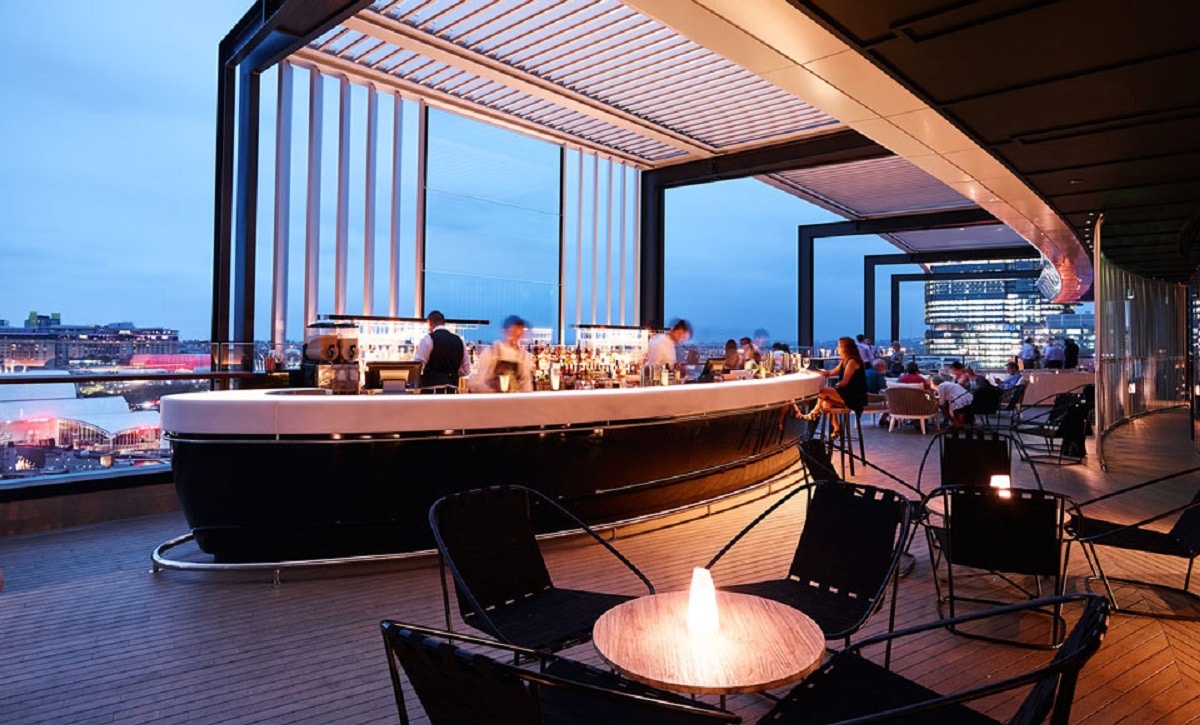 The best thing about Hyatt Regency isn't necessarily the rooms. Zephyr is why every Sydneysider has been through those doors, pitched as an upscale rooftop lounge with wide-ranging harbour views and a stuffy crowd.
The drinks list unsurprisingly comes with a premium, but the bar staff here are quite nifty when it comes to a well-balanced classic cocktail. I'd stick with the Negronis and Old Fashioneds if I were you.
---
19. Blu Bar On 36, The Rocks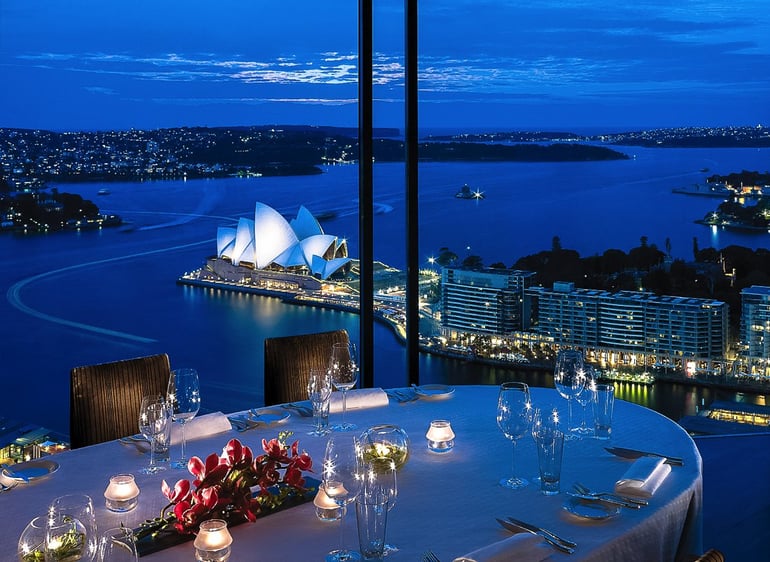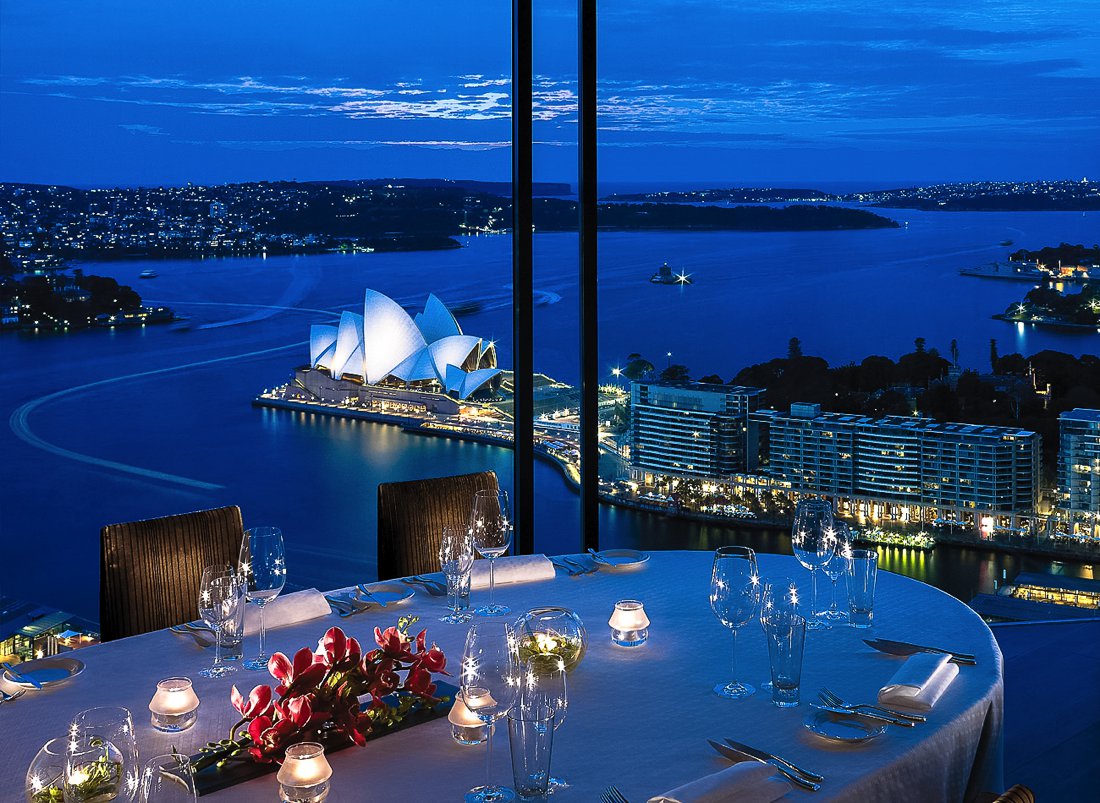 It may have an outdated dress code, but Blu Bar on 36, part of the Shangri-La Sydney hotel, is appropriately lush.
Even without the pristine view, this would still be one of the best rooftop bars in Sydney. It's not open-air, but the atmosphere here is sky-high luxury at its finest, and one of the few things that don't feel lacklustre at the otherwise dated hotel. There are plenty of changes we'd like to see at Shangri-La Sydney, but this isn't one of them (except, of course, the tight dress code).
---
20. The Glasshouse, Manly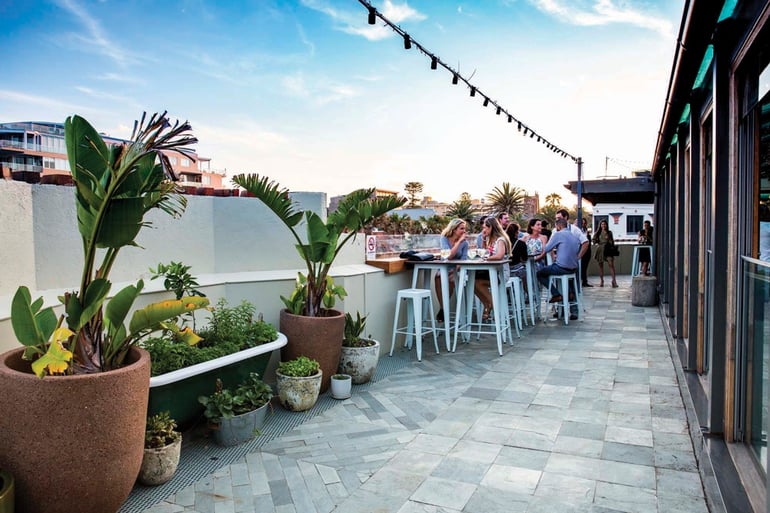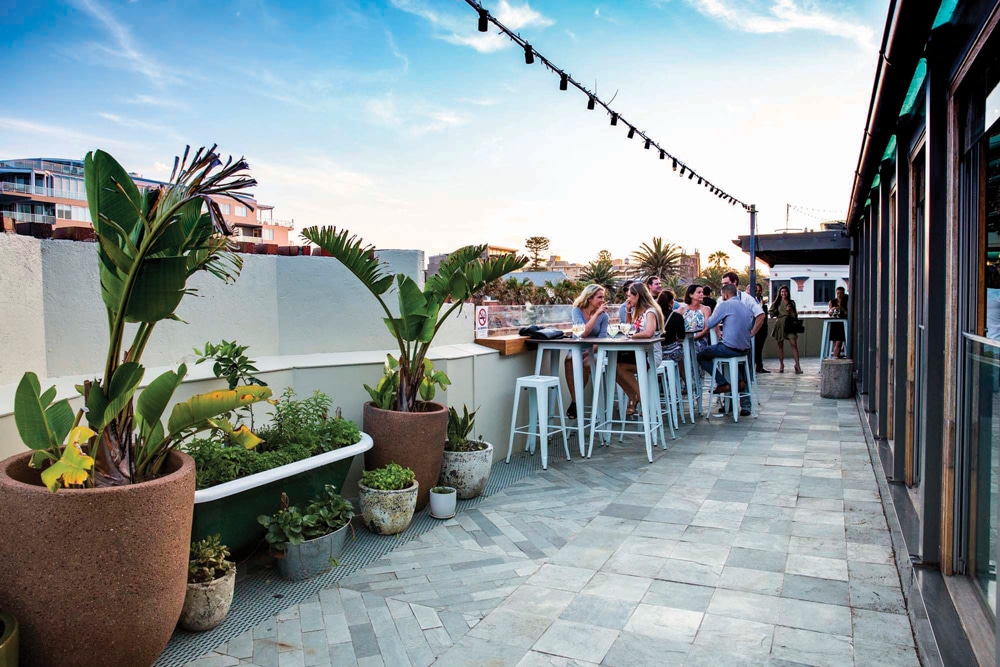 Hotel Steyne's sordid past is well-hidden by its fresh, squeaky-clean rooftop bar, with views scanning Manly Beach and the Corso below.
Fans of a good G&T will have fun trying to work their way through the sizable list of botanicals, best paired with some grazing plates and enjoyed outdoors.
---
21. Untied, Barangaroo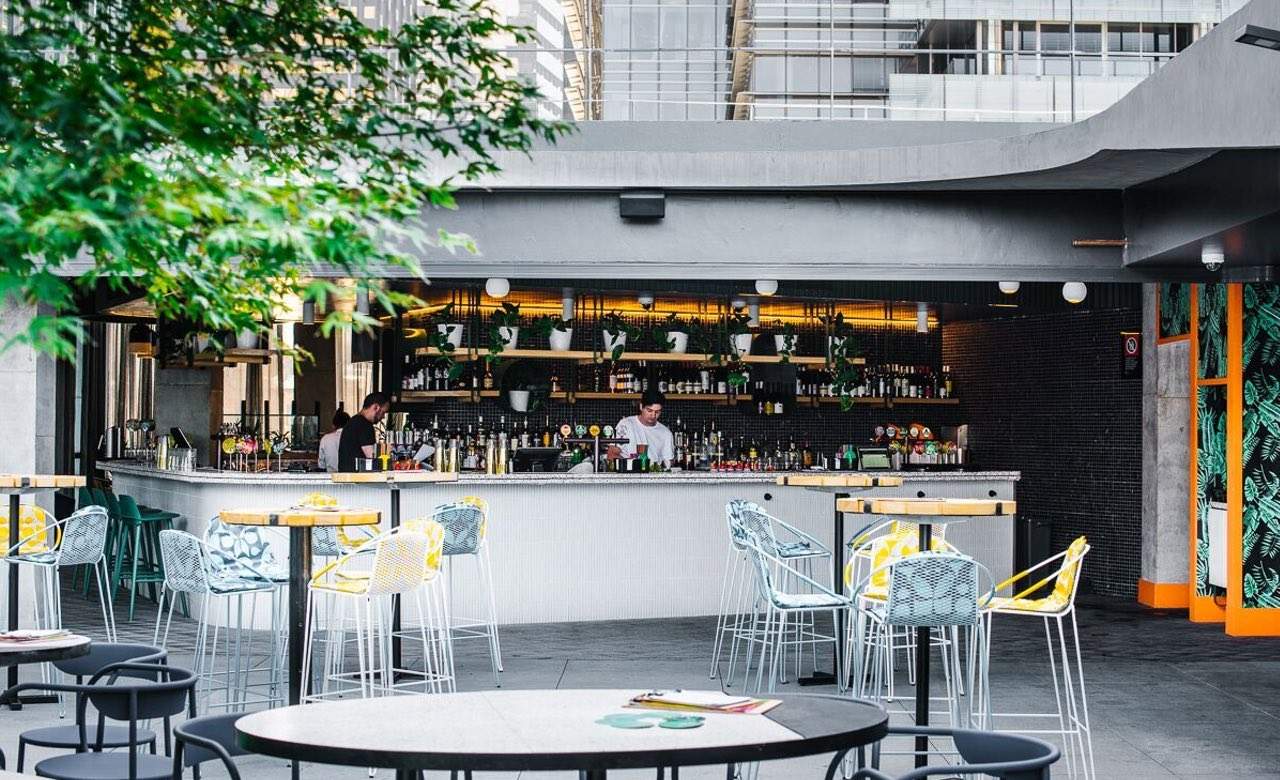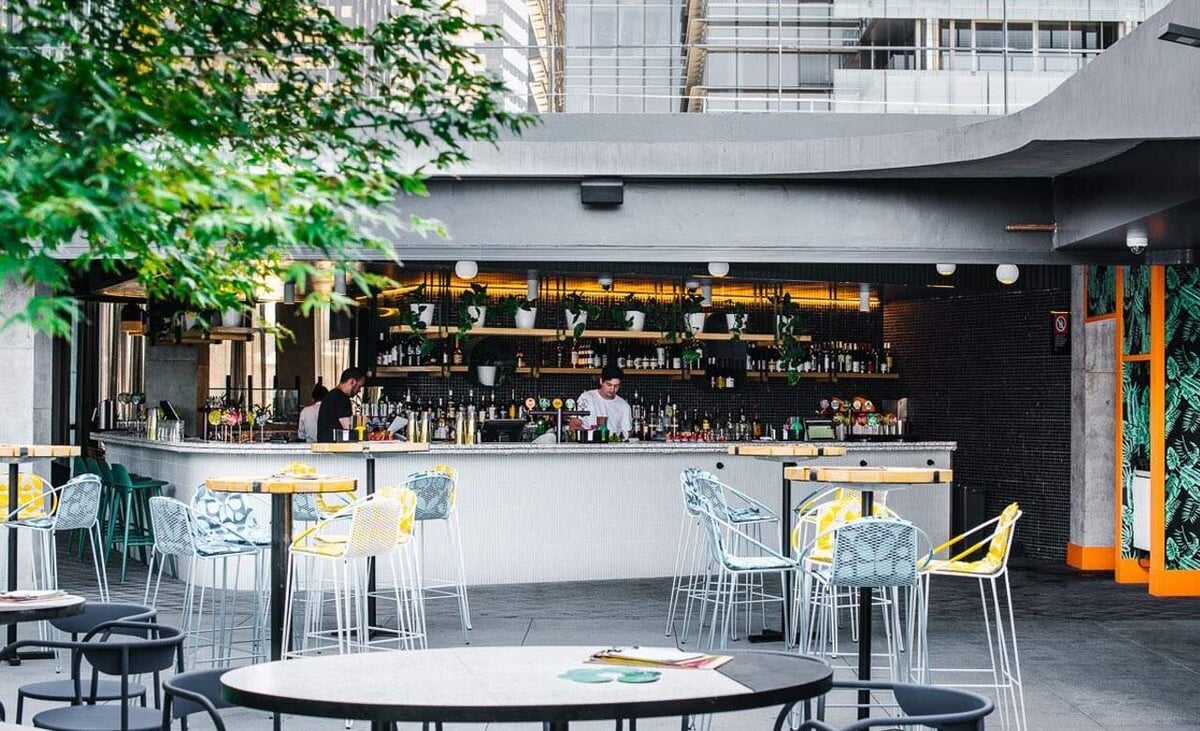 Barangaroo's slightly irreverent, playful rooftop bar is as popular as ever. Since opening a few years ago, Untied has become a mecca for Barangaroo's after-work crowd, surrounded by towering office buildings but maintaining a safe enough distance to truly feel like a refuge from the typical office crowd.
---
22. Cafe Sydney, Circular Quay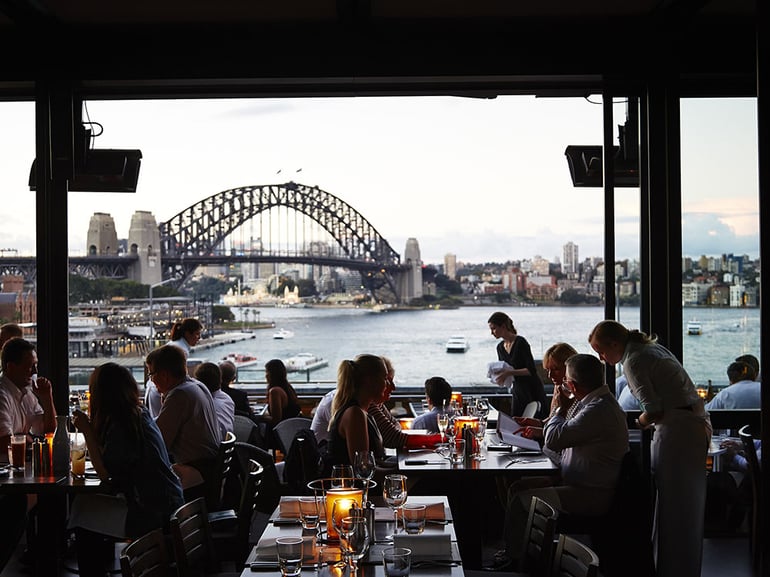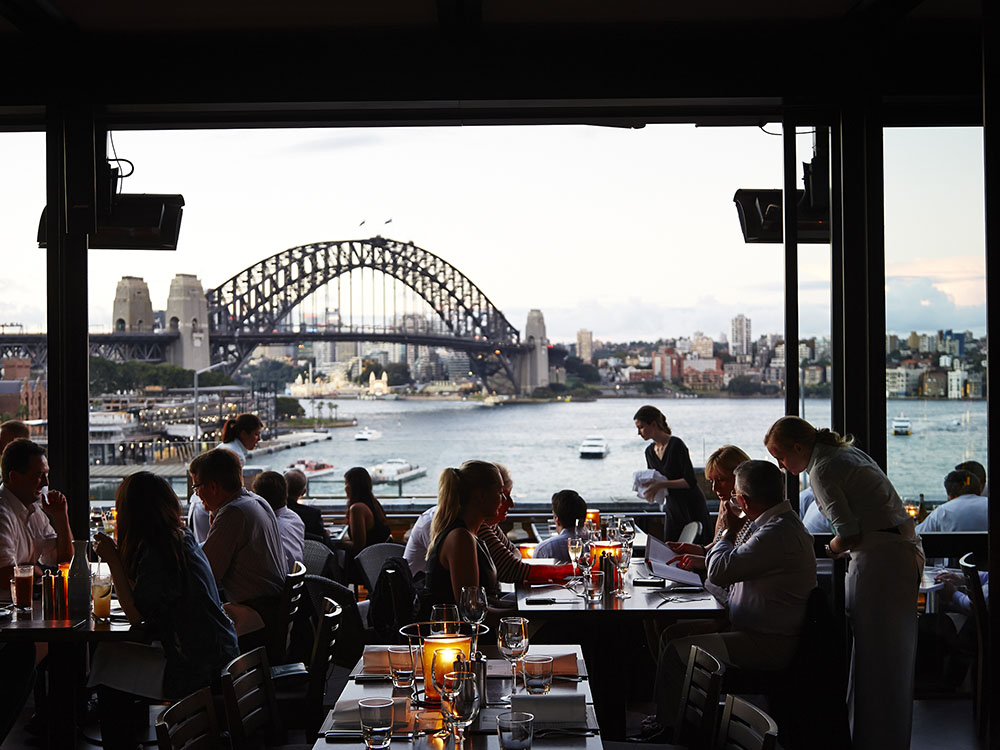 Cafe Sydney isn't exactly a bar. You'll want to go here for a good, reliable brunch if it's a pearler out on the harbour. But you can expect a nice and tight wine list up on the top of Sydney's historic Customs House. That's enough to qualify this for this list even if you are clearly paying a premium for the view.
---
23. East Village Hotel, Darlinghurst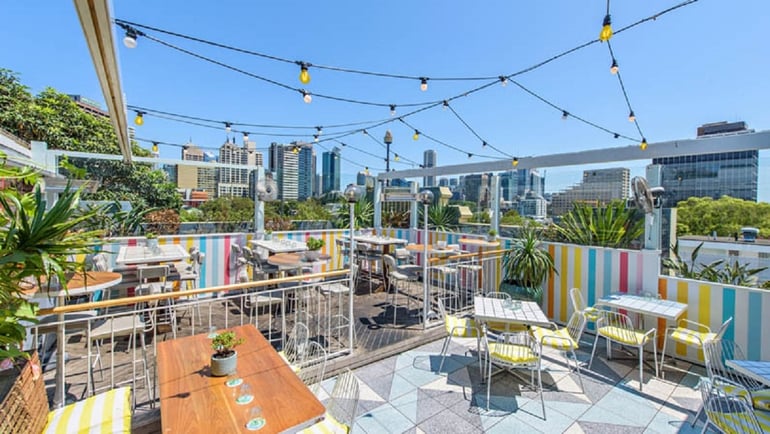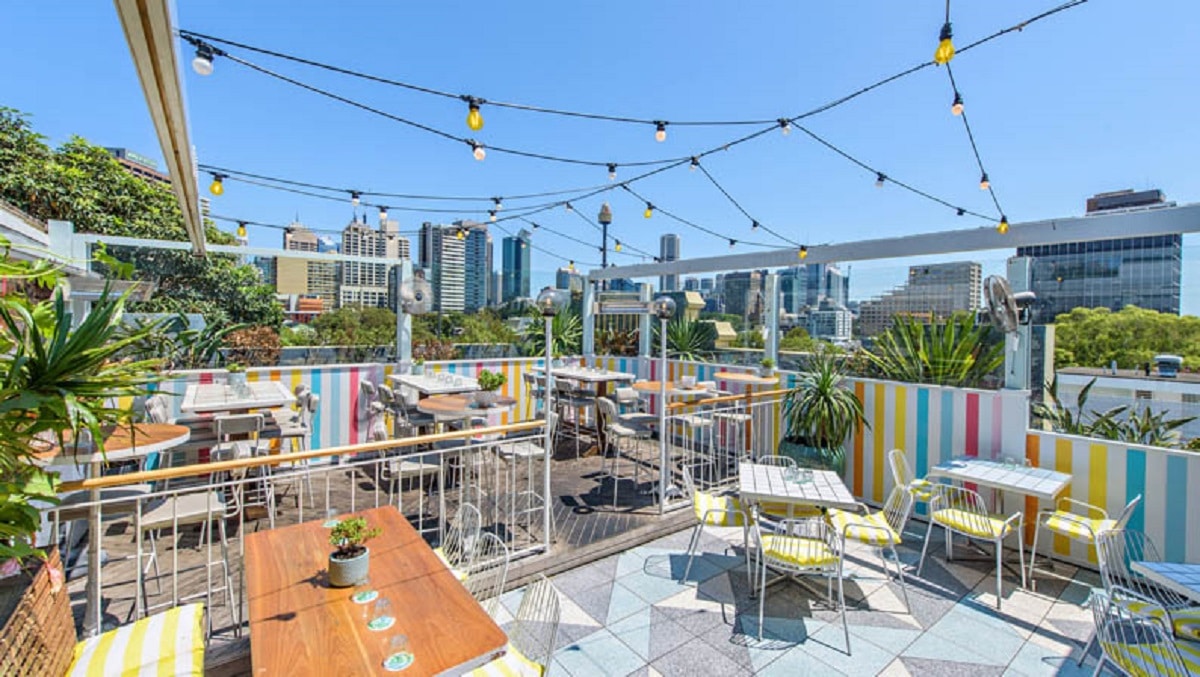 Fancy one of the best pub steaks in Sydney? You'll find the peppery beast up on the rooftop of Darlinghurst's East Village Hotel, made even better by the eternally festive atmosphere that's most ideal when you've come with the boys for some sundowners and general frivolity. This sunny rooftop bar is surely one of Sydney's best.
East Village Sydney is another place that gets packed out quickly, so you might have to plan ahead if you want to make the most of it. Note that there are a few East Village Hotels across Sydney. You want the Darlinghurst one, where the rooftop is decorated so proudly with fairy lights, the steak is almost always on-point and the classic cocktails go down a treat when the sun's out.
---
24. Rooftop Bar at InterContinental Sydney Double Bay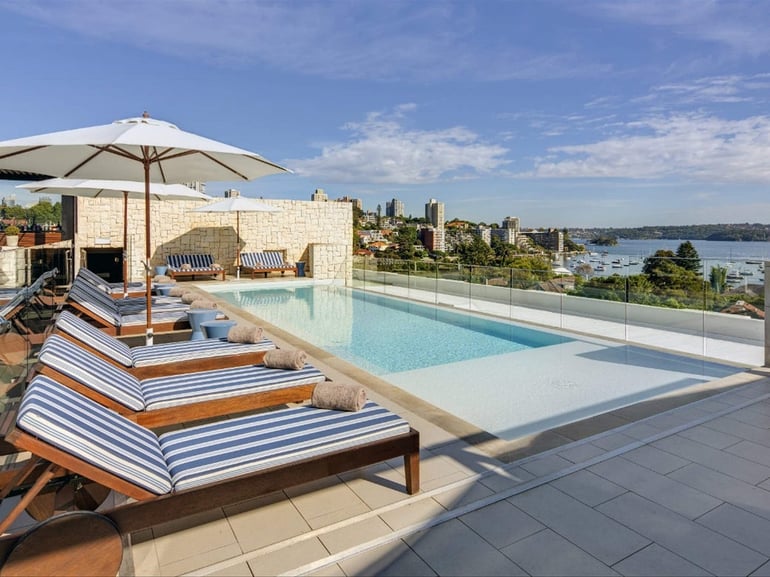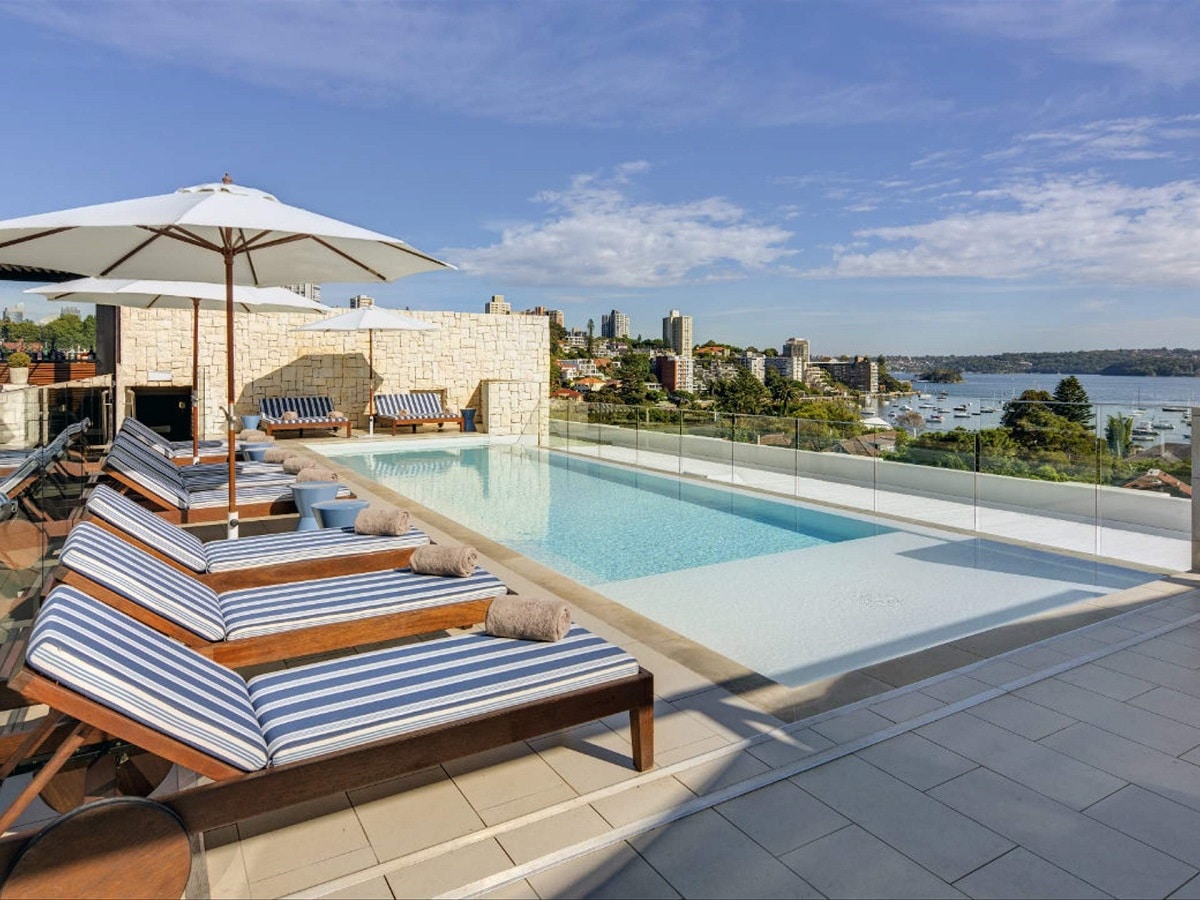 If it was any bigger, this Double Bay rooftop bar would have served as some fierce competition for ivy Pool Club. While the pool here is nowhere near as big, InterContinental Double Bay has done well to offer a swim, beer and snack up on the exclusive rooftop, which offers one of the best views in the area.
---
25. Rooftop At The Old Clare Hotel, Chippendale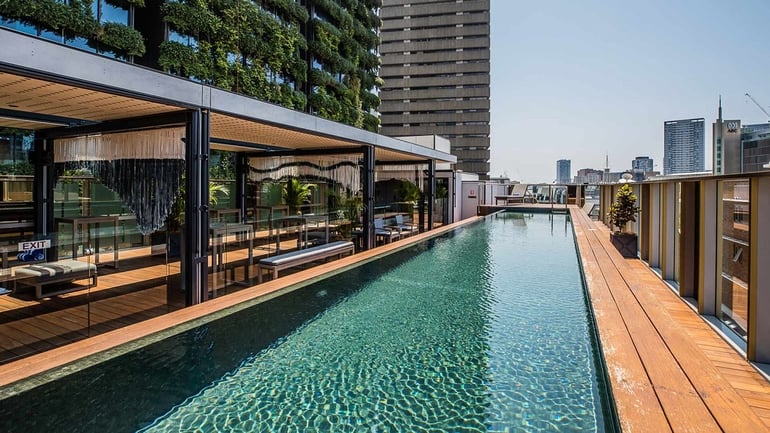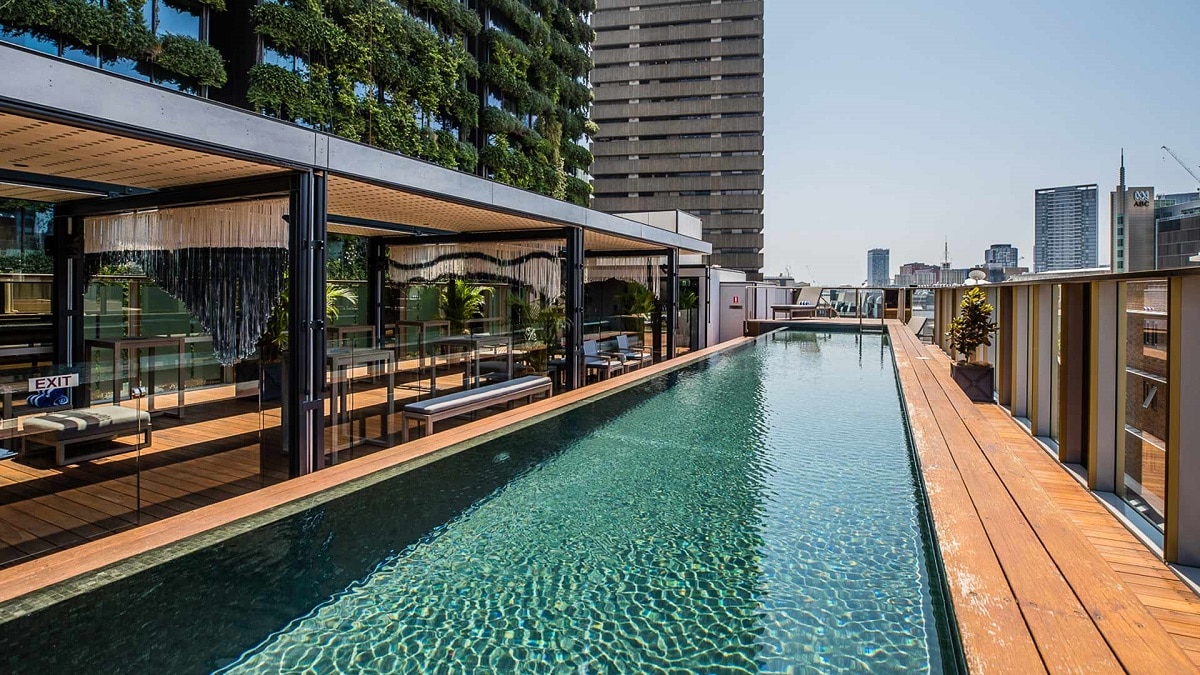 Backed by the hanging gardens of ritzy fresh-faced apartment blocks, the Rooftop of the luxurious Old Clare Hotel in Chippendale is an absolute vision. An immaculately clean pool, a rich list of quality cocktails, and some decent food to boot. As with the other hotel rooftop pool bars, you'll probably need to book ahead. This isn't a first-come, best-dressed situation.
---
26. SoCal, Neutral Bay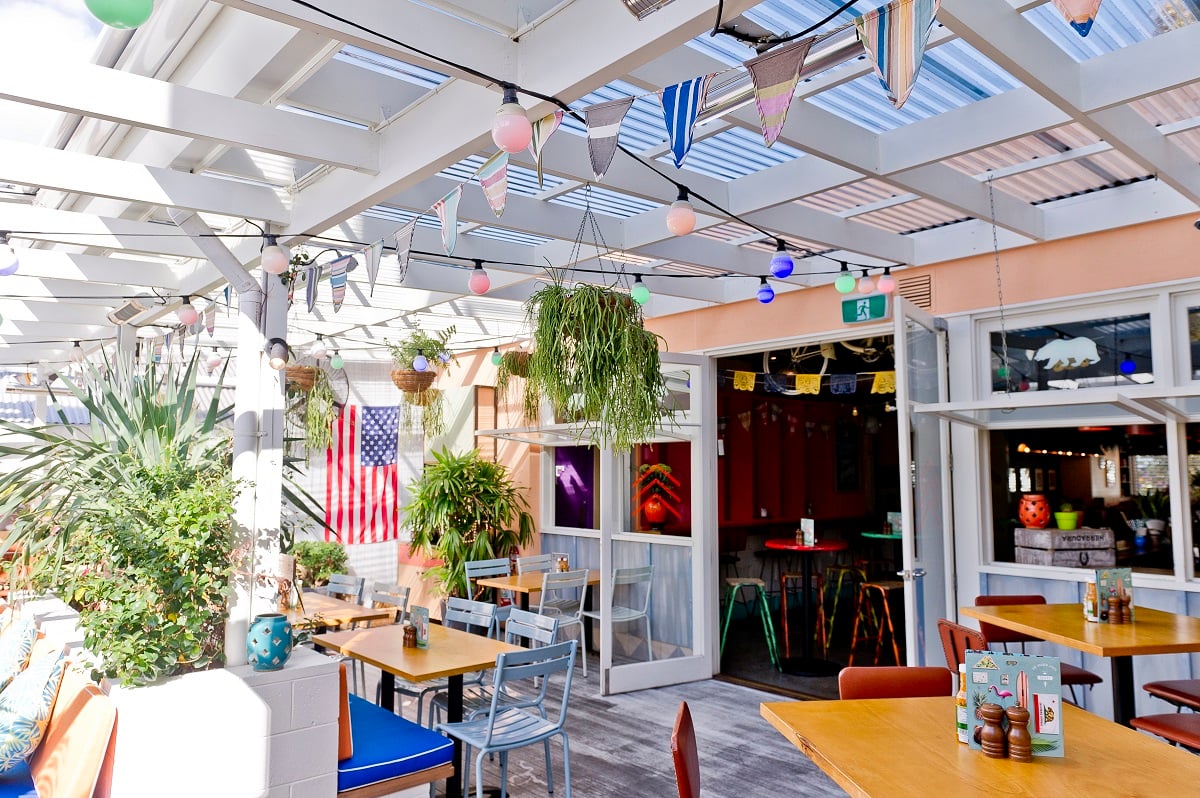 Coming from AppleJack, SoCal Neutral Bay has remained one of the best bars this side of the Sydney Harbour Bridge and will always get over well with its locally-minded themed nights and Mexican eats. The rooftop bar gets to soak up plenty of Sydney's sunniest days, so this is a good choice if you're in the area and want an alternative to The Oaks.
---
27. Sweethearts Rooftop, Potts Point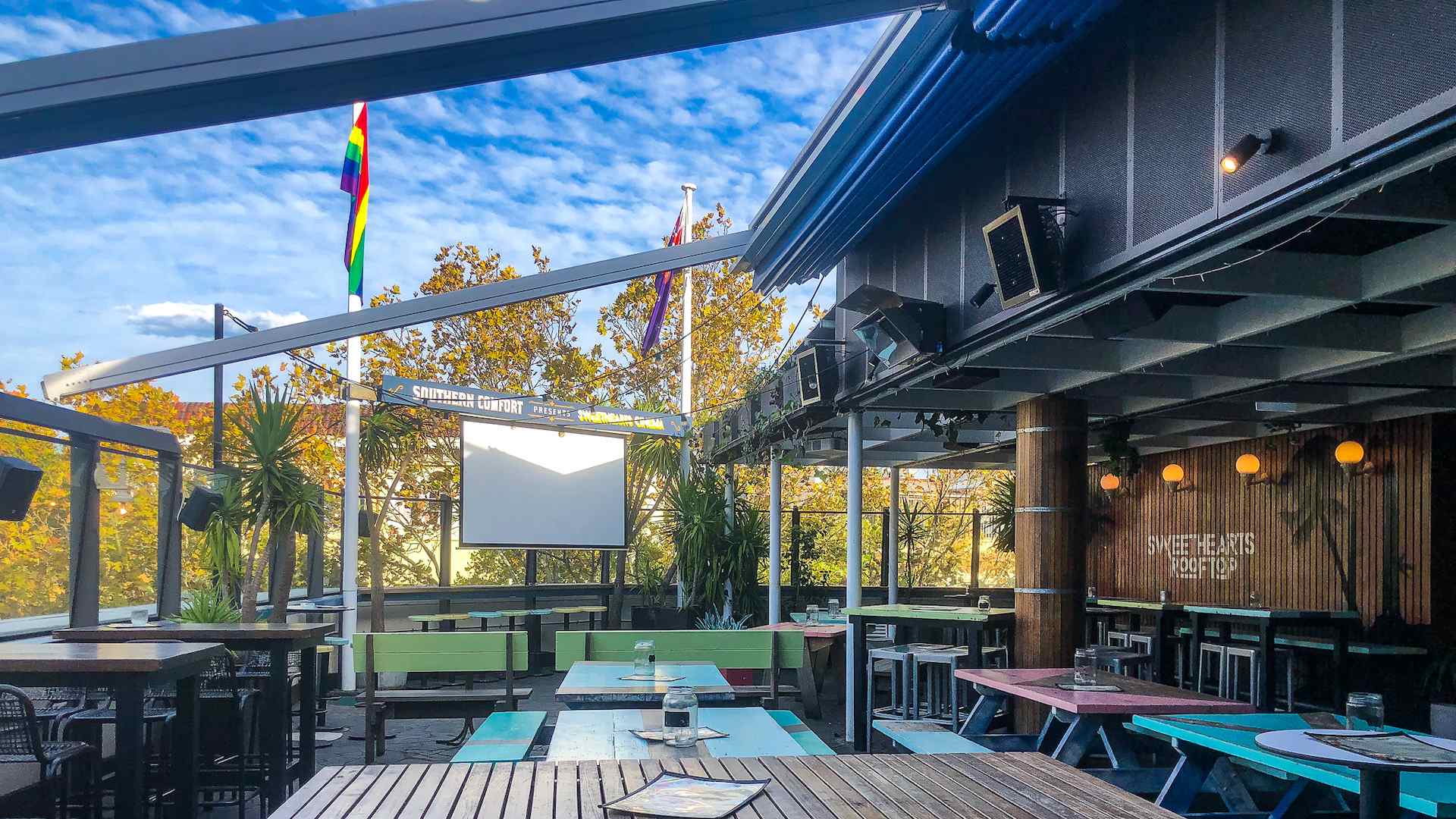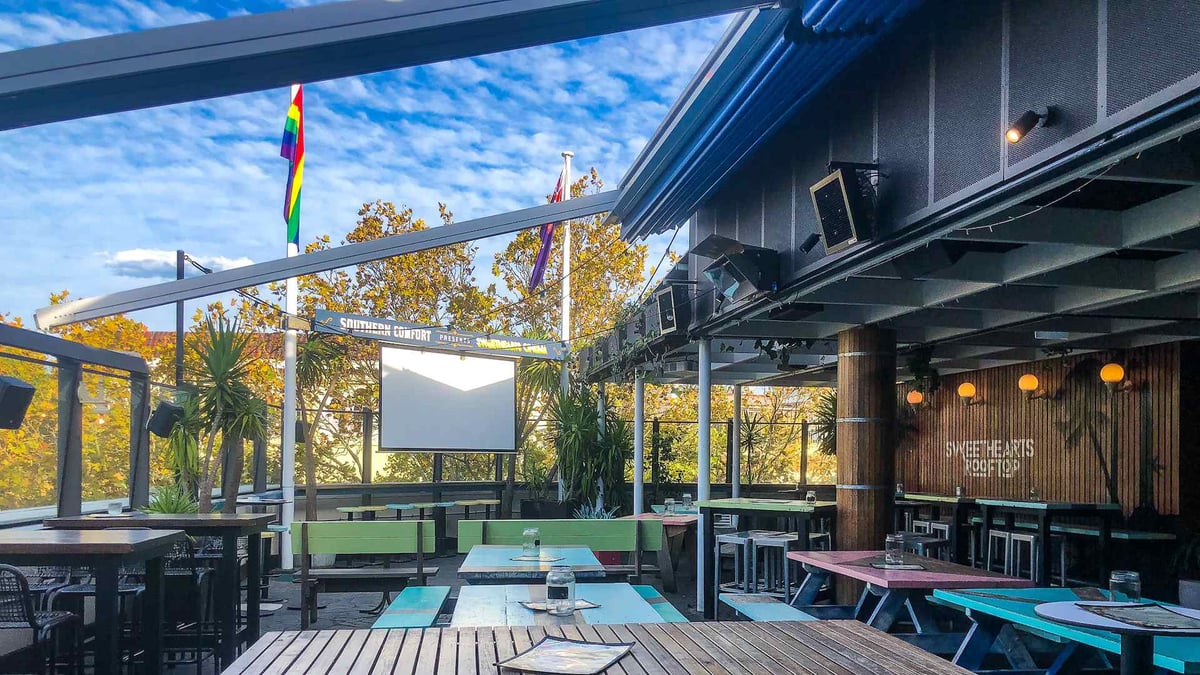 You'll find Sweethearts Rooftop on top of Potts Point Hotel, really sharpening that urban chic design brief that almost aggressively modernises that dusty drinking culture oft associated with Kings Cross.
You'll always find a good time up at this Sydney bar, which feels distinctively separate from Potts Point Hotel with a more youthful spirit built up by share-style burgers, pizzas, signature cocktails, Pimm's on tap and weekly nights like Sunday Party, live music and rooftop cinema sessions.
---
28. Babylon Rooftop, CBD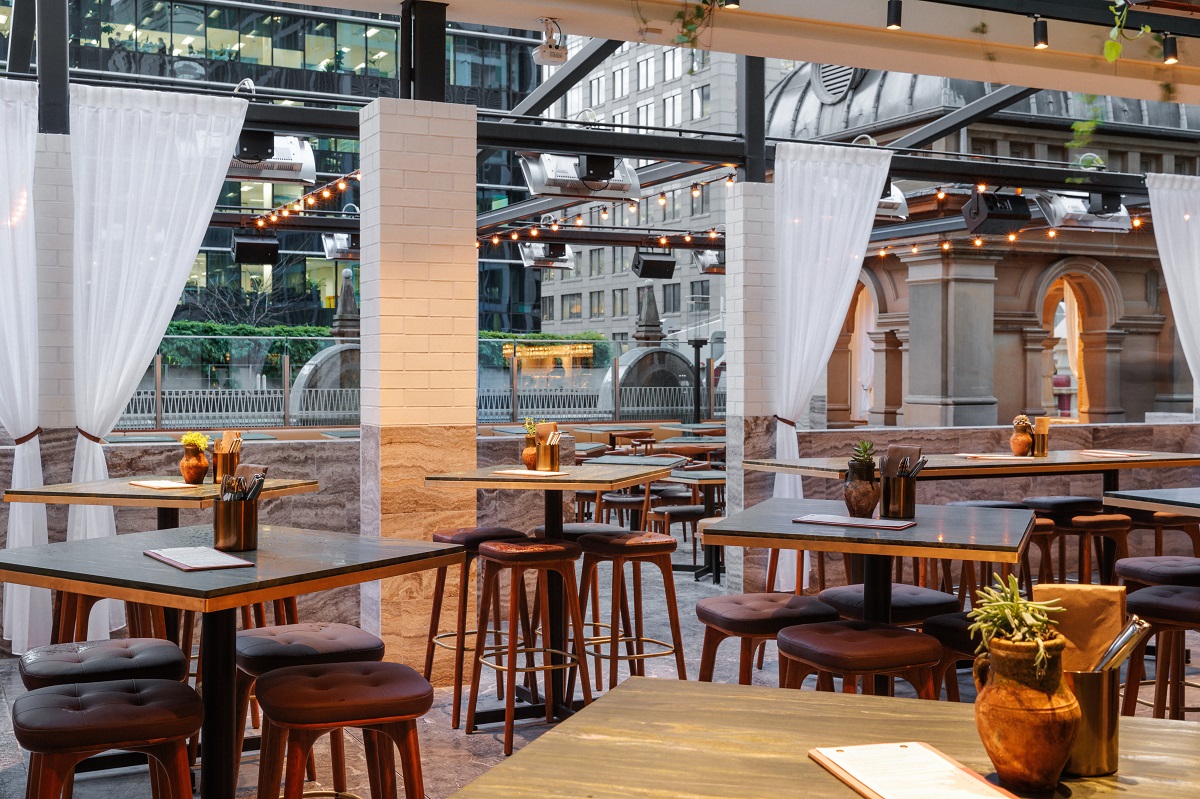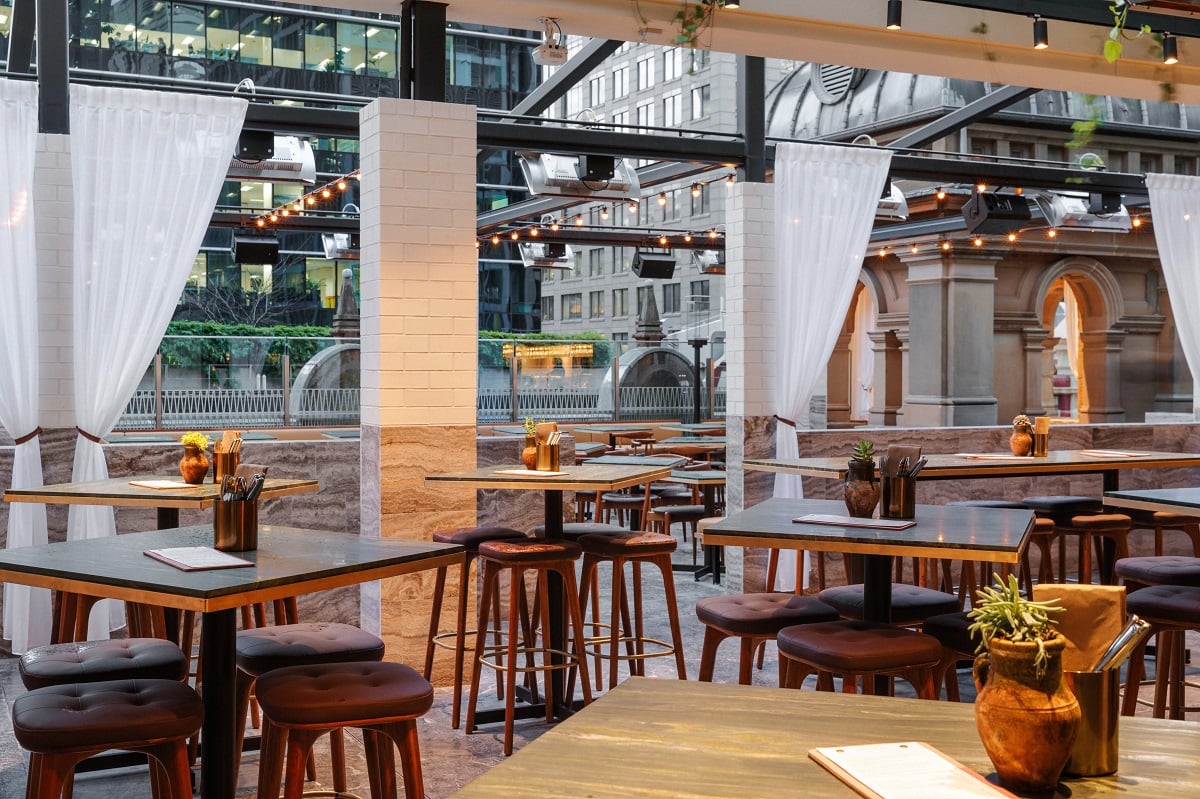 Inspired by the Hanging Gardens of Babylon, this sprawling rooftop bar is usually overlooked simply because it is perched on top of Westfield Sydney. And yeah, I get it. Heading out to a rooftop bar in a shopping centre doesn't exactly scream sophistication, but it's hard not to be impressed by what the designers have done here.
Plenty of distinct spaces make up this Sydney rooftop bar, which is then layered with some reasonably priced meze and slow-cooked meats along with cocktails and a decent wine list that counts over 300 drops from Australia and beyond. Not a bad shout if you've just gone on a shopping spree at Harrolds and Calibre, or done some watch shopping at nearby boutiques for TAG Heuer, Breitling, and Grand Seiko.
---
29. The Rook, CBD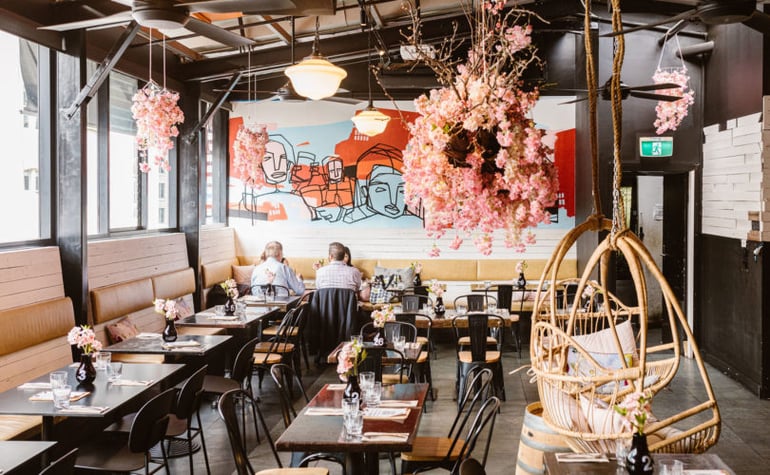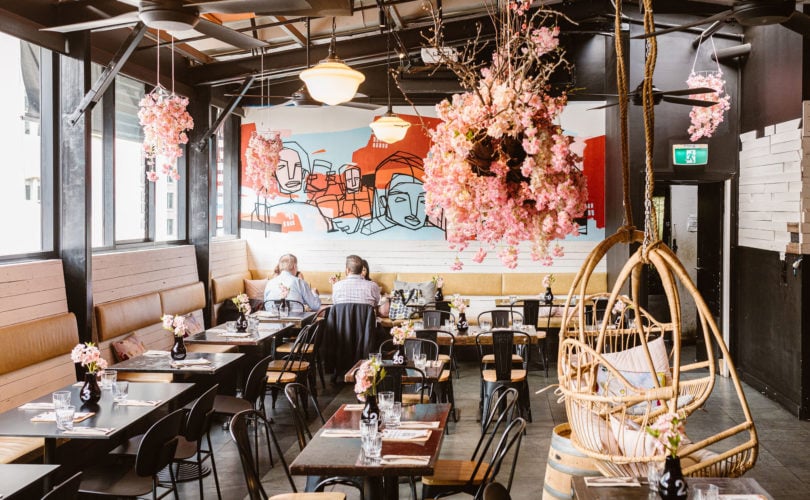 The Rook is located on the rooftop of a fairly plain office building. Enter via the ground floor, just a short stroll from the Queen Victoria Building, and take the elevator up.
Grab a round of spicy margaritas and park them up alongside a spread of fried chicken bites, Sydney rock oysters, and one of the better lobster rolls you'd find in the city. Once you've fallen into the rhythm of this York Street rooftop bar, it's almost impossible not to become a regular. Especially when the team have peeled back that retractable rooftop bar.
---
30. The Royal Hotel, Paddington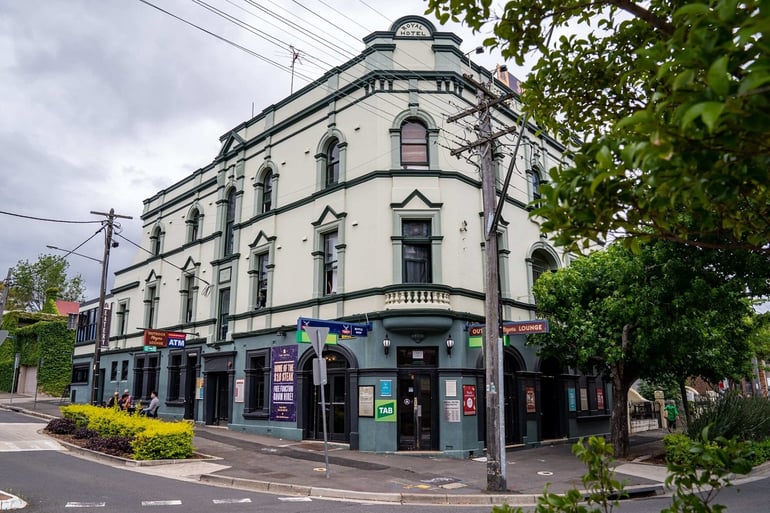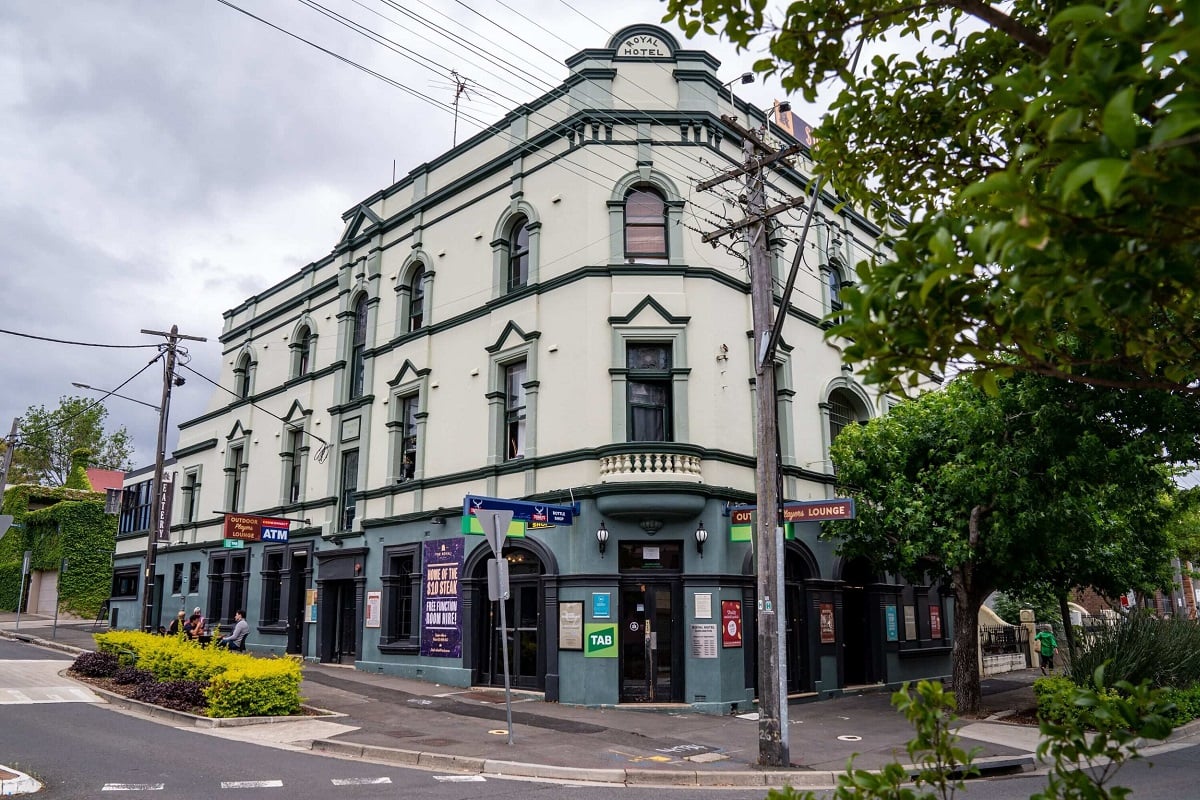 A favourite for the after-work crowd, The Royal Hotel sports one of the best rooftop terrace areas in Paddington, crowning the heritage pub with an open-air spread that affords brilliant city views stretched across the bay and Sydney Harbour.
Take in one sunset up here and you'll easily be coming back for more, drinking down the vibes as fast as those frothies. The heritage pub has some of the best drinks in the area, so have fun pairing up some top tipples with upscale pub food. Just get in early; bookings are hard to come by in summer.
---
31. Taylor's Rooftop, CBD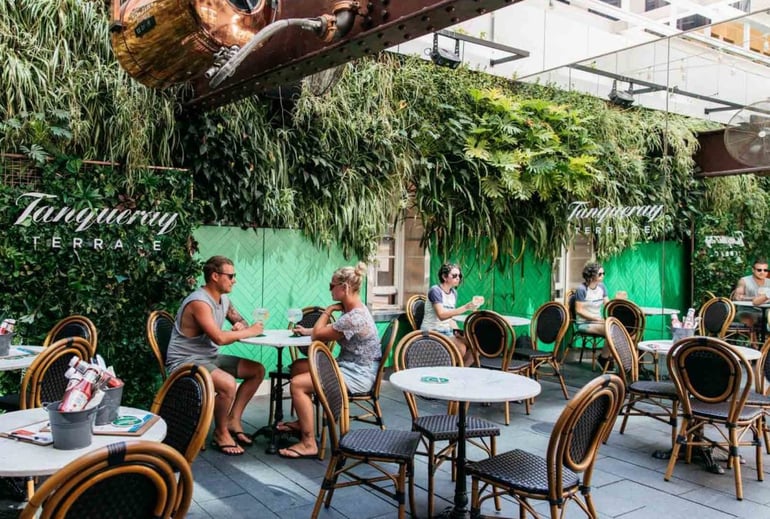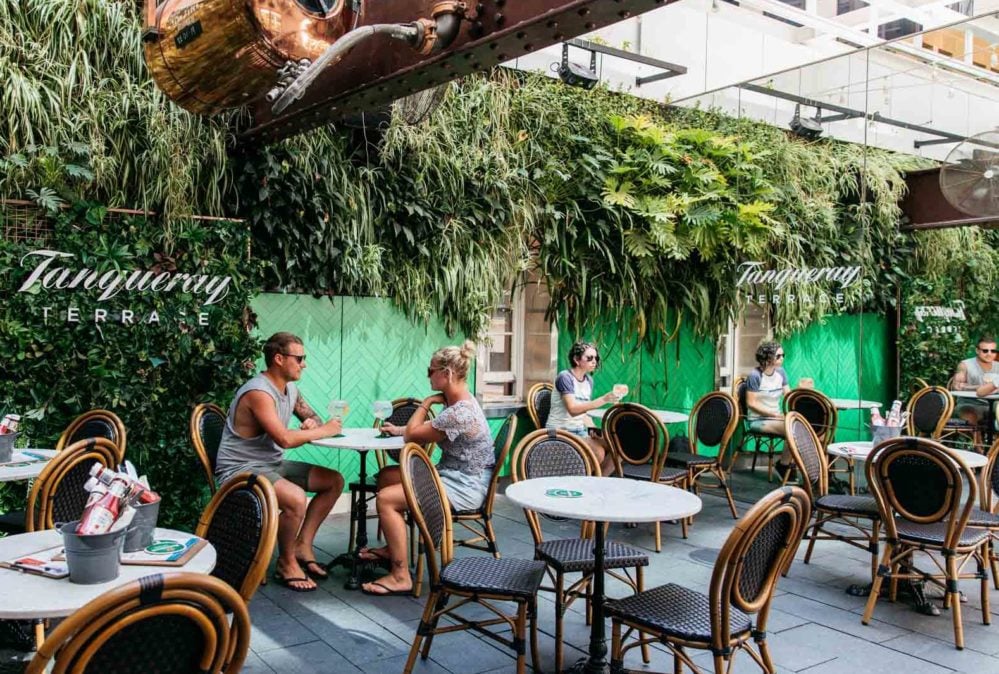 The ground floor of the Republic Hotel may look like a classic Aussie pub, but make your way up to the fourth if you really want to party in style.
You'll walk out into the neatly trimmed Taylor's Rooftop, another favourite for the Sydney CBD after-work crowd, shaped with a palpable party vibe and a diverse drinks list favouring some of Australia's preferred craft beers.
---
32. Vue Bar, Bondi Beach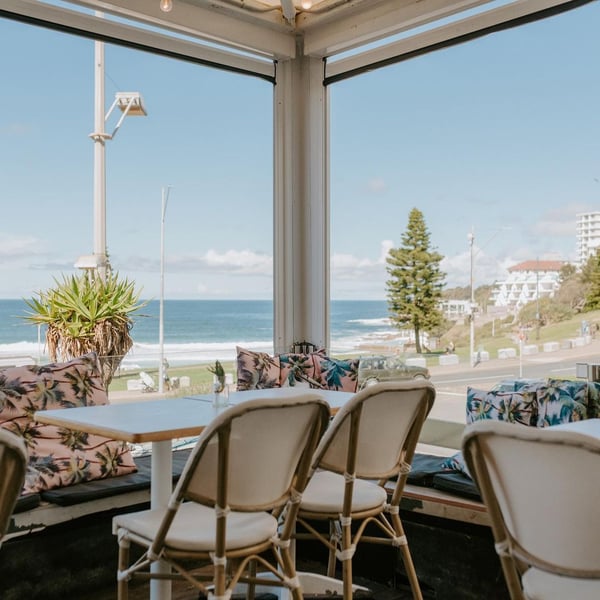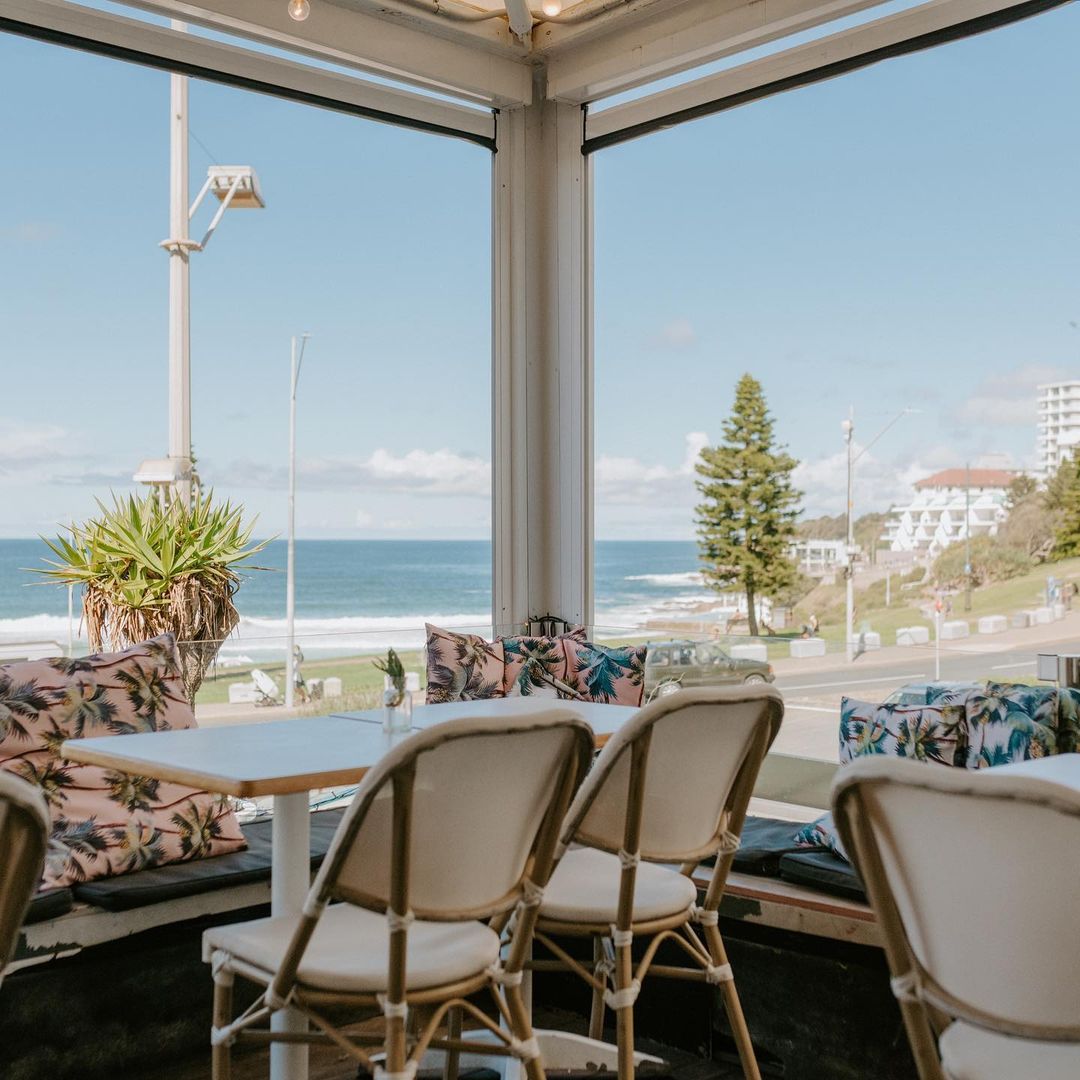 You'd expect Bondi Beach to be flooded with rooftop bars. But it isn't. The closest one to quality here would be Vue Bar, which has a spacious outdoor terrace overlooking the world-famous golden sands. You'll get your typical pub vibes here, with the standard beer list to match. And hey, that's good enough; if Bondi is your thing.
---
33. Watsons Bay Boutique Hotel, Watsons Bay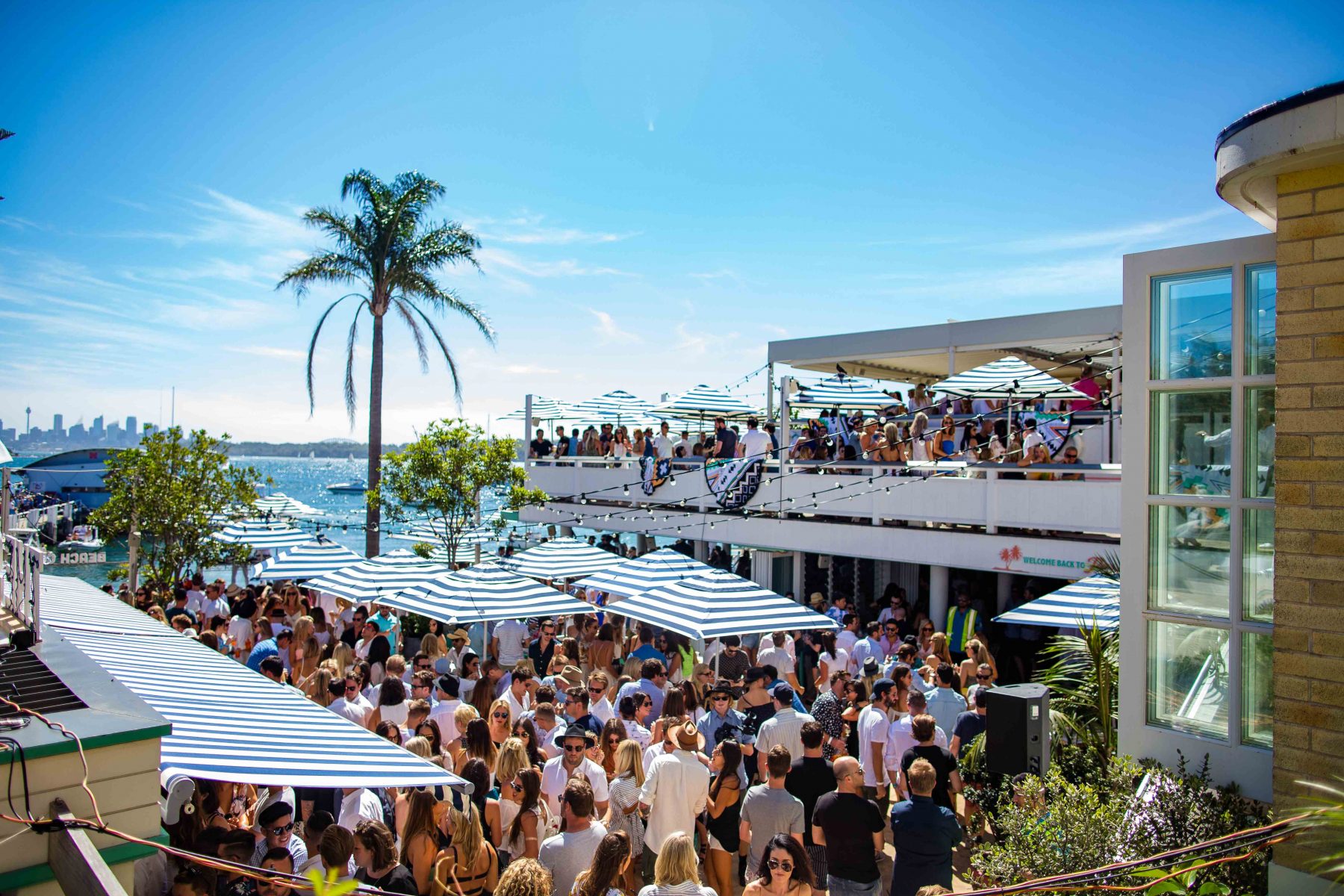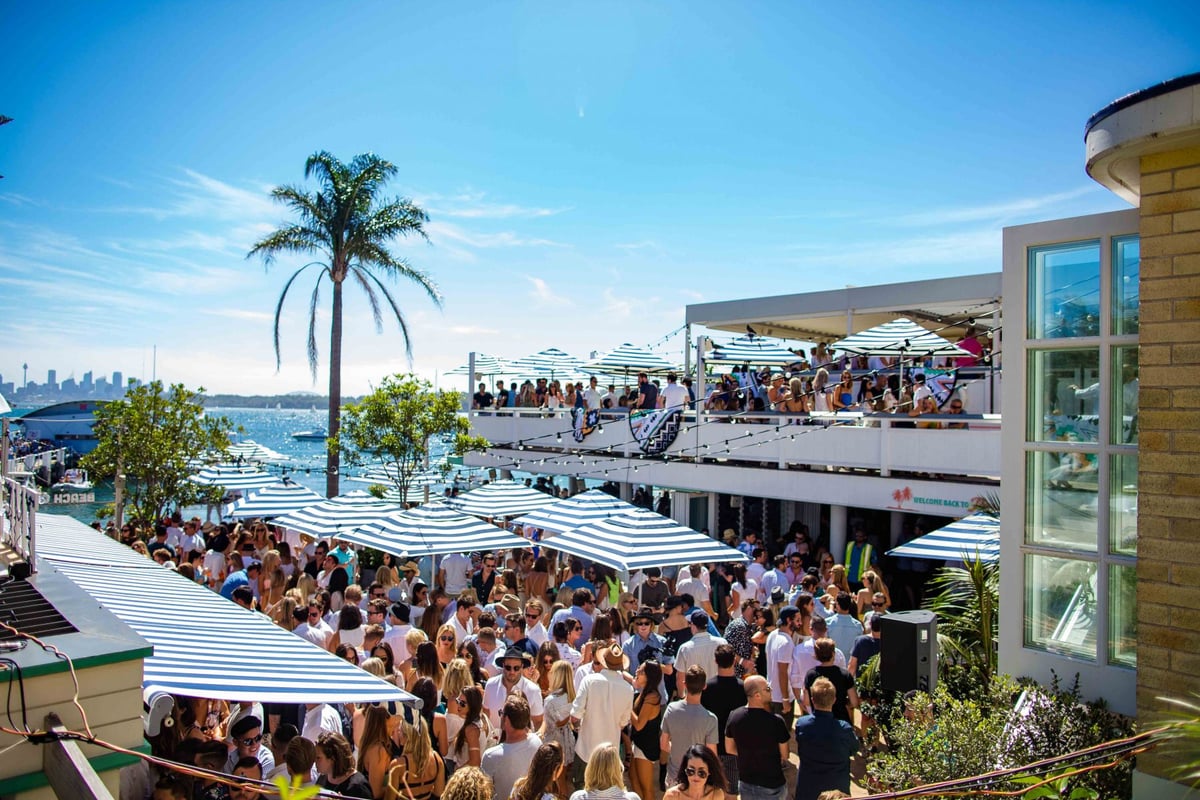 The Sydney skyline and Sydney Harbour Bridge may be a distant blip, but the wide-angle view of looking back at the city from Watsons Bay Boutique Hotel is like no other perspective in the city.
The food can be hit or miss but as long as you're going for the fresh seafood platters you'll be fine. And while the grog can be a bit overpriced, the cost is worth it if you're hanging out in the open-air spaces, stand-up paddleboarders wading in the background while you're downing your drink of choice.
Most of the other hotel bars on this list could be repeated just about anywhere in the world. Watsons Bay Boutique Hotel, on the other hand. is as Sydney as they come.
---
34. Webster's Bar, Newtown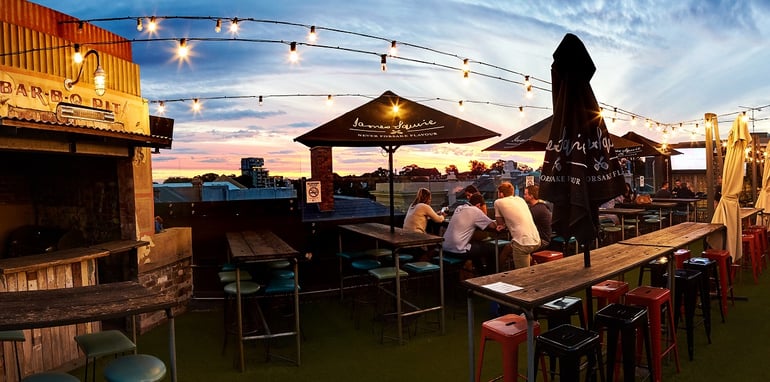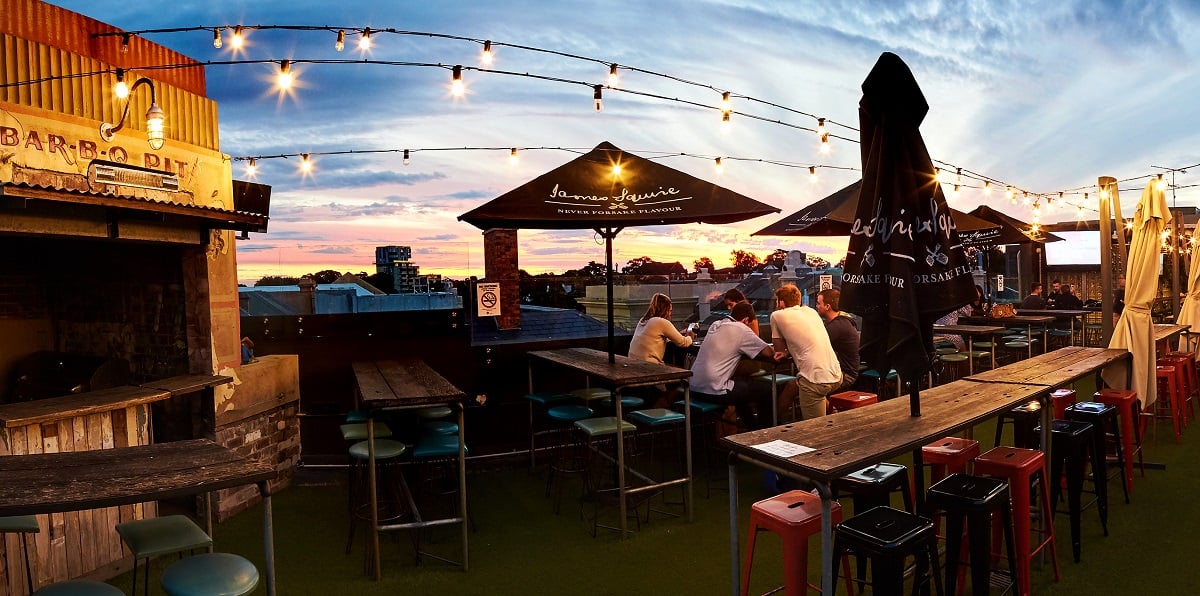 Websters Bar is the best rooftop in the inner west, serving up a nice beer list and some classic cocktails in a typical no-fuss Newtown atmosphere. Always reliably busy, the former Zanzibar is the place you want to be if you're looking to pair up some whisky and wings in a space that looks like it could be your rich hipster mate's private courtyard.
---
How Boss Hunting Chose The Best Rooftop Bars In Sydney
The Boss Hunting team has spent more than a few summers hopping around Sydney's best rooftop bars. Our office is based in the Harbour City after all, and so whether it's for after-work drinks, an event or a personal visit, I'd say we've had more than enough experience at these sun-soaked drinking holes.
Features we look out for are the view, the vibe and the drinks. Of course. Those are our primary metrics but we also take into account price point, whether the food served is any good and speed of service.
---
Enjoyed this Sydney rooftop bars guide? Be sure to check out some of our other rooftop bar round-ups:
---
Frequently Asked Questions
What is the best rooftop bar in Sydney?
You've got plenty of rooftop bars in Sydney making choosing just one a hard choice. The best rooftop bars for a summer session are The Glenmore, Henry Deane, and Old Mate's Place.
What is the best rooftop bar in Sydney CBD?
You've got a few options if you're looking for a rooftop bar in Sydney CBD. Old Mate's Place is always a winner, but Hotel Sweeney's is also a great choice.
What is the best rooftop bar in Bondi?
Vue Bar would be the best rooftop bar in Bondi.