There are few things in this life that can beat a hard-earned drink with a view. So why try beating it? Surrender yourself to Sydney's latest addition: a two-storey venue at the Overseas Passenger Terminal in Circular Quay overlooking the water et al., opened by none other than James Squire.
Squire's Landing is so much more than a bar. Housing a microbrewery and a restaurant, it'll soon become the go-to spot for weekend kick-offs. Located by Campbell's Cove, where the real-life convict James Squire arrived on the First Fleet before becoming Australia's first brewer, the sweeping scenery somehow elevates itself beyond the postcard cliche here. And I daresay it may remain unbeaten until someone figures out how to stick us in floating glass cubes in the middle of the water. Your move, Opera Bar.
Squire's Landing will obviously serve all nine James Squire's core range beer, as well as having a constantly evolving selection of limited edition releases brought to you by the hand of Peter Merrington (head brewer at James Squire's brewery and Camperdown Malt Shovel Brewery).
---
---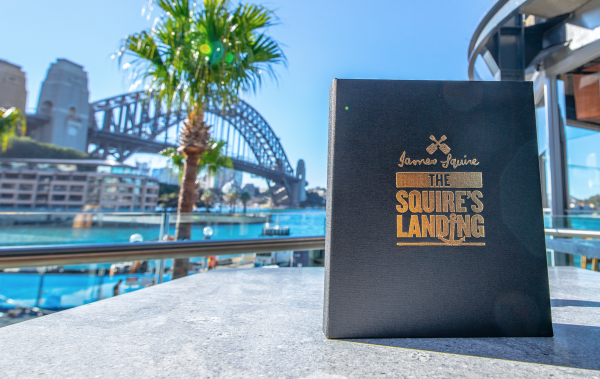 The kitchen will welcome Angus Harrison, a well-seasoned (heh.) veteran of the culinary arts, along with Deniz Coskun, executive chef at the Mantle Group. This isn't the first time the two have worked side by side, either. In terms of the food itself, there will be a convenient partition depending on what you feel like. The downstairs will serve a casual menu loaded up with your classic pub feed. And for something a little more premium, you will be able to book a table upstairs. Apparently this will entail the likes of "… wood-fired octopus with roasted peppers, olive, nduja, lemon and pangritata…" and "… coffee-cured and smoked duck breast from the Hunter Valley with confit leg beignet, celeriac remoulade, pickles, salt-baked beetroot and jus…". Right-o.
It's safe to say, anyone who complains that there's nothing to do at Vivid this year isn't trying hard enough.
Squire's Landing is now open at Circular Quay Way 10AM to midnight from Sunday to Thursday, 10AM to 1AM on Fridays and Saturdays. Visit their site here for more information.