After a year of coffee at home with the excellent Breville Barista Express Impress, I decided it was time to indulge. I bought an end-game espresso machine – an ECM Mechanika (for a song on the second-hand market).
Regardless of how amazing your coffee machine is, you can't have incredible espresso at home without freshly ground beans. So to go with it, I purchased an Eureka Mignon Specialita, reviewed as one of the best home barista coffee grinders money can buy.
Both machines play an essential role in producing espresso. But, the device that dazzled me the most since acquiring this circa $4,500 (RRP) setup cost me less than $10. The secret to my coffee success is a cheap WDT tool – also known as a needle distribution tool.
RELATED: The 13 Best Coffee Machines For Home Use In 2023
What Is Distribution & Why Does It Matter?
To explain the concept of distribution, picture a puck of coffee that is uniform in depth and density. The uniformity results in an even flow of water through the compressed coffee. Coffee grounds unevenly distributed are more likely to cause channelling during extraction. This is when the water seeks the fasted route through the grounds, resulting in a lower-quality espresso shot.
When it comes to making great espresso at home, consistency is key. The best way to ensure consistency is by removing as many variables as possible.
Removes The Variables To Extract Delicious Espresso
The first is not to change your beans too often as that requires you to hone your grinder settings all over again. The second is to utilise specialist distribution tools. These create the perfect environment for water to flow through your portafilter.
If you're on TikTok or IG, and you're interested in coffee, it's likely you've seen guys like Tanner Colson. Coffee creators use all manners of gadgets to extract the perfect espresso shot. Tanner gets so rinsed in his comments for being a snob but his methods of madness aren't just for show. They are somewhat justified.
The MVP Of The Distribution Game
I picked up a dosing funnel and a handful of distribution tools to test shortly after my machine arrived. I'm here to tell you, that the least convoluted, cheapest one of them all – a needle WDT tool – is the standout of the bunch.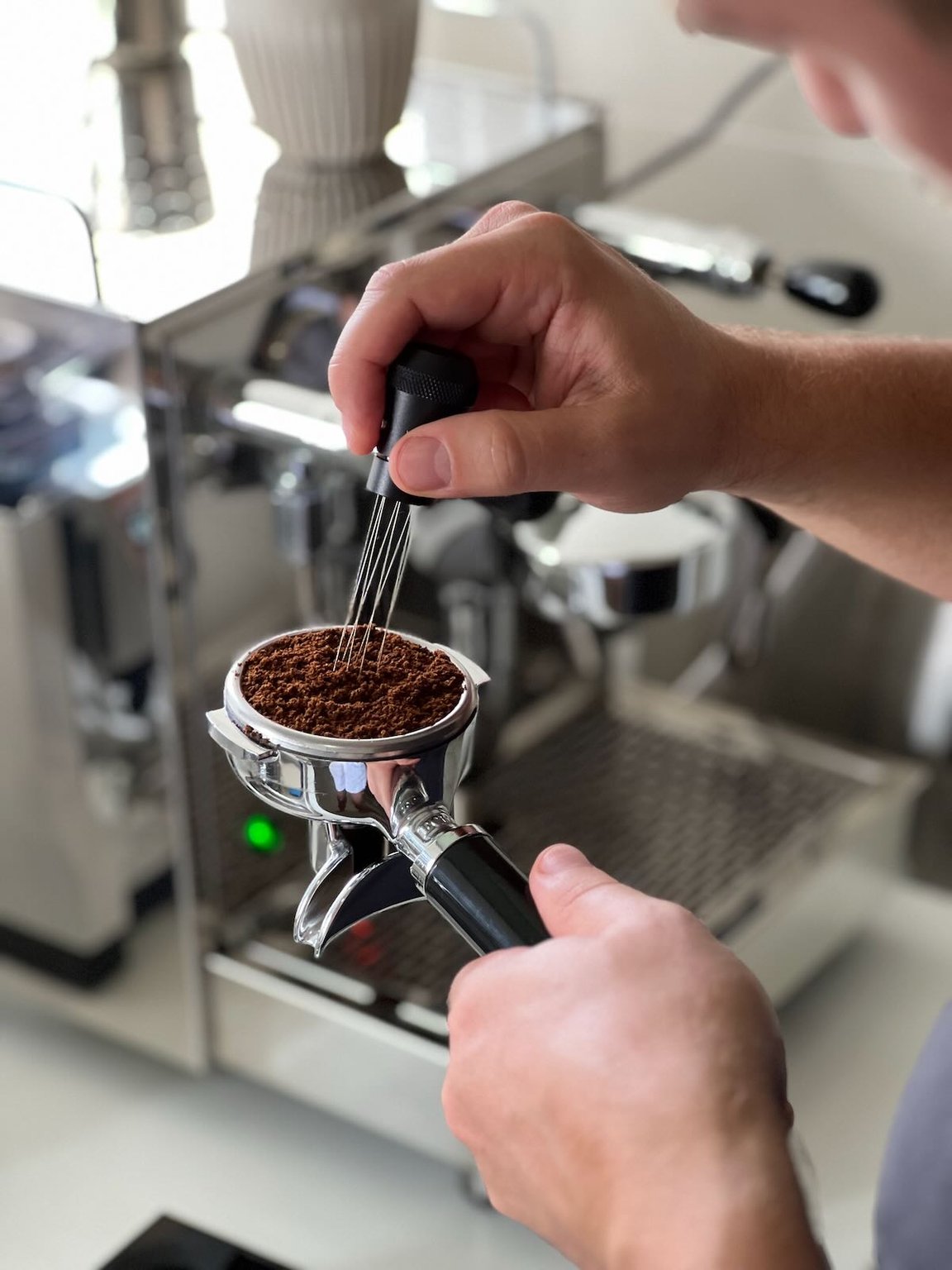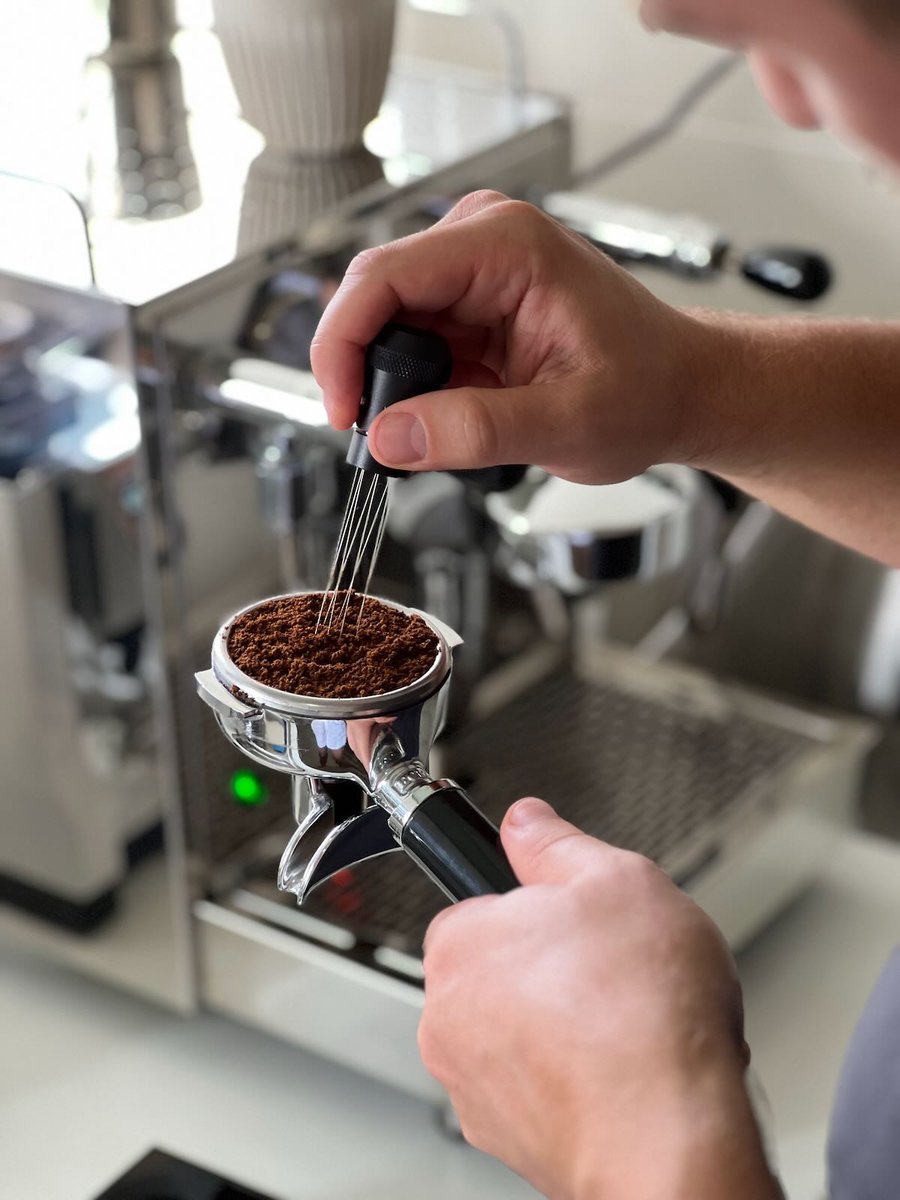 The basic concept of WDT, or the Weiss Distribution Technique came from a simple need. To compensate for a grinder incapable of dosing grounds evenly. The idea was to break up clumps of grounds with a needle, before tamping, to promote even extraction. The Specialita does a great job of dosing but my espresso has reached new heights with this simple WDT tool. Not to mention it adds an extremely therapeutic step to the process.
Explaining The Magic Of A WDT Tool
Unlike the spinning, OCD/NCD tool created by the Australian World Barista Champion Sasa Sestic, the needle variety goes deeper. A needle WDT distribution tool reaches the bottom of the filter, allowing you to distribute beyond the top layer of grounds. This readies the grounds for tamping, compressing the puck evenly to ensure ideal water flow.
In closing, forget the OCD tool, the puck screen and the paper filters. A cheap needle WDT tool will get the job done better than the rest while taking up the least amount of space in the process.
I run a dosing funnel, a needle distributor, a Timemore Magic Cube and a tamper. That's all the gimmicks you need (post grinder) to enjoy delicious espresso at home.
See below for the link to my WDT Tool and accessories:
Magnetic Dosing funnel – I highly recommend investing in a dosing funnel or ring as it makes the grinding and distributing process a lot cleaner, reducing spillage both from the grinder and when stirring the WDT tool. Mine is from NEOUZA, however, I've recently purchased the Normcore one to sit atop the portafilter so I can distribute grounds right to the edge, with the ring on.
WDT Tool – I purchased a NEOUZA WDT tool and it does a fine job. A quick search on Amazon shows a range of WDT Tools available ranging from sub $10 up to almost $90 for the Normcore option with stand. Do I want the S Works Design alternative which can be customised with up to 17 needles? Of course. Do I need it? No. Will I purchase it? I already have.
Timemore Magic Cube – Really any tamping mat will do but this one is so easy to move and clean while feeling super sturdy on the counter and giving you a slight elevation for easier tamping.
Tamper – Again a NEOUZA tamper but with a self-leveling edge to ensure pressure is applied evenly. Looks to be a knock-off of the Normcore one.