A good coffee machine is free. In a sense, anyway. While you've got the initial investment to take care of, if you've chosen wisely you'll end up with a coffee machine that eliminates the need to head to your local cafe each morning. The best coffee machines you can buy in Australia are the ones that put money back into your pocket in the long term.
The market is stacked right now with coffee machines for just about every budget, taste, and preference, whether it's bean to cup, espresso, capsule, pour-over, or filter coffee fused with the glory-giving grace of technology. To help you narrow it down, we've rounded up the best coffee machines in Australia right now, from brands like De'Longhi, Breville, Rocket, Sunbeam and Gaggia.
We've tried and tested various coffee machines of all types to help put together this buyer's guide. And we've done so without bias, so below you'll find everything from fully-automatic coffee machines to capsule machines.
---
RELATED: 25 Best Coffee Shops In Melbourne For 2023
---
---
The Best Coffee Machines For Home In Australia For 2023
1. La Marzocco GS3 MP – Best Manual Coffee Machine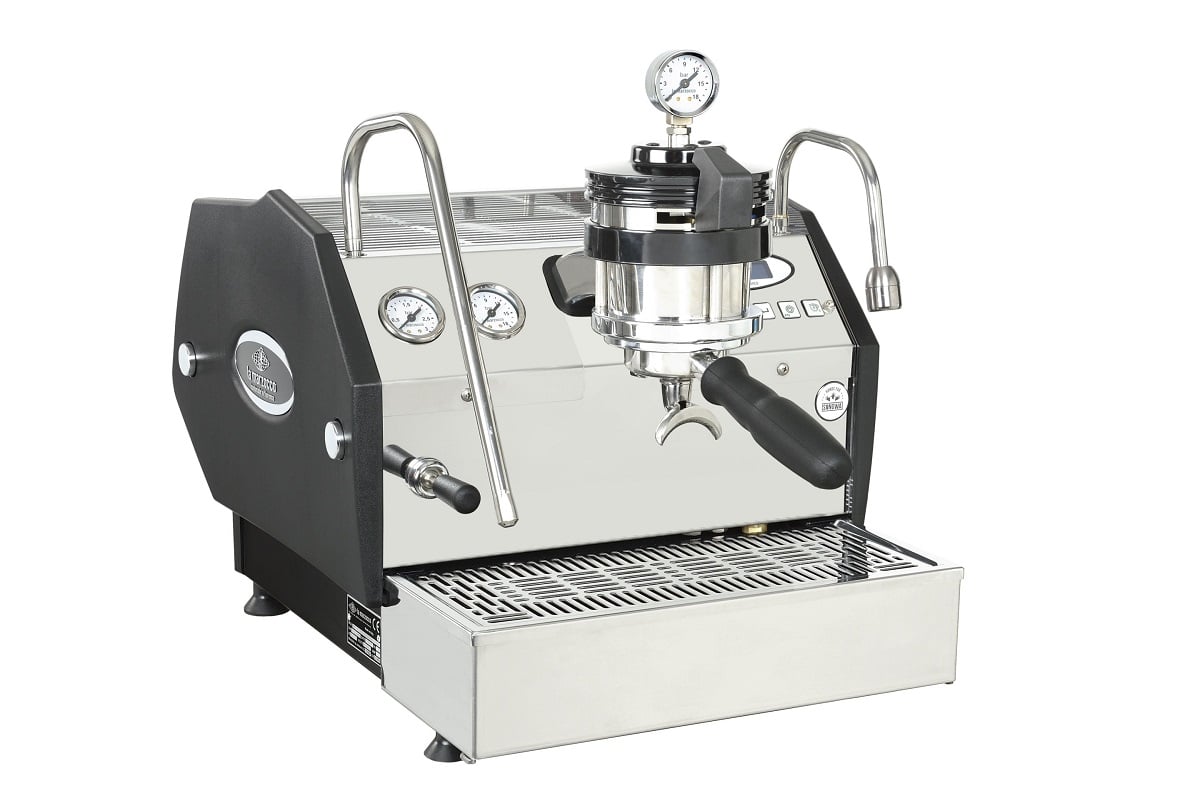 Type: Semi-Automatic Coffee Machine
Boiler: Dual Boiler
PID Temperature Control: Yes
Display: LCD
Height: 35.5 cm
Width: 40 cm
Depth: 53 cm
Weight: 34.5 kg
Considered by many to be the gold standard of professional-grade espresso machines for the home, the GS3 is capable of producing consistent pressure and temperature stability for ideal pre-infusion and extraction so the intended taste of your coffee beans comes through at the end.
Make sure you're going for the MP (Manual Paddle) version, which is a bit more expensive than the AV version. You'll get the benefit of an integrated pressure gauge in the group head to adjust the flow rate and the ability for pressure profiling so you can get your preferred coffee every time.
The quiet, high-end rotary pump is compatible with plumping so if you don't want to think about refilling the water tank frequently you've got the option of a constant flow of water from your pumping system.
If you can stomach the price, it just may be the single best coffee machine you can buy in 2023.
La Marzocco GS3 MP verdict
The downside of the La Marzocco GS3 MP Espresso Machine is its price tag. You're paying over $10,000 for this beastly, prosumer coffee machine. But what you're getting is the single best dual boiler espresso machine for home use. You'll then need to decide how exacting you want to be. If settling for less is impossible for you, then go for it. However, there are machines that bring you almost just as close to perfection and cost less than half the price.
Dual boilers
Option to use rotary pump with plumbing
Effective temperature stability
A very expensive investment
Not as easy to clean
---
2. Breville Oracle Touch – Best Overall Coffee Machine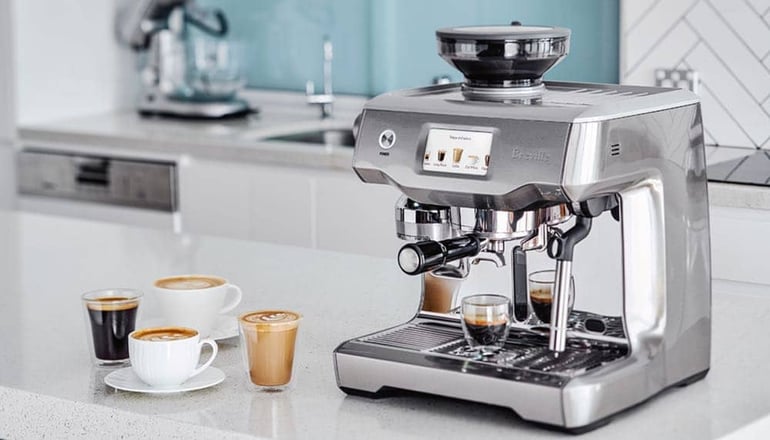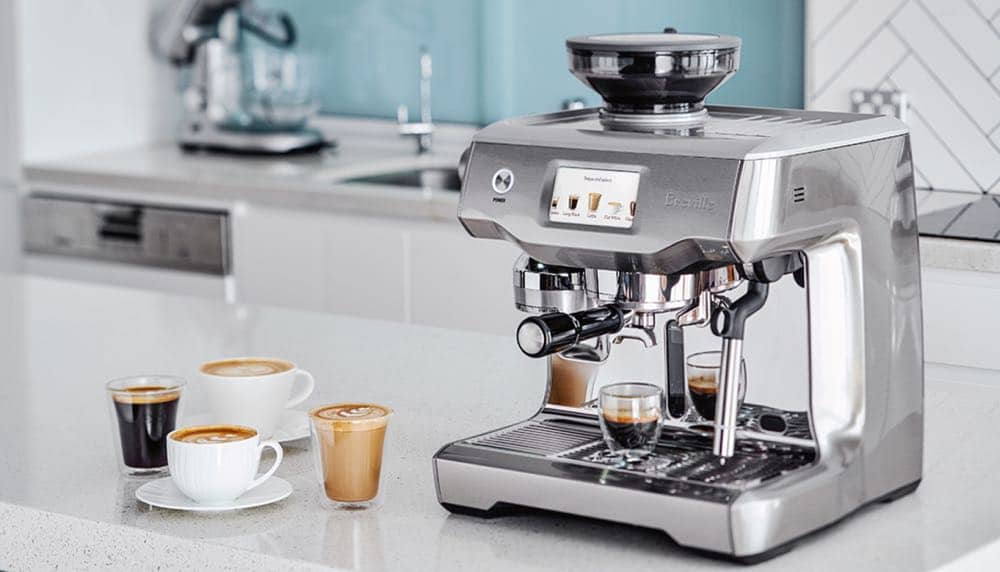 Type: Semi-Automatic Coffee Machine
Boiler: Dual Boiler
PID Temperature Control: Yes
Display: LCD
Height: 45.4 cm
Width: 39.2 cm
Depth: 37.3 cm
Weight: 16.9 kg
The Breville Oracle Touch is the coffee machine I've had the most hands-on experience with seeing as we chose it for the Boss Hunting office. I actually think it's so good that I think any discussions on the best home coffee machine in Australia would overlook this beast.
You can do pretty much everything you'd want with the Breville Oracle Touch. Short of thinking about moving into the more expensive world of a commercial-grade La Marzocco or Rocket, it's the best for your home, even if you have no idea what you're doing.
The super-automatic coffee machine takes care of all the coffee grinding, tamping, and heating for you. And it's consistent, so you get your ideal dose every time.
The only real thing you have to worry about handling yourself is deciding on the coffee strength and the texture worked up by the milk frother. Even if your brain is fried at 6 AM, good coffee from the Breville One Touch is just a matter of pressing lightly on a simple LED display.
The 280 g hopper on the top, however, is bulky and can make it tough to fit this brushed stainless steel body under shelving units.
Breville Oracle Touch Verdict
The Breville Oracle Touch is one of the easiest premium coffee machines to use, which makes it much more appealing to a wider variety of coffee drinkers. The milk frother can be a bit hard to get right at times, and you'd need to experiment with grind settings, but for $4,000 we'd say this is the best-value coffee machine on the market right now.
Check out our full Breville Oracle Touch review.
Highly customisable burr grinder
Beautiful, functional design
Very easy to use
Requires a lot of maintenance
Tall hopper makes it difficult to fit under shelves
---
3. Morning Capsule Coffee Machine – Best Capsule Coffee Machine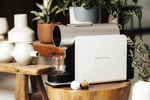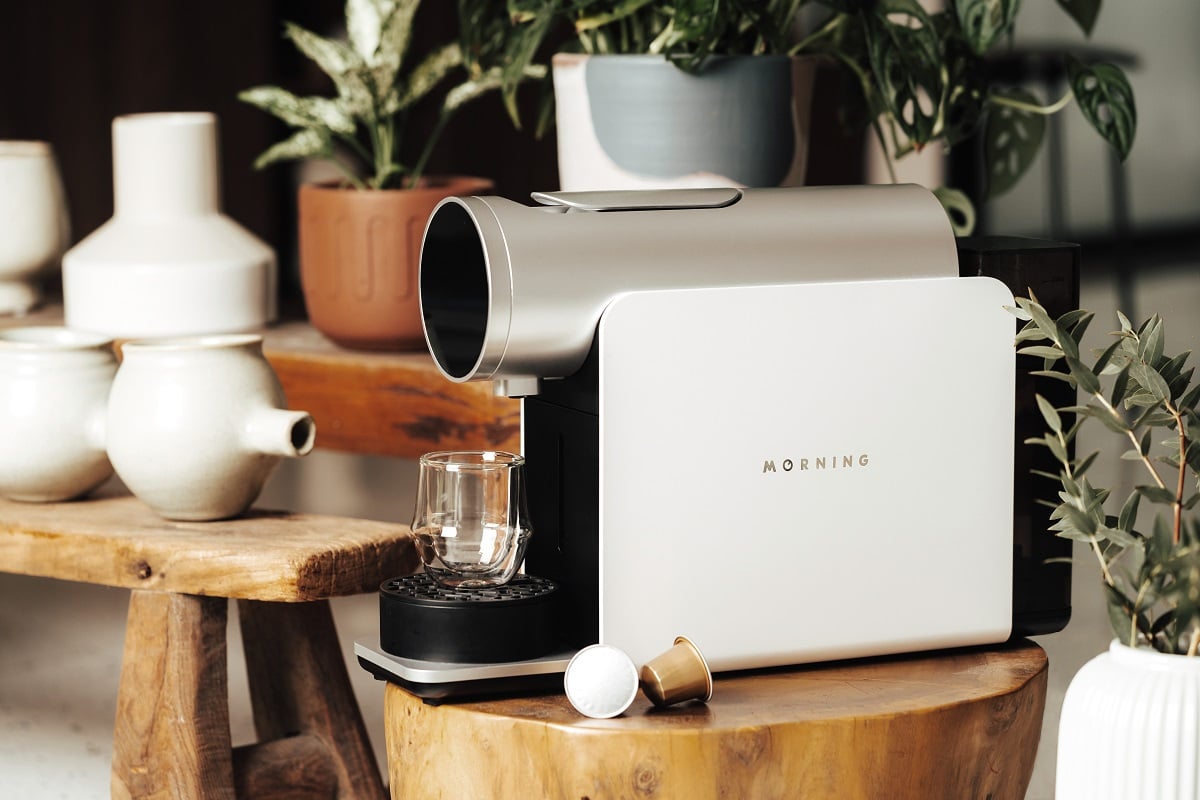 Type: Capsule
Boiler: Single Boiler
PID Temperature Control: Yes
Display: OLED
Height: 25.5 cm
Width: 10.2 cm
Depth: 40.2 cm
Weight: 4.5 kg
Relatively new to the scene, Morning is a Singapore-born brand with a significant point of difference. The brand's primary product, the Morning Capsule Coffee Machine is the world's first to use variable pressure profiles on coffee capsules.
While it's not going to have the same nuance as a fully automatic coffee machine, this is about as close as you can get to a machine that actually considers each capsule and automatically curates the process to maximise extraction and taste.
In terms of design, there is no coffee machine on the market right now that's more attractive. Consider it the Dyson of coffee makers, if you will, with a gorgeous OLED touchscreen and a rotating dial for navigating a menu of pre-set parameters.
The companion app is also quite well designed and intuitive, reiterating that Morning is more its own ecosystem of brewers around the world making their own capsules to showcase unique and distinctive brews
Calibrating how much the weight of the dose can take some work and you'd often need to recalibrate the details. Although the biggest appeal of the Morning Capsule Coffee Machine is that you can easily make such alterations, allowing more control over the output than any other capsule coffee machine can.
Morning Capsule Coffee Machine Verdict
A capsule coffee machine with a big difference. Morning is not only beautifully designed and appropriately modern, but it's compact and a consistent performer. The best part about it is that the ecosystem highlights a lot of small-batch coffee farms from around the world, so not only can you also use Nespresso pods, but you can use capsules from these farms which have been specifically designed to showcase different flavour profiles and nuances. Experimentation is the biggest reason to make the investment.
Attractive design
Morning ecosystem makes experimentation easier
Intuitive app
Pre-programmed recipes
Requires a separate milk frother
---
4. Rocket Porta Vita – Best Portable Coffee Machine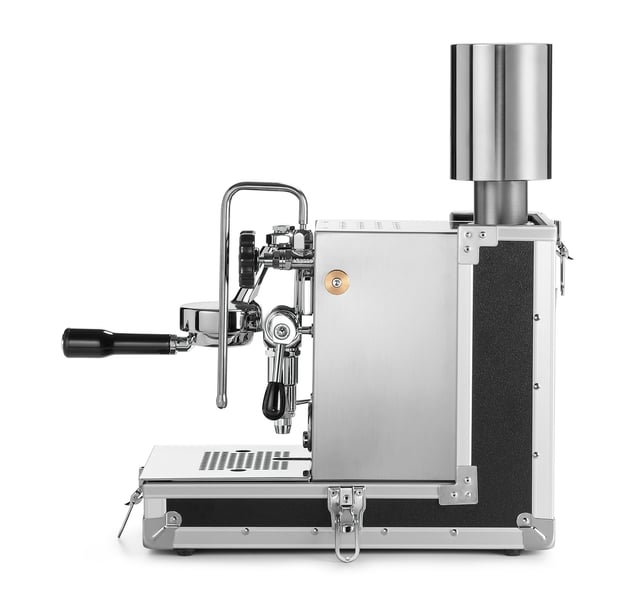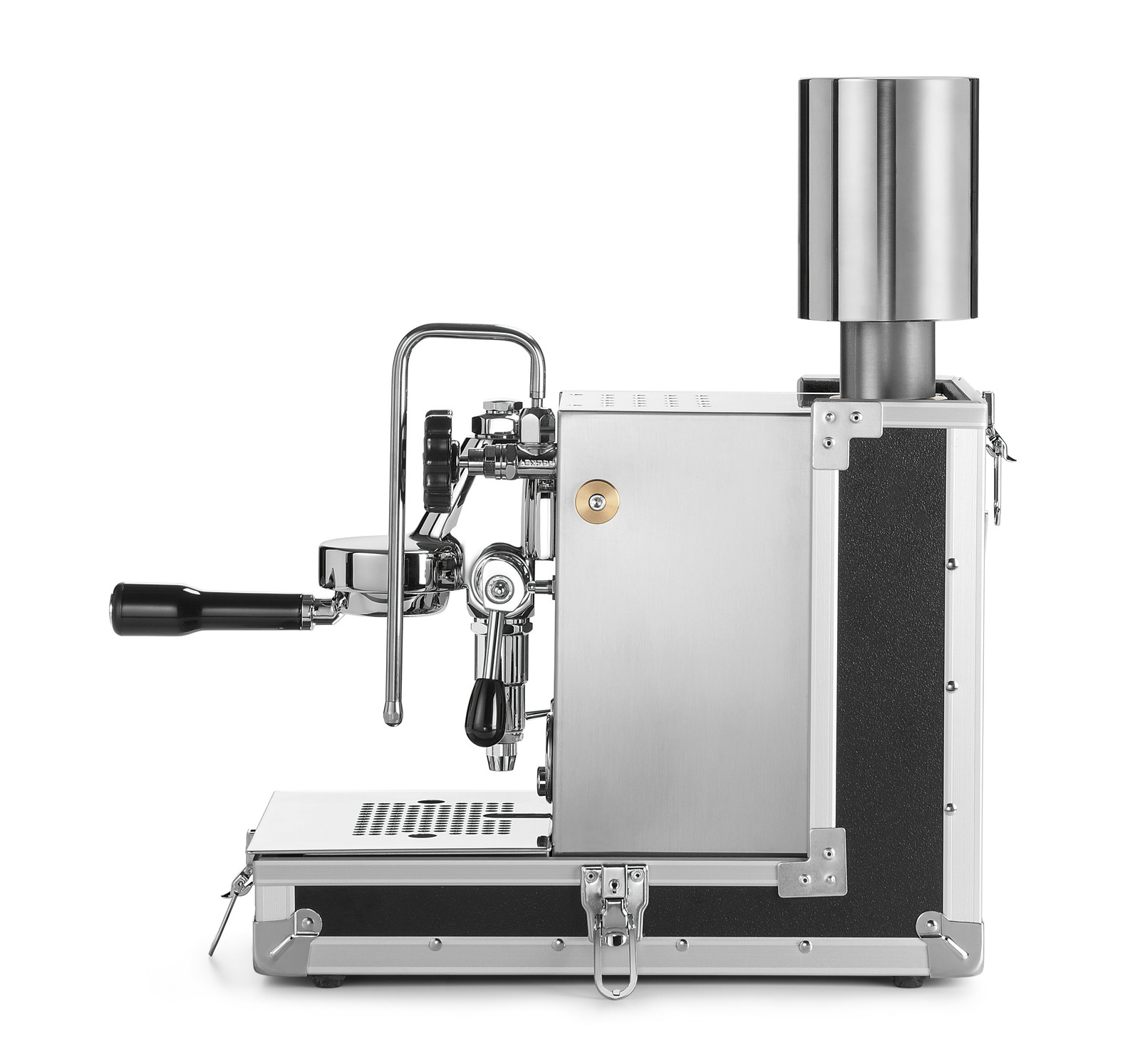 Type: Semi-Automatic Coffee Machine
Boiler: Dual Boiler
PID Temperature Control: Yes
Display: No
Height: 53.5 cm
Width: 20 cm
Depth: 40.5 cm
Weight: 29.7 kg
Portable coffee machines are becoming more common but few are as powerful and impressively designed as the Rocket Porta Via. When it was launched in 2019, the shapely device was the world's first truly portable espresso machine and has remained the best option for coffee drinkers who want to take their barista-quality brew anywhere.
Make a primo coffee at home, pop it in the boot, take it to the office, and treat the team to some real coffee. You've got options here; ones you simply wouldn't with other domestic espresso coffee machines.
Rocket's commercial-grade know-how is clearly expressed with the Rocket Porta Via, which features smaller details like a foam-padded slot for ceramic cups and necessary prosumer standards like a professional-grade bottomless portafilter, an external water reservoir and a tamper.
The downside? Well, you are looking at $4,299. And you'll only be able to get this one at select stockists (listed via The Espresso Company below). Although cost-per-use is quite low, seeing as you'll be able to layer on that aromatic barista-quality crema anywhere you want.
Rocket Porta Via Verdict
Rocket Porta Via is the best portable coffee machine for anyone who wants to take their espresso on the road. The impressive design is what helps this coffee machine stand about amongst the rest. Plus, there are enough features included so you have great control over your cup of coffee without needing to put in much effort.
Portable design
Dual boilers
professional-grade portafilter
Hard to find in Australia
---
6. Moccamaster Classic – Best For Pour-Over Coffee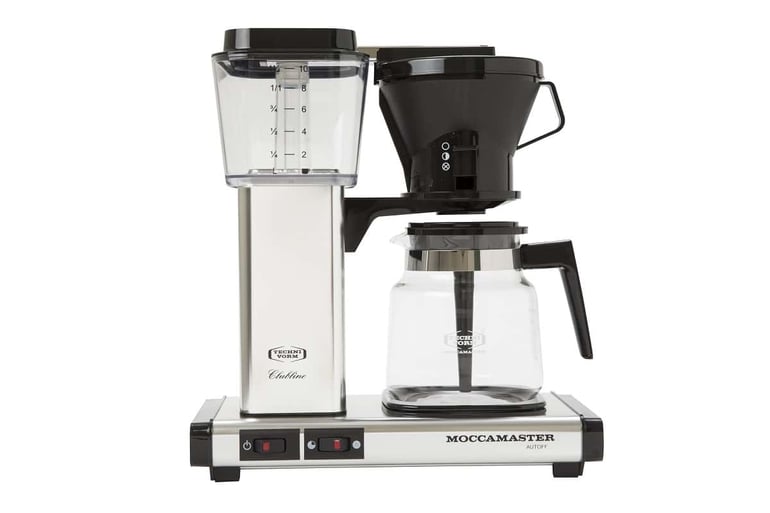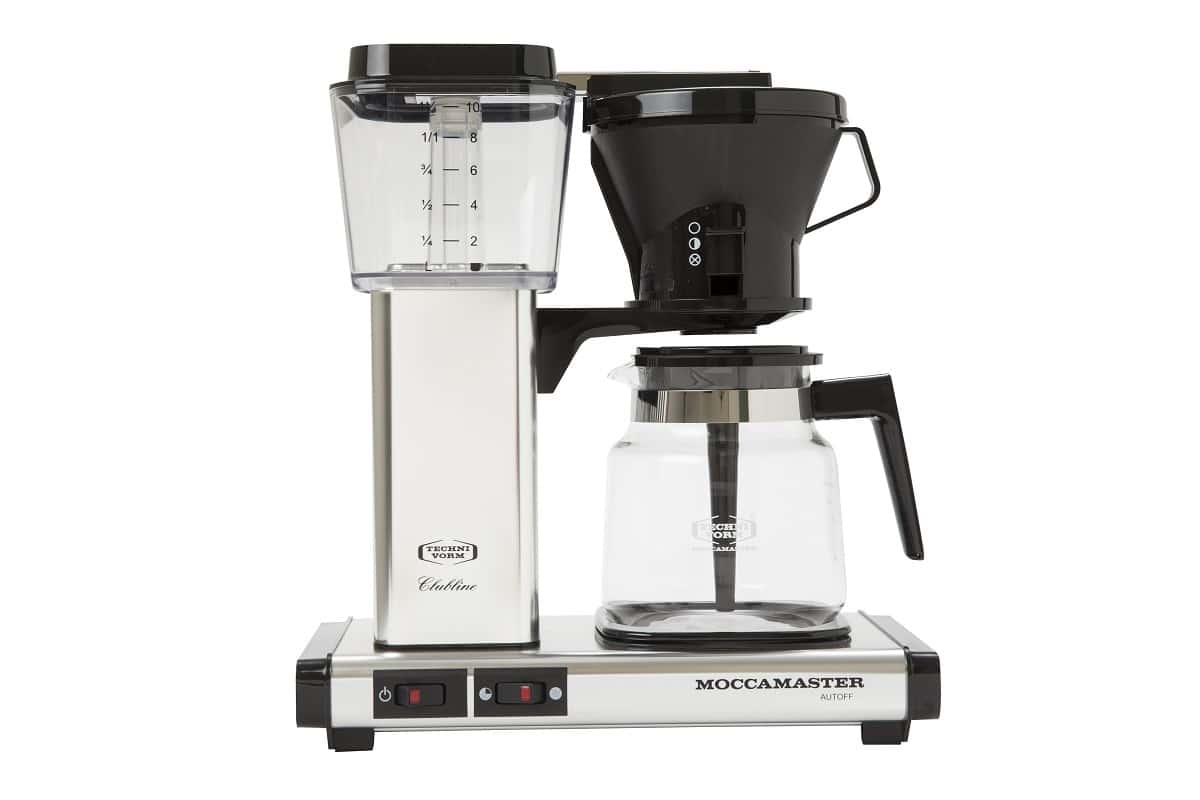 Type: Manual Coffee Machine
Boiler: No
PID Temperature Control: No
Display: No
Height: 35.5 cm
Width: 32.5 cm
Depth: 17 cm
Weight: 2.8 kg
First off, read our full guide to making pour-over coffee. As stated, brewing pour-over coffee is an art form and one of the purest ways of making a great cup of coffee where you can control a number of parameters.
And if making a great pour-over coffee is right up your alley, I think there's no machine more appropriate than the Moccamaster Classic. You'll need a lot of patience and skill to pull it off, but this particular machine makes things much easier with its precision heavy-duty copper boiler and generous 1.25-litre carafe, which can fill up in just under six minutes.
The Moccamaster Classic is fitted with a 9-hole spray head so it can more evenly distribute liquid over the ground coffee, meaning that what ends up in that carafe is going to be much closer to what the grower intended. Pair this up with some top-quality Ethiopian coffee and your daytime routine will forever be god-tier.
Moccamaster Classic Verdict
Even extraction is a common issue with any coffee machine – even the best coffee machines out there. The Moccamaster Classic's main design feature attempts to address this issue, including a 9-hole spray head that ideally should more efficiently express the flavour of the beans. For those who prefer pour-over coffee, this machine is very much worth the sub-$500 investment.
Best coffee machine for pour-over
Even distribution thanks to a 9-hole spray
1.25-litre carafe
Copper boiler balances temperature well
Optimised for big brews and fast extraction so less versatility
---
7. Breville Creatista Plus – Best For Nespresso Pods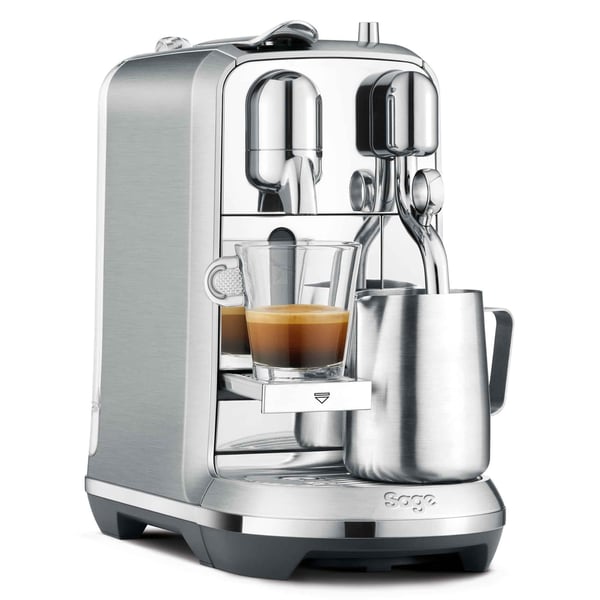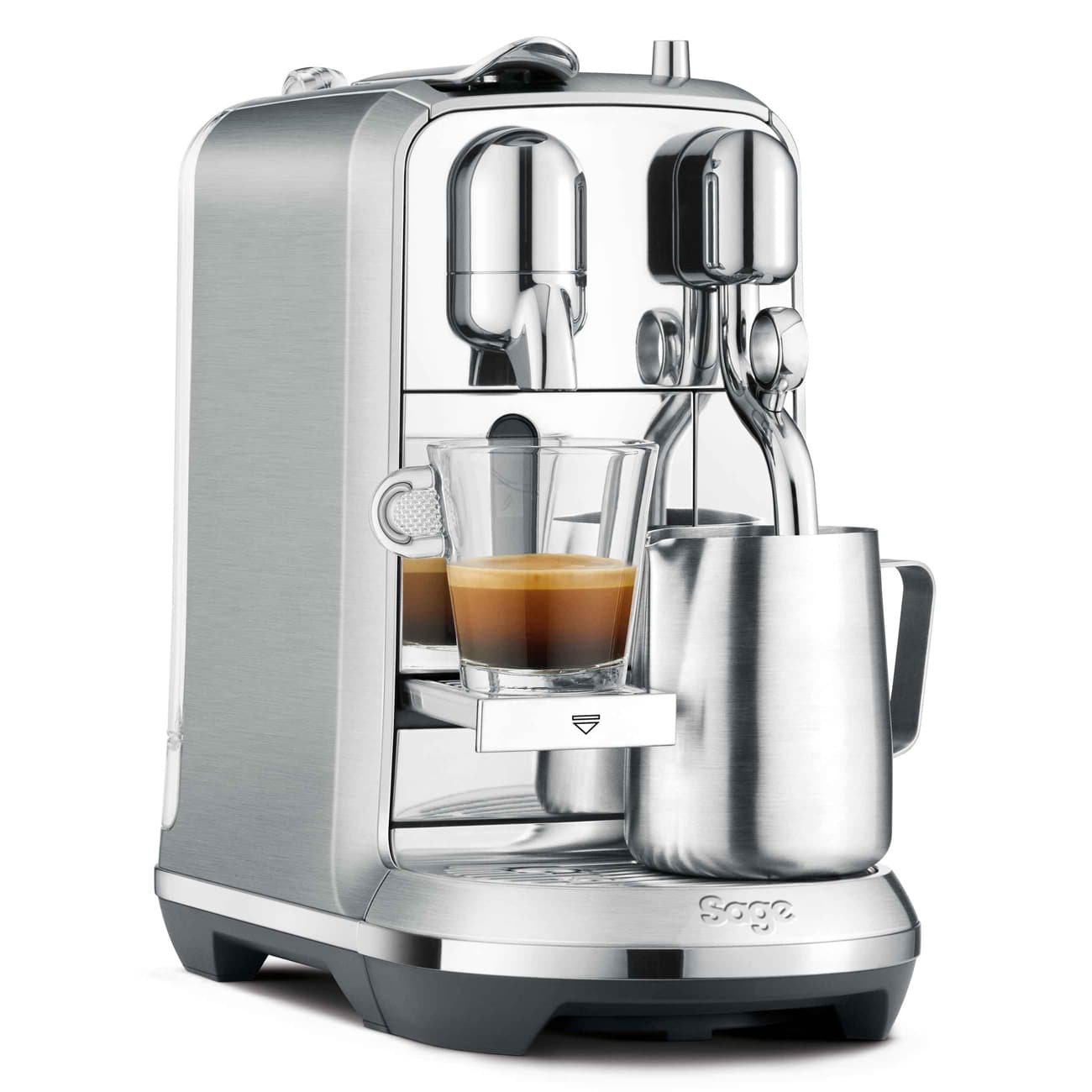 Type: Capsule Coffee Machine
Boiler: Dual Boiler
PID Temperature Control: Yes
Display: No
Height: 16.1 cm
Width: 12.2 cm
Depth: 5.5 cm
Weight: 5.2 kg
Nespresso pod machines are never going to be perfect, and will almost never satisfy a coffee connoisseur used to more control than a Nespresso pod can give. There are just too many nuances that go into brewing a perfect cup of coffee, so popping in a Nespresso pod and expecting top quality in a minute or two is unfair and unrealistic.
If you've got some Nespresso pods lying around, the closest thing to realising those high standards is going to come from the Breville Creatista Plus. It has eight texture levels to choose from and 11 milk temperature settings so you have better control over the result.
The main reason to buy this pod coffee machine is that it's the only one on the market that simultaneously forths milk and brews coffee.
Breville Creatista Plus Verdict
The selling point here is the advanced micro foam milk frothing technology, placing the Breville Creatisa Plus heads and tails above most other coffee pod machines you'd find on the market. Some people just prefer the simplicity of a pod machine, so you might as well go for one of the better ones out there. Especially since most of the other ones can't froth milk simultaneously.
Great milk frothing technology
Very expensive for a capsule machine
Boring design
---
8. De'Longhi La Specialista Maestro – Best Value Coffee Machine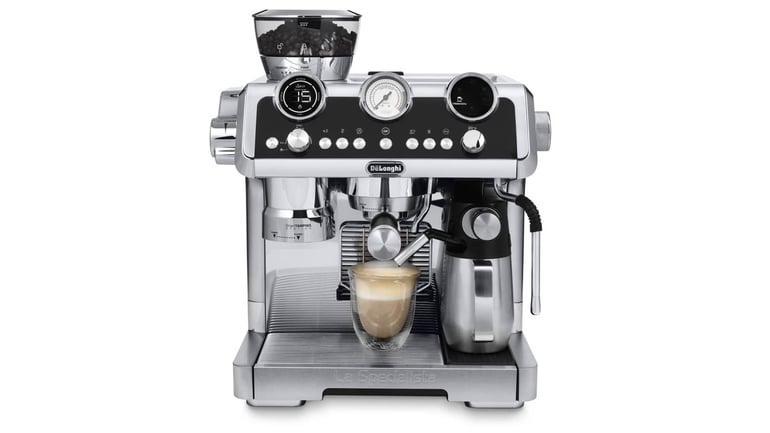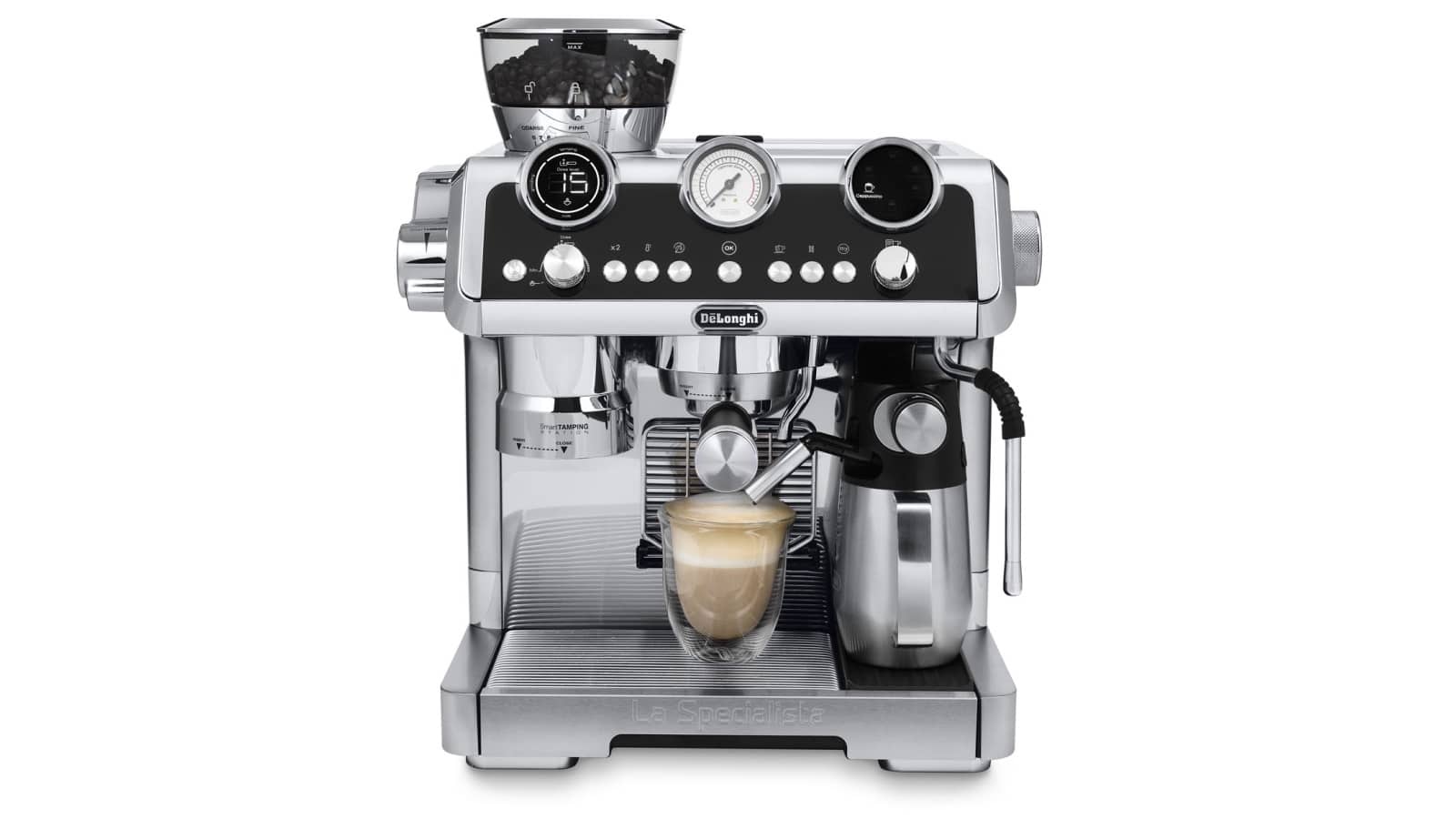 Type: Semi Automatic Coffee Machine
Boiler: Dual Boiler
PID Temperature Control: Yes
Display: No
Height: 46.5 cm
Width: 41.9 cm
Depth: 36.8 cm
Weight: 16 kg
The very popular De'Longhi La Specialist Maestro represents the best balance between the company's well-calibrated technologies, and a reasonable price point. The design is incredible, but those numerous features are what really help take this high-end machine to the next level.
Like some of the other coffee machines on this list, the De'Longhi La Specialista Maestro is able to heat milk separately and then switch to making coffee thanks to a dual heating system using the included steam wand.
The feature-rich coffee machine also has De'Longhi's proprietary Sensor Grinding Technology, a Smart Tamping Station, and Active Press Control with up to 19 bar pump pressure.
De'longhi La Specialista Maestro Verdict
De'Longhi has proved its worth with the La Specialista Maestro. While it's quite bulky, this device can pump out an impressive coffee consistently. I'd say this is one of the better options on this entire list, especially if you want a high-end coffee machine that won't break the bank.
Smart tamping station works well
Huge water tank
Capable of up to 19 bar pressure
Effective temperature control
Requires a lot of cleaning
---
9. Gaggia Classic Pro Coffee Machine – Best For Beginners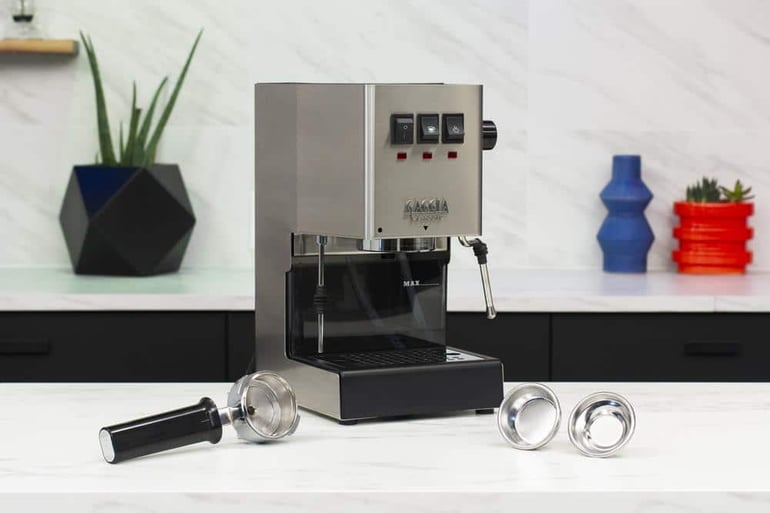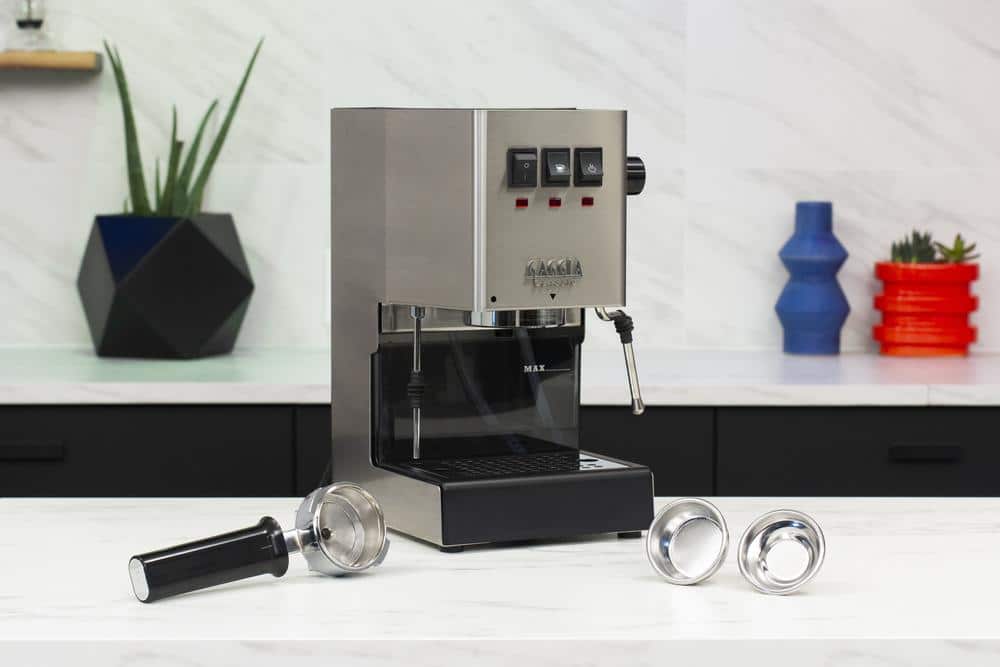 Type: Semi Automatic Coffee Machine
Boiler: Single Boiler
PID Temperature Control: Yes
Display: No
Height: 38 cm
Width: 23 cm
Depth: 24 cm
Weight: 7.25 kg
Widely considered to be the best entry point to home coffee, the Gaggia Classic Pro Coffee Machine is one of the more balanced choices on this list of the best coffee machines you can buy. It weighs on at just 7.25kg, is capable of 15 bar pressure, and has extra basket sizes for better grind size, hence better extraction and a richer crema with deeper taste.
Consider it a beginner friendly espresso maker as far as automatic coffee machines are concerned, so it's both affordable and ticks all the boxes in ease of use. The kicker here is that it only has a single boiler, so you aren't able to align your brew and milk frothing.
Gaggia Classic Pro Coffee Machine Verdict –
The Gaggia Classic Pro Coffee Machine is an automatic coffee machine that looks fairly plain, but gets over by including extra basket sizes for better grind size. The balance between price and function is the most attractive thing about this coffee machine. Then you've got the straightforward blocky design, which is much easier to fit into smaller spaces than most other coffee machines that you can buy in Australia.
Capable of up to 15 bar pressure
Extra basket sizes
Very affordable for an automatic coffee machine
---
10. Rancilio Silvia V6 Coffee Machine – Best For Small Kitchens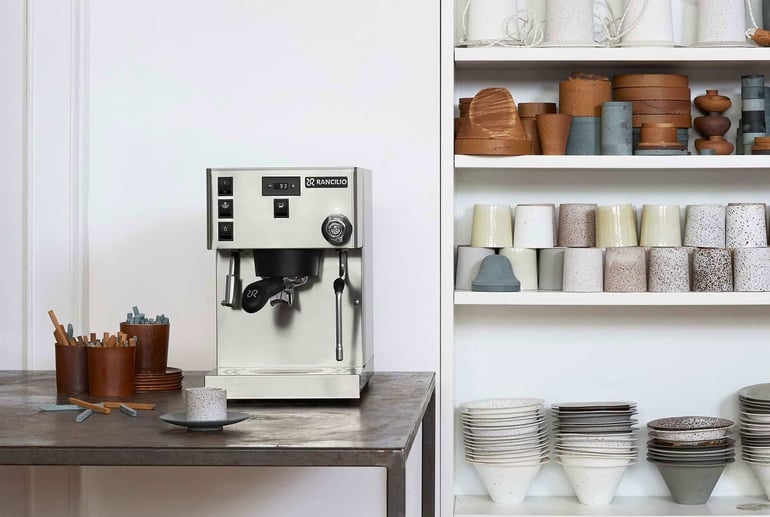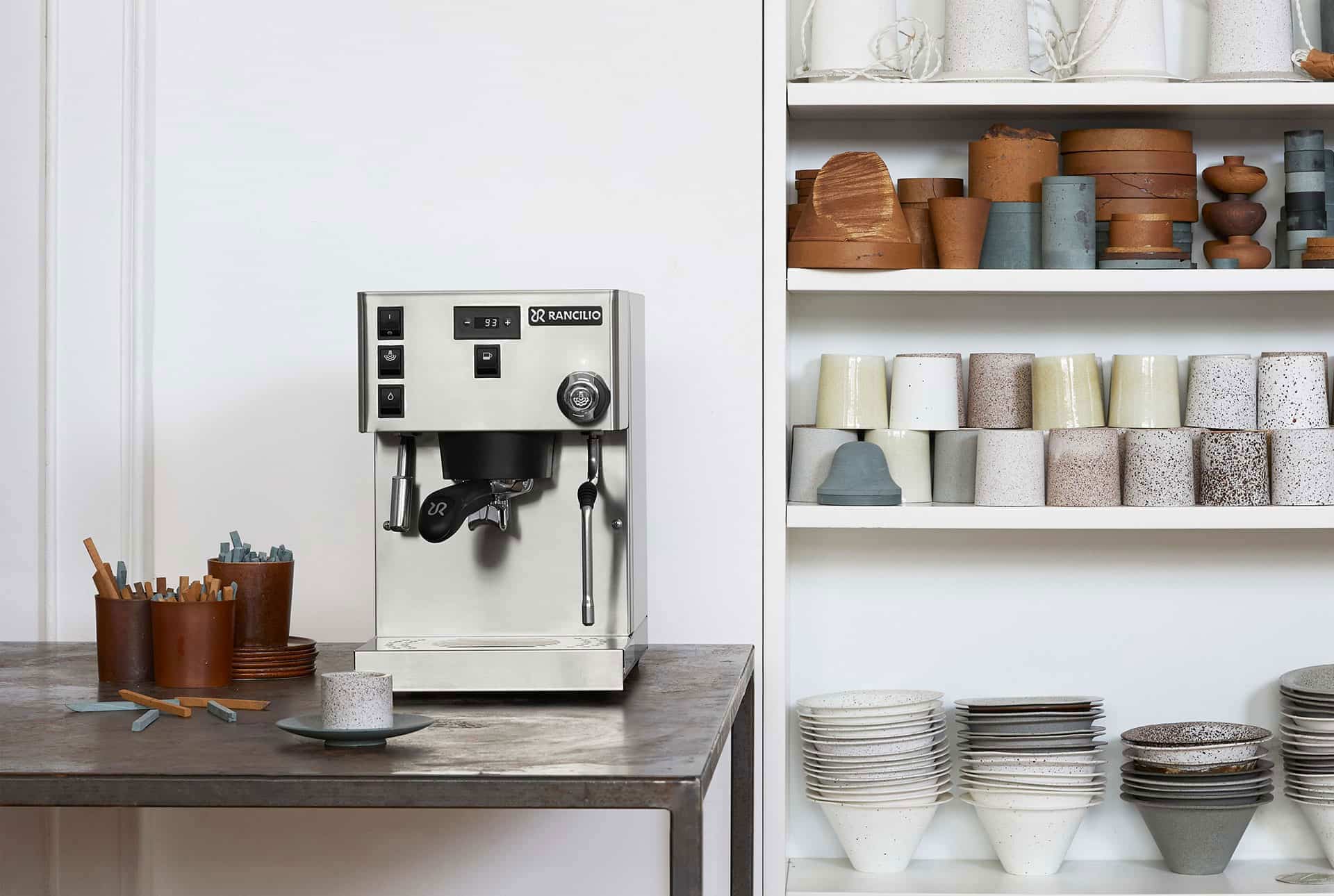 Type: Semi Automatic Coffee Machine
Boiler: Dual Boiler
PID Temperature Control: Yes
Display: No
Height: 34 cm
Width: 23.5 cm
Depth: 29 cm
Weight: 14 kg
If you want a compact Espresso machine that's easy to move around, I think there that fit the bill as perfectly as the Rancilio Silvia V6. Clearly designed with prosumer machines in mind, you've got a commercial-grade 58mm portafilter and tamper, and a 300ml Brass boiler backed by a 2L water tank. For the price, a little over $1,000, the machine represents incredible value.
What I like most about the machine, however, is it's design. The straightforward blocky build makes it much easier to fit into smaller spaces.
And yes, you'll find that with a few other coffee machines on this list, but the V6 also offers a sufficient amount of control and includes enough clever features that should satisfy even the hardiest of coffee enthusiasts.
Rancilio Silvia V6 Coffee Machine Verdict
The Rancilio Silvia V6 Coffee Machine is incredibly easy to clean and maintain, which is one of the most attractive things about this particular device. The size also makes it much easier to fit this into smaller spaces.
Huge 2-litre water tank
Reasonably priced
Great, slim design
Easy to clean
Not a good choice for beginners
---
11. La Pavoni Europiccola EL – Best Manual Machine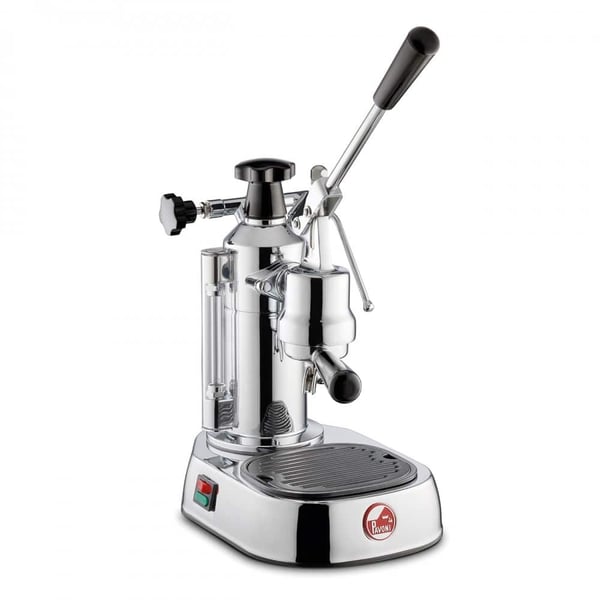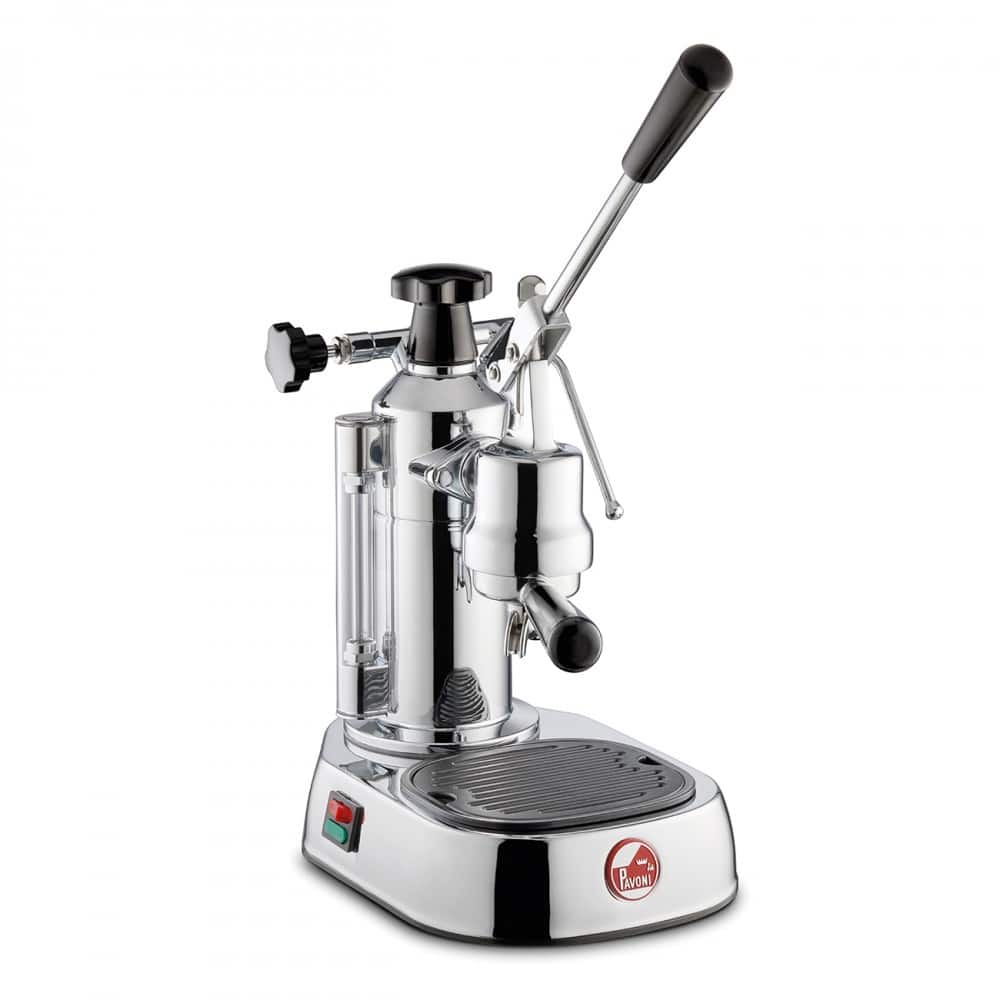 Type: Manual Coffee Machine
Boiler: Dual Boiler
PID Temperature Control: Yes
Display: No
Height: 32 cm
Width: 20 cm
Depth: 29 cm
Weight: 6 kg
If complete manual control over extraction is what you're after, you want a level manual coffee machine like the Europiccola EL.
I'm not one of those coffee snobs, so leaving some of the parameters to technology is fine for me. However, I know some regular drinkers won't accept anything less than complete control over the brew. For that, I think La Pavoni has really hit the nail on the head in terms of design and function.
With this slim, beautifully designed kit, you are the one who can control extraction time, negating the impact of a poor tamp or some mineral build up in the portafilter. What's more is that it'll steam milk perfectly as well, with a 2-hole steam tip so you can finish your milk coffee with precision.
Although the main draw of this manual coffee machine is the lever itself. You lift it to raise a piston and allow water pressure to infuse the coffee in the filter holder, and then you lower it to force that water through the coffee and into the cup. The speed in which you do this, and pressure, gives you plenty of variables to play around so you can zone in on your tastes with much more accuracy.
La Pavoni Europiccola EL Verdict
If you want a portable manual coffee machine, the La Pavoni Europiccola EL is a great choice. The fussier coffee drinkers amongst us would likely prefer this to a fully automatic coffee machine because it allows you to better control over the result with a well-designed lever that offers great control over extraction.
2-hole milk frother
Easy to use with a vintage feel
Not a good idea for beginners
---
12. Jura Giga 6 Automatic Coffee Machine – Best For Experts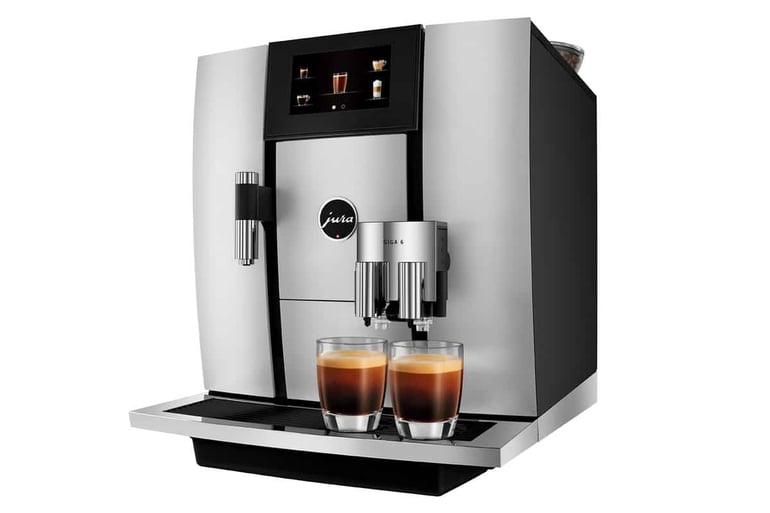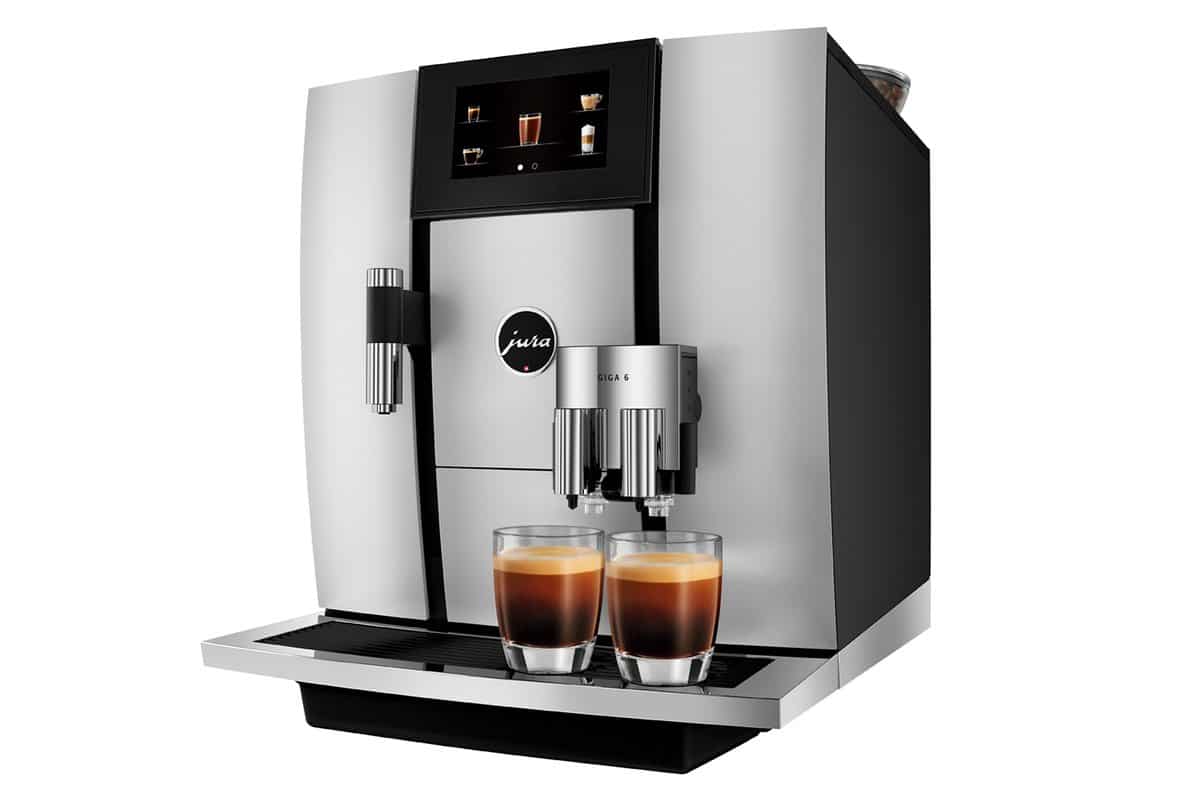 Type: Semi-Automatic Coffee Machine
Boiler: Dual Boiler
PID Temperature Control: Yes
Display: LED
Height: 41.5 cm
Width: 32 cm
Depth: 49.7 cm
Weight: 18 kg
Not only do some of the best watches come from Switzerland, but the country has also been known to pump out coffee machines that rival any Italian-made bean juicer. The brand behind this has always been Jura, and the Jura Giga 6 Automatic Coffee Machine is easily one of their best, and most popular, models to date.
The machine uses machine-learning to remember your preferences, streamlining and individualizing the morning routine. This is complemented by the option of no less than 28 different styles of coffee (ristretto, espresso, latte macchiato, cappuccino, cortado, flat white, Americano, and more), easily programmed and accessible via a 4.3-inch LED touchscreen.
The double thermolock and pump system means the Jura Giga 6 is able to whip up a morning coffee and texture milk at the same time to ensure consistency and convenience. The integrated milk frother will even clean itself automatically after use, so the machine is ready for you the next morning, without any impurities that'll affect the end result.
Jura Giga 6 Verdict
The Jura Giga 6 is one of the most popular coffee machines in the world for good reason. But at just over $6,000, you'll only want to consider this option if you really know what you're doing. It's harder to use than a lot of similar coffee machines and sometimes the steep learning curve can be too frustrating for beginners.
Huge list of pre-programmed recipes
Milk frother cleans itself
Quite expensive
Steep learning curve
---
13. Sunbeam Mini Barista Espresso Machine – Best For Budget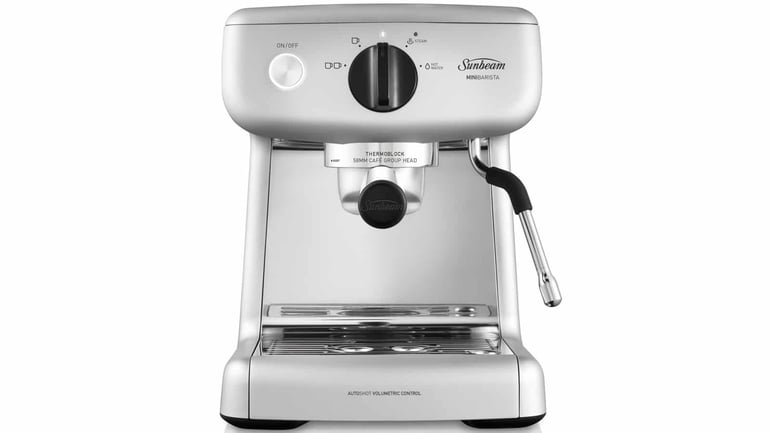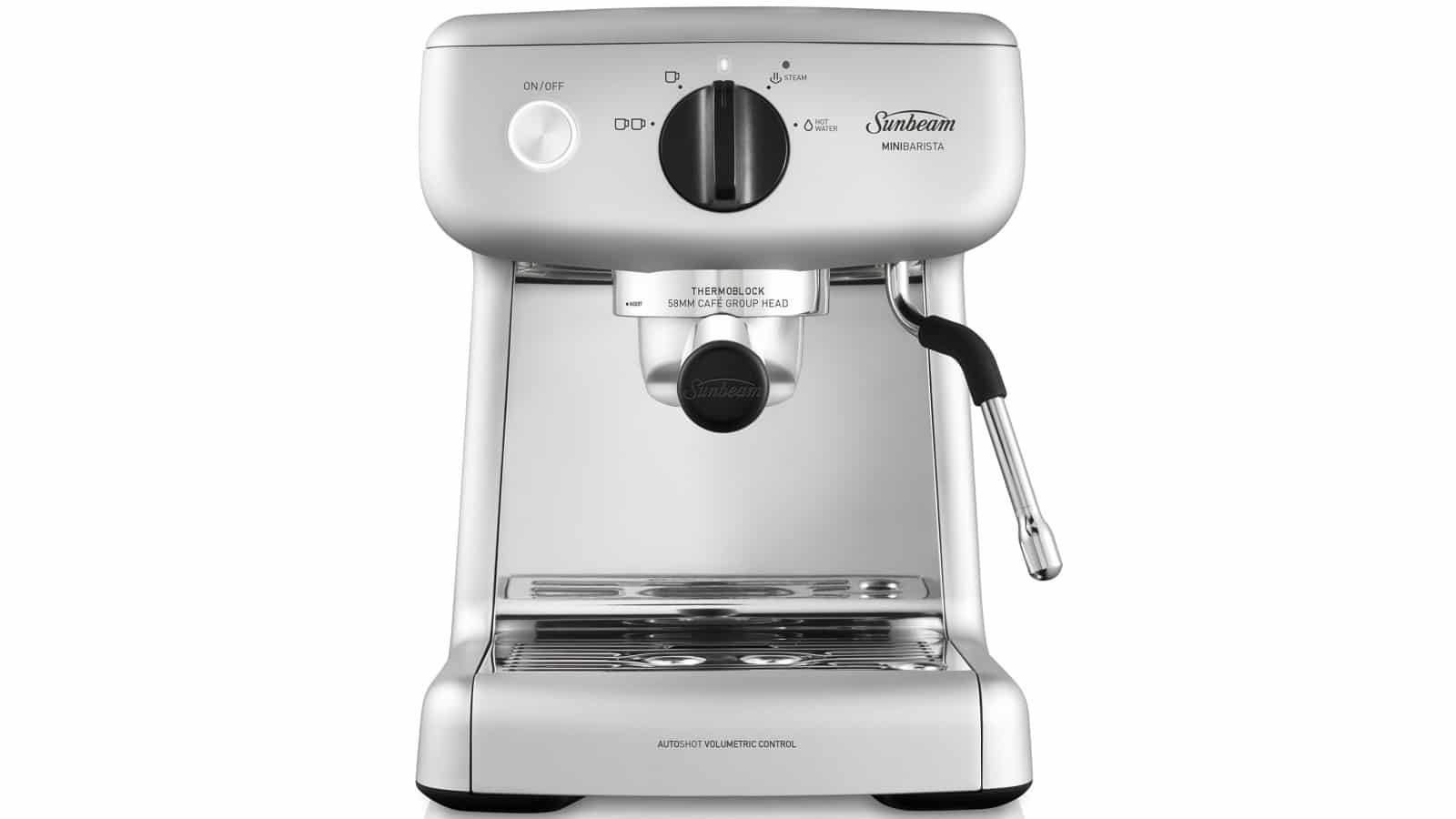 Type: Semi-Automatic Coffee Machine
Boiler: Dual Boiler
PID Temperature Control: Yes
Display: No
Height: 33 cm
Width: 29.5 cm
Depth: 25 cm
Weight: 7.1 kg
Not willing to fork out thousands in the name of a good homebrew coffee? You need something a little lighter on the wallet that still represents good value for money.
For most serious coffee lovers, that'll be the Sunbeam Mini Barista Espresso Machine. It's entry level, and is small fries if you compare it to some of the pricier manual coffee machines and automatic espresso coffee machines on this list, but it will get the job done very well.
Prosumer features including Auto Shot Volumetric Control, letting you pre-set single and double shots of espresso, a commercial-grade 58mm group head for the portafilter, a 15 bar Italian designed pump, and a wand for dialling in that micro-foam milk.
That's an impressive feature set for something that costs just a few hundred dollars. Hence, my recommendation for those shopping for a coffee machine in Australia on a budget.
Sunbeam Mini Barista Espresso Machine Verdict
The Sunbeam Mini Barista Espresso Machine is easily one of the best options if you're looking for a budget coffee machine that can still pump out some impressive cups of coffee each morning. This small device does everything quite well and it's more than capable enough to produce a satisfying milk coffee.
Great for beginners
Capable of up to 15 bar
Very affordable
---
Types Of Coffee Machines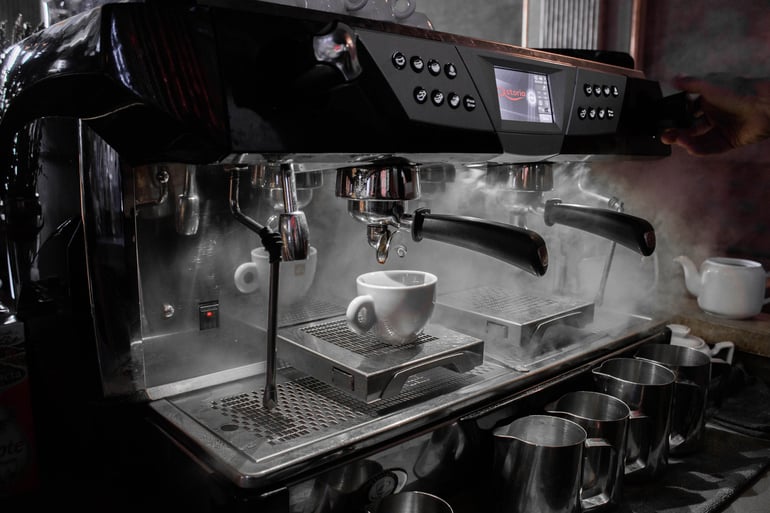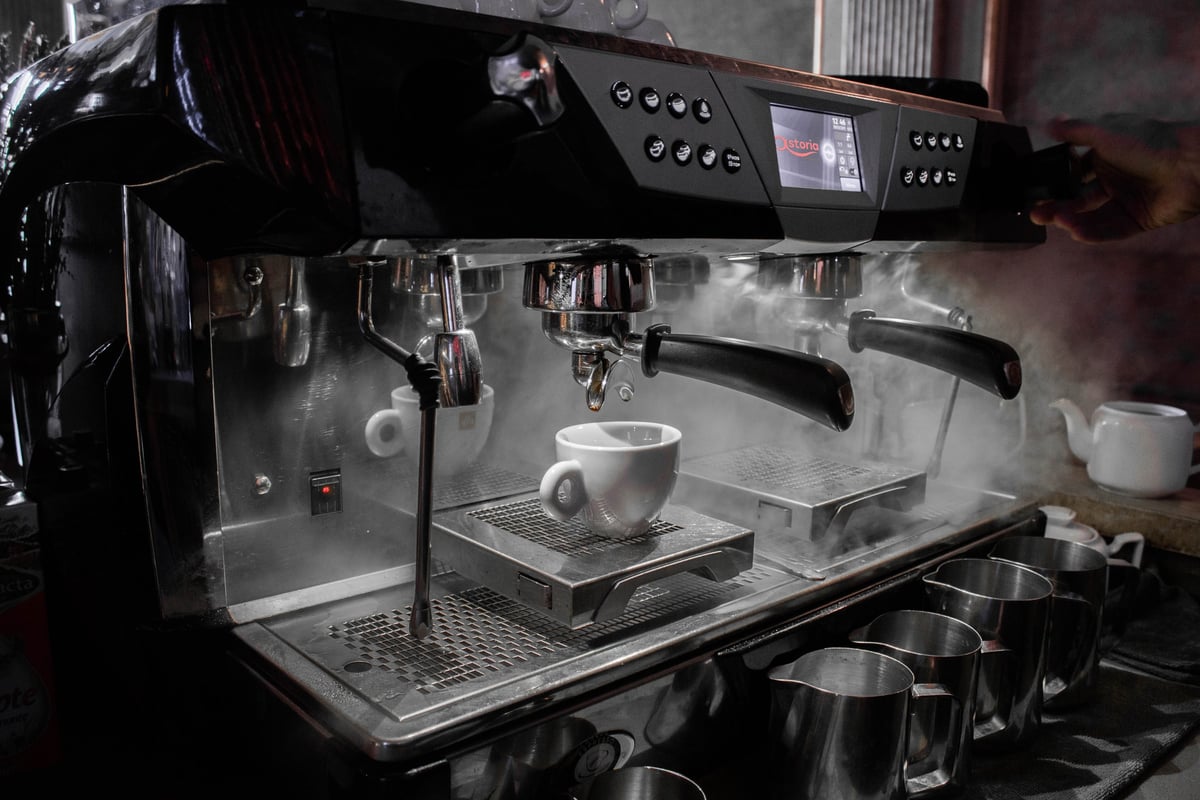 You're first going to want to decide what type of coffee machine you want. It's not an easy choice; there are more than a dozen types of coffee machines out there, for a variety of tastes.
Do you want a manual coffee machine? An automatic coffee machine? Fully automatic coffee machines or semi automatic espresso machines? Are you thinking more capsule machines?
These are the first questions you should be asking yourself before browsing the ridiculously overcrowded market of home coffee machines or home espresso machines. If you want a good espresso coffee machine that'll last you a long time, you'll need to put in the hard yards and do some research before you can start using fresh coffee beans, freshly ground coffee, or coffee pods to give you great tasting coffee at home.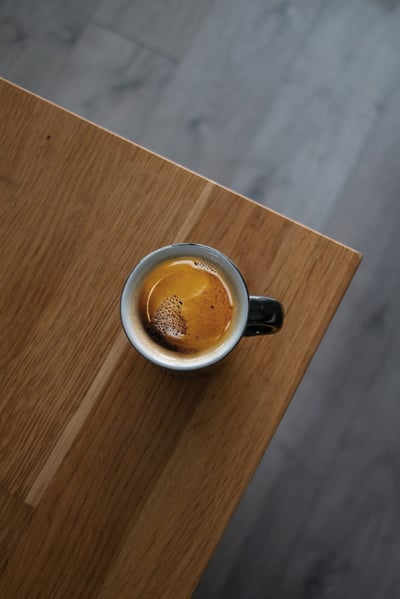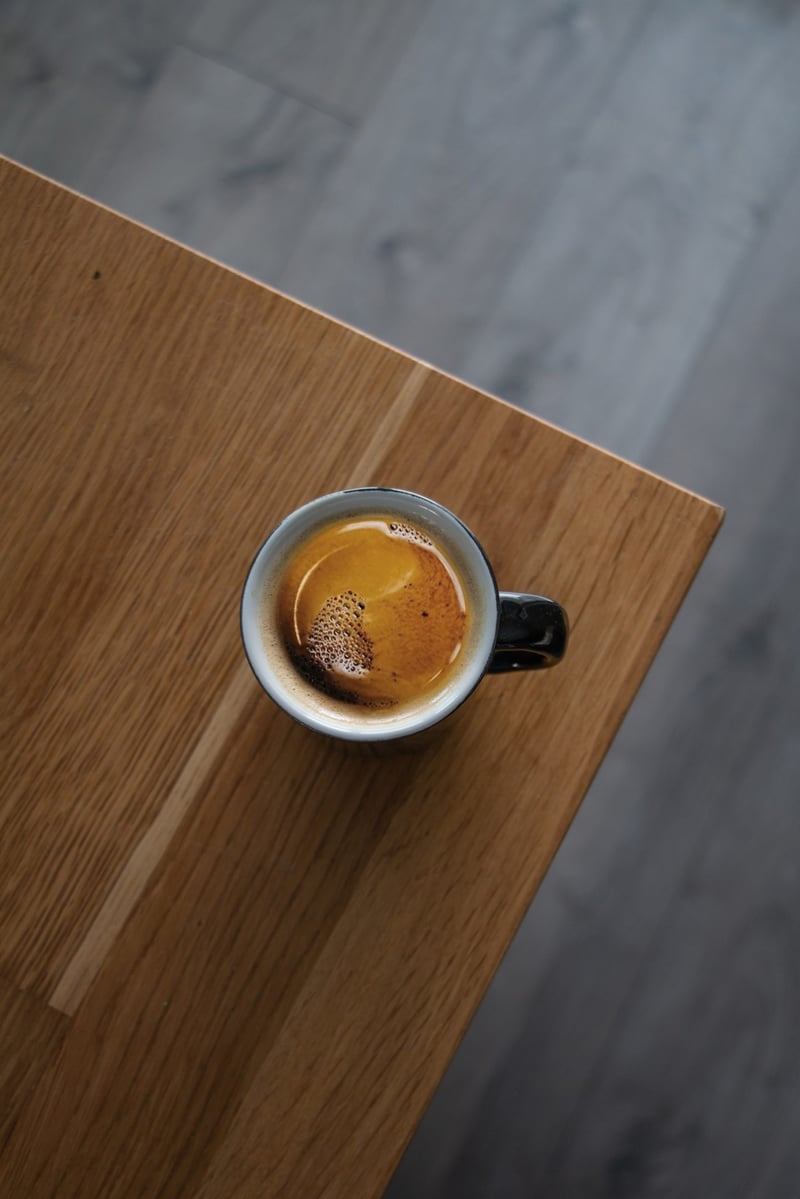 If you're not too fussed on smaller details, and you just want fast, consistent coffee, you're most likely going to join the majority and go for a pod or capsule coffee machine. Better yet, an automatic espresso machine.
If you'd rather be able to dial in those little nuances, a drip filter coffee machine, or a pour-over coffee maker, is your bag.
But I think semi-automatic is usually the way to go as this category of coffee machines represents the best balance. You'll typically find that both beginners and experts go straight for a semi-automatic, which takes care of the more complex elements of a cup of coffee while still offering a great deal of control over the brew.
---
What To Look For In A Coffee Machine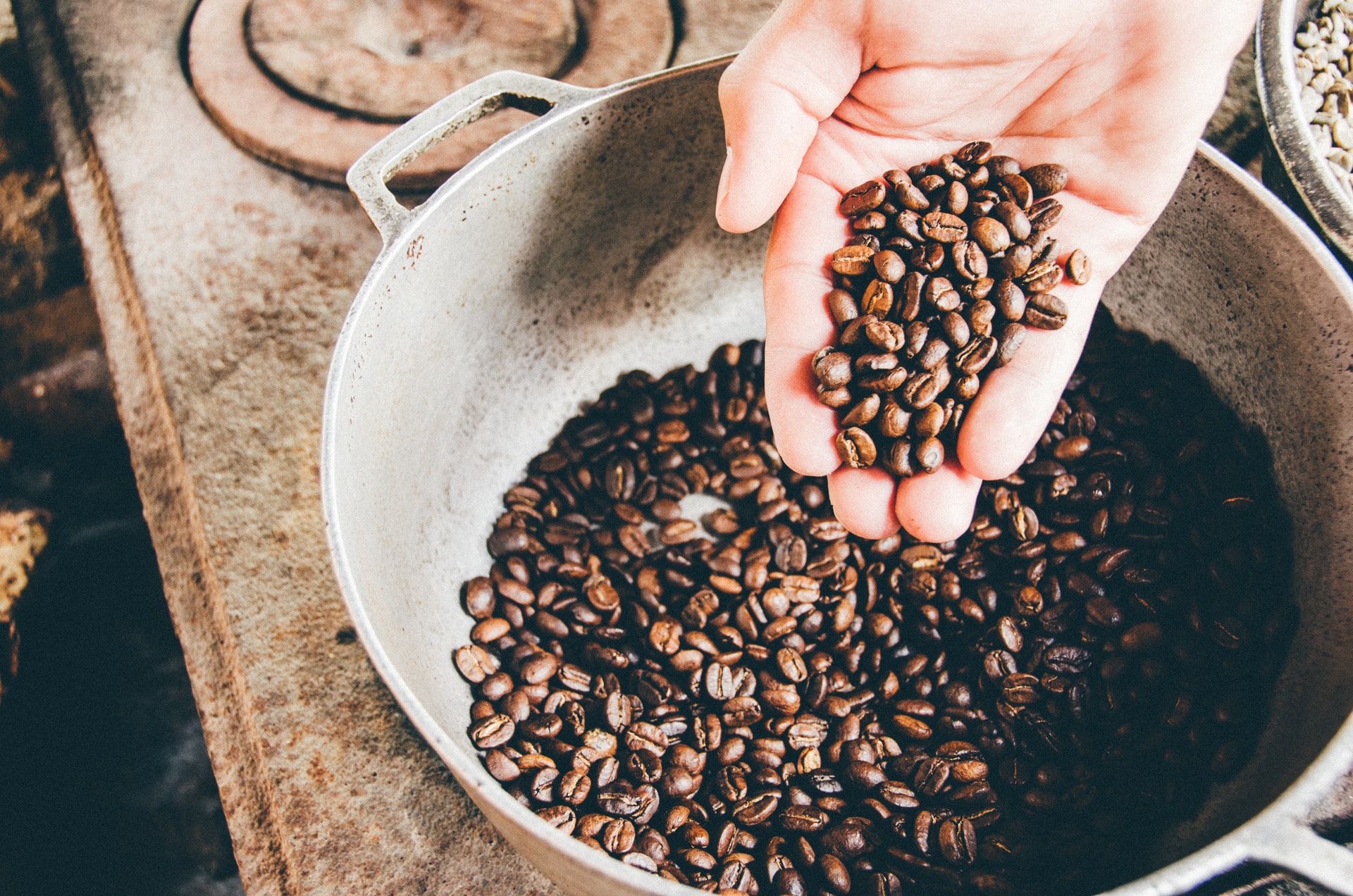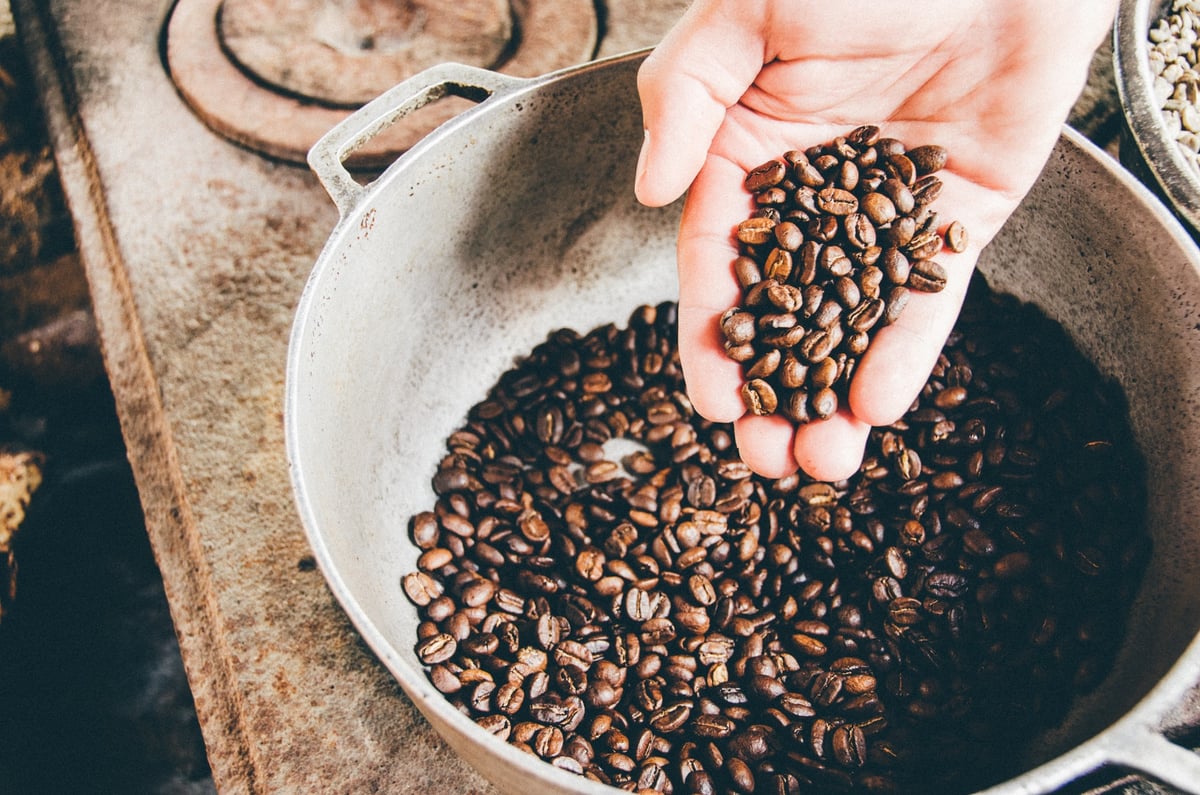 What you're looking for in a coffee machine is entirely dependent on your preferences, but there are a few features to keep in mind if you want value for money, and want to zone in on the machines coffee drinkers love the most.
These are the five top features of a good coffee machine that you should look out for if you're going for anything but a capsule coffee machine.
Dual Boilers
Ideally, you want a coffee machine with two boilers so you can brew coffee and steam milk at the same time. The main advantage of this is freeing up resources so you can have boiler dedicated just to brewing coffee, allowing the machine to better stabilise temperature. Temperature is one of the most important factors in any brew.
PID Temperature Control
A built-in digital temperature controller will always result in better coffee. When it comes to a coffee machine, the main thing you want is consistency. Even if the brew wouldn't qualify as a barista-made coffee, as long as you're satisfied and you know what you're getting each day, the investment is sound. Just set the desired temperature and technology will do the rest.
Rotary Pump
There are two types of pumps: rotary and vibration. Vibration pumps are more common but can be quite loud and annoying. A rotary pump, on the other hand, sounds smoother and is usually reserved for higher-end machines.
Bar Pressure
Pay attention to bar pressure when shopping around for a coffee machine. This indicates the speed at which hot water is forced through the coffee, which determines extraction. Ideally, you want a15 bar pressure but the better option is 19 bars.
Dimensions & Weight
You also want to consider the dimensions and weight of a coffee machine before you buy it. You won't want a hulking mass taking up precious bench space if you don't have a sizable kitchen. This will also depend on your lifestyle and how you'll be using the coffee machine. For example, if you want a coffee machine that you can take to a picnic, you're not going to want something heavy and overly complicated.
---
How We Chose This List Of Best Coffee Machines
Boss Hunting is lucky enough to be able to go hands-on with many coffee machines throughout the year, all of which have been tried and tested by our office's most enthusiastic coffee drinkers. We like to keep things simple and imagine what the average coffee drinker would think of each machine and its varying results.
We also consider the features of a new coffee machine and balance this up against the price tag to ascertain some sort of value. Will this coffee machine pay for itself faster? Or will it only suffice sometimes, leaving you running for your local cafe most days of the week?
The above is the most important consideration for us. You want a good coffee machine that satisfies you enough to keep you away from your local cafe each day. This way, the coffee machine ends up paying for itself and actually puts money back into your pocket eventually.
To read more on how we put together buyer's guides like this please read our editorial policy.
---
Found this coffee machine buyer's guide helpful? Check out some of our other round-ups:
---
Frequently Asked Questions
What is the best coffee machine in 2023?
Some of the best reviewed coffee machines in 2023 are the Gaggia Classic Pro Coffee Machine, La Marzocco GS3 MP and Breville Oracle Touch.
What is a good affordable coffee machine?
A great espresso machine for those on a budget is the Sunbeam Mini Barista Espresso Machine.
What are the best coffee pod machines?
If you want a great coffee machine for your Nespresso pods the best choice is Breville Creatista Plus.
What's the best Breville coffee machine?
The best Breville coffee machine is the Breville Oracle Touch.