Renowned US chef and founder of fast-food chain Eggslut, Alvin Cailan, is – by way of proxy – helming a new pop-up burger restaurant in the inner-city Sydney suburb of Potts Point. Aside from Alvin Cailan being involved, a themed burger joint wouldn't be anything out of the ordinary in a burger-obsessed city like Sydney, except for one twist: the venue, dubbed Iconic Burger, is entirely made up of burgers inspired by popular culture moments like a piece of dialogue in Pulp Fiction (you know which one), and a certain clown-themed restaurant from The Simpsons.
The concept is simple. Alvin Cailan commands the kitchen from afar (because of international border restrictions) while Chef's Kitchen founder Charles "Madman" Curnow is his boots-on-the-ground burger chef. Although Cailan isn't able to come down under and flip patties in person, both are working together to fill out a modest menu of burgers complemented by some sides like shoestring fries and Jarritos soft drinks.
Up for order are just four burgers, each built as direct tributes to an iconic TV show or film from the past 30 years. Headlining is the obvious Quentin Tarantino homage, translating Samuel L. Jackson's burger-laced rant from Pulp Fiction by recreating The Royale with an Angus beef patty flanked by double American cheese, diced white onion, pickles, Golden State mustard, and mayo on a seeded milk bun. Next up is a trip to New Mexico with a Breaking Bad-inspired fried chicken burger with American cheddar and serrano pepper slaw on a seed milk bun.
---
---
The references roll on, and get a bit more abstract, with a Spongebob Squarpants homage: the Krabby Patty, with an Alternative Meat Co. patty, double American cheddar, finely sliced tomato, onion, iceberg, and pickles on a seeded milk bun. And the ugly-delicious monster that is The Krusty Burger, pictured below with it's supersized hit of double Angus beef patties, quadruple American cheddar, 'krispy' bacon, 'krunchy' onion rings, and a secret burger sauce created by Alvin on a seeded milk bun.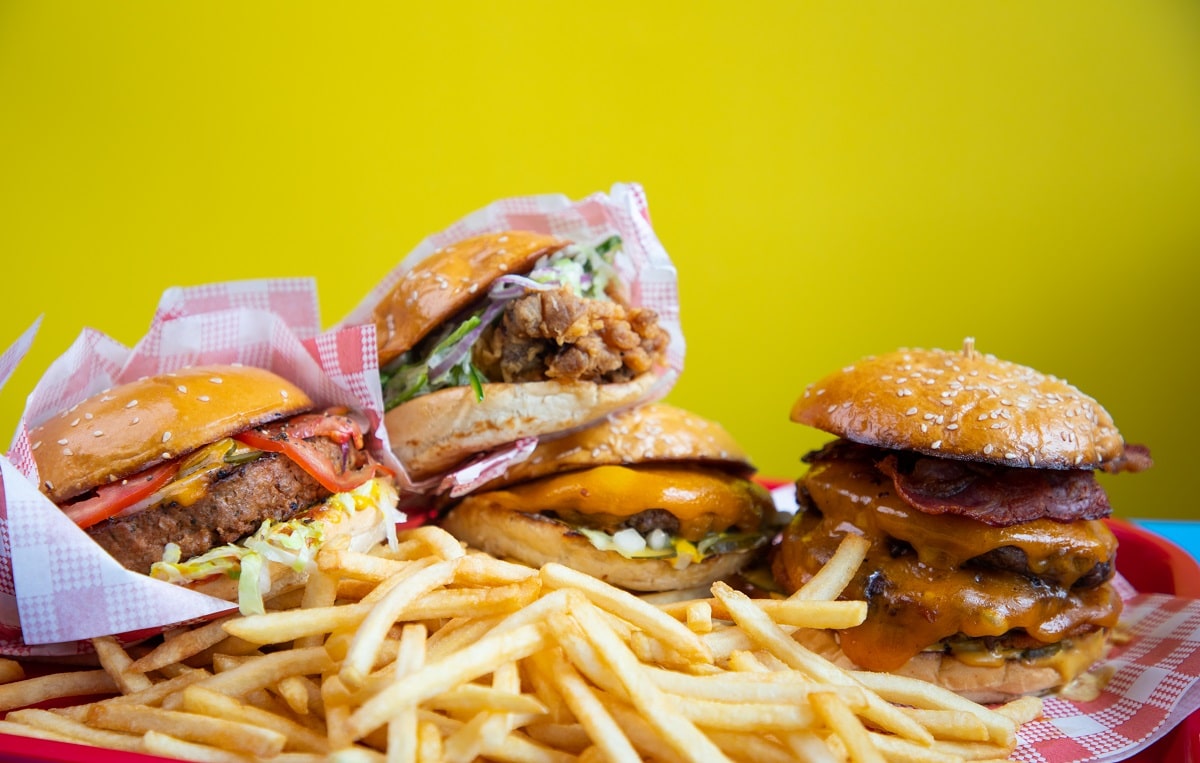 The restaurant has popped up on Kings Cross Road in collaboration with Aussie service The Burger Collective and their new delivery service, which is pretty much Uber Eats except with Sydney's best burgers only. In addition to the temporary Iconic Burger, other names on the new app delivery service include Burger Point, Chubbs, Wingmill, Burger Head, Chef's Kitchen, and Cheatday Peakhurst.
Alvin Cailan has set all burgers at Iconic Burger Sydney at $15, with each only available up until 2nd April. Of course, you can grab them for delivery on The Burger Collective's new app, or rock up to the actual store between 12 PM and 9 PM Wednesday to Sunday at 2-14 Kings Cross Road, Potts Point.