The not-so-humble Traeger Grill is still king in 2021, so anyone planning an ANZAC Day BBQ would be wise to pick up this one-stop-shop cooker. The beast, which can smoke, bake, roast, braise, grill, and – of course – BBQ, is capable of concocting a masterful spread of dishes, showcasing just how adaptable the craft of wood-fired cooking is.
Any grill-master worth their dry brine in salt needs to be able to tease out every inch of their high-tech Traeger Grill, which is why it's always worth paying attention to the abundance of recipes out there designed to expand your repotoire, beyond your go to brisket.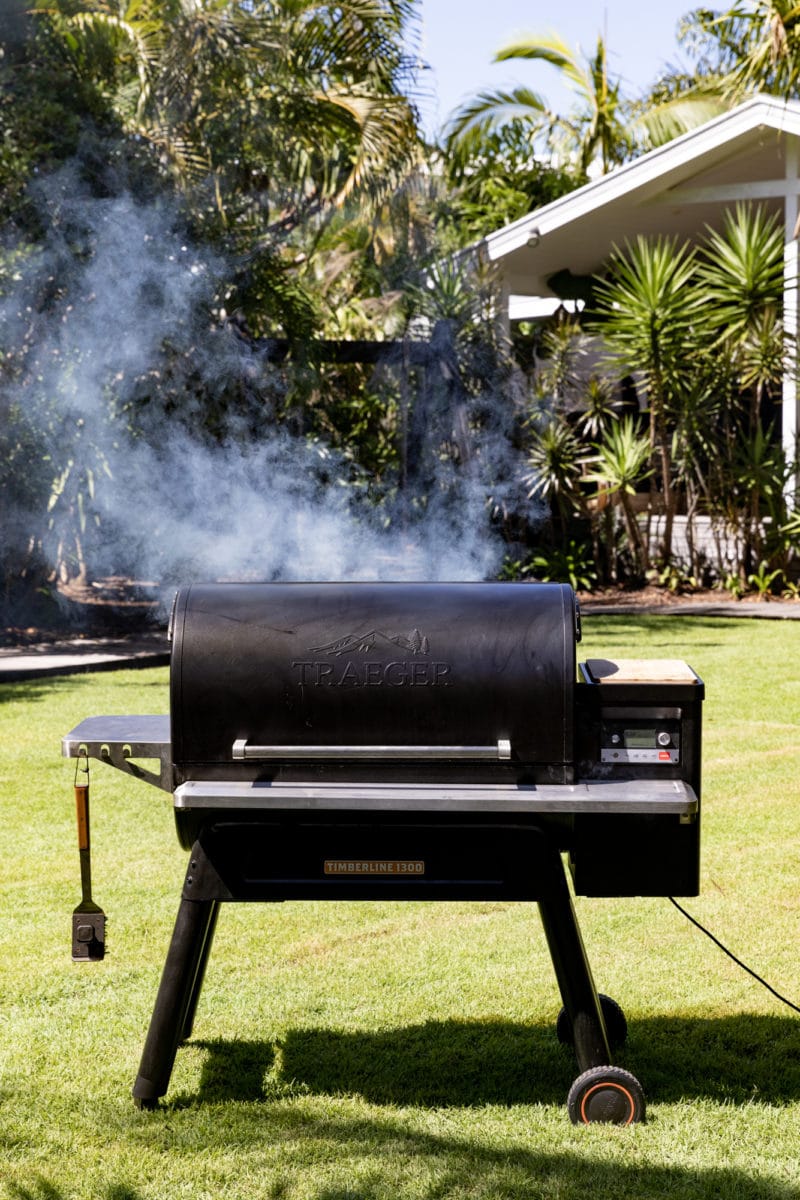 First, it's crucial to understand a bit of what you're working with before you attempt anything too bold. As the world's top-selling wood-fired grill, Traeger gets much of its firepower from all-natural hardwood pellets, which are slowly transferred from the hopper to the fire pot by a rotating auger, after which they're ignited by the HotRod to feed the flames adding that iconic wood-fired flavor to your food.
---
---
The controller maintains a precise temperature throughout cooking, so you can pretty much set-and-forget, freeing you up for those inevitable two-up sessions on ANZAC day. Although, if your approach is more fastidious, constantly monitoring the cook, the accompanying Traeger App is designed so you can check your progress remotely. Of course, that negates the need to lift the lid while claiming to monitor the cook, but actually (and not so subtly) showing off your immense grilling ability.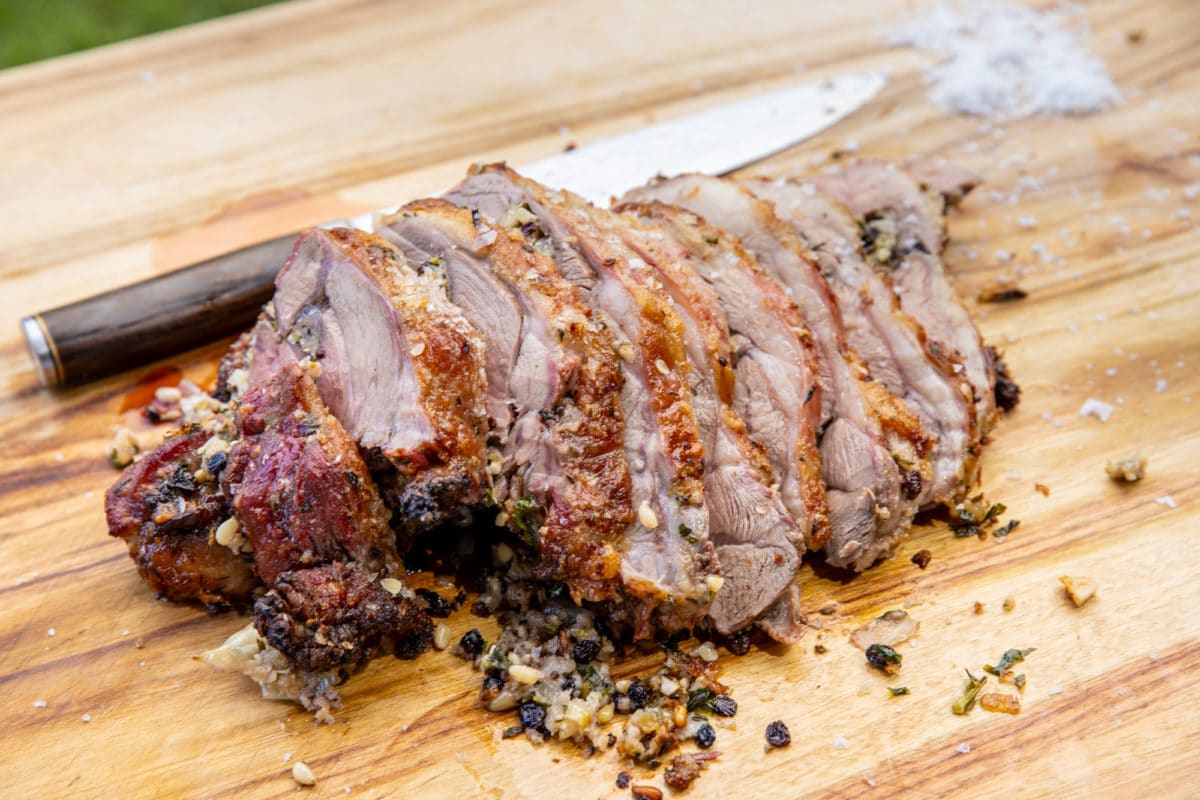 While low and slow brisket is definitely something you'll be babying inside the Traeger Grill, here are 3 vastly different recipes from renowned outdoor chef Sarah Glover, undisputed Queen of the Grill, author of WILD: Adventure Cookbook, and ambassador to Traeger Grills Australia. Take it from her, you've always got more to learn.
---
ANZAC Smores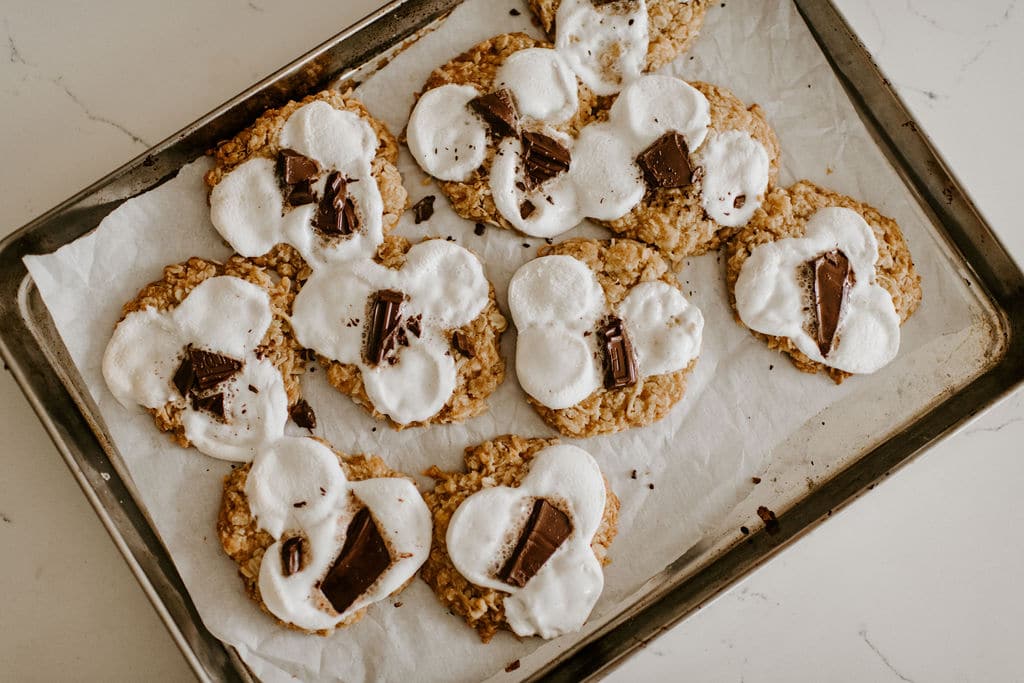 Cooking time: 15 minutes
Prep time: 15-20 minutes
Makes: 16 cookies
Technique: Bake
Ingredients
1 1⁄4 cups (110g) rolled oats
1 1⁄4 cups (110g) desiccated coconut
1 cup (150g) plain flour
150g unsalted butter
1⁄4 cup (90g) golden syrup
1 cup (220g) raw sugar
1⁄2 tsp bicarbonate of soda
1 cup vanilla marshmallows sliced into three round discs 1 block of chocolate broken into pieces
Method
Preheat your Traeger Grill (using cherry wood) to 180°C.
Combine the oats, coconut, flour, and a pinch of salt in a bowl. Set aside. Place the butter, golden syrup, and sugar in a saucepan over medium heat, stirring until butter melts. Bring to a simmer and cook for a further 1-2 minutes until sugar dissolves. Remove from heat, cool slightly, then add the bicarb soda and 1 tbsp water. Stir to combine, then pour over the oat mixture.
Using a wooden spoon, combine butter and oat mixture. Using 1 tbsp mixture each, roll into 16 equal-sized balls. Divide between two baking paper-lined baking trays, leaving 3cm between each.
Flatten biscuits slightly, then bake for 8 minutes until the top trap is slightly golden, add the discs of marshmallows on top with a few pieces of chocolate. Cook for a further 6-8 minutes until all biscuits are golden. Remove from the grill and cool on a wire rack.
---
Aussie Beef Pie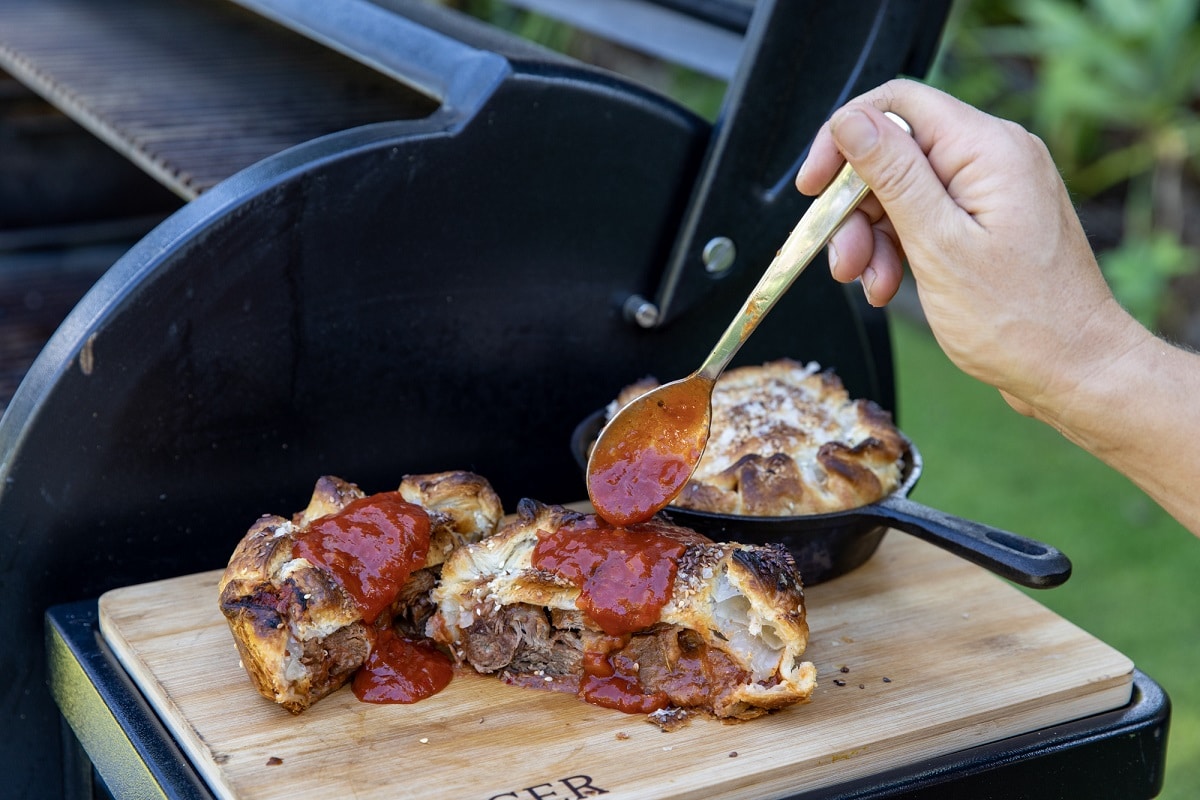 Cooking time: 1 hour & 30 minutes
Prep time: 45 minutes
Feeds: 5 people
Technique: Braise
Ingredients
---
---
1.25 kg beef chuck, diced and cut into 3cm cubes
Sea salt and freshly ground pepper, to season
3 tbsp plain flour
80ml extra virgin olive oil
1 large onion, finely diced
2½ tbsp tomato paste
200ml red wine
200ml veal or chicken stock
Nigella seed
1-2 sheets frozen puff pastry
1 egg yolk, lightly whisked with 1 tbsp water
Method
Preheat your Traeger Grill to 160°C.
Season the beef with salt and pepper and toss with 2 tbsp flour until evenly coated.
Heat the oil in a large ovenproof heavy-based pan over a high heat.
Add beef in batches and cook for about 5 minutes per batch, until well browned, then remove. Add more oil if the pan dries out.
Add the onion with a pinch of salt and cook over low heat for about 5 minutes, until softened.
Add the tomato paste and 1 tbsp flour and cook out for a minute or so. Add the red wine and stock, and stir until the mixture boils.
Return the beef to the pan, cover the pan with foil, place in the Traeger and cook for two hours, or until tender, then stir through the peas and mint.
Allow to cool, then chill in the fridge until cold (warm filling will ruin the pastry).
When the beef filling is ready, heat your Treager Grill to 180°C.
Divide the pie filling among four 300ml ramekins or pie dishes. Top each with a piece of pastry large enough to hang over the edge of each dish (it is important to remove the pastry from the freezer only 5-10 minutes before you need it, so it thaws but stays chilled).
Press the pastry down firmly around the edges of the dishes and brush evenly with the egg yolk. Bake in the middle of the oven for about 40 minutes, until puffed and golden.
---
Meatball Breakfast Sub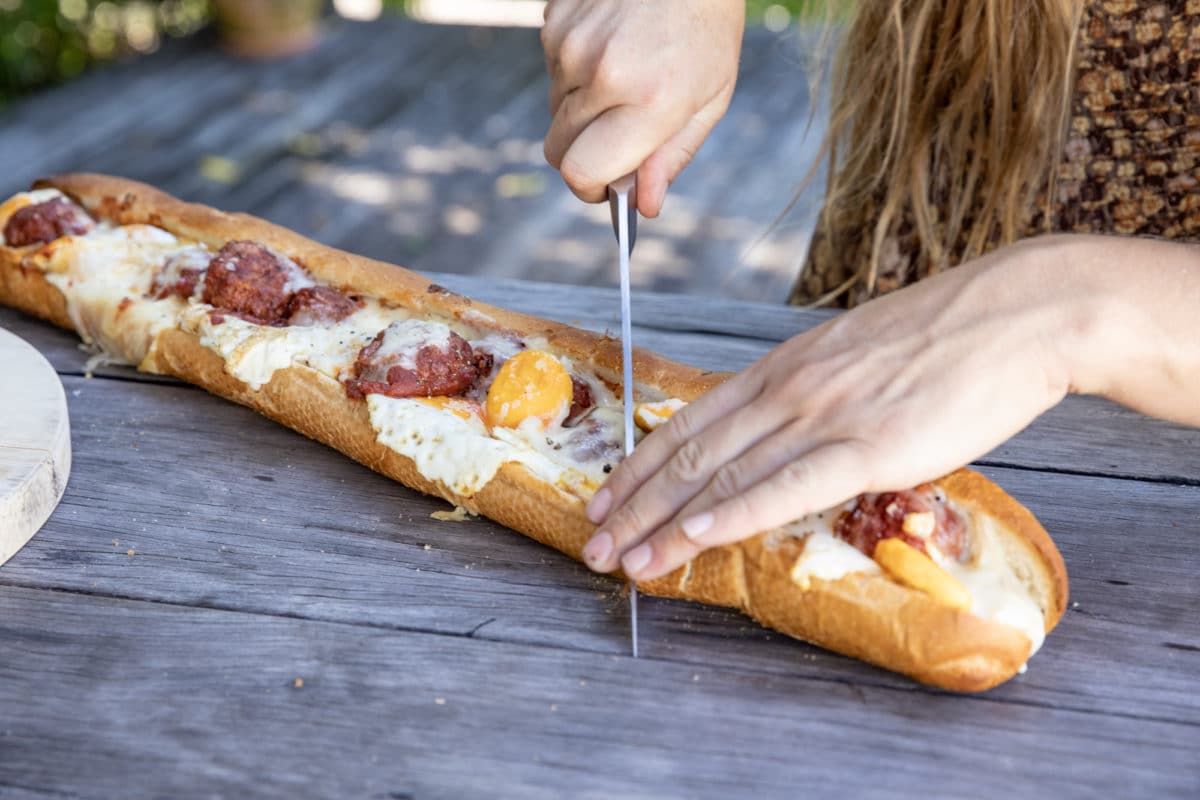 Cooking time: 2 hours & 45 minutes
Prep time: 0 minutes
Feeds: 6 people
Technique: Roast
Ingredients
500g quality minced beef, pork, or a mixture of the two
500g pork meat
300g ricotta
300g parmesan cheese
1/2 cup bread crumbs
1 large free-range egg
olive oil
1 medium onion
2 cloves of garlic
2 400g tin of plum tomatoes
red wine
1 long sub
1/2 cup grated cheddar cheese
10 eggs
Method
Preheat your Traeger Grill to 180°C.
Add the meatball ingredients – mince, pork meat, ricotta, parmesan, bread crumbs, large free-range egg, onion, garlic, olive oil – into a dish and mix together with your hands.
Shape the mixture into balls, about the size of golf balls. Place on a tray side by side.
Cook in the grill for approximately 20 mins or until lightly golden.
In a pot, add the tomatoes and red wine, followed by the meatballs – cover and place back onto the grill.
Cook for 2 hours until the liquid has reduced and the meat has caramelised, then wait for them to cool.
Place some meatballs on the sub, add the grated cheddar cheese, and grill for 20 mins until it's melted. While it's grilling, add eggs to the pan, then place on top of the meatballs once cooked – top it off with some more cheese if you wish.
Close the lid of the Traeger Grill until the cheese melts to your satisfaction.
---
If you'd rather learn via visuals, check out the teaser video of Sarah Glover cooking up that last recipe below – the full recipe for this mouth-watering roasted deboned lamb with rosemary and lemon rub is available here.
For more BBQ recipes by Sarah Glover, head over to the Traeger Grill website.