If you were one of the try-hards who jumped on the lockdown sourdough trends, for shame. Did you really think you stood a chance in a city so renowned for baked goods that The New York Times deemed it worthy of the world's best croissant? Victoria has plenty of lofty, globally renowned accolades to boast about, but having some of the best bakeries in Melbourne – and in the country, for that matter – is a reputation to be especially proud of.
Sourdough, and baking at large, is a serious labour of love. It can be a week-long process (at best) of kneading, resting and folding in order to craft a moist loaf, perfect crust, or caramelised bun. Not to mention the sacrifices bakers make by way of hideous early morning wake-ups.
Here are our top picks for the best bakeries in Melbourne (and the odd pastry shop) that are a cut above the rest.
---
---
Where To Find The Best Bakeries In Melbourne:
---
Tivoli Road Bakery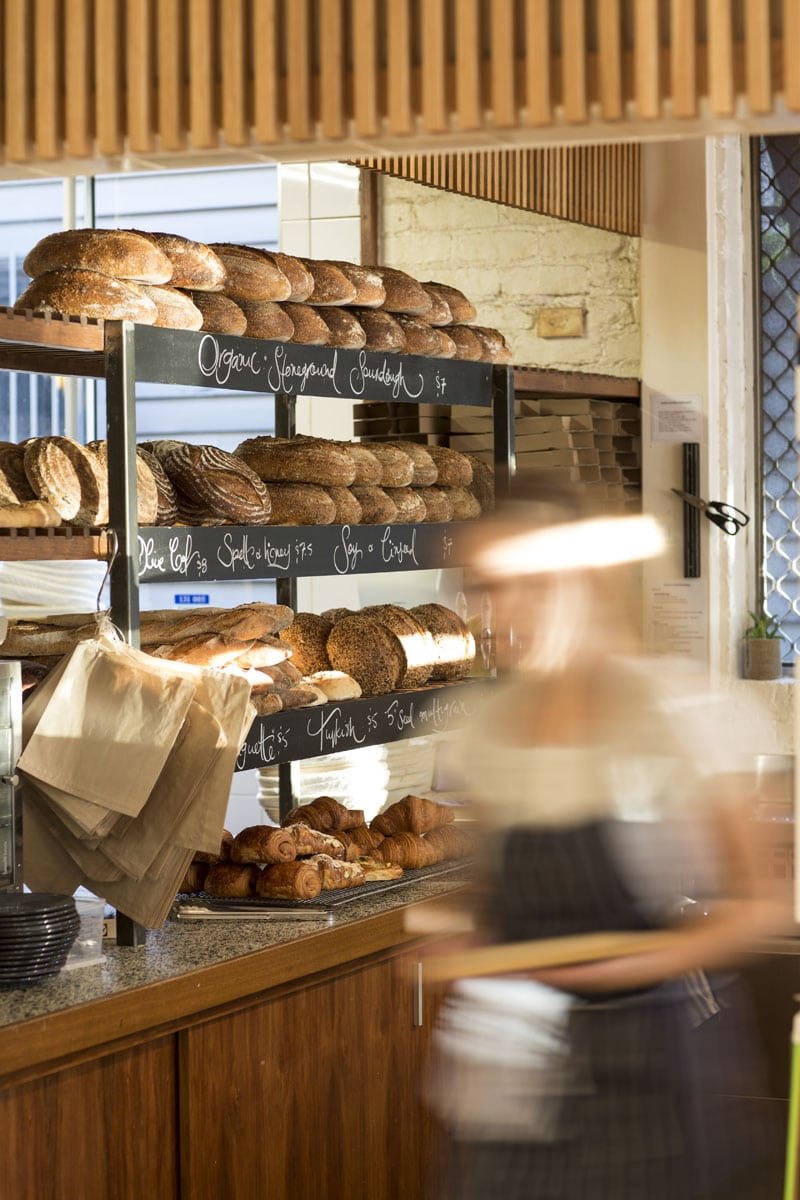 Chad Robertson, co-founder of San Fransisco's Tartine Bakery, described Michael and Pippa James' humble hole in the wall as "more than just one of the best I'd visited." That's reason enough to wait out the queue. Enjoy Tivoli's leafy outlook, while sipping on a three-quarter latte and picking croissant flakes out of the cushion folds. The 'sell out' warning is legitimate, but you can call ahead to reserve their legendary sourdough, sausage rolls and custard doughnuts and get a taste for just why Tivoli Road Bakery is considered one of the best bakeries in Melbourne.
Address: 3 Tivoli Road, South Yarra
Hours: Mon – Sun, 7:30 am – 1 pm (or until sold out)
Contact: (03) 9041 4345
---
Q Le Baker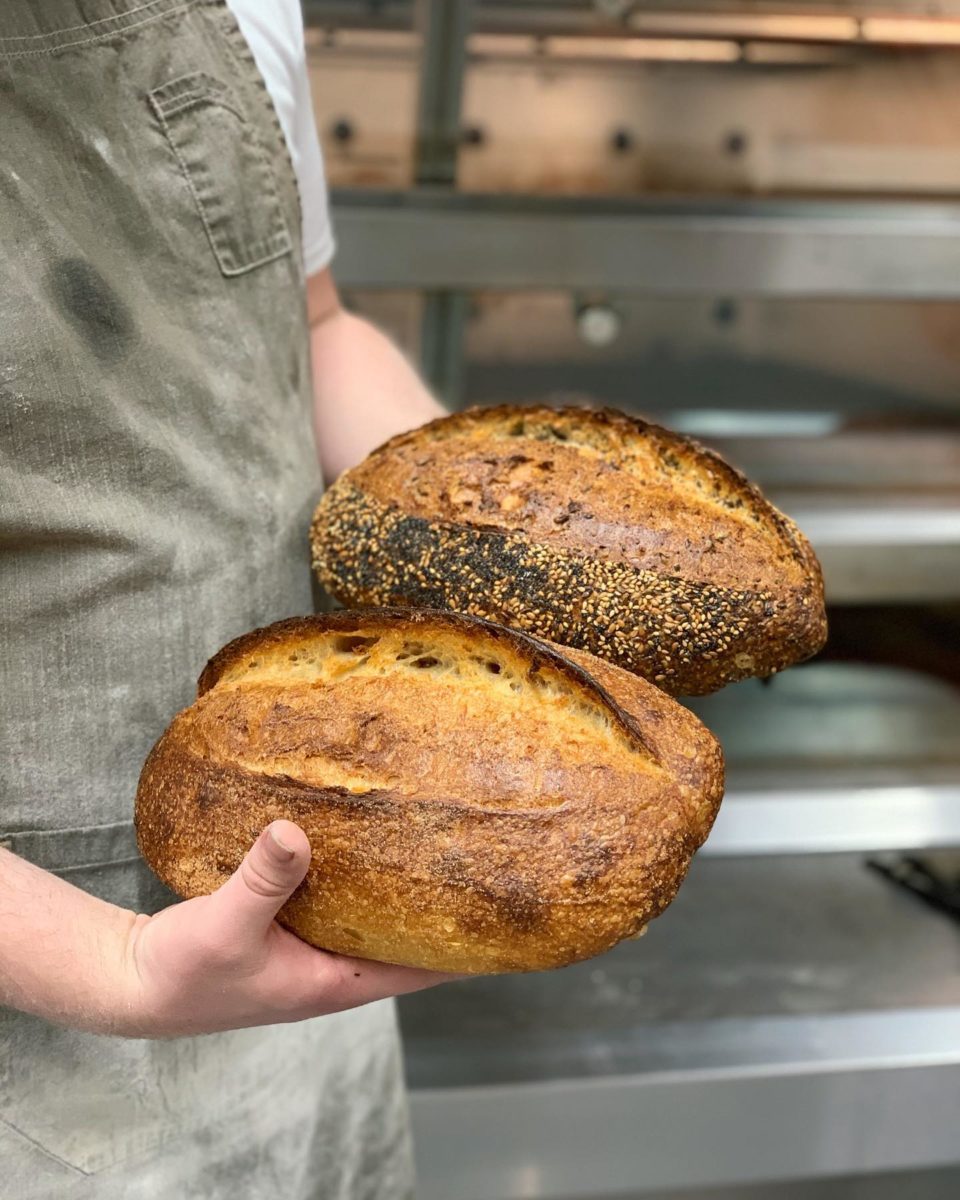 Dominating a corner stretch of Prahran Market is a pretty arrogant move, unless you back it up the credentials of Quentin Berthonneau and Marion David. Respectively, the duo boast Vue de Monde, Chez Dre and Baker D.Chirico between them. The menu at Q le Baker throws out speciality spanners like chocolate sourdough, but when they sling baguettes as good as the boulangeries of France, there's no need to veer far from the classics.
Address: Prahran Market, Shop 709
Hours: Market Days, Tues, Thurs – Sat 7:30 am – 3:30 pm, Sun 8:30 am – 3 pm
Contact: (03) 9973 3069
---
Penny for Pound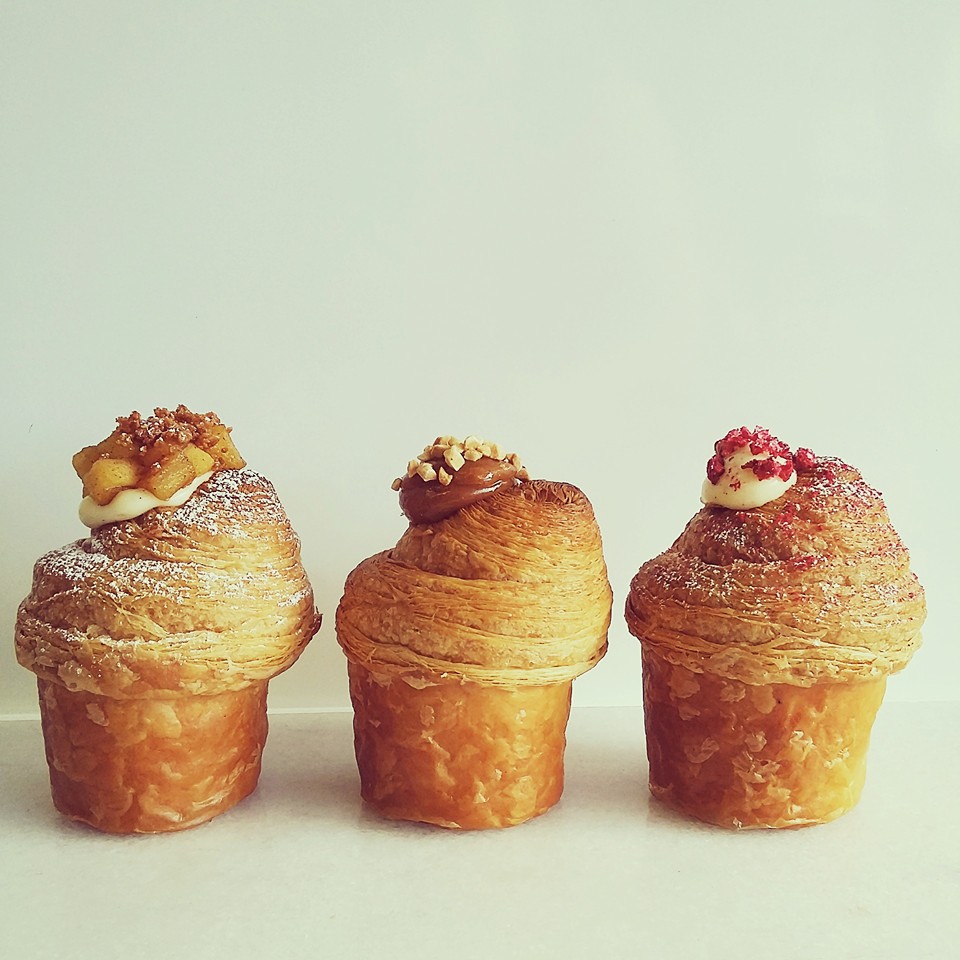 The tantalising waft of butter should be enough to lure you from Bridge Road into this tiny pastel gem tucked behind MayDay Coffee. Alongside a foolproof country sourdough and mouth-watering cruffins, are croissant combinations nothing short of inspired. The don of all croissants has to the Reuben; filled with pastrami, sauerkraut, cheese, Russian dressing, and adorned with a pickle. Slightly toasted and its perfection.
Address: Rear of 410 Bridge Rd, Richmond
Hours: Mon – Sun, 8 am – 2 pm (or until sold out)
Contact: (03) 9428 3040
---
Baker Bleu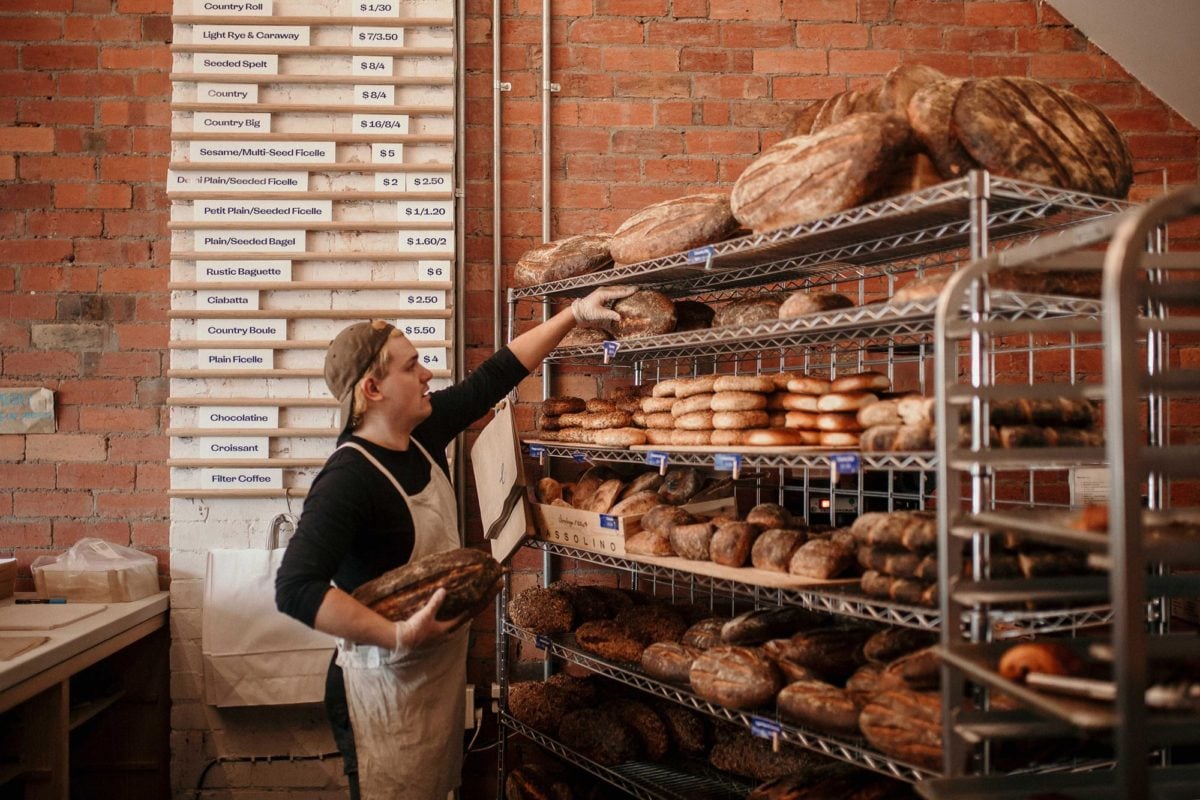 Lucky word spread that this tiny unmarked Elsternwick bakery was Attica's secret supplier… because it forced the entire underground operation to become public-facing in a huge 400-square-metre Caulfield expansion. Mind you, double the output and there are still obscene queues for their 18-hour fermented sourdough, fresh bagels and challah brioche. Life is hard being one of the best bakeries in Melbourne, but Baker Bleu meets that standard every single day.
---
---
For any Northsiders, Baker Bleu sampled 2020 life in Bar Marion, and definitely didn't mind it. It has a permanent Northside home in Andrew McConnell's new Morning Market on Gertrude Street.

Address: 119-121 Hawthorn Rd, Caulfield North
Hours: Mon – Sun, 7:30 am – 3 pm (or until sold out)
Contact: (03) 9532 4786
Address: 59 Gertrude St, Fitzroy
Hours: Tues – Sun, 8 am – 3 pm (or until sold out)
---
Falco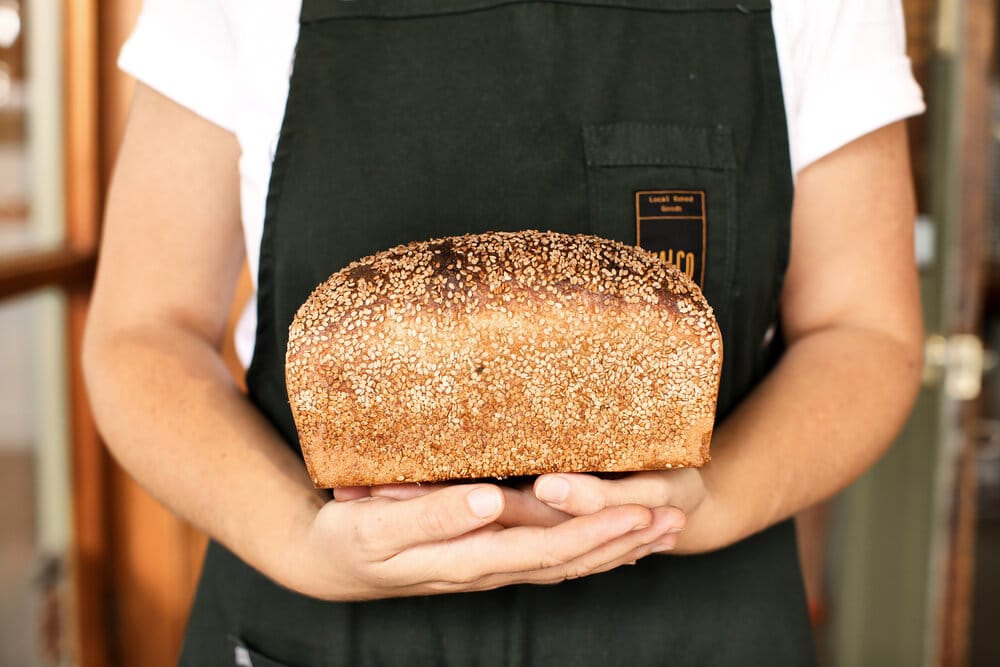 If The Made Well Group's (Bar Liberty and Capitano) experimental venture into small-batch baked goods is wrong, then who wants to be right? Ranking top position in Melbourne's best hot cross bun search in its first Easter season is impressive… but the buns hold nothing against the permanent butter milk English muffins, Rockwell pie (named in memory of the site's former life as Rockwell and Sons) and daily burger combinations on golden caramel brioche.
Address: 288 Smith Street, Collingwood
Hours: Mon – Sun, 8 am – 4 pm
---
Loafer Bread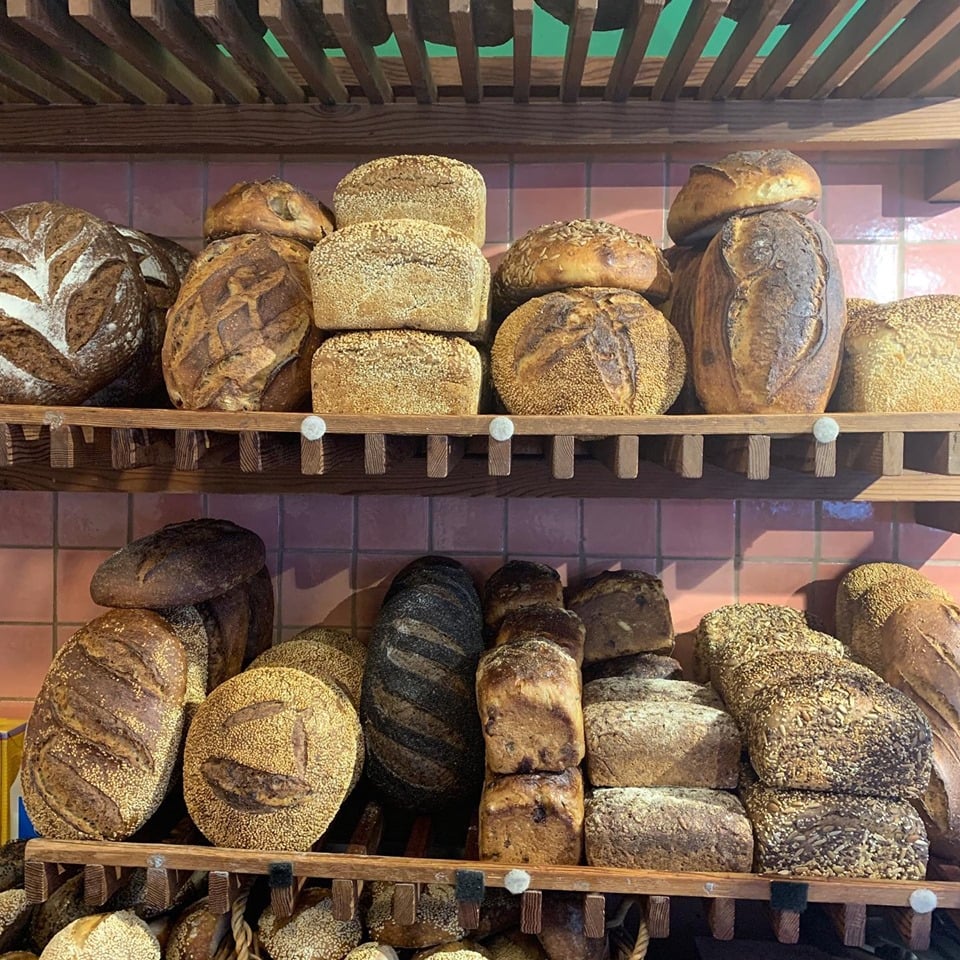 If you're in the mood for a mouth-watering sausage roll, with both meat and meat-free options (it is Fitzroy North after all…), then hit up Loafer after your Piedemonte run. Sandwich your sausage roll with a fruit danish and a cinnamon scroll and turn your loot into a picnic in Edinburgh 'Edi' Gardens for the all-around hipster experience.
Address: 146 Scotchmer Street, Fitzroy North
Hours: Mon – Sun, 8 am – 2 pm
Contact: (03) 9489 0766
---
All Are Welcome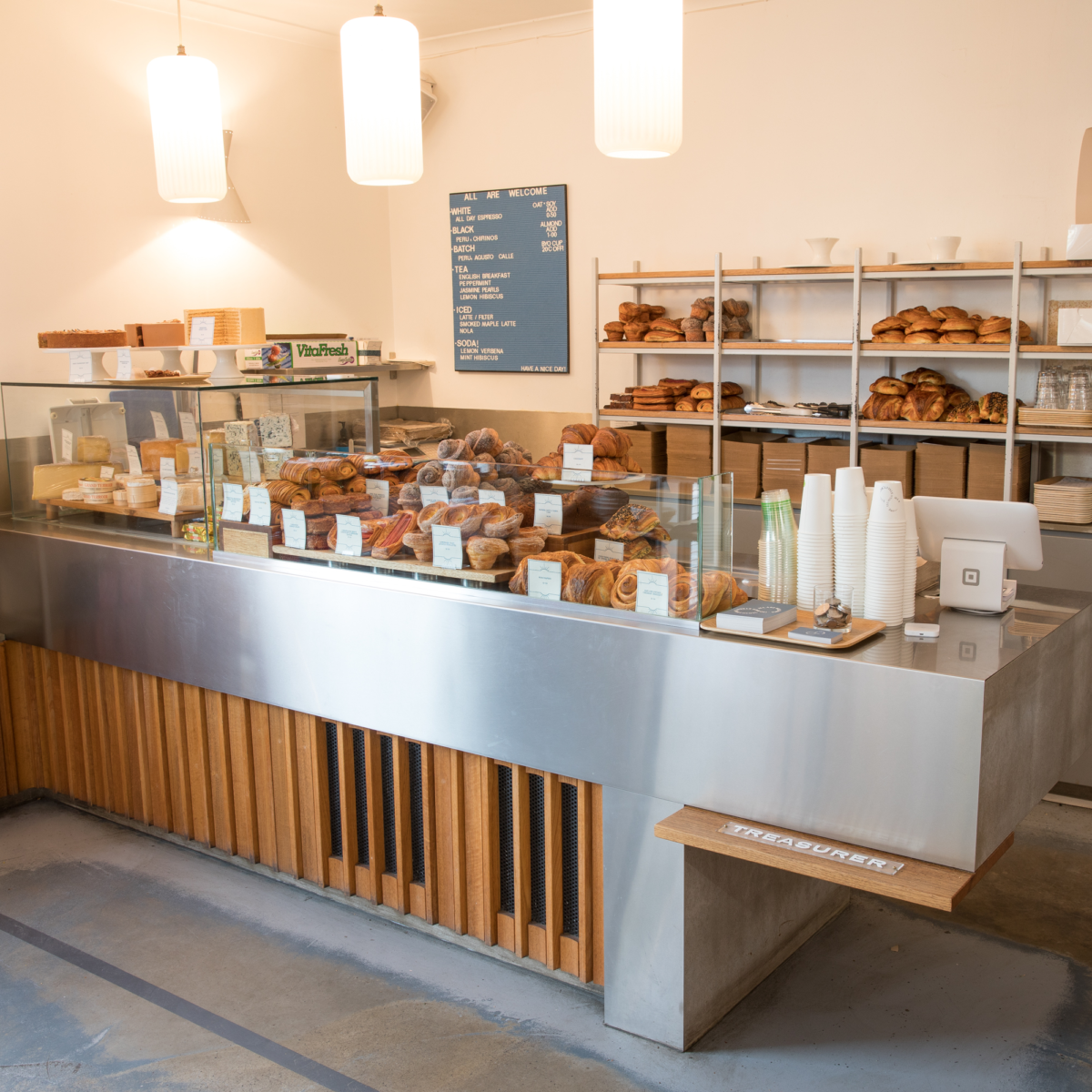 Only Melbourne could dream up a Northcote Christian Science Reading Room with an ex three-Michelin star pastry chef (Boris Portnoy), and one of the cities finest brews (Everyday Coffee). And it became so successful that the All Are Welcome team have since expanded into Thornbury. Taking home a classic sourdough is a given, but the tough call comes down to choosing between the sesame and honey braid, morning bun or Portnoy's own Gianduja Babka Bun. Choice anxiety is common, but All Are Welcome isn't considered one of the best bakeries in Melbourne for nothing.

Address: 190 High Street, Northcote | 887 High Street, Thornbury
Hours: Mon – Sun, 8 am – 2 pm
RELATED: Sydney's Best Sandwich Shops For Those Office Lunch Cravings
---
---
---
Wild Life Bakery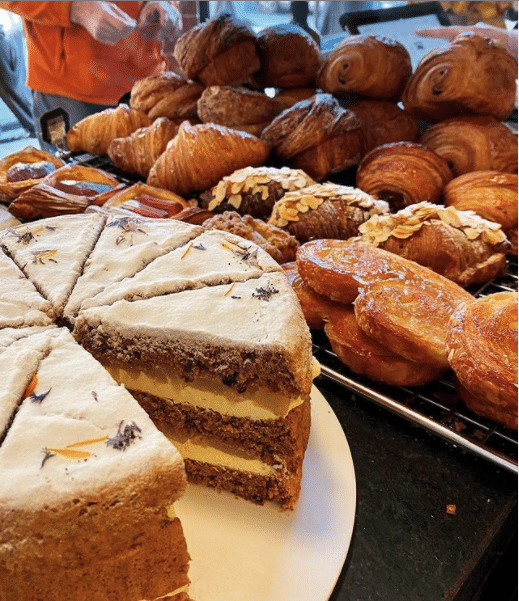 Sourdough this good needs its own shrine, which the Hearth Studio luckily accommodated for in this massive former mechanic's warehouse. The trick here is to leave with two sourdough loaves. Unbelievably, Huw Murdoch (ex-Market Lane Coffee) and head baker Brad Tobin (ex-Wood Frog Bakery) have nailed that sourdough sweet spot – a loaf that toasts to perfection, while also providing restaurant-quality sticky crusty-ness, ideal for slathering in butter just before the meal. The coffee and coconut escargots aren't too bad either.
Address: 90 Albert St, Brunswick East
Hours: Mon – Sun, 7:30 am – 3 pm
Contact: (03) 8060 0547
---
Bread Club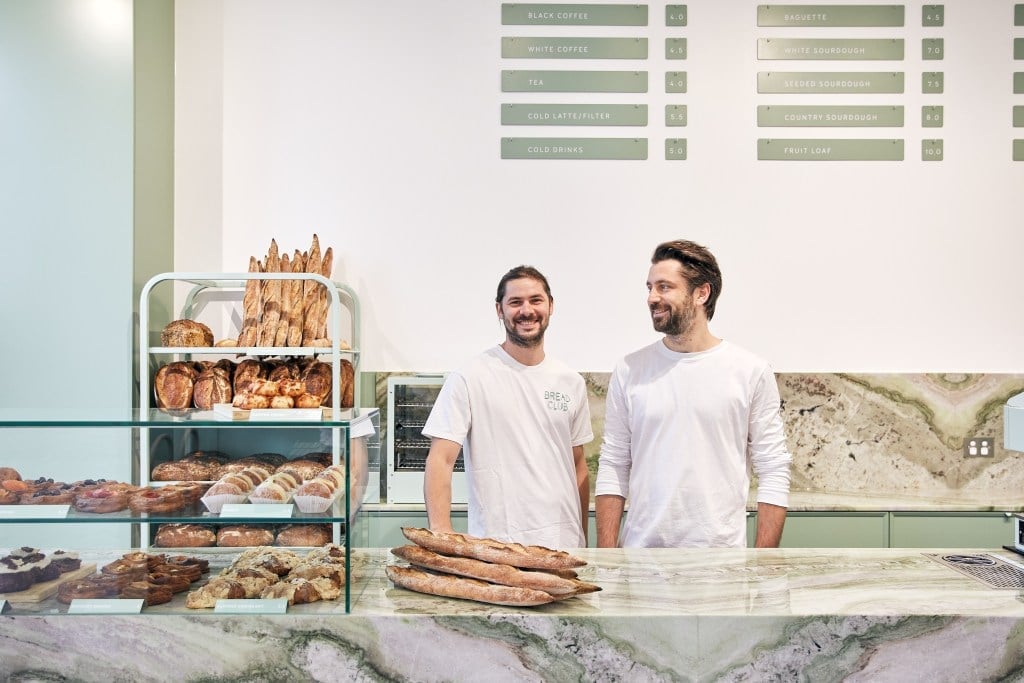 This could be the only bakery that promotes its Soundcloud over its world-class pies and rotating sangas. Frenchmen Tim Beylie and Brice Antier have a royal pedigree between them, (ex-Vue de Monde, Woodford Bakery and Baker D Chirico), but used it to birth an entirely new niche. Come for the delicious treats, and stay for the smooth beats. Sober up after Sunday bakery DJ sessions with a cheese and bacon 'fougasse'. A recent drive-by confirms their new Albert Park fit-out-out is nearly complete, with their signature sick mint green marble island.

Address: 558 Queensberry St, North Melbourne
Hours: Mon – Fri, 7 am – 3 pm, Sat 8 am – 3 pm, Sun 8 am – 2 pm
Contact: (03) 8528 8993
---
Cobb Lane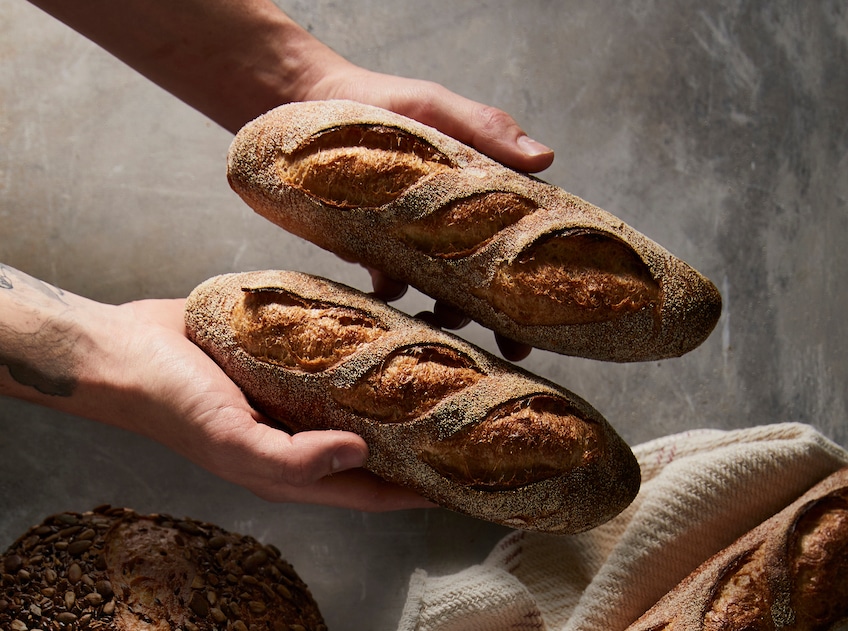 In an usual plot twist, COVID-19 revived Matt Forbes' infamous loaves from a wholesale venture back into a public shopfront. To celebrate, they combined their brioche buns with Tipo 00 pork sausage, and we're counting down the days until it makes a comeback. If you can't make it to Yarraville, pre-order for a weekend doughnut drop off and be sure to add on a few milk rolls or a light rye so you can experience one of the best bakeries in Melbourne the right way.
Address: 1-3 Taylor Street, Yarraville
Hours: Fri – Sun, 7 am – 12 pm
Contact: (03) 9939 5579
---
Lune Croissanterie
Pastry lovers can't go past the legend itself – ordained makers of the world's best croissant, Lune. It says a lot that so many years into business and they are still drawing incredibly long, painful queues throughout each day. Melbourne locals know that there is nothing quite like crunching down on the signature almond croissant before heading off to work – and taking a box with you so your colleagues don't cast hellfire glances at you all day. The Fitzroy original is still the best, but city-workers have a smaller Lune on Collins Street to get them through the day.
Address: 11 Rose Street, Fitzroy | Shop 16/161 Collins St, Melbourne
Hours: Mon – Fri, 730 am to 3 pm, Sat – Sun, 8 am – 3 pm
Contact: 0467 048 540
---
Beatrix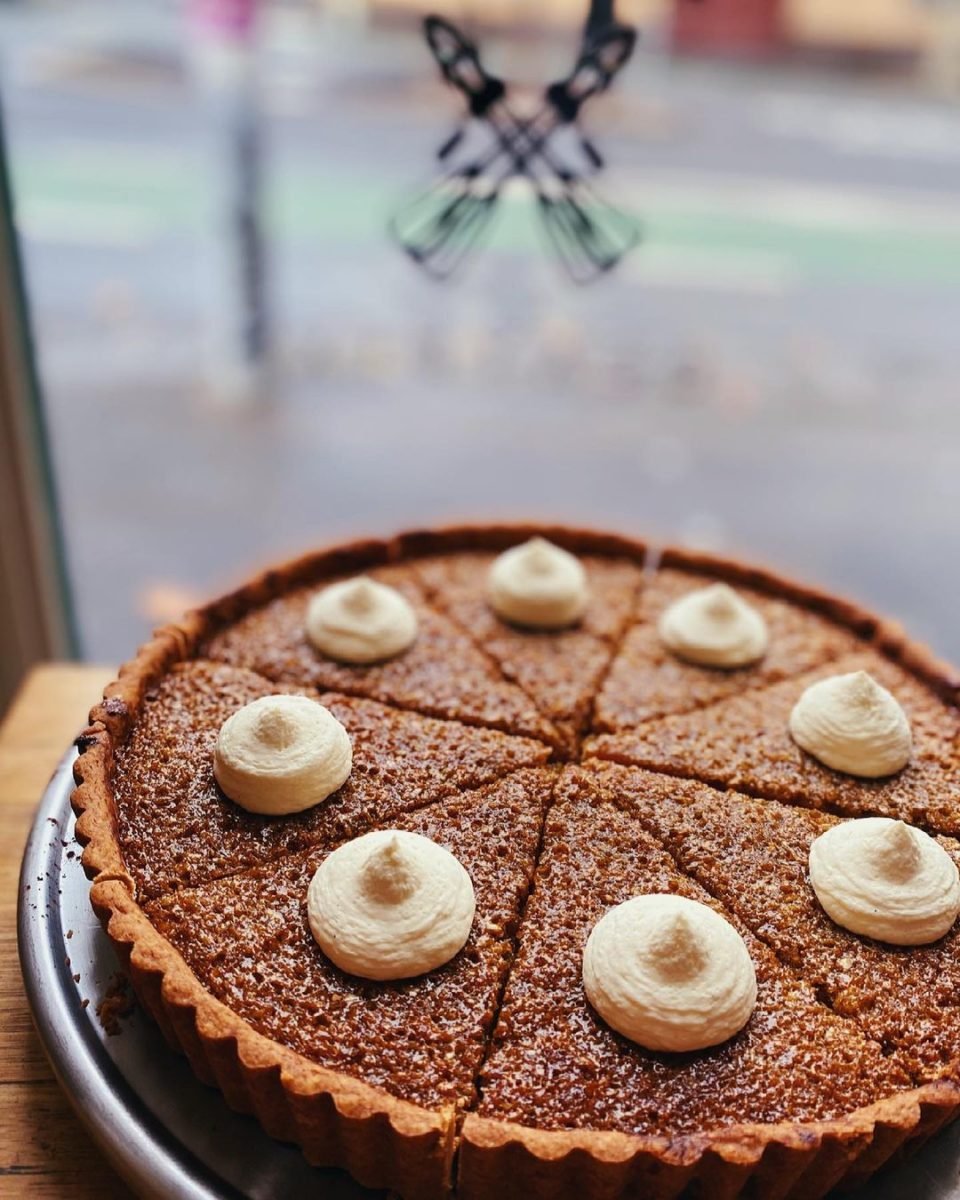 Beatrix is best experienced via a slice of one of their many cakes, a bite that will no doubt justify everything you've heard about this being one of the very best bakeries & pastry shops in Melbourne. It's very much a case of reputation preceding taste, but you don't necessarily need gallons of hype to colour the kind of flavour journey this small, lo-fi shop delivers each day. From treacle tarts to banoffee pie, North Melbourne just wouldn't be the same without the good graces of Beatrix and its team of highly skilled bakers.
---
---
Address: 688 Queensberry St, North Melbourne
Hours: Tues – Sat, 9 am – 2 pm
Contact: 0403 698 836
---
Mile End Bagels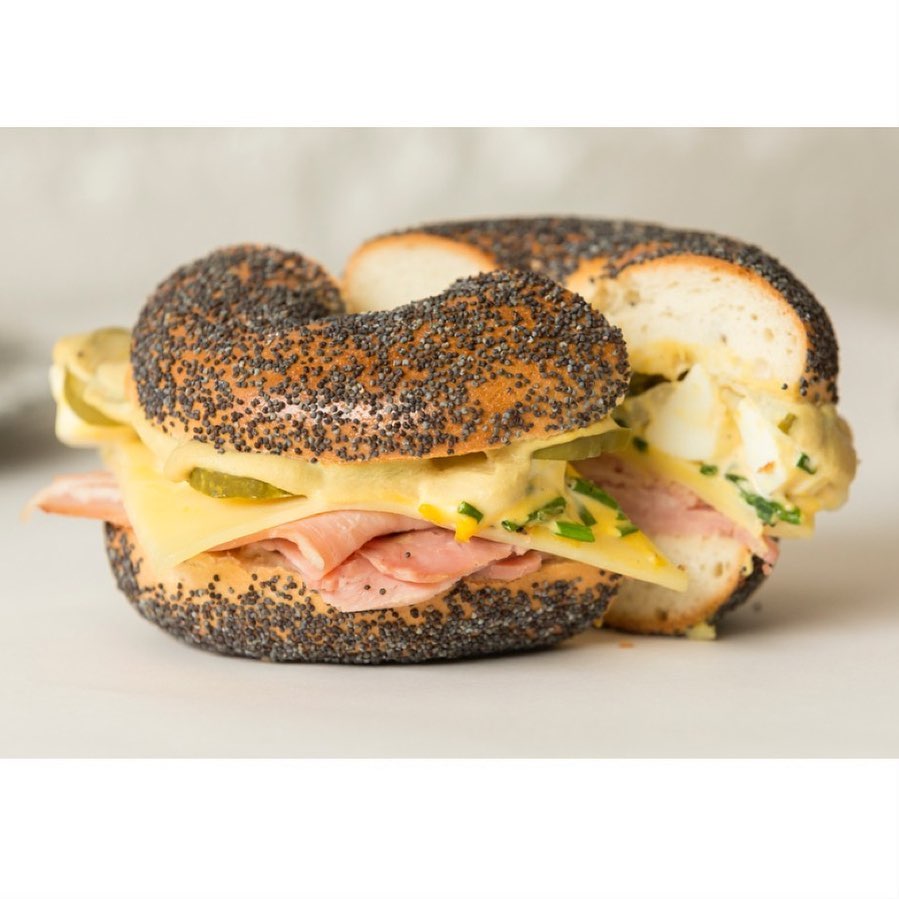 Melbourne's favourite bagels are now more accessible than ever before, with Mile End Bagels opening a second store in Brunswick. The Fitzroy original is still the bigger, beefier option, but Brunswick's near-Bunnings shopfront is a nicely curated selection of the Montreal-style bagelry 10 best sellers.
Address: 14 Johnston St, Fitzroy | 1 Wilkinson Street, Brunswick
Hours: Mon – Sun, 8 am – 2 pm
Contact: (03) 9419 0780
---
Looking for something else in Melbourne? Get across the city's best new restaurants for 2021 and, if you're after something more specific and weather-appropriate, the best ramen you can find.