Anyone looking for the best fried chicken in Melbourne has a fair bit of choice anxiety ahead of them. Just about every café, restaurants, and bar has some sort of fried chicken on their menu, bringing that chook to life with various seasonings, textures, and techniques.
Some of them even completely obliterate the Colonel when it comes to consistency, making that secret recipe look like small fries compared to fried chicken prepared with a gourmet palate in mind.
Melbourne, arguably the food capital of Australia, has an abundance of fried chicken restaurants to fulfil your cravings. If you want to make sure your fingers are covered crumbs and grease, make sure you taking note of our top picks for Melbourne's best fried chicken shops and restaurants in 2022.
---
---
Our Favourite Fried Chicken In Melbourne
---
Sonny's Fried Chicken & Burgers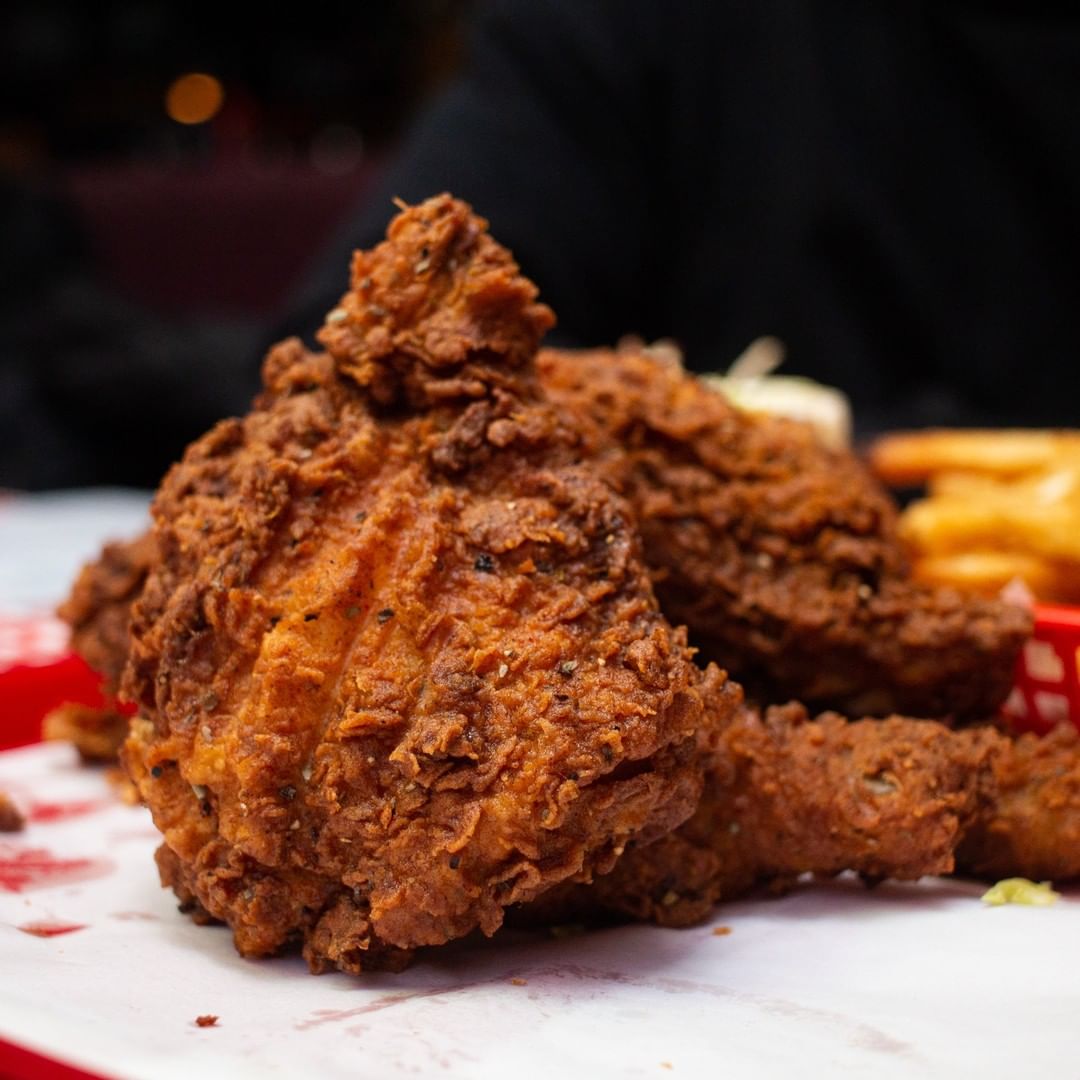 As well as having a reputation built on the best live music in Carlton, the John Curtin Hotel is home to the delicious Sonny's Fried Chicken. As the name suggests, Sonny's specialises in chicken and burgers, and while the burgers are top notch, it's hard to go past the crispy, 24-hour brined, pressure fried chicken.
You can have white meat (breast), dark meat (drum & thigh) or an entire chicken, with a range of dipping sauces available. Sonny's also offer some awesome sides, including corn on the cob, smooth potatoes 'n' gravy and deep fried pickles. If you're a fan of wings, get down to Sonny's every Wednesday after 5 pm where you can grab a bucket of wings for $26.
Address: 29 Lygon Street, Carlton
Contact: (03) 9663 6350
---
Pelicana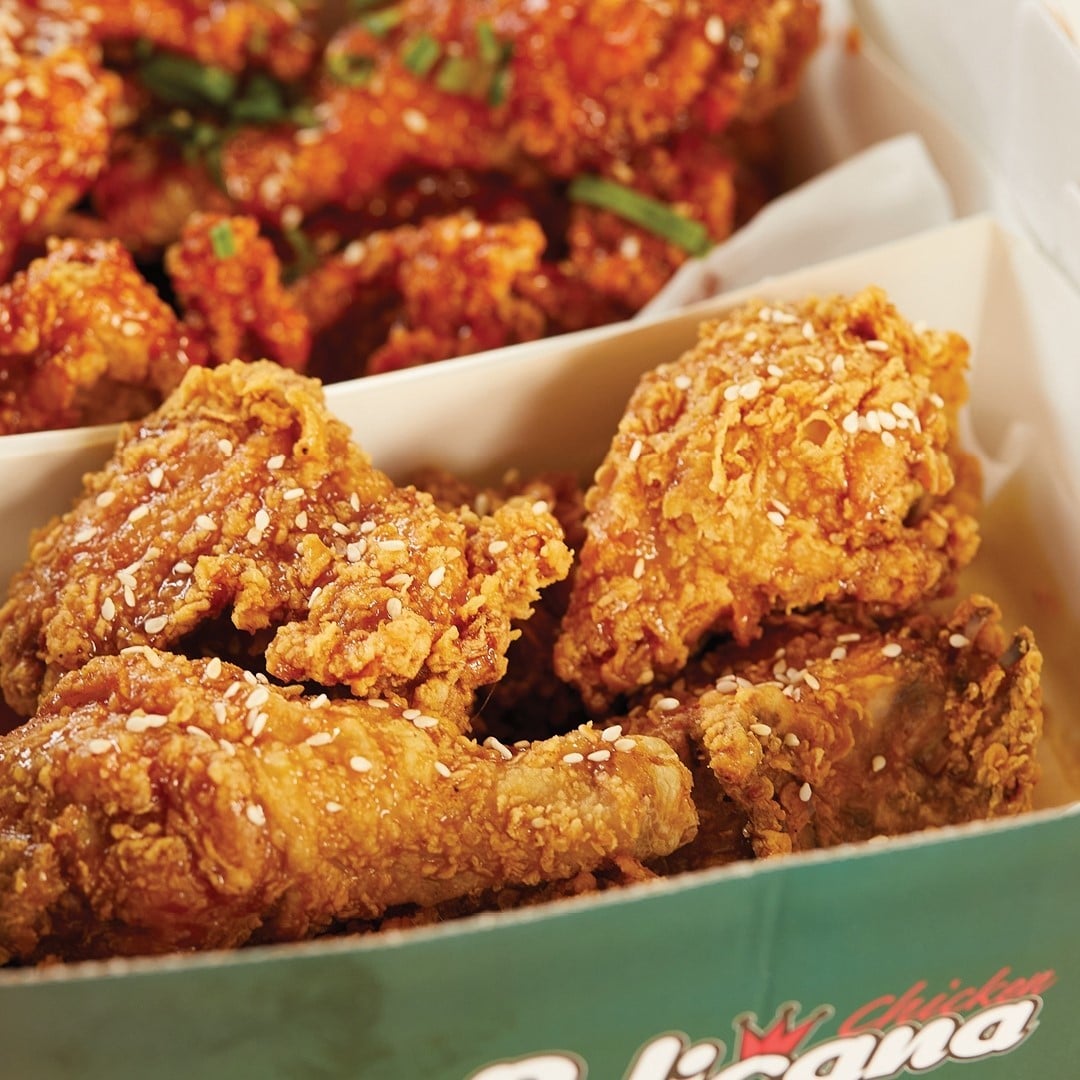 Korean fried chicken chain Pelicana has fast become a favourite amongst Melbourne locals. You can choose from a half or whole chicken, bone-in or boneless, and select from 11 delicious flavours, including hot and spicy, honey butter, garlic, white cheese and Pelicana's own special sauce.
Globally renowned casual food chains tend to disappoint when they hit Australian shores, with consistency and standards never quite matching their point of origin. Consider Pelicana a deliciously crispy, golden exception to that rule.
Address: Lot 5/155 Franklin St, Melbourne
Contact: 0433 816 683
---
Juanita Peaches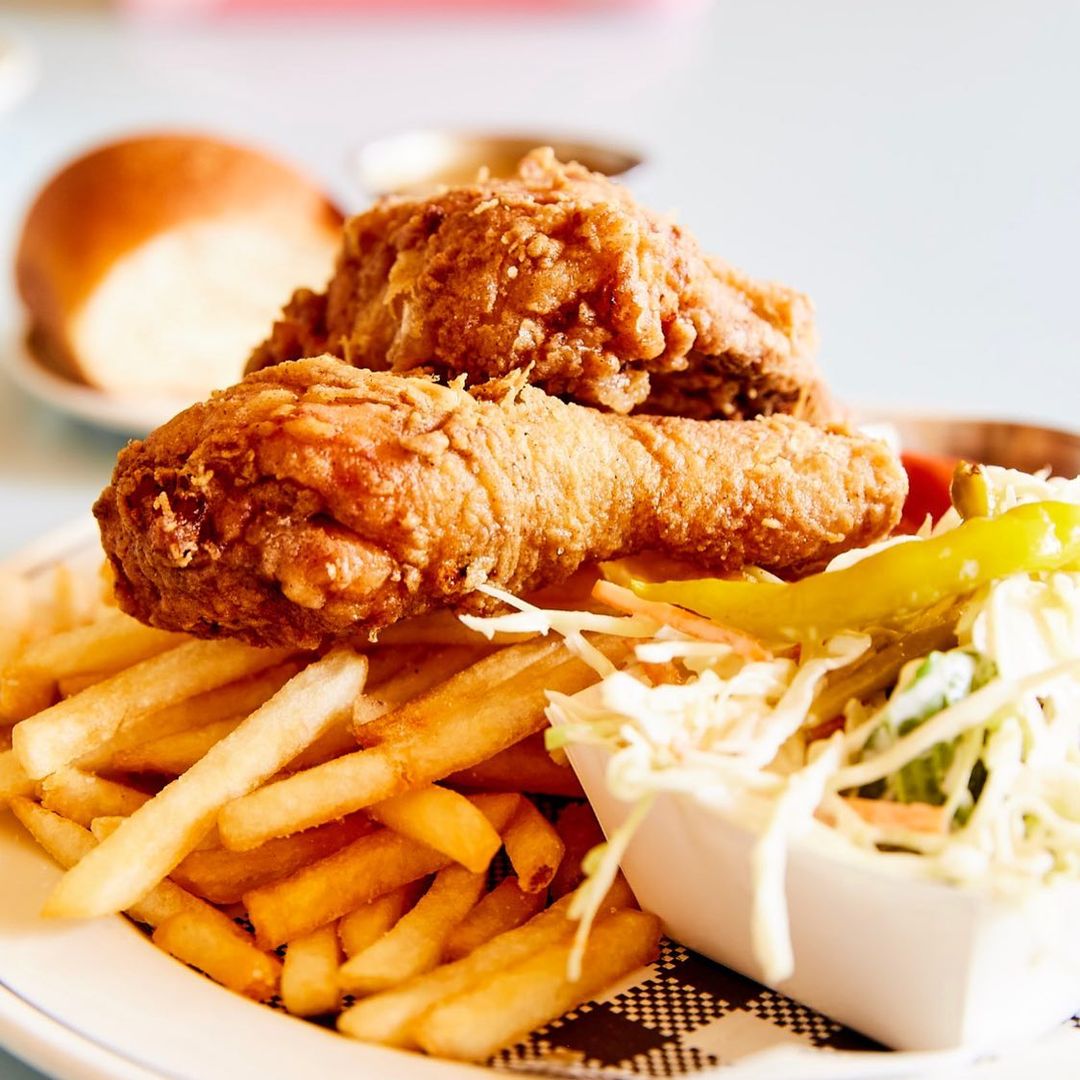 Some – maybe even most – discerning Melbourne fried chicken lovers claim Juanita Peaches as the holy grail of everything greasy and crumbed in Brunswick East. It's hard to argue otherwise; not once you've unloaded one of those gorgeously golden drumsticks into your mouth and bitten through to the warm, fleshy, and perfectly seasoned flesh that lies beneath all that crispy, zesty skin. It's worth the weight – even more so if you double down on indulgence and grab some of their doughnuts and maybe even a burger – after all, Juanita Peaches does come from the guy behind one of Australia's most popular food trucks, Beatbox Kitchen.
---
---
Address: 12 Edward St, Brunswick
Contact: (03) 8060 6664
---
Belles Hot Chicken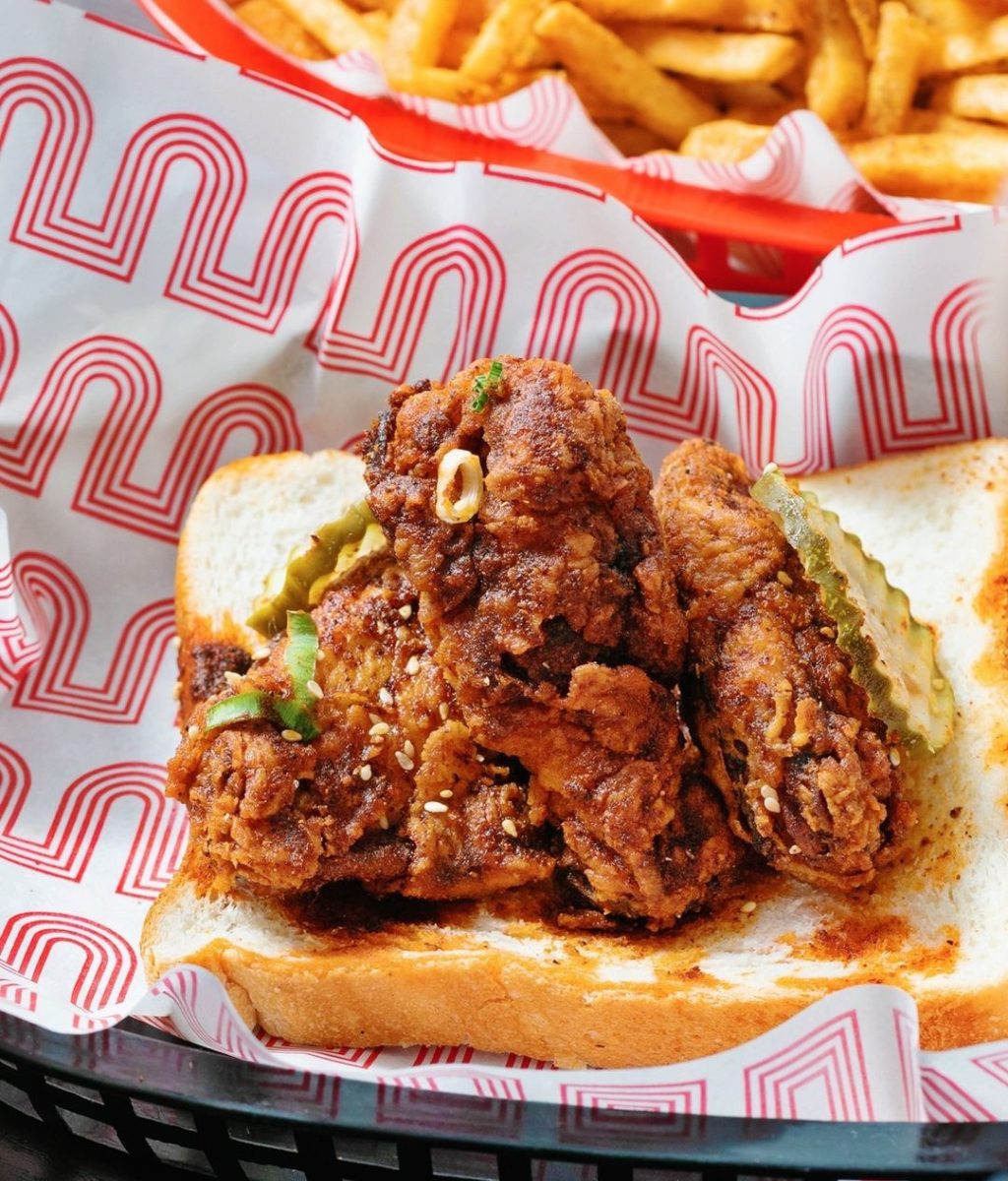 After getting a taste for fried chicken while working in Nashville, Aussie chefs Morgan McGlone and Aaron Turner returned home and opened Belles Hot Chicken in Fitzroy. That seems like years ago now, and since then Belle's has risen to become one of Australia's most recognisable and dependable names for fried chicken, whether you're in Melbourne or Sydney.
There are six different flavours you can add to your wings or tenders, ranging from the mild Southern to the tongue burning Sex Panther. All your standard sides are available along with chicken nuggets and sliders, while the Belles Chicken Sandwich is an icon in its own right.
While there have been times when consistency has been off the mark for us, Belles Hot Chicken is still one of the better options out there when it comes to a restaurant that's dedicated to very little but getting fried chicken exactly right for just about every taste.
You can check the website below for all locations, but the original Fitzroy shop on Gertrude Street is still the best.
Address: 150 Gertrude St, Fitzroy
Contact: (03) 9077 0788
---
Leonard's House Of Love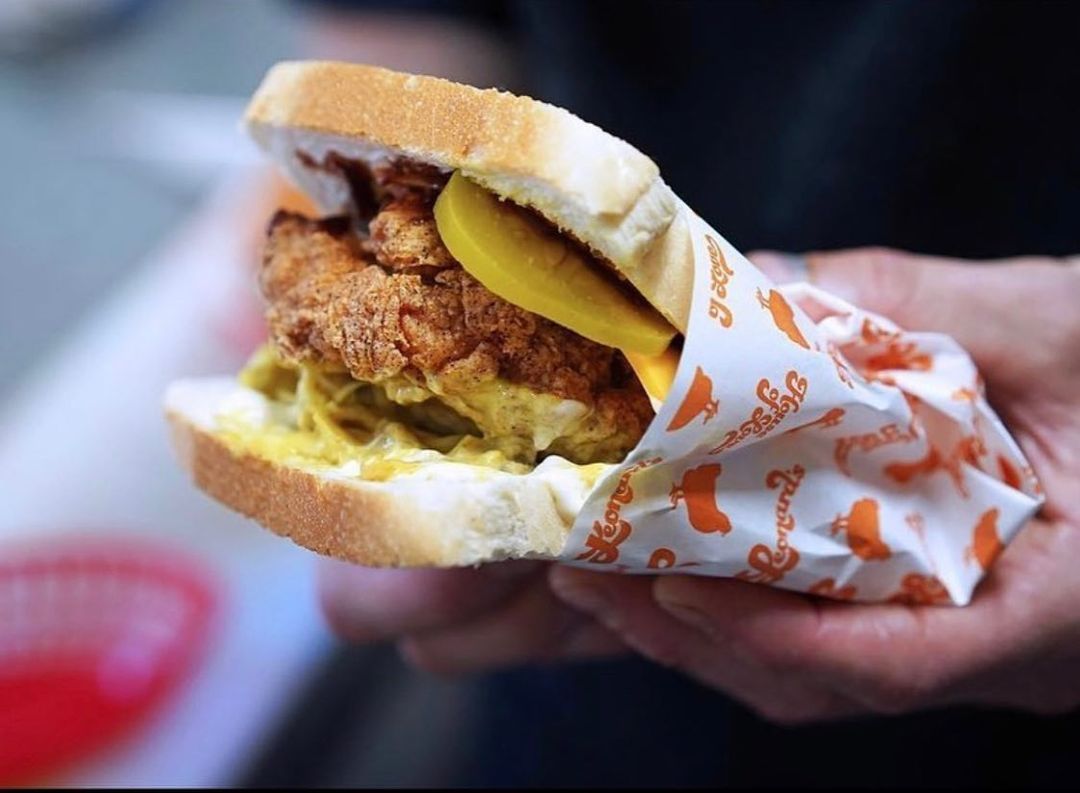 This American-style '70s bar – designed after a traditional log cabin – is also one of Melbourne's best fried chicken spots. The popcorn chicken and XXX hot wings are aces, but it's Leonard's fried chicken sanga that's worth your $16. A large chicken thigh is accompanied by curried mayo slaw, pickles, and American BBQ and ranch sauce, it's a sandwich for the ages. If that's not enough, there's a range of fancy fries, from your standard cheese and gravy fries to the breakfast-themed bacon and egg fries.
Leonard's House Of Love is a favourite amongst locals and the ideal place to cure your hangover with fried chicken and a cold American beer.
---
---
Address: 3 Wilson St, South Yarra
Contact: 0428 066 778
---
Gami Chicken & Beer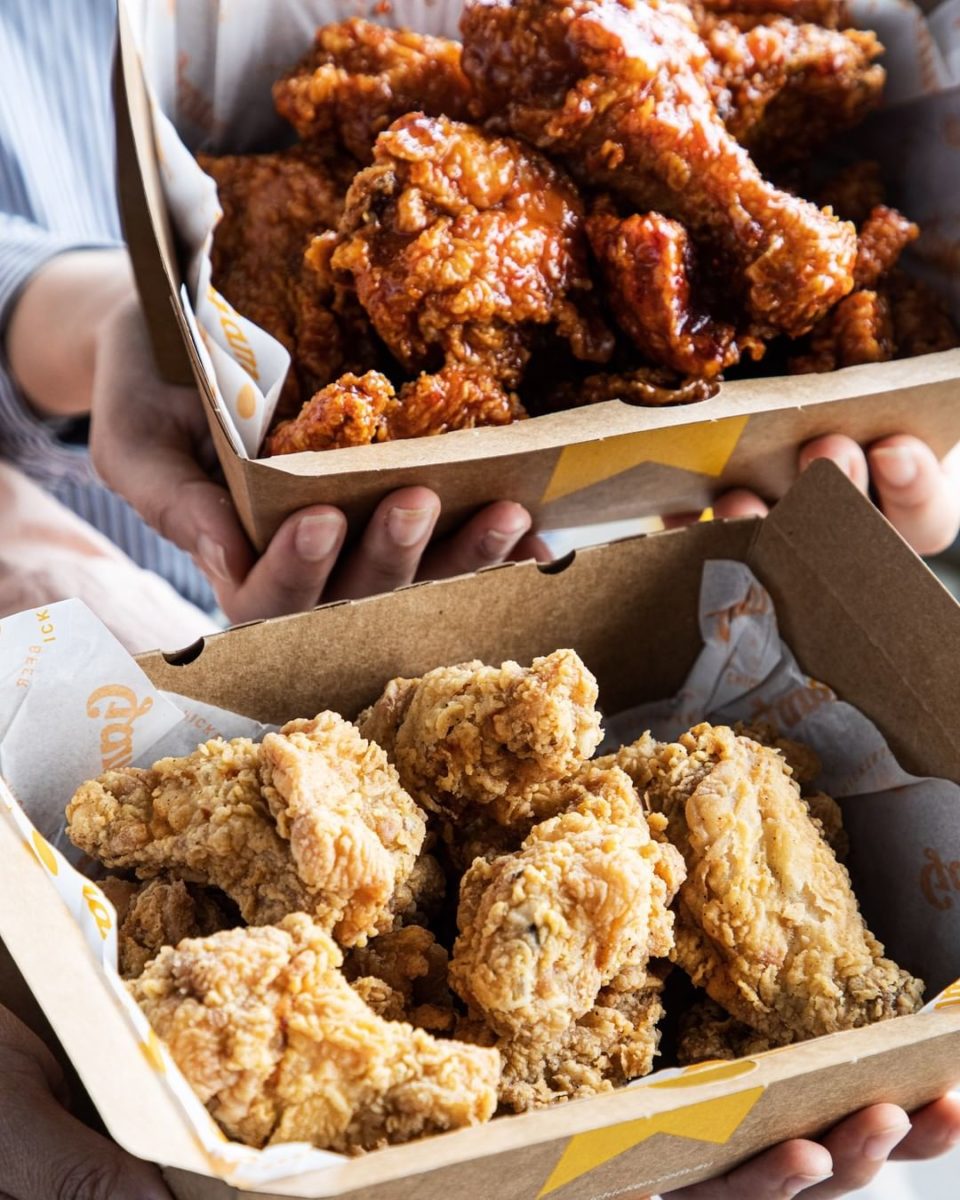 Priding themselves on serving 100% RSPCA-approved chicken, Gami Chicken & Beer is another fried chicken institute that's been in business for almost 15 years. Started by two friends in the suburb of Carnegie, there are now countless stores across the country, but don't let that fool you into thinking Gami's quality has decreased with each franchise. This is, after all, one of the only brand's completely dedicated to recreating the chicken & beer shops that can be found all throughout Seoul.
This is authentic Korean chicken that tastes just as amazing as it looks. You have the choice of two different sauces to go with your chicken and can grab a full chook, mixed wings or chicken spare ribs. Gami also offers a wide selection of Korean dishes for those who want something other than chicken, but when it tastes this good, why bother?
While there are many Gami Chicken & Beer shops across Melbourne, our favourite is the one in Fitzroy.
Address: 370 Brunswick St, Fitzroy
Contact: (03) 9417 5036
---
Le Bon Ton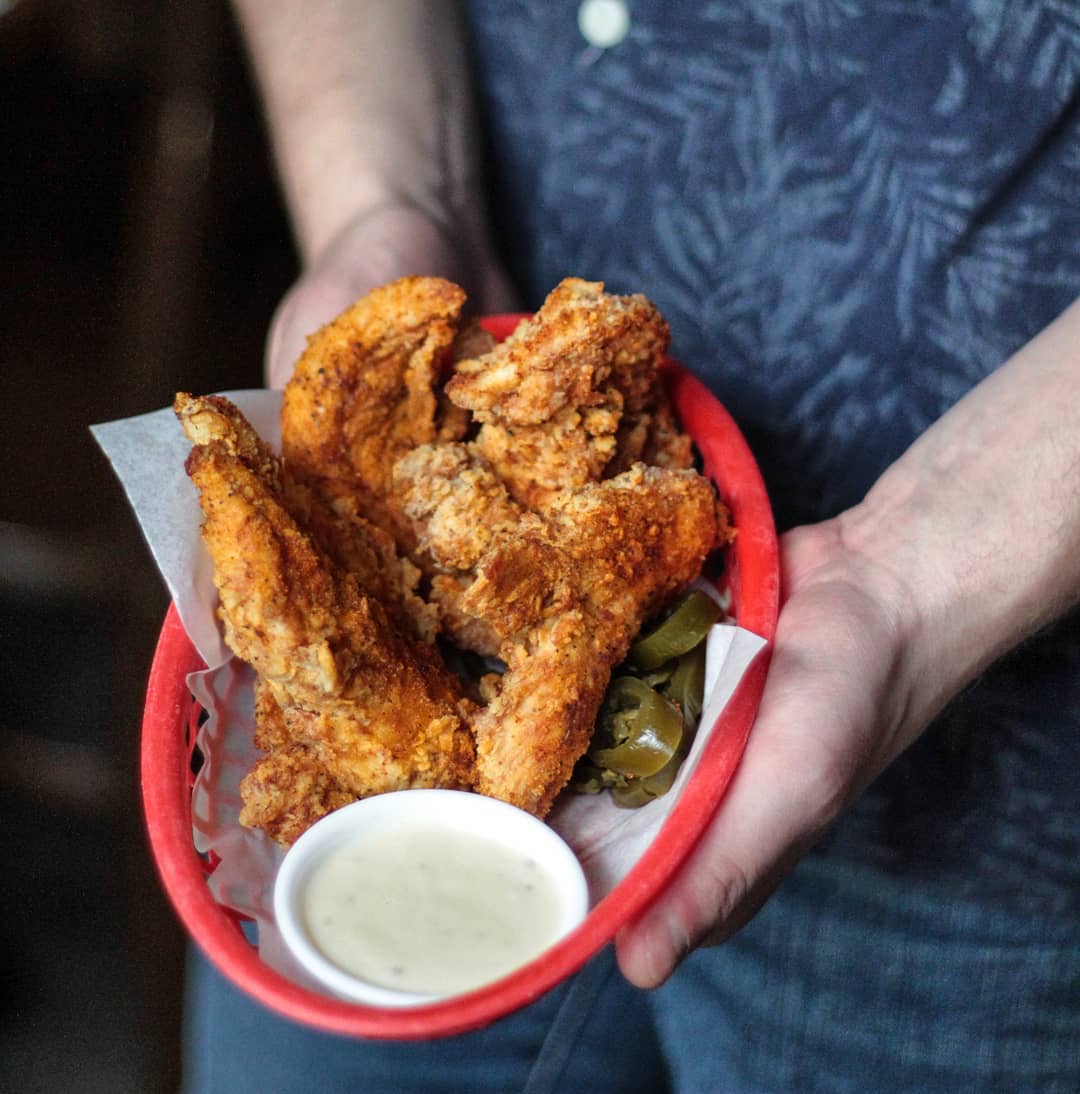 This New Orleans themed late night bar and eatery serves up scrummy grub that will make you feel like you're really in America's South. Among the beef brisket, pork belly and smoked steaks, Le Bon Ton also serves up two variations of wings that are to die for.
There are the standard smoked hot wings with cayenne pepper sauce & chipotle ranch or the Southern fried chicken buttermilk soaked tenders with cracked pepper, white gravy & jalapeños. Both make the trip to this Collingwood establishment worth your while.
Address: 51 Gipps St, Collingwood
Contact: (03) 9427 2133
---
---
---
Chick-In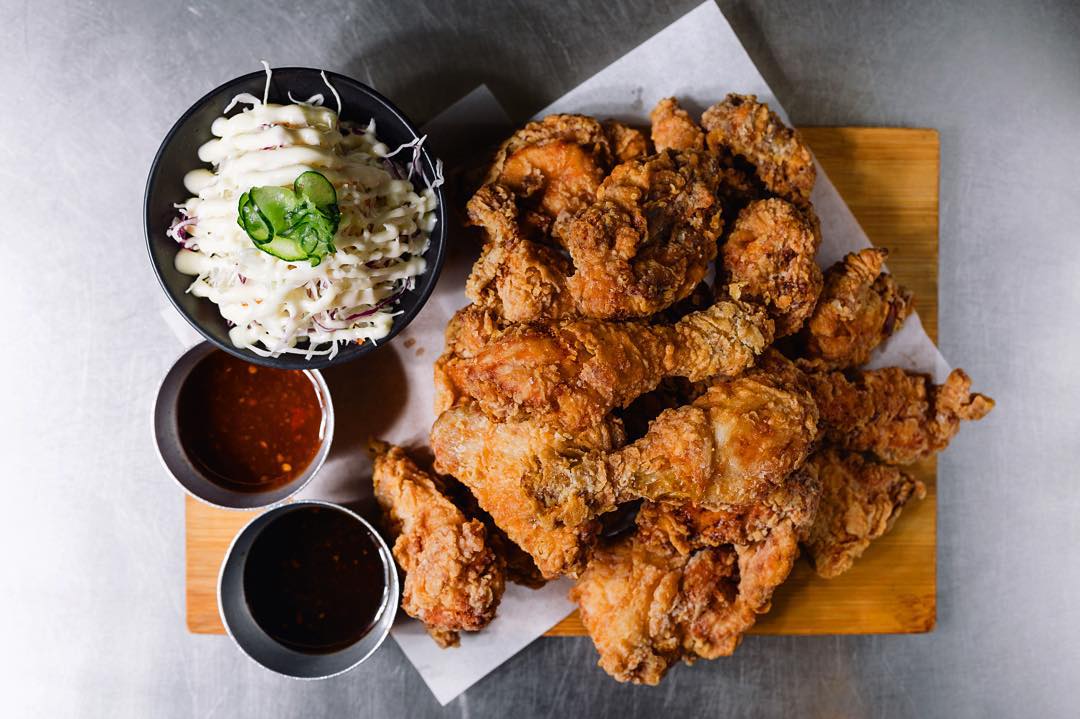 Head along to Collins Street if you haven't quite got enough of Korean fried chicken yet. Check-in is built on the art, using locally sourced free-range chicken to deliver some of the best fried chook Melbourne has ever tasted. The beer, spirits, and wine selection is also top notch, with beverages chosen specifically because they pair well with the lightly greased, impossibly crispy bird.
Address: g23/620 Collins St, Melbourne
Contact: (03) 9973 6244
---
Fried Chicken in Melbourne – Frequently Asked Questions
What is the best fried chicken in Melbourne?

The best fried chicken in Melbourne can be found at Juanita Peaches, Rockwell & Sons, and Leonard's House of Love.

What is Korean Fried Chicken?

What separates your Korean Fried Chicken from the more standard American style is crust, flour, and batter. A traditional Korean Fried Chicken typically has a very thin crust made up of a light dusting flour and super thin batter. It's also usually double fried with a brief rest in between.

Is fried chicken healthy?

Hard no. In moderation it may be fine, but fried chicken is unfortunately very unhealthy. Because the chicken is deep-fried and breaded, fried chicken usually comes with a lot of calories, carbs, and unhealthy fats.
Melbourne's fried chicken scene not your thing? Go broad and have a read up on the best new restaurants in Melbourne.