As the crowning jewel of New Zealand's South Island, Queenstown lives and breathes the country's sense of adventure. To think about Queenstown is to imagine slops of the world's greatest snow, jetboats squeezing through narrow spaces, and off-the-bridge bungee jumping with a side of ziplining. To visit Queenstown is to give yourself over to the hungry blend of pristine nature and heart-pumping adrenaline Aussies have come to closely associate with the South Island. Although you'll definitely need to be across the best restaurants Queenstown has to offer if you want to keep that spectacular lifestyle running efficiently.
You'll need a hearty meal to re-fuel after all, and to make sure you only make the best choices, we've put together the ultimate culinary guide, whether you're a skier who needs some après ideas, or a culture buff looking to break up visits to boutique art galleries with the town's best food. As you'll see below, adrenaline almost always comes with a healthy serving of fine, world famous New Zealand produce.
When it comes to cuisine, this incredible winter paradise punches well above its weight. There's much to be discovered and savoured when you're not lapping one of the town's four world-class ski resorts, whether it be the uniquely regional flavours or the unparalleled quality of the local produce. After a day on the snow, there's no better reward than a crackling fireplace, delicious food & wine, and some time with friends in Queenstown's cosmopolitan town centre.
---
---
The 13 Best Queenstown Restaurant & Eateries
---
Bespoke Kitchen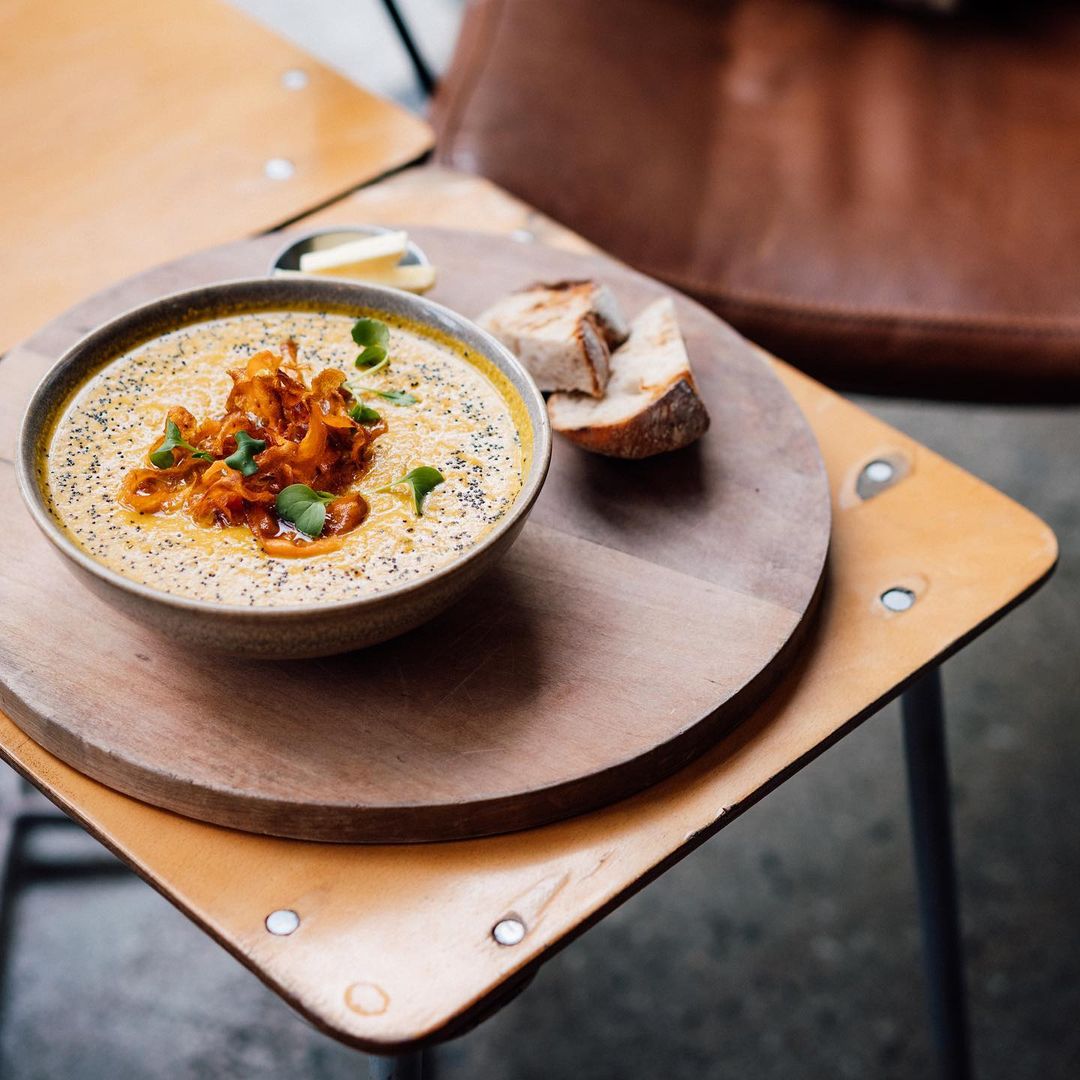 Sometimes, the simplest options yield the most satisfying results. This is precisely the case with Bespoke Kitchen, often referred to as Queenstown's most valuable cafe. An absolute scene-stealer for Queenstown breakfast and brunch scene, it's exactly where you need to go after a big night, or to fuel up before hitting the slopes. Plus, the hilltop location is one of the best places to start the day, overlooking the surrounding bay and pulling in the majesty of the Remarkables. It's just a shame they don't do dinner, because this spectacular spot is Queenstown's best located establishment.
Address: 9 Isle Street, Queenstown
Contact: +64 3409 0552
Opening Hours: Monday – Sunday (7:30am – 4pm)
---
Yonder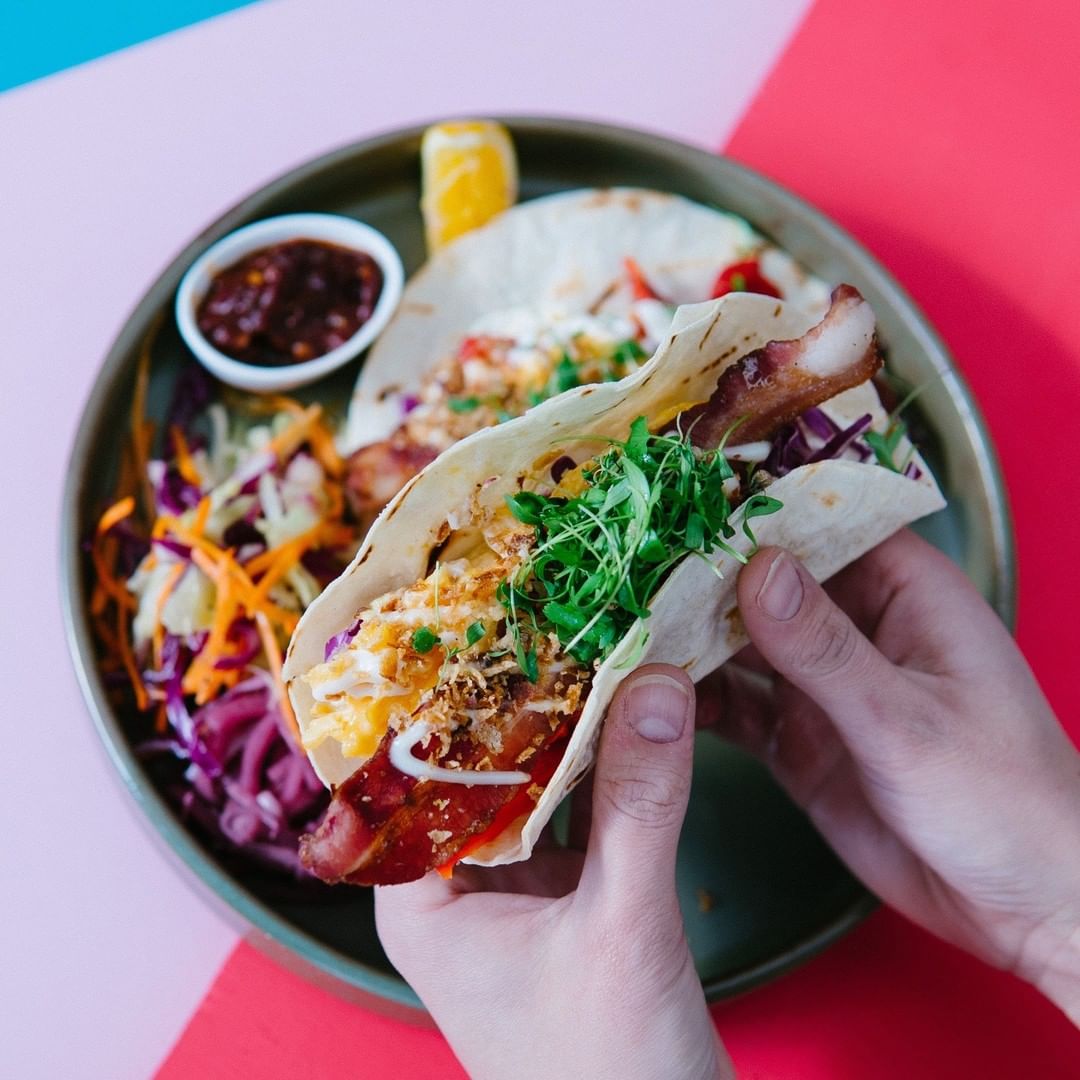 This institution is another one to keep an eye out for. Uniting entire worlds of flavours, you'll find a variety of culinary fusions, leaning more towards central Asian. Stop me if you've heard this next one: slow-cooked pork belly in an apple puree, with a salad of carrot, bean sprouts, cucumber, red pepper, and of course, pork crackling. What about blue cod ceviche, salt 'n' Szechuan squid, corn & jalapeno fritters, and miso cured salmon? Yonder is a restaurant, bar, and kitchen that values the diversity of the Otago region and is perfect for dinner.
Address: 14 Church St, Queenstown
Contact: +64 3409 0994
Opening Hours: Sunday – Wednesday (8am – 4pm); Thursday – Saturday (8am – 2:30pm)
---
Fergbaker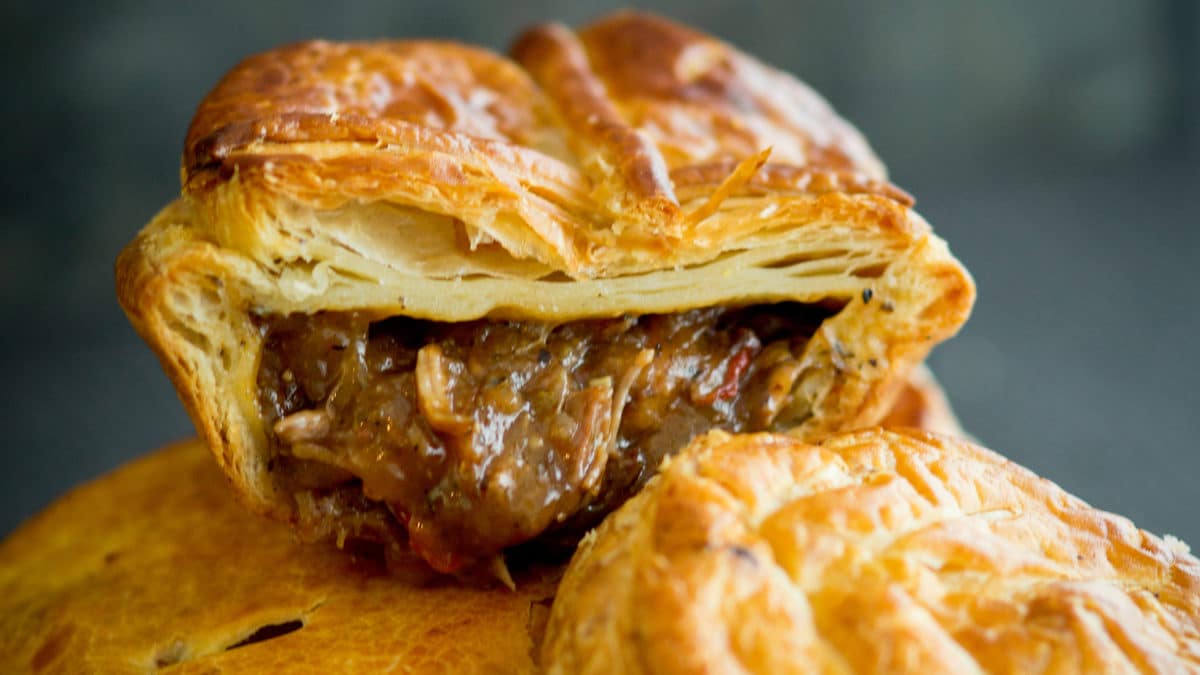 You've surely heard of Fergburger and how it is one of the must-try burgers in New Zealand. And, of course, the fresh-forward Queenstown institution is definitely worth a visit. But don't make the mistake of skipping sister venue Fergbakery, right next to the legendary burger shop wafting a different kind of scent. Instead of burgers stuffed with local produce, you've got soul-warming pies, massive croissants, freshly baked bread, and various sweet treats. It's the best bakery in Queenstown, by a country mile, and best of all, it's open until 4am on Fridays and Saturdays so you know that après ski kick-on will almost in certainly leave the bar and end with a cheap pork belly pie, cookies, or anything else from the menu.
Address: 40 Shotover St, Queenstown 9300
Contact: +64 3441 1206
Opening Hours: Sunday – Thursday (6am – 2am); Friday – Saturday (6am – 4am)
---
Taco Medic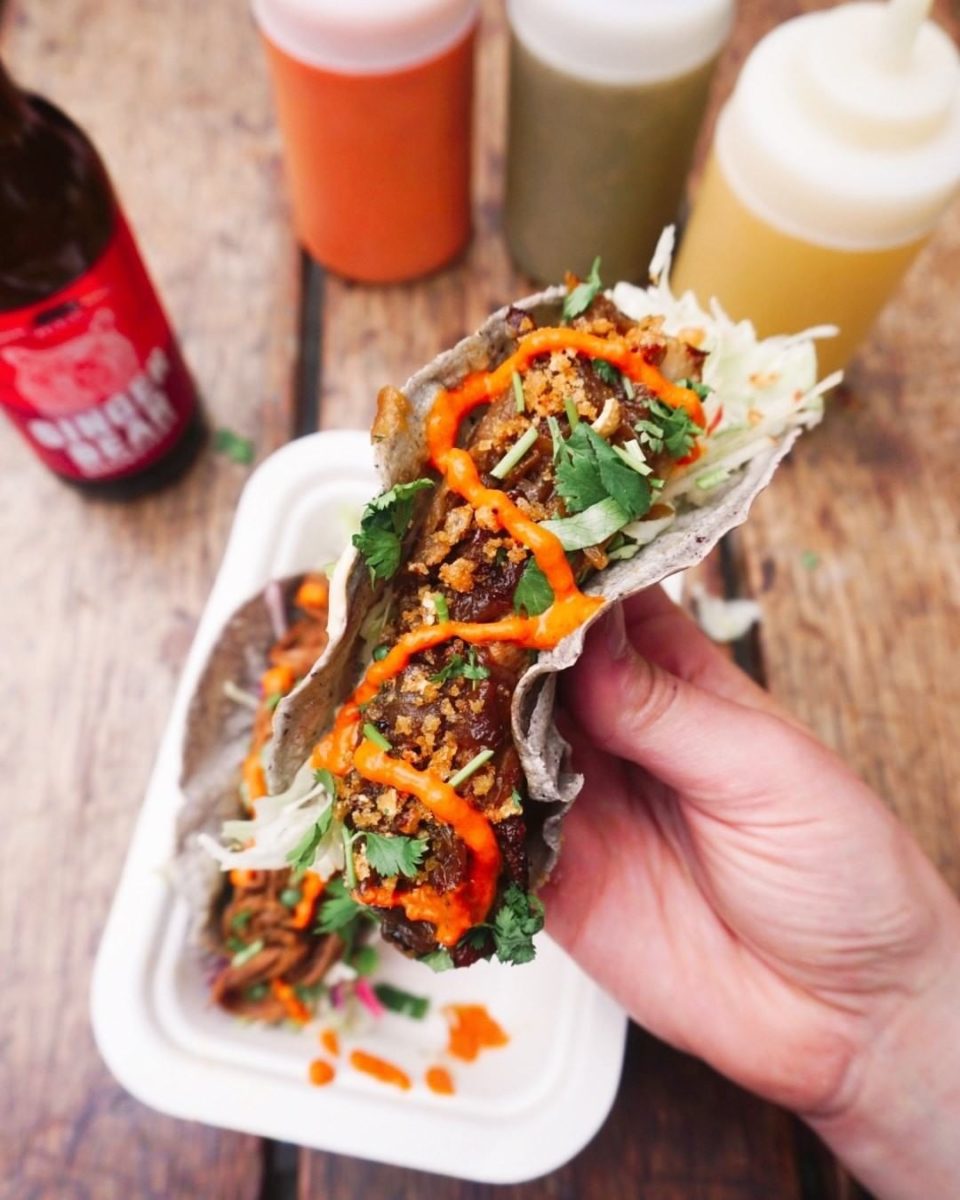 A reliable and cheap Queenstown eatery from when ski season has already chewed through your adventure budget. The affordable craft taqueria is the best choice for anyone curious about what Mexican food tastes like when viewed from the lens of local New Zealand flavours. You better believe that means that the Baja-style fried fish, Oaxacan spiced pan seared fish, and prawn tacos are the top bites from the menu. If you want Mexican food, a taco and some craft beer is a must here.
---
---
Address: 3 Searle Lane, Queenstown
Contact: +64 3442 8174
Opening Hours: Friday – Wednesday (12pm – 8pm)
---
Erik's Fish & Chips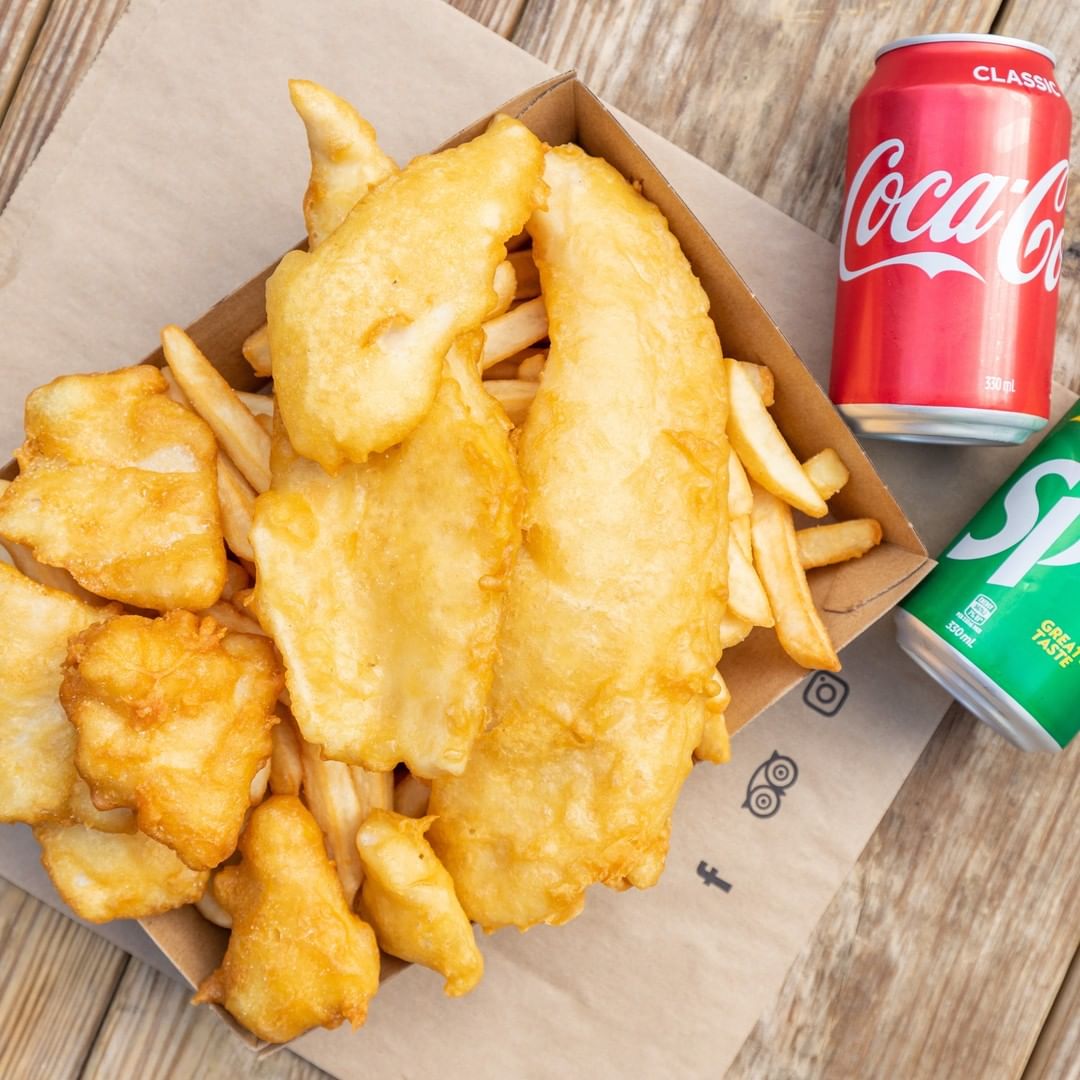 There's not much else as emblematic of a Kiwi diet than a fish and chips shop. Erik's Fish & Chips is the best of New Zealand's best – as classic as they come with hearty portions showcasing the country's finest and freshest locally caught seafood. Hoki, monkfish, and blue cod are the best orders here, but there's everything from calamari and Bluff oysters, to king prawns and mussels. Forget the best restaurants, sometimes all you need is Queenstown's best lake side fish & chip shop, with a range of seafood for the quintessential Kiwi meal.
Address: 13 Earl Street, Queenstown
Contact: +64 3441 3474
Opening Hours: Monday – Sunday (12pm – 8:30pm)
---
The Lodge Bar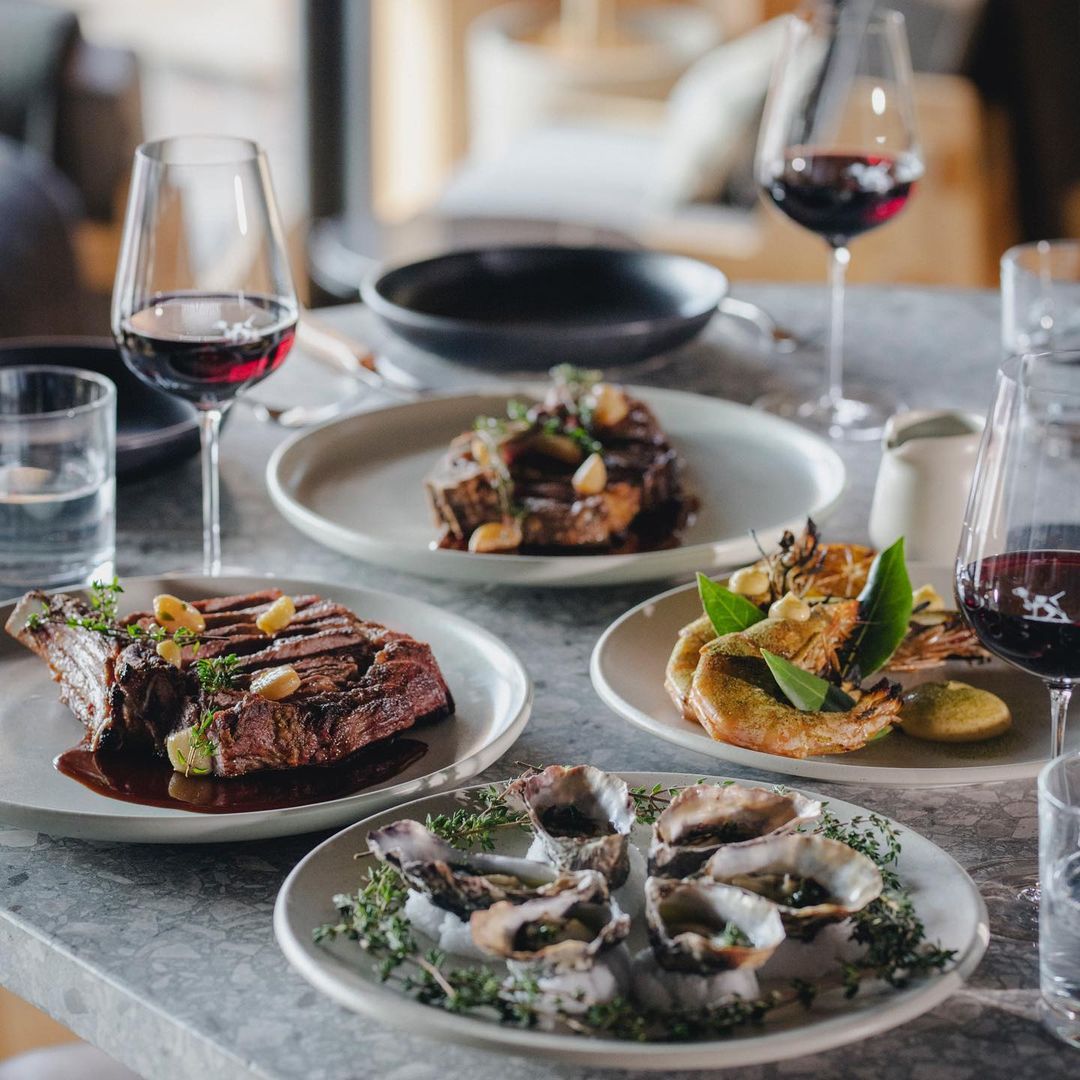 The Lodge Bar comes as the lifestyle extension for renowned premium menswear brand Rodd & Gun, debuting in 2016 with prime position overlooking Lake Wakatipu and gesturing towards Cecil and Walter Peaks. The upmarket, slightly European like bar has since seen an Auckland extension, and has firmly been established as one of the quintessential haunts in Queenstown for something a bit more extravagant than your typical après ski sesh.
Although it's not just a stiff, well-deserved wine you'll find at this cosy establishment, with the food menu (designed by a Michelin starred chef) sporting everything from meat pie croquettes with smoked cheddar, to house made tortellini with parsnip, sage, and brown butter, and of course, lamb.
The restaurant menu changes regularly so make sure you check ahead for new dishes before going to The Lodge Bar for some region focused wine and food for lunch or dinner. Plus, the town doesn't have many Italian restaurants, so if you want pasta, the tortellini comes highly recommended.
And if you need a style up after visiting the restaurant, the staff here are more than capable when it comes to premium menswear.
Address: 2 Rees Street, Queenstown
Contact: +64 3442 9426
Opening Hours: Monday – Sunday (4pm – 10pm)
---
---
---
Madame Woo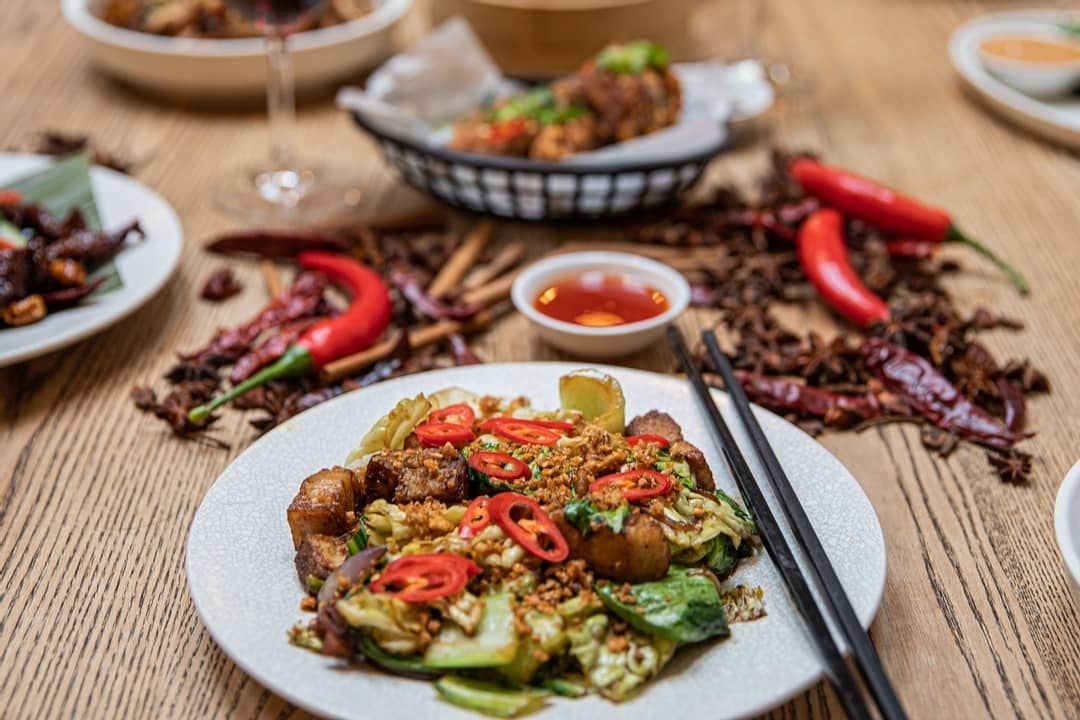 Queenstown has several unique dining institutions, but none is as unexpected as Madam Woo. The arrestingly casual restaurant serves up authentic Hawker inspired Malaysian food with a few contemporary flourishes and locally-minded twists. So beloved is Madam Woo that it has gone on to open venues in Auckland and Hamilton – success no doubt built on signature fusion food like the crispy, hawker rolls which have fillings like pulled sticky pork, percik chicken, fresh chickpea masala, and roast duck, plus plenty of other options on the international inspired menu using locally sourced flavours like lamb and salmon to showcase the region and local cuisine.
Address: 5 Lower Ballarat Street Queenstown
Contact: +64 3442 9200
Opening Hours: Monday – Sunday (12pm – 10pm)
---
Rata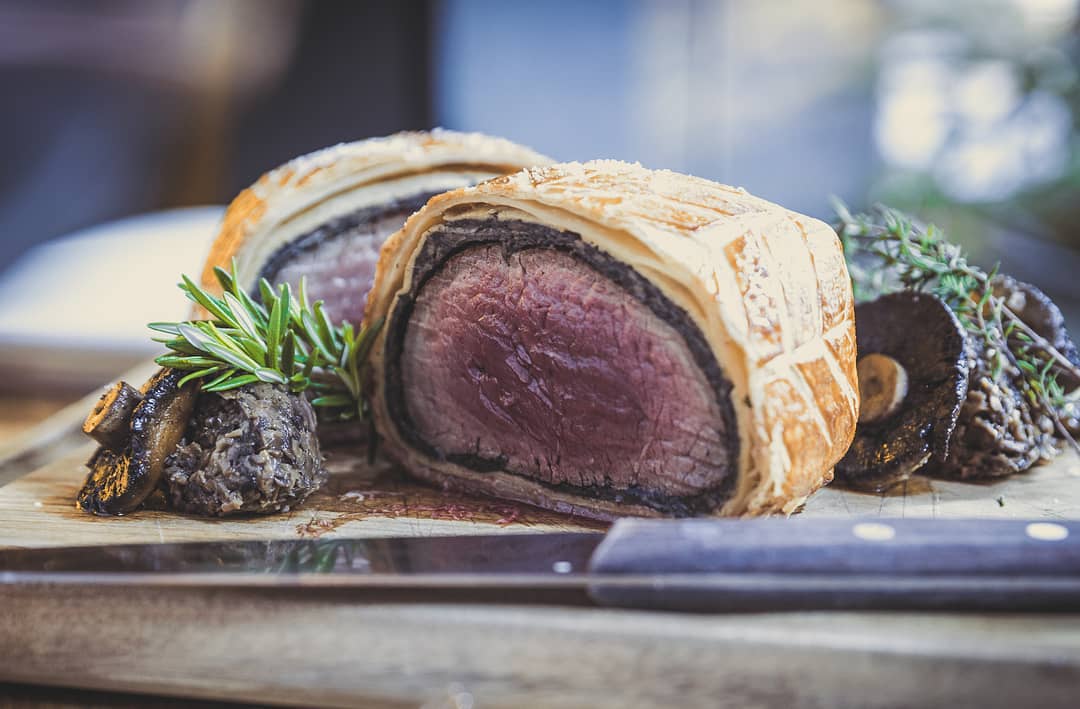 From the brilliant, delicious mind of renowned Michelin-star chef, Josh Emett, comes Rata. In addition to being a collaborator of Gordon Ramsay's, as well as being the proprietor of two other 'Asian meets New Zealand' culinary hits, Hawker and Roll and Madam Woo, Emett has the midas touch when it comes to a delicious night out. And Rata is no exception. With a food menu that changes frequently based on produce, this is well and truly some of Queenstown's best dining experiences, best served with a pinot noir from the cellar on the side (or some cocktails).
Address: Te Nuku, 43 Ballarat Street, Queenstown
Contact: +64 3442 9393
Opening Hours: Monday – Thursday (5:30pm – 10pm); Friday – Sunday (12pm – 2:30pm, 5:30pm – 10pm)
---
Jervois Steak House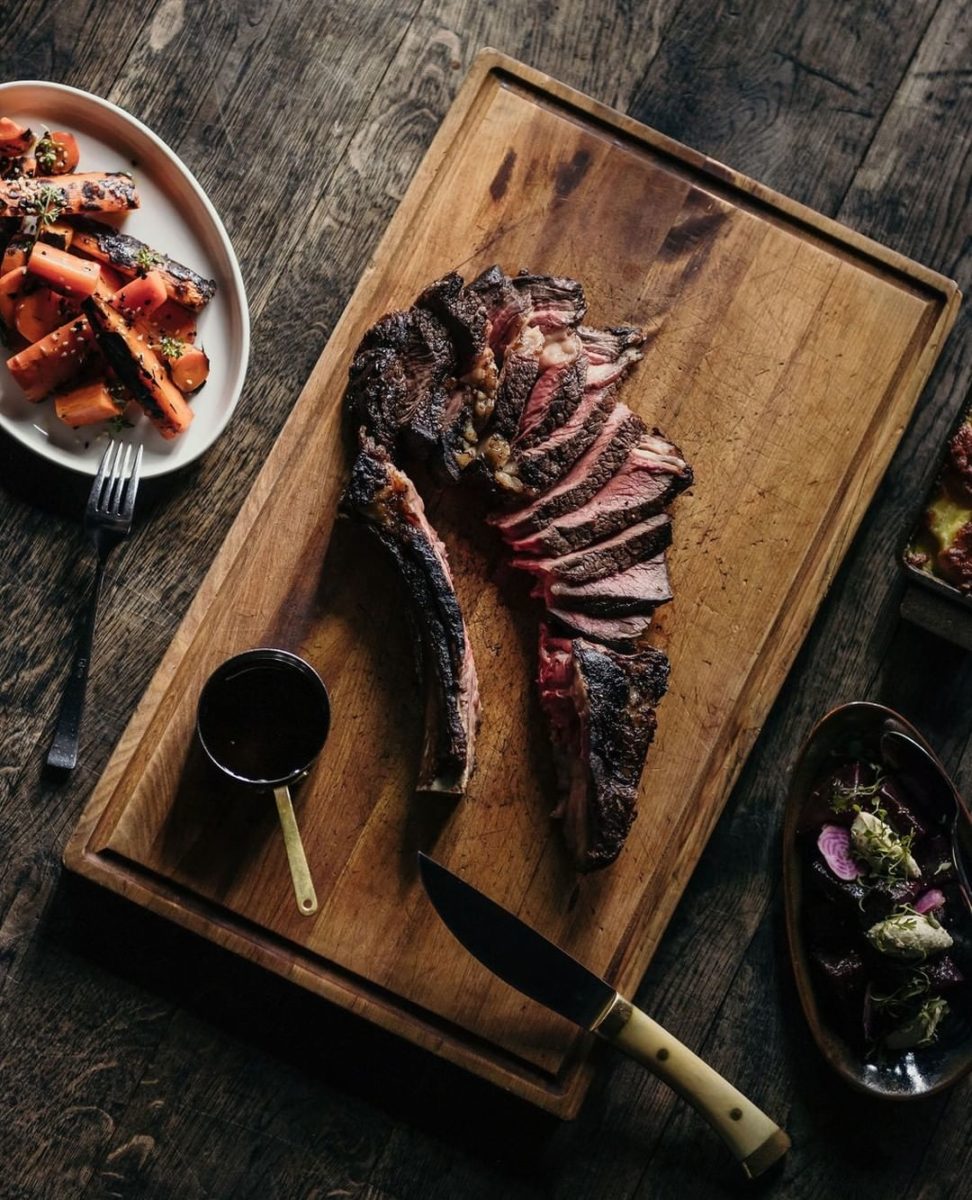 Another more upscale restaurant for those who want to seriously eat well in Queenstown. Jervois Steak House is built on top cuts of locally sourced beef, sourced from the very best producers in New Zealand and Australia. Amongst the wide and expansive fine dining selection, you'll also find the likes of Japanese A5-grade wagyu, Tasmanian and Queensland Wagyu, 1824 King cuts and on-the-bone ribeye (on the bone). You simply can't go wrong with the food here if you want a memorable meal.
Address: 8 Duke Street, Queenstown
Contact: +64 3442 6263
Opening Hours: Monday – Sunday (5pm – 9pm)
---
Amisfield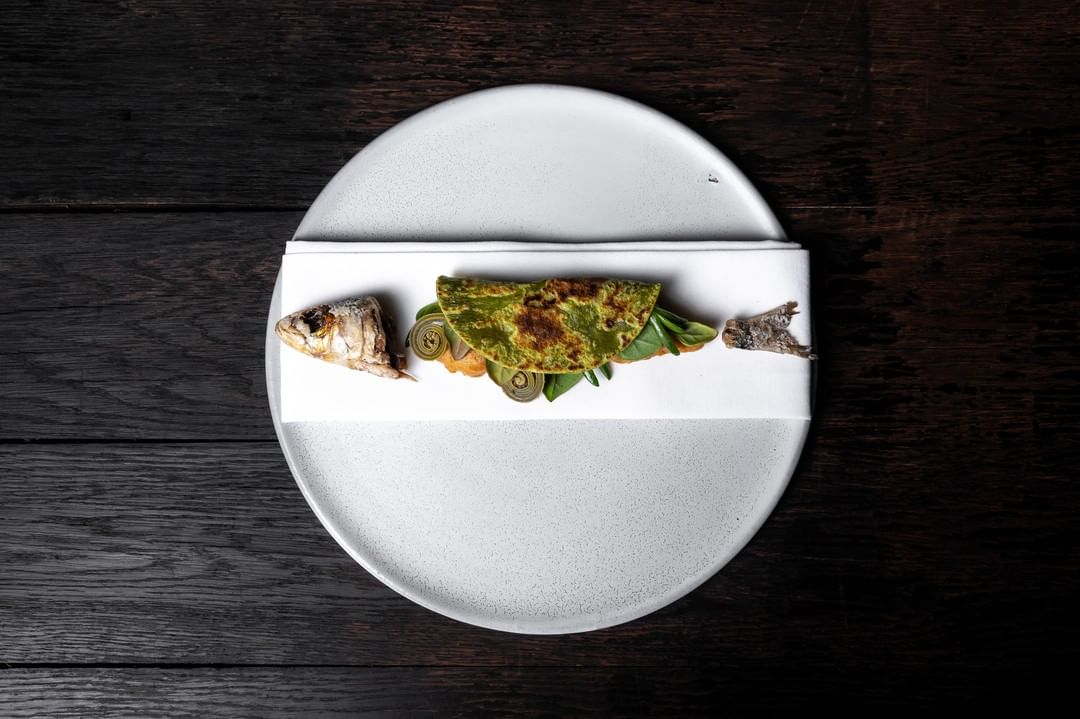 A famous local Central Otago cellar door on New Zealand's South Island, Amisfield is that just-outside-of-Queenstown stop just about every self-respecting gourmand and wine lover needs to make at least once in their life. The incredibly cosy, convivial restaurant inside is best experienced with a fine dining 7-course feast, making use of the best flavours the kitchen has sourced that season, worked into European inspired food designed to bring out the best in Central Otago, whether it's for lunch or dinner. Just make sure lamb is on the plate at some point – it's a renowned local favourite – and you make the most of the cosy cellar door experience (that means ignore the cocktails and drink all the wine).
Address: 10 Arrowtown-Lake Hayes Road, Frankton, Queenstown
Contact: +64 3442 0556
Opening Hours: Monday – Wednesday (10am – 6pm); Thursday – Sunday (10am – 11pm)
---
---
---
The Grille by Eichardt's
Located in beloved 5-star luxury hotel Eichardt's, The Grille remains a best-of when it comes to restaurants in Queenstown for when dinner could use something more aligned with fine dining. The New York-inspired restaurant is laser focused on showcasing the produce of Central Otago and Southland, mostly through signature dishes like the Eichardt's Legendary Seafood Chowder and various steaks cut from the best meat on the South Island, paired with only the best wine – both local and European – or craft beer.
Address: 9 Marine Parade, Queenstown 9300, New Zealand
Contact: +64 3441 0444
Opening Hours: Monday – Tuesday (7:30am – 11:30am); Wednesday – Sunday (7:30am – 11:30am, 4pm – 10pm)
---
Boardwalk
Whether you want live crayfish or a winter-warming fish curry on a cold night, fine dining and seafood go hand-in-hand at Boardwalk restaurant. Located on Steamer Wharf, this fine dining king of Lake Wakatipu is built on the idea of serving fresh seafood in a more upscale setting, but there are just as many options for those who want to go for the vegetarian menu, or eat a big, juicy, and delicious local steak with some wine on the side.
Address: Level 1 Steamer Wharf, 88 Beach St, Queenstown
Contact: +64 3442 4600
Opening Hours: Saturday – Thursday (3:30pm – 12am); Friday (11:30am – 12am)
---
The Cow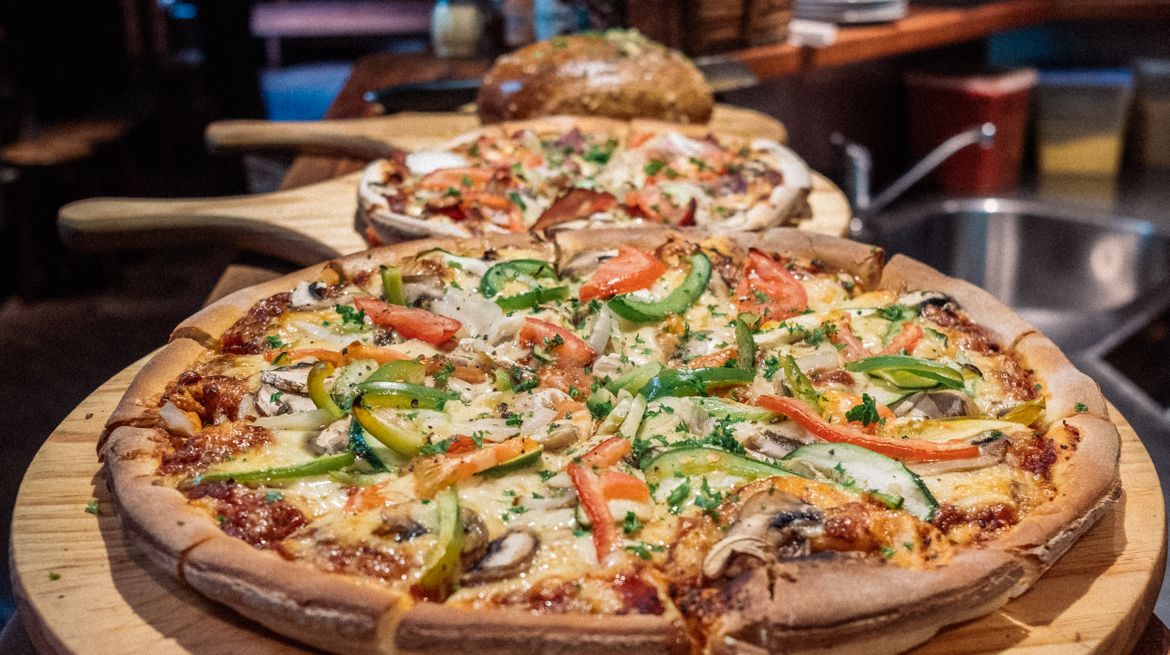 An old-school New Zealand pizza restaurant shaped into a disused cow shed? Count us in – we could eat and drink everything in sight. But we'd probably have a hard time finding a table on peak days. The Cow is as classic a restaurant in Queenstown can be, beloved in the town for over 40 years. The faultless, simple range of pizza and pasta make this a hub of Queenstown comfort food completely worthy of legendary status. Grab a bolognaise pizza and scoff it down fireside with a wine in hand, you'll soon agree that this is one of the best restaurants in Queenstown for a meal at lunch or dinner.
Address: Cow Lane, Queenstown, Otago
Contact: +64 3442 8588
Opening Hours: Monday – Sunday (12pm – 11pm)
---
Best Queenstown Restaurants – Frequently Asked Questions
What is the best restaurant in Queenstown
Rata is constantly rated one of the best restaurants in Queenstown, but recently the fine dining institution has seen strong competition from The Lodge Bar, Boardwalk, and The Grille.
What is the best affordable restaurant in Queenstown?
Madam Woo's hawker rolls are some of the best casual food you can find in Queenstown, right up there with Fergburger and Erik's Fish & Chips.
---
---
Where is the best place for wine in Queenstown?
You can't go past Amisfield winery when it comes to some of the best wine in the country.
This article is the second in a complete directory brought to you in partnership with Destination Queenstown. Check out our Quickfire Guide To A Boys' Ski Weekend In Queenstown.
Staying on the North Island? Check out the best new restaurants in Auckland, and if you're looking to get out and explore check out the best lodges New Zealand has to offer for luxury and adventure.
---