The River City has come along well in its pursuit of 'new world city' status, constantly upping its culinary game to compete with likes of Sydney and Melbourne. With so many unique and impressive options to choose from, we've spent the last few months honing the crowd to select just eight of the best restaurants that call Brisbane home.
Screening was done considering factors of food quality, creativeness, dining setting, value for money and service, so you know your precious time is well spent in a chair in any of these restaurants. For a tipple before or after, check out our guide on Brisbane's best bars as well.
OTTO Ristorante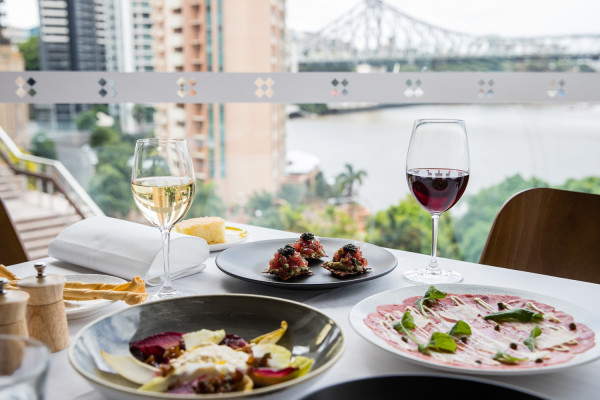 You'll find OTTO on just about everyone's list of top restaurants for good reason. Since opening in 2016, it's worn the crown as the king of Brisbane's modern Italian scene and is famed for its legendary consistency, pulling out sensational dining experiences time and time again. Run by Fink Group (of Quay Sydney fame), OTTO takes traditional Italian staples to the pinnacle of luxury with dishes like lamb shoulder strozzapreti and butterflied quail with Jerusalem artichoke.
---
---
Allow extra time simply to get through the expansive wine list, which is dominated by red varietals and holds the title of Wine List of the Year in the National Good Food Awards 2019. I recommend allowing the sommelier free reign to match wines to your courses for an unparalleled Italian wine experience. OTTO's magic happens on the fourth floor of 480 Queen Street, where diners are treated to uninterrupted views of the Story Bridge – you'll want to stay from assaggi to dolce.
BH Suggestion: Moreton Bay Blue Swimmer Crab Ravioli paired with a 2016 Foradori Fuoripista Pinot Grigio.
Heritij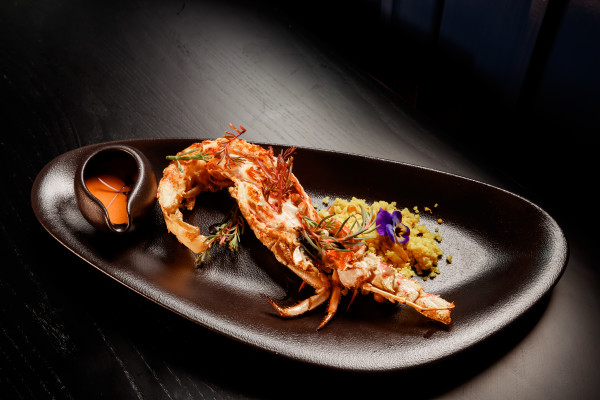 You have to respect a venue for making such a bold entrance. Heritij joins a smattering of other Brisbane restaurants opening their doors in the second half of 2018, but sticks out for its refreshingly unique Asian-Indian offering. Lead by Michelin Chef and general culinary weapon Manjunath Mural, Heritij is a luxury Indian re-imagination of both comforting classics and exotic modern creations. The menu is full of whimsical items which I guarantee you've never heard of, such as 'Galab Jamun' (Saffron Cheesecake Log), that are undoubtedly worth sampling.
The restaurant occupies a prime spot in the new Brisbane Quarter precinct (home to W Hotel) overlooking the river and South Bank. I'll call it: Heritij has the best interior fit-out on this list – it's simply exquisite. Management has spared no expense in kitting out their new home, which is complete with coloured velvet, brocade wallpaper and moody lighting matching the food served within.
BH Suggestion: Flambé Lamb or Curry Culture paired with the Darjeeling Julep Cocktail.
Salon De Co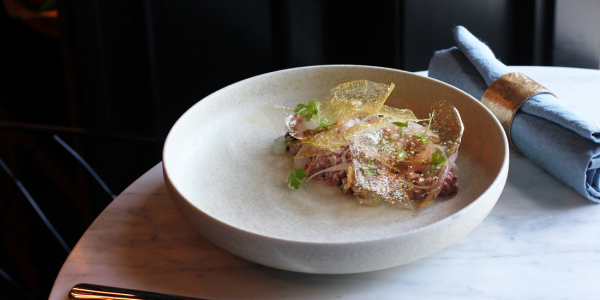 Another relative newcomer deserving of top status as one of Brisbane's best restaurants is Salon De Co, a lesser-known representative of Spring Hill's dining scene, but decidedly the best. It's the flagship culinary offering at Ovolo's Inchcolm Hotel, priding itself on the goal of 'revolutionising the world with creative flair'. The restaurant is full of character and charisma, pushing the artistic boundaries between homely warmth and contemporary boutique styles. The dining room is masterpiece laden in wooden parquetry flooring, brass archways and early 19th-century art spread throughout.
Everything you order is an experiment in food as head chef Andy Ashby strives to create vibrant dishes backed by modern Australian ingredients and techniques. Think an incredible drake dish with kohlrabi and umeboshi, or the inventive pork done with daikon and sesame. Does Salon De Co do set menus? Absolutely not. Rather, patrons can simply opt for a bespoke menu curated by the chef based on your palate. Look out for Ovolo's new hotel opening in Fortitude Valley in late November – they can do no wrong.
---
---
BH Suggestion: Barramundi with Turnip and Charred Broccolini paired with a 2012 Ochota Barrels Chardonnay.
Pony Dining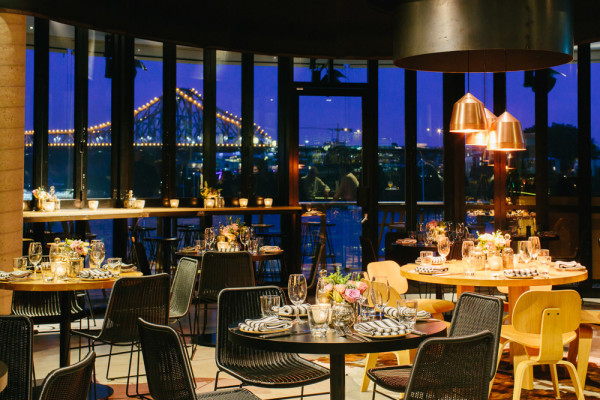 Pony is a classy and refined recluse from the noise of Eagle Street, decorated in luxury odes to cattle stations and with an unfinished concrete floor, wooden tables, cowhides and curves of lasso loop. Visitors are spoilt with iconic Story Bridge views but may instead opt for an entertaining table alongside the open kitchen to watch the pioneers of the woodfire grill do their impressive work.
A heavyweight among Brisbane steakhouses, Pony delivers strongly on flavour and quality to rank it as one of the city's best restaurants. Value for money is also there as many of its rivals get carried away with pricing their beef without the taste premium. At the heart of Pony's menu are the finest cuts of meat, freshest seafood and an array of shared and larger plates, including a 1kg dry-aged wagyu ribeye and grilled whole Murray Cod. It's a cracker spot for a big dinner with friends, but also holds a romantic quality that's hard to beat.
BH Suggestion: Has to be the 500g Dry-Aged Sirloin on the Bone paired with a 2016 Kalleske 'Moppa' Shiraz.
Patina at Customs House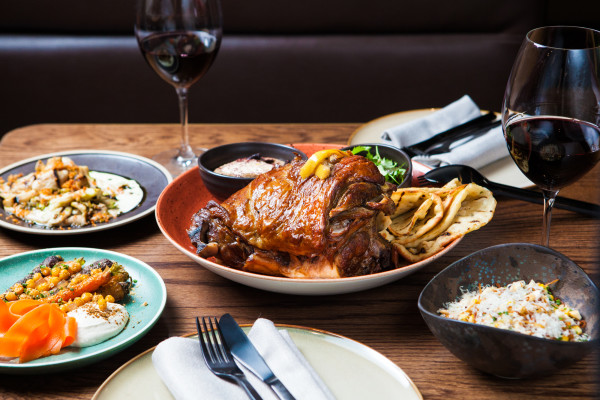 Residing in arguably Brisbane's most tradition-steeped heritage building, Patina is the exquisite rebirth of Customs House's acclaimed restaurant. Other venues on this list may have the riverfront address, but this number outguns them for the setting – surrounded by quaint fairy lights in a colonial-style garden, diners will simply forget they're in the middle of the CBD. Matte black cutlery, golden menus, and a striking light installation are lovely additions to the decorum.
The menu was designed to feature appearances from the garden, pasture, sea and bay, with a strong emphasis on using local produce through a 'paddock to plate' philosophy (mushrooms are even grown in the building's cellars). Highlights include the chargrilled ocean king prawns with curry leaf and sugarloaf, and the duck breast with kent pumpkin and pepita cream. Exemplary service is another one of Patina's strong suits – you can tell customer service values run deep through their veins.
BH Suggestion: Slow Cooked Lamb Shoulder with Black Garlic Hummus and Harrisa Yoghurt paired with a 2013 Elderton Cabernet Sauvignon.
The Boatshed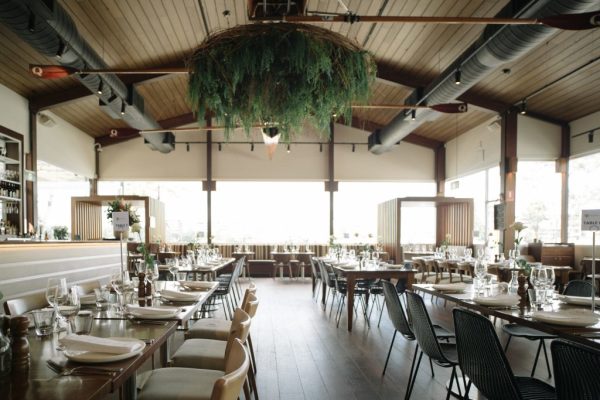 Often overlooked for being on the city fringe, The Boatshed at the Regatta Hotel is an understated classic of Brisbane's western suburbs. Patrons are greeted by a theatrical two-metre long flame grill on entry, which serves a dual purpose as the restaurant's centrepiece installation and cooking utopia for its signature dry-aged steaks. The menu refuses to lend itself to one niche, rather offering a variety of exquisite mainstay options to complement its offerings from the grill.
---
---
This matches the décor, which is stylish and relaxed, boasting endless wood finishes and earthy textiles. The ambience is notably versatile too, making it just as appropriate for a date as a business dinner. The Boatshed this year adds another notch to its belt as it claims the award of Queensland's Best Restaurant for 2018 from the Queensland Hotels Association. Make sure to also check out The Walrus Club below the restaurant for a cheeky post-feed whisky.
BH Suggestion: 300g 400+ Days Grain-Fed Wagyu Sirloin paired with a Lagavulin 16yr Whisky.
Dessert: Messina Creative Department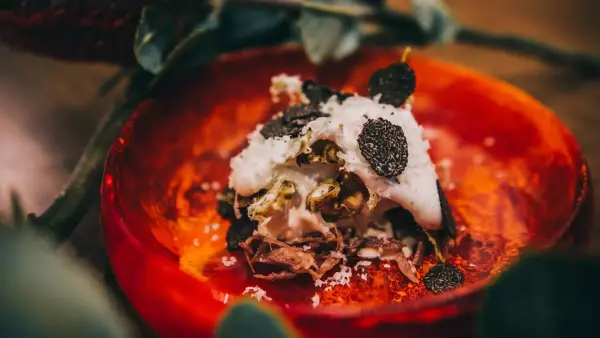 If there's only one spot for dessert on this list, you know it has to be something special. This isn't Messina as you know, but rather a delicious science lab conception that pushes the notion of technology's involvement with food. The genius food technicians at Messina run their "Creative Department", which you can think of as a laboratory for creating desserts from scratch. As well as coming up with new ice-cream flavours for the stores, they create limited-run degustation menus famed for challenging the meaning of opulent dessert.
Unfortunately, The Creative Department only pops-up in Brisbane periodically so keep an eye out, but their permanent home in Sydney has recently reopened with a new menu. New dishes include bagna cauda and cured egg yolk gelato with foie gras ravioli and grilled artichoke, as well as rhubarb umeshu sorbet with ricotta and white pepper mousse. Sittings are limited to eight people – make sure you're one of them when it's back in town.
BH Suggestion: Eight-Course Degustation with matching drinks.
RELATED: These are Brisbane's Best Bars for 2018 | The World's 50 Best Restaurants