Matt Stone & Jo Barrett's understanding of self-sufficiency and traceability aligns perfectly with the values at Patrón, who champion additive-free tequila handcrafted the traditional way. We teamed up with Matt to design three delicious – and conscious – dishes to pair with Patrón's range that you can cook at home.
"Rainbow trout is a great sustainable fish option. It's readily available, affordable and really shines when cured," says chef Matt Stone. "I lightly salt the fillets to cure them, then serve with quick-pickled cucumbers, a bit of green chilli, coriander and cremè fraîche and enjoy with a bowl of organic corn chips."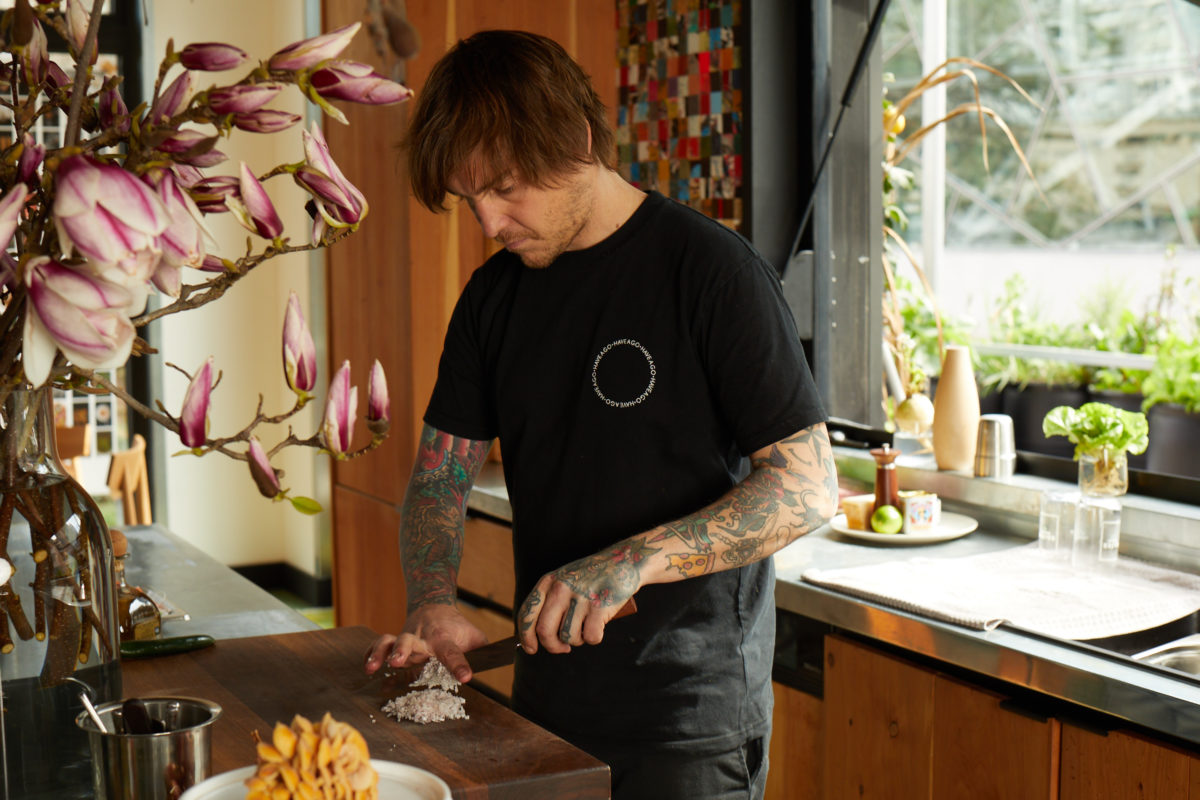 Ingredients
1 rainbow trout (350-400g)
1 tsp salt
1 Lebanese cucumber
1 Long green chilli
30ml white wine vinegar
1 lime
200ml cremè fraîche (sour cream can be used)
A selection of picked herbs and edible flowers
Organic corn chips, such as Doña Cholita
Method

1. Fillet the trout then cut off the skin and remove the pin bones. (You can ask your fishmonger to do this for you if you're not confident.) Season the fish with 1 tsp salt and leave, covered, in the fridge to cure for 2 hours. Once cured, run under cold water and pat dry. Place the fish on a tray and leave uncovered for a couple of hours to dry and set the flesh. Once dried, cover the fish and refrigerate. The fish will keep in the fridge for up to 3 days.

---
---
2. Peel and cut the cucumber in half lengthways. Remove the seeds and discard, then finely dice the flesh into cubes around the size of a pea. Finely dice green chilli and add to a bowl with the cucumber. Season with salt then add the vinegar and finely grated zest of 1 lime. Mix well to combine.
3. Finely dice the trout into pieces the same size as the cucumber, then transfer to a mixing bowl. Discard any liquid that drains from the cucumber, then add cucumber to the trout. Squeeze in some lime juice, a splash of olive oil and some cracked pepper. Mix well and adjust seasoning if needed.
4. Spread the soured cream onto a serving plate then top with the trout and cucumber mixture. Scatter over a mix of herbs and edible flowers. Plate with your favourite organic corn chips, such as Doña Cholita's Totopos, hailing from NSW's northern rivers. Serve with a glass of Patrón Silver or mix up a batch of Silver Collins. Enjoy!
Complete Matt Stone's Patrón pairing menu with his barbecued Sweet Corn With Tabasco Mayo And Grilled Lime and Flank Steak With Burnt Chilli And Spring Onion Salsa, designed to be enjoyed alongside a glass of Patrón Reposado and Patrón Añejo.
This article is proudly presented in partnership with Patrón Tequila. Thank you for supporting the brands who support Boss Hunting.