Given that the demand behind a good plant-based meal has well and truly hit overdrive under the COVID-19 pandemic, Australia's newest start-up meal delivery service is well-placed to snatch a significant share of a fiercely competitive industry. That would be Sydney-based Flave, separating itself from the likes of HelloFresh and Marley Spoon on the promise of a 100% plant-based menu.
Founded by Stuart Cook, former CEO of fresh-focused Mexican chain Zambrero, and his wife Samantha – Flave is on a "quest" to make health-conscious dining more convenient for curious meat-eaters, flexitarians and vegans across Sydney, Melbourne and Canberra.
To do this, the couple tapped Executive Chef Scott Findlay, one of the co-founders of notoriously indulgent Milky Lane, and former private chef to noted vegan Sir Paul McCartney, who has come on board to curate Flave's menu of ready-to-heat plant-based breakfast, lunch, and dinner meals.
---
---
Both Samantha and Stuart describe the reason for starting Flave as not only a desire to have a "positive impact on the planet", but an idea birthed from an ill-fated trip to Costa Rica, where Samantha contracted a severe bacterial infection, needing to switch to strictly plant-based meals to recover. Out of solidarity, Stuart made the same lifestyle change, although both allegedly struggled to find plant-based meals that were both flavoursome and convenient when they returned to Sydney.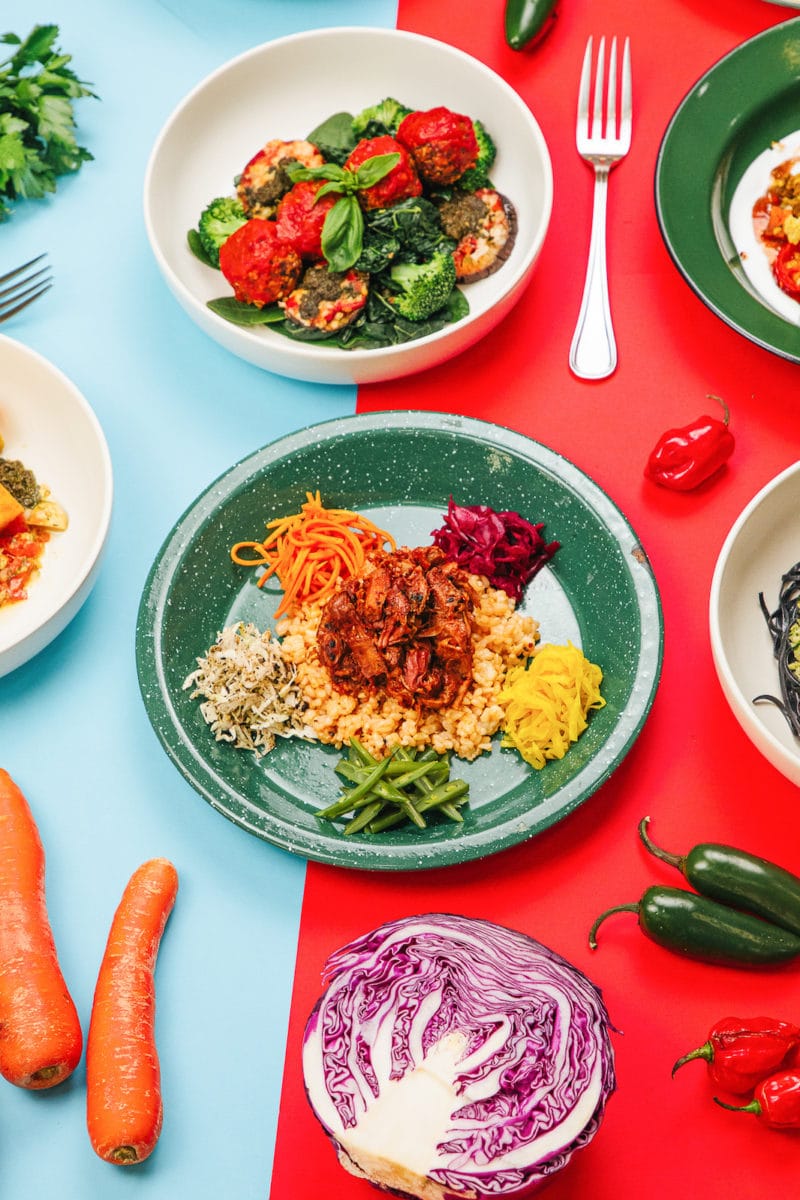 Findlay's menu is inspired by his time cooking for McCartney on tour, often in locations where the lack of accessibility to familiar ingredients forced the chef to "get creative on a daily basis", putting him onto a wider array of herbs, spices and produce that he would finesse using the fine-dining techniques he learned while training under Chef Gordon Ramsay. He also lifts recipes from his time serving other celebrity palates like Rihanna, Madonna, and Alec Baldwin.
RELATED: Ovolo Hotels Restaurants Are Going Completely Vegetarian For The Next 12 Months
The initial menu at Flave will take a worldly approach with Jamaican-flavoured jerk "not-so-chicken", meat-less balls (reportedly McCartney's go-to dish), a plant-based twist on Greek staple moussaka, Biryani-spiced Indian curry, and Indonesian rendang. A few more will form Flave's offering, which is based on a no lock-in subscription model with options for as few as seven or as many as eighteen meals a box.