Melbourne locals have mourned plenty of great French restaurants over the years, from St Kilda's excellent Bergarac Restaurant to Madame Sou Sou and French cafe La Niche. Regardless, there are still plenty of options when you're looking for the best French restaurant Melbourne has to offer. And yes, there's more than just the stately France Soir, although the Melbourne institution could very well be the busiest restaurant in the entire city (don't even think about trying for a booking on Bastille Day).
Similarly to Sydney – and pretty much every major city in the world – French cuisine in Melbourne is worshipped to no end. Such reverence for French technique is evident in the amount of classic French bistros there are dotted across town. France Soir is the most obvious, but then there's the elegant Chancery Lane Bistro, Bistro Thierry and Chez Olivier Le Bistro.
There are plenty of modern expressions of French cuisine as well, taking those classic techniques and sketching different influences on top, whether that's driven by local Australian produce or a desire to get out and really explore different regions of Continental Europe.
---
---
To help you land on only the best French restaurants in Melbourne, we've pulled together our 17 favourites in the city. Of course, you're going to want to start with the big, bold France-Soir and then work your way down – although this list is unranked.
RELATED: 17 Best French Restaurants Sydney Can't Get Enough Of
---
Best French Restaurants In Melbourne Overview [Not Ranked]
---
Our 17 Favourite French Restaurants In Melbourne
France Soir, South Yarra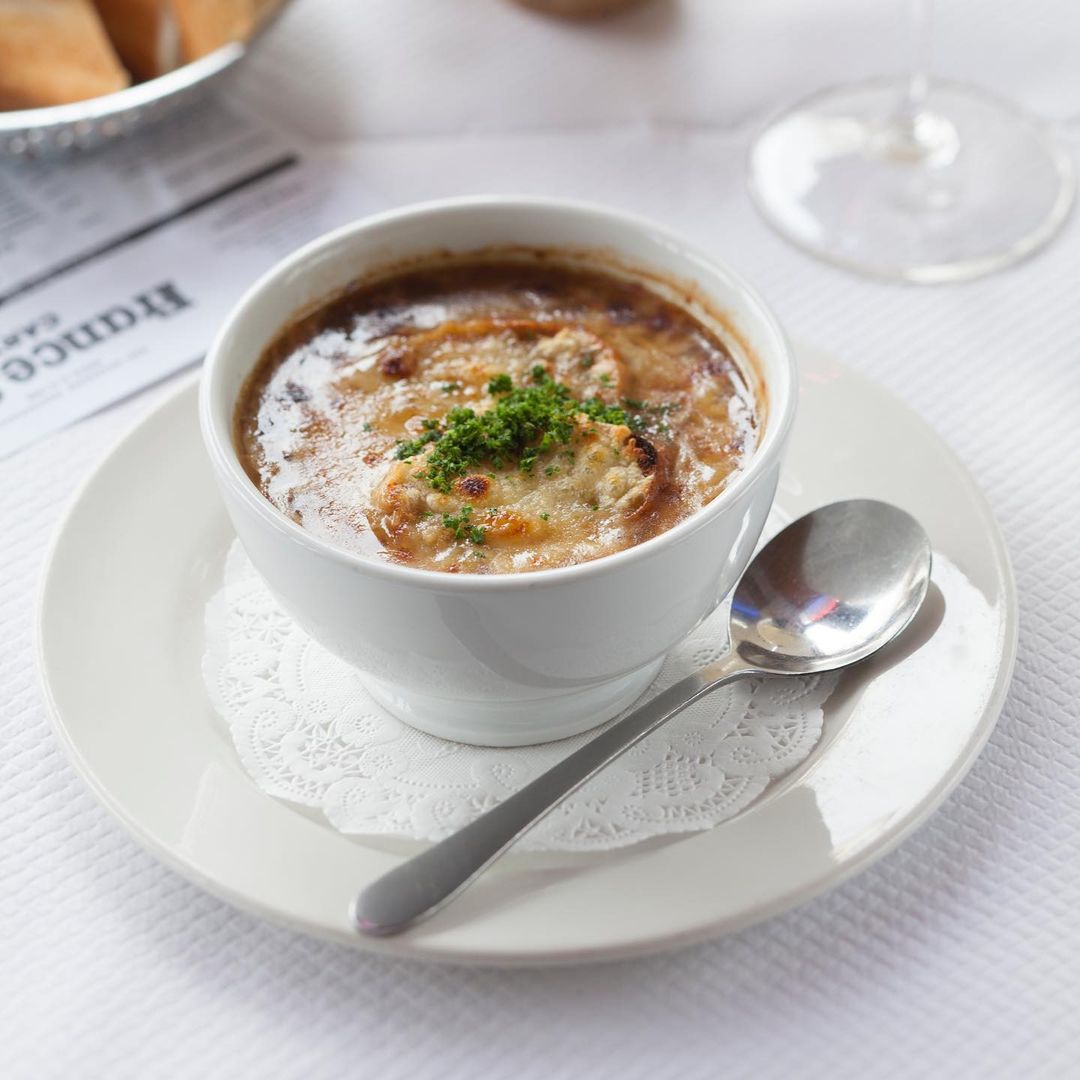 France Soir is an invariably perfect distillation of French culture and a big shadow looming over just about every other French restaurant in Melbourne. Consider it the blueprint if you will; just about every other Melbourne French restaurant has suffered from comparisons to this stalwart, which first opened in 1986 and has since been regarded as one of the very best restaurants in the city.
Located in South Yarra, France Soir is the type of swanky dining icon that has served your most important clients and left them begging for more. Those exceptional peppered steaks and crispy frites should always be surrounded by a plate of buttery snails and mussels doing laps in a generous pool of white wine. That quintessential Duck à L'Orange is always going to be one of the highlights. And no one should ever forget the beef bourguignon, chicken liver parfait and that beautifully balanced steak tartare. Consistency is key for this kitchen, complemented by a certain je ne sais quoi that no other French restuarant in Melbourne has managed to capture.
France Soir is classic French punched up with a panache that even some of Melbourne's other dining icons are enviable of. To many, it's the single most essential dining experience in Melbourne. And while there are certainly arguments against that, it's hard to deny the delicate balancing act of France Soir – a forever restaurant that has managed to anchor itself in the golden age of Melbourne without ever coming across as dated.
Address: 11 Toorak Rd, South Yarra VIC 3141
Contact: (03) 9866 8569
Opening Hours: Monday – Sunday (12 pm – 12 am)
---
Bar Margaux, Melbourne CBD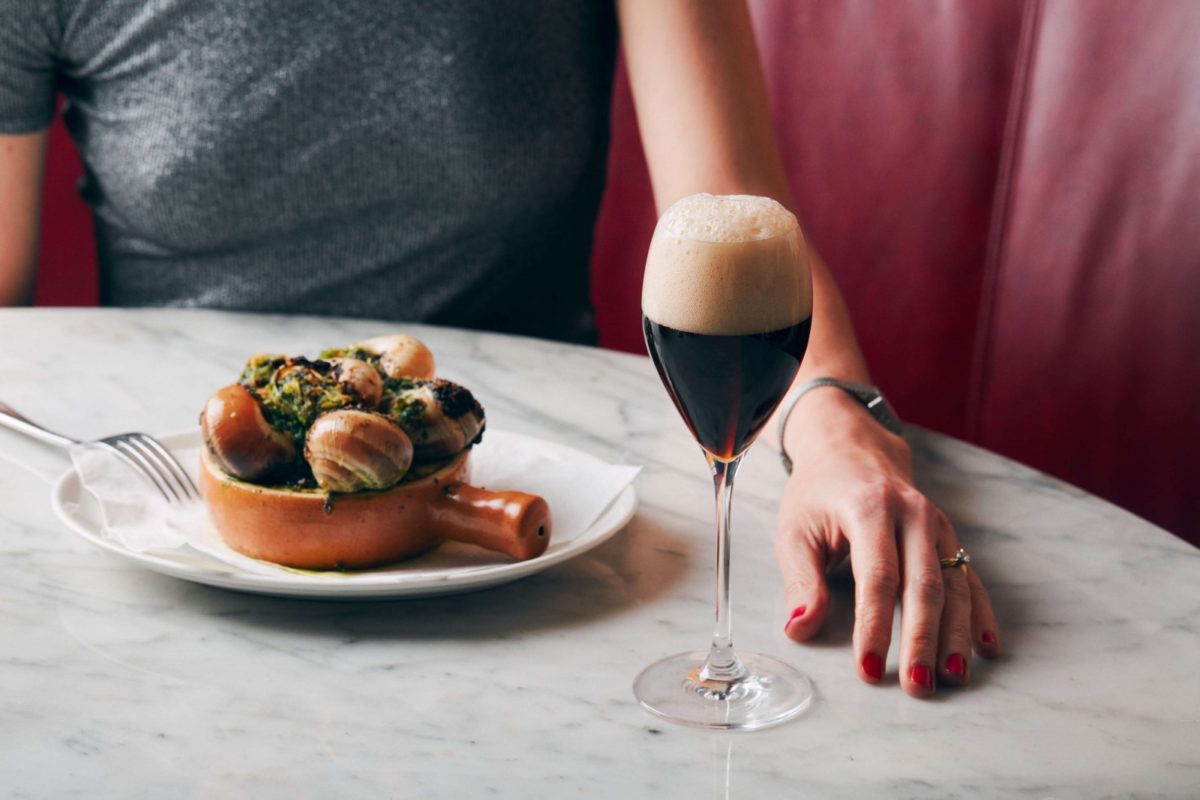 Sydney has Restuarant Hubert and Melbourne has Bar Margaux. By no means the most classical French restaurant in the city, but easily the most alluring, with an atmosphere like no other and a healthy mix of delectable and contemporary dishes squeezed into a menu with classic French dishes.
---
---
Head down that plain-jane staircase shooting off Lonsdale Street to find a subterranean French paradise, where ordering up the signature wagyu cheeseburger – one of the best burgers in Melbourne no doubt – is as acceptable as tucking straight into a classic steak frites with classic French onion soup and pairing it all up with a very fine selection of French and local wines.
It's quite easy to lose yourself in the entire experience of Bar Margaux.
Address: Basement/111 Lonsdale St, Melbourne VIC 3000
Contact: (03) 9650 0088
Opening Hours: Wednesday – Thursday (5 pm – 1 am); Friday – Saturday (5 pm – 3 pm)
---
Smith St Bistrot, Collingwood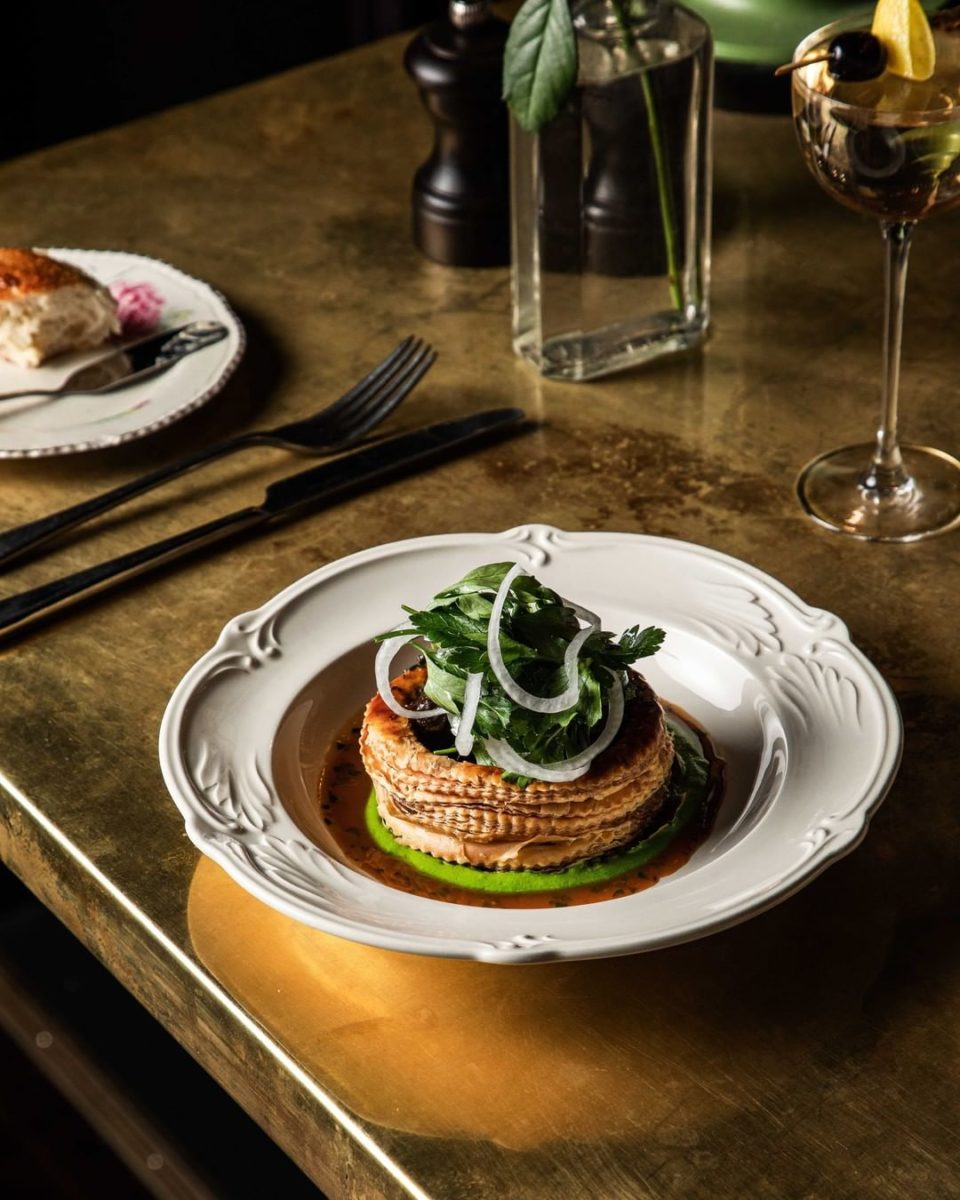 Scott Pickett's head-turning Smith St Bistrot should surely win some design awards by now, with the beautiful classic French bistro reinterpreted with a great deal of modern flair and more than a few pops of colour. Relatively fresh on the scene, the stylish restaurant has already become a favourite for Melbourne locals who can't get enough of their casual French dining.
The dining room is vintage Paris. Incredibly romantic and unlike anything the city has seen for quite some time, propped up by premium caviar service that, if you're playing your cards right, should always precede some of that incredible yellowfin tuna tartare and the rich, moreish snails served with parsley, garlic and puff pastry.
Yes, Smith St Bistrot builds its own version of French cuisine, skewing the classics like moreish French onion soup, coq au vin and chocolate fondant so Pickett can add his own page to the ongoing story of Melbourne's deathless love affair with fine French food.
Address: 300 Smith St, Collingwood VIC 3066
Contact: (03) 9419 2202
Opening Hours: Tuesday – Thursday (5:30 pm – 10:30 pm); Friday (5:30 pm – 12 am); Saturday (12 pm – 3 pm, 5:30 pm – 12 am)
---
Chancery Lane Bistro, Melbourne CBD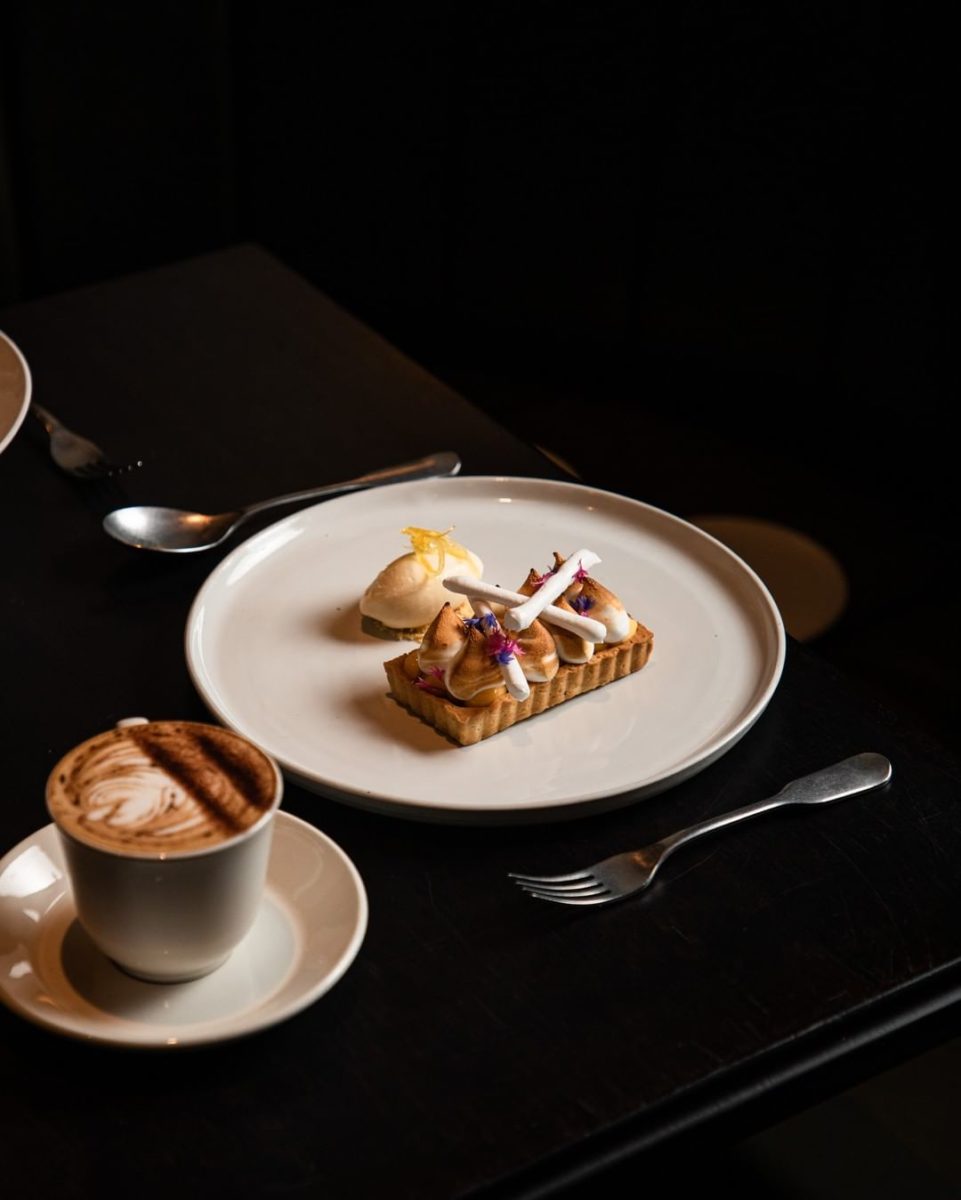 Scott Pickett should get another big nod in that quest to find the best French restaurant in Melbourne for Chancery Lane Bistro. This dramatic and elegantly designed restaurant is more upscale and skews fine dining when compared to the more casual Smith St Bistrot, and yet the idea is very much the same. Take classic French techniques perfected and add more than just a few dashes of modernity, stretching the famously insular cuisine and adapting it to a genuinely exciting sense of adventure.
---
---
Unflappable, efficient service is expected from any Pickett eatery, and Chancery Lane Bistro is clearly no exception. In fact, it just may be the most sophisticated of the Pickett empire, making guests feel right at home while they order up lavish seafood platters, indulge in caviar service and order up mains like the ricotta gnocchi with mushrooms and beurre noisette alongside sides like the pommes frites served with aioli.
Address: 430 Little Collins St, Melbourne VIC 3000
Contact: (03) 9089 7598
Opening Hours: Tuesday – Friday (12 pm – 10 pm); Saturday (6 pm – 10 pm)
---
Entrecote, Prahran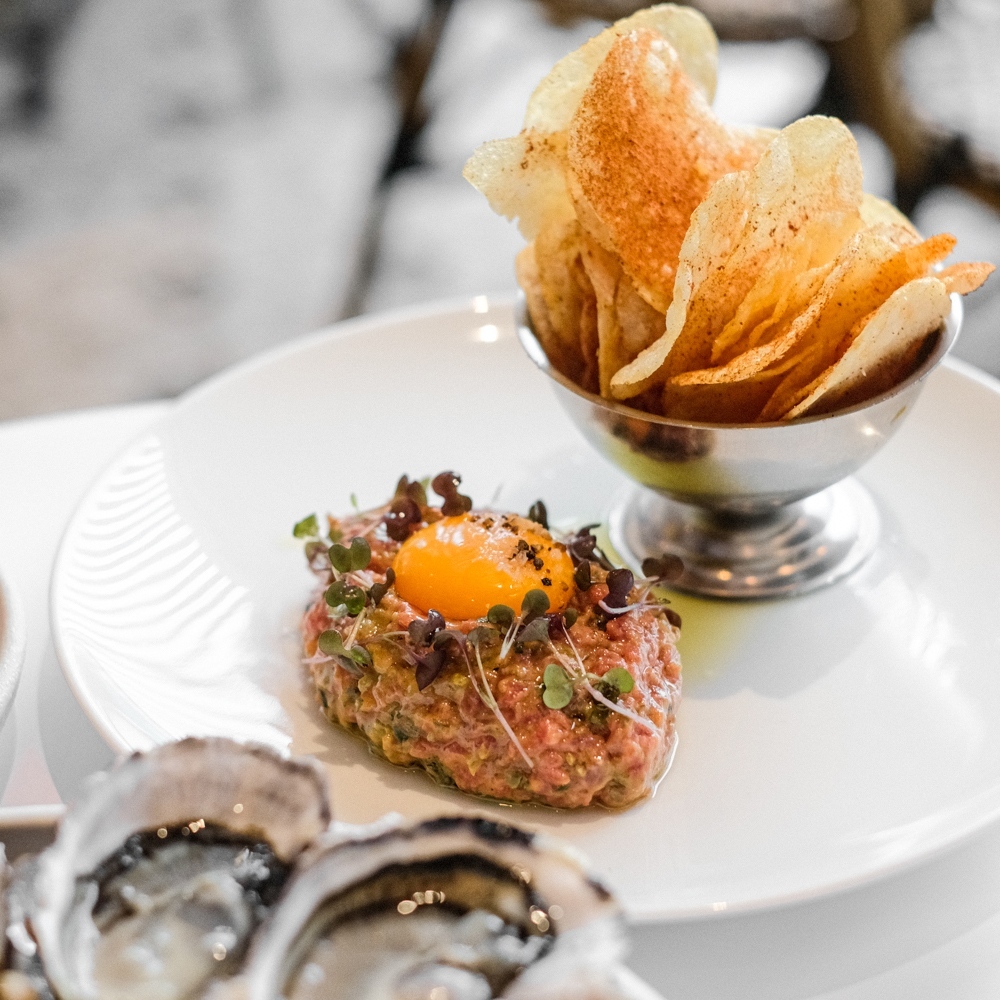 Here's another unimpeachable dining institution that Melbourne locals swear by when it comes to a reliable, premium French dining experience. Tradition is key here, and the recently relocated Entrecote kitchen cares less about carving out new paths than it does refining the essence of regional French dining.
Don't ignore the caviar trolley doing the rounds while you tuck into an indulgent dinner. But if you're keeping it a bit sensible tonight, just focus on the favourites like Saint Pierre et Crevette – a prawn and chestnut crusted dory with parsley cream sauce – and the signature Entrecote steak frites using Cape Grim Angus porterhouse.
Much like Bar Margaux, the kitchen does an upscale restaurant burger that's exceptionally moreish and rich, served up with truffle brie and frites for good measure.
Address: 142-144 Greville St, Prahran VIC 3181
Contact: (03) 9804 5468
Opening Hours: Sunday – Thursday (12 pm – 11 pm); Friday – Saturday (12 pm – 12 am)
RELATED: Best Italian Restaurants Melbourne Has To Offer
---
Bistro Gitan, South Yarra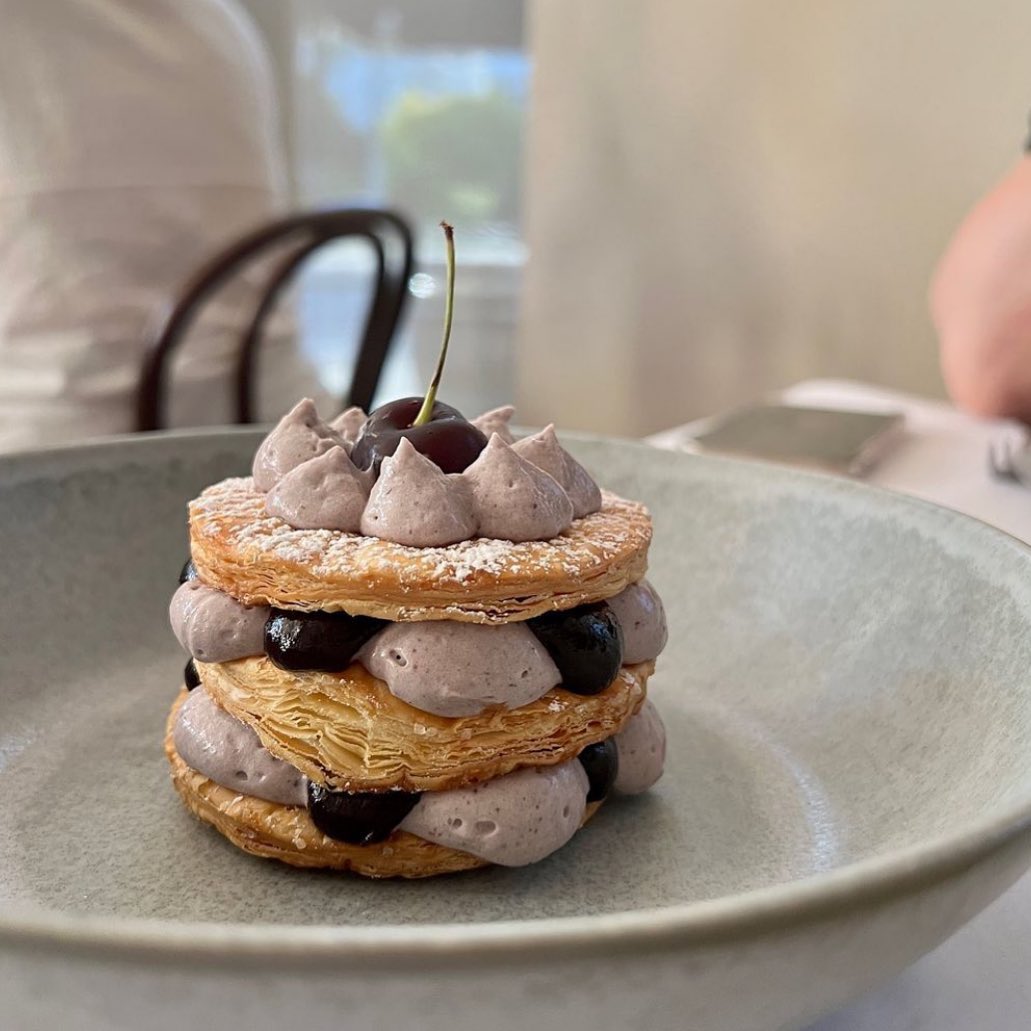 Bringing in some slight Spanish twists, Bistro Gitan is a kitchen with a firm grip on more casual French dining with just the right amount of modern flair. Nothing feels overdone here, which is important, complementing the breezy atmosphere and offering very reasonably priced meals like a $17 Croque Monsieur with Gypsy ham, cheese and smoked Mortrau sausage.
---
---
Those big, meaty mains are key here. Grab the $46 Western Plains pork rack if you're feeling particularly pecking that night and make sure that large plate is surrounded by a healthy amount of starters like the steak tartare with duck fat emulsion and six escargots served with roasted garlic, almond butter and mouilettes.
Address: 52 Toorak Rd West, South Yarra VIC 3141
Contact: (03) 9867 5853
Opening Hours: Tuesday – Friday (12 pm – 11 pm); Saturday (6 pm – 11 pm)
---
Bistro Guillaume, Southbank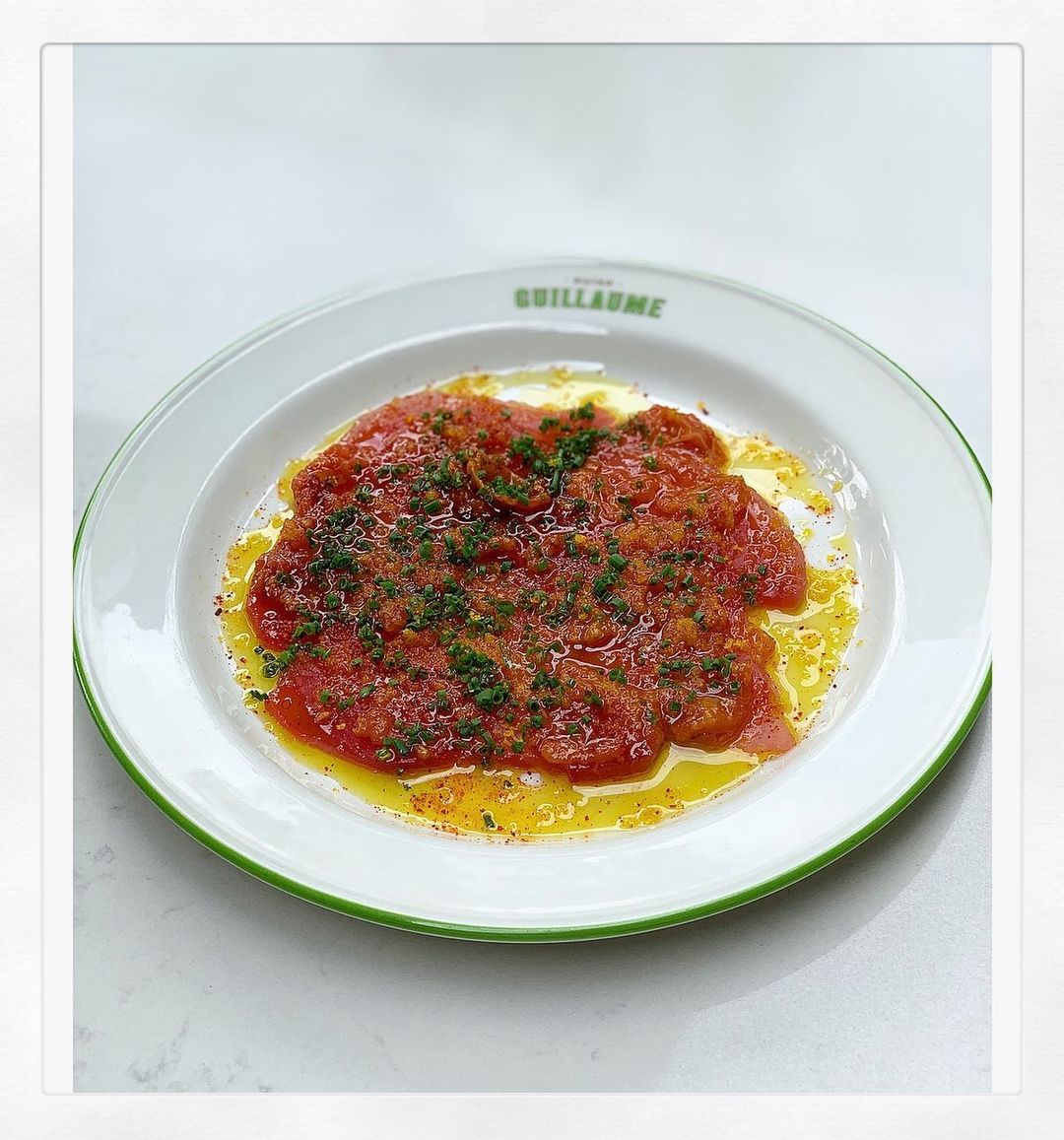 Located in Crown Melbourne, Bistro Guillaume prides itself on using at least 70% local produce directed confidently by the dependable Guillaume Brahimi – one of Australia's foremost authorities when it comes to fine French food.
Although Bristo Guillaume originated as a Sydney fine dining institution in the Sydney Opera House, it's since moved on over to Melbourne's biggest casino but hasn't lost its hold on soulful, nostalgic French food. What was once a fine diner has now become more casualised, with very reasonable prices for dishes like Portarlington mussels with pommes frites, roast Bannockburn chicken with Paris mash and tarragon jus, and a twice baked cheese souffle with roquefort sauce.
Address: 8, Riverside, Crown Melbourne, Whiteman St, Southbank VIC 3006
Contact: (03) 9292 5777
Opening Hours: Wednesday – Thursday (12 pm – 10 pm); Friday – Saturday (12 pm – 11 pm); Sunday (12 pm – 10 pm)
---
Philippe, Melbourne CBD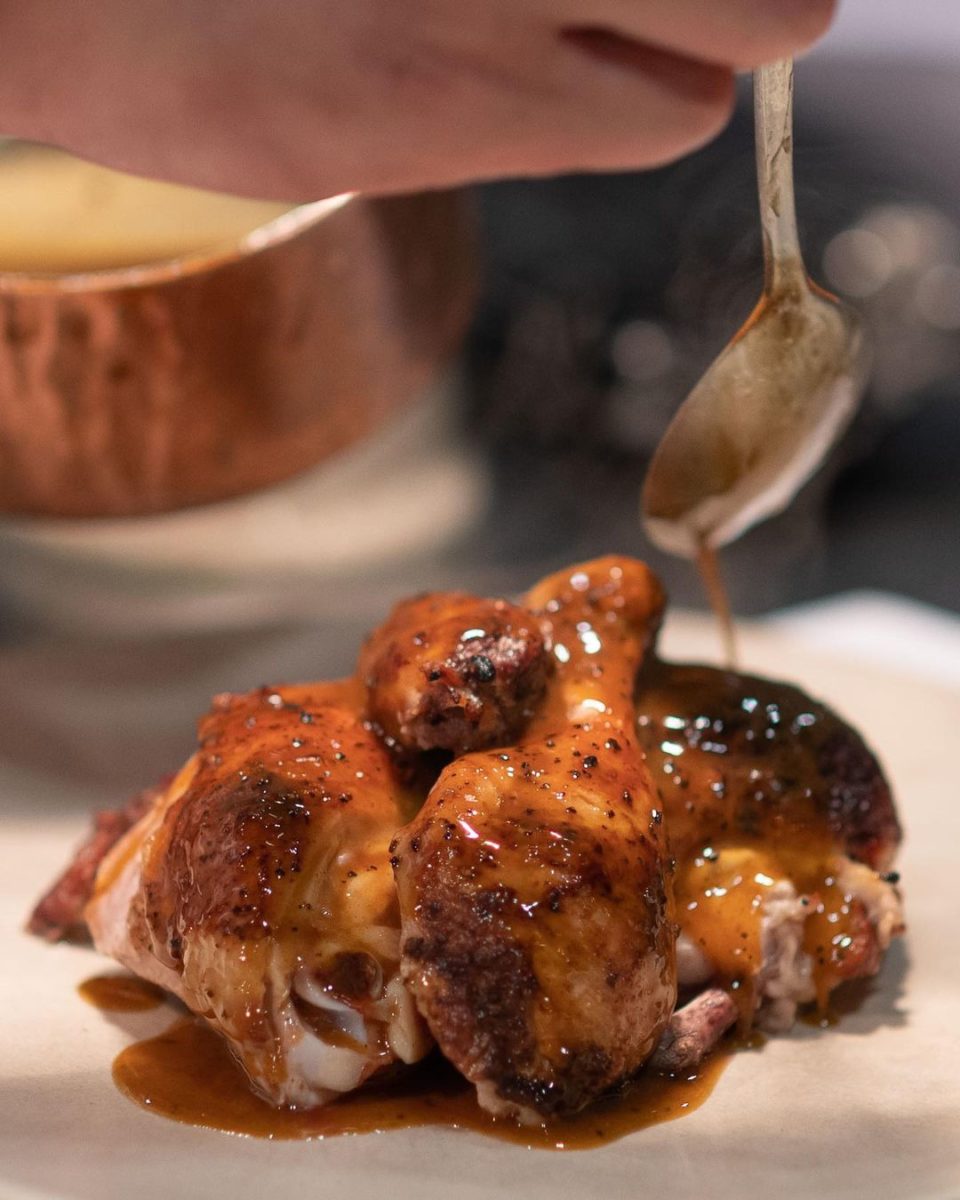 Farms in Gippsland and Geelong provide the produce for Phillipe Mouchel's sturdy josper grill, powering much of the best parts of Philippe. Head on down to this legendary basement bistro if you want to immerse yourself in Mouchel's highly considered and well-curated way of bringing Melbourne locals on a multisensory journey to France.
Food here skews more classic than contemporary, with a wine list that tracks the best of regional France without overwhelming with choice. In fact, I'd say this is one of the better wine lists out of any French restaurant in Melbourne, featuring around 50 wines both from Australia and France to firm up the connection while the food speaks for itself.
Address: 115 Collins St, Melbourne VIC 3000
Contact: (03) 8394 6625
Opening Hours: Tuesday – Friday (12 pm – 2:30 pm, 5:30 pm – 9:30 pm); Saturday (5:30 pm – 9:30 pm)
---
---
---
Bon Ap' Petite Bistro, Fitzroy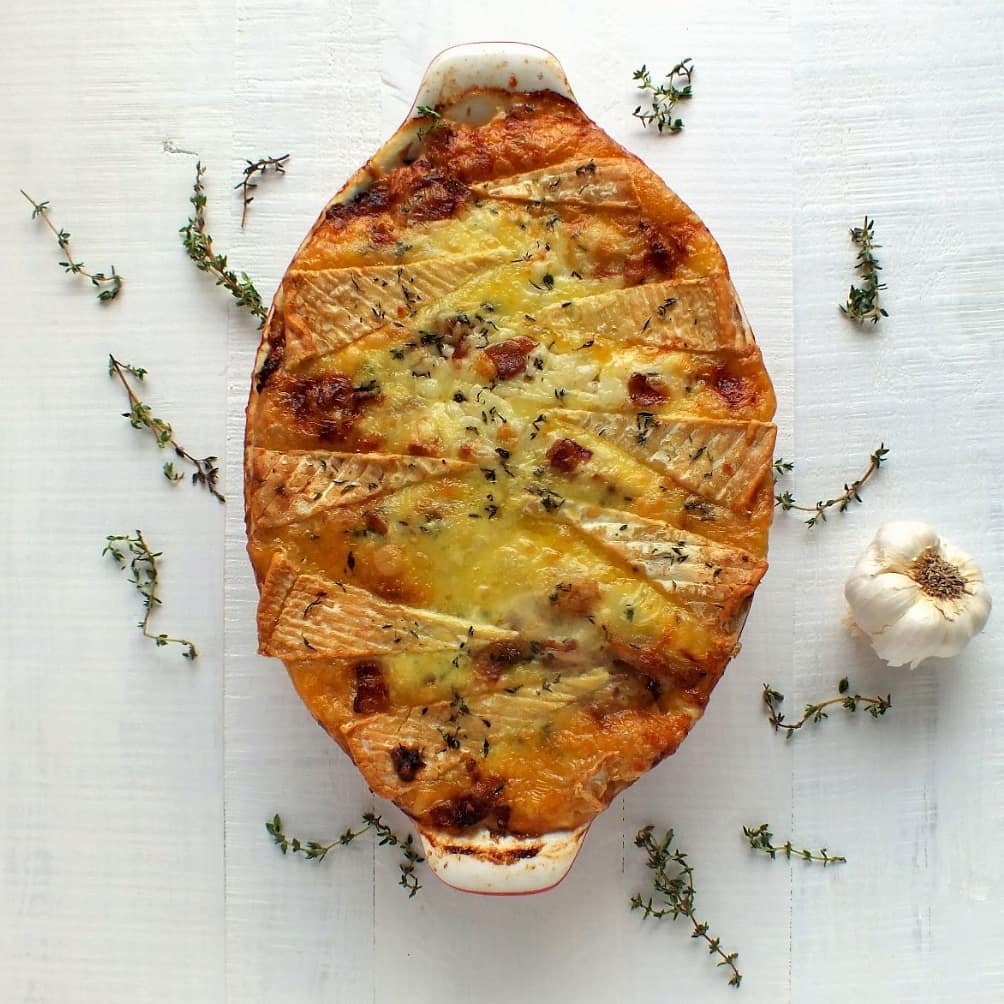 Bon Ap' Petite Bistro is more like that study all-day French restaurant every neighbourhood in the world should really have. You can start the day here by grabbing a morning chocolate croissant from the boulangerie and then come back later that day for French classics like steak tartare, eye fillet steak with a beautiful pepper and cognac sauce, and the show-stopping braised red wine beef cheeks with mushrooms, lardons and onions.
Fitzroy has plenty for Melbourne locals in other neighbourhoods to envy. Bon Ap' Petite is one of the first things that springs to mind.
Address: 193 Brunswick St, Fitzroy VIC 3065
Contact: (03) 9415 9450
Opening Hours: Monday (4 pm – 10 pm); Tuesday – Saturday (10 am – 10 pm); Sunday (10 am – 4 pm)
---
Bistro Thierry, Toorak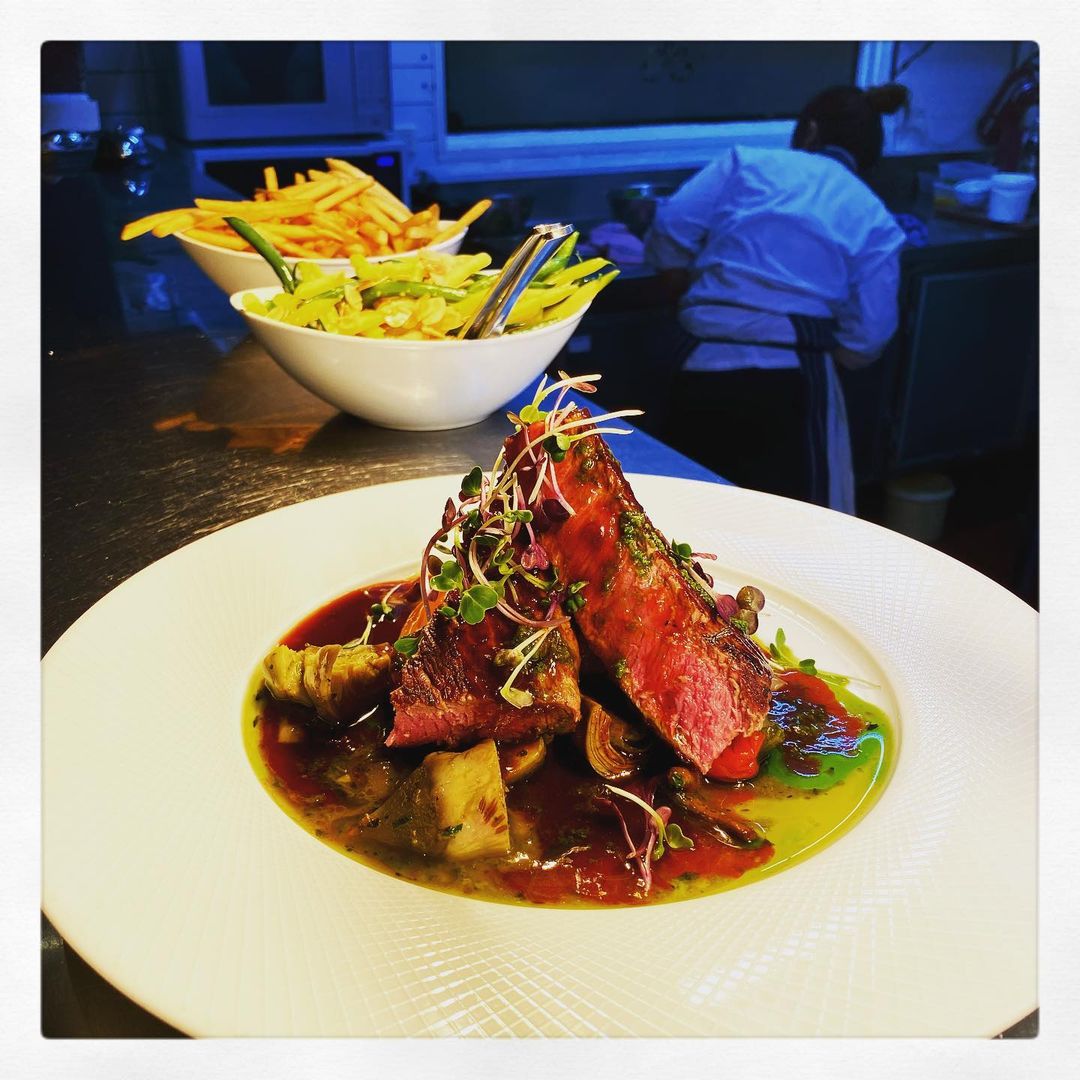 Walk into Bistro Thierry in Toorak and you could swear you've just hopped on over to Lyon. This classic Gallic bistro is nothing if not perfectly hinged on authenticity, with owner-chef Thierry Cornevin clearly working hard to constantly reinvent the local institution. He has been doing so for more than two decades, turning Bistro Thierry into a bit of a destination restaurant – one that regularly looks towards France's most exciting culinary trends with a commitment to both classicism and modern twists.
Those classics like pan-seared for grass and escargots baked in butter and parsley are always going to go down a treat, but it's worth digging a bit deeper into the menu. Protein reigns supreme here, so go for starters like the pan-fried lamb's brains wrapped in prosciutto before moving on up to mains like confit duck legs with cauliflower puree. Just don't forget the fine French cheeses at the end. Or, if you're feeling particularly indulgent, the great chocolate souffle with hot chocolate sauce and vanilla bean ice cream.
Address: 511 Malvern Rd, Toorak VIC 3142
Contact: (03) 9824 0888
Opening Hours: Monday – Sunday (12 pm – 3 pm, 6 pm – 10 pm)
RELATED: The Best New Restaurants In Melbourne
---
Bistrot d'Orsay, Melbourne CBD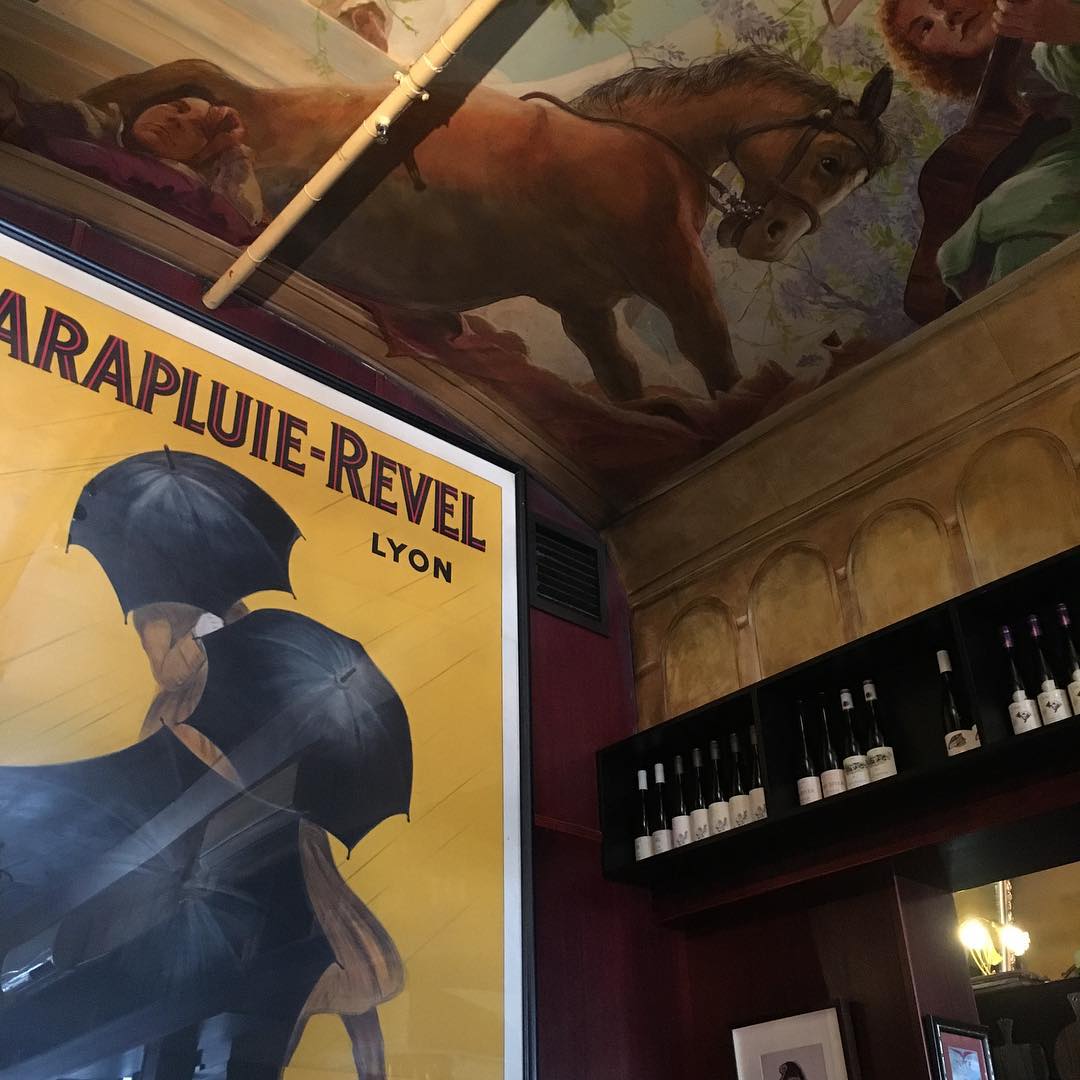 If you're looking for a reliable French restaurant in Melbourne CBD, Bistrot d'Orsay is a fine choice indeed. The service, wine, food and ambience are all seen as equally important at this fine establishment, which favours big, powerful flavours that make a statement and should easily leave you satisfied post-dinner.
---
---
You shouldn't go past the goat cheese souffle for starters. Served with a sweet beetroot and orange compote with walnut salad on the side, it's a great representation of this kitchen's very particular tastes. Also worth a go are those incredible jamon serrano croquettes and some beautiful grilled octopus with a raspberry vinairette and grilled eggplant. Then it's on to the main stars such as the classic coq au vin and a classic, very well-priced $32 streak frites with cafe dé Paris butter.
Address: 184 Collins St, Melbourne VIC 3000
Contact: (03) 9654 6498
Opening Hours: Tuesday (5 pm – 10 pm); Wednesday – Saturday (11:30 am – 10 pm)
---
La Cachette, Geelong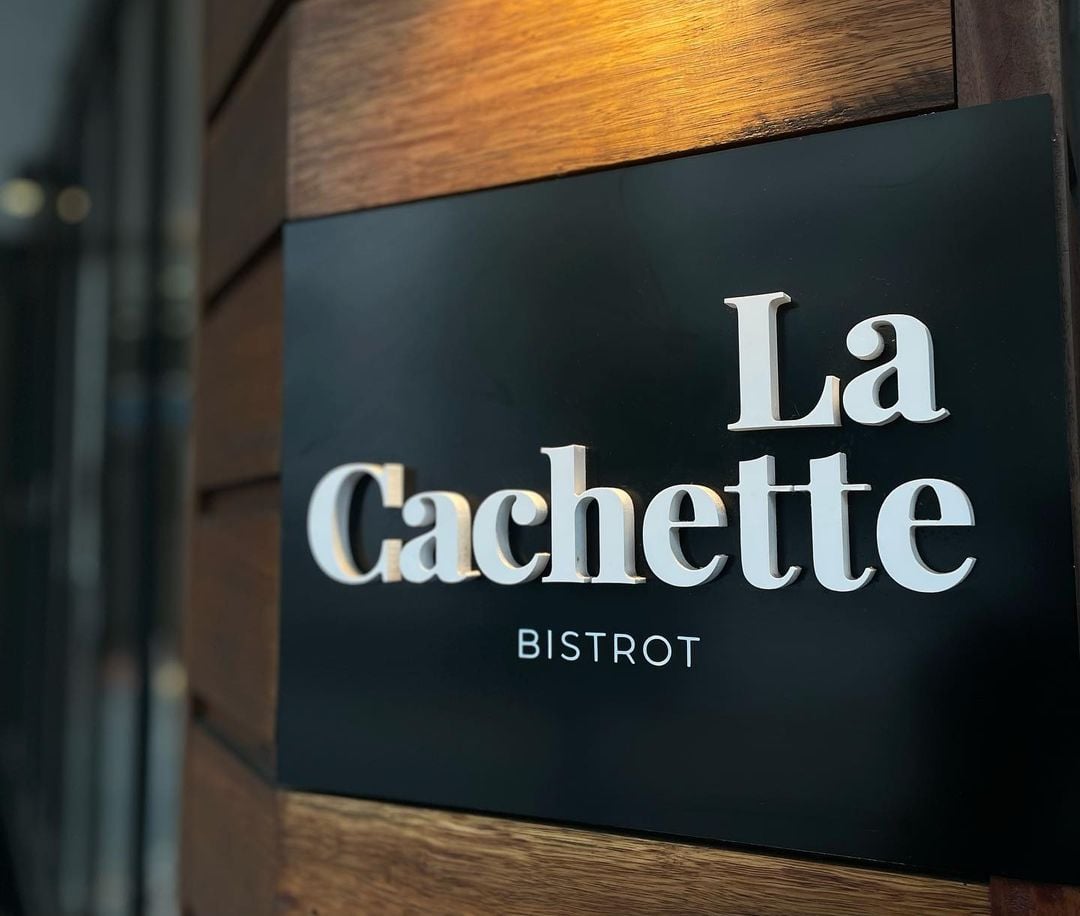 I'm cheating here. La Cachette is located in Geelong just southwest of Melbourne – a completely separate city. And yet I don't think I'm going to be doing a best French restaurants in Geelong round-up anytime soon, which means La Cachette may go without a bit of love on BH. We can't have that. This relatively new French restaurant is too good.
This tiny bistro, positioned a stone's throw from the Geelong waterfront, opened in 2021, bringing a charming little slice of homely French to a city that honestly needed it. This is by way of locally-born Matt Podbury, who has cut his teeth in awarded kitchens around the world and decided to settle down back home, opening this showstopping Modern-French kitchen with his partner.
Podbury's sense of value is sharp and generous, which is why the $85 set menu is typically the way to go when you're sitting down at La Cachette. The prix fixe (French for "fixed price") changes regularly – as it should – but could include anything from the chicken breast with confit leg and merguez to a fillet of rock flathead plated with turnips, Warrigal greens and smoked eel.
Address: Steam Packet Pl, Geelong VIC 3220
Contact: 0478 522 996
Opening Hours: Monday (12 pm – 2:30 pm); Thursday (5:30 pm – 10:30 pm); Friday – Sunday (12 pm – 2:30 pm, 5:30 pm – 10:30 pm)
---
Noir, Richmond
Flying fairly low under the radar in Richmond, Noir is a charming French restaurant that's all moody and modern inside. It's easy to mistake this for anything but a French restaurant, with an atmosphere closer to an on-trend Japanese hybrid diner. Regardless, the hospitality here is warm, welcoming and attentive.
Chef-owner Peter Roddy, who used to work under Gordon Ramsey, is in charge at Noir and it's clear he favours the south of France for its breezy coastal cuisine. As such, there's plenty of seafood at Noir like the excellent seared swordfish served with roast Brussels sprouts and saltbush pesto, and the equally divine shellfish fricasse.
Address: 175 Swan St, Richmond VIC 3121
Contact: (03) 9428 3585
Opening Hours: Tuesday – Friday (12 pm – 2:15 pm, 5:30 pm – 9:30 pm); Saturday (5:30 pm – 9:30 pm); Sunday (12 pm – 2:15 pm, 5:30 pm – 9:30 pm)
---
The French Brasserie, Melbourne CBD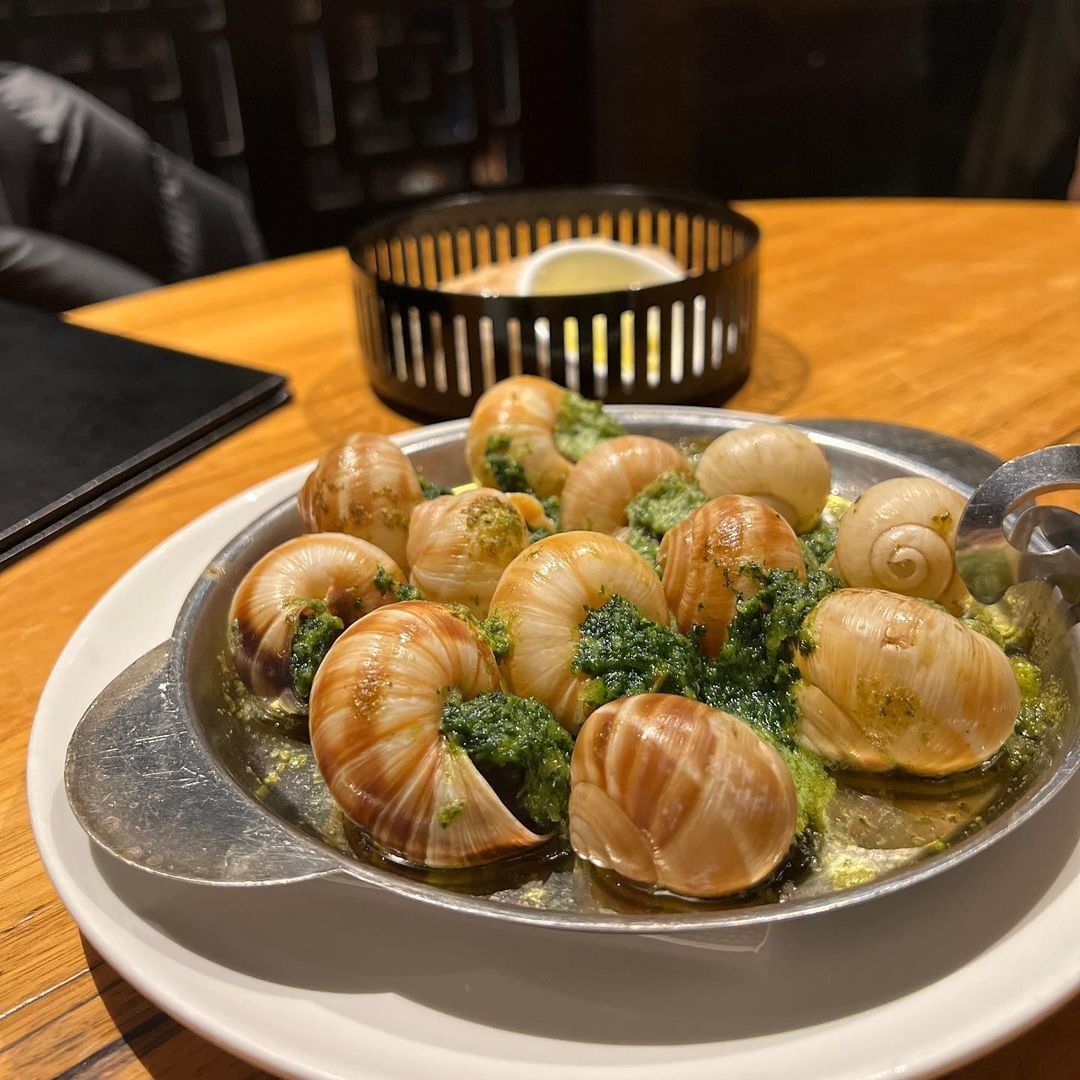 Traditional French fare runs the show at The French Brasserie, where diners get to choose between the sophisticated dining room with its linen-topped tables and double-height ceilings, or the intimate terrace for a bit of al fresco dining.
Those garlicky snails and classic chocolate fondant should sandwich mains like boeuf bourguignon and canard confit duck à l' Orange, both clearly crated with a love of French heritage and culture. And it's that love that defines the atmosphere at The French Brasserie; there's a clear reverence for technique here, meaning what you'll get is as consistent as it is delicious.
It may not be the very best French restaurant in Melbourne, but it's definitely up there.
Address: 2 Malthouse Ln, Melbourne VIC 3000
Contact: (03) 9662 1632
---
Omnia Bistro & Bar, South Yarra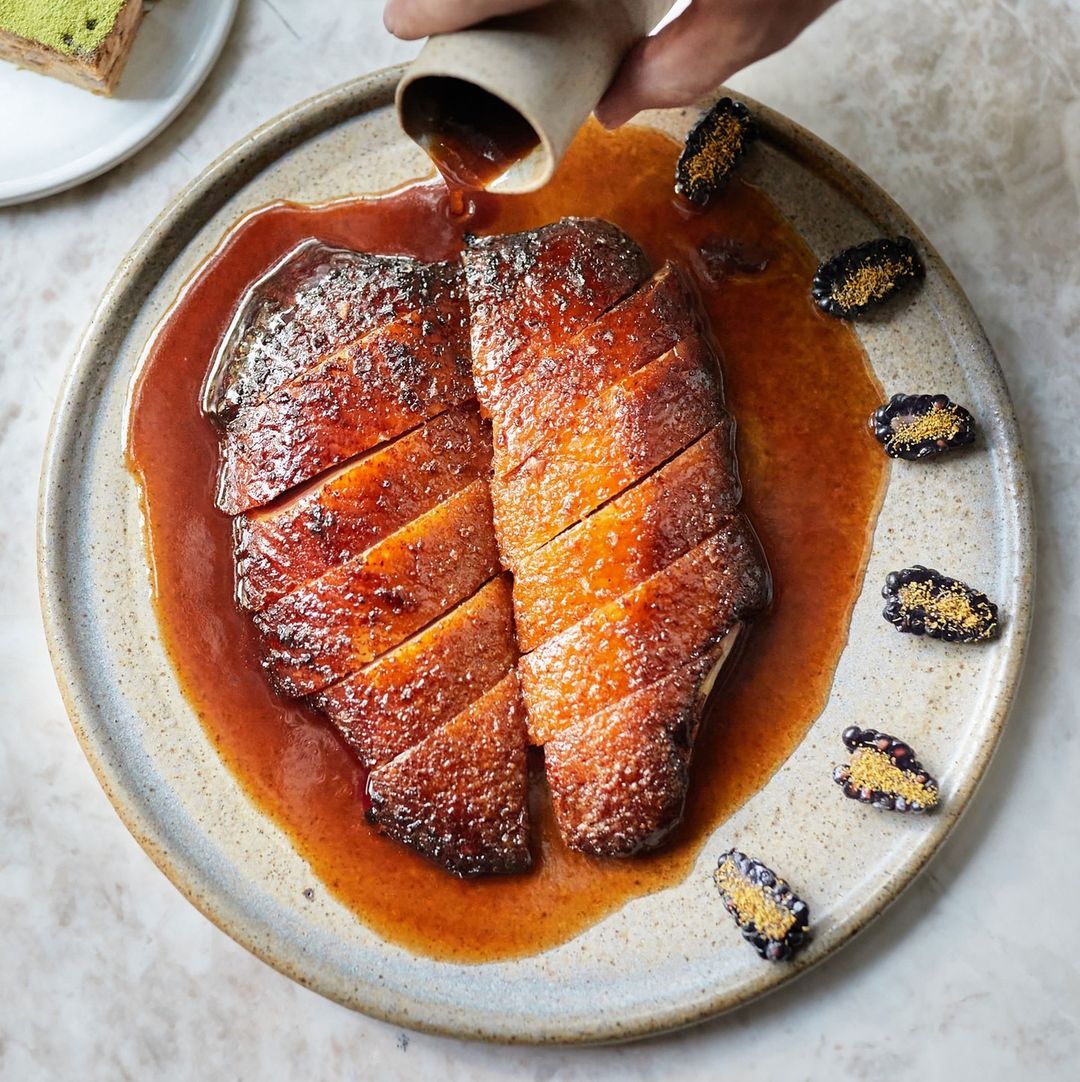 Omnia Bar & Bistro sports an elegant produce-forward menu that occasionally pops outside of France and dances across the Mediterranean, pulling modern flavours together so the kitchen always has something new and exciting on the menu.
That's the elevator pitch for Omnia, sitting pretty on Chapel Street with a particular love of comfort food like the corner inlet bouillabaisse with King George whiting, calamari and rouille, and the McIvor Farm pork chop with Musqee de Provence, pine mushroom and chestnut.
Address: 625 Chapel St, South Yarra VIC 3141
Contact: (03) 8080 8080
Opening Hours: Tuesday – Wednesday (5:30 pm – 11 pm); Thursday – Saturday (12 pm – 2:30 pm, 5:30 pm – 11 pm)
---
Bar Romanee, Yarraville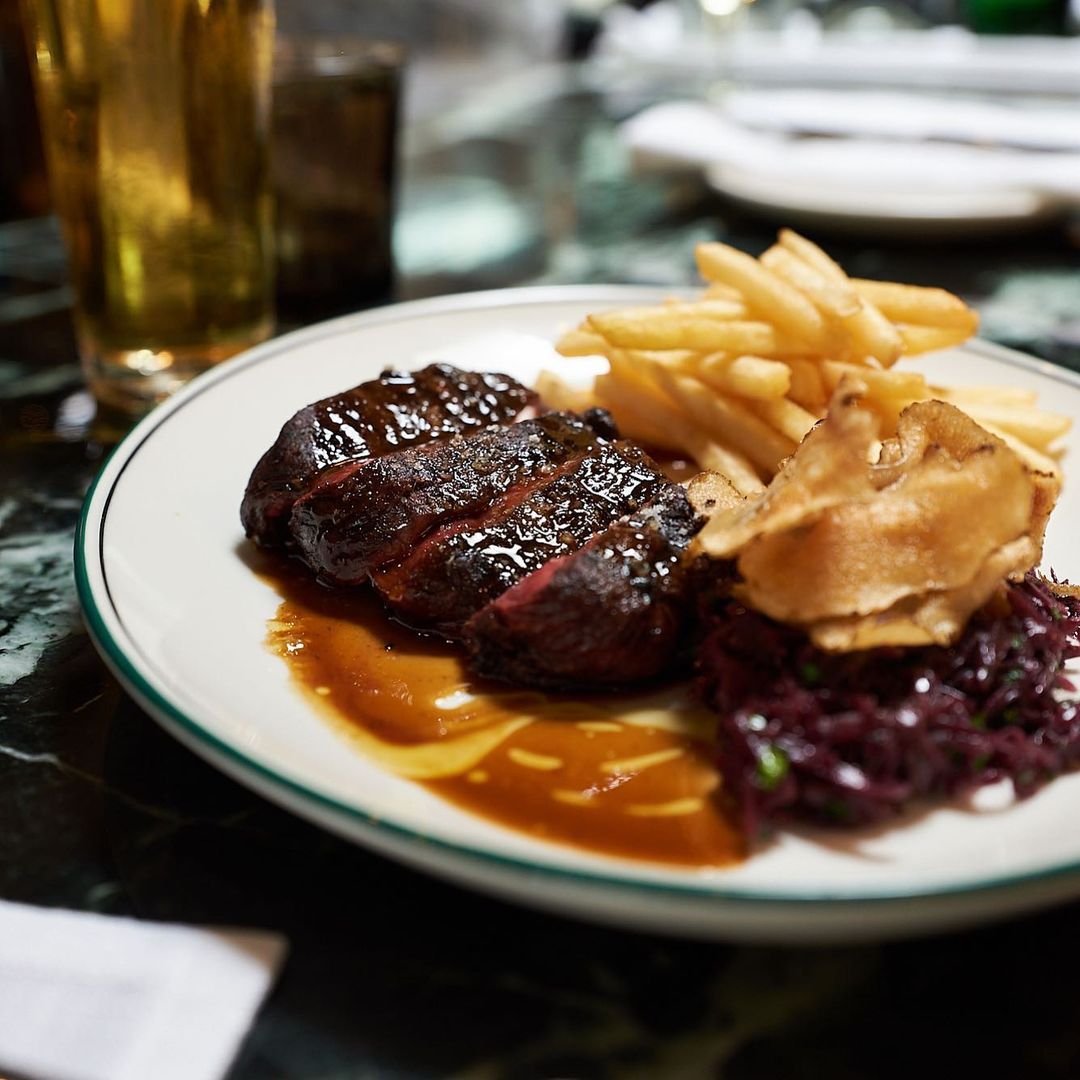 With a healthy mix of Australian and international wines and a great sense of flair on the food menu, Bar Romanee is one French-accented wine bar every Melbourne local needs to run through at least once.
For many, the fairly fresh Bar Romanee has quickly become one of the best French restaurants in the area, gifting Yarraville a spirited spot that's best experienced by hopping around the wine menu and then landing on favourites like sauteed chicken hearts, cured ocean trout, braised lamb ribs and an incredible BBQ pork tomahawk with prosciutto XO.
Address: 25 Anderson St, Yarraville VIC 3013
Contact: (03) 9687 8451
Opening Hours: Thursday – Monday (12 pm – 11 pm)
---
Chez Olivier Le Bistro, South Yarra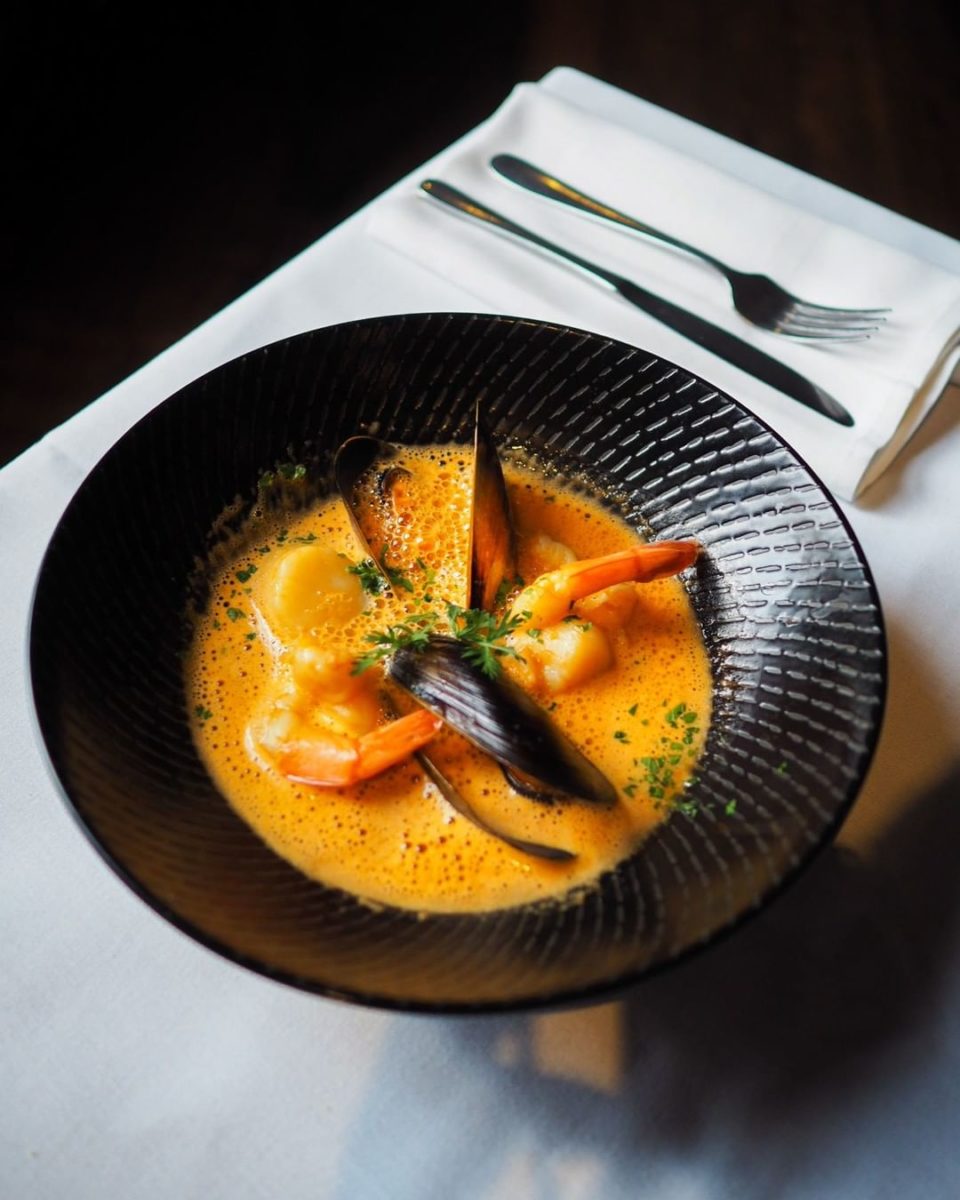 Chez Olivier Le Bistro is dressed in the romance of Parisian culture, aligning more closely with restaurants like the aforementioned French Brasserie and Bistro Thierry as a homage to French cuisine and French wines. Tradition means a lot to this kitchen, so you should already know what kind of dishes to expect.
France Soir and Bistro Gitan put up some hefty competition in South Yarra, but it says a lot about Chez Olivier that it never feels like a compromise when you're walking off Toorak Road and ordering up some Coq au Vin or boeuf bourguignon.
Address: 268 Toorak Rd, South Yarra VIC 3141
Contact: (03) 9525 2273
Opening Hours: Tuesday – Thursday (6 pm – 9:30 pm); Friday – Saturday (12 pm – 2:30 pm, 6 pm – 9:30 pm); Sunday (6 pm – 9:30 pm)
---
Best French Restaurant Melbourne – Frequently Asked Questions
What is the best French restaurant in Melbourne CBD?
If you find yourself in the city wondering "what's the best French restaurant near me" then the first name that should pop into your mind is Bar Margaux. The basement restaurant is exceptional. Then you've got favourites like the upscale Chancery Lane Bistro and Philippe.
What should I order at a French restaurant in Melbourne?
You can never go past the classics when it comes to any French menu. Some of the most dependable include escargot, duck confit, coq au vin, beef bourguignon and chocolate fondant.
Where can I find a good wine bar with French food?
The best wine bar with French food in Melbourne is Bar Romanee in Yarraville, with great French wines and even better French food.