In modern digital media, it's not very viable to write a news piece that's literally just one sentence long. But sometimes, one sentence is really all you need. Here goes: Iconic US fast-food chain In-N-Out Burger is popping up in Sydney at East Village, Darlinghurst today, Wednesday, June 29th, from 10 am to 4 pm. Conceived as a "special promotional event," the In-N-Out Sydney pop-up will be serving double-double burgers, animal-style burgers and protein-style burgers on a strictly first-come, first-serve basis. Needless to say, start queuing up now.
Pre-pandemic, In-N-Out staged a number of pop-ups in Sydney and they have invariably caused mass chaos with queues snaking around the block, full of people either reminiscing about late-night burger binges in Las Vegas or hypebeasts looking to taste what the fuss is about.
The pop-up will be only for the one day, after which we're probably unlikely to hear from In-N-Out again until next year. The US burger chain recently staged a similar pop-up over in Perth, so it was expected the brand might make an appearance along the East Coast at some point. It's not yet known whether In-N-Out will be heading to Melbourne as well this year.
---
---
RELATED: 35 Best Burgers In Sydney For The Greasy Operator
When In-N-Out popped up in Melbourne in 2018, for example, the temporary burger joint only had enough capacity for 300 burgers despite thousands of people lining up, mostly for a taste of the quintessential animal-style burgers that are famously only available on In-N-Out's "secret" menu.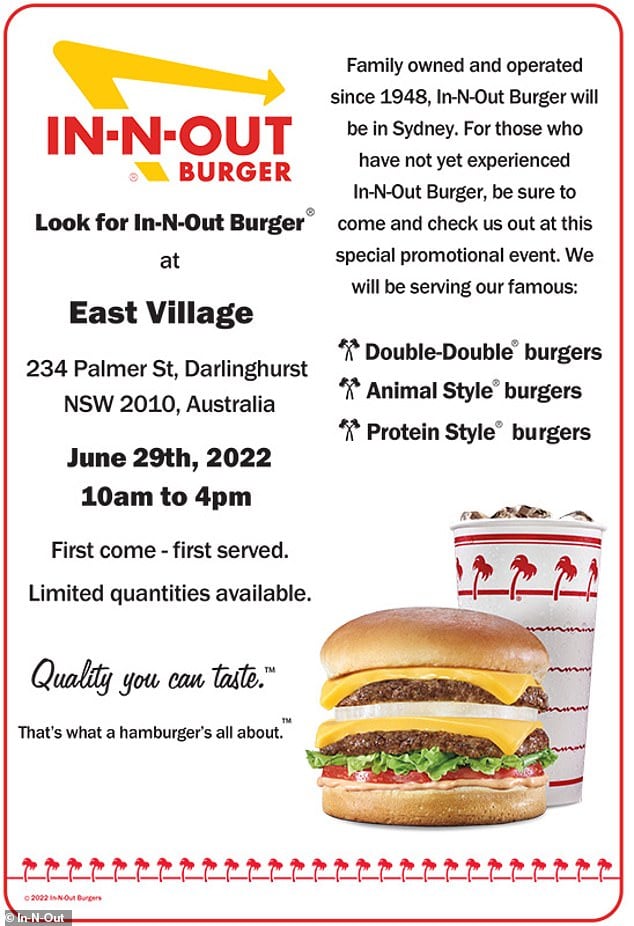 RELATED: 15 Best Ab Workout Exercises To Shred For Summer
A post on In-N-Out's official Instagram page announcing the Sydney In-N-Out pop-up doesn't specify how many burgers are available, but I'm willing to guess they've got a similar cap of 300-400 to sling between 10 am and 4 pm at East Village Darlinghurst today.
If you've made it this far down and you're not already in the queue – why? It's likely you've already missed out on what's really an incredibly rare opportunity to taste In-N-Out in Australia. Because we all know the brand isn't going to open a store here anytime soon, unlike rivals Five Guys who are now open in Penrith and Sydney CBD.
Queuing for an In-N-Out pop-up anywhere in the world is a test of patience and faith. If you do manage to score a burger, just know that you've earned it.