We make Valentine's Day difficult for you gents on purpose. It's a power-play, clean and simple. The real significance of Valentine's Day lies in what we are gatekeeping…
We use your February 14th performance to deem you worthy of March 14th. And, if you have to ask, you've spent too many of them in the doghouse.
On March 14, however, we celebrate you, on Steak & BJ Day.
---
---
It's exactly how it sounds, but if you need the too-good-to-be-true sentiment spelt out for you, steakandbjday.com suggests, "no cards, no flowers… just a steak and a BJ. That's it."
Just don't ever tell us it's less effort than Valentine's Day. That won't go down too well.
Despite the hazy origins of the holiday, as to claim naming rights would spark serious suspicions into the owner's satisfaction for the rest of the calendar year…the holiday is legitimate and positive.
If your missus feigns ignorance, or you fell short this V Day, there is still hope for you yet. Go for the charity angle. All 'Steak & BJ' branded merch sales go toward much-needed funds for the Breast Cancer Research Foundation.
Regardless, steak restaurant owners need help getting people through the door on this chaotic weekend!
Here are our top 5 Melbourne steak nights right now, for celebrating you, this Saturday.
Rockpool Bar & Grill
Sure, Neil Perry's steak temples adorn most of our capital cities, but for a good reason. They consistently deliver. Take your pick from over 15 cuts of beef all dry-aged, grass-fed and cooked to perfection on a wood-fire grill. Beautifully paired with Rockpool's extensive wine list and easily washed down with the pork-laced "Mac and Cheese." The service is so exceptional I wouldn't put it passed them on picking up on your celebration and sending out a plate of profiteroles spelling out "Happy S&BJ Day," in chocolate. Just remember, do not stop at the Cas, do not collect chips, do not pass go. Part two of your night awaits you…
Crown Entertainment Complex, 8 Whiteman St, Southbank VIC 3006
MPD Steak Kitchen
I know I said 'Melbourne,' but the trip to Berwick is worth it. An ex-Vue de Monde chef and former Attica sommelier await you at MPD (Meat Packing District) Steak Kitchen. Similar to the NYC inspired name, you're going to find yourself in an NYC-esque, no expense spared, quirky $3 million fit-out by the Zagame corporation. All tantalising grain or pasture-fed cuts of premium beef are cooked on an American-made wood-fired grill and served alongside triple cooked fat cut chips. Pair your steak with one of over 250 wines, which hangs above the bar in a climate-controlled fishtank.
288 Clyde Rd, Berwick VIC 3806
Middle Park Hotel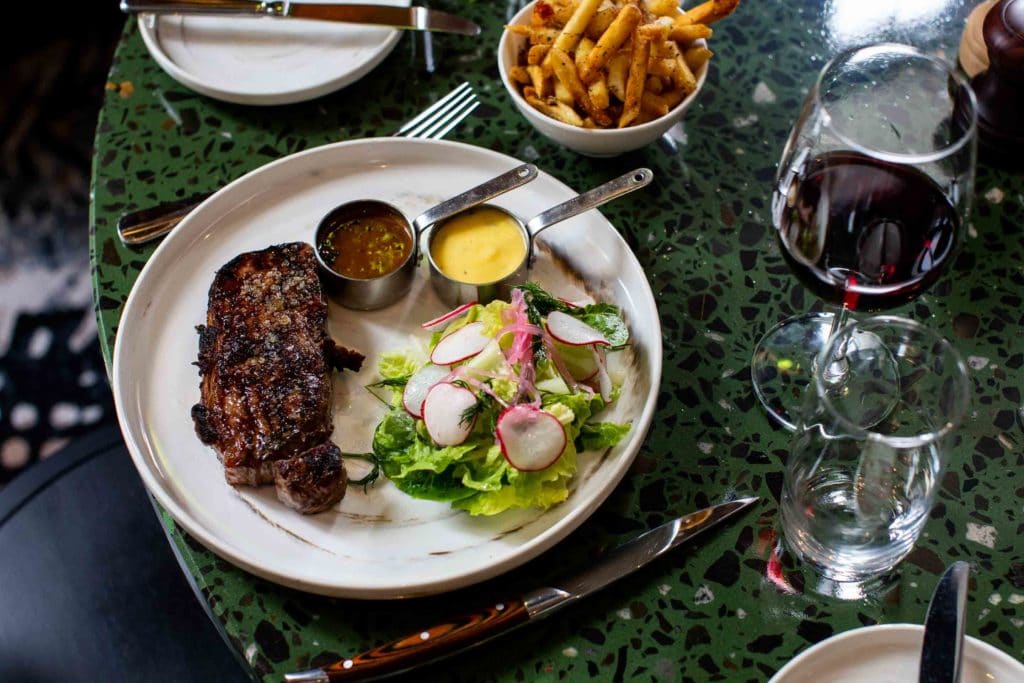 The Middle Park Hotel has been dishing up hearty pub steaks since 1889, and the joint is just dripping in history. It's recently been refurbished for your comfort, so now OG features like the English oak wood panelling (lifted from the MCC Long Room) now sit alongside more modern touches. The menu has a short and sharp range of four different grass and grain-fed beef cut including the noteworthy 1.4kg tomahawk Black Angus, cooked over a wood-fired grill. All steaks come with moreish skin-on fries, béarnaise and peppercorn sauce. When you're not celebrating March 14, it's an A1 choice for a steak night special on Tuesdays.
102 Canterbury Rd, Middle Park VIC 3206
France Soir
If the holiday feels a bit dry compared to Valentine's Day, France Soir's butcher-paper table cloths, cosiness and French charm will add some romance back into the mix. This institution can dish you up one of Melbourne's best steak tartares for starters, followed by a filet de boeuf – the perfect blend of Australian quality beef, French culinary skill, and unlimited frites. One of the most extensive French wine lists in town will keep you warmed up for the rest of the night.
---
---
11 Toorak Rd, South Yarra VIC 3141
Vlado's
Vlados is as bullshit-free as the holiday itself. It's a four-course set menu and has been that way since it opened 55 years ago. It's on the exxy side, but sit back and relax – you've earned it. You only need to make one decision. A white-gloved waiter will bring a black tray to your table, presenting a raw chunk of rump, fillet and porterhouse. Offer your pick and how you want it cooked. Enjoy a beverage from their world-class selection and browse the photos of happy former dine-in sports stars and celebs plastered on the walls.
61 Bridge Rd, Richmond VIC 3121
If you think your February performance fell short, try to at least swindle a celebration this Saturday behind closed doors. Suggest a night-in with candles, an epic Spotify playlist, and top quality gear from the best butcher's in town;
---
---
The thing with S&BJ Day is, once you know, you know. Get prepared to pull out all the stops next February, because good things come to those who deliver.