Dessert lords Gelato Messina have churned out over 4,000 special flavours across almost two decades of serving the Australian public. And it's these wildly inventive gelato concoctions that have built the brand up to the gelato empire it is today. So it's unsurprising to see them occasionally toast to success by randomly dropping their top 40 greatest hits upon gelato fiends nationwide. It wasn't a surprise last year when they offered the stacked collection for a week, and it isn't a surprise in 2021.
The limited edition run of Gelato Messina's top 40 flavours will run from Monday July 26 to Sunday August 1 and service Sydney, Melbourne, Canberra, and Brisbane. You can see below for a full menu on exactly which flavours will be re-jigged and re-scooped into those signature 500ml tubs, which can be pre-ordered from today and picked up at allocation times at select Gelato Messina stores.
From the 'Fairy Bread' to the 'Robert Brownie Jr' and everything else in between, the most delectable and most popular Messina varieties will be available to order by single flavour pints or half-litre tubs. Individual tubs with a single flavour will cost you $16 – alternatively, you could get…
---
---
3 FOR $45 (SAVE $3) – use promo code THREE at checkout
6 FOR $85 (SAVE $11) – use promo code SIX at checkout
9 FOR $125 (SAVE $19) – use promo code NINE at checkout
20 FOR $260 (SAVE $60!) – use promo code BALLER at checkout
Note that all flavours will be packed in uninsulated tubs, so if you want to enjoy you're gelato fresh at home you'll need to fang it back to your lounge room within 20 minutes. That, or you can bring a cooler bag.
After you pre-order your tubs of Gelato Messina greatest hits flavours, you can pick them up at the following stores between July 30 and August 1.
Sydney: Rosebery, Tramsheds, Bondi, Darlinghurst, Parramatta, Brighton Le Sands
Melbourne: Fitzroy, East Brunswick
Brisbane: South Brisbane
Canberra: Braddon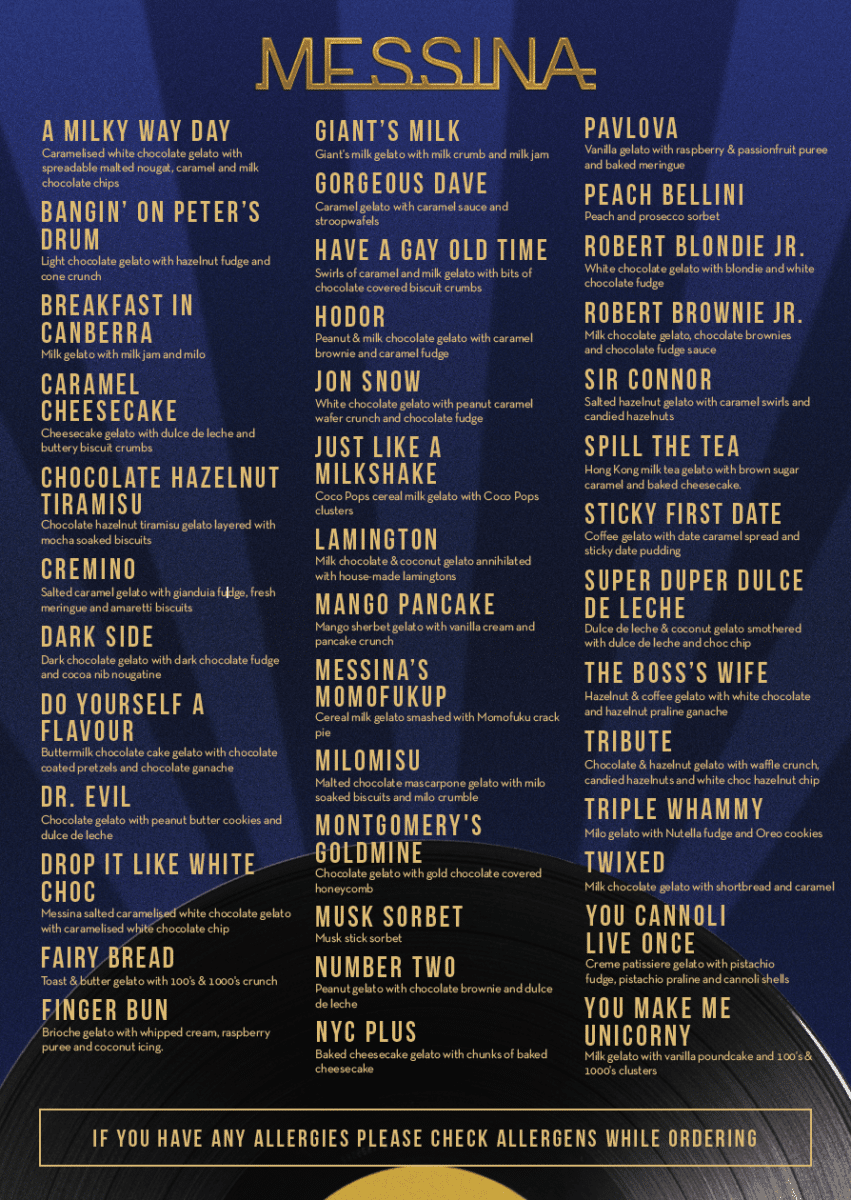 ---
Live in Sydney and aren't too keen on the Gelato Messina greatest hits specials? Try something more savoury with our round-up of the best Sydney lockdown takeaway options.