After almost six years lying dormant, Mimi's Coogee Pavilion nestled into the buildings previously untouched first-floor, has finally opened to the public – a "spectacular celebration of coastal dining sparked by a Mediterranean heart" from the mind of executive chef, Jordan Toft. Those familiar with Bert's, which Toft also presides over and touts a coastal European inspired menu, may question the originality of Mimi's menu, which on paper looks exceedingly similar. One thing is for certain – all guests will be questioning the prices.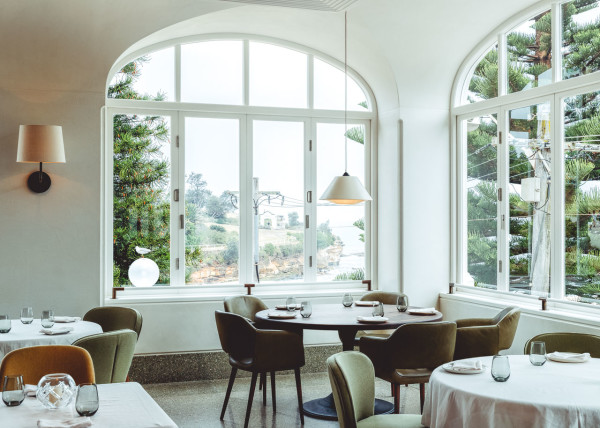 To give credit to Hemmes, the new fine diner is spectacular. The restaurant is a palatial space with swathes of soft linen, soothing wood and cool marble, framing a busy but beautiful kitchen with insouciantly cool waiters to match. Grand arched windows and the ocean beyond them, all play to create an intoxicating Mediterranean milieu. I walk to the equally attractive bathrooms, absorb the elegance and proceed to my table.
Calm.
---
---
Just the right amount of consideration has been applied to the menus – an element I can't help but judge an establishment on, immediately. A peruse through the wine list reveals contents the vast majority of us will only ever joke and dream about – even a mention of a 1985 Domaine de la Romanée-Conti Romanée St Vivant would get Huon hard. $18,000 is an incredible amount of money to pay for a 750ml bottle of grape drink, so I opt for a glass of 2019 Gentle Folk 'Cloud' Reisling for $17. It gets poured at the table, which is a lovely touch and it's exactly what I'm after. Fresh, dry, delicious, with a hint of sweetness.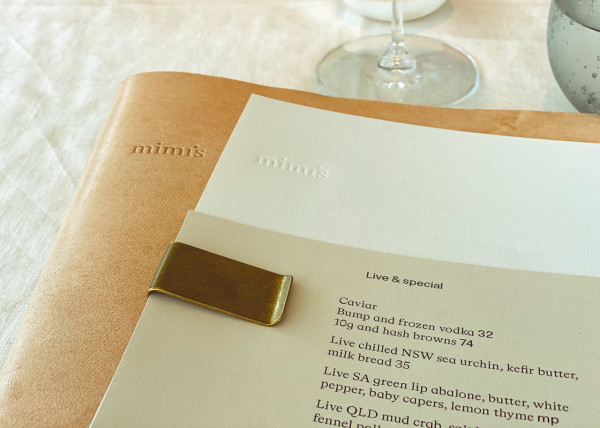 If a 'bump' of Caviar doesn't tickle your fancy to start, the Mimi's Coogee Pav menu suggests a snack – a selection of gloried bites starting a $9. I choose the roasted chicken skin with anchovy bread sauce and society garlic. It's salty, textural and almost delicious. Jack goes for the yeasted puff pastry Arlette and warm d'Affinois (also $9). It's uneventful, to say the least. Thankfully, the service is immaculate.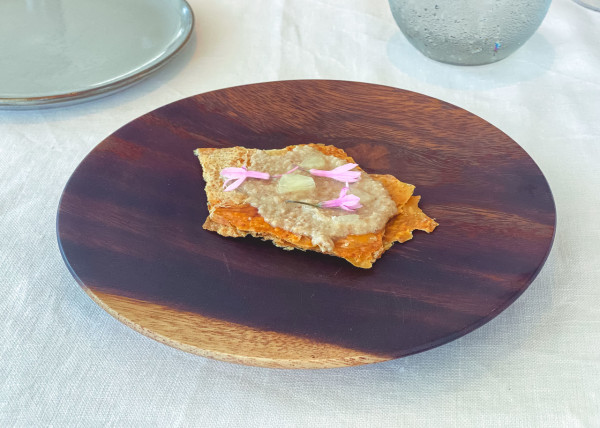 I have a hard time imagining how any chef can dedicate their attention to differentiating between two restaurants that are, essentially, the same. I put that thought to the back of my mind and choose the warmed heirloom cherry tomatoes with rapeseed oil, stracciatella and young almonds ($31) alongside the Snapper tartare with posh olive oil, indistinguishable espelette and finger lime ($42). Both dishes are pleasant but could have been served to me at any restaurant in Sydney and would have cost me 40% less.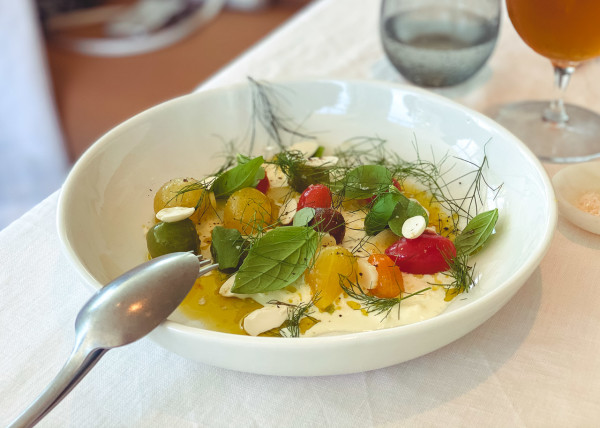 When it comes to the main, all of which I'm assured is designed for sharing – I'm cynical at best. We opt for the grilled wagyu chuck tail #9 ($68) and the waitress asks how hungry we are. Not a good sign. I select an $18 side of new potatoes to make up the difference and a side of unbelievably good bread and butter – which they serve in three slices, jerks. Jack selects a beer and I choose the Mosswood 'Amy's' cabernet blend ($18), again it is served without fault at the table. Like my wine, I observe a salt-baked mud crab unveiled by Toft at a nearby table of four corpses before being returned and re-presented, then served, tableside. It's indulgent, unnecessary and awkward.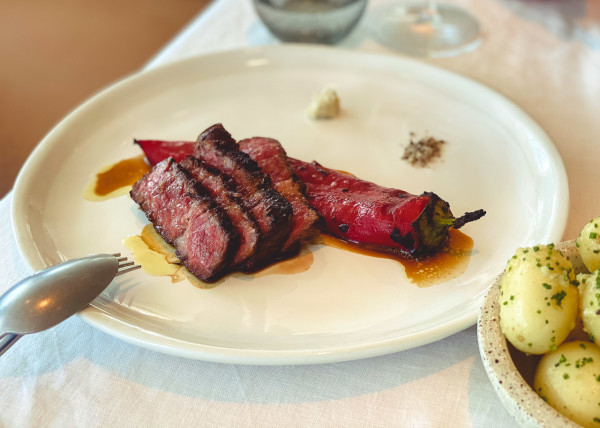 When the main arrives, I can't help but chuckle. I've picked bigger servings of beef out of the gaps between my teeth. Four slices of wagyu to share, 150g total, between two grown men. That's $17 a slice or $5.63 per mouthful, if you ration yourself to three mouthfuls per slice. I can't help but think about Bistro Moncur's steak Bearnaise at a comparatively reasonable $52. Granted the medium Wagyu is delicious, as I'm sure my wine would have been if I'd had more than a mouthful of beef to enjoy it with. Naturally, I like an al dente new potato, but these boiled ones are most certainly undercooked. I dip the crust of my bread in the buttery potato remains, dunk it in salt and reflect on the nicest mouthful of the afternoon.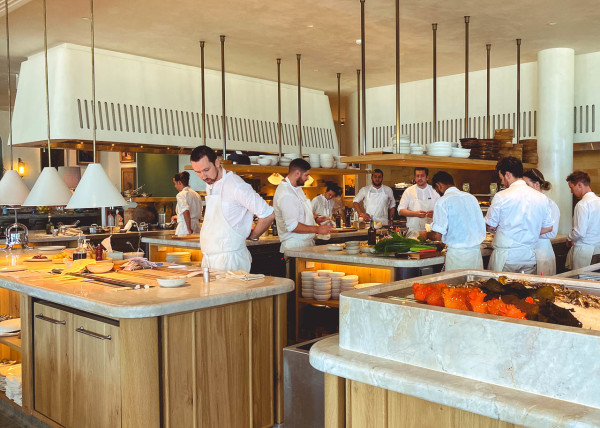 It's not that I haven't enjoyed my experience. The food has been a'mimi'able, but I can't wrap my head around how they can justify the prices they're asking. It's prohibitively expensive, for seemingly no reason. Yes, it's yum but nothing has been incredibly memorable, aside from the beef, which I'll only remember how little I got to enjoy.
I finish with the highlight, a chocolate sabayon tarte and an espresso – scrumptious and a veritable steal at $25, rounding out Wednesday lunch to a harrowing $294.35. And I'm still hungry.
---
---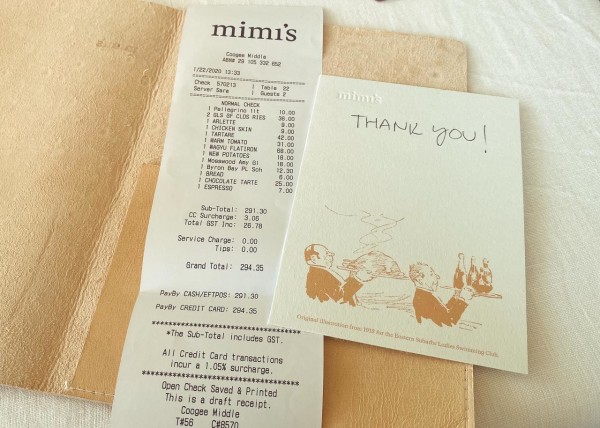 If I was made of money, I might come back to Mimi's Coogee Pavilion. Unfortunately, I'm not, so I won't.
Book a table at merivale.com
RELATED: Merivale Venues Are Offering Free Skin Checks This Summer