Sydney's Rockpool Bar & Grill has launched the country's most exclusive steak-tasting dinner and masterclass series, featuring rare and exclusive cuts of beef that are not available at any other restaurant group in the world.
Hosted in the restaurant's private dining room by Head Chef Corey Costelloe on the last Tuesday of every month, guests are served five cuts of premium beef that group Culinary Director Neil Perry said are "unequivocally the best in Australia."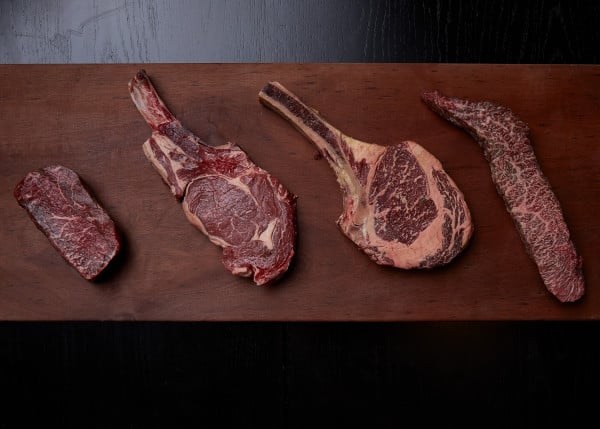 Spanning grass-fed and grain-fed cattle, as well as different breeds and ages, which have been dry-aged, in-house for different lengths of time, the superlative steak showcase is flanked with light entrees and dessert, as well as side dishes and paired wines, for $180 per person.
---
---
Naturally, the menu will vary each month given the rarity of the steaks and their sources, but guests should expect the rarest and most exclusive steak portfolio commercially available. Perry said the tasting/masterclass will allow novices and enthusiasts alike to taste the difference between grass-fed and grain-fed breeds and to appreciate contrasting flavours of different ages of beef – from 36-month-old to 60-month-old cattle.
Standouts include the Blackmore Wagyu, which is widely considered the best Wagyu available outside of Japan. See below for a sample menu of the offering.
To book, call 02 8099 7077 or email [email protected]
Steak Tartare En Croute

***
Iceberg, bacon and blue cheese salad with walnuts
2017 Viura Blend, Señorío de P. Peciña 'Chobeo' Rioja, Spain

***
Cape Grim 36-month-old grass-fed fillet

Coppertree Farm 60-month-old Friesian fillet

---

---

David Blackmore Mishima oyster blade, dry aged 16 days

Cape Grim 36-month-old, grass-fed rib eye on the bone, dry aged 59 days

Rangers Valley rib eye on the bone, dry aged 60 days
2017 Syrah, Domaine Barou 'Petite Colorado' Rhône Valley, France
2013 Tempranillo, Señorío de P. Peciña 'Crianza' Rioja, Spain

***
Potato and cabbage gratin

Cos, endive and radicchio salad with palm sugar vinaigrette

***

Catherine's passionfruit pavlova
RELATED: Level-Up Steak Night With These Gorgeous $950 German Knives
---
---