Tasmania. Once thought of as offering little more than wild nature and the even wilder Cadbury factory (if you know, you know), this petite island state has been spending the last couple of decades as a quiet achiever.
Today, Tasmania is making enough noise that it's being heard across the globe.
Whilst there's no doubt that its natural beauty has always been a drawcard, not to mention the MONA effect, Tassie is quickly becoming the destination some serious food. In early in 2018, we were lucky enough to secure a seat at one of the hottest spots in Tas – The Agrarian Kitchen Cooking School.
---
---
You may have heard of the Agrarian Kitchen as its reputation continues to grow (perhaps most notably, their newly minted restaurant was featured in a New York Times article outlining 50 must-visit destinations for 2018).
Founded by husband and wife team Rodney Dunn and Severine Demanet, the ethos of The Agrarian Kitchen is to provide its visitors with so much more than your regulation cooking class – this might lead you to understand why it's famed as 'Australia's best cooking class'.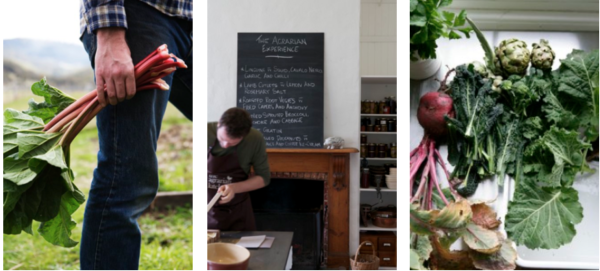 After spending 8 glorious hours in their garden, kitchen and dining room, it's not hard to see why all the hype.
In a nutshell, classes are limited to 10, the vibe is relaxed and informative, and there is a strong focus on cooking with seasonal ingredients. Classmates can range from professional chefs and cookbook authors to introverted +1's and as soon as class begins, the mood shifts from anticipation to interest and excitement. Taking part in the original 'Agrarian Experience', our menu consisted of
Homemade potato rosti with a house-cured iberico, slow poached beef with multiple salads, and a coconut dacquoise with berries you've picked yourself. Everything but the proteins, you collect yourself, and each dish is paired with Tasmanian Wine or a house-made non-alcoholic beverage.
Rodney and Severine have created an experience that will leave you flawed with how simple great cooking can be, how cooking with simple ingredients and ignoring the Blumenthal-style trends can lead to some of the tastiest food you will ever encounter. You realise it as soon as you walk in the front door, and you realise it again and again. The Agrarian Kitchen is positively different in its approach towards and its appreciation of food, and you'll leave (and probably return) feeling the same.
Classes at The Agrarian Kitchen start at $385 per person and can be booked here.
---
---