Trends are a dime a dozen in the world of fitness and wellness – especially now the cycle of lockdowns has increased the appetite for self-care – but there's one that's clearly in it for the long-run: the percussive massage gun. And with more brands now jumping on the bandwagon, it's important to be aware of the best massage guns available so you're not wasting time with any cheap imitations..
With rest and recovery often noted as one of the most important parts of any workout, especially for those prone to – or suffering from – injury and muscle pain, it makes complete sense that we'd eventually end up with more names entering this increasingly popular massage gun market. We've sorted through and narrowed down the best massage guns you can find in 2022 to help you become your own massage therapist and keep that blood circulation in check.
What's the best massage gun Australia has to offer? From all the interchangeable massage heads to the power and price, we've nailed down the hard details so those stiff or sore muscles are met with the best, whether it's those smaller handheld massage guns or something more beastly.
---
---
Now keep in mind, we're only rounding up the ones we've tried ourselves and we'll be updating this guide once we get our hands on more of these massage guns. It's a growing market, and while leaders like Hydragun and Therabody are near the top, we are yet to test popular entries from other brands like the HoMedics Physio massage gun.
Best Massage Guns Australia Table of Contents
---
What Is A Massage Gun?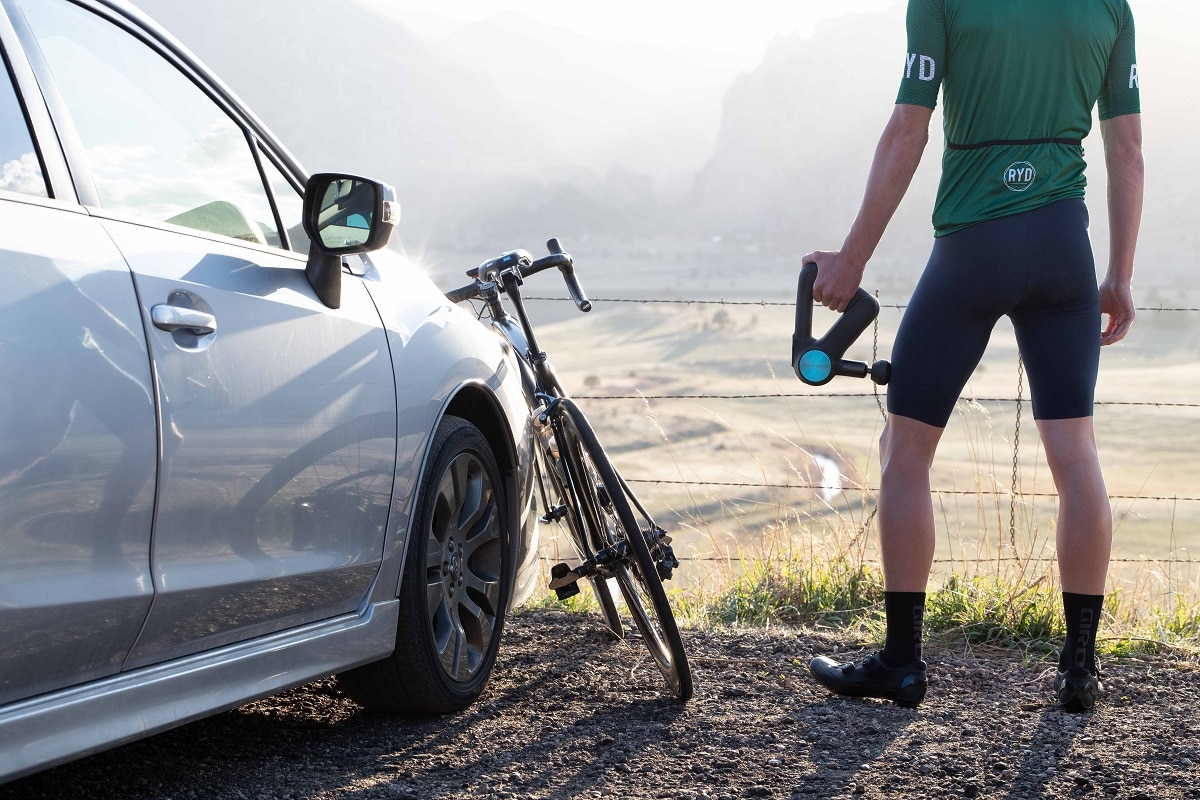 The humble massage gun – or the percussion therapy massage gun, or even just percussive massage gun – is a portable handheld device that comes in various sizes. They are typically used for personal deep tissue massages that you can take anywhere. Some are even so small you can fit them into smaller gym bags.
The majority of these recovery devices are designed like guns, with a protruding percussive ball at the tip that provides controlled rapid pulses to the surface of the skin, meant to confer various benefits by stimulating the growth and repair of soft tissue, increasing blood flow, and improving circulation. Basically, offering the same benefits of a regular deep tissue massage.
---
What Is A Massage Gun Used For?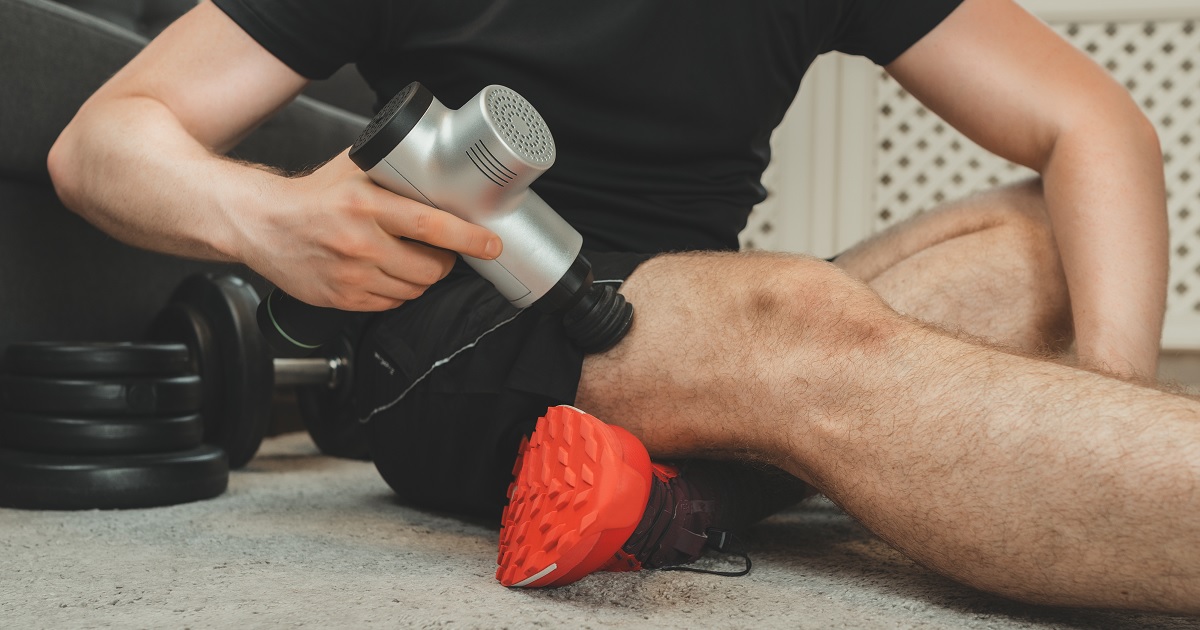 Given the basic function – mentioned above – of these devices, there are numerous ways in which regular use can benefit the body. Relaxing tight muscles would be the primary one many at-home users will be satisfied with. There's also the touted ability to minimise muscle soreness, disperse any lactic acid build up (more on that below), and help prevent injury. ost people use it to relieve everyday muscle tension, for different muscle groups, after work.
Sound too good to be true? It's not. If used correctly, a massage gun can be a great way to help make daily life run a lot smoother, whether it's for someone who lives at the gym, or the slouching office worker who's constantly suffering from back pain and neck tension.

Again, just make sure you to take time to learn how to go about using a massage gun correctly. Most of the ones listed below don't really come with instructions. But if you're still struggling to figure out how best to use your massage gun, there are plenty of videos on YouTube that show you to wield one of these powerful massagers effectively and safely.
Gym buffs generally use massage guns pre-workout to help warm the muscles – although never use a massage gun to replace stretching – and post-working to help with the tightness and soreness.
It's important to note that percussive therapy isn't a be-all-and-end-all for muscle soreness. What these machines do do is increase blood flow to specific muscle areas, which can help reduce inflammation and tension, as well as relieve muscle knots. This is done via fhe force of percussive therapy – or vibration therapy – used to work the body's soft tissue in a way similar to a deep-tissue massage. As such, everyone from the casual gym-goer and the personal trainer, to the professional athlete and those with chronic pain have found plenty of benefit from using a massage gun.
---
---
These devices can be used to help prevent delayed onset muscle soreness, reduce muscle pain and muscle fatigue, and help offset lactic acid build-up (which is explained below). Given this, they can greatly help improve your range of motion and flexibility to better encourage normal blood flow and avoid muscle stiffness, resulting in a better and more effective you.
Do note that this does not qualify as health advice, as I am not qualified as such, and those thinking about using one of these guns properly should consult an exercise therapist first.
RELATED: 10 Best Shoulder Exercises For Men
---
What Is Lactic Acid?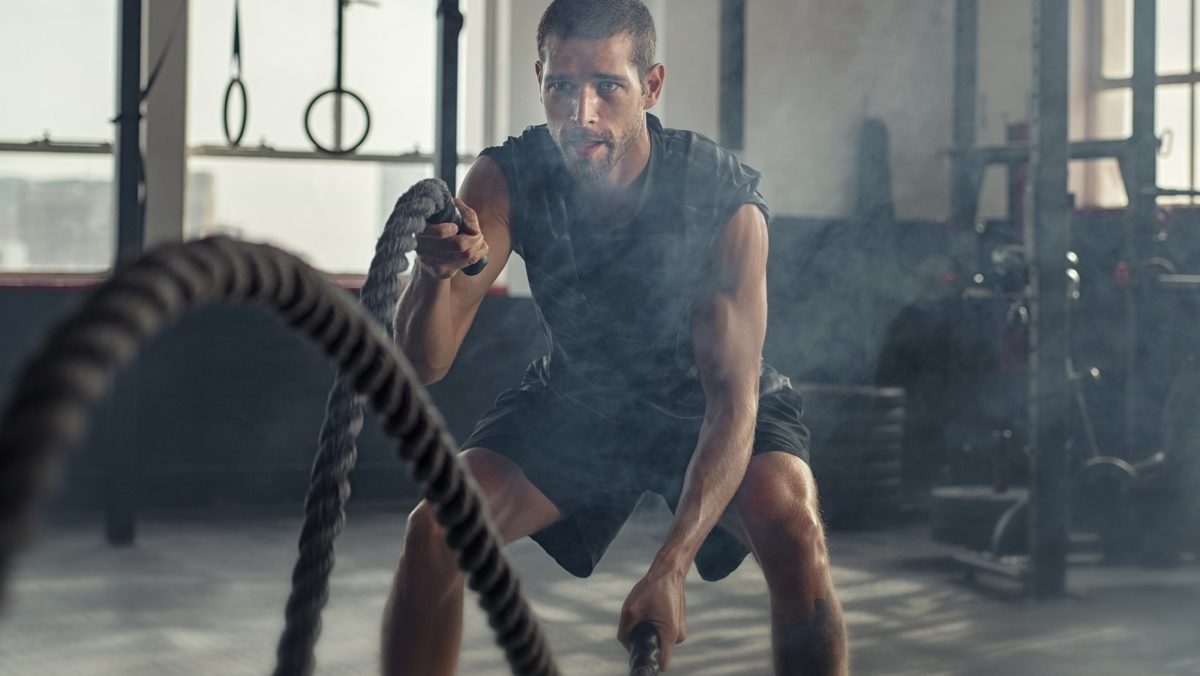 Dispersing lactic acid that has built up in the muscles, typically from intense exercise, is one of the alleged appeals of a massage gun. It has long been thought – and contested – that acid is responsible for muscle soreness, cramps, and that annoying burning sensation.
Lactic acid is a chemical byproduct of anaerobic respiration, which is what happens when cells produce energy in the absence of enough oxygen being available. The opposite, aerobic respiration, is when cells use oxygen to produce energy from glucose.
The body makes this byproduct when there is not enough oxygen in the muscles to produce energy. And this is common. As our bodies start to perform more intensive exercises, we naturally begin to breathe faster to try and get more oxygen into the body. That usually works, but there are some situations where working muscles require the production of energy much faster – they can't just wait around for our oxygen. This is where anaerobic respiration occurs.
Breaking glucose down to produce energy in normal, oxygen-rich circumstances creates a substance called pyruvate. With oxygen, pyruvate is highly effective in breaking down even further for more energy. Without oxygen, pyruvate is temporarily converted into a substance called lactate.
Working muscle cells can continue this type of production at high rates for several minutes, and during this time the levels of this byproduct in our body can skyrocket, increasing the acidity of muscle cells and essentially disrupting the energy-producing pathways.
---
---
Although some studies throughout history have suggested that this byproduct really isn't the bad guy it's made out to be, and that our liver works just fine in removing the byproduct by either oxidising it to carbon dioxide and water, or converting it back to glucose.
So why do massage guns make such bold claims about helping push through the removal of lactic acid? It's long been thought that all kinds of massage perform this function. Whatever the degree to which this works, at least there's something there that's potentially moving us away from the supposed disruptive effects of too much of this byproduct.
---
What's The Best Massage Gun Brand?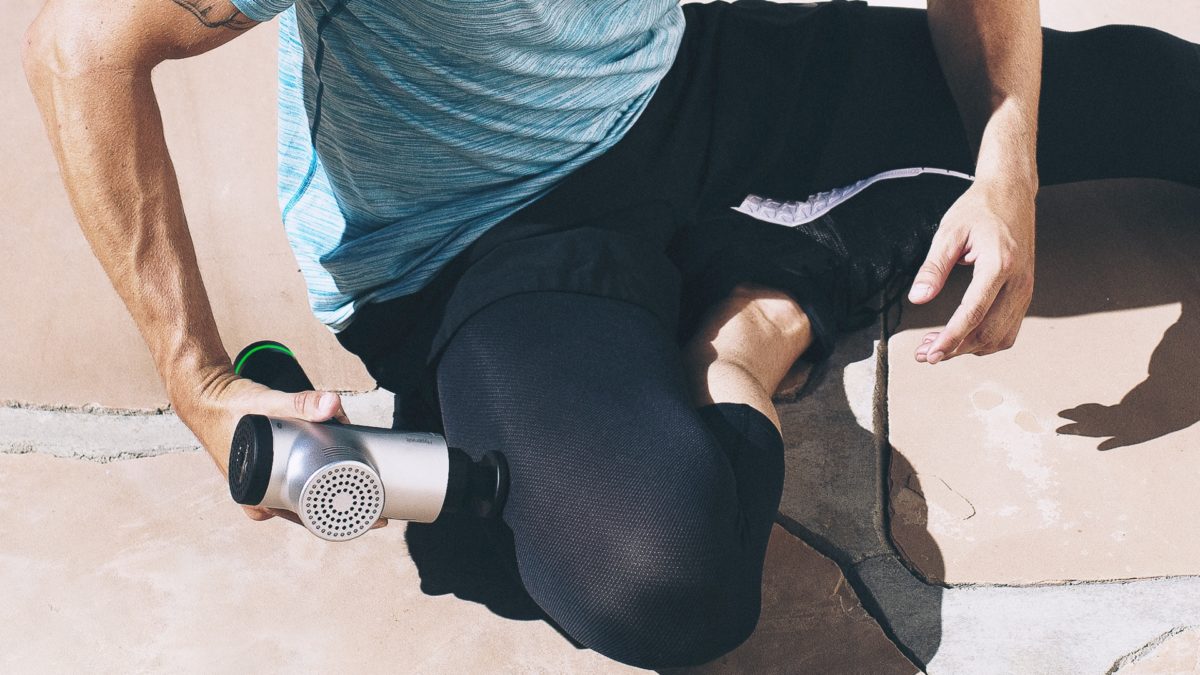 Theragun – now rebranded to Therabody – was up until recently the most recognisable name in this market. Although many competitors have since emerged, putting forth some healthy competition and a number of interesting takes on what a massage gun should be.
Theragun is still the most expensive, and it offers Bluetooth connectivity and an intuitive smartphone app to try and make up the value. Hyperice has emerged as a rather popular and reliable brand, and it was announced that the NBA has recently signed the company as the league's official recovery partner. Then you also have slightly more affordable options like Hydragun and TimTam.
There are budget ones on the market as well, but do you really want to be compromising too much with a device that manipulates your muscles? Although by the same token, do you really need to fork out hundreds of dollars when you've got cheaper models that can perform the necessary functions?
We can all use a bit of relaxation given the ongoing pandemic. Any massage guns worth buying would at least bring you a sense of calm after using them.
---
What To Consider When Shopping For A Massage Gun?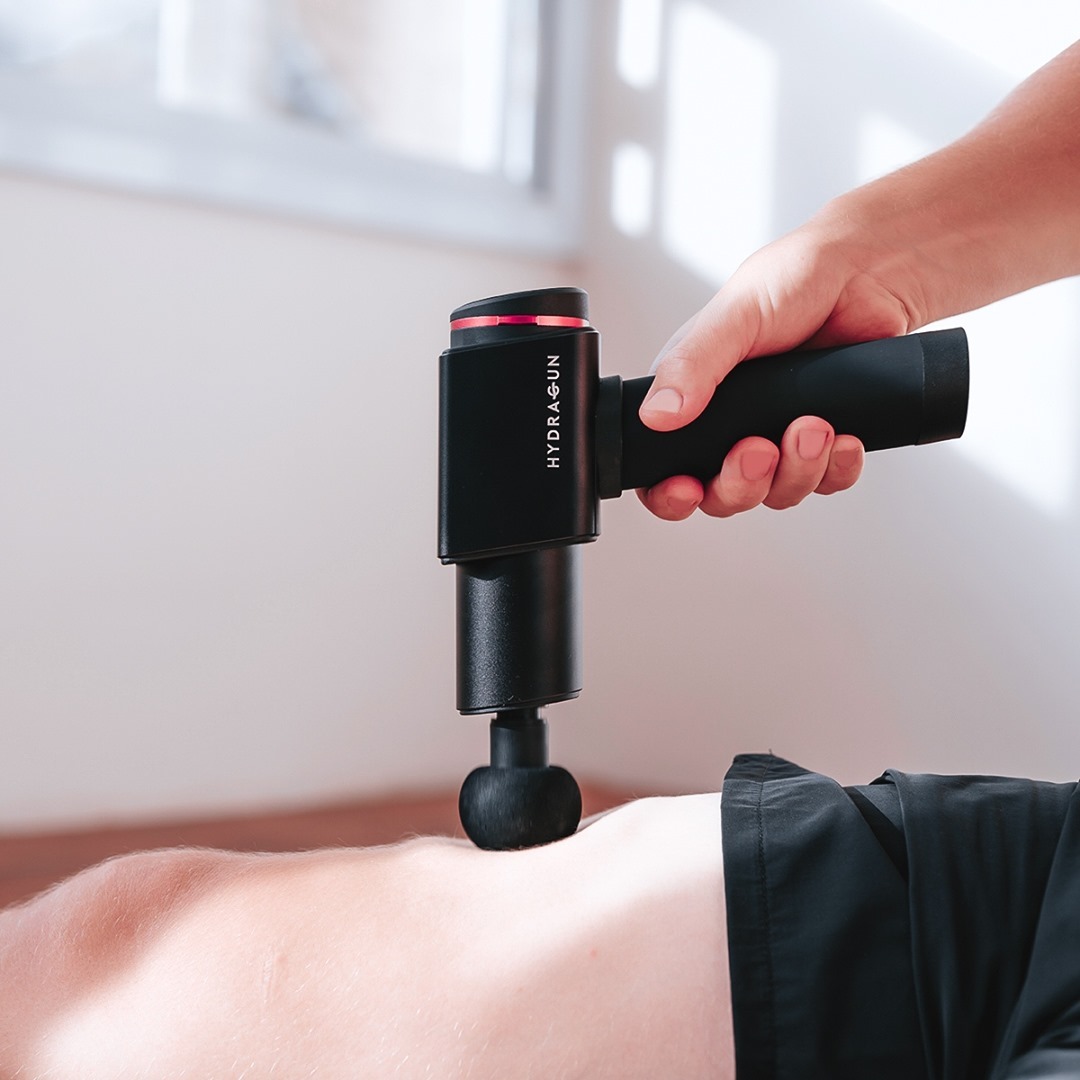 When reading through the specs of these various massage guns, you're mostly going to want to pay attention to reliability, weight, battery life, and noise. That last one is a bit of an interesting topic with massage guns, as previous generations of Theraguns have often been criticised because of just how damn noisy they can get. We're talking pneumatic drill levels of discordant sounds wafting the walls and pissing off neighbours far more than any high-end sound bar could.
Reliability will tie to long-term use and how much consistency you can expect from the motor. It's reasonable to expect this side of scale to disappoint when it comes to the cheaper brands.
---
---
Weight is going to tell you how portable the percussive massage gun is, and the quality of the materials used.
A carrying case is important too since you're going to want to take your massage gun with you to the gym. They are shaped rather oddly so can feel overly obtrusive in a normal gym bag without the dedicated carrying case.
You'll want something easy to use as well, so think about possible Bluetooth connections or at least some sort of instruction manual – whether on an app or printed. I'm not talking 'turn in on' easy to use, but I do think you want something that will at least make it easier to reach all muscles without forcing you to use this massage gun on your bones.
You also want to consider how many massage head attachments you get, as this will determine how flexible the massage gun is for targeting different groups of those sore muscles. If there is anything less than 4-5 different attachment heads, it's not going to be a very useful device compared to others on the market. Whereas if you've got a variety of massage heads, it's much easier to give yourself a full-body massage wherever, whenever you want.
Battery life. Self-explanatory. You really don't want the motor dying on you when you're just about to reach nirvana. Not even the most expensive model on this list charges very fast – although it does come with a spare battery – so unless you want to be juicing this up every night, you'll want something with a good battery life.
---
The Best Massage Guns To Buy In 2022
Hydragun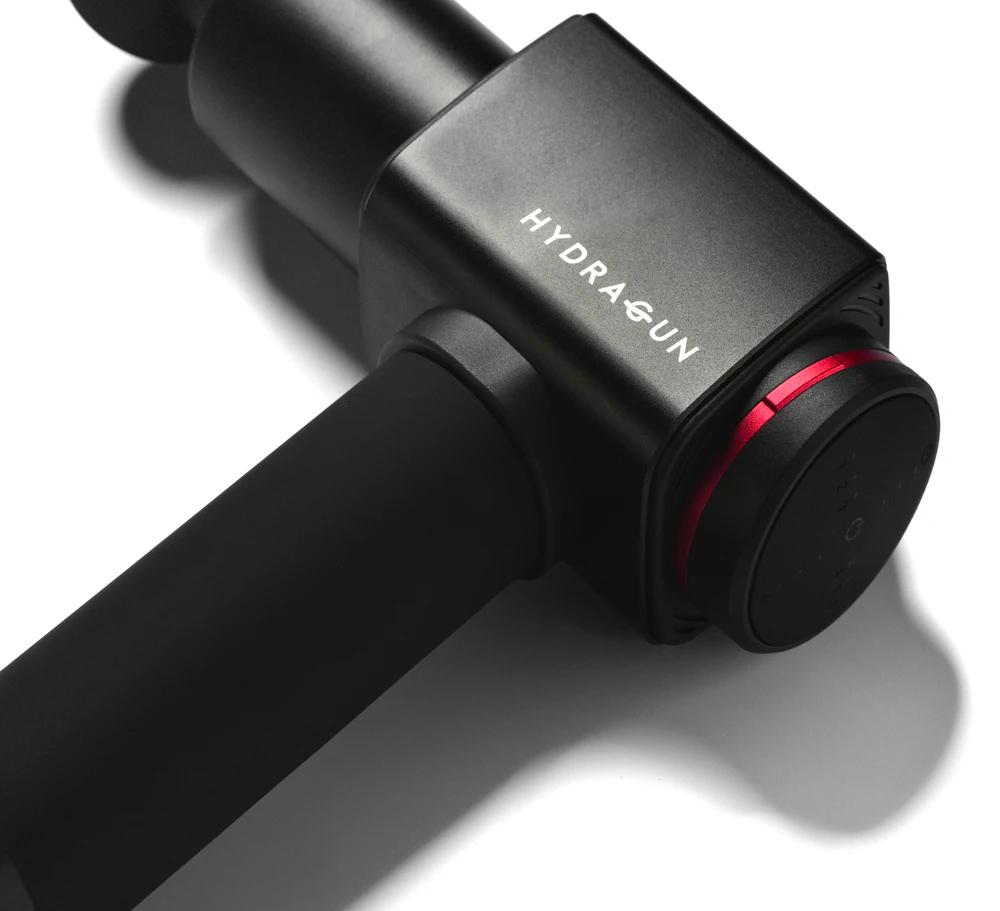 Hydragun is quickly emerging as one of the best massage guns on the market with its attractive price point and flexible, efficient performance. The noise is an attractive factor here, with its high-torque brushless motor rated at 30-50dB. You get six speed settings here, as well as 6 well-designed attachment heads considered for different body parts. It lasts quite a long time as well, with its 2,600mAh battery life giving off enough juice to go 6 hours on a single charge.
Hydragun has quickly shot ahead of other massage guns to become one of the most popular on the market, well-balanced between price, performance, and longevity.
Weight: 1.04kg
Price: $399
---
---
---
Theragun Pro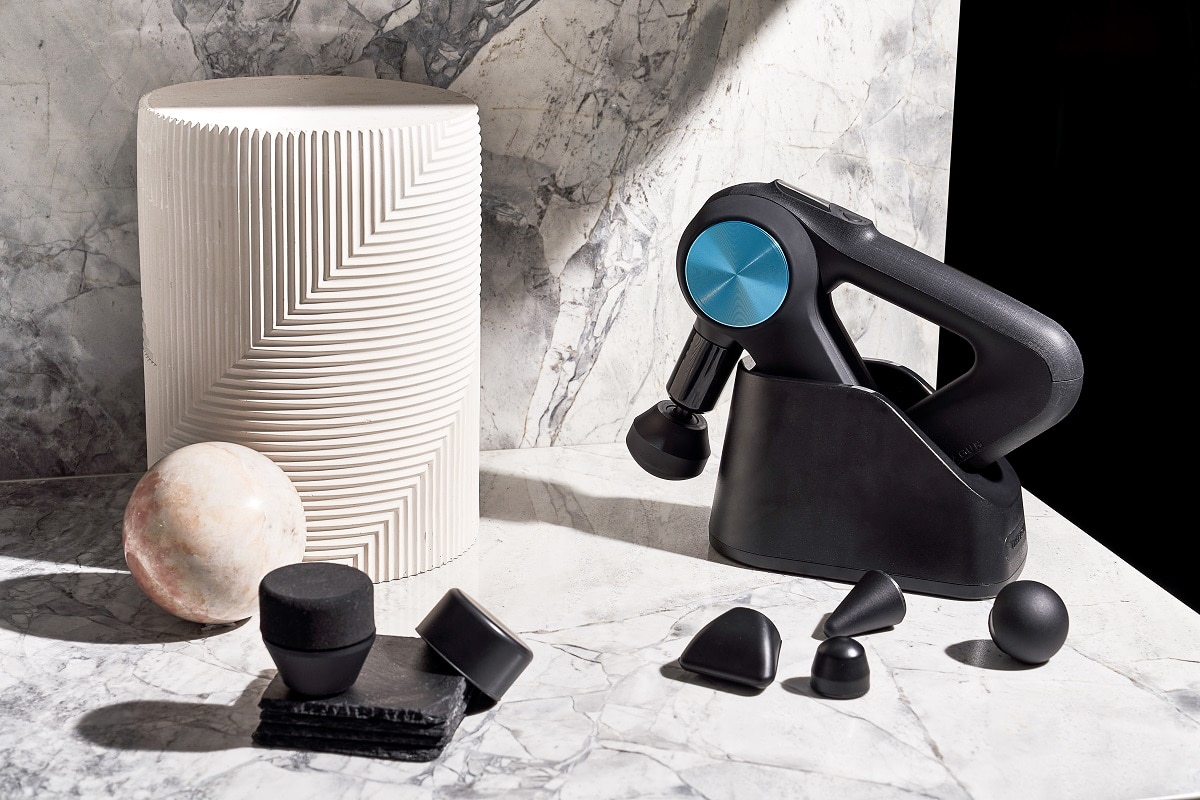 The new Theragun Pro is the latest, fourth-generation pro massage gun of the highly touted and high-end offering from Therabody. And with this you can expect an OLED display, 300-minute battery life (with a spare replaceable battery) and six different foam head attachments with five percussion speed settings – 1750, 1900, 2100, 2200, and 2400 percussions per minute (RPM) or strokes per minute, with up to 60 pounds of force. The real reason to fork out for this top-of-the-line model is the ergonomic design and grip, which allows for four different arm positions so you can reach those harder spots. There's also Bluetooth capabilities, connecting the Theragun to an app that can control speed and features a number of programs with easy-to-follow instructions for your preferred deep tissue massage.
As for noise, Therabody has made use of a quieter QX150 motor to help with the brand's primary pain point, although it's still quite loud. You'll at least be able to talk over this one. It's 55% quieter than the G3, which is at least a step forward for the percussion massage gun line.
Weight: 1.3kg
Price: $899
---
Hyperice Hypervolt Plus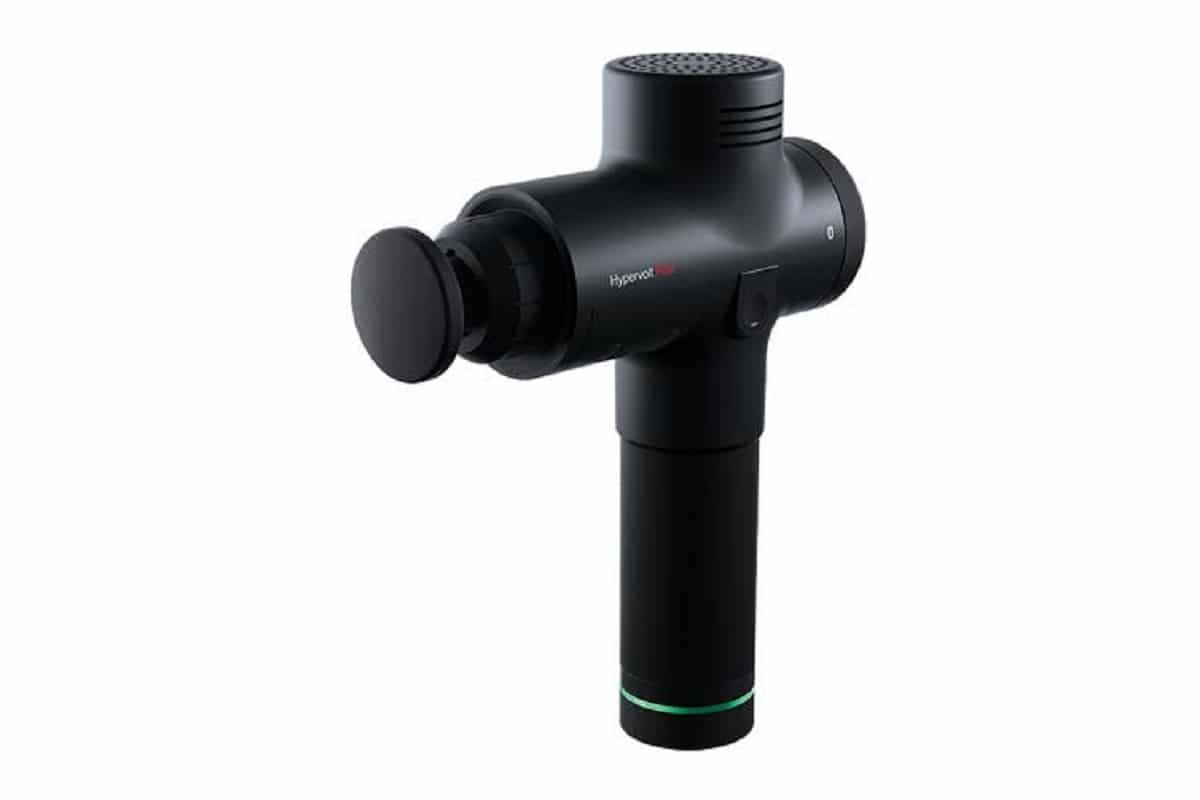 While you've also got the Hyperice Hypervolt GO and Hyperice Hypervolt proper, the refined Hyperice Hypervolt Pro represents the best balance of value and performance. For starters, it's only slightly pricier than the original Hyperice Hypervolt massage gun, yet offers enough power to drill the muscles with 30 percent more intensity when compared to the standard version.
You've still got a cap of 3,200 per minute at the top speed, but each individual percussion is slightly more powerful for those sore muscles. The T-shaped designed also offers a very comfortable grip and can be used in a variety of ways, although it isn't as versatile as the top-tier Theragun. Battery life wise, you'll get around 120 minutes per charge so your percussion massage won't be interrupted easily.
As far as noise goes, expect the Hyperice Hypervolt Plus to be quieter than the Theragun above, but still a substantial sounds-like-a-blender level. Still, as far as your options on the market go, it's one of the better ones.
Weight: 1.1kg
Price: $630
---
TimTam Power Massager Pro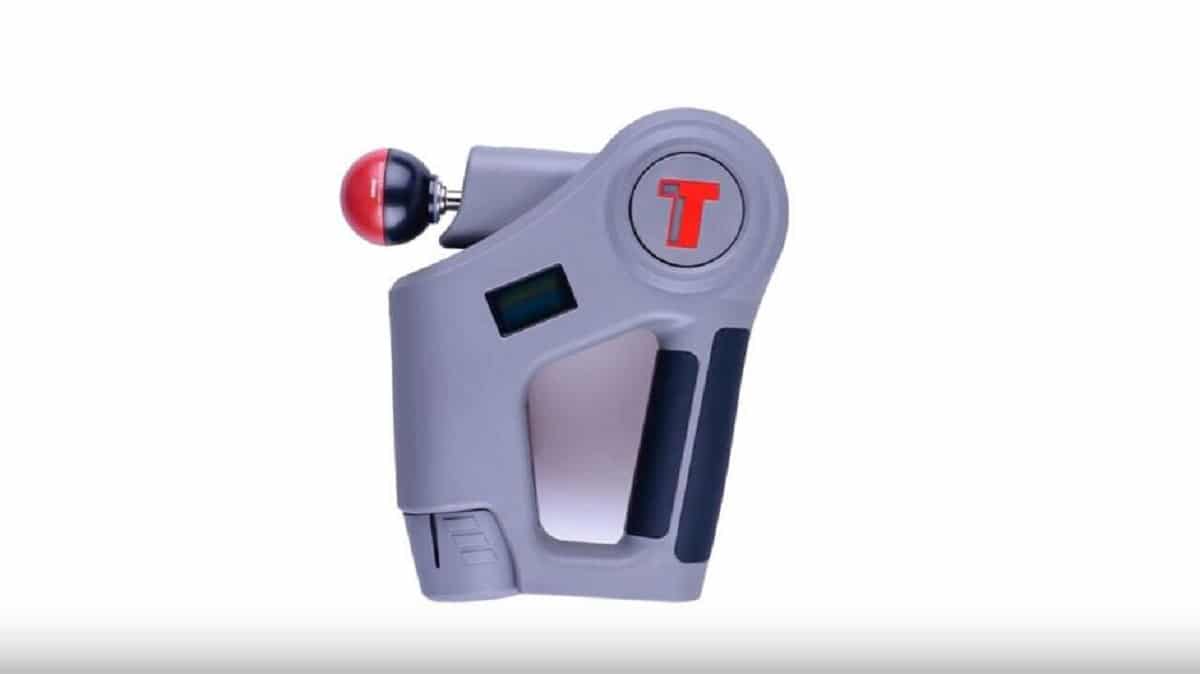 MMA veteran Georges St-Pierre and CrossFit coach Kelly Starrett teamed up to create TimTam in 2019, aimed at being the dominant health and wellness recovery brand on the emerging market. The latest model of their signature TimTam Power Massager is rated for a max power of 2,800 percussions per minute, which puts it slightly above the Theragun Pro in terms of speed settings.
---
---
The designers have also made significant steps towards eliminating the harsh sound of massage guns, but you still get quite a bit of buzz with this on. Most uniquely, the Pro version of the TimTam power massager comes with a heated tip to work with the various head attachments and further help relieve those sore muscles.
Weight: 1.8kg
Price: $749
---
Renpho R3 Mini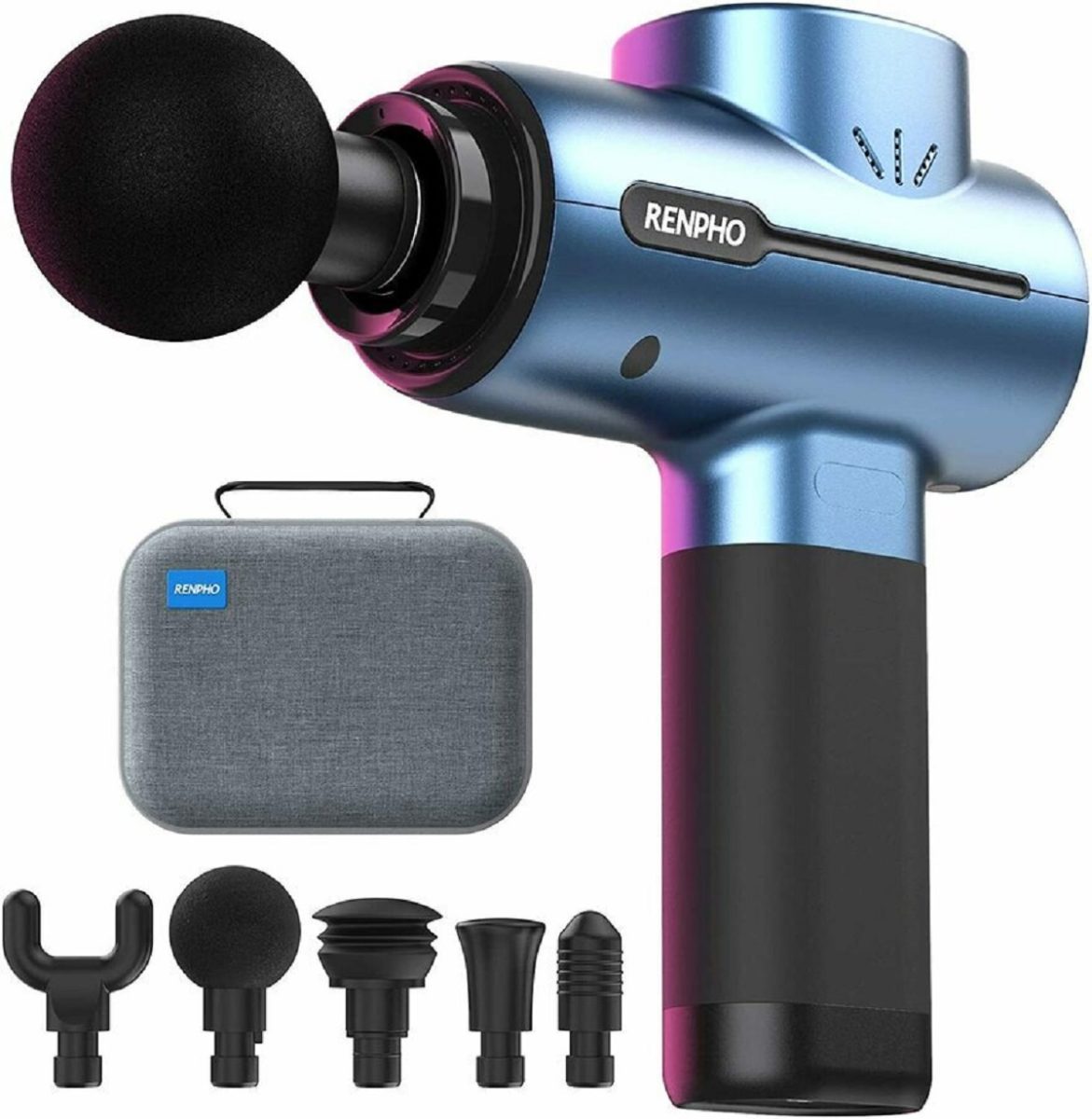 The Renpho R3 Mini is one of the better options for those looking for a budget percussive massage gun. The ultra compact body features a brushless motor that's rated at just 45dB, positioning it on the quieter side when thinking about the best massage guns available. You've got five different speed settings ranging from 1800 to 3200 RPM, as well as comes with five shaped attachment heads.
Renpho claims you get enough juice to help with a weeks' worth of workouts on one single charge, but the 2,500mAh suggests otherwise. And given a Renpho massage gun is wildly available in Australia, from retailers like Dick Smith, it's easy to come across this cheap massage gun if you're in a pinch.


Weight: 0.7kg
Price: $159
---
Wahl Heat & Ice Massage Gun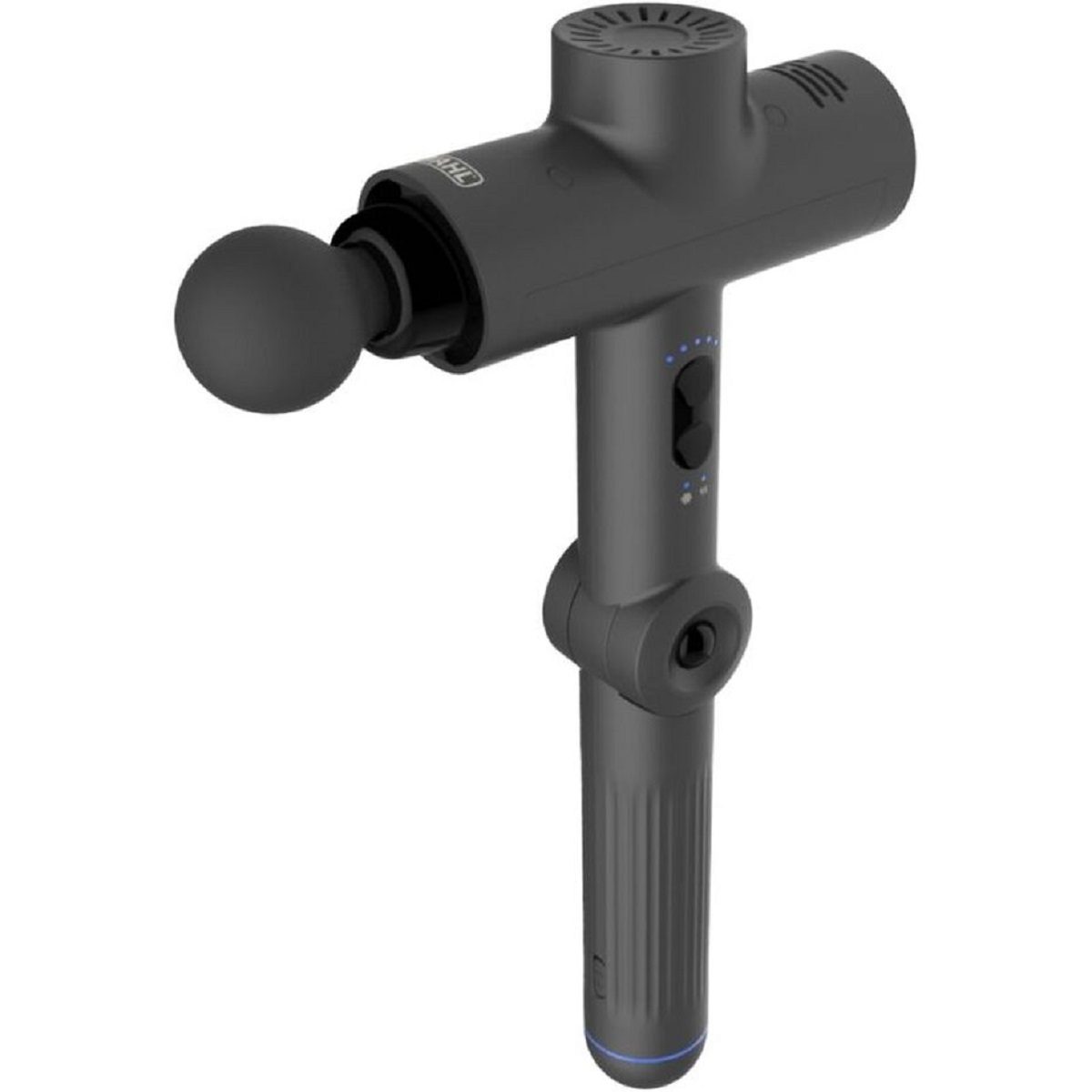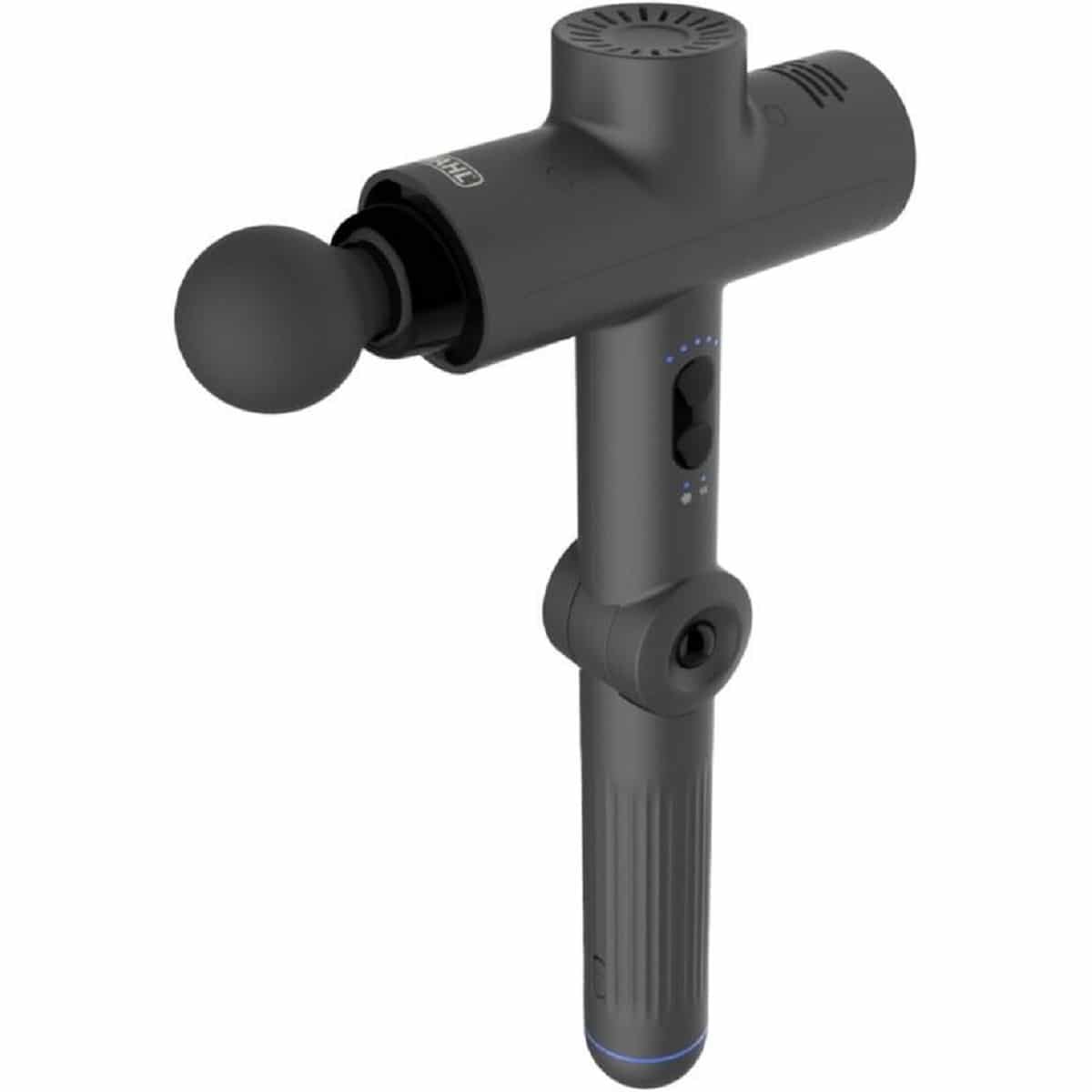 Pushing the mid-range is the Wahl Heat and Ice Massage Gun, available in Australia from Shaver Shop and representing a nice alternative from the mid-tier Theragun options. You've got five levels of intensity here, topping out at 3,200 RPM or strokes per minute. It comes with five attachment heads and a battery life rated for an hour of run time. Although the biggest selling point would be a neat heat and ice function on the rear of the device, meant to further soothe stiff joints and relax the muscles to get the most out of personal percussive therapy.
Weight: TBC
Price: $450
---
Sonic LX Professional Percussion Massage Gun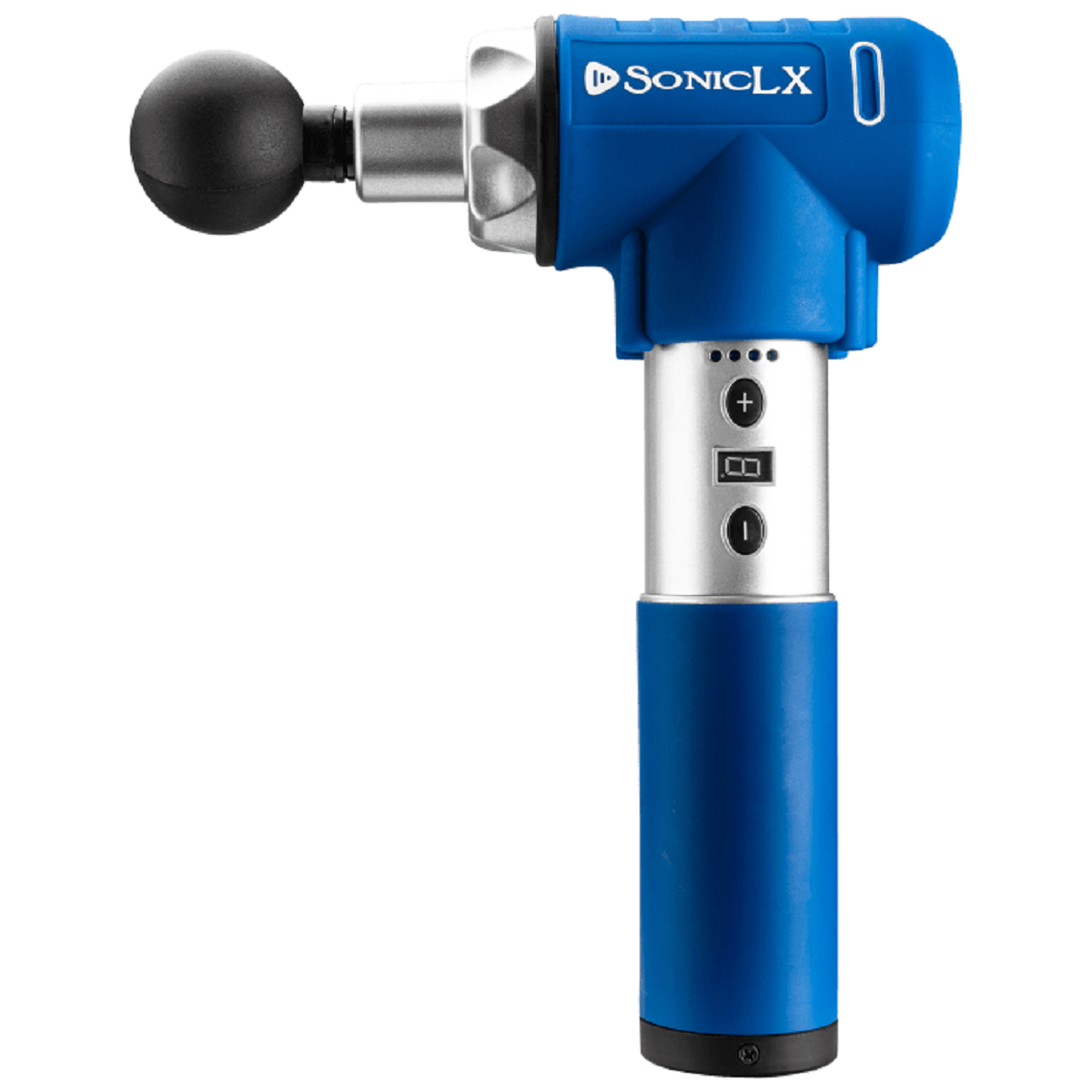 The Sonic LX professional massage gun is a brilliantly balanced massage gun for those looking for something that's both affordable and powerful. This one can go all the way up to 3,400 RPM, which makes it one of the most powerful on this list. Designed for professionals, it's a hefty kit that would be best in the hands of someone who knows exactly how to wield this relaxation wand, which comes with 7 different attachment heads designed to treat a wide range of pain, injuries, and muscle groups. You'll get around 4 hours on a single charge of the battery, rounding out the impressive specs and positioning the Sonic LX as one of the best massage guns money can buy. As far as value, this is possibly the best massage gun available – with more massage heads than most for a wider scope of percussion therapy and an assurance that there's a massage head for whatever you need on this powerful massager.
Weight: 1.04kg
Price: $199 USD (~AU$251)
---
Theragun Mini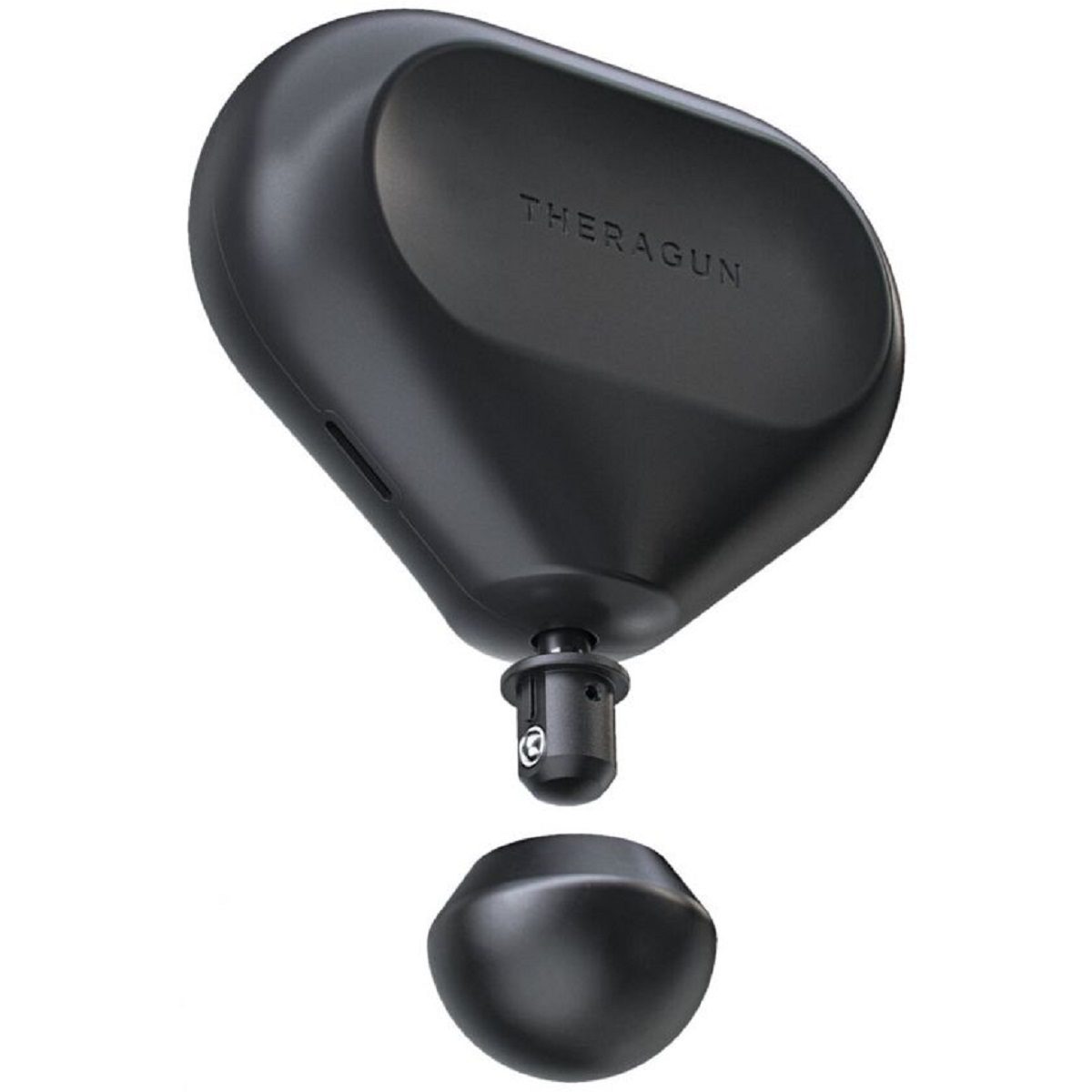 Theragun is clearly trying to nail down all corners of this market, bottoming out their latest generation with a mini massage gun – the Theragun Mini. Portability is unquestionable for this small format massage gun, which is obviously the least expensive option from Theragun but still manages a powerful QX35 motor with the same QuietForce technology used in the Pro model and a max of 2,400 RPM. You can expect 150 minutes from a single charge here, and three different speed settings to help with your percussive therapy. It may be small, but it's a hefty power massager.
Weight: 0.6kg
Price: $349
---
Sportneer Elite D9 Percussive Massage Gun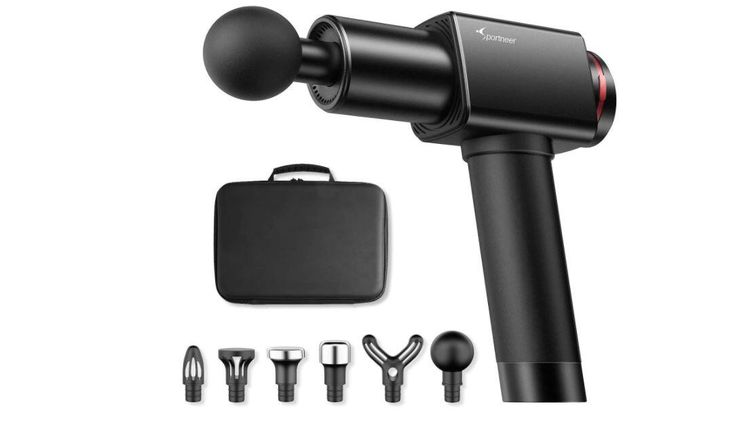 You're looking at around AU$177 for the Sportneer Elite D9 Percussive Massage Gun, making it the second cheapest massage gun – behind the Renpho R3 mini – on this list. Given the price, and that this isn't a portable model, you'd expect performance to be quite average. And while it's not on the same level as more expensive massage guns from the likes of Therabody, Hyperice, and Hydragun, it's still an impressive beast.
We're talking 6 different speeds of percussive therapy with 220 watts of power and 3,200 RPM. With a battery that lasts up to 6 hours, this is a perfectly servicable alternative if you can't justify outlaying any more than $200 to keep a massage gun sitting around your house for when you need to work those muscles. The gun comes with 6 different attachment heads, most of them shaped like all the other massage guns and designed to tackle different muscle groups.
Weight: 1.05kg
Price: ~$177
---
Best Massage Guns Australia – Frequently Asked Questions
Which massage gun works best?
If you want the best massage gun you can buy then you'll want to go with brands like Therabody, Hydragun, or Hyperice. Our personal favourite so far is the Hydragun.
Which massage gun do professionals use?
If you want to go for the most premium, industry-standard massage gun out then you'll want to go for the Theragun Pro. Most personal fitness trainers and massage therapists currently use Therabody's flagship product.
What massage gun do NBA players use?
NBA recently announced Hyperice as the industry's Official Recovery Technology Partner, meaning pretty much all NBA players will be using the high-end Hyperice Hypervolt Plus.