The estate of Jean-Michel Basquiat is planning on exhibiting a collection of 'over 200 never before and rarely seen paintings, drawings, multimedia presentations, ephemera and artifacts," to offer a close and complex portrayal of the man through the perspective of his those that loved him most. The exhibition will be called Jean-Michel Basquiat: King Pleasure and will debut next year.
The exhibition receives its name from a painting by the artist from 1987. The painting itself was apparently named after a bartender-turned-jazz vocalist of Basquiat's childhood locale of New York City, who would go on to produce the popular 1952 song titled, Moody's Mood For Love.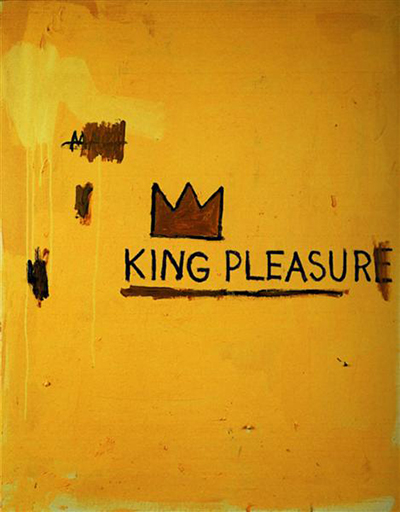 The show features rare and never before seen artworks that detail Basquiat's intimate work, which was inextricably linked. It is set to be held on the ground floor of the historical Starrett-Lehigh Building, located in the West Chelsea Historic District. The uniquely designed structure was built in 1931 and was featured in an International Exhibition of Modern Architecture at the Museum of Modern Art in 1932 and became an official New York City landmark back in 1986. Inside, there will be an exact recreation of the Great Jones Street studio and the Michael Todd VIP room that Basquait made several artworks for at the Palladium nightclub.
---
---
RELATED: Deep In The Dog House? Tiffany & Co. Just Dropped A $200,000 Advent Calendar
Renowned architect, Sir David Adjaye OBE, will lead the design of the exhibition space. "The vision for this project — to reclaim the narrative of Basquiat's life and work and to shed new light on an artist that is only partially understood — aligns deeply with my studio's mission of using design as a storytelling device," said Adjaye, in a statement.
"I envision the exhibition as an intimate narrative journey that not only displays his trailblazing career but cultivates his spirit and mission through the eyes and insights of his own family."
The concept for the exhibition was conceived by the late artist's sisters Lisane Basquiat and Jeanine Heriveaux. They manage the estate of Jean-Michel Basquiat along with their stepmother Nora Fitzpatrick. With Jean-Michel Basquiat: King Pleasure they hope to present a new side of the famed creator's life, up until his tragic passing at just 27-years-old. The trio is producing the exhibition in partnership with ISG Productions Ltd., Superblue, Girlie Action Media and RXR Realty. Electa was tasked with publishing an explorative new book to accompany the exhibition.
Jean-Michel Basquiat: King Pleasure will begin in New York City, New York on April 9, 2022.