In many ways, mountain bikes are the ultimate freedom machines. You can ride the best mountain bikes pretty much wherever you want, from just getting around on roads or bike paths, to heading out for a pedal on your local trails or bike park. A good mountain bike can do it all. But within the world of mountain bikes, things can get a little nuanced. With purpose-built bikes designed for very specific terrain, it means you need to know a bit about what you're looking for before you commit to a mountain bike.
What are the different types of bikes? There are four basic types of mountain bikes: Cross Country (XC), Downhill (DH), Trail, and All Mountain (Enduro). In terms of what each type is best suited for, XC bikes are designed to get across the terrain as quickly as possible, offering maximum pedalling efficiency be it climbing or descending. XC is the discipline of mountain biking that is raced in the Olympics, so just think of a great bike that is light, agile, and fast to ride.
DH mountain bikes are built with the sole purpose of going downhill really, really fast. This means they are longer, with a frame geometry that is less upright, to handle going down the steepest of slopes. DH bikes really aren't designed to do anything other than ride downhill though, and are heavier than XC bikes and generally very difficult to ride anywhere flat or uphill on. But if you've got a chairlift to get to the top of a gnarly set of trails, you wouldn't want to be riding anything else down a steep, technical trail.
---
---
RELATED: Rapha & POC Drops A Cycling Helmet That Makes You Look Better Than Everyone Else
Trail bikes are slightly more comfort-focused than their cross country siblings, with thicker tires for better traction and more relaxed frame geometry to handle a wider range of terrain. They might not be as fast as an XC bike, but trail bikes can handle pretty much anything you're likely to come across, offering the best option if you want to keep your options as broad as possible.
Finally, Enduro bikes are the slightly more well-rounded siblings of the DH bike, similarly designed to handle any downhill action, but are slightly easier to ride back up without the help of a chairlift. They are specifically designed for a racing format called Enduro, where athletes must do some climbing, but only the descents are timed. You're unlikely to be breaking any climbing Strava records on an Enduro bike, but you might break a few records on your way back down.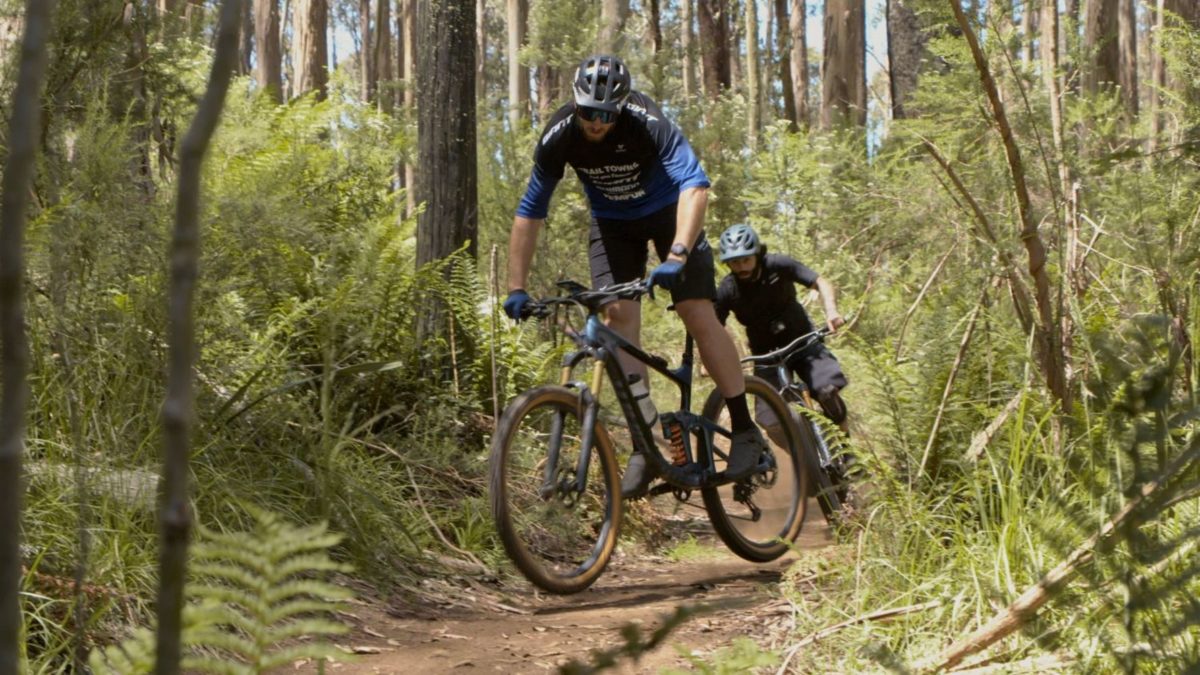 According to mountain biking World Champion, Paul Van Der Ploeg, "it's important to think about the types of paths or trails that you're likely to be riding on. There's no point splashing out on an expensive downhill bike if you only have flat gravel paths where you're going to be riding. For that reason, generally, a trail bike or an XC mountain bike is a great place to start if you're looking to buy your first mountain bike."
"Trail bikes and XC mountain bikes are great because they're super versatile in the type of terrain they can cover, which gives you more options when you're thinking of places to go riding. Especially if you're just getting started and aren't 100% sure on the type of mountain bike riding you want to do, you want to keep as many doors open as you can with the bike you choose."
Next, let's understand a bit more about how different mountain bikes are priced. There aren't many folks for whom price is no object, which means if you're looking to get the best value bike for what you're looking for, you need to understand which parts of a bike costs the most money.
Mountain Bike Frames
Firstly, let's consider the frame of your mountain bike. The main decision you need to make here, and one of the central factors to how much your bike is going to cost, is the material your frame is made from. The two options are basically aluminium or carbon fibre, with most large brands offering decent bikes with either frame material. As you might expect, the main difference between the two is weight, as both frame materials are strong enough to handle anything you need them to. Weight is an important factor not just if you're going to be doing a lot of climbing, but because it also impacts the responsiveness and nimbleness of your frame as you're descending. Using Giant as an example of two entry-level frames, an aluminium-framed Talon 1 will set you back $1,149, while the carbon XTC Advanced 29 2 has an RRP of $3,699.
---
---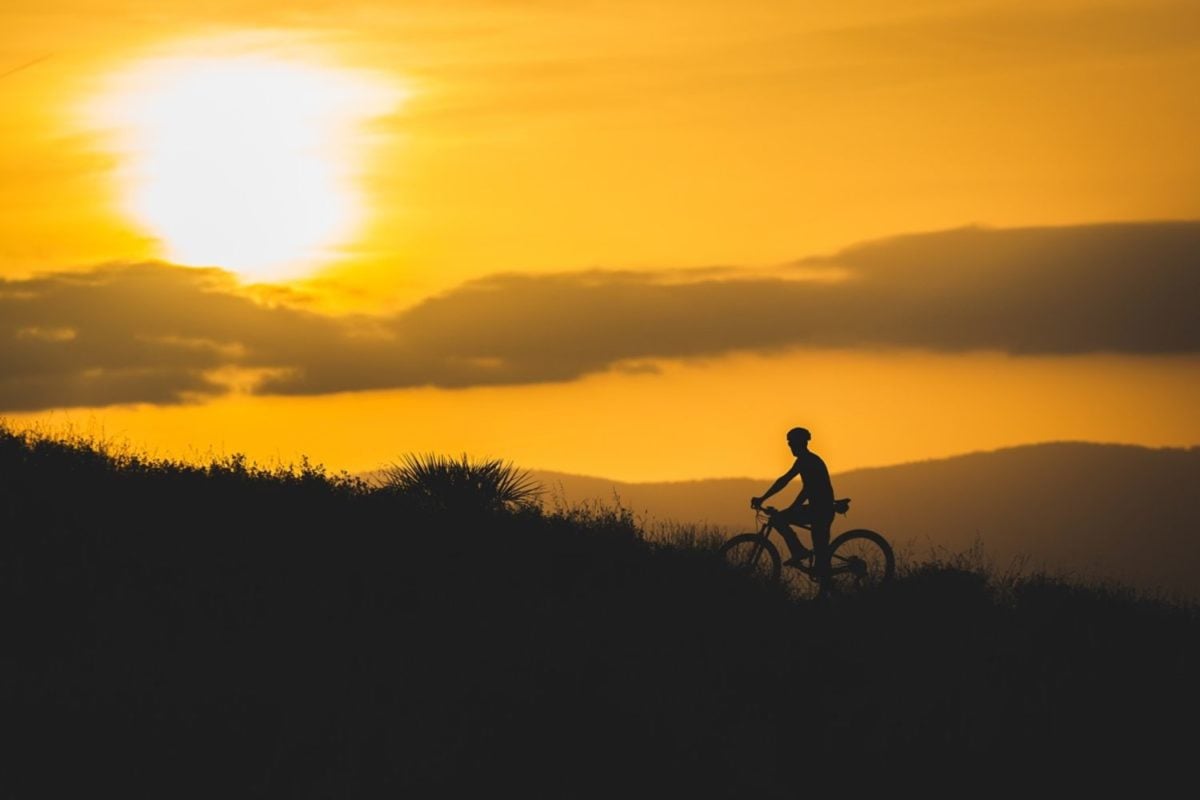 "When you've decided that you want to buy a mountain bike, it can be really confusing when you're trying to work out what the best value for money is," explained Van Der Ploeg. "Basically, a carbon frame will make for an easier ride, especially when you're going uphill. If a carbon mountain bike is looking a little out of your price range, an aluminium bike will still do a great job, but it might make you ride a bit harder."
Mountain Bike Suspension
The next consideration is if you opt for full-suspension or just front suspension. Just front suspension will be more than enough if you're sticking to gravel bike paths, but if you're looking to get a little more adventurous, full-suspension bikes will make your ride a lot more comfortable. Not only is dual suspension more comfortable, but it's also easier to handle the more technical climbs or descents, especially at speed. Sticking to Giant to compare prices, and an aluminium frame with dual suspension in the Stance will cost you $2,699, while the carbon Trance Advanced Pro 29 begins at $5,499.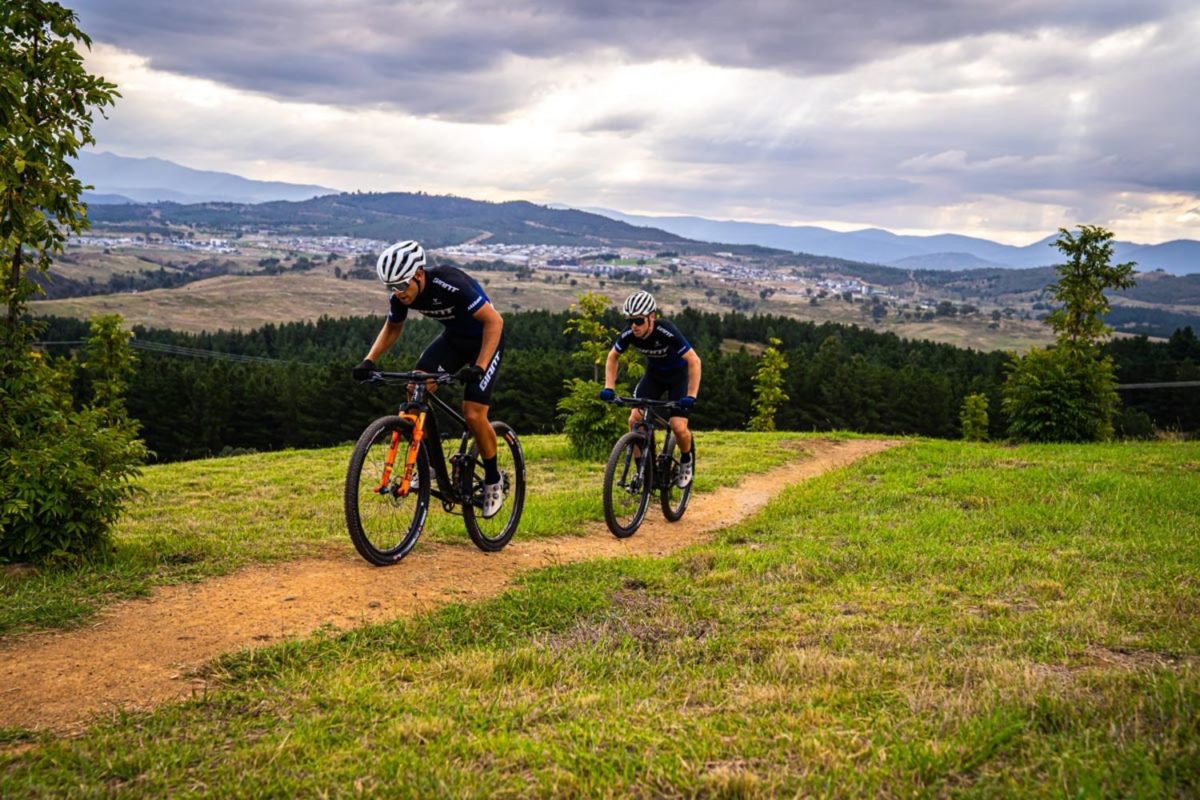 Van Der Ploeg's thoughts on the choice between full-suspension bikes, or bikes with just front suspension, are similar to the decision of which frame to get. In essence, you'll be more comfortable on a bike with dual suspension, but it doesn't mean the alternative is a bad one. "I've ridden dozens of different bikes over the years, and I generally find I have more fun on the bike that is most comfortable," said Van Der Ploeg.
"When you're comfortable, you're also probably riding your fastest, so it's an important consideration when you're racing. But a bike that just has a front suspension fork is still something you can have an absolute blast on, so long as you're avoiding rough terrain where you can. If the choice is between having a bike with front suspension or having no bike at all, I'd always rather have a bike."
Additional elements of your mountain bike to consider in terms of price are the wheels, type of suspension, and gears (called a drivetrain). All three can be swapped in or out of a frame, generally offering less weight and more comfort the more that you spend. For example, many professionals will race with wheels made of carbon, electronically controlled suspension, and wireless electronic groupsets. Each of those could easily add a couple of thousand dollars per upgrade, making the sky the limit if you're looking to get the best that money can buy.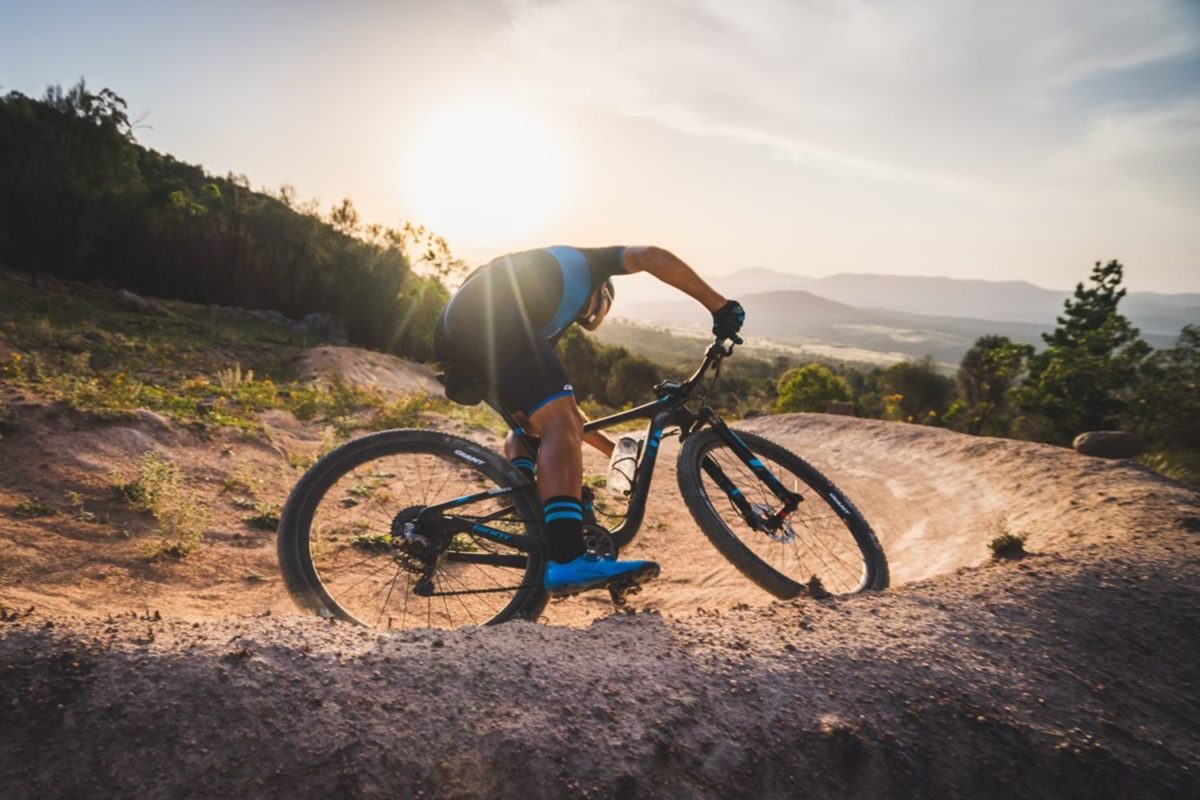 Mountain Bike Wheels
If you're thinking of upgrading your wheels, swapping your aluminium wheels for carbon wheels will make you feel faster, no matter if you've riding trail mountain bikes, cross country bikes, or even downhill bikes. Many brands will sell their mountain bikes with wheels made in-house, such as the HollowGram brand owned by Cannondale. But there are a number of specialty wheel brands that are trusted around the world, including Bontrager, Zipp, Race Face, and more.
Mountain Bike Tires
Another area that you can upgrade if you're looking for more uphill and downhill performance is the tires that you're riding on. Basically, if there's a specific type of mountain bike terrain you can think of, there's a specific tire that has been designed for it. On top of that, the other decision to make is if your tires have tubes, or use more modern tubeless technology to prevent flat tires.
Tubeless tires are typically chosen by professional cyclists because they are less likely to get a puncture, and if they do get a puncture, can seal themselves before totally deflating. The only downside to tubeless tires is they can be very difficult to fix when you're out on the trails, often requiring specific tools to properly repair. Two of the best names in the mountain bike tire game right now are Schwalbe and Maxxis, which will have dozens of options to select from depending on the type of terrain you're thinking about.
---
---
"When I'm racing, I'll generally have a different tire on each wheel," explained Van Der Ploeg. "I get my tires through Schwalbe, so I'll probably have a Big Betty on the rear wheel for faster-rolling resistance, and a Magic Mary on the front for stability and traction. There are lots of ways you can pick your tires, but these two seem to work for me."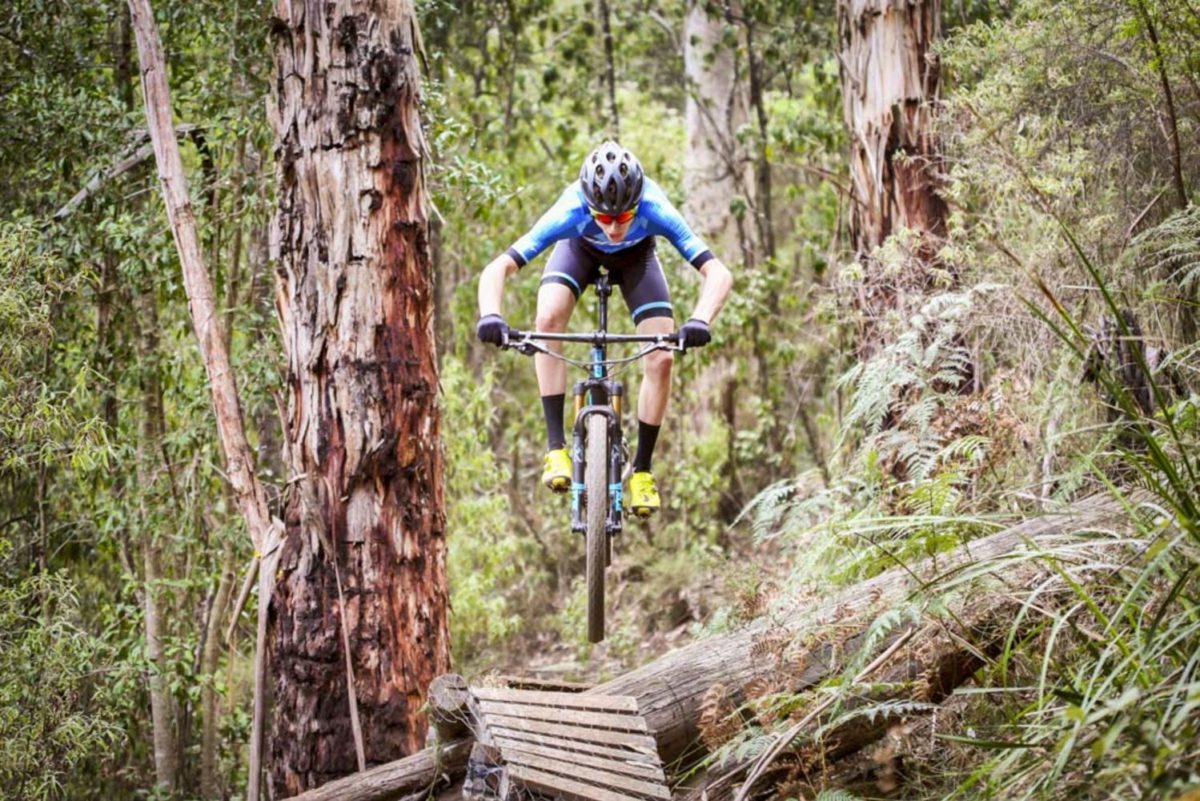 Electric Mountain Bikes
The final thing to think about is a relatively new technology to enter the world of mountain biking, and that is the e-bike. For years, e-bikes were too slow and too heavy because of the battery technology of the time, but in recent years that has all started to change. E-bikes are lighter, more powerful, and able to go longer between charges, making them a viable alternative to a standard mountain bike. What makes them appealing? E-bikes make mountain biking just that little bit easier and more accessible, offering assistance up the steepest climbs that you might otherwise have to get off and walk.
Van der Ploeg is a big fan of e-bikes, as they offered a faster path for him to get back to riding when he was recovering from a serious injury. "I broke my femur and fibula in a crash in New Zealand, which is a very bad couple of bones to break as a cyclist," said Van Der Ploeg.
"Once I could start putting any weight through my leg, of course, the first thing I wanted to do was get on my bike. I was lucky enough to get an e-bike that helped my path back to fitness, which just made it a bit easier to start riding trails again."
"Even if you haven't just broken your leg, e-bikes are still great because they make it that little bit easier up the climbs, especially if you're new to trail mountain bike riding. My philosophy is if you're having fun, you'll probably want to keep doing something, and an e mountain bike is really fun!"
Now that we're across the different types of bikes, and the cost factors that you need to consider when purchasing your next mountain bike, let's take a look at the best mountain bikes that are on the market right now.
The Best Mountain Bikes On The Market
Trek Supercaliber 9.9 XTR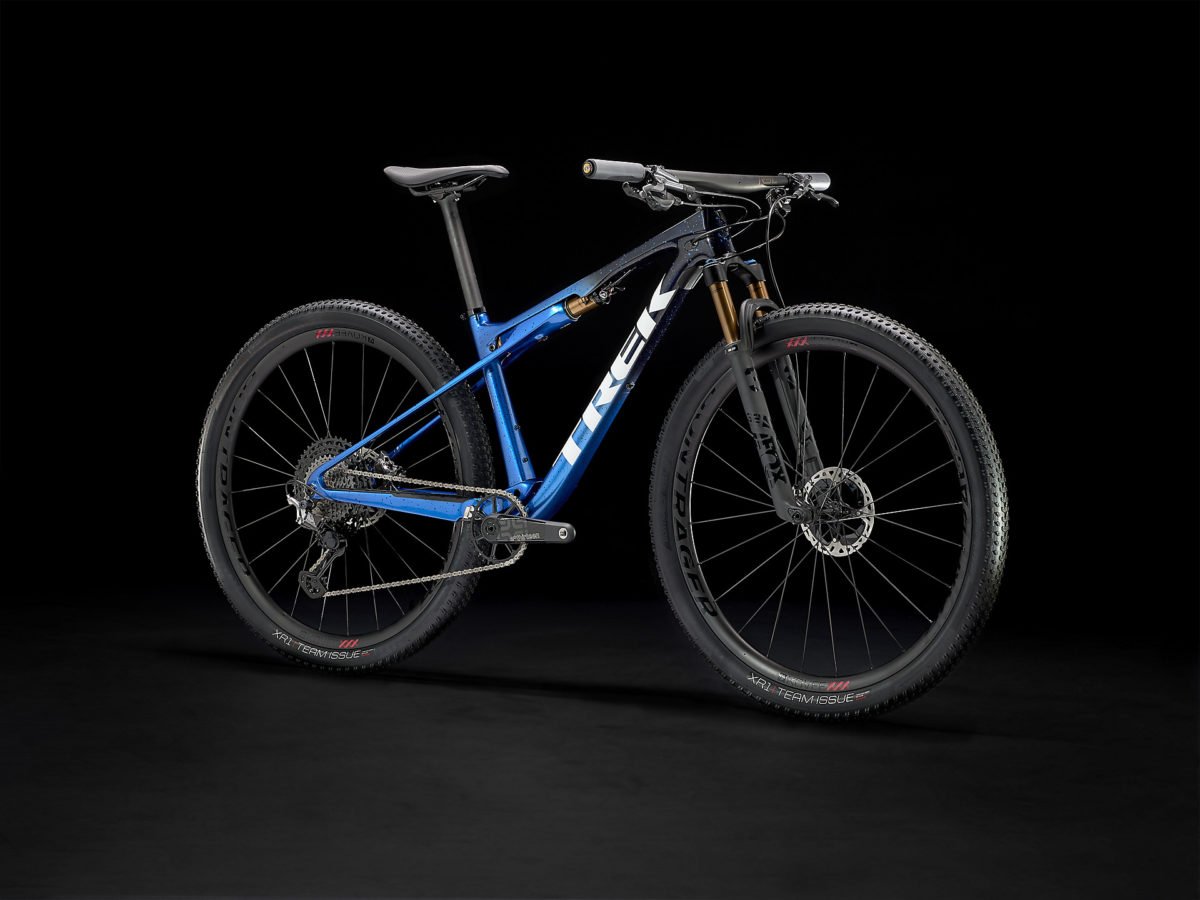 US-based Trek has been busy over the last few years, building a very strong reputation as one of the best mountain bike brands in the world. Not only does the Trek Factory Racing team count current World and Olympic Champions as its members, but most of them ride the Trek Supercaliber 9.9 TXR, which is well regarded as one of the best mountain bikes to race XC in the world right now.
Why is it so good? Trek has cleverly blended the best of elements of a hardtail mountain bike, specifically its stiffness and weight, with the best elements of a dual-suspension bike, namely the comfort and control. The result is a superbike of sorts, that boasts a thoughtfully redesigned rear suspension called IsoStrut that integrates the shock absorber into the top tube, rather than the seat tube where it's typically found. Because the seat tube is a solid piece, the Trek Supercaliber 9.9 XTR can also carry two water bottles, a feature missing from pretty much all other dual-suspension mountain bikes.
---
---
Giant Reign 29 (2022)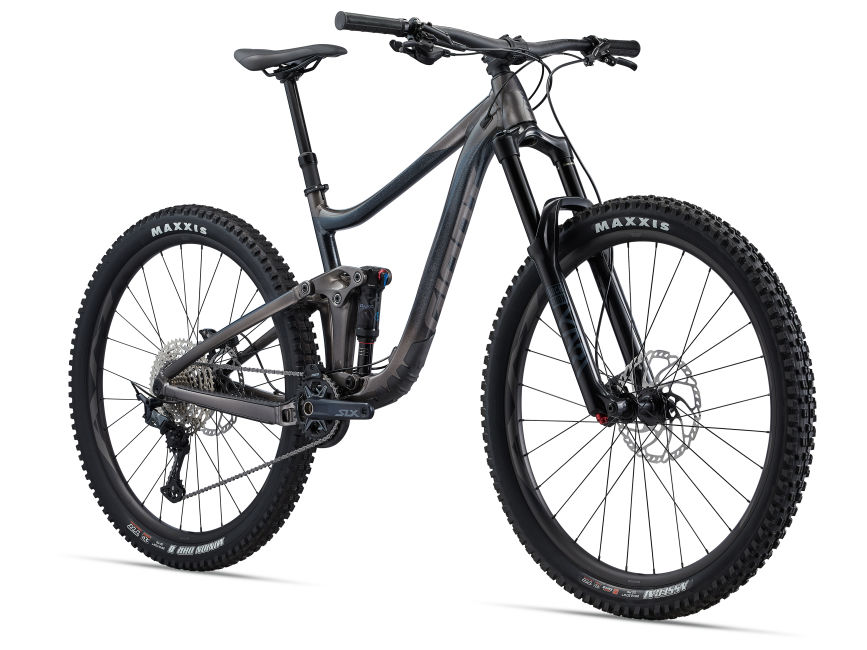 If you're after one of the best-in-class enduro bikes, you could do much, much worse than a Giant Reign 29. Up until 2019, Giant didn't offer the Reign with larger 29-inch wheels, which was always a limiting factor for the model. Now that the Reign is available with larger hoops, it eats rough terrain for breakfast, with 170mm of front travel and 146mm of travel for the rear.
While it's available with a choice of either carbon composite or aluminium frame, depending on your preference or budget, we wanted to focus on the more affordable aluminium frame. Featuring enduro bike-specific geometry, the frame was built to create confidence in your front-end handling with optimised head and seat tube angles. RockShox provides both the forks and rear suspension, while Shimano has been chosen for the entire groupset, which features 1×12 gearing. Giant uses their own dropper seat post in the Giant Reign 29, which offers a reasonable 125mm of travel for those really steep trails.
It's an energetic enduro bike, which can handle all but the craziest downhill trails, while still making its way up climbs with a vigour that is almost trail-like. If you're after a bike that can handle a variety of terrain, without compromising on much, the Giant Reign 29 is a winner.
Yeti SB150 T3 TURQ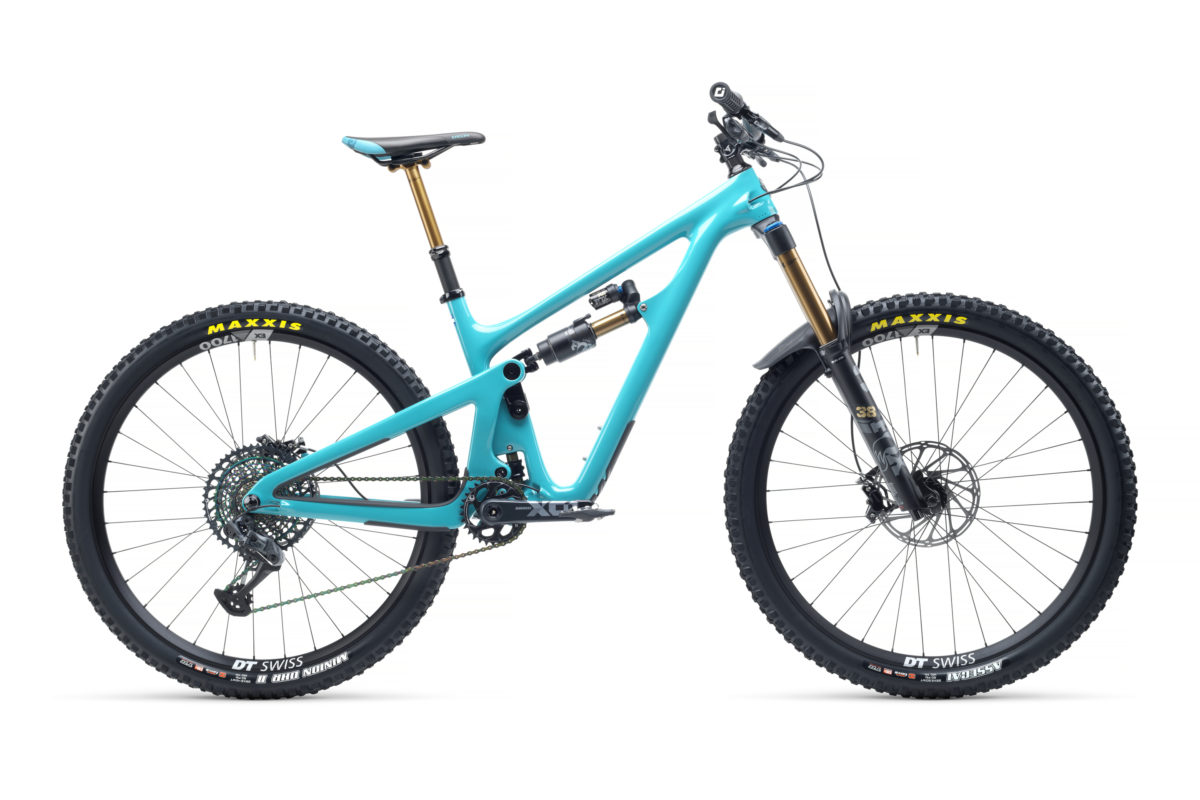 Yeti is a very well respected name in the world of mountain biking, having produced some very fine racing bikes over the last three decades. The Yeti SB150 is a great example of this racing pedigree, as the bike that has won the most Enduro World Series races in history, with plenty of other trophies in the cabinet. In short, if you're looking for a lightning-quick enduro mountain bike, the Yeti SB150 is probably one of the best you can buy.
The high-strength carbon frame features race-specific geometry that allows you to take a more aggressive position on the bike, allowing for more stability and traction while working with gravity, without sacrificing nimbleness while climbing. As you'd expect from a bike with such strong DH credentials, the FOX shocks offer 150mm of travel, while SRAM has the entire groupset covered.
If you want a bike that is currently being ridden by the fastest enduro athletes on the planet, the Yeti SB150 T3 TURQ is worth considering.
Salsa Beargrease Carbon SLX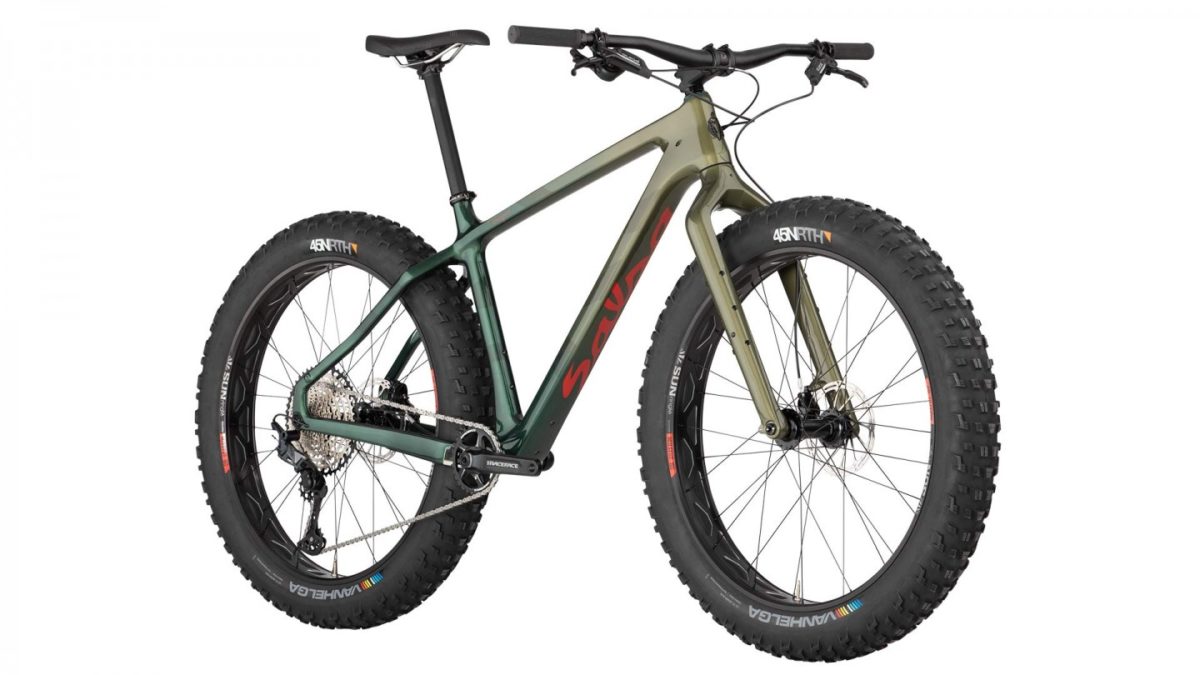 If you've not come across fat bikes before, they're basically the love child of a road bike and a mountain bike, specifically built for the sand and the snow. They typically have relatively upright frame geometry, but with tires that range from anywhere between 3.8 and 5 inches thick, to handle any variety of slippery or unstable terrain.
Within the world of fat bikes, the new Salsa Beargrease Carbon SLX is a very good place to get started, with a rigid frame (that is, almost the opposite of full-suspension bikes) made from carbon that makes it about as lightweight as possible without sacrificing sturdiness. Its wheel size is that of a smaller contemporary mountain bike, at 27.5 inches, with a tire thickness of 3.8 inches for the sweet spot that hits easy handling and fast-rolling resistance.
---
---
This fat bike also boasts internal cable routing, a full Shimano 1×12 groupset and even a dropper post to deliver every angle of that trail riding experience. If that wasn't enough, it doubles as a handy adventure or touring bike, with a rack, pannier, and bag mounts that can be used for bike packing on your next holiday. The Salsa Beargrease Carbon SLX is less than traditional, but it will more than get the job done.
Norco Fluid FS2 Women's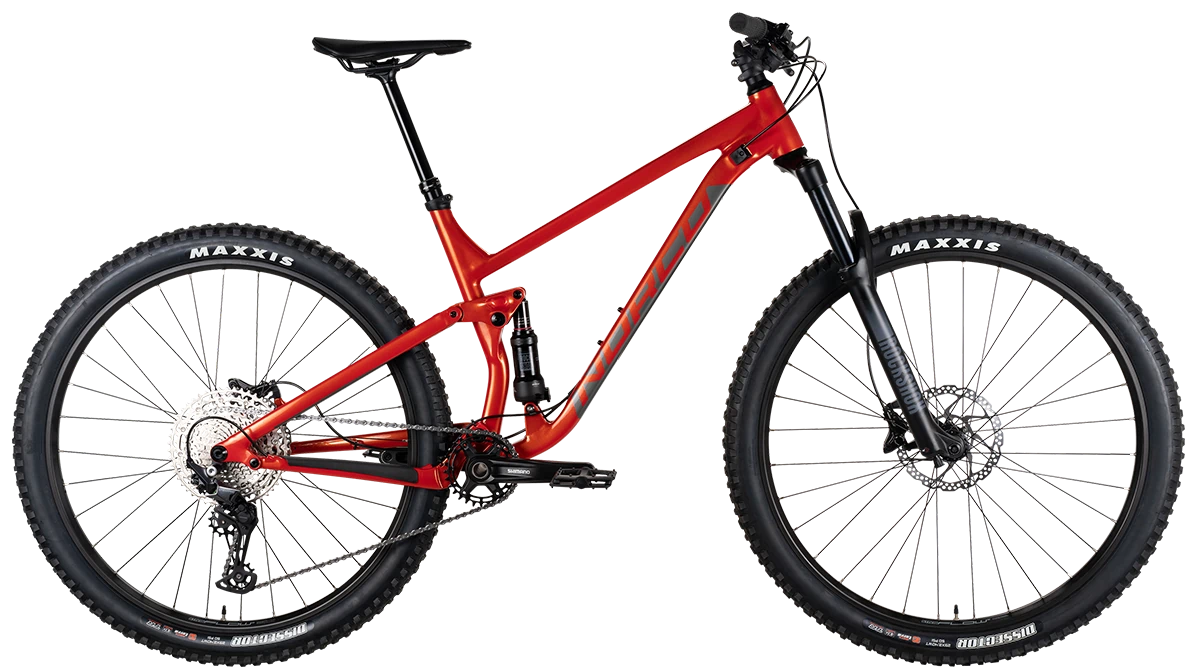 If you're after a well-designed women's mountain bike that represents excellent value, the Norco Fluid FS2 will tick a lot of boxes for you. Built around a progressive double-butted aluminium frame, the Fluid FS2 offers an exciting and responsive ride, which with 27.5-inch wheels should be able to handle everything you'd expect a good trail bike too.
RockShox provides both the front and rear suspension, with 120mm of travel in the forks for the most technical descents, while the Shimano Deore groupset has 12 speeds to handle even the steepest climbs. No matter if this is your first trail mountain bike, or a bike that you're upgrading to, you won't be disappointed with this well balanced and relatively affordable option from Norco.
Santa Cruz V10 Carbon 29 X01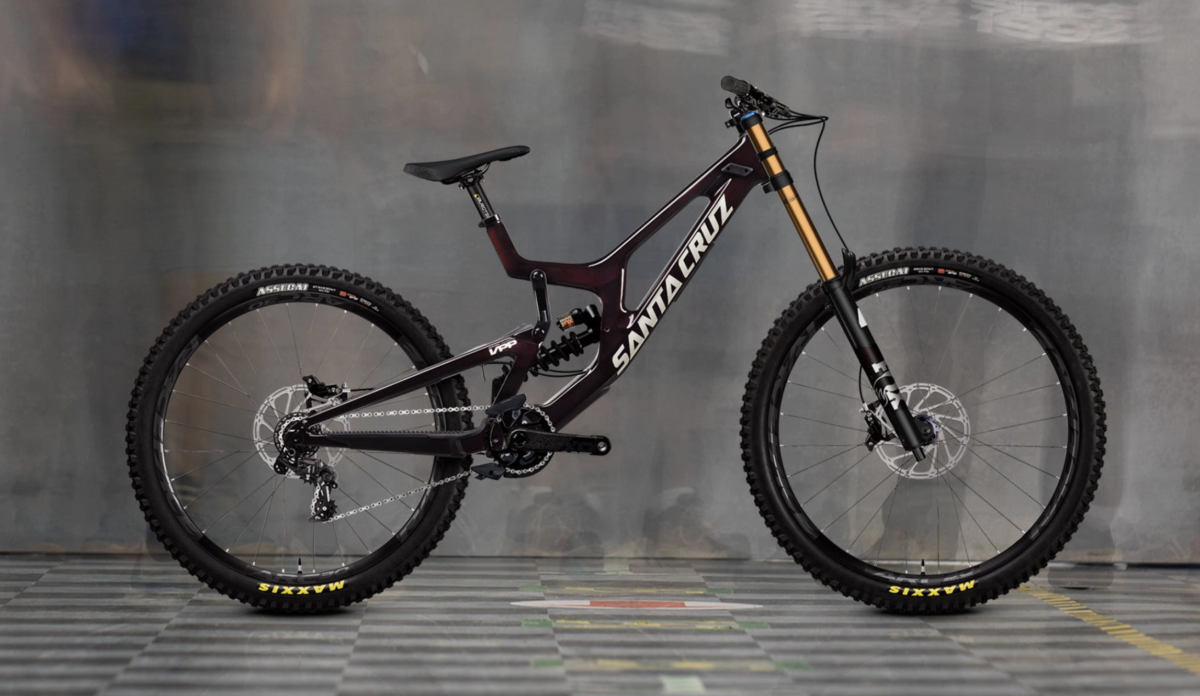 The Santa Cruz V10 is one of the best-known quantities in DH mountain bike racing, and has proven itself time and time again as one of the fastest bikes on the planet. It's also the bike of choice for the greatest downhill racer of all time, South African Greg Minnaar, a legend of the sport who has spent more than two decades at the top. In a sport that is normally dominated by the young and the fearless, Minnaar began World Cup racing at the age of 17 in 1999 and has recently celebrated his World Championship victory in 2021.
The Santa Cruz V10 Carbon 29 X01 features a whopping 203mm of front fork travel thanks to the Fox 40 Performance shocks, matches by the Fox DHX2 Factory Coil suspension for the rear shock. The 7-speed groupset is all SRAM, while DT Swiss and Maxxis link up for the 29'' by 2.5'' inch wheels and tires, with the bars and stem manufactured by Santa Cruz themselves.
Thanks to the oxblood coloured carbon frame, the entire package weighs just a whisker over 16kgs, making it about as lightweight and responsive as you can expect from a bike oozing downhill performance. If all you want for Christmas is the best mountain bike for going down really steep, really rocky trails as fast as possible, a Santa Cruz V10 Carbon 29 X01 will make you about as quick as you'll ever be.
Giant Reign E+ 0 2022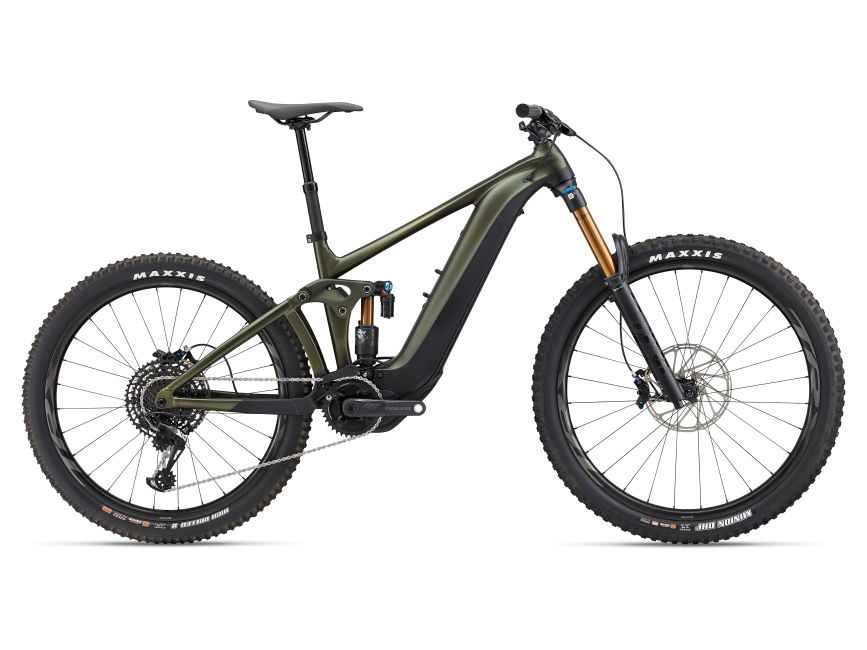 It was in 2019 that the Giant Reign E+ was first released, which was a pretty decent bike, despite the small battery and slightly disproportionate design. Just three years later, the Giant Reign E+ 0 2022 is the result of massive strides in improvement, both to the battery and the overall design of the bike.
The latest electric mountain bike to leave the Giant factory features an intuitive set of speeds for the SyncDrive Pro 85Nm motor, called the RideControl Ergo 3. This allows you to control the speed at which it runs, enabling you to conserve battery as you are able to. The EnergyPak Smart 750WhEnergyPak Plus battery is 50% larger than the first model in 2019, which has a range of between 70km and 230km depending on the conditions.
---
---
Available in four different sizes, the frame is made from the bulletproof ALUXX SL-grade Aluminium, which will be more than capable of handling almost any terrain. Giant has also ensured maximum comfort as you make your way through more technical trails, with 170mm of travel on the front shocks and 160mm for the rear. If you want the best of what e-bikes can offer right now, the Giant Reign E+ 0 won't let you down.
Trek Roscoe 7 Women's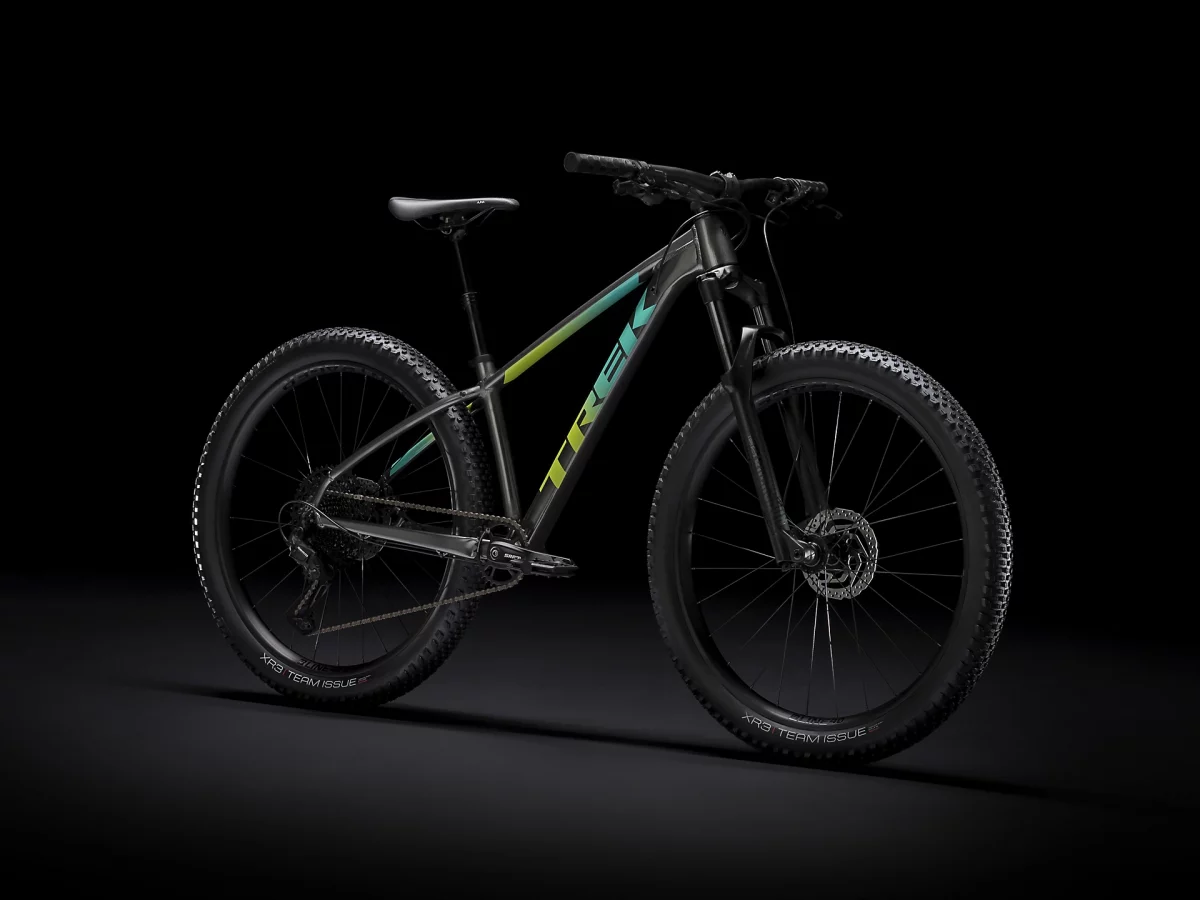 If budget is an important factor in choosing your next bike, then a hardtail mountain bike is a great way to save some cost without sacrificing too much performance. The Trek Roscoe 7 Women's offers exactly that, with a bulletproof hardtail aluminium frame and very solid RockShox front suspension setup with 120mm of travel.
You'll find a SRAM groupset on the Trek Roscoe 7 Women's, which offers a massive gearing range to handle super steep climbs, without needing to grind it out in a gear that's too small. Arriving on 27.5-inch wheels, it's a nimble mountain bike that remains stable when navigating tight turns, with ​​2.8-inch tubeless-ready tires for a comfortable ride. Also unusual for a bike that represents such good value, the Trek Roscoe 7 Women's comes standard with a 100mm dropper post to handle the most serious gradients.
Pivot Switchblade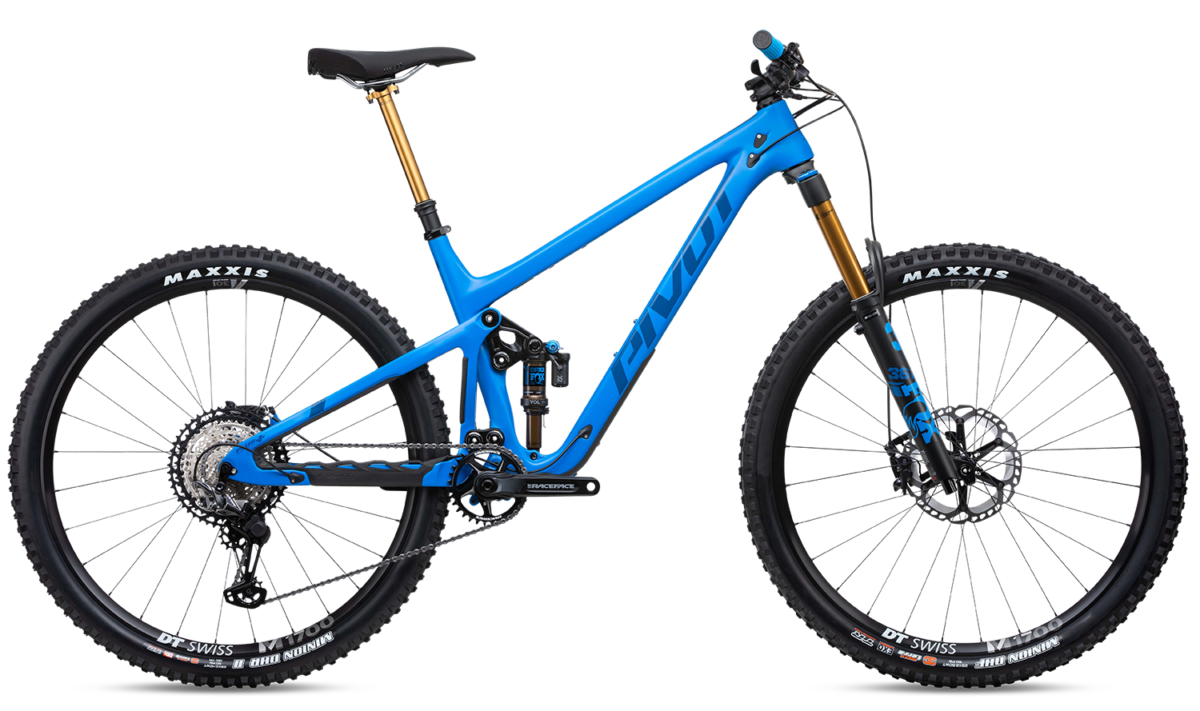 While there are many mountain bikes designed for very specific purposes, most of us just want a bike that offers as much versatility as possible. The Pivot Switchblade offers exactly that, as an elegant all-rounder that offers more travel than its predecessors and an excitingly progressive frame geometry.
Featuring a cleanly designed carbon frame, Pivot Switchblade also has a thoughtfully designed DW-Link rear triangle for suspension that can be optimised for the trails that you're riding. The frame is also specifically designed for maximum stiffness to improve power output and control while remaining as lightweight as possible.
The egalitarian team at Pivot offers the bike in three different specifications, all of which have the option of either Shimano or SRAM groupsets, meaning you don't have to compromise from the setup you're already used to. The FOX suspension setup that the bike arrives with offers 160mm of front travel, with 146mm at the rear. If versatility is key to what you're looking for, the Pivot Switchblade will hit where you want it to.
Specialized S-Works Turbo Kenevo Super Light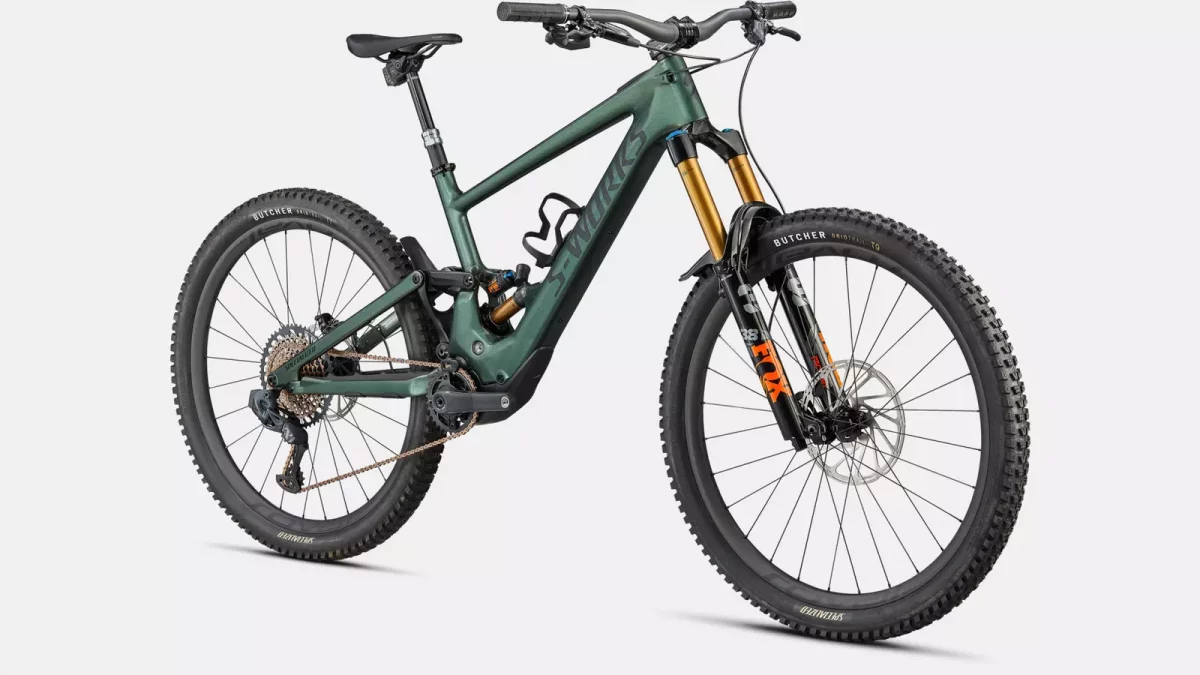 The recently announced S-Works Turbo Kenevo Super Light is set to shift what we think of as a performance-focused e-bike, as a ride that is not only lightweight but also responsive and agile. But such an impressive performance package doesn't come cheap, with one of the more eye-watering price tags on this list at more than $24,000.
The core of this bike's performance is the 250-watt motor and 320Wh battery with a radically advanced and seamlessly integrated controller, allowing you to ride assisted at 25kph. Not only will this get you to the top of your favourite trails faster, but you'll also have much fresher legs with the help of the motor.
As well as the impressive motor and the lightweight carbon frame, the S-Works Turbo Kenevo Super Light also comes stock with SRAM's premier Eagle AXS XX1 drivetrain, and FOX Factory suspension. If you want one of the best mountain e-bikes that money can buy, then you need to have the S-Works Turbo Kenevo Super Light on your list.
Rocky Mountain Growler 20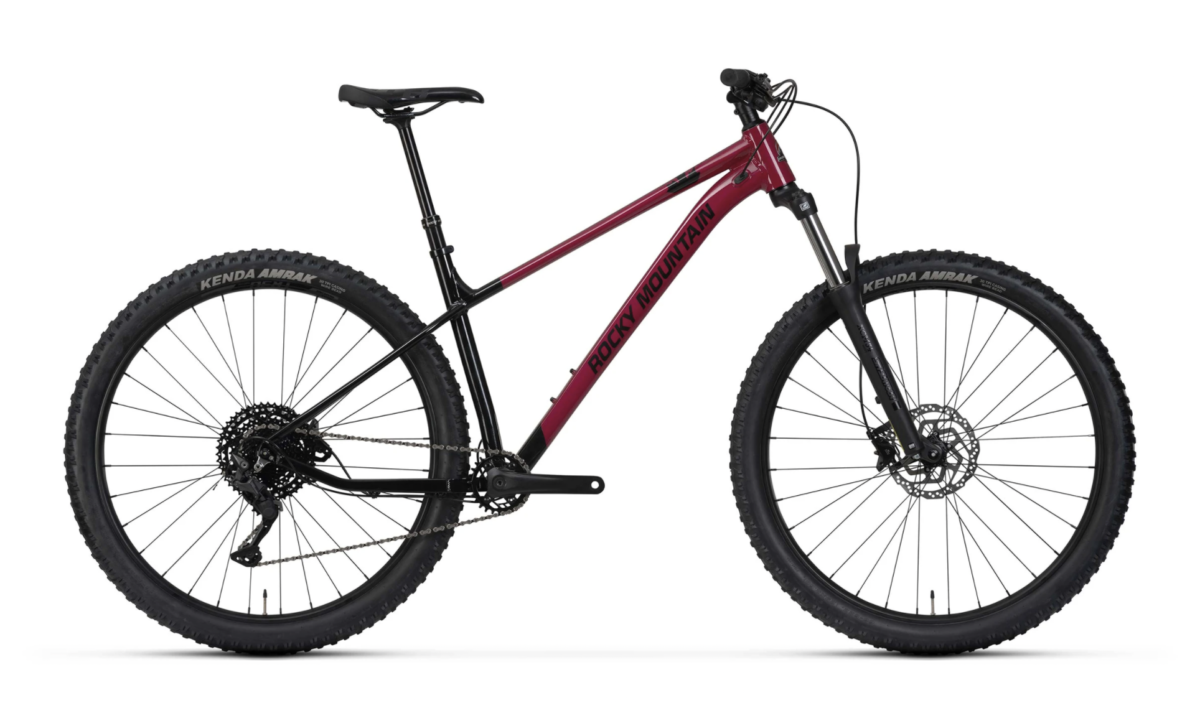 If you're keen to get out there and riding some trails as soon as you can, but don't want to commit to your expensive dream bike just yet, you need a budget hardtail to fill the gap. There are a number of decent options out there, but the Rocky Mountain Growler 20 is one of the best in the business.
As the price of entry to the world of mountain bike fun, you could easily spend much more for a bike that offers half as much. The Rocky Mountain Growler 20 is a classic hardtail, with a profile to match, but featuring a few modern creature comforts that will make all but the most technical trails comfortable to shred.
With a strong aluminium frame, 130mm of travel in the front shocks, a trail-eating 29-inch wheelset, and a Shimano 10-speed groupset, you've got everything you need and probably a bit more. If budget is a key factor in your decision-making, make sure you check out the Rocky Mountain Growler 20.
Liv Pique 29 2 2021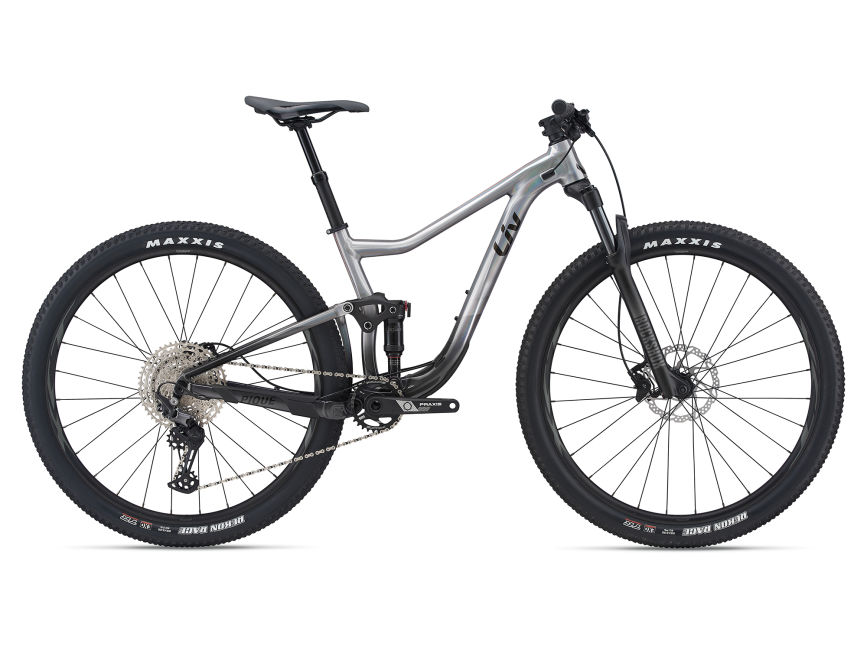 The Liv Pique 29 2 from this year offers a well balanced and relatively affordable XC ride, with all of the benefits of 29-inch wheels. With female-specific geometry, the frame is kept lightweight thanks to the ALUXX SL grade aluminium, which features a PowerCore bottom bracket that is designed to maintain pedaling efficiency while climbing.
A comfortable ride across multiple terrain types is possible thanks to the RockShox front and rear suspension, which delivers 100mm of travel at both ends. The Liv Pique 29 2 also features a 1×12 speed Shimano Deore groupset, with gears that should be able to keep you moving no matter the gradient and a dropper post for those really steep sections. It's a bike that should eat the trails up, keeping fast and stable the whole time.
Santa Cruz Tallboy CC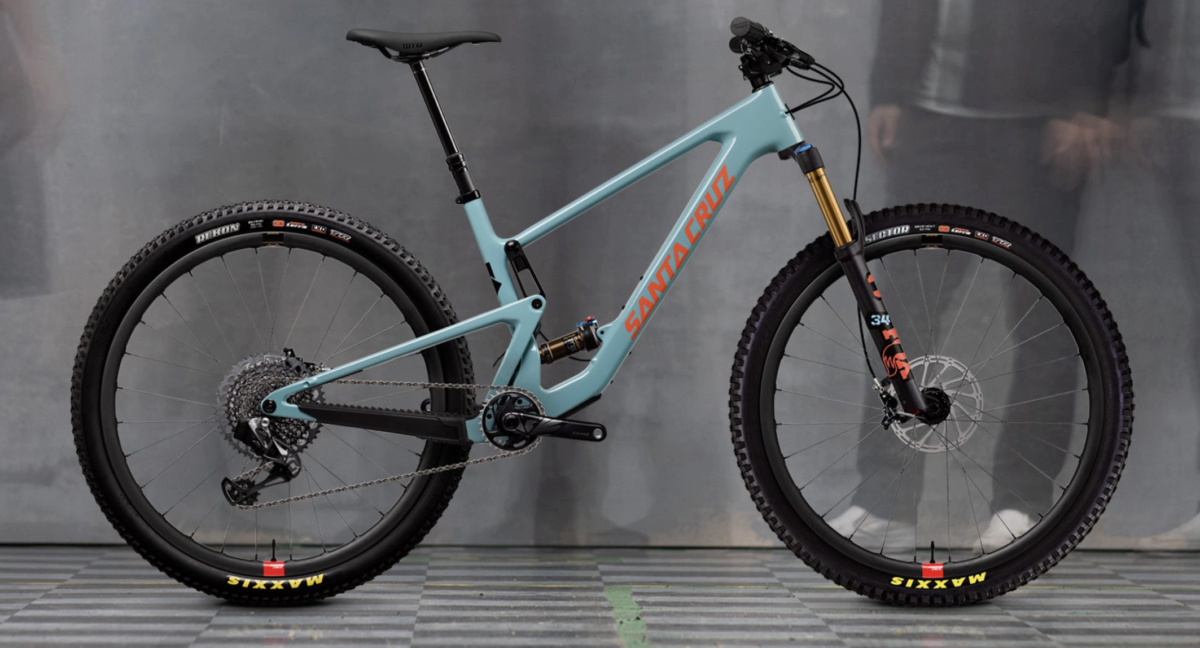 There's been a lot of progress when it comes to trail mountain bikes over the last few years, and the Santa Cruz Tallboy CC has more than kept up with the times. With geometry that is both longer and slacker than previous generations, it rides like a much bigger bike than the 130mm front and 120mm rear travel suggests.
Despite having relatively small travel lengths for a bike that is built to work in harmony with gravity, the Santa Cruz Tallboy CC is made to shred fast, technical trails. With reimagined frame geometry, it ensures a lower centre of gravity to keep the bike nimble and responsive as you pick your lines down the descent. So even though it only has 120mm of travel, combine that with bold 29-inch wheels and a frame that is purpose-built to go down hills with speed and effortless control, consider a Santa Cruz Tallboy CC.
Salsa Timberjack NX Eagle 29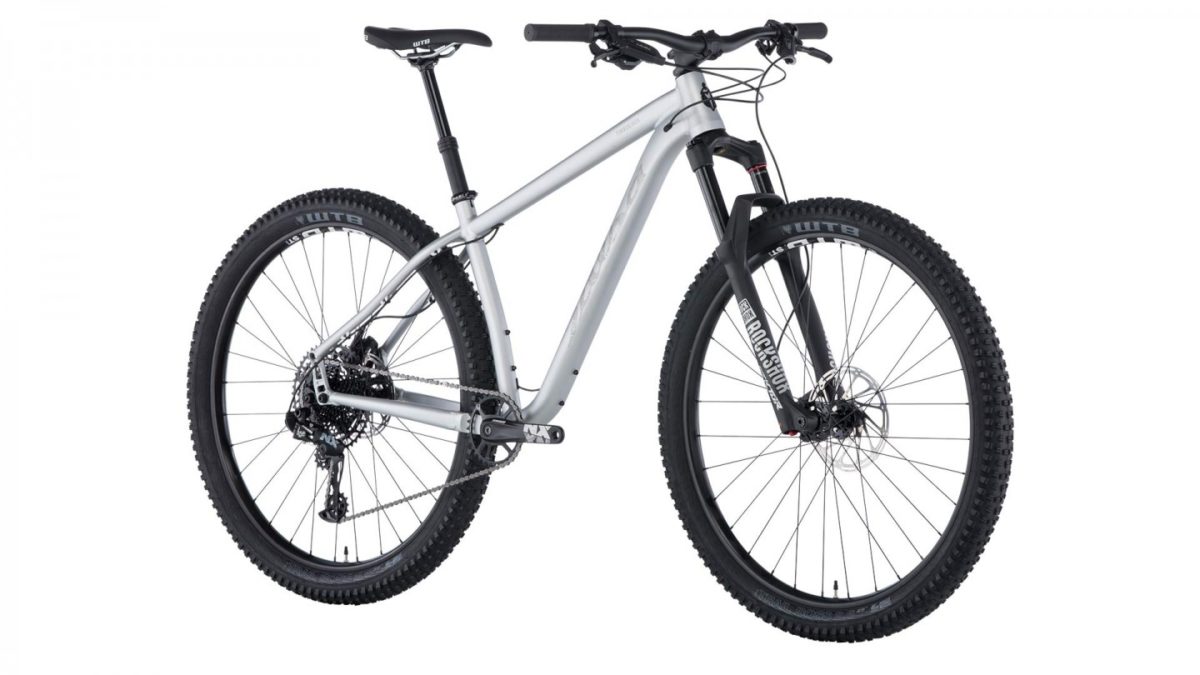 If you're the type who wants a no-fuss hardtail, that can still keep up with everyone on more technical trails, the Timberjack NX Eagle 2 from the folks at Salsa could be the one for you. It's a simple, durable trail bike and set to be lower maintenance than its dual-suspension siblings.
With 130mm of front travel in the Rockshox front forks, dropper post that comes stock standard, and a 12-speed groupset from SRAM, you've got everything you need and more. The aluminium frame is also cleverly designed to house up to 2.6-inch tire width on 29-inch hoops, which will have you floating down the trails with more traction than you know what to do with. It's a simple bike, but the Salsa Timberjack NX Eagle 29 is packed with everything you need.
Trek Marlin 7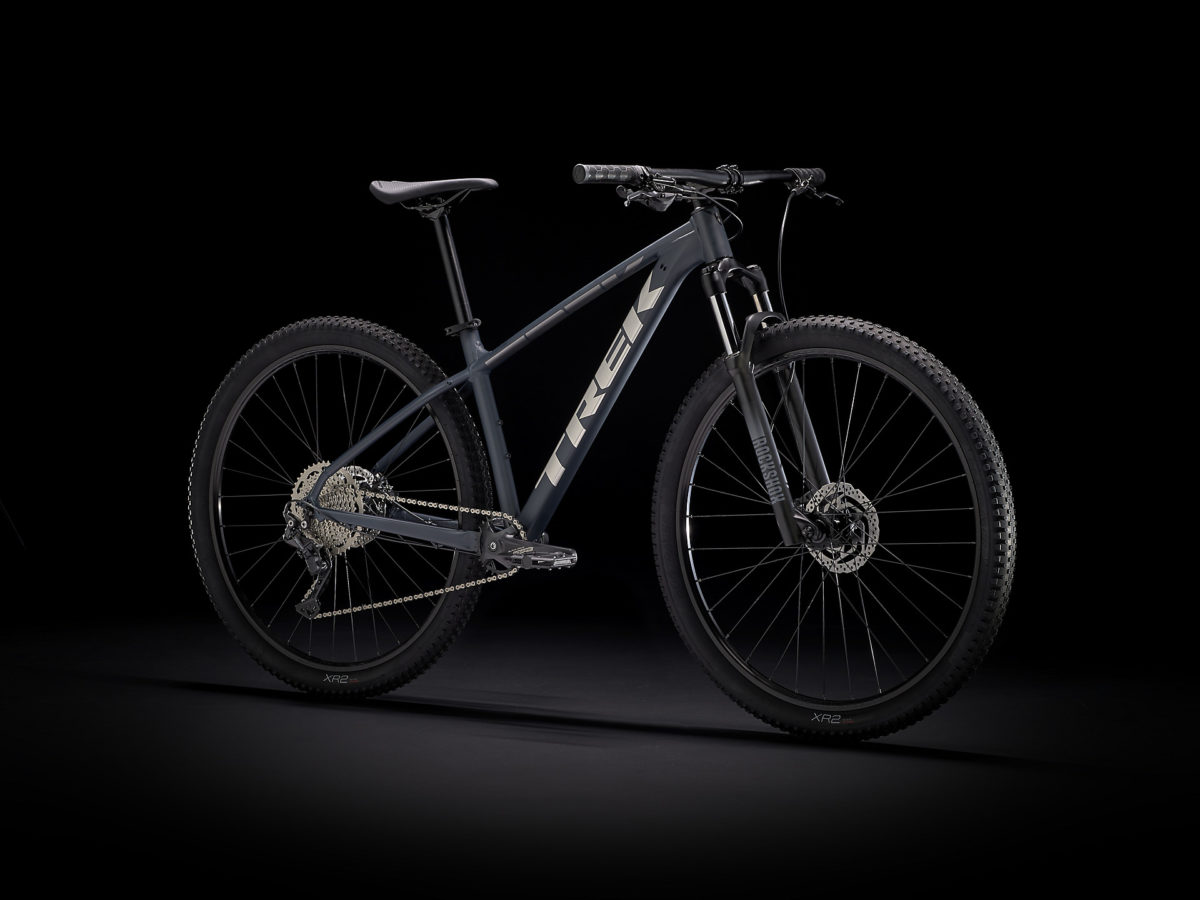 If you're starting to get into mountain biking, but are tired of using the rusty bucket of bolts you found in the family shed, you need something new you can put your own stamp on. The same is true if you're looking for your first mountain bike to race on – you'll have a lot more fun riding something that has been recently looked at by a mechanic, and the Trek Marlin 7 is another fantastic entry-level bike.
It's got everything you might want, from a hardwearing aluminium frame with internally routed cables, geometry that remains stable at speed and coil spring RockShox forks that get the job done with 100mm of travel. It also comes with Shimano hydraulic disc brakes, a relatively unusual sight at this price point, 10 speeds with a simple 1x drive train and Bontrager wheels that should handle most trails. If you're looking for great value, you've found it right here in the Trek Marlin 7.
Giant Stance 29 2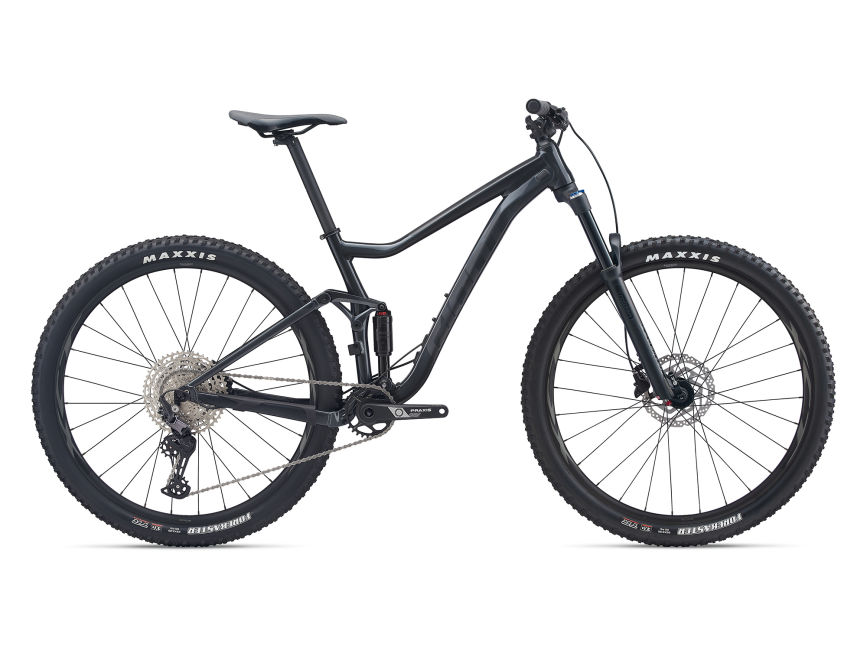 The Giant Stance 29 2 offers the perfect combination for those who want want to shred trails without shredding their bank balance. With the benefits of dual-suspension to float over the more technical sections of trails, but a reliable and cost-saving ALUXX aluminium frame, it really does offer the best of both worlds.
The forks serve up 130mm of travel up front, while the FlexPoint rear suspension system delivers a decent 120mm of travel behind, combining in a bike that can handle all but the most challenging rock gardens. The Giant Stance 29 2 also comes with 29-inches as its standard wheel size, to give you confidence and stability over almost any terrain, climbing like a goat and descending like even better. The climbing capacity of this bike is also improved with a 12-speed groupset with enough range to keep your legs spinning through the toughest pinches.
Juliana Maverick X01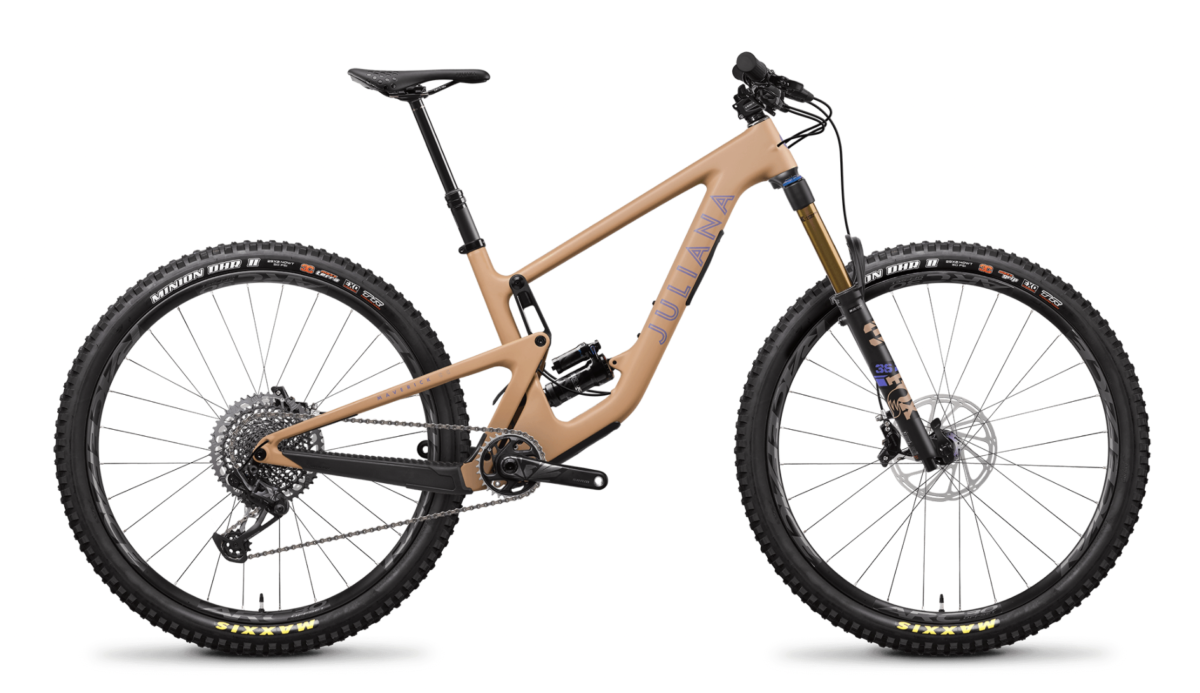 Juliana is the sister brand to Santa Cruz, which automatically earns it some serious credentials when it comes to the more aggressive and technical trails. Within the Juliana family, the Maverick stands out as a comfortably stable trail bike, which can shred steep descents with the best of them.
Featuring a carbon composite frame with an attractive matte paint job, this 29-inch all-rounder boasts 145mm of supportive rear travel, complimented by 150mm of front suspension that should make for a very comfortable ride. Available in three different sizes, the Juliana Maverick is an all-purpose mountain bike that goes quick uphill, and even quicker back down.
Cannondale F-Si Hi-MOD 1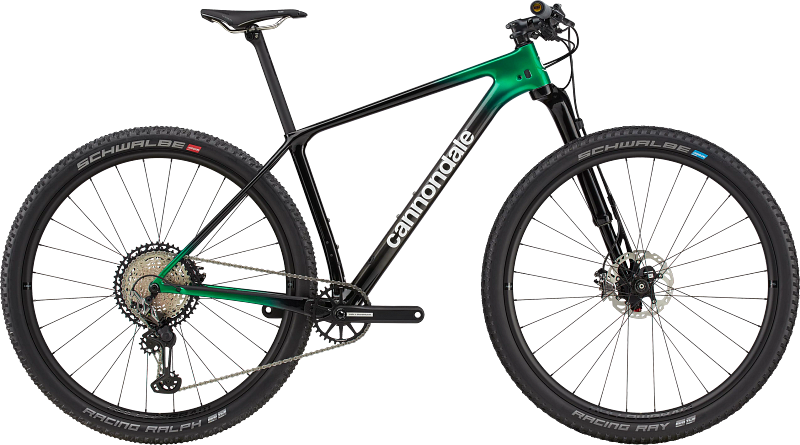 In a world where most mountain bikes look relatively alike, Cannondale has always had a slightly different approach to mountain biking aesthetics. Unlike most, Cannondale mountain bikes are famous for their single-fork front-end, affectionately known as the Lefty. The Cannondale F-Si Hi-MOD 1 is the perfect modern execution of this unusual design, built into a pure XC race mountain bike.
Featuring the most lightweight XC frame that Cannondale currently produces, the Hi-MOD BallisTec Carbon frame dovetails sweetly with the Lefty Ocho Carbon fork with 100mm of travel. The Shimano XTR 12-speed groupset will make easy work of even the steepest climbs, while the HollowGram wheels and cranks are carefully designed to be as lightweight as possible. If you're after a racing bike that won't let you down, this could be the one for you.
Mongoose Argus 26 Sport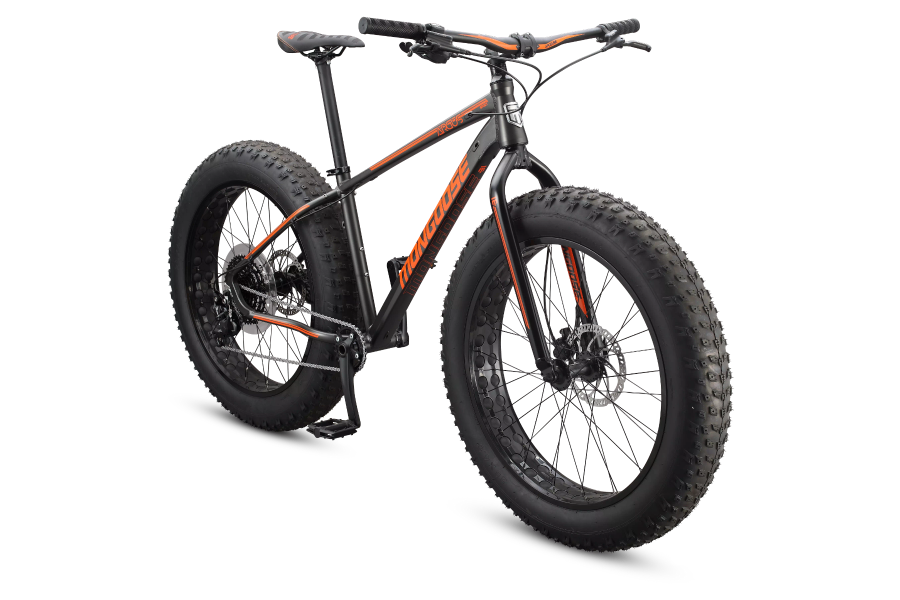 Mongoose is a brand that has serious pedigree when it comes to making bikes that aren't built for the road, be it across BMX or mountain bikes. The Mongoose Argus 26 Sport fits into the last of those categories, with massive 4.8-inch tires that are designed to handle even the lowest traction environments.
The tectonic T2 aluminium frame that the Mongoose Argus 26 Sport is built around is both lightweight and stiff, also featuring internally routed cables for a tidy-looking setup. Shimano provides the 10-speed drivetrain, while the massively thick 26-inch wheels fit through the Mongoose aluminium ridged fork. If traction in any conditions is what you need in your next bike, the Mongoose Argus 26 Sport is definitely worth considering.
Specialized Rockhopper Expert 29
When it comes to packing value into an affordable mountain bike, the Specialized Rockhopper Expert 29 covers a combined holy trinity that you'll find almost nowhere else. With the combination of an air-spring fork, tubeless-ready wheels, and a 12-speed drive train, you've got a combined set of features that you're unlikely to come across on an equally affordable mountain bike.
Built around a Specialized A1 SL Aluminium that is both lightweight and responsive, you also get Manitou M30 29 forks that offer between 80mm and 100mm of travel depending on the frame size. The Specialized Rockhopper Expert 29 is well designed to handle most trails, and even some more technical terrain, all at a price that is very hard to beat.
Cannondale Trail 4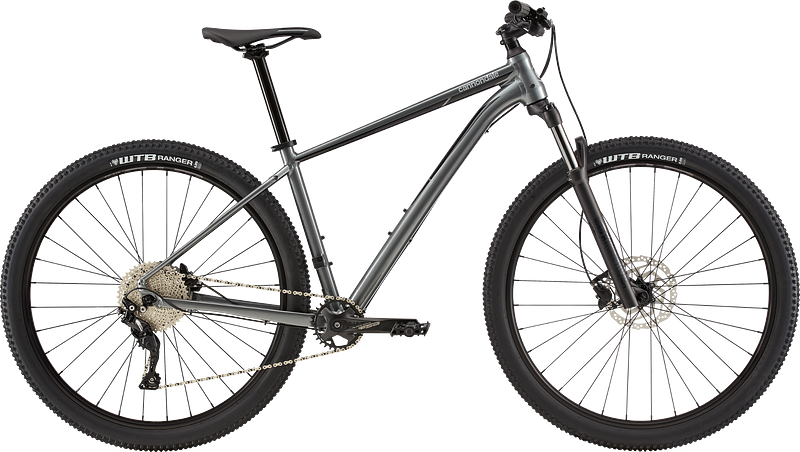 Another option at the more affordable end of the spectrum, the Cannondale Trail 4 comes with all the right ingredients for a great day out on the trails. With a durable SmartForm C2 Alloy frame that rides nicely over a range of less technical trail types, it also comes stock with RockShox XC30 TK forks that offer 100mm of travel and have the option of being locked out for those steeper climbs.
Another element to help with the climbs is the Shimano Deore groupset, offering 10-speed functionality to an otherwise well-rounded bike. This won't be the type of ride you'll want to take on a Double Black Diamond DH trail, but it'll handle most of what you're likely to find in your own backyard.
Yeti 160E T1 TURQ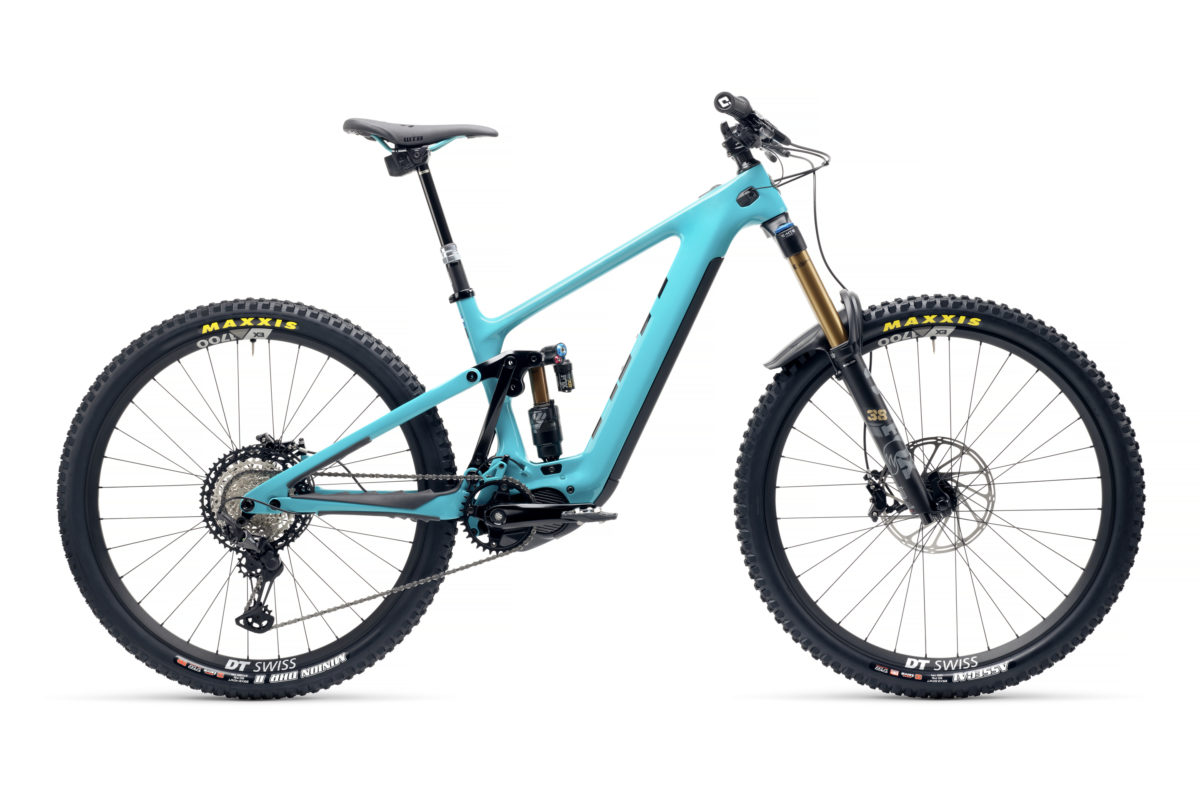 According to Yeti, the 160E T1 TURQ is the first-ever race-specific e-bike, and coming from a brand that knows a thing or two about making world-beating bikes, we're inclined to agree. Yeti designers spent half a decade working on the 160E T1 TURQ, with an entirely new frame and suspension package designed for the increased speed and weight of an e-bike.
Featuring a Shimano EP8 motor and 630-watt hour battery, the Yeti 160E T1 TURQ is built to be more stable the faster it goes, thanks in part to the set of 29-inch wheels that eat technical trails for breakfast. The FOX FACTORY front suspension offers a very impressive 160mm of travel, which Shimano have much of the drivetrain covered with their XT products.
It's a bike that is built to go fast, by a team of people who know a lot about making athletes as quick as possible. No, this isn't the cheapest e-bike on the market (nor is it the most expensive), but it'll do everything you want it to and more.