Melbourne is renowned for the quality of its bars and restaurants. It's a city that loves to eat and drink, so it should come as no surprise that the best cocktail bars in Melbourne are truly world-class.
While Melbourne venues weren't able to crack The World's 50 Best Bars in 2020, they did the following year with Collingwood's Above Board coming in at number 44. In 2022, Caretaker's Cottage snagged 60th place and in 2023 Byrdi has locked in 61st position for itself. Other regular contenders on the list over the years include The Everleigh and Black Pearl, while a handful of other excellent venues have recently opened their doors.
Another reason why Melbourne has some of the best cocktail bars in Australia? There's easily one for every type of drinker, ranging moods and atmospheres that are as distinctive as the drinks lists themselves. Some of the world's best bartenders keep experimentation and technique at the heart of these drinks, so sipping your way around Melbourne is an adventure in itself.
RELATED: Europe Dominates World's 50 Best Hotels For 2023
So what are the best cocktail bars in Melbourne? Let's get into it.
Note that this list is not ranked.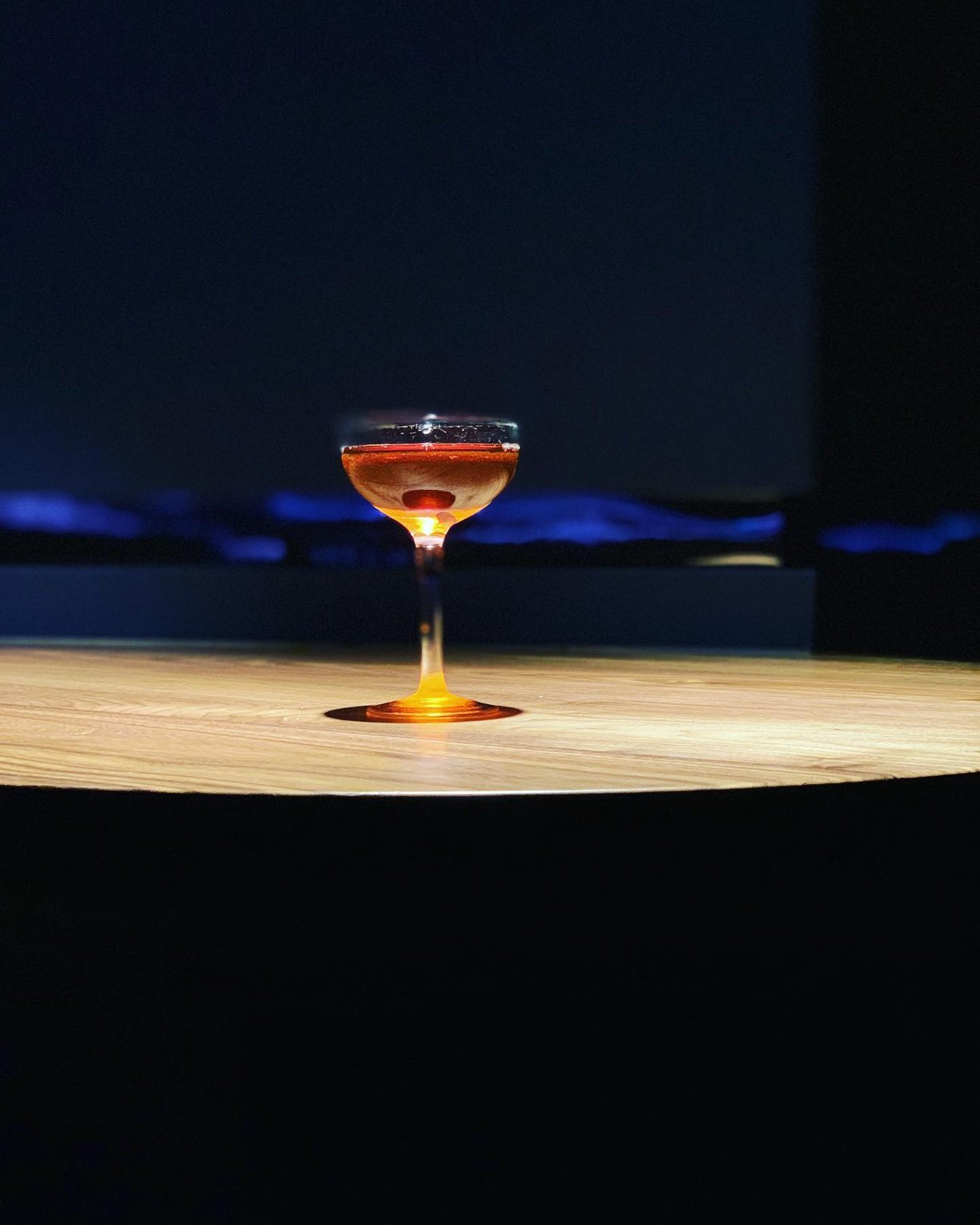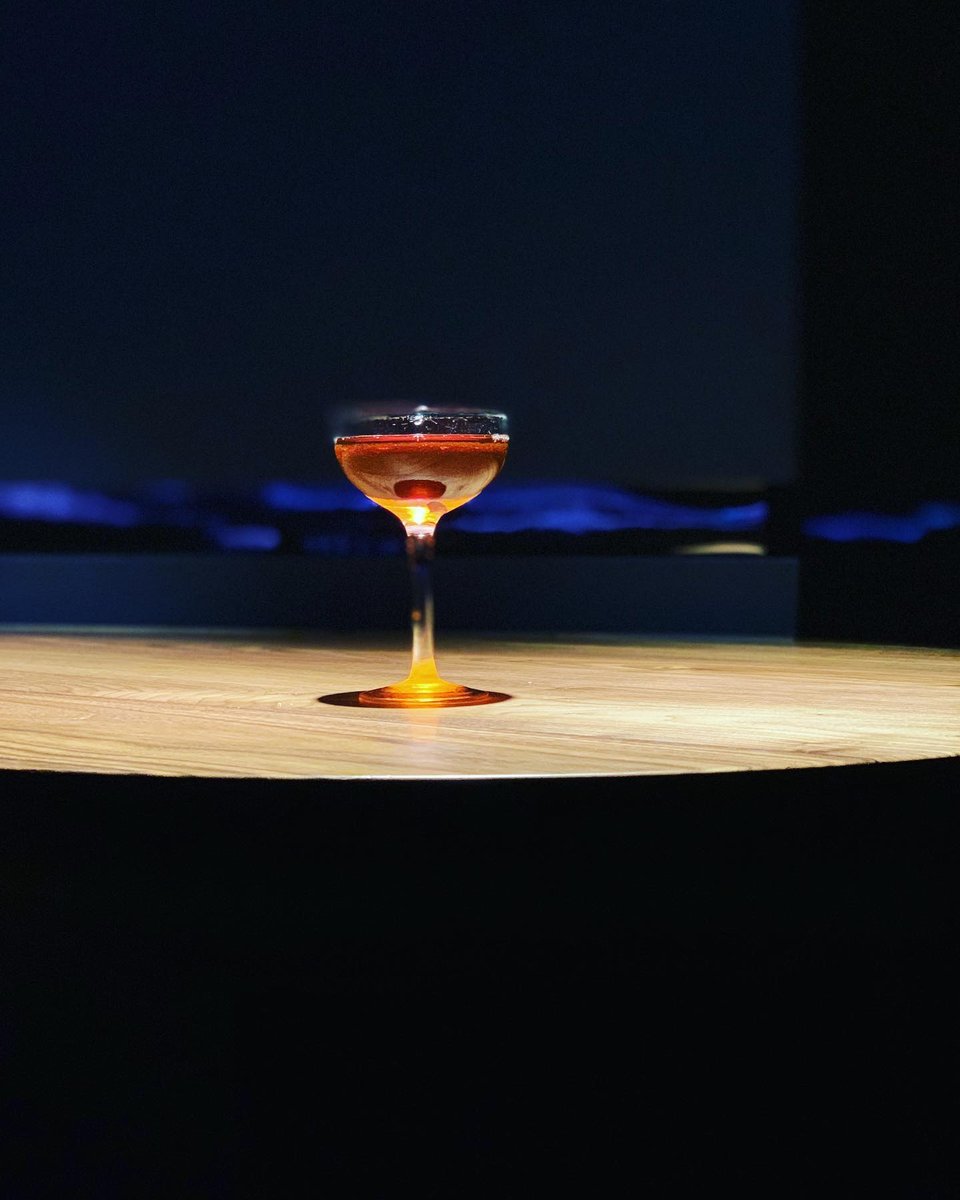 ---
---
Our Favourite Cocktail Bars In Melbourne
1. Above Board, Collingwood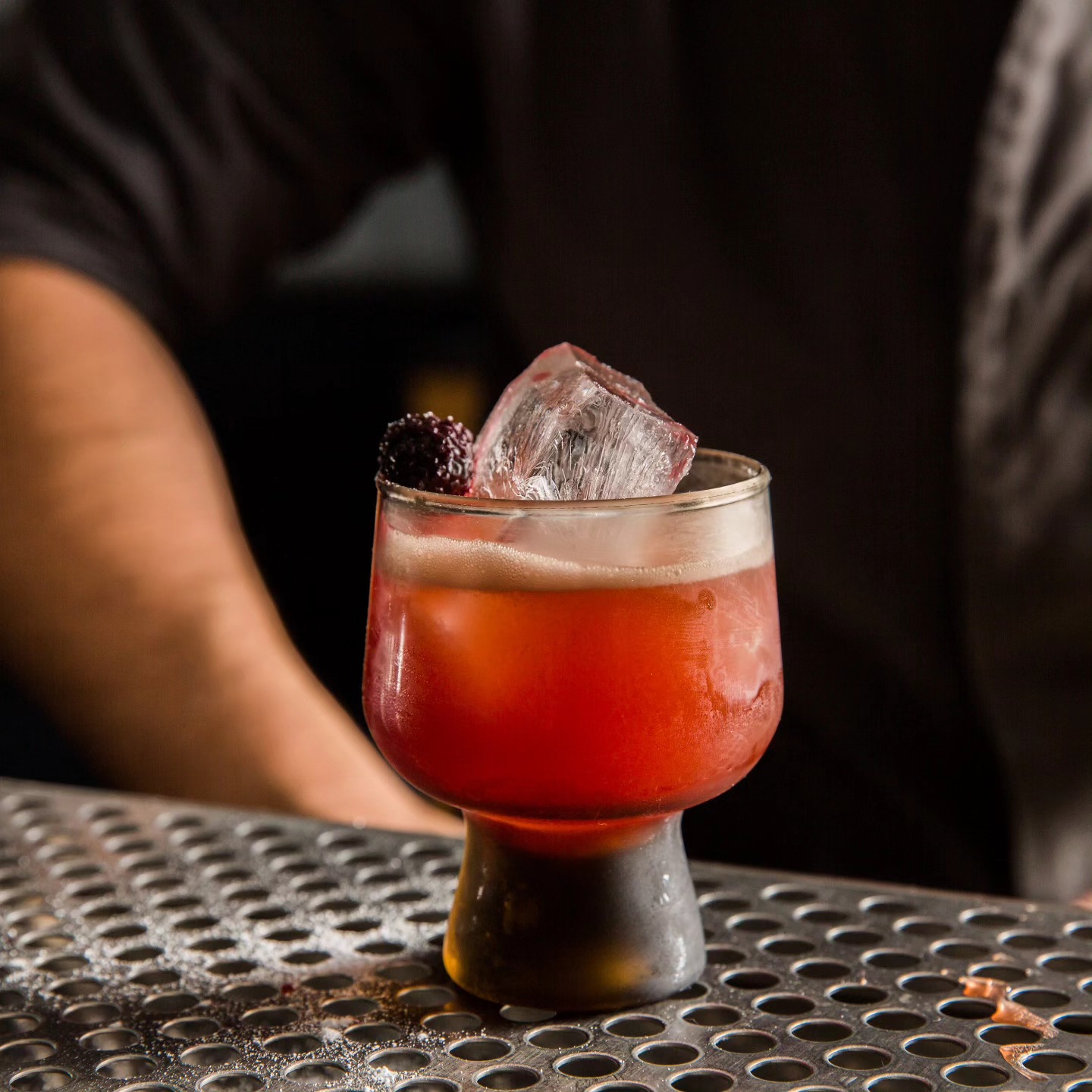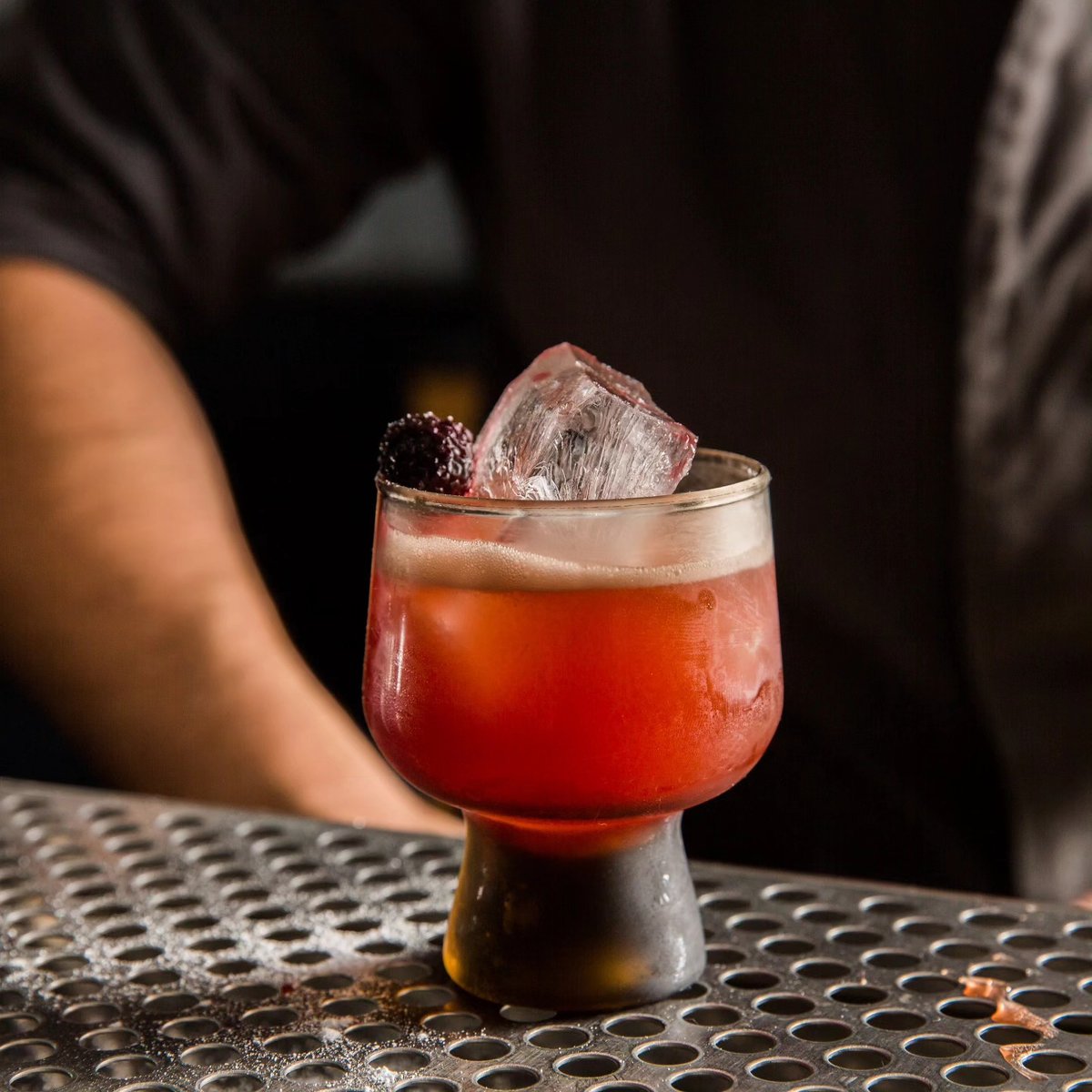 Above Board has long been ordained as one of the greatest cocktail bars Melbourne has ever seen, with a slew of awards to reiterate. In fact, when it came 44th in the World's 50 Best Bars of 2021, it was the first Melbourne cocktail bar other than The Everleigh or Black Pearl to make the list since 2011.
Designed with minimalism in mind, the atmosphere is sleek, and comfortable, and is absolutely somewhere you'd want to take an important client after-hours. With that vibe in place, all that's left is you and the bartenders, who want to know your preferences as much as you want to grill their expertise.
Despite a capacity of 16, you're encouraged to pull up a stool and stay a while. Owner Hayden Lambert holds firm that the behind-the-scenes 'kitchen' view from the bar seating is the best place to be in any of Melbourne's busiest bars and restaurants. So he hand-built back bar booth seating, with a pull-out drinks tray to facilitate. It's a unique vantage point to enjoy an almost peerless cocktail experience.
---
2. Byrdi, CBD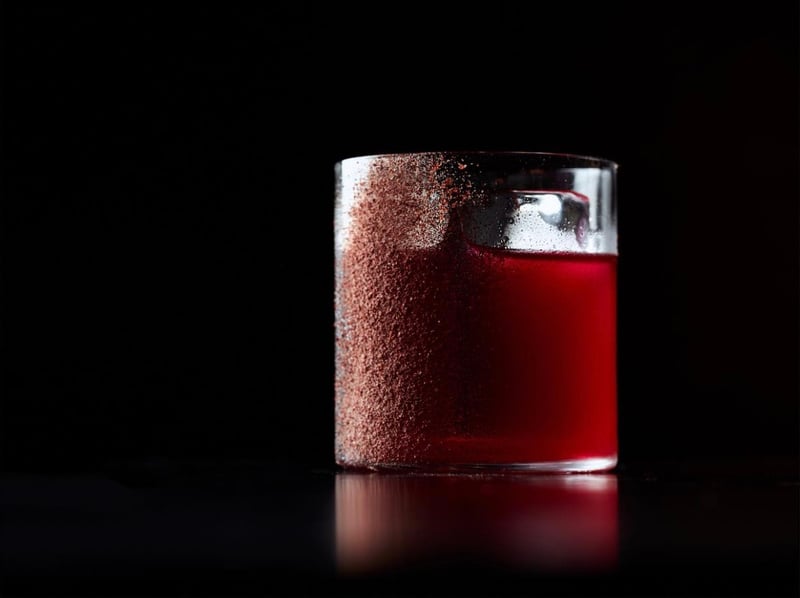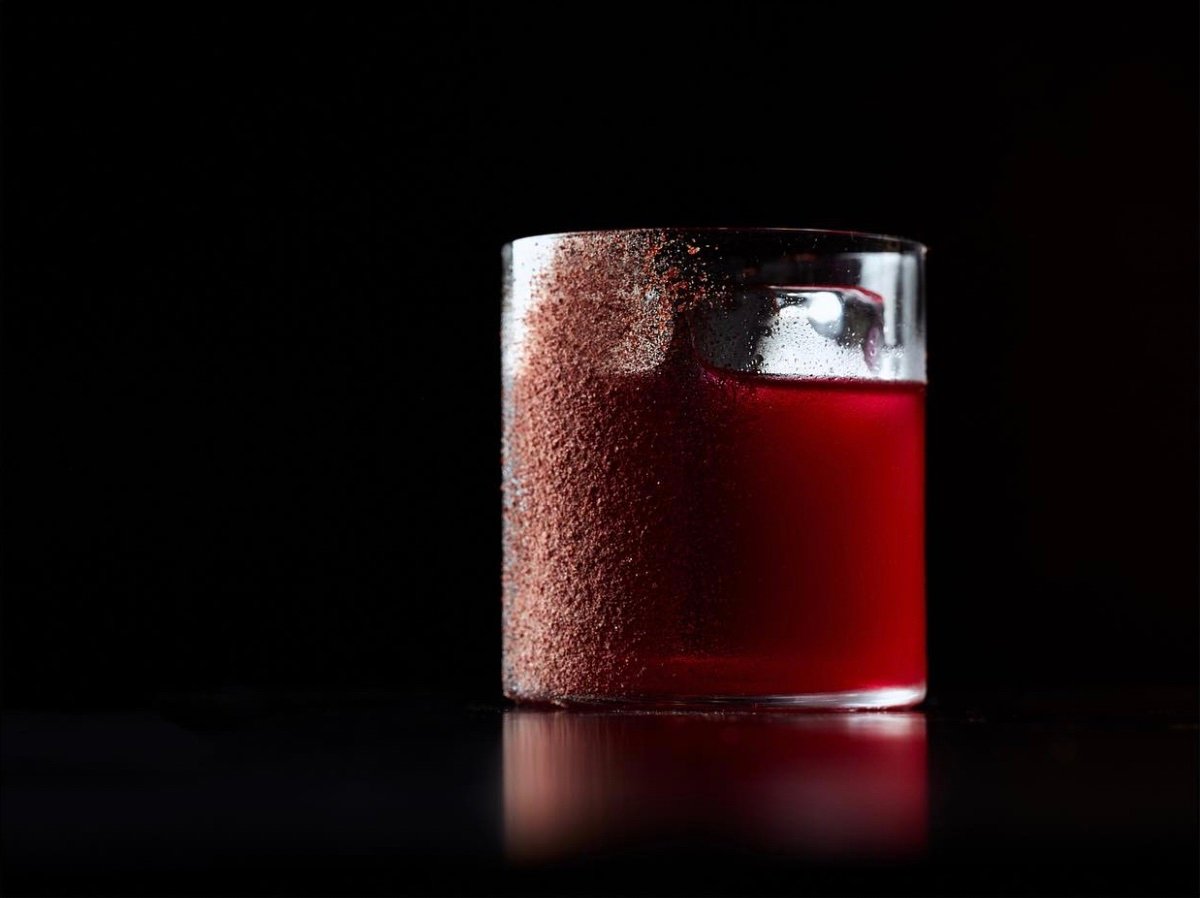 Byrdi is an example of owners Luke Whearty and Aki Nishikura reaching for perfection, and actually touching it. This feat was recognised in the bar achieving 61st place in the list of the World's 50 Best Bars for 2023.
This place exudes serious Jiro Dreams of Sushi vibes, as long as you enter via the back entry of the ELLA food court. Once inside, you're somewhere else completely — a penchant for total, 'catch you off-guard' immersion, thanks to the expert design by DesignOffice.
Mixology isn't a buzzword at Byrdi, it is a way of life. Your drink will have contact with an intoxicating array of sprays, jars, purees, spices, powders, graters, and tweezers, in its multiple stages of preparation before it reaches you.
On the menu: an expansive and intriguing list of local ingredients and produce. Not on the menu: the drink's alcohol base. The methodology is produce first, and liquor second. But don't get too attached, the menu is ever-changing and based on seasonal produce. Not even regulars are able to request their favourites.
---
3. Caretaker's Cottage, CBD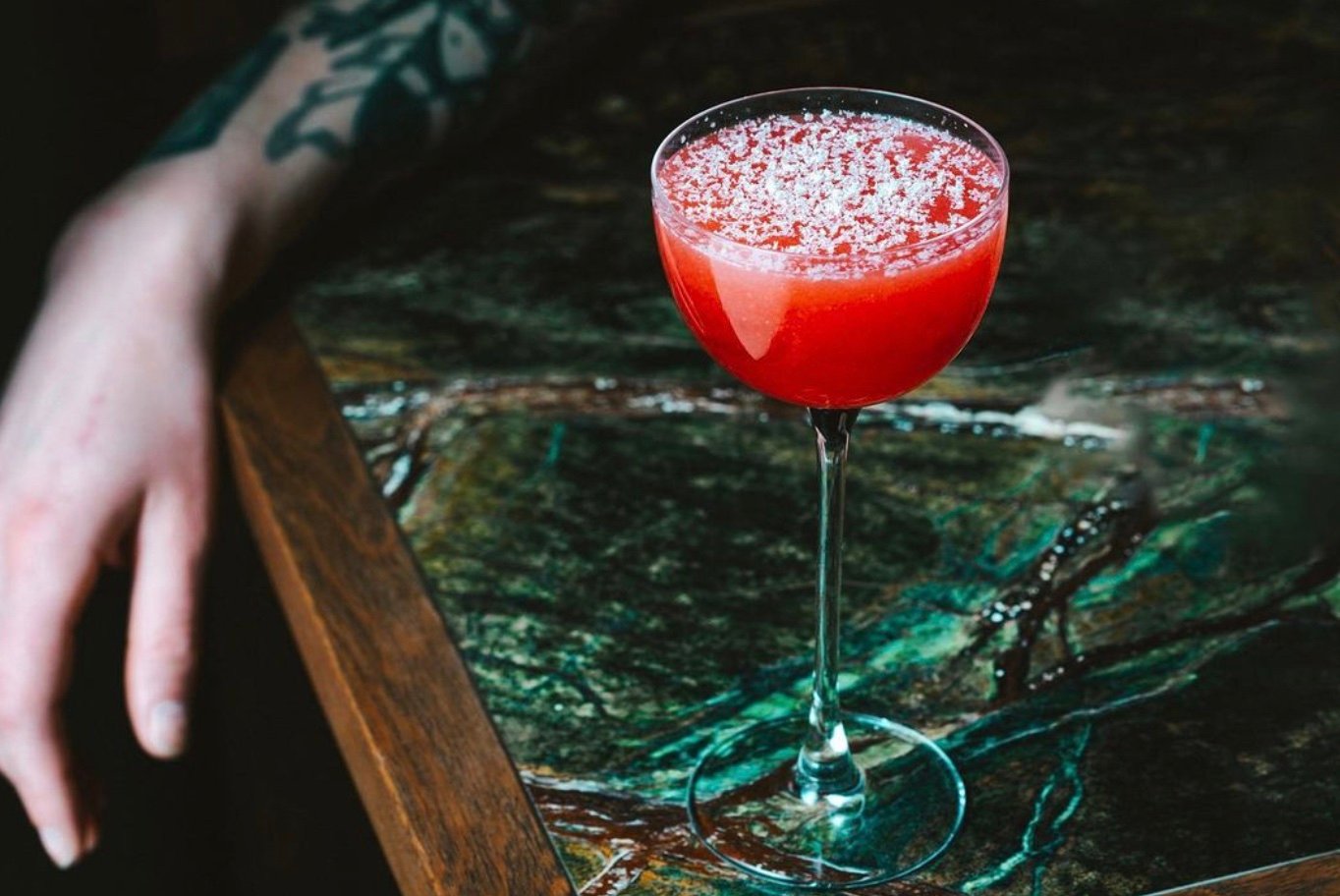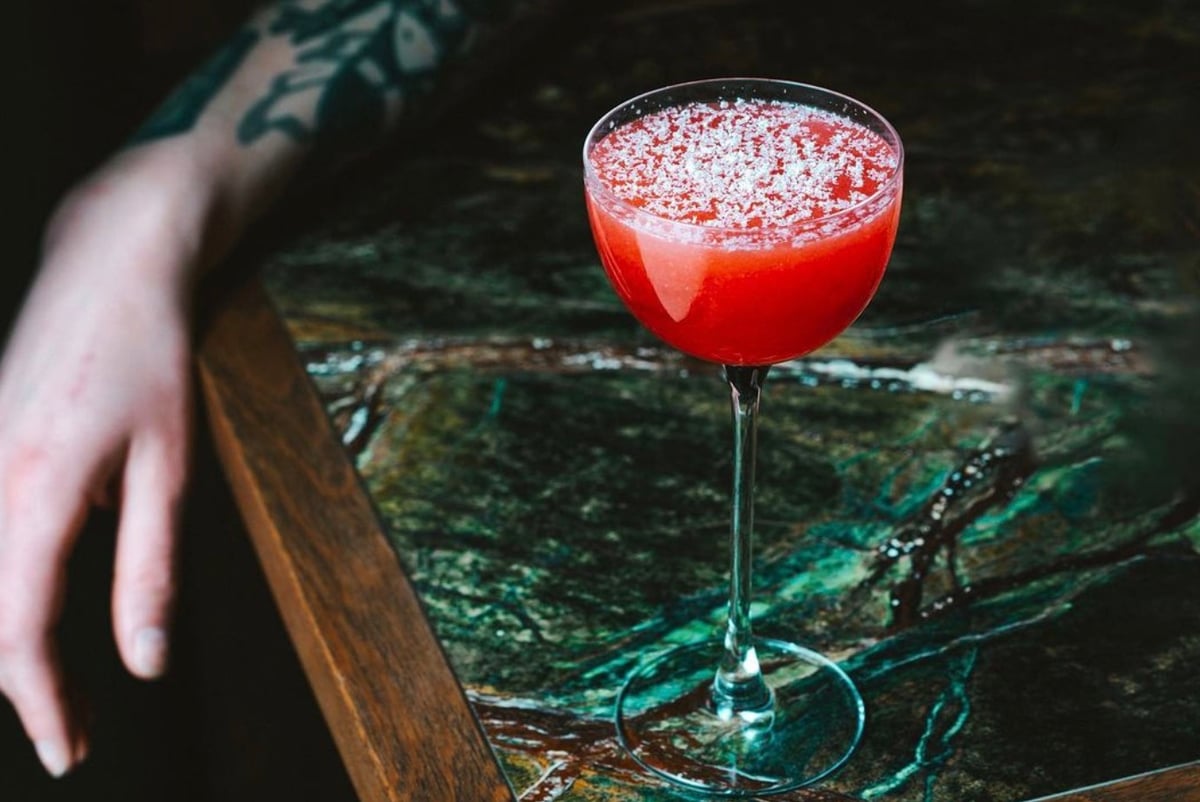 A relative newcomer to the scene (opened in March of 2022), Caretaker's Cottage has already made serious waves in the ranks of Melbourne's best cocktail bars. In 2022, the venue earned itself 60th place on the list of The World's 50 Best Bars and was the only Melbourne establishment in the rankings. This year, it took out first place in Boothby Victoria's 50 Best Bars list, further cementing its status.
In classic Melbourne style, it isn't hidden behind a secret door, but Caretaker's Cottage lives up to its name by being tucked away in the ancient bluestone building behind Wesley Place church. It also arguably has as much in common with an old English pub as it does with a world-class cocktail bar, and is likely the only bar of its calibre with Guinness on tap.
The menu is restrained — the hallmark of any good venue, in our opinion — consisting of three house creations, three classics and a Martini. If you're after a bite to eat, Caretaker's Cottage has you covered too, with pies sourced from the legendary Falco bakery. Another must-visit.
---
4. Bar Bellamy, Carlton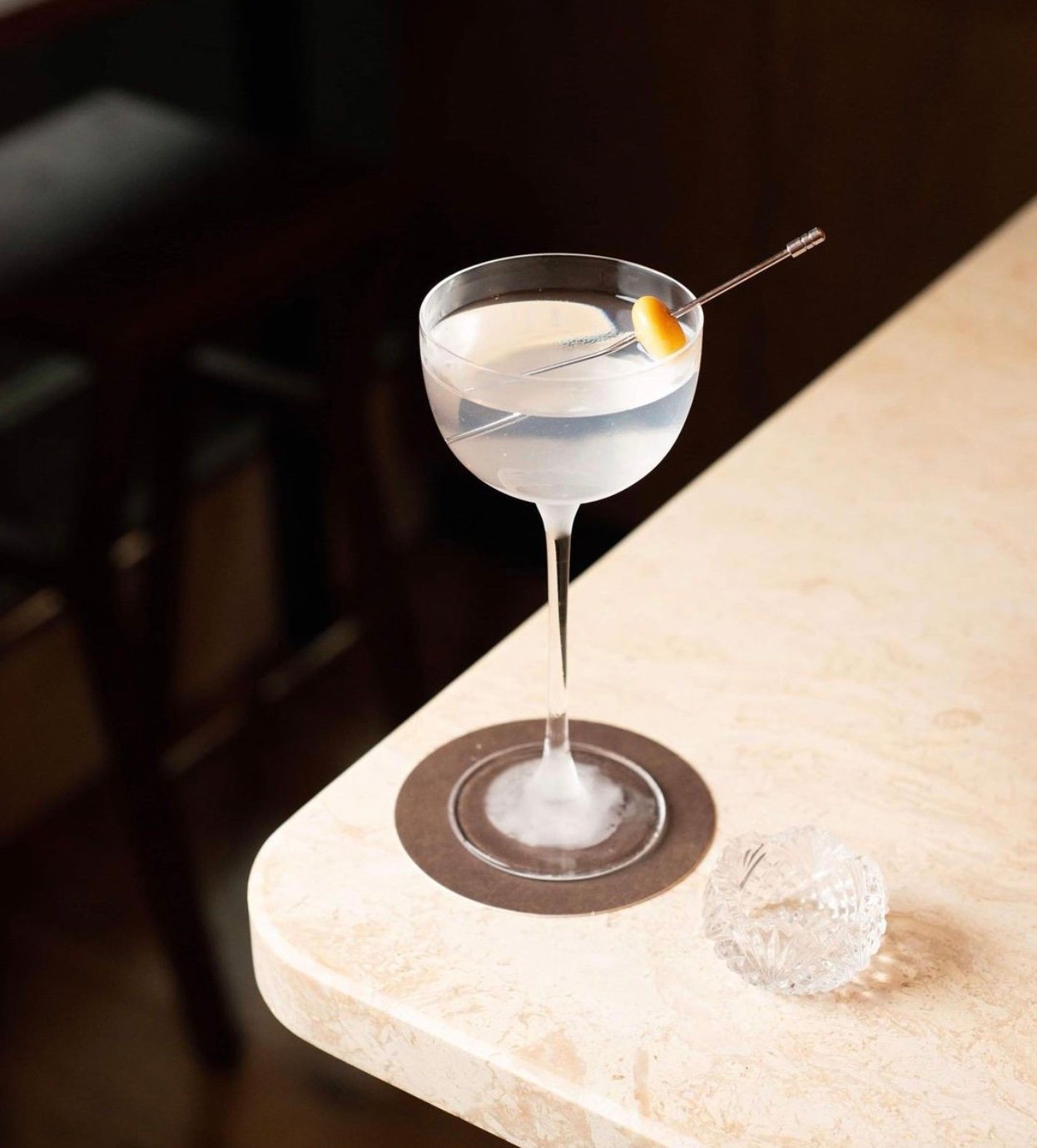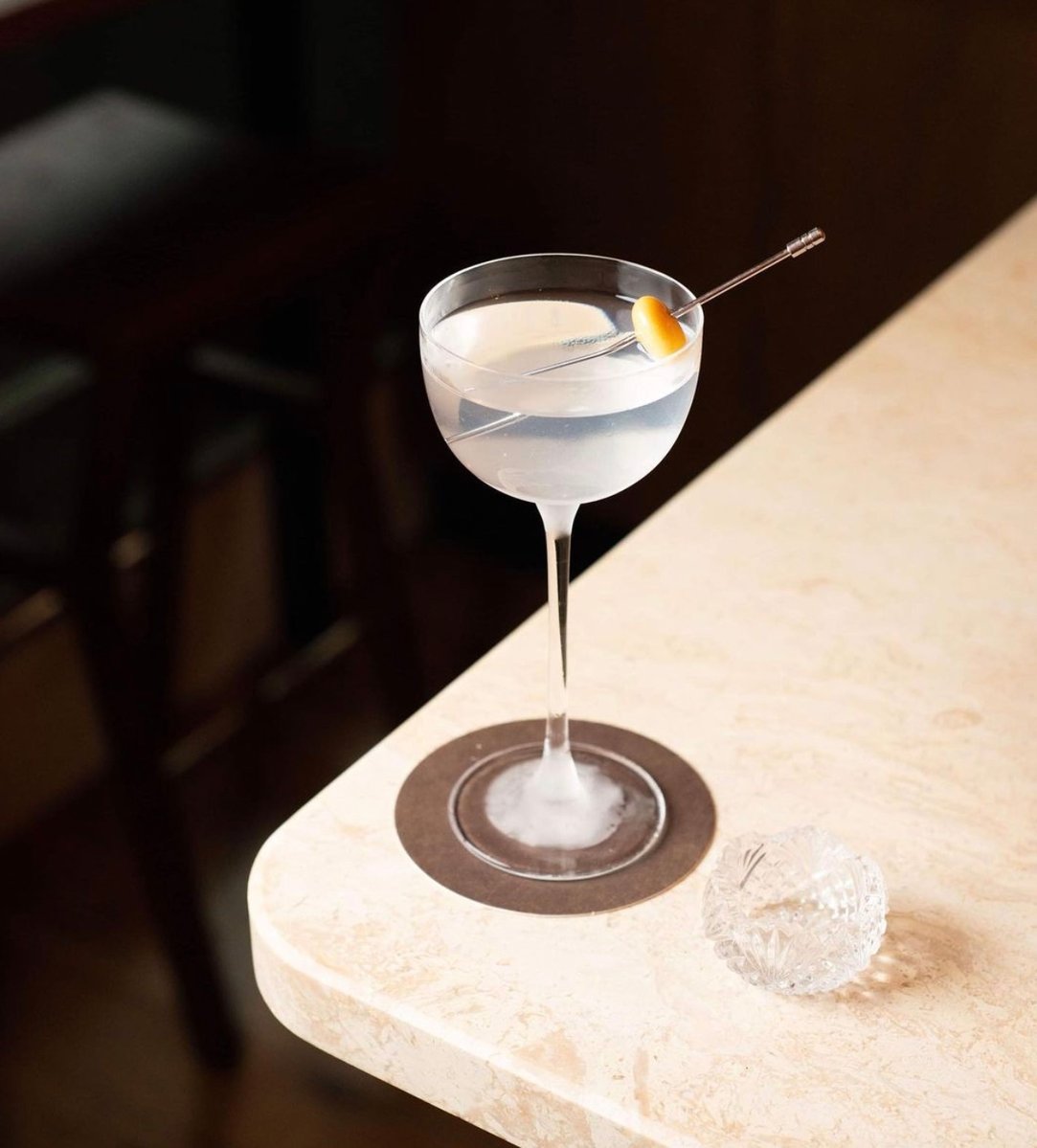 Fusing the best of a cocktail bar, a wine bar, and an old-world bistro, Bar Bellamy is a spot that aims to deliver a good time and good company, with the name playing on the French words bel am or good friend. It's also a relative youngster, winning the Best New Bar prize in Boothby Victoria's 50 Best Bars list, but one with serious pedigree thanks to owner Oska Whitehart's resume that includes Gimlet, The Everleigh and more.
The obvious benefit of Bar Bellamy not being a pure cocktail bar is the food on offer, which includes mouthwatering plates like hot sauce oysters, deviled eggs, and mussel croquettes. Cocktails only take things up a notch, with Whitehart's depth of experience coming to the fore with perfectly made classics, and thoughtful riffs on his favourite cocktail: the Martinis. If you live north of the river, make sure you pay Bar Bellamy a visit.
---
5. Black Pearl, Fitzroy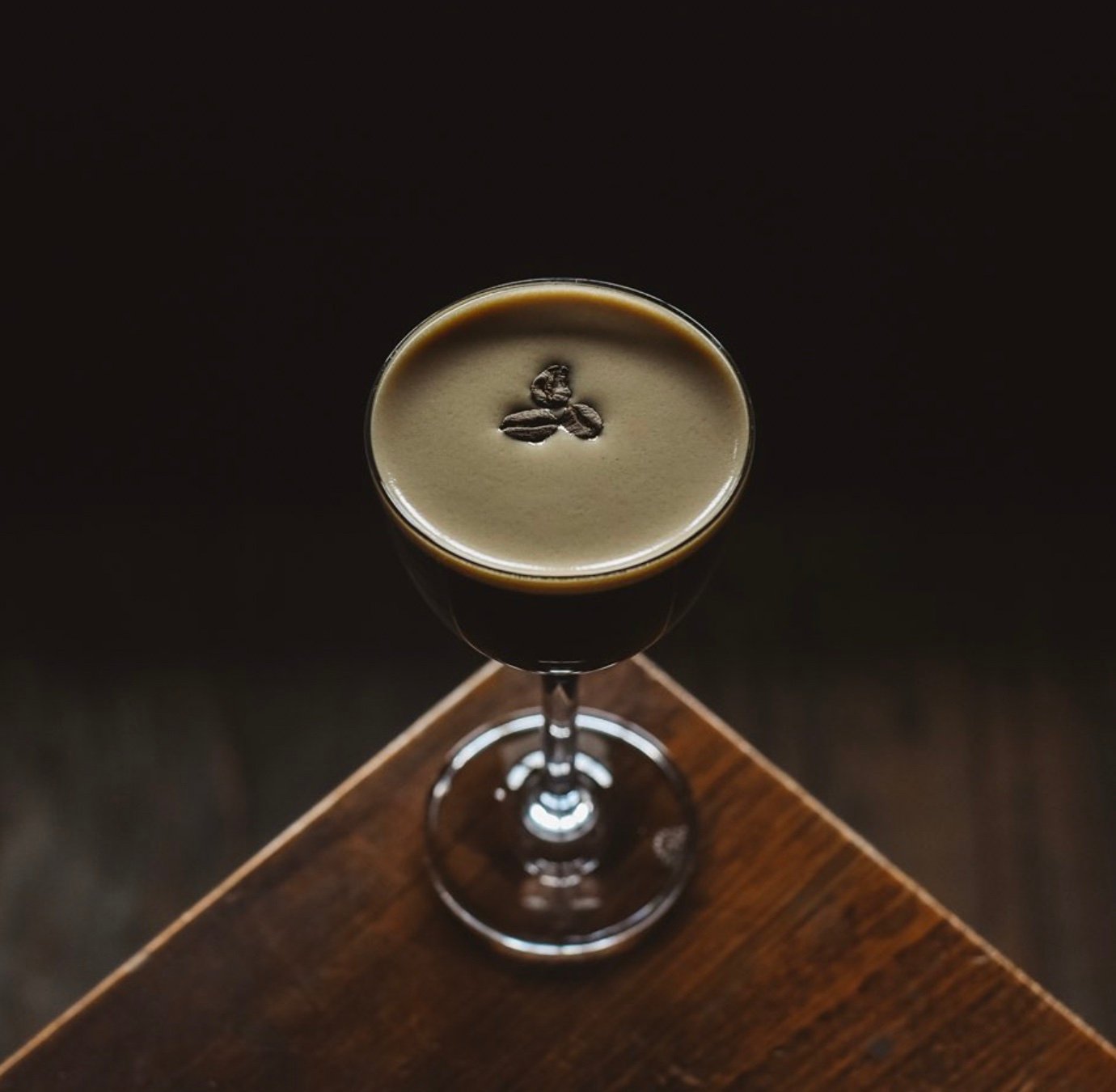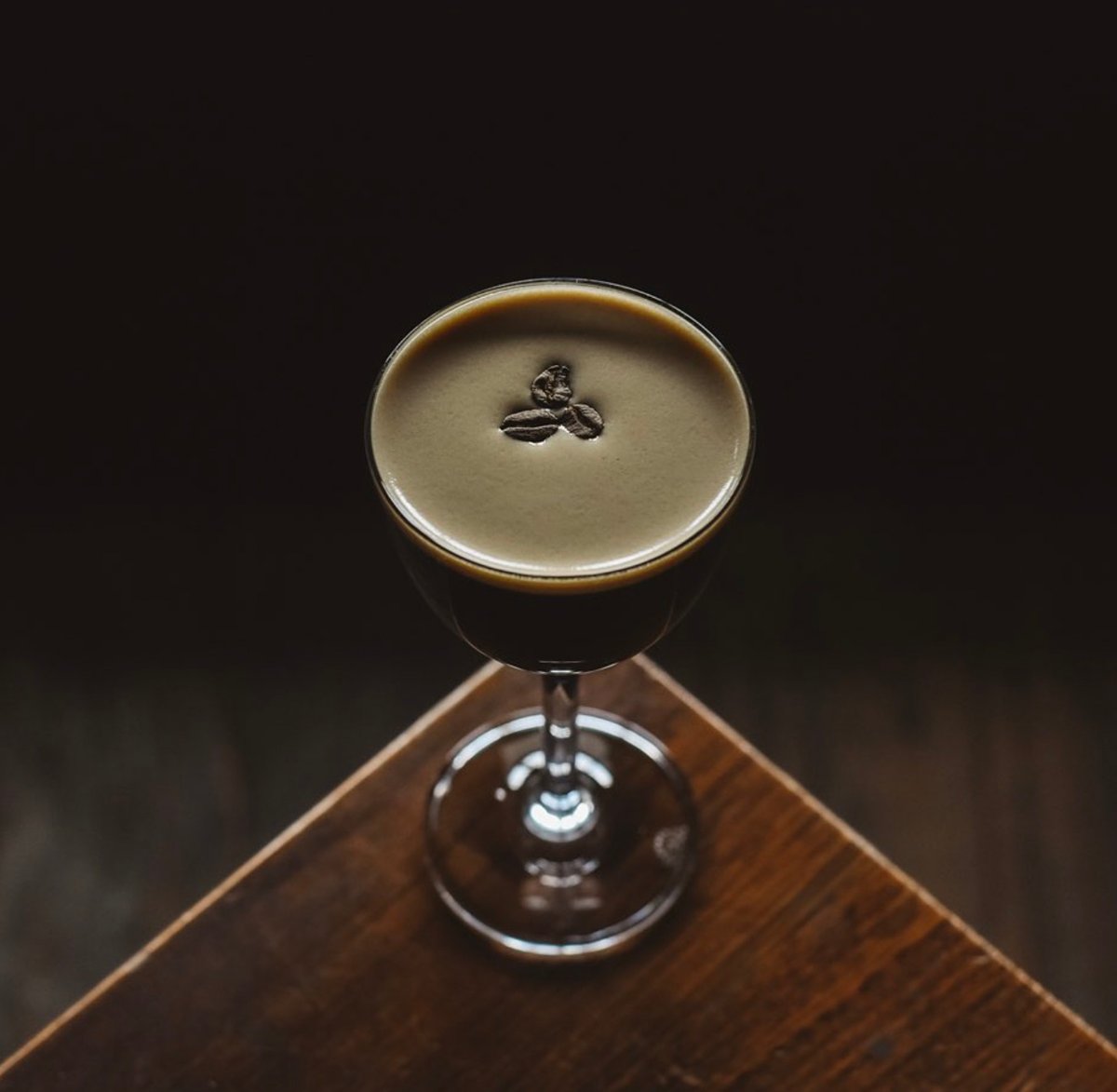 There's a reason the eternally seductive Black Pearl has been a near-permanent fixture of the World's 50 Best Bars, and we gamble it has something to do with the bar staff's expert ability to sling excellent cocktails, with serious precision at any time of day. These guys don't buckle under any pressure, even during peak hours. And it's that kind of unflappable reliability that Black Pearl and upstairs sister venue The Attic is built on.
The downside to such an enviable reputation is that the space is rarely empty. So you want to walk straight passed the revelry of the ground floor with the utmost conviction and head up to The Attic. Here you'll get more intimacy and face time with the bartenders.
---
6. Eau De Vie Melbourne, CBD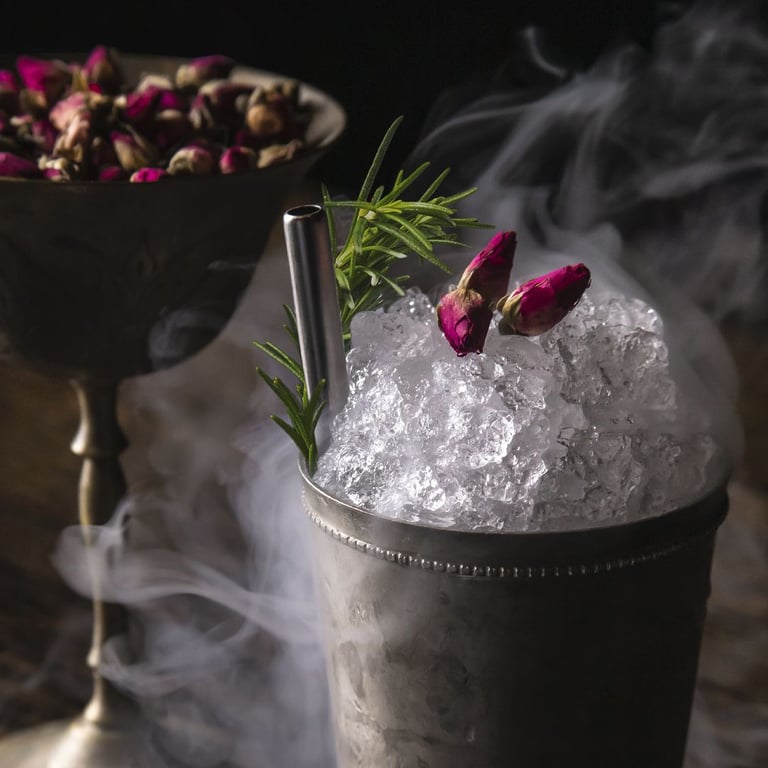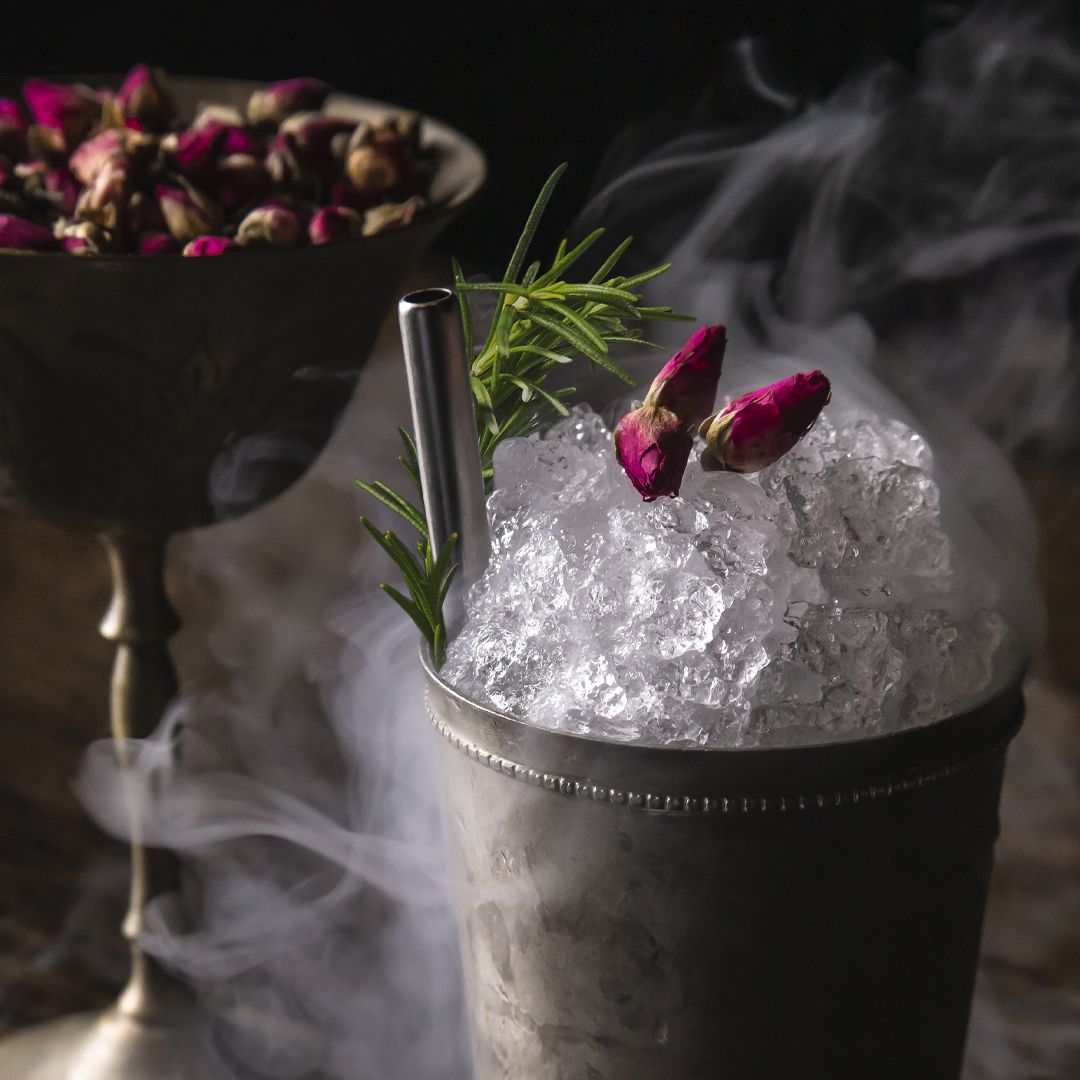 Simply put, Eau De Vie is a Melbourne institution. Home to deal-making corporate regulars, close friends catching a drink before a show and everything in between, its bar is a sight to behold; boasting hundreds of different rare spirit bottles and one of the most extensive whisky collections in the city.
Beyond the visual spectacle of liquid nitrogen and smoke machines, the magicians behind the bar at Eau De Vie are always innovating with different ways of infusing, blending and presenting drinks, making it a surprise and a pleasure every time you walk through the colossal front door. If you're looking to wet your whistle in the city, Eau De Vie needs to be on your list.
---
7. Curious, CBD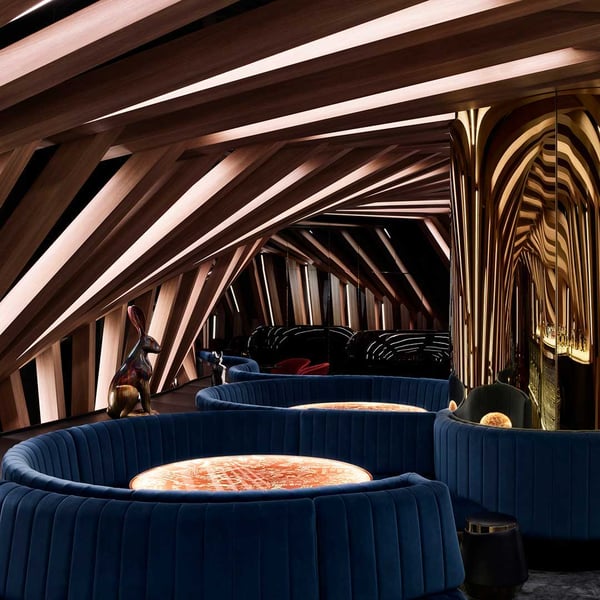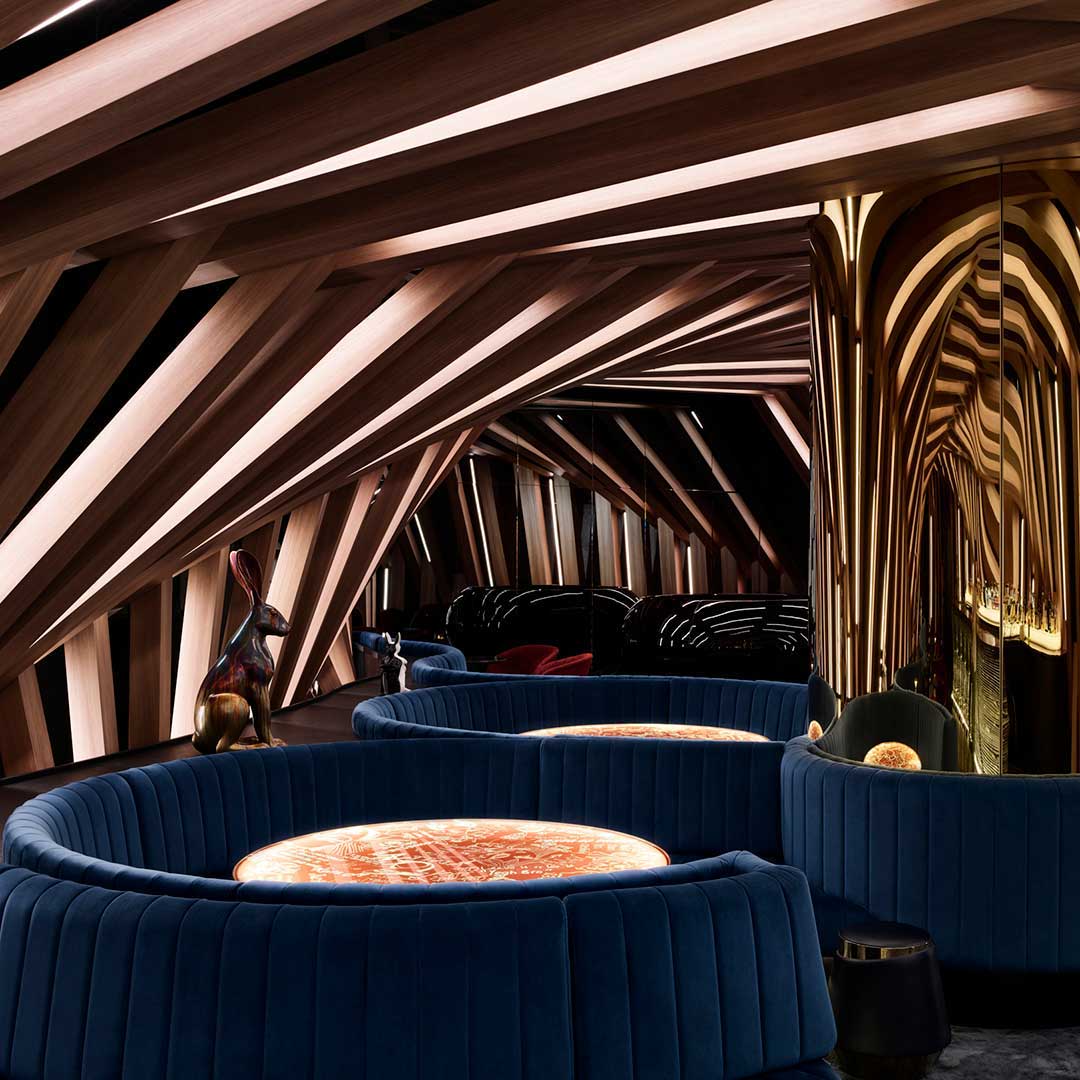 Curious belongs to the new W Melbourne hotel, and its peak luxury. It says a lot that a new bar can cut through Melbourne's incredible cocktail scene and become an instant classic. A confusing clock-clad entry will direct you from Market Street, down a dizzying spiral staircase and into a cavity of undulating timber beams and reflective surfaces, all building up to a fantastical space that feels like it's been torn from a Lewis Carrol book.
The bar showcases boutique Melbourne and Australian spirit brands, botanicals and local ingredients. And because of the Marriot backed-buying power, they come with a reasonable price attached.
---
8. Nick & Nora's, CBD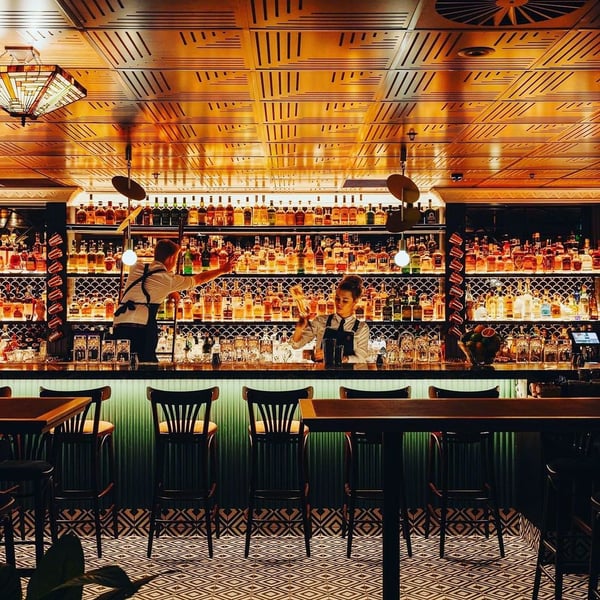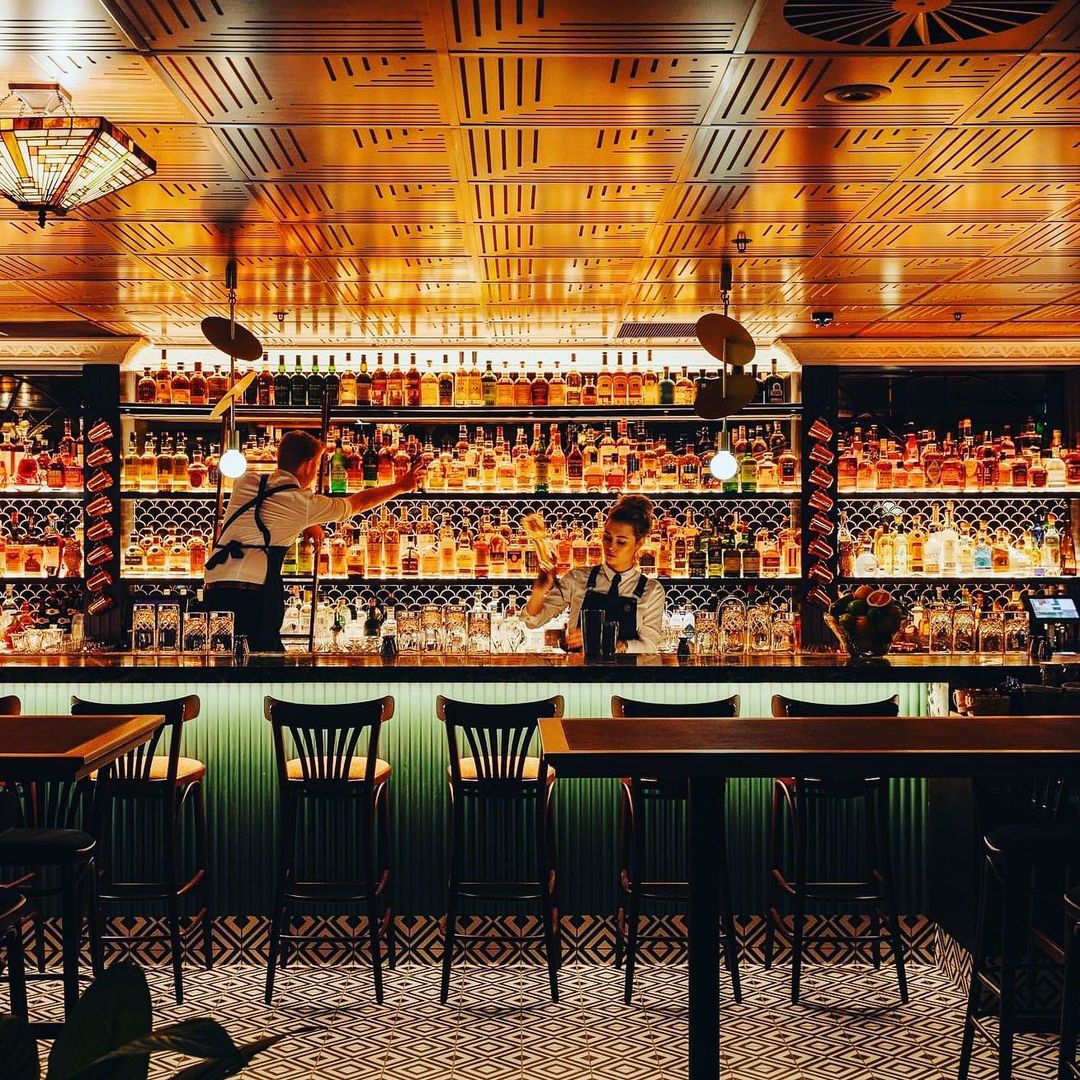 Fancy a bit of Champagne opulence? Although Nick & Nora's feels new to the scene, after a soft launch in 2020, Melbourne is well familiar with its sister Speakeasy Group venue, Eau de Vie and has embraced Nick & Nora's like it's a seasoned vet.
Walking up the stairwell under stained glass instantly transports you from the Paris end of Collins Street, to the actual city of Paris in the 1920s and 30s. Champagne comes first, and cocktails second, with a comprehensive menu including a 15-litre Nebuchadnezzar of Mumm which you can pre-order to cascade down a pyramid of coupes.
---
9. Little Lon Distilling Co., CBD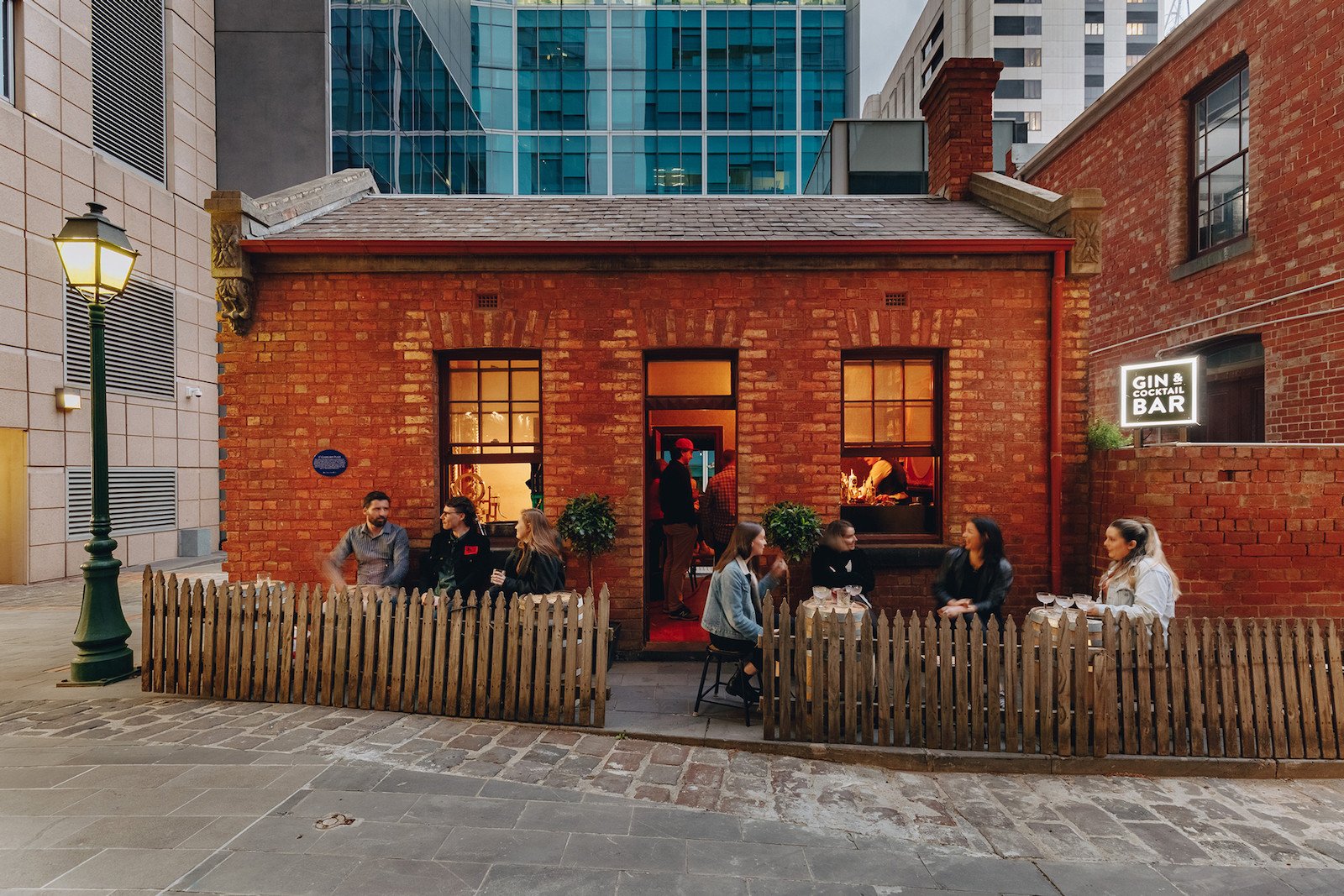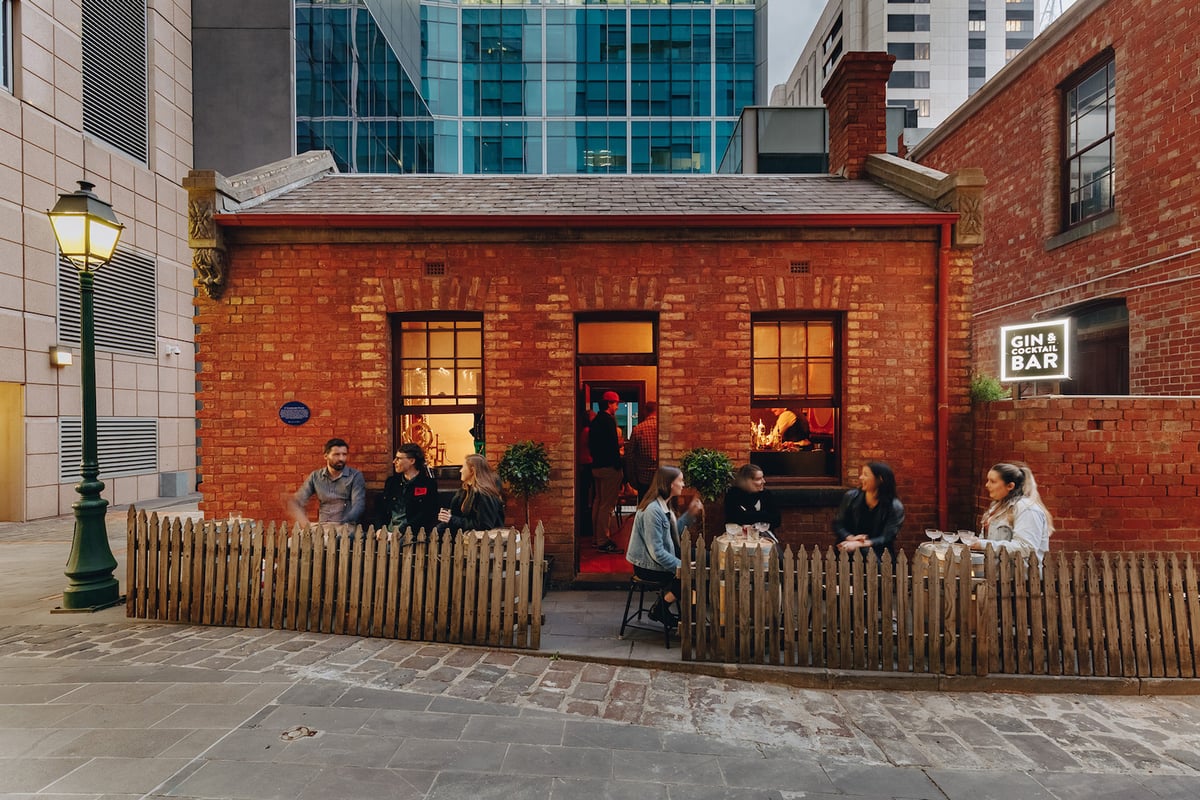 Do you want gin? Little Lon is a 144-year-old brothel that has been repurposed into an urban gin distillery and it's buzzing with some of the city's best cocktails.
It's quite the sight to spot this tiny little gem, shadowed by skyscrapers. It produces a range of bold small-batch gins and opens them to the public on Friday and Saturday nights to "raise a tipple to the delightful deviates that once trod these lurid laneways."
The fermentation and distilling are done on-site, and you can stay a while longer by booking a tour or a gin masterclass. It's a great way to pass the time while trying your luck at nabbing one of 20 seats indoors. The cocktail list is very creative, and obviously, they have the G&Ts down to a fine art.
---
10. The Elysian Whisky Bar, Fitzroy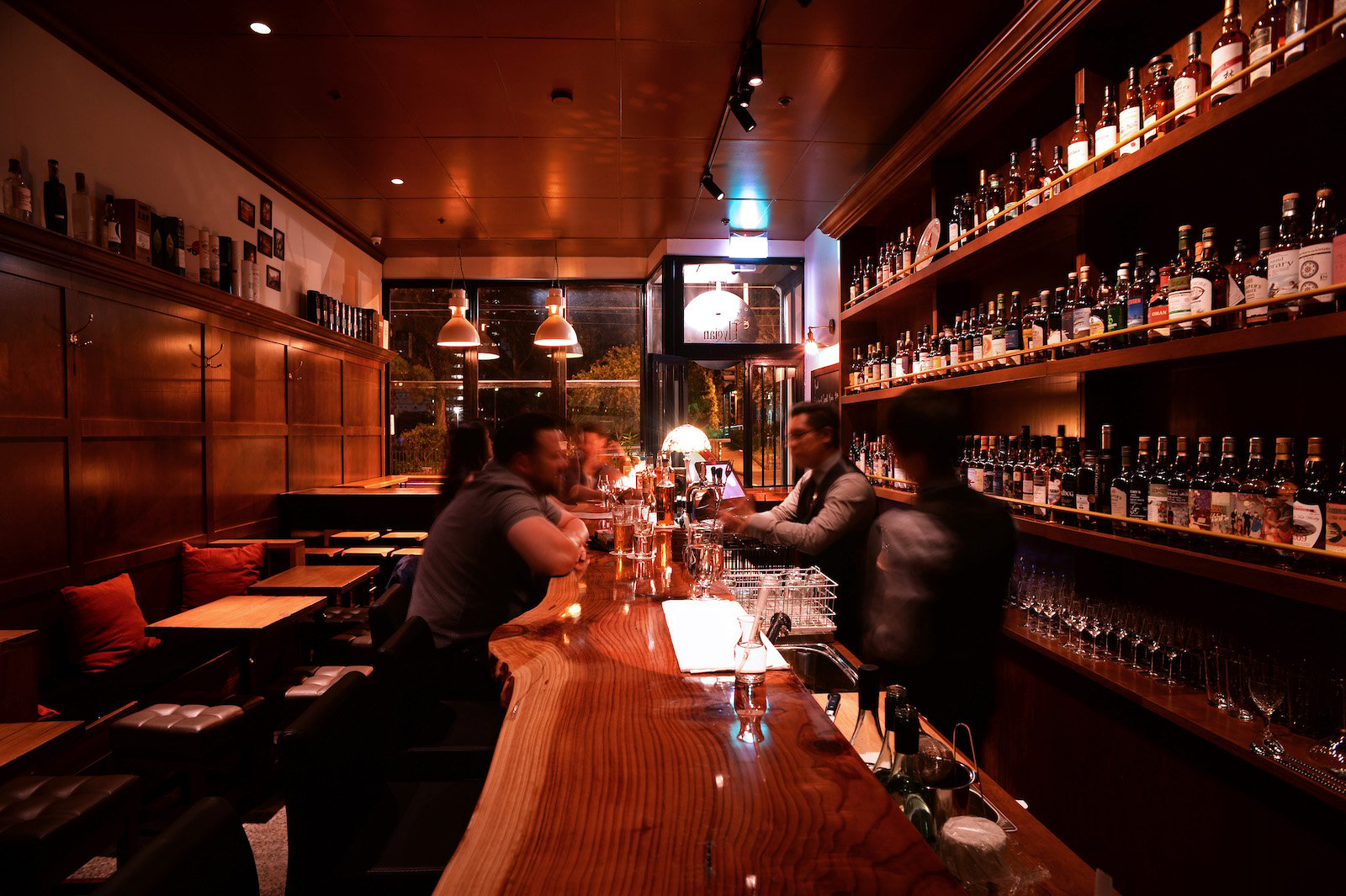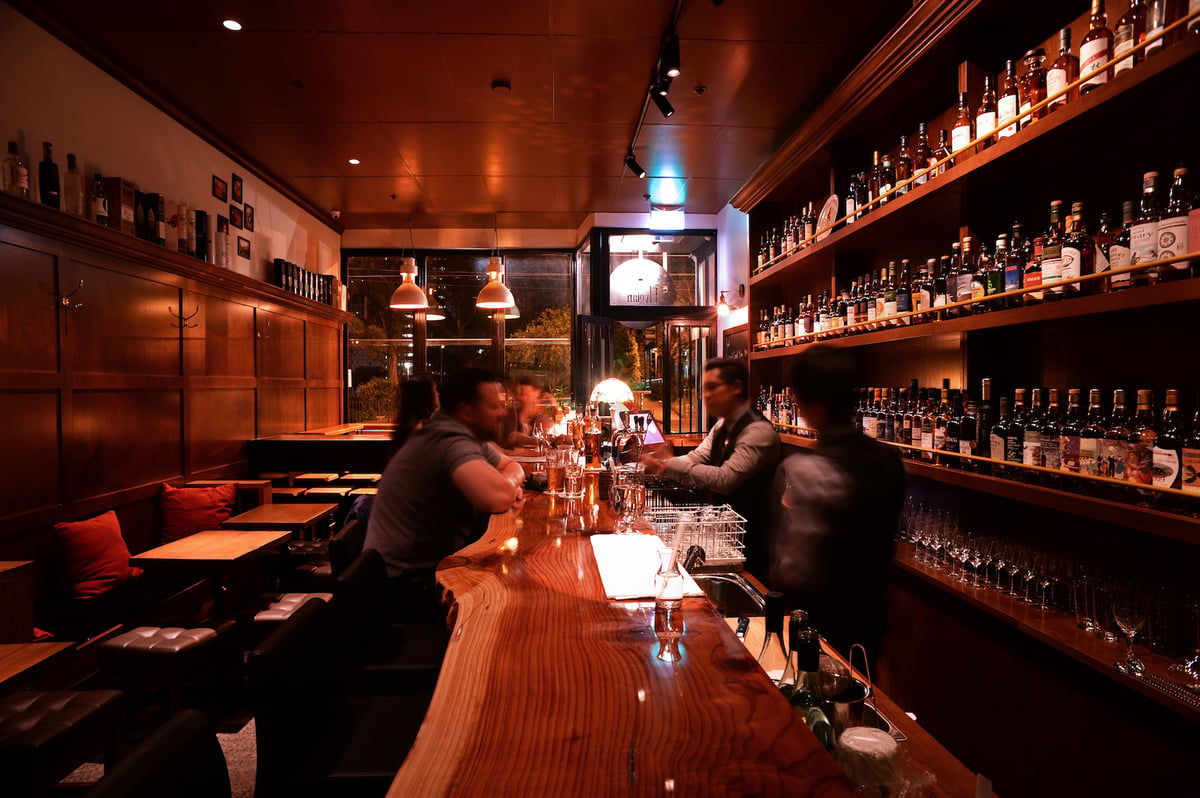 What sets The Elysian apart from the other establishments on this list of the best cocktail bars in Melbourne, is its single focus on independent Whisky distilleries — both local and international. They sling mostly single barrels and one-off releases. If you need a bit of convincing to divert from big-name brands, the bar's owners, Low and Wong are both ex-Whisky & Alement. Lads, you're in trusted hands.
The fit-out was entirely inspired by Japanese whisky bars, so expect cosy feels, the sweet sounds of jazz and a long beautiful Californian redwood bar. It is the perfect ambience to sample bottles ranging from Japan, Ireland, Holland, Germany, India and home-grown Australian names.
---
11. The Everleigh, Fitzroy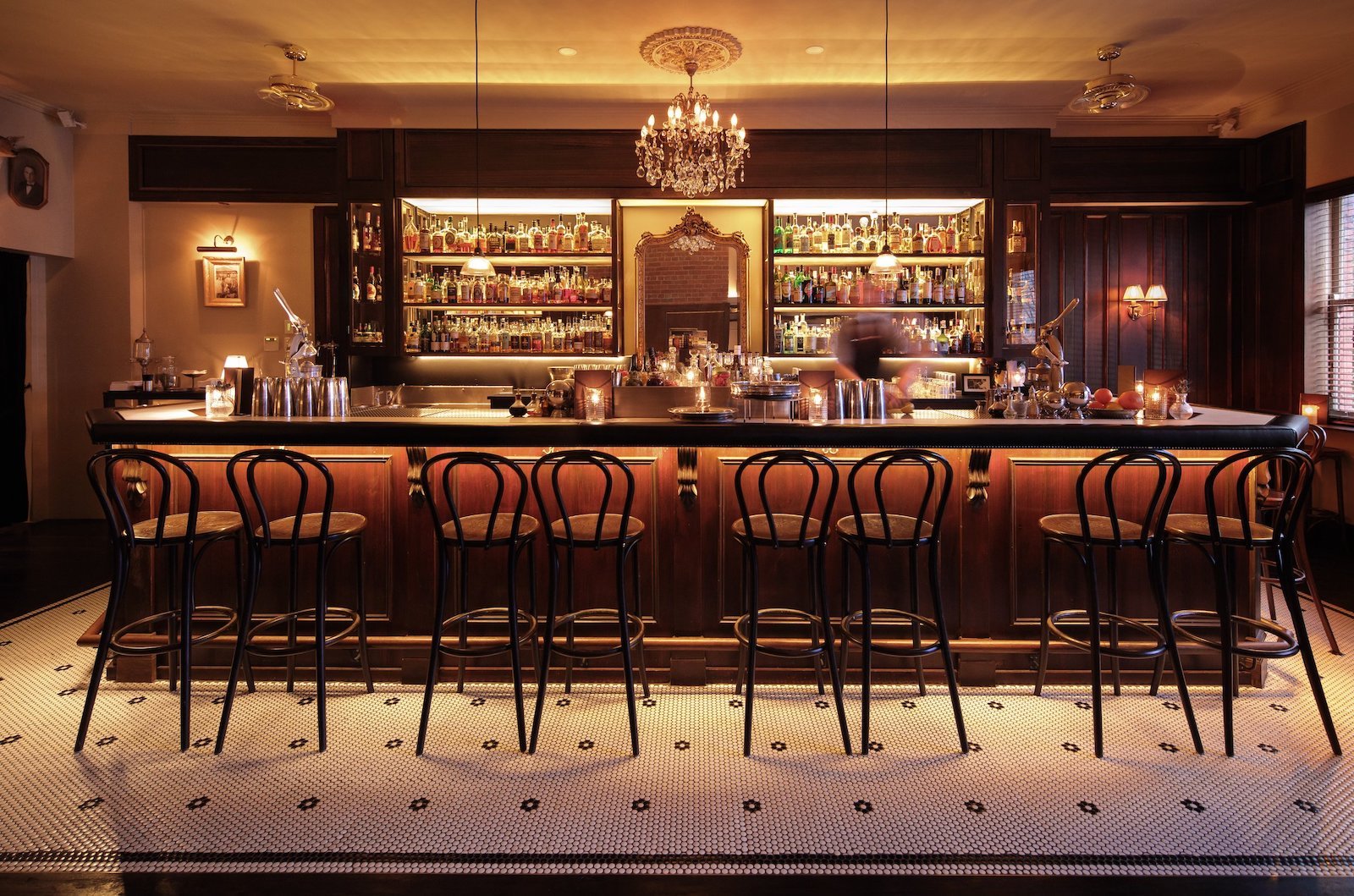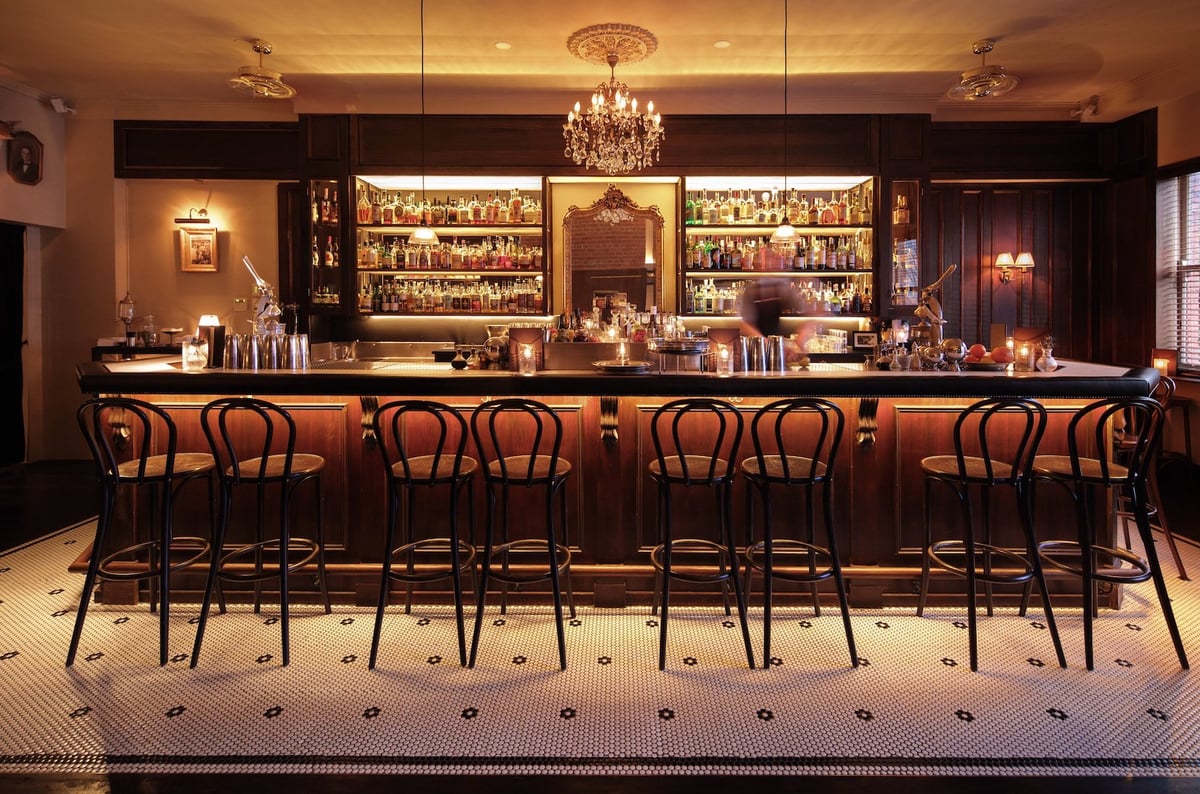 The Everleigh is a decades-old Gertrude Street institution. And it continues to surprise and delight all who manage to follow its black and white tiled entry upstairs. Though sometimes you just want to enjoy a no-fuss at-home option, in which case The Everleigh Bottling Co. — the at-home extension of this classic cocktail bar — is equally as viable.
With The Everleigh as busy as ever, the expert bartenders that drive this multi-award-winning bar have bottled up their classic cocktails, and manufactured them to the exacting standards. The only choice then is to go out and soak up The Everleigh's sophisticated, golden era atmosphere and abundant energy, or try and recreate it at home using their cocktails.
---
12. Bar Liberty, Fitzroy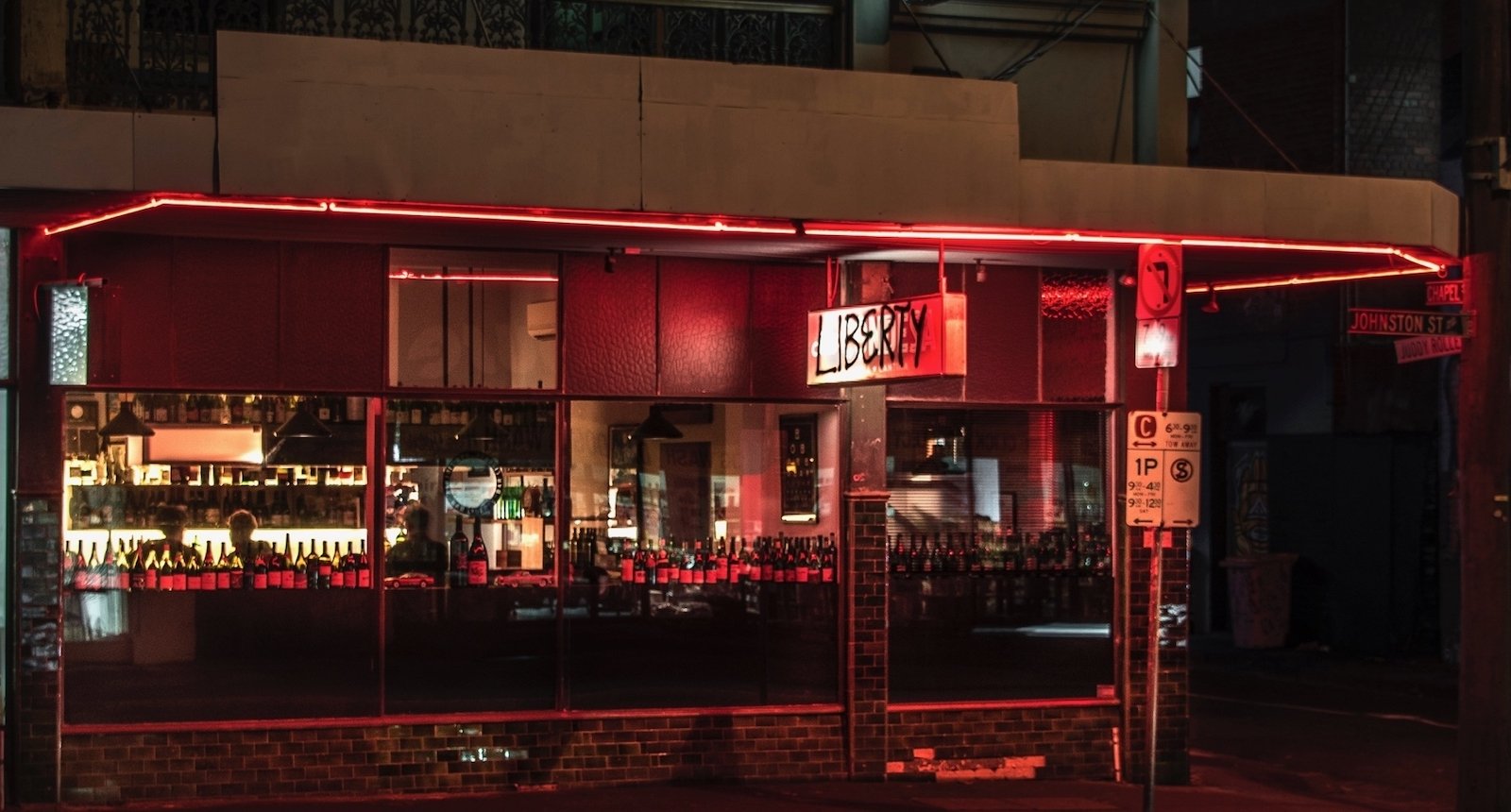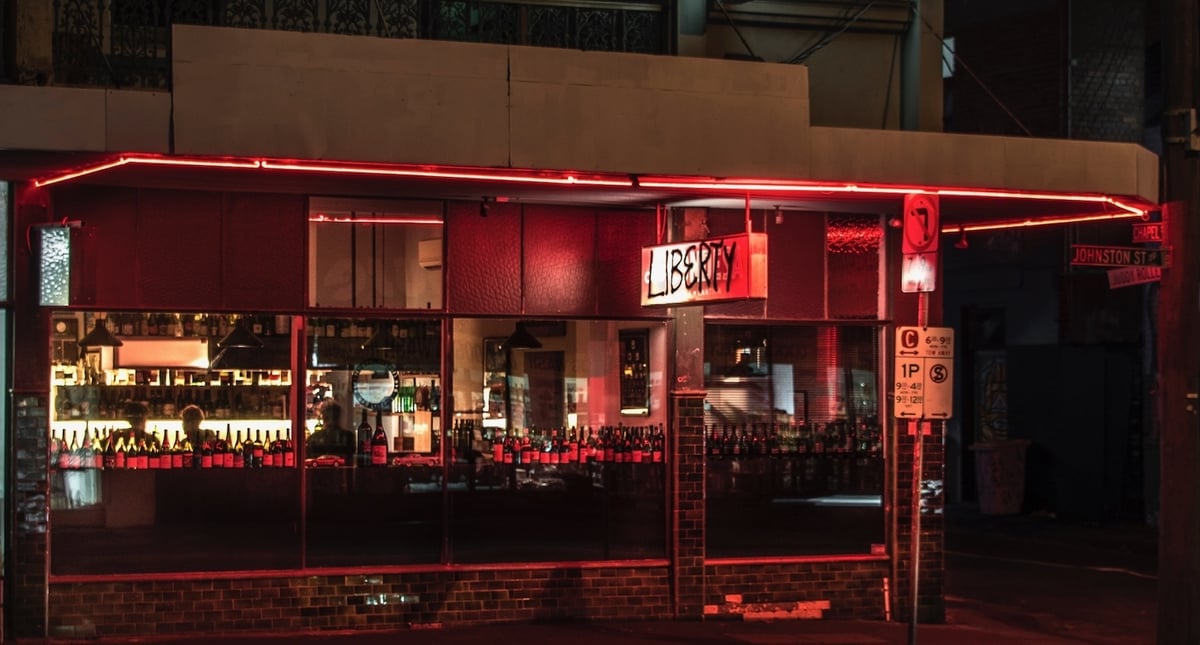 Bar Liberty is yet another reason why Fitzroy is one of the coolest suburbs, not just in Melbourne, but the world. Run by ex-Attica sommeliers, it's a wine bar first and foremost. But you'd be making a grave error if you don't head along and pay close attention to the rotating list of cocktails, held in equal importance as all those biodynamic and low-intervention wines. Order anything and feel free to expect perfection — high standards are matched consistently at this convivial bar.
---
How Boss Hunting Chose Melbourne's Best Cocktail Bars
Both Sera Bozza and Nick Kenyon grew up in Melbourne and love a well-mixed drink. Nick even worked at a cocktail bar during his university years, meaning he's plenty capable of shaking up an espresso martini on a camping trip.
They are both frequent visitors to the best cocktail bars that Melbourne has to offer, making them more than familiar with the drink-mixing scene and its significant players.
If you want to know more about how we put together these lists please read our editorial policy.
---
Did you find this Melbourne cocktail bar guide helpful? Check out some of our other Melbourne content below:
---
Frequently Asked Questions
What is the best cocktail bar in Melbourne?
The best cocktail bars in Melbourne are Black Pearl, Byrdi, The Everleigh, and Above Board.
What is Melbourne's famous drink?
While negronis are popular in Melbourne, a cocktail that is drunk by locals every night is the Espresso Martini, which perfectly combines Melbourne's love of coffee and a well-made drink.
What is Melbourne's favourite cocktail?
While trends always change, the most reliable cocktail orders in Melbourne are the dependable Negroni, the fashionable Espresso Martini, and the summery Margarita.
What is the best cocktail bar for whisky in Melbourne?
The best whisky cocktail bar in Melbourne is The Elysian, but there's also Whisky & Alement, Boilermaker House, Bar Liberty, and Eau de Vie.